April 11th, 2008

Yesterday evening I gave a talk on "creating a woodland edge" at the invitation of Gracywoods Garden Club. I'd just returned from Tanzania last July—my bag sitting, still packed and covered with African dust, on the bedroom floor—when I received their kind invitation. Public speaking has never come easy to me, and I was literally terrified when I had to do it in college, but after thinking it over for a day or so I said yes. "Every day, do something that scares you" is a motto I try to live up to. Traveling to Africa had scared me a little, but it had turned out to be a wonderful adventure. I hoped to say the same of my first public speaking engagement.
So I got my kids to show me how to use PowerPoint and started creating a slide show about designing a naturalistic semi-shade border with mostly native plants. The months passed, and when I had a spare hour I tinkered with my presentation. Then April arrived, and the Spring Fling monopolized my brain for at least a week—and then the whirlwind was over, and I realized I had to stand up and talk in front of strangers in just a matter of days. I won't say that panic set in, but I was certainly nervous. I read and reread Trey Pitsenberger's advice (and the wonderful comments too) about public speaking, and then Thursday came and I drove off to meet the nice folks who'd trusted me not to bore them to death for 45 minutes.
Trey says, "So many people miss out on the great things in life because of fear. Think about how great you will feel when it's all done and it's achieved the results you wanted." When I returned from Tanzania, many people told me they wouldn't have gone: flying over the ocean is too scary; a hot-air balloon ride is too risky; what if terrorists, diseases, or lions get you? I understand those fears (and share some of them), but I never for a minute considered not going when I had the chance. I tried to approach the garden-club talk the same way, though I think I was actually more nervous about speaking "as an expert" in front of those 13 or 14 gardeners than getting on a plane by myself to fly to the other side of the world.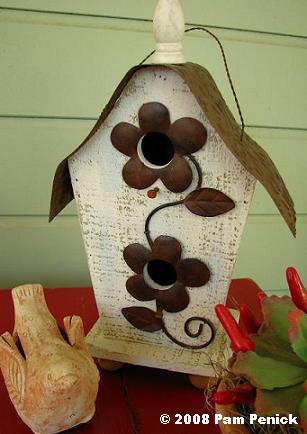 But you know what? Trey was right, and once I got up there and started sharing a few design suggestions and my favorite plants, I found there was plenty to talk about and the time flew. The club members were friendly and welcoming and interested in knowing more about the plants I recommended. They even gave me this pretty birdhouse as a thank-you gift. I hope to have introduced myself to a few future clients by pushing past my fear to give the talk. And whether that happens or not, I know it was good to face my fear.
Last weekend at the Spring Fling, I asked our speaker, Tom Spencer, whether giving as many talks as he does makes it any easier—whether he's lost the fear of public speaking. "You never want to lose all the fear," he said. "That's what keeps you sharp." I'm paraphrasing, but that's how I understood his advice. It's comforting, don't you think, to know that you don't have to be fearless to try something scary? You just have to push through the fear, transcend it—and suddenly you've become the kind of person who'll ride in a hot-air balloon over the Serengeti or stand up in a room full of eyes and share the little bit you know with them.
What are you planning to do today (or this year) that scares you?
All material © 2006-2008 by Pam Penick for Digging. Unauthorized reproduction prohibited.