October 25th, 2009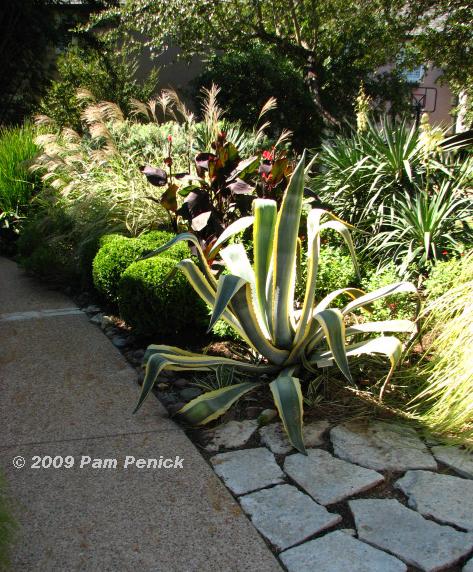 My favorite garden for plants on Saturday's Inside Austin Gardens tour was the Westlake garden of Gail Sapp. Her plants are big, bold, and architectural, and she crams them in with abandon, making a visit to her garden the delighted exploration of a strange new world. Her entry garden, above, starts off with a bang: a large variegated American agave, burgundy-leaved canna, yucca, and 'Cosmopolitan' miscanthus grass, with clipped boxwood to contrast with all those bold forms. Deer visit Gail's garden, so everything out front must be resistant.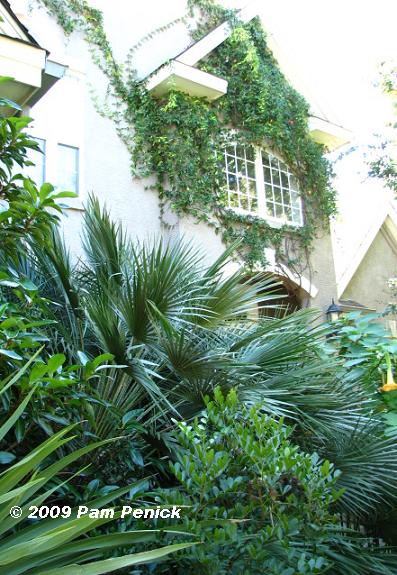 Quite the opposite of Cheryl's delightfully artistic garden, in Gail's garden the plants upstage any art or even the house, which recedes behind a screen of palms and other bold, evergreen plants. In her garden, the plants are the art. I loved both gardens, and tours like this give you a chance to enjoy many different styles.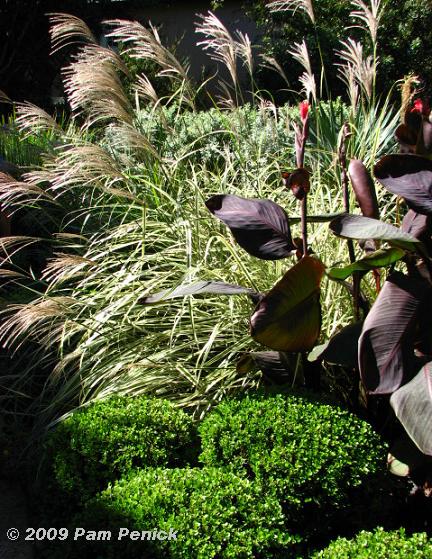 A closer look at the variegated miscanthus 'Cosmopolitan', canna, and boxwood.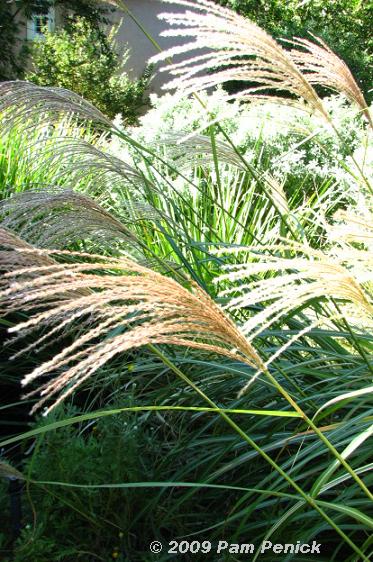 The beauty of a fall garden tour is seeing the ornamental grasses in bloom.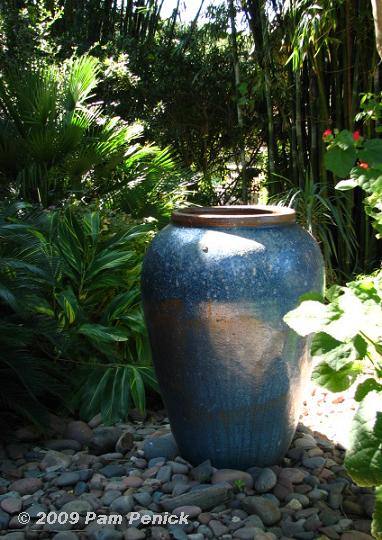 A large blue pot anchors the end of Gail's entry garden, with a stand of bamboo behind it. Perhaps this is a recirculating fountain when Austinites aren't under water-use restrictions that prohibit running fountains unless they support aquatic life. (Personally, I think this restriction is unreasonable, since dry-climate residents are most in need of the sound and sight of water in their gardens. And how much evaporation loss really occurs?)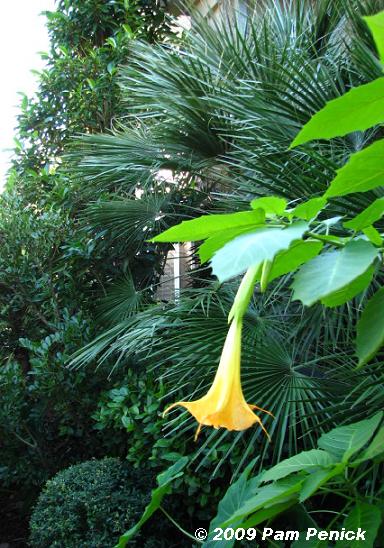 Heading back toward the drive, an enormous brugmansia in full bloom competes with a stunning palm for your attention.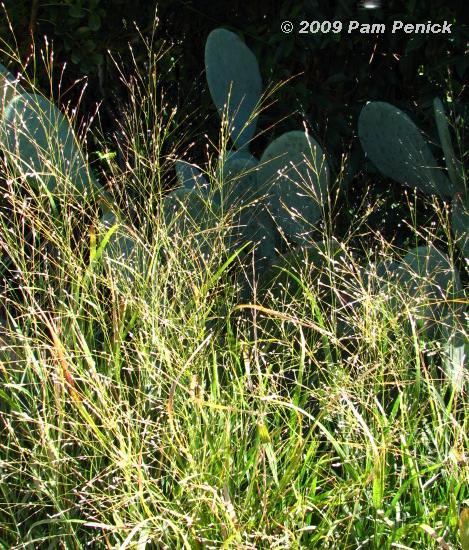 In a sunny spot tucked alongside the back-garden gate, 'Heavy Metal' switch grass pairs beautifully with spineless prickly pear.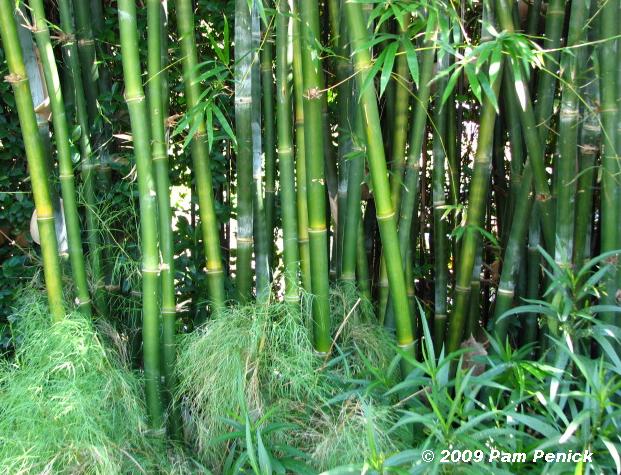 In the long, narrow back garden, two plants wowed me above all others. A stand of giant timber bamboo was one. Here it is underplanted with bamboo muhly, an ornamental grass.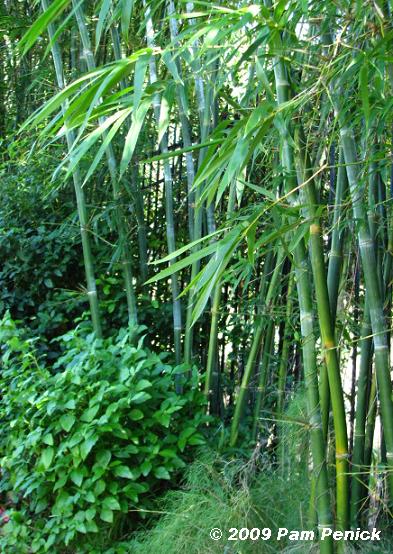 The timber bamboo screens a see-through metal fence and creates a backdrop for a wide stretch of garden. Moving gently in the breeze, the culms knocked together, creating a restful, musical "tock-took" sound, like a bamboo wind chime.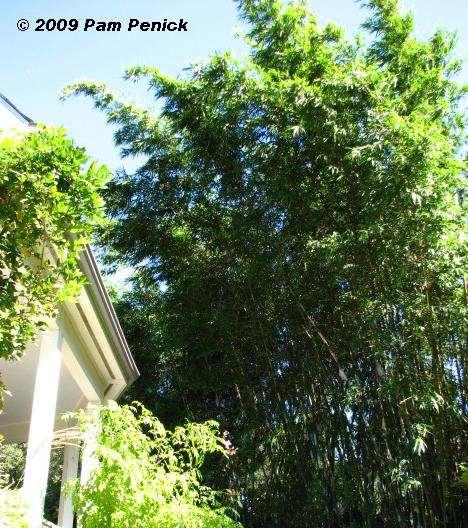 And it really is gigantic. Look how it looms over the house! Bambusa oldhamii is a clumping bamboo, not a runner, but you'd still want to be careful about where you plant it, obviously. This is a very large plant.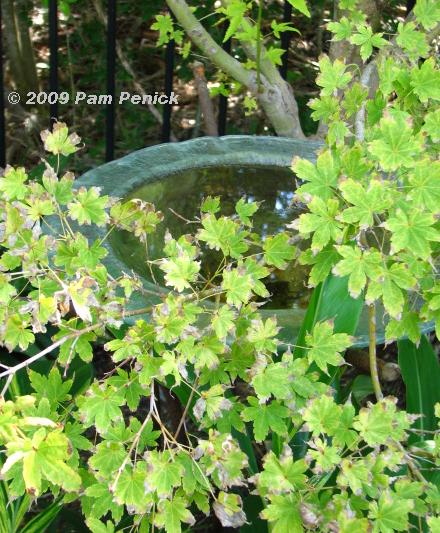 Delicate-leaved plants make an appearance in Gail's garden too, including this Japanese maple.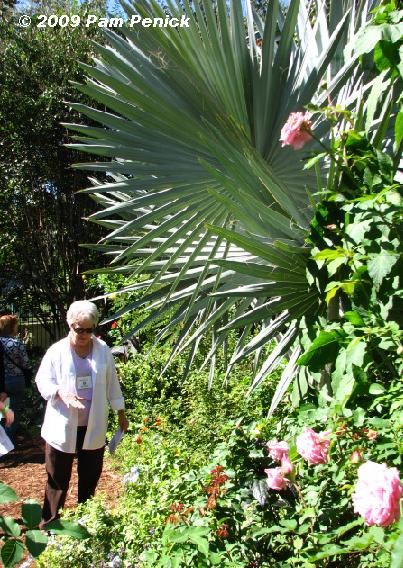 The other showstopper in her garden is a silvery blue Bismarck palm (Bismarckia nobilis). Its gigantic fan-shaped leaves reach out from behind a section of hardy, fragrant roses in a longing embrace. Yes! I love you too, palm!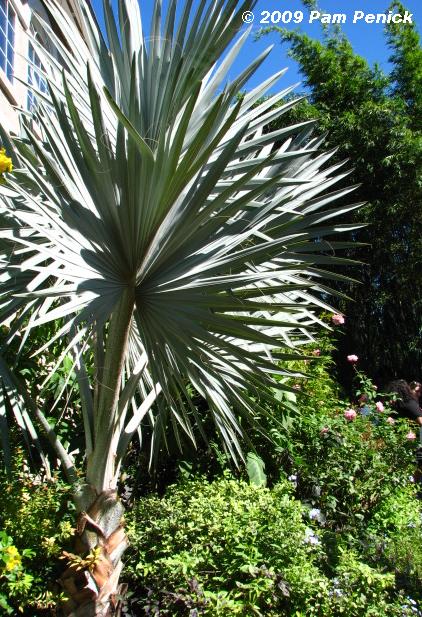 What a stunner. I came straight home to look up its growing conditions and learned that it is cold-tender for zones above 9, making it a risky choice for our zone 8b. It is very drought-tolerant, but this baby gets huge: up to 60 feet high with a spread of 20 feet. It may not get that large in Austin, with our cooler-than-zone 9 winters, but still.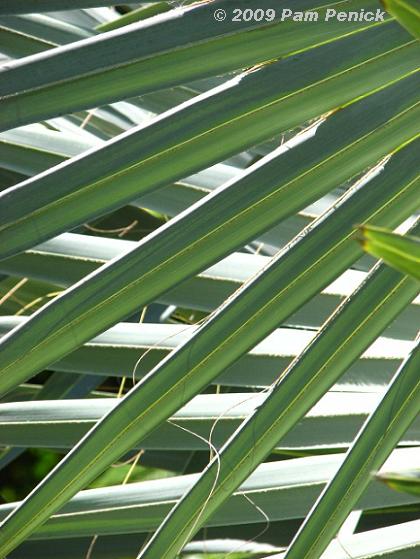 And yet if anyone can manage to make it work in her somewhat small garden, it'll be Gail. She has a marvelous design sense, with a flair for drama and scale. And because her garden relies on foliage not flowers, it surely looks wonderful year-round. What a fantastic garden she's created.
For a look back at my visit to the garden of Cheryl Goveia, click here. Tune in tomorrow for a tour of Eleanor Pratt's garden.
All material © 2006-2009 by Pam Penick for Digging. Unauthorized reproduction prohibited.