December 4th, 2017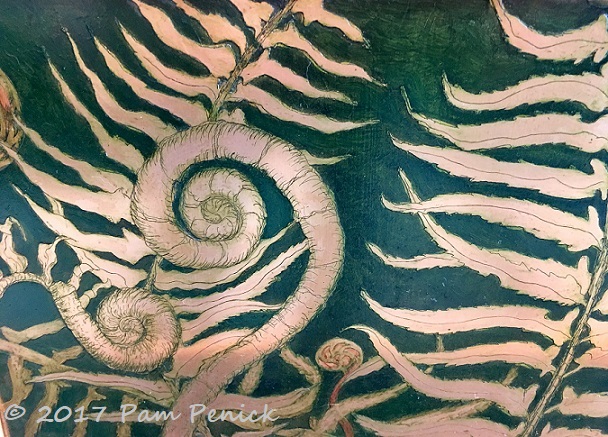 If you happen to be in Eugene, Oregon, and want to see beautiful nature art, visit the University of Oregon's Ford Alumni Center and look for the big hearth wall. On a visit to this pretty college town last summer I fell for the work Contemplari Natura by alumna Tallmadge Doyle.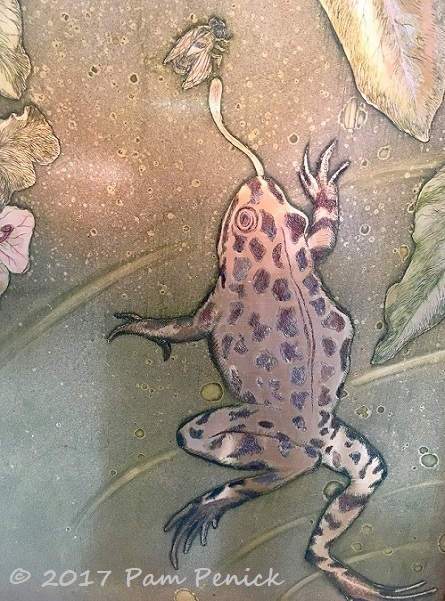 The work consists of 21 etched and colored copper panels that depict the flora and fauna of Oregon, built into a wall of Lebanon cedar surrounding an 8-foot-wide fireplace. Each exquisite panel reveals a lifelike glimpse of an indigenous creature, such as frog, turtle, fox, and octopus, as well as native plants like fern and elderberry.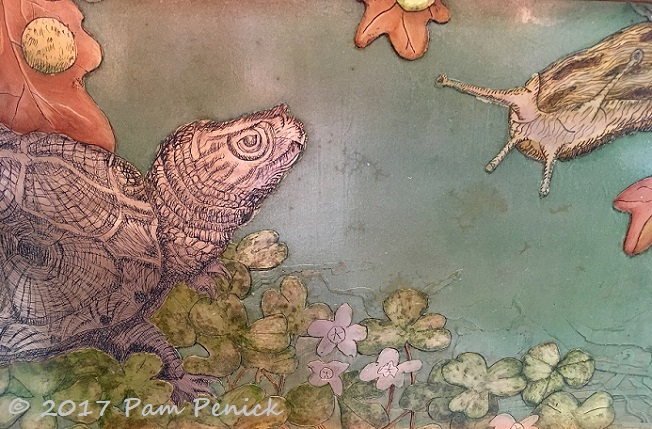 Lovely, aren't they? Imagine cozying up to a hearth amid such scenes as these. For more of Doyle's artwork, visit her website.
I welcome your comments; please scroll to the end of this post to leave one. If you're reading this in a subscription email, click here to visit Digging and find the comment box at the end of each post.
_______________________
Digging Deeper: News and Upcoming Events
Calling all garden bloggers! You're invited to register for the annual Garden Bloggers Fling tour and meetup, which will be held in Austin next May 3-6, 2018! Click this link for information about registering, and you can see our itinerary here. Space is limited, so don't delay. The 2018 Fling will be the event's 10th anniversary, which started in Austin in 2008.
Join the mailing list for Garden Spark Talks! Inspired by the idea of house concerts, I'm hosting a series of garden talks by inspiring designers and authors out of my home. Talks are limited-attendance events and generally sell out within just a few days, so join the Garden Spark email list for early notifications. Simply click this link and ask to be added.
All material © 2006-2017 by Pam Penick for Digging. Unauthorized reproduction prohibited.