November 30th, 2017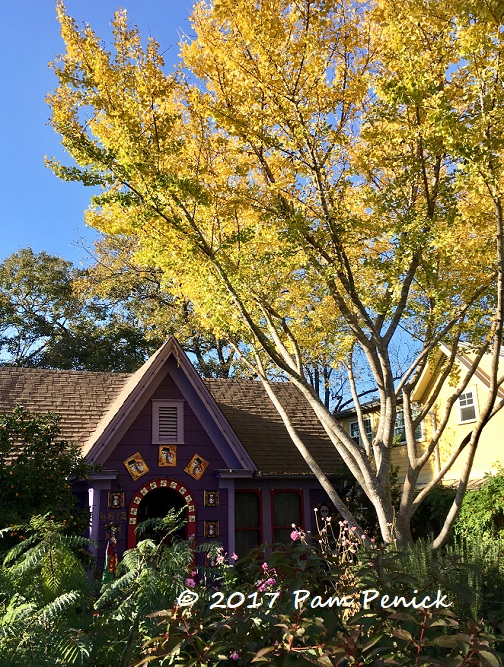 Ginkgo trees may be commonplace in cooler climates, but they're unusual in Austin. I've seen one at Zilker Botanical Garden, and then there's this beautiful, mature ginkgo in author Lucinda Huton's garden in the Rosedale neighborhood. On her Facebook page, she often posts pics when it turns golden yellow in late November, just before it drops all its leaves in a sudden whoosh.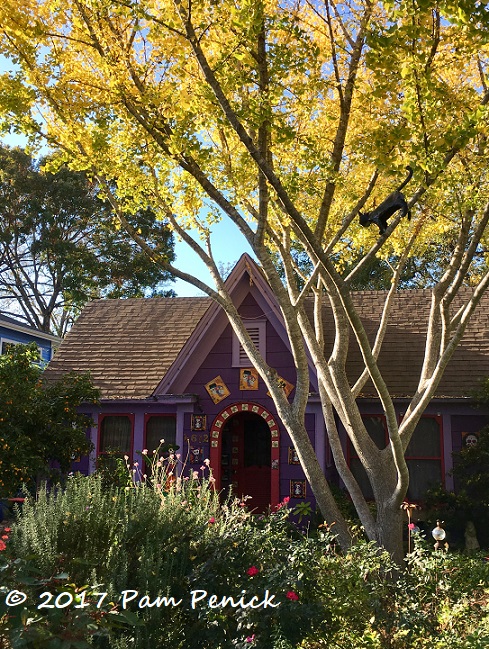 Lucinda has kindly been emailing me updates on its color. Yesterday sounded like the day to swing by, so I did — and acted like a crazed tree paparazzi with my cell phone camera. Even though 2017 isn't panning out to be a great year for fall color in Austin (too dry maybe?), Lucinda's ginkgo is still putting on a dazzling show. And doesn't the black (metal) cat in the tree add just the right accent?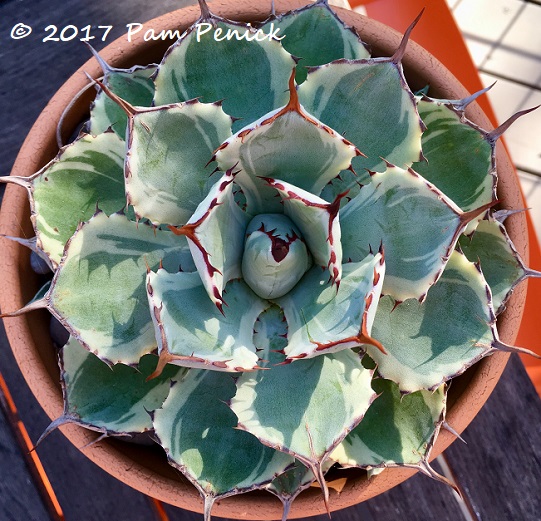 Back at home, fall color in my own garden is pretty much a dud this year — not much from the pomegranate, Mexican buckeye, or crepe myrtle, though I'm still holding out hope for the Japanese maple — but there's always plenty of subtler color to enjoy, like this pretty little 'Cream Spike' agave, its terracotta-colored spikes echoing its pot and orange chairs around the table.
I welcome your comments; please scroll to the end of this post to leave one. If you're reading this in a subscription email, click here to visit Digging and find the comment box at the end of each post.
_______________________
Digging Deeper: News and Upcoming Events
Calling all garden bloggers! You're invited to register for the annual Garden Bloggers Fling tour and meetup, which will be held in Austin next May 3-6, 2018! Click this link for information about registering, and you can see our itinerary here. Space is limited, so don't delay. The 2018 Fling will be the event's 10th anniversary, which started in Austin in 2008.
Join the mailing list for Garden Spark Talks! Inspired by the idea of house concerts, I'm hosting a series of garden talks by inspiring designers and authors out of my home. Talks are limited-attendance events and generally sell out within just a few days, so join the Garden Spark email list for early notifications. Simply click this link and ask to be added.
All material © 2006-2017 by Pam Penick for Digging. Unauthorized reproduction prohibited.