November 18th, 2017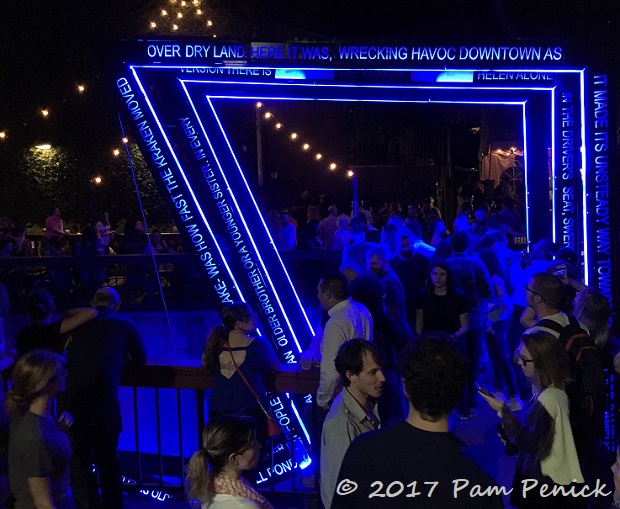 I'm into public art and especially enjoy the annual Waller Creek Conservancy-sponsored Creek Show, a 9-night run of light installations along a scruffy downtown waterway that's being redeveloped into a chain of urban parks. This is Creek Show's 4th year, and it ends tonight (November 18), so if you'd like to see it, go between sundown and 10 pm.
This blue-light gateway near always-popular Easy Tiger Beer Garden is Fotan Fable. Words from a modern fairy tale zigzag up and down the beams, starting down along the creek, going vertical over the bridge, and then back down.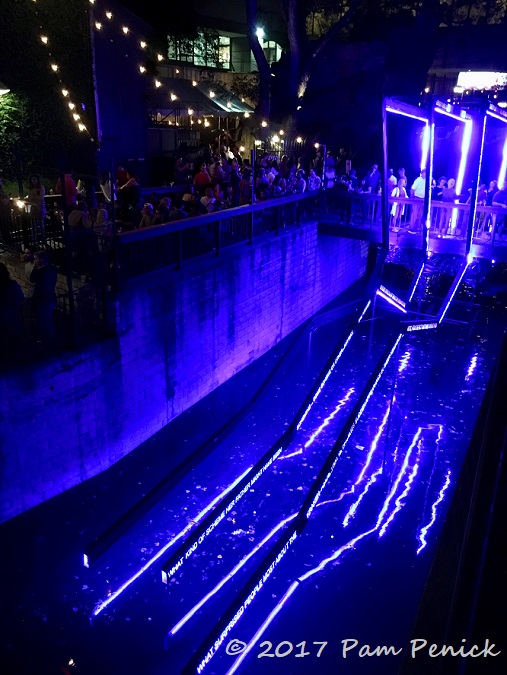 I found it intriguing but impossible to read in the crush of people last night.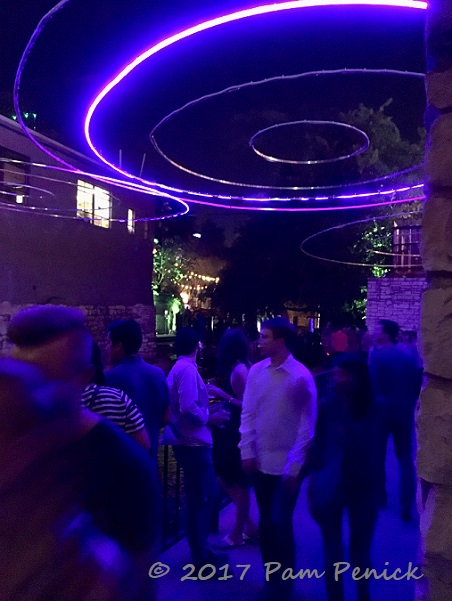 I liked Submerge better, with ripple-like rings of light blinking overhead and reflecting in the creek below.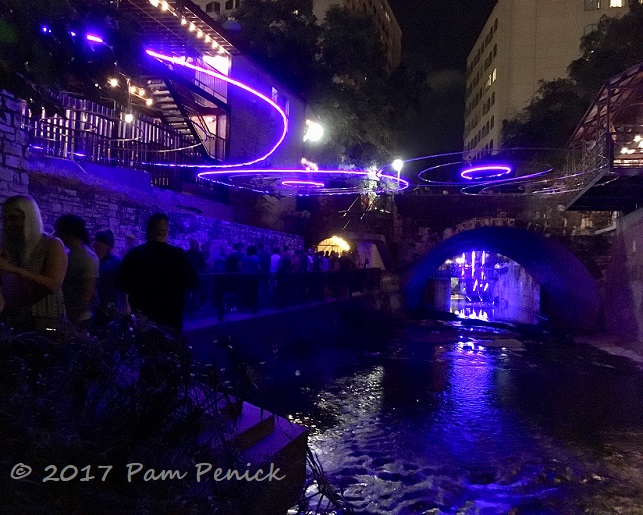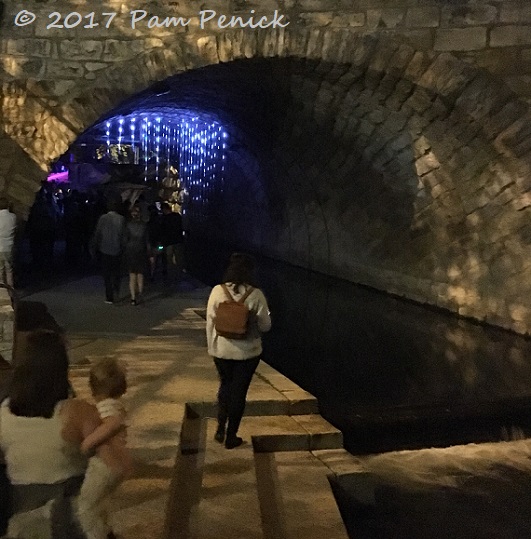 I also liked Blind Spot, a video installation with mirrored posts along the creek, but it was too crowded to get a photo. Moving on, then, into one of the Waller Creek tunnels…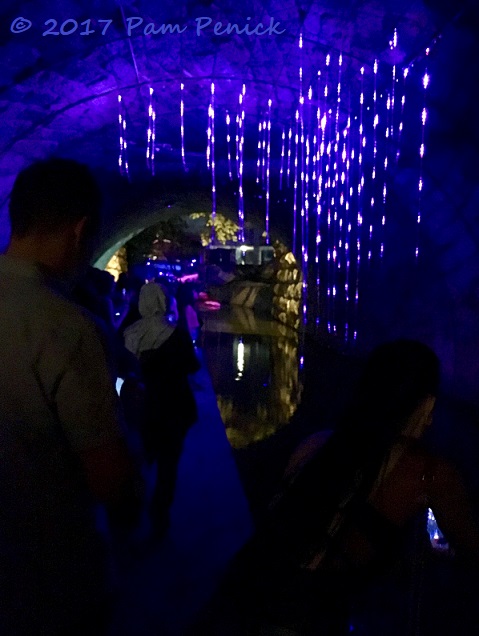 …this is Ephemeral Suspension, stalactite-like dripping lights suspended from the tunnel ceiling. It was a pretty effect but mostly resembled a Christmas light display.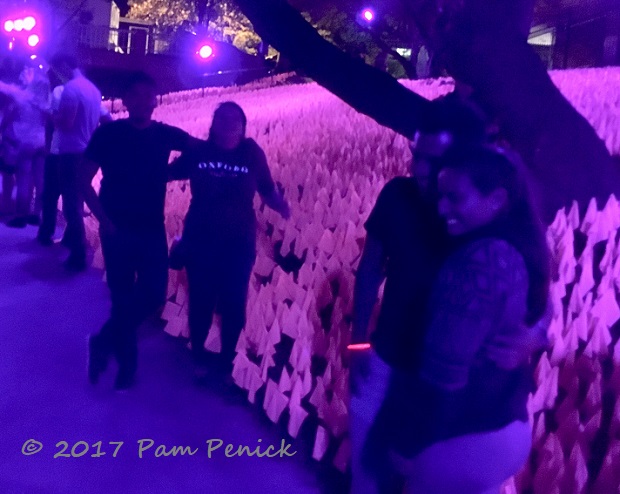 Night Garden was the most popular installation, based on the number of selfies being taken here. Hillocks of 80,000 fluorescent pink survey flags massed together, with audio of crickets chirping, makes for a surreal landscape. The artists call it "an inhabitable reverie."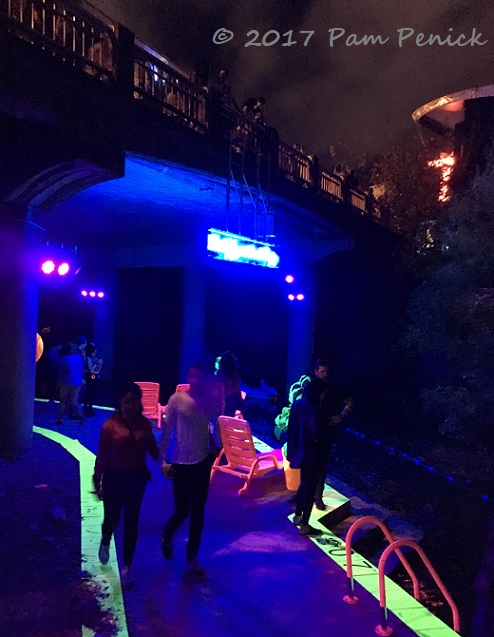 But my fave was No Lifeguard on Duty, a poolside-evoking set-up along the creek with depth-marking paint, pool stairs, fluorescent-painted potted plants and deck chairs, pool floats in the water, and a cursive neon sign (which I'd love to have in my home or garden) that reads "No Lifeguard on Duty."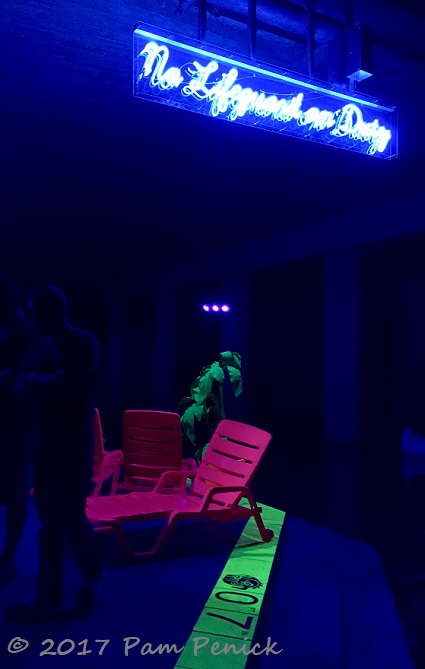 The irony is that Waller Creek is particularly unsuitable for swimming, being shallow, trash-strewn, rubbly, and in every other way not like Barton Springs, our city's beloved spring-fed swimming hole near downtown.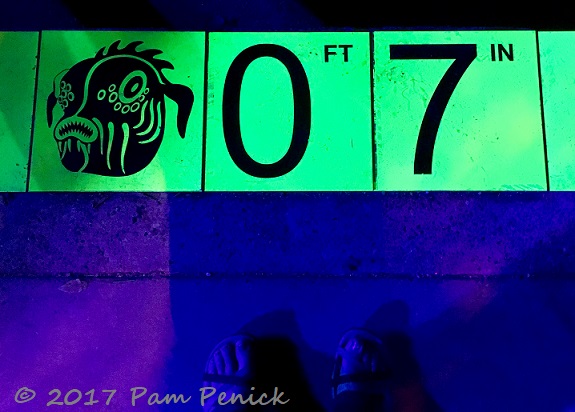 No diving! The depth is marked as 7 inches, appearing alongside Creek Show's mascot monster-fish.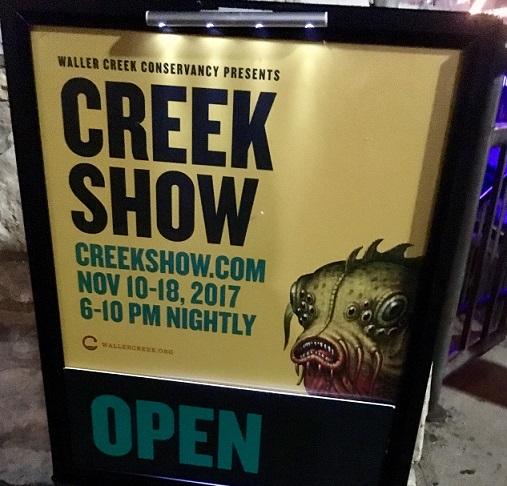 In addition to the art installations, the people-watching is quite good, so go if you can. And stop by the Creek Show Lounge at 700 E. Sixth Street to see the eventual parks in virtual reality and perhaps join Waller Creek Conservancy to help make those parks a reality.
I welcome your comments; please scroll to the end of this post to leave one. If you're reading this in a subscription email, click here to visit Digging and find the comment box at the end of each post.
_______________________
Digging Deeper: News and Upcoming Events
Calling all garden bloggers! You're invited to register for the annual Garden Bloggers Fling tour and meetup, which will be held in Austin next May 3-6, 2018! Click this link for information about registering, and you can see our itinerary here. Space is limited, so don't delay. The 2018 Fling will be the event's 10th anniversary, which started in Austin in 2008.
Join the mailing list for Garden Spark Talks! Inspired by the idea of house concerts, I'm hosting a series of garden talks by inspiring designers and authors out of my home. Talks are limited-attendance events and generally sell out within just a few days, so join the Garden Spark email list for early notifications. Simply click this link and ask to be added.
All material © 2006-2017 by Pam Penick for Digging. Unauthorized reproduction prohibited.