October 18th, 2017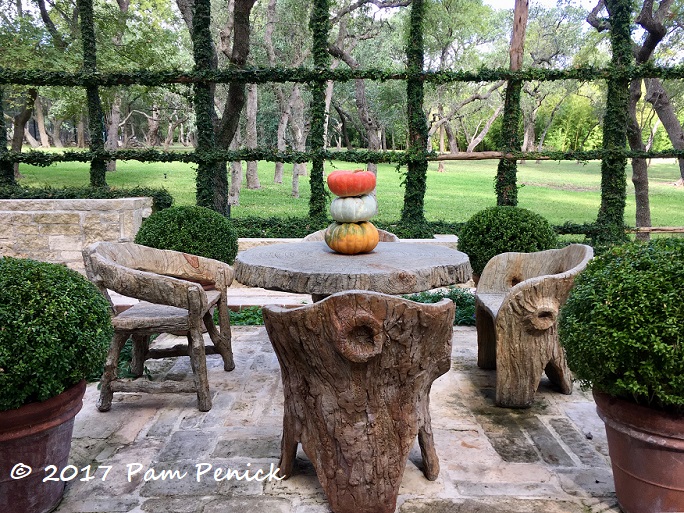 Last Saturday I road-tripped to San Antonio for the Open Days garden tour, sponsored by the Garden Conservancy. Shirley Fox of Rock-Oak-Deer was one of the organizers this year, and I was eager to see the gardens that she'd chosen for the tour.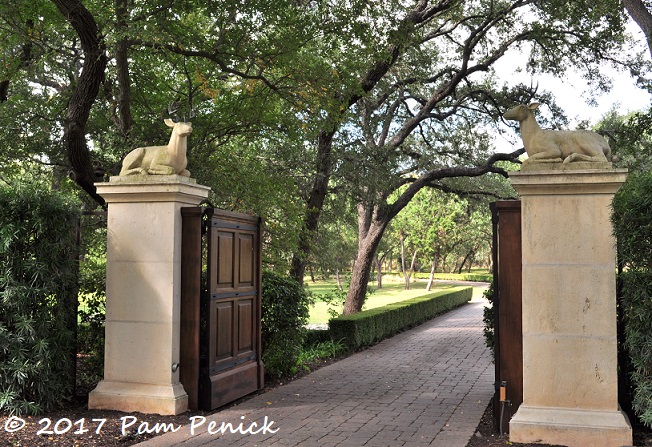 The Ware Garden is the grandest, an estate-size property entered via a gate with stag sculptures on limestone pilasters. A long, curving drive leads past clipped yew and boxwood hedges, and you might think you're only going to see lawn and live oaks.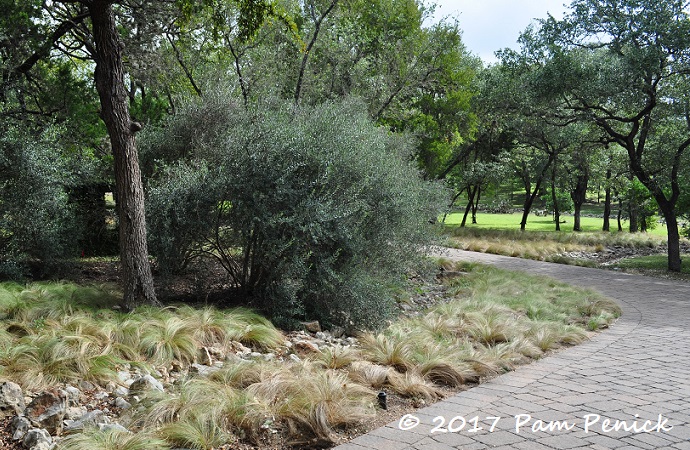 Not so! Masses of tufty Mexican feathergrass add subtle golden color and texture beneath live oaks along the drive, where a dry stream channels runoff.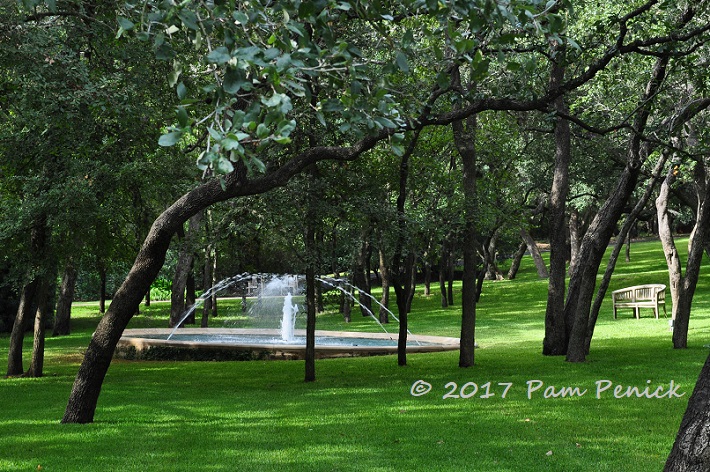 A circular pool and spouting fountain appear near the house, set in an emerald lawn amid the dark, gnarled trunks of dozens of live oaks.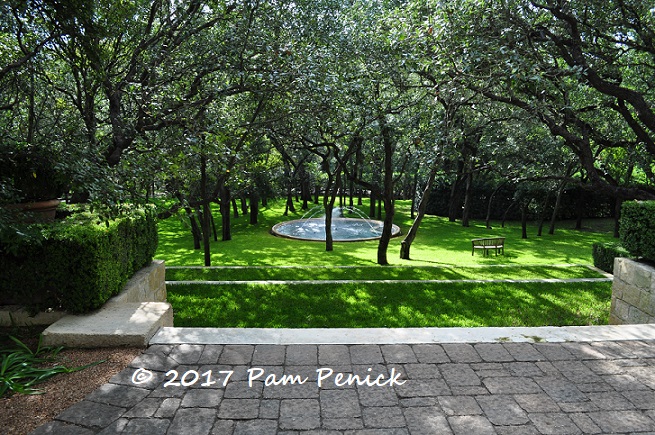 And here it's seen from the home's front terrace. The live oaks make this scene magical, elevating it from something classically formal and rather ordinary — a fountain in a big, open lawn — and giving it a fairy-tale, dark-wood dimension. There's a sense of mystery here.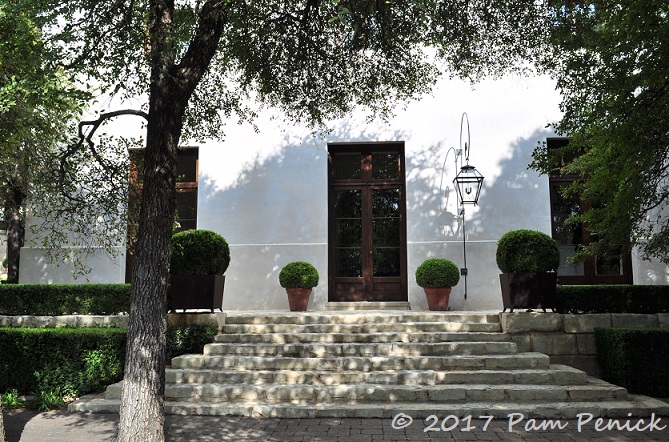 Turning around, you see the front steps to the house — not at all ostentatious but rather a study in elegant simplicity: a pyramid of limestone steps, potted boxwood spheres, and a scrolled iron lantern alongside a handsome wooden door.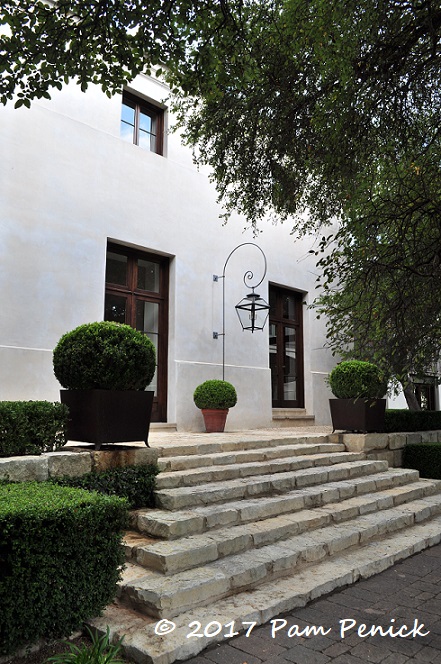 Side view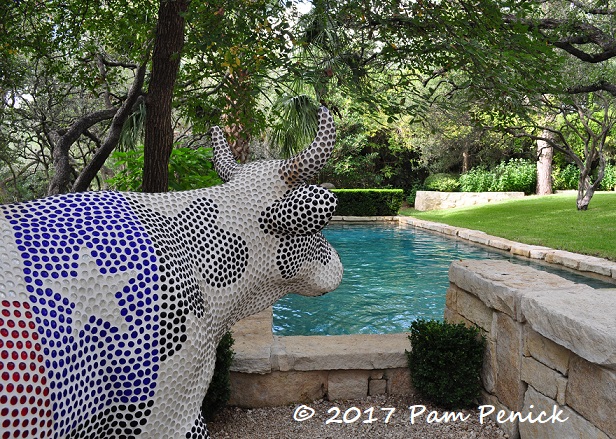 Walking around the house, you get a jolt of humor from a glass-mosaic cow wearing the Texas flag and gazing at a limestone-edged swimming pool, as if longing to take a dip.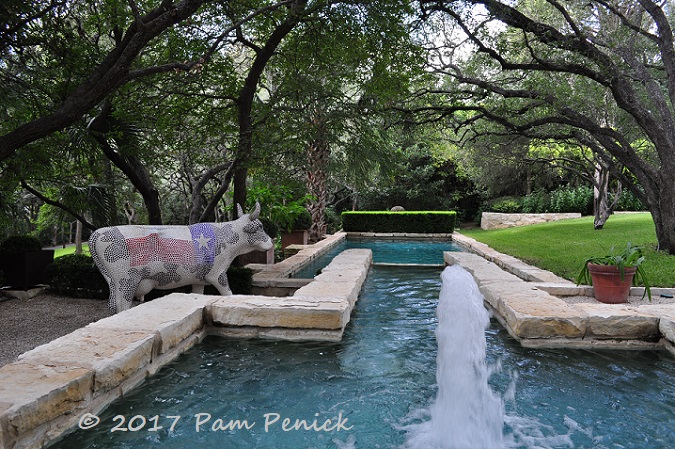 In front, a fountain splashes in a raised rectangular pool, with a rill that leads the eye across the pool, where it stops at a perfectly manicured boxwood hedge, clipped to the same dimensions as a limestone retaining wall to the right.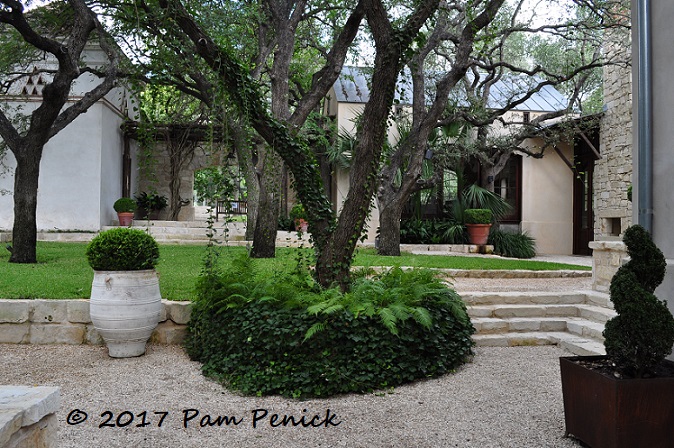 Past the pool, a gentle slope is terraced with a low limestone wall. The house wraps around a rectangular lawn studded with more live oaks.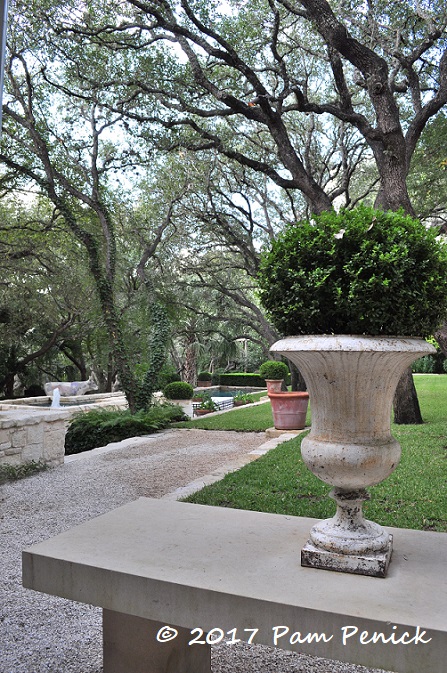 Clipped boxwood in various pots makes a simple and elegant accent throughout the garden.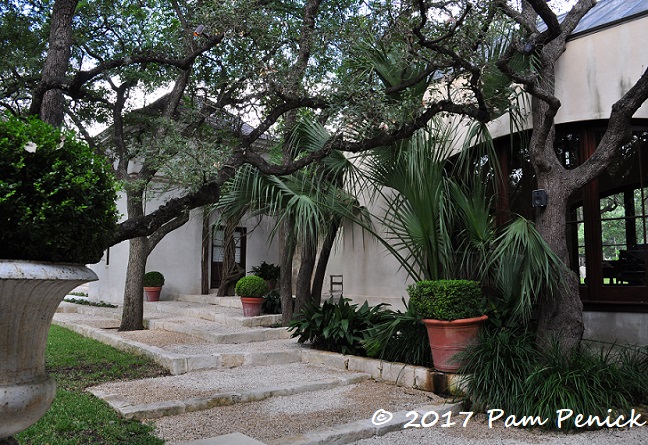 Shallow limestone-and-gravel steps lead past a wing of the house with expansive windows, which I imagine provide a lovely view of the evergreen landscape. I believe that's our native palmetto (Sabal mexicana) lifting its droopy-leaved fans to mingle with live oak limbs.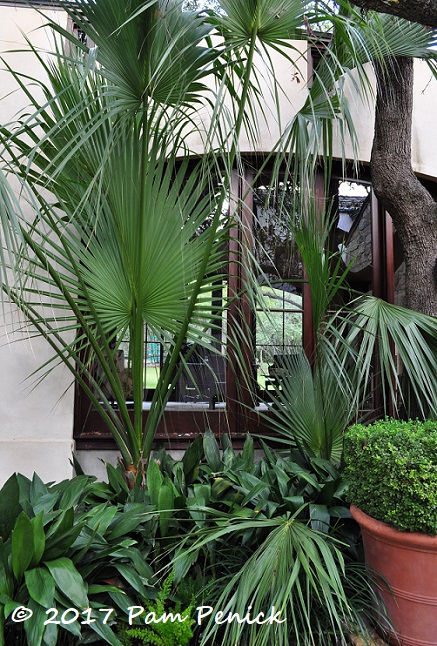 Palmetto and cast-iron plant add lush-leaved, subtropical San Antonio style (also common in Austin).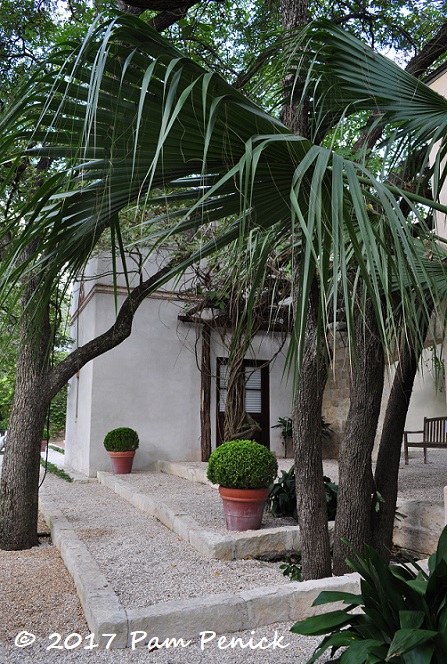 Details are simple and clean lined.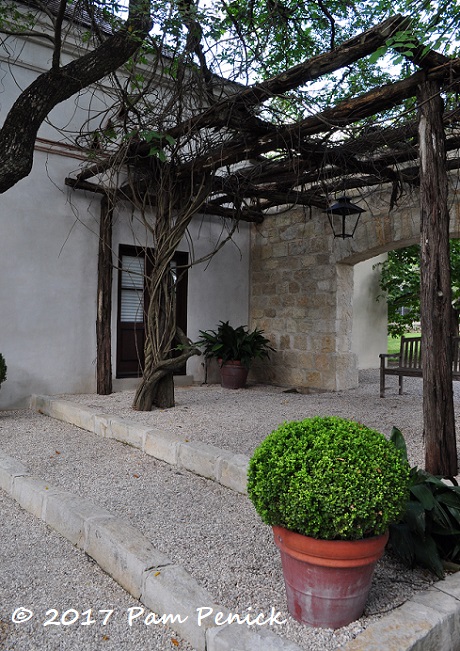 Rustic features like the rough cedar arbor are pure Central Texas.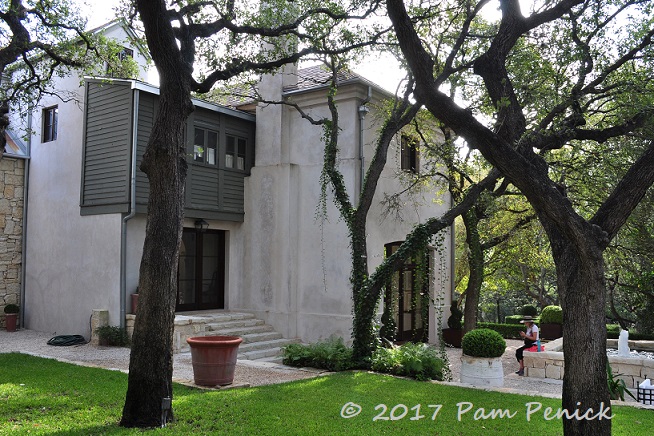 The brochure says that the owners "envisioned a European garden reminiscent of a hotel where they had lived for three years. Architect Don McDonald…designed terraces around the house as a stage for beautifully sheared boxwood hedges and classic European pots planted with boxwood balls."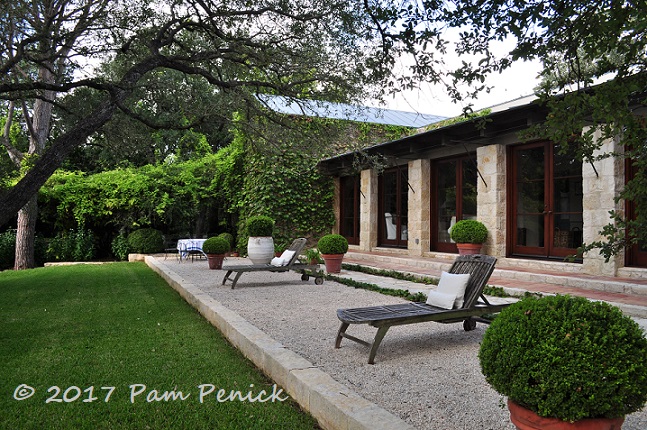 A relaxing limestone-and-gravel terrace along the guest house…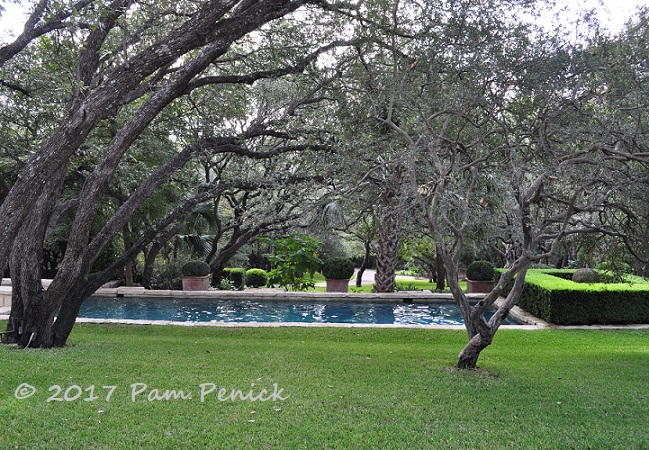 …enjoys a view of the swimming pool and those wonderfully bent and twisted live oak trees and a gray-trunked Texas persimmon.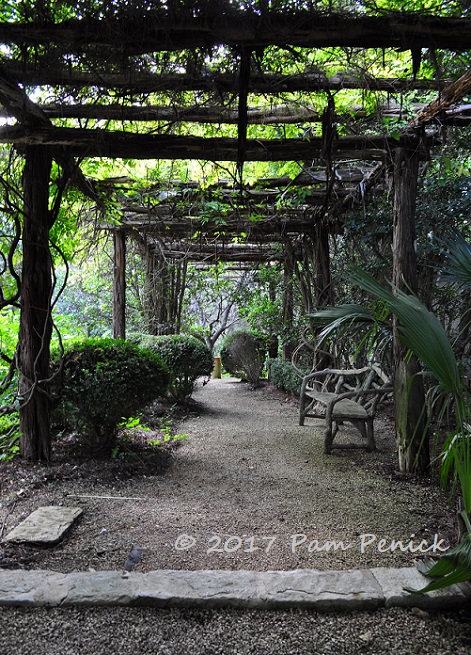 At the end of the lawn, a vine-draped cedar pergola with a faux bois bench offers a shady place to enjoy the view.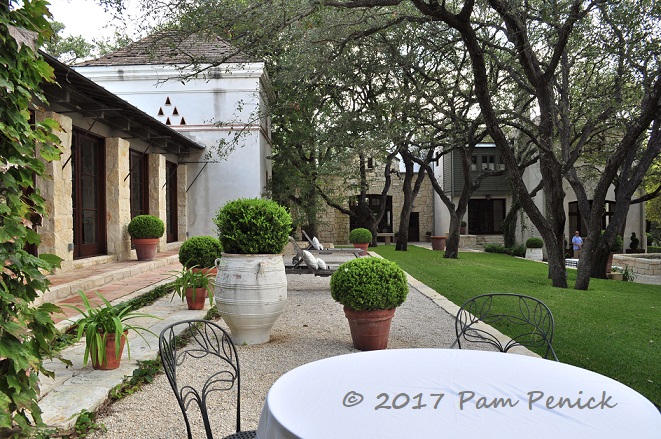 Looking back toward the main house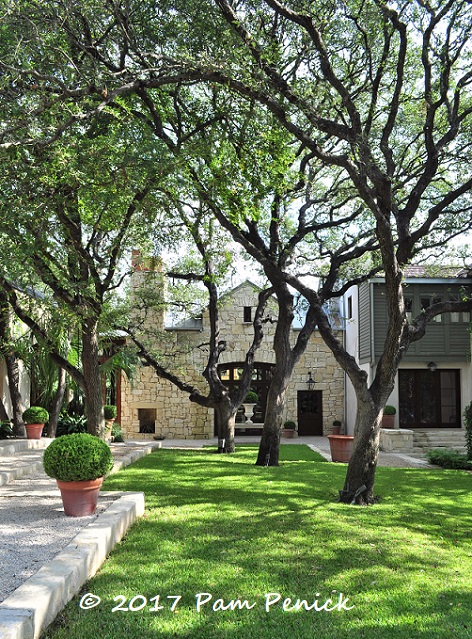 The beautifully pruned live oaks are the stars of this understated garden.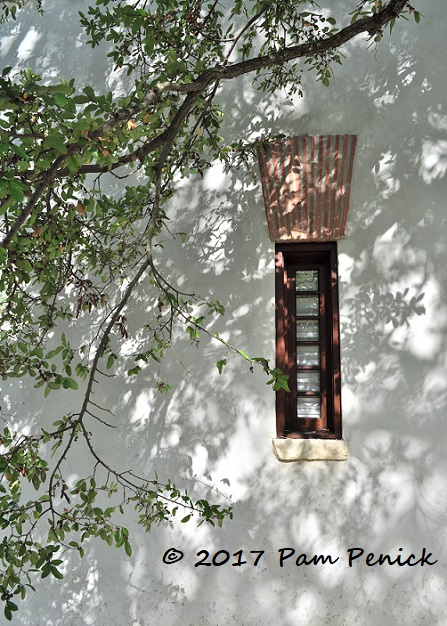 A lacy limb drapes around a narrow window in the guest house.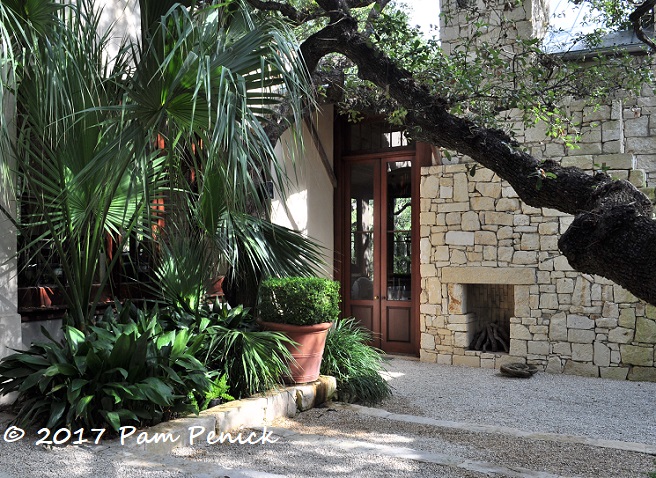 A small terrace off the main house features a built-in outdoor fireplace made of limestone.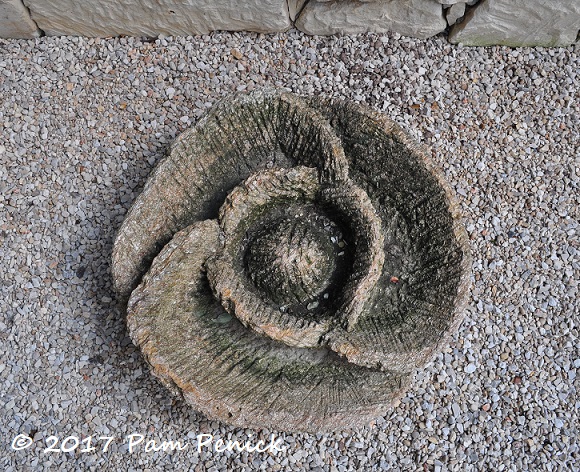 A carved stone flower makes a pretty accent on the gravel paving.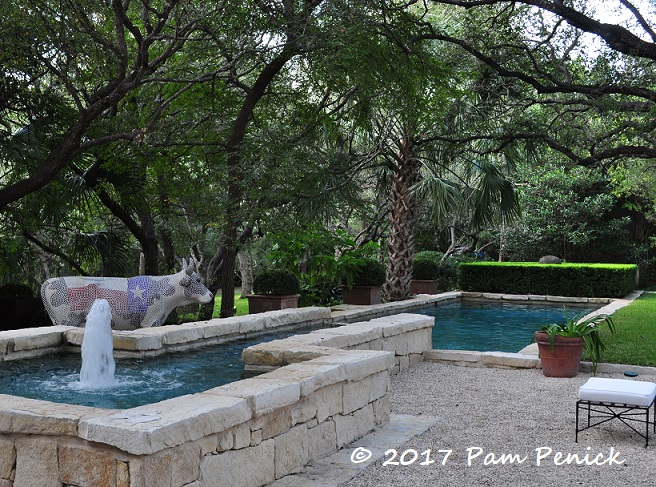 A last look at the fountain, pool, and Cow Tex.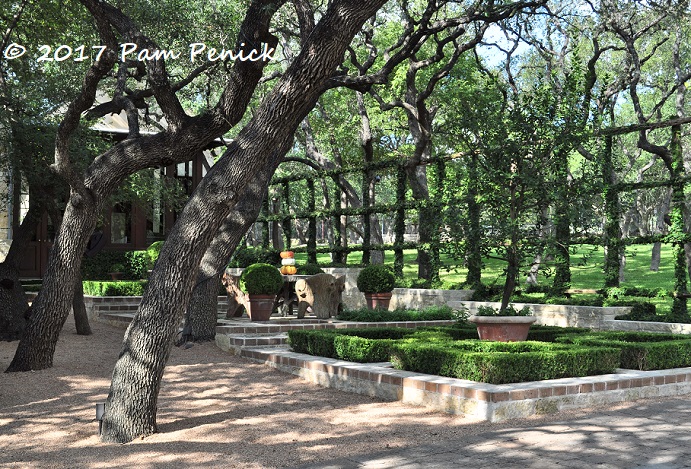 On the opposite side of the house, by a detached garage, a terraced boxwood parterre and center patio are framed by a monumental, grid-like trellis constructed of rough cedar posts and cloaked in fig ivy. The trellis runs from the garage to the house, connecting the two and creating a sort of window-walled garden room.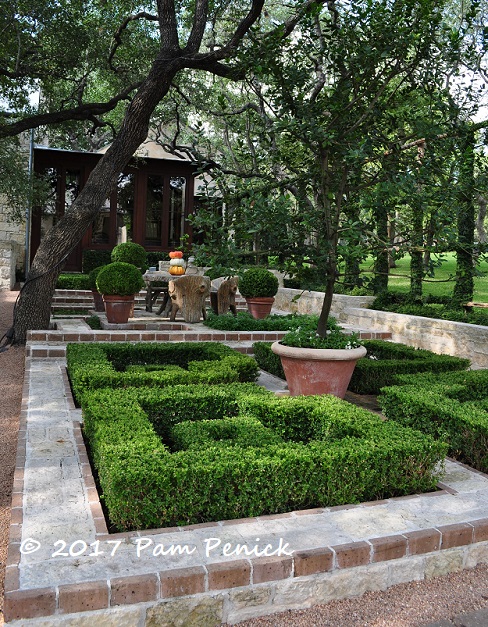 Clipped boxwood parterre, set off by limestone-and-brick paving.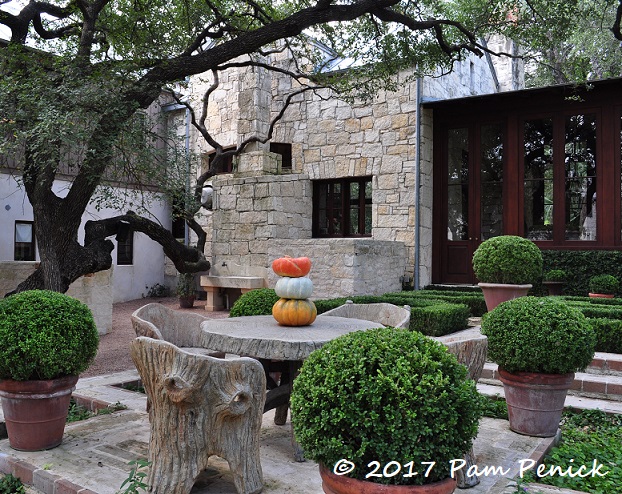 In the central patio space, a faux bois table and chairs invite you to sit and enjoy the view. Under that long, snaking live oak limb, a handsome limestone trough and outdoor faucet make an outdoor sink.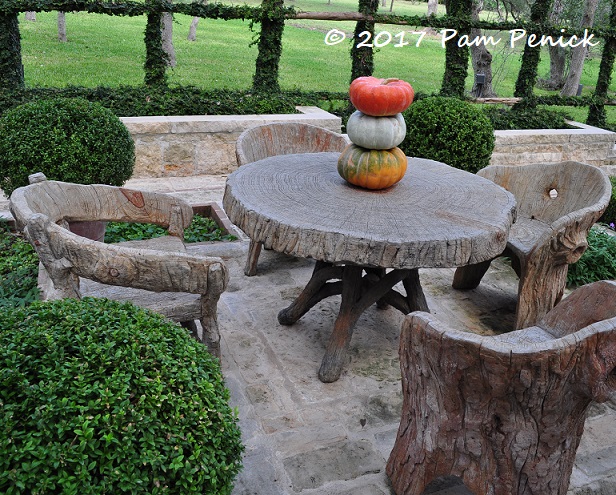 The faux bois looks remarkably like real wood.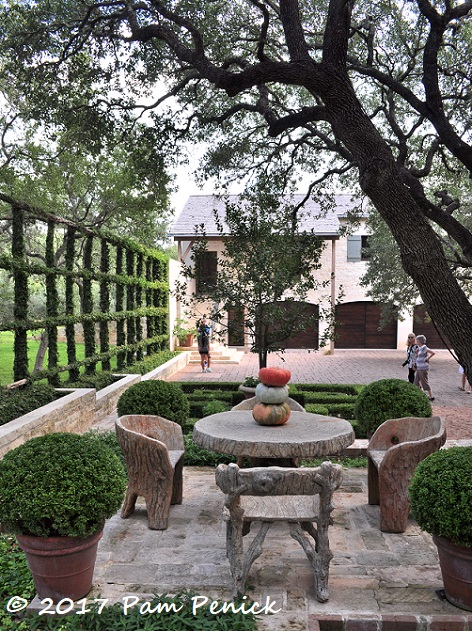 The elegant — and enormous — detached garage creates another sheltering wall for this outdoor space.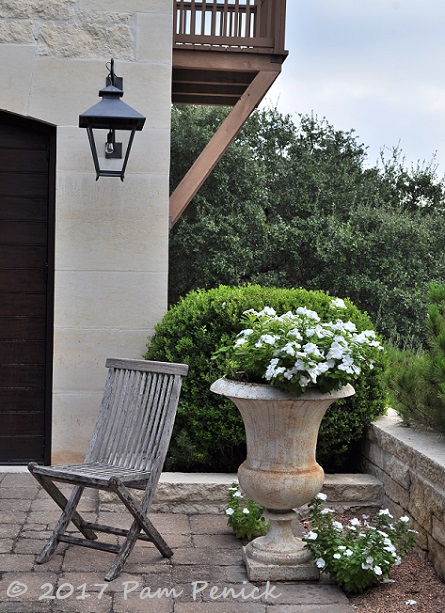 At a corner of the garage, in a space that might easily be overlooked, a wooden folding chair and white-garden urn create a pretty vignette.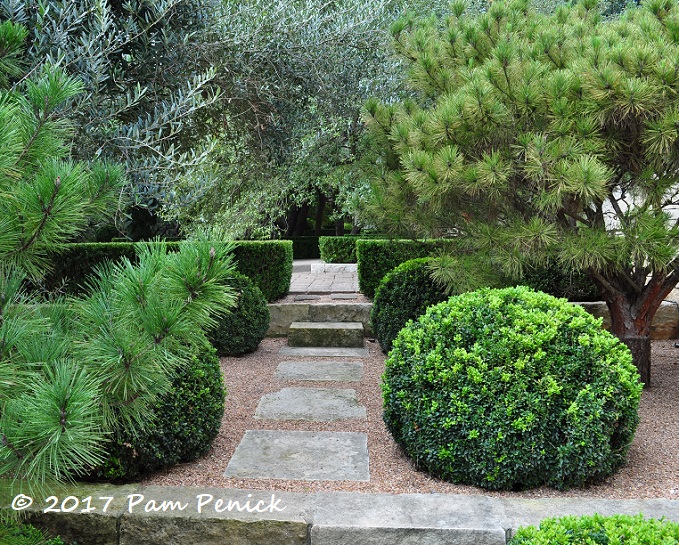 There's more to explore from here, as a limestone-paver path leads between boxwood spheres and olive and pine trees out to an olive grove.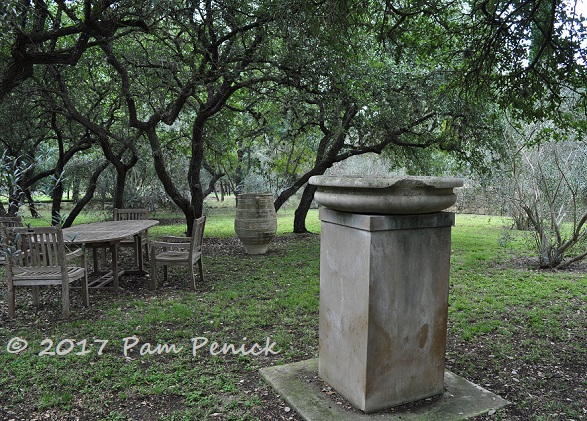 Nearby, beneath the shady canopy of live oaks, classical planters and a wooden table and chairs beckon.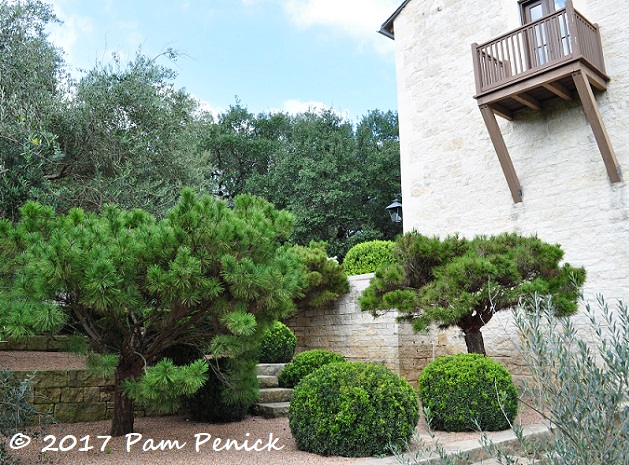 The classicism of this garden, tempered with rustic Central Texas features like limestone edging and shaggy cedar posts, is very appealing. European formal landscaping meets relaxing Texas style in the Ware Garden, and I loved it.
Up next: The Tupper Beinhorn Garden in San Antonio's historic Monte Vista neighborhood.
I welcome your comments; please scroll to the end of this post to leave one. If you're reading this in a subscription email, click here to visit Digging and find the comment box at the end of each post.
_______________________
Digging Deeper: News and Upcoming Events
Don't miss the Austin Open Days garden tour sponsored by the Garden Conservancy on November 4.
Join the mailing list for Garden Spark Talks! Inspired by the idea of house concerts, I'm hosting a series of garden talks by inspiring designers and authors out of my home. Talks are limited-attendance events and generally sell out within just a few days, so join the Garden Spark email list for early notifications. Simply click this link and ask to be added.
All material © 2006-2017 by Pam Penick for Digging. Unauthorized reproduction prohibited.
posted in
Arbors
,
Containers
,
Decor
,
Doors
,
Dry Streams
,
Fireplace
,
Fountains
,
Garden art
,
Garden tours 2017
,
Gates
,
Grasses
,
Lawns
,
Palms/Cycads
,
Paths
,
Patios & decks
,
Pruning
,
Rock
,
Sculpture
,
Seating
,
Shade garden
,
Shrubs
,
Swimming pools
,
Texas natives
,
Travel
,
Trees
,
Trellis
,
Vines
,
Walls
,
Water features
,
Windows