October 4th, 2017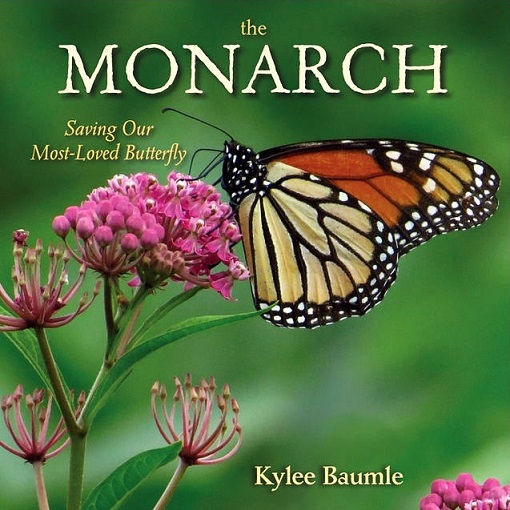 The first wave of migrating monarch butterflies has reached North Texas and will be fluttering through Austin and other parts of Central Texas by next week. Despite their seeming fragility, these tenacious creatures migrate each fall as far as 2,800 miles from the northern U.S. and southern Canada to their wintering grounds in central Mexico. It's a miraculous annual event, and we Texans have front-row seats.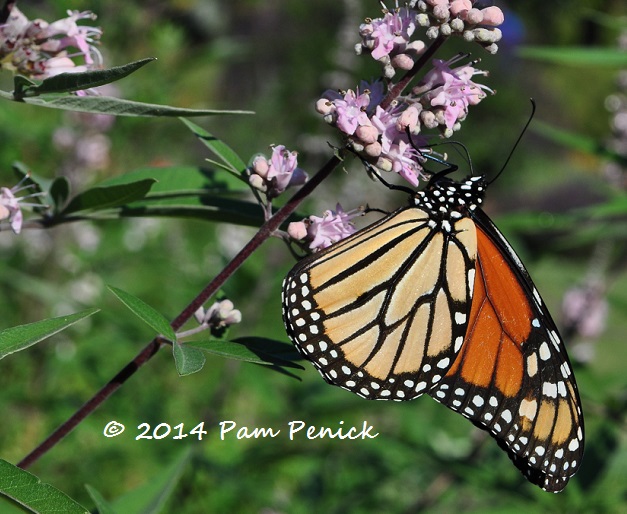 Monarchs are in trouble, though. Due to habitat loss, drought, flood, the use of pesticides and herbicides, and especially the widespread eradication of milkweed, which is the sole food source for monarch caterpillars, monarch populations have plummeted by 90% in the last 20 years. These distinctive butterflies need our help, and each of us can make a difference by creating a healthy habitat for monarchs in our own yards and gardens. Here in Texas that means planting fall-blooming nectar plants for migrating monarchs to fuel up on as they journey to Mexico and milkweed for northbound monarchs to lay their eggs on (and their caterpillars to feed on) in the spring. Plant both nectar plants and milkweed in your garden now.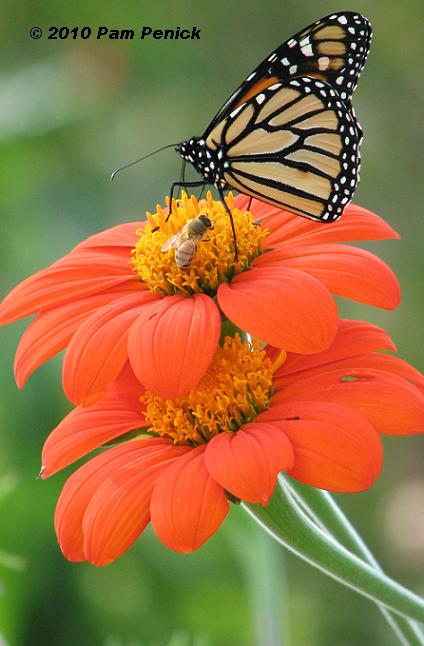 Awareness of helpful gardening practices is the first step, but there's plenty more you can do to aid monarchs, as author Kylee Baumle shows in her accessible and well-illustrated book The Monarch: Saving Our Most-Loved Butterfly (St. Lynn's Press, 2017). Kylee, a longtime blogger at Our Little Acre, raises and tags butterflies as a citizen-scientist, successfully lobbied her state legislature in Ohio to create a monarch-supporting license plate, and has led a tour to the monarch's wintering grounds in the mountains of central Mexico. In her new book, she shares the inspirational life story of the monarch as well as its current peril, and offers guidance for those wishing to create a butterfly-friendly garden or help in other ways.
The Monarch is an engaging introduction for gardeners and wildlife lovers wanting to know more about our most iconic butterfly. It would also be a good book to share with older children, who will be fascinated by the monarch's epic journey. And what better way to get kids or grandkids involved in the garden than by inspiring them to help these beautiful creatures?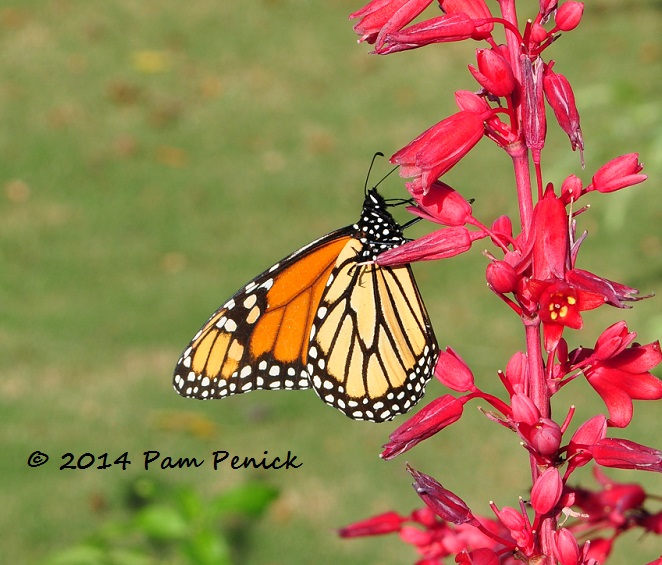 While you're reading and watching for a fluttering parade of orange-and-black wings in Central Texas, here are some other ways to celebrate the monarch this month in Austin.
Flight of the Butterflies
What: Movies in the Wild: An outdoor showing of an inspiring documentary about monarch migration
When: Friday, October 6, gates at 6 p.m., movie at dusk
Where: Lady Bird Johnson Wildflower Center, 4801 La Crosse Ave., Austin
Cost: $12/ticket for ages 5 and up; tickets are available Friday at the Wildflower Center, or save time by purchasing in advance online. Members get 50% off (be sure to sign in on the purchase page).
Details: Alamo Drafthouse Cinema and the Wildflower Center are transforming the Family Garden into a theater for one night only. Spread your blanket on the play lawn, and enjoy Flight of the Butterflies, a film about the great journey of migrating monarchs. Bring a picnic and enjoy free brews from North by Northwest Brewery! No outside alcohol permitted. Kettle corn and ice cream available for purchase. Fun activities will include monarch mask-making and a flighty photo-op.
Monarch Appreciation Day
What: An Austin-area butterfly celebration offering fun for the entire family
When: Saturday, October 21, 9 am to 4 pm
Where: Zilker Botanical Garden, 2220 Barton Springs Rd., Austin
Cost: Free with admission to the garden; admission is $1 for children (ages 3-12); $2 for adults, Austin resident (ages 13-61); $3 for adults, non-resident (ages 13-61); $1 for seniors (age 62 & over)
Details: Family-friendly activities including nature crafts, see a monarch eye-to-eye, learn how to attract pollinators year-round, learn how you can be a Pollinator Pal.
Disclosure: St. Lynn's Press sent me a copy of The Monarch for review. I reviewed it at my own discretion and without any compensation. This post, as with everything at Digging, is my own personal opinion.
I welcome your comments; please scroll to the end of this post to leave one. If you're reading this in a subscription email, click here to visit Digging and find the comment box at the end of each post.
_______________________
Digging Deeper: News and Upcoming Events
Get ready for fall garden tours in Texas! The Garden Conservancy is sponsoring Open Days tours in Fort Worth on Oct. 8th, San Antonio on Oct. 14th, and Austin on Nov. 4th.
Get on the mailing list for Garden Spark Talks. Inspired by the idea of house concerts, I'm hosting a series of garden talks by talented designers and authors out of my home. Talks are limited-attendance events and generally sell out within just a few days, so join the Garden Spark email list for early notifications. Simply click this link and ask to be added.
All material © 2006-2017 by Pam Penick for Digging. Unauthorized reproduction prohibited.