September 29th, 2017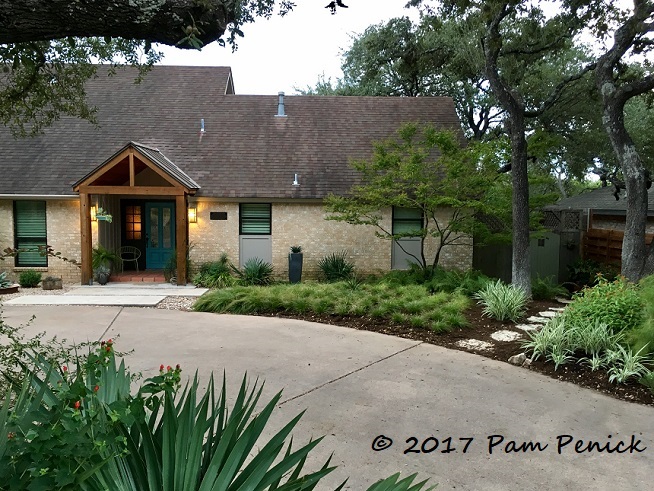 The front garden by the house has undergone some major changes since we lost a tree last winter. But after some summer angst as formerly shaded foundation shrubs burned up, and some fixes, I'm feeling good about it again.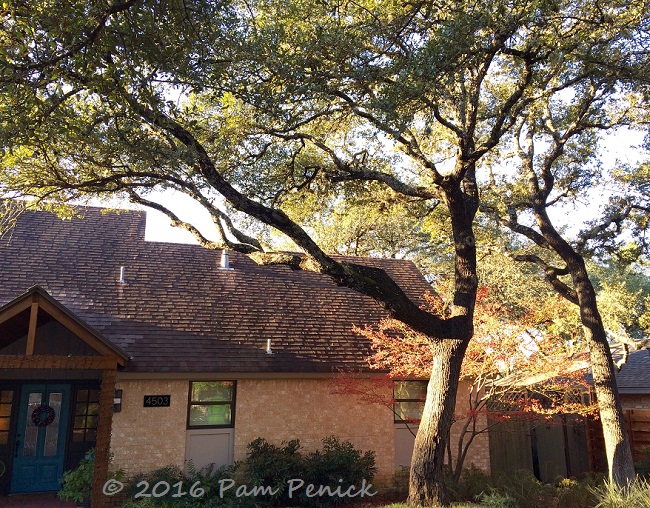 Here's how it looked before, with the live oak before removal.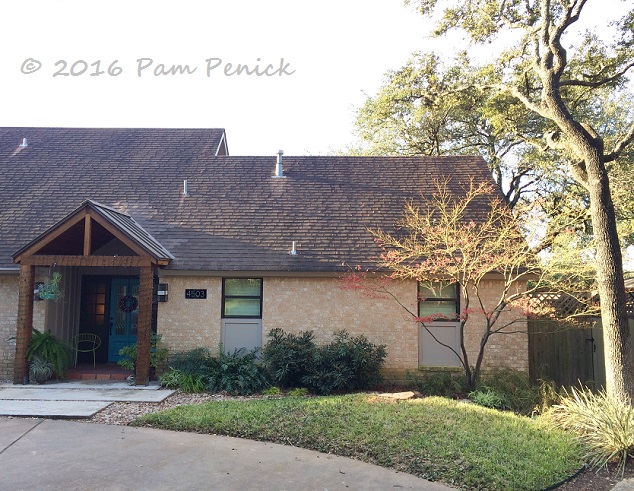 And here's the stump and empty swath of lawn — the only lawn that was left in our entire yard — right after the tree came down. It happened in December, and I immediately started worrying about the Japanese maple and foundation shrubs, which would now receive a lot more sun in summer, although the north-facing house does give them some protection. I also knew that last bit of lawn had to go. I'd only kept it because it was chock-full of oak sprouts, which are easier to mow than remove by hand from a planting bed, and I hoped that once we ground out the stump, the sprouts would wither away (sadly that has not been the case).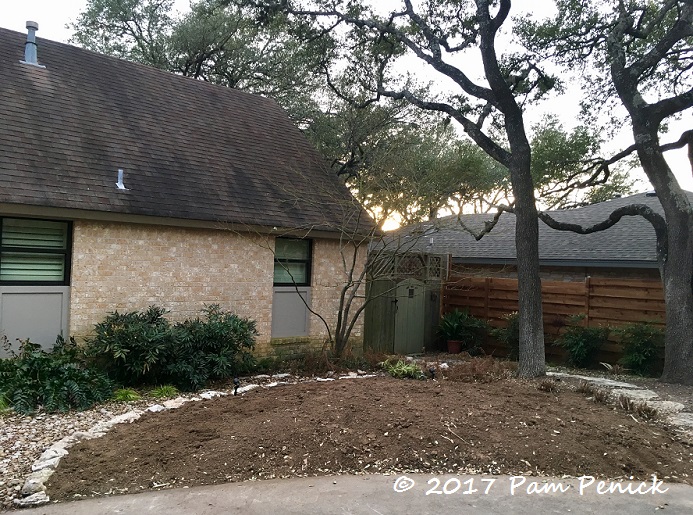 So out came the lawn and the semicircle of metal edging that had kept it tidy. I laid a natural (not chopped) limestone edge to keep soil and mulch out of the dry stream behind it.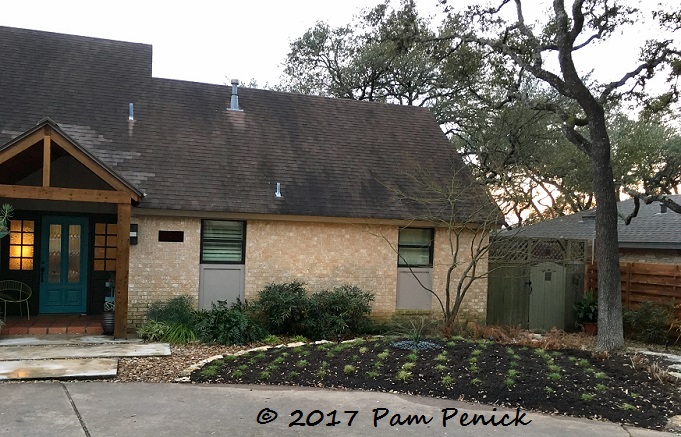 In February I planted rows of 4-inch 'Scott's Turf' sedge (Carex sp.) from Barton Springs Nursery and a toothless sotol (Dasylirion longissimum) slightly off-center. The sedges looked so tiny!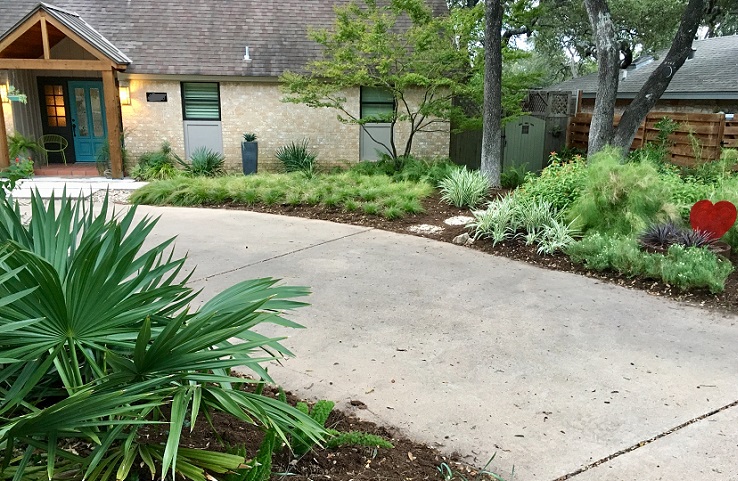 But 7 months later, the sedge is fluffy and full — not all the way filled in yet, but close. You'll notice one more change: the foundation bed has been replanted. That just happened. As I'd feared, the shade-loving Chinese mahonias and holly fern that had long occupied the foundation bed burned up under the Death Star's rays.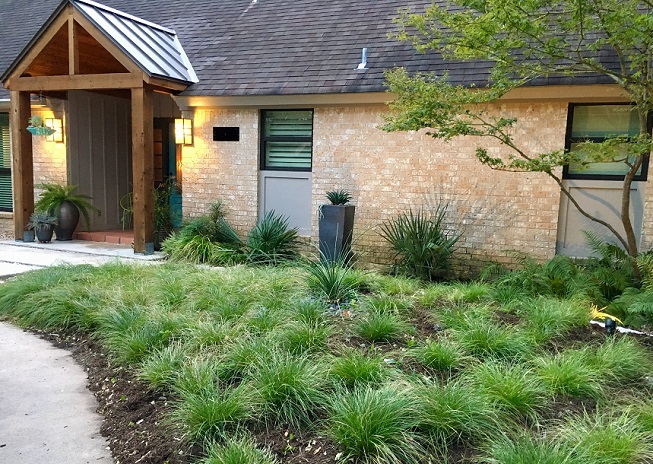 Good riddance to the holly fern. I'd hated it. I regretted losing the Chinese mahonias, but I have others. I replaced them with two dwarf Texas palmettos (Sabal minor), as large as I could afford because they're so slow-growing. I also shifted into more shade an 'Everillo' carex that was showing sun stress. Between the palmettos, for height, I placed a tall, narrow pot just outside the drip line of the eave with a 'Pineapple Express' mangave and silver ponyfoot. The mangave is a little too small — something with more heft would look better, like 'Macho Mocha' mangave — but I really wanted to try this one.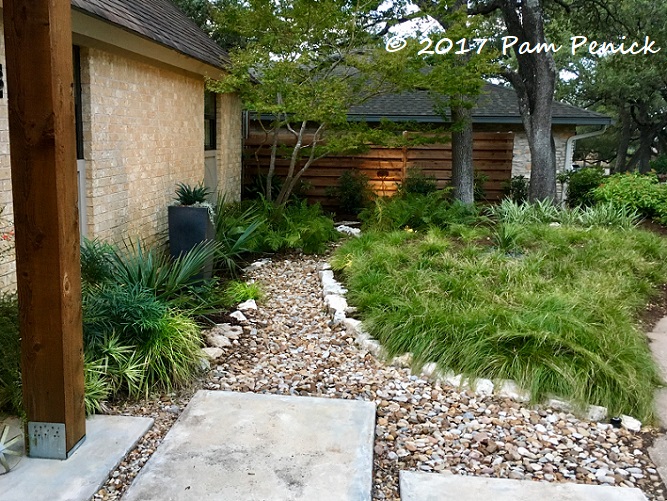 Side view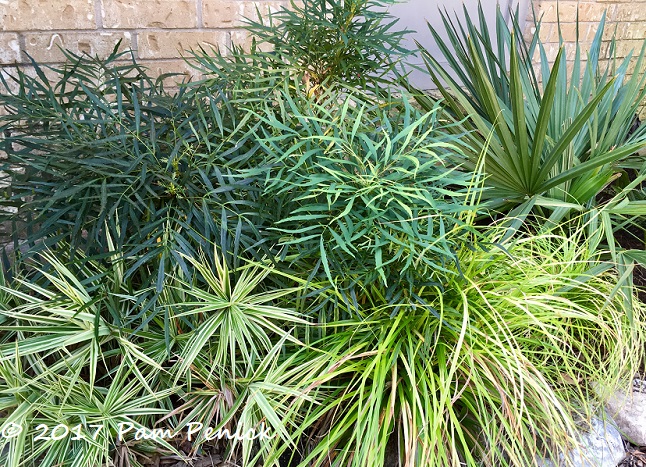 The combo of 'Sparkler' sedge, 'Soft Caress' mahonia, and 'Everillo' sedge by the front porch stayed pretty shady all summer thanks to the porch roof, so I was able to preserve it.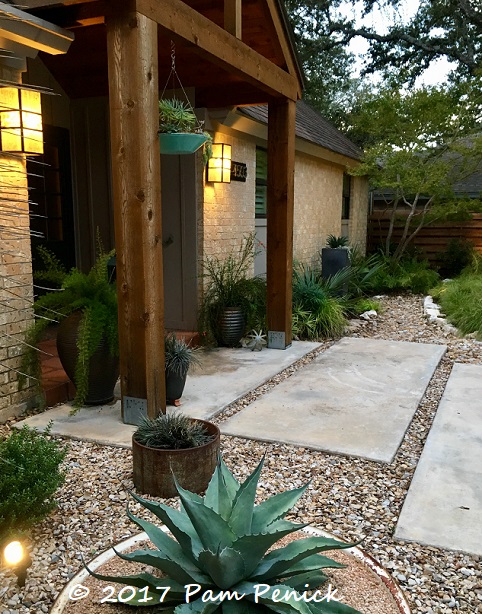 Happily, the Japanese maple at the far end came through the summer with only a little curling of its leaves by August. It's getting a half day of morning sun now, but the other trees shade it from the afternoon sun, thank goodness.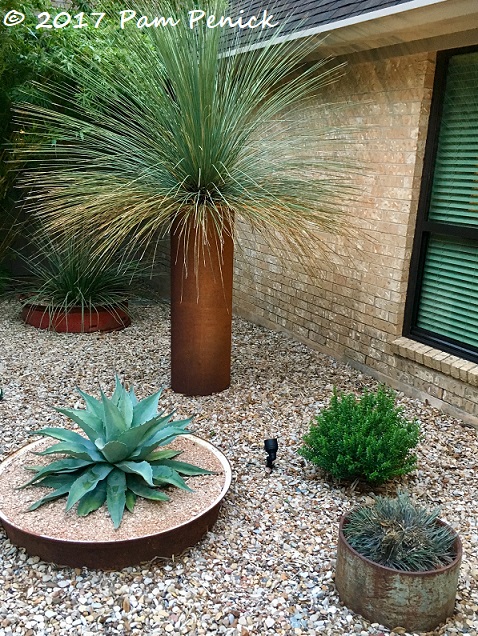 On the sunnier side of the porch, these dry-garden plants thrive with only occasional hand-watering: toothless sotol (Dasylirion longissimum) in the tall pipe, red yucca (Hesperaloe parviflora) in the red planter, Agave ovatifolia 'Vanzie' on the left, dwarf myrtle (Myrtus communis 'Nana'), and 'Frazzle Dazzle' dyckia (Dyckia choristaminea 'Frazzle Dazzle') in the small steel planter.

After the two quick deep freezes last winter, it look a long time for the normally evergreen flax lily (Dianella tasmanica 'Variegata') to recover, but by midsummer it was looking good again. I like how the stepping-stone path seems to cut through a swath of it — the eye reads it as one mass.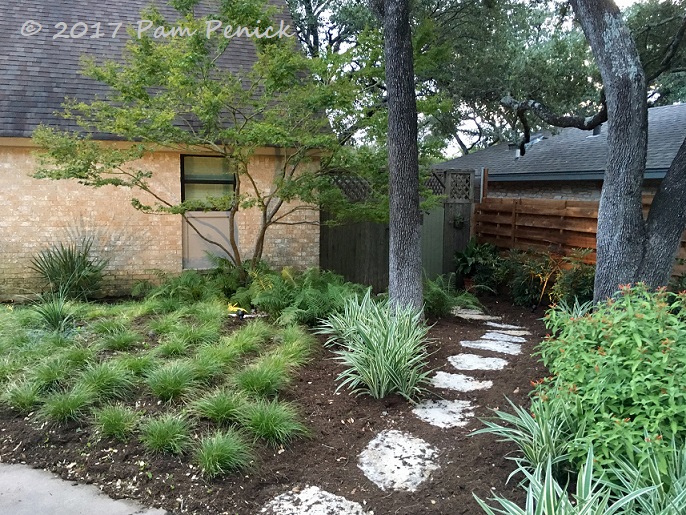 The surviving Chinese mahonia are growing in a loose hedge along the fence.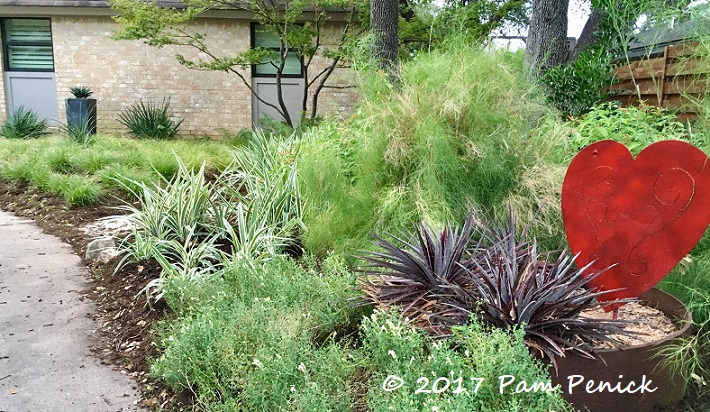 Farther out along the driveway, there's white skullcap, bamboo muhly, and 'Burgundy Ice' dyckia.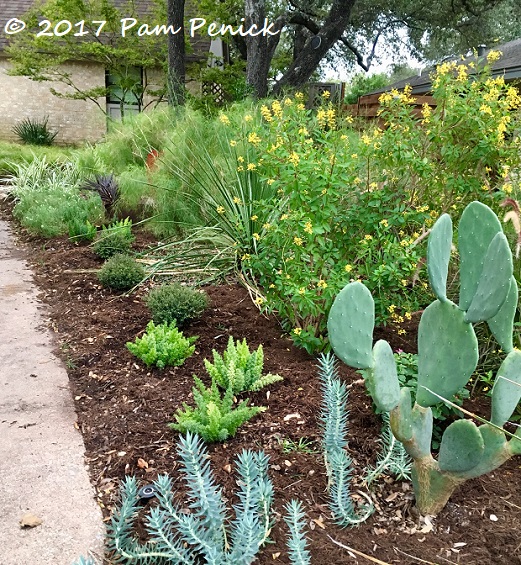 And beyond that are new 'Micron' dwarf yaupon holly (Ilex vomitoria 'Micron') and foxtail fern (Asparagus meyeri), plus Texas sotol (Dasylirion texana), gopher plant (Euphorbia rigida), spineless prickly pear, and golden thryallis (Galphimia gracilis).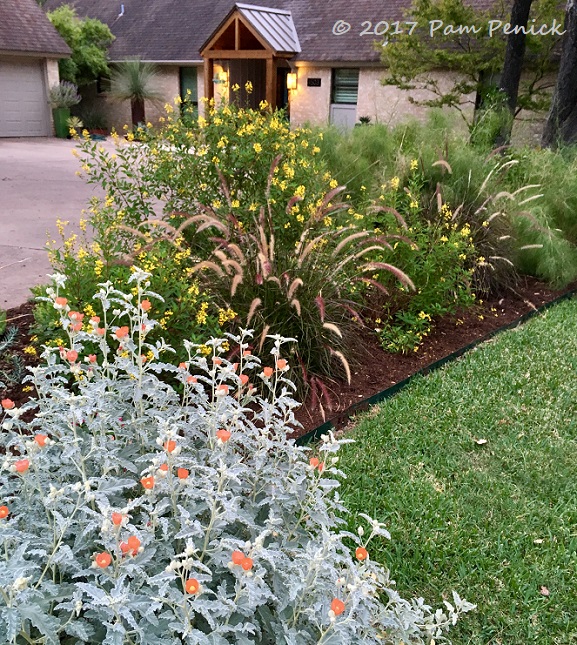 Peeking around from my neighbors' vantage point, there's purple fountain grass (Pennisetum setaceum 'Rubrum') mixed in with the golden thryallis, plus gray globemallow (Sphaeralcea incana) starting to bloom.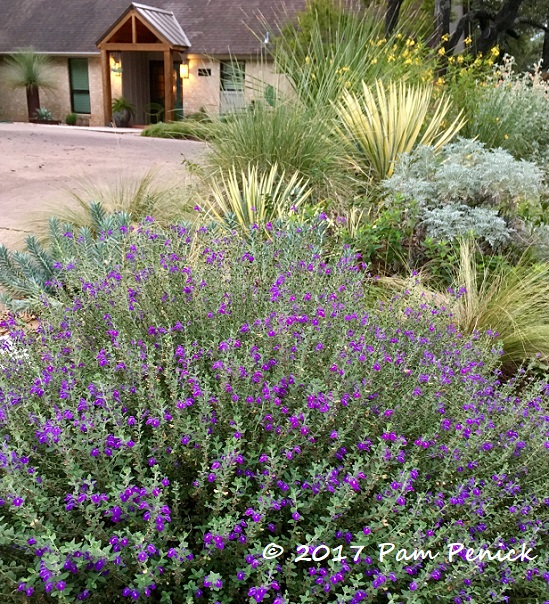 By the street, crouching low — because this is a small plant — you see purple skullcap (Scutellaria wrightii), a super performer in a hot, sunny, gravelly site often visited by passing dogs. Not a browned spot is visible anywhere on it. Those are 'Color Guard' yuccas in the background.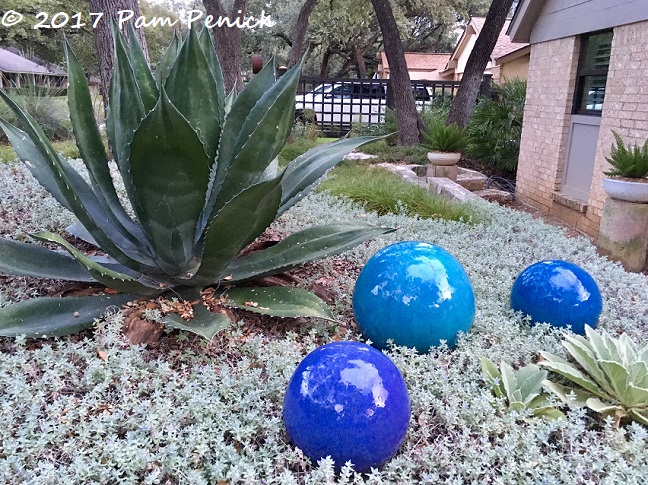 The big 'Green Goblet' agave in the terraced bed on the other side of the driveway is doing well. Woolly stemodia (Stemodia lanata) carpets the ground beneath it.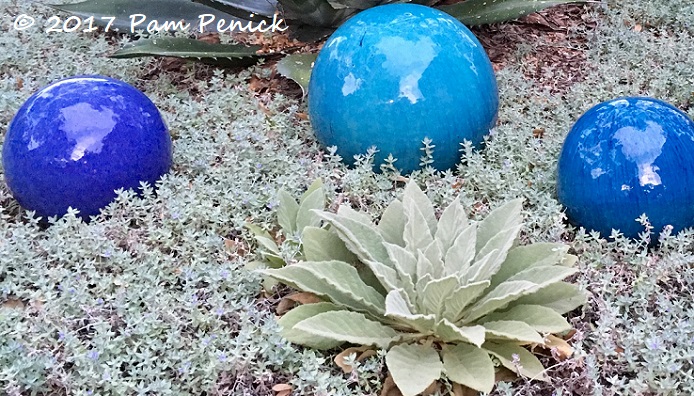 Ruffled, fuzzy mullein is a silver accent.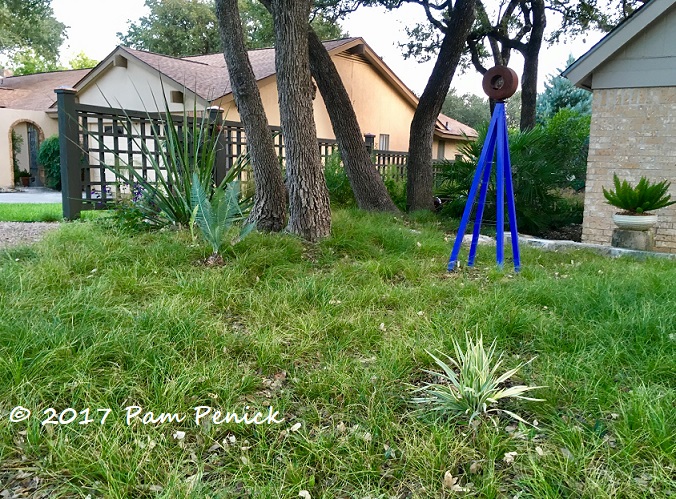 My other sedge "lawn," this one planted with 'Berkeley' sedge (Carex divulsa), is looking OK although not as fluffy as I would like.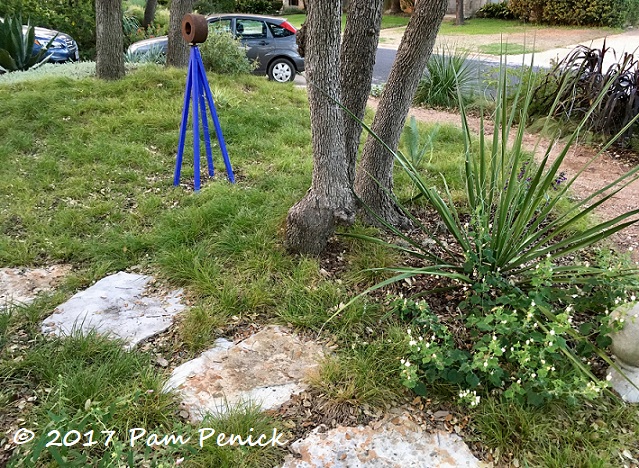 Maybe it would be happier with more sun. At any rate, it does remain green with little maintenance. That's a wide-leaf giant hesperaloe (Hesperaloe funifera ssp. chiangii) and white Turk's cap (Malvaviscus arboreus var. drummondii 'Alba') on the right.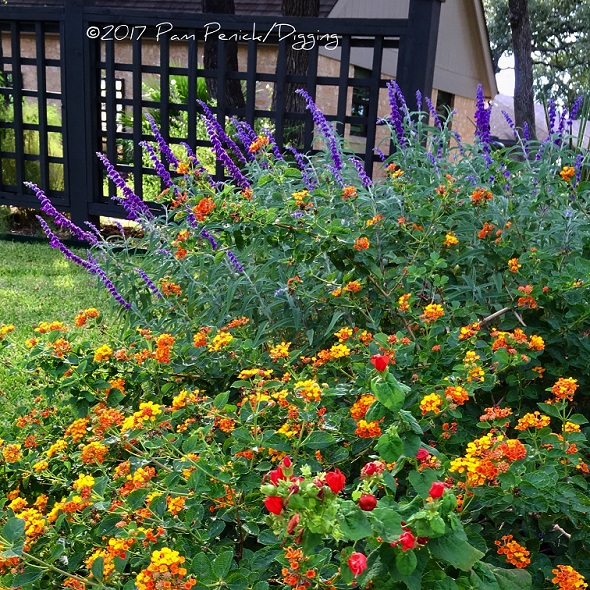 I'm always pretending the neighbors' plantings are mine (I did plant them for them). Here's lantana with a little Turk's cap that self-seeded and Mexican bush sage (Salvia leucantha) in fall bloom.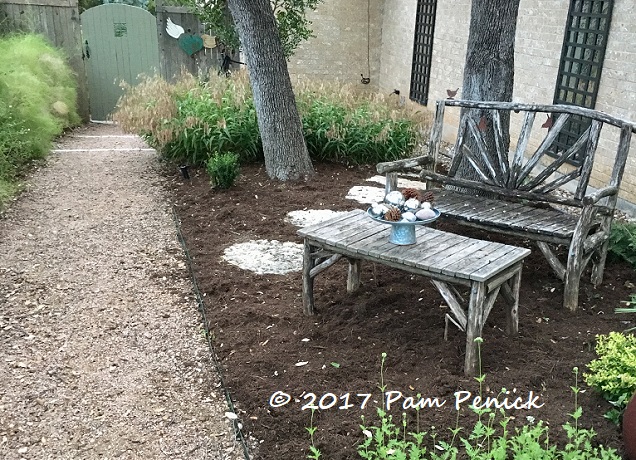 The side path to the heart gate is quieter with masses of two grasses: inland sea oats (Chasmanthium latifolium) and bamboo muhly (Muhlenbergia dumosa). On the cedar table…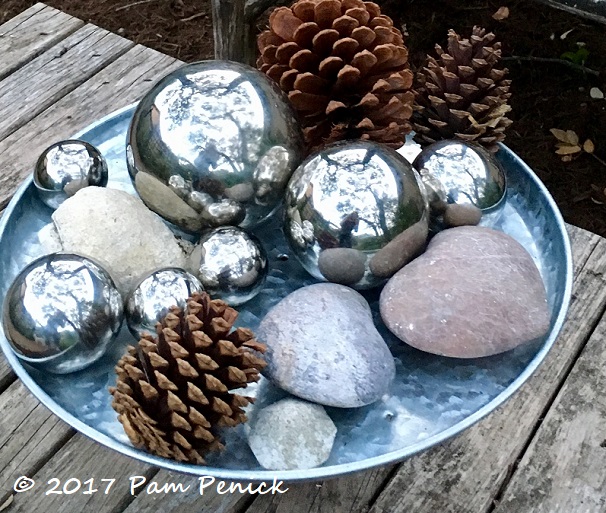 …is a galvanized cake stand I punched a few drainage holes in, which holds some silver balls, stone hearts, a shell fossil, my friend Dustin's cast-stone diamond, and pine cones.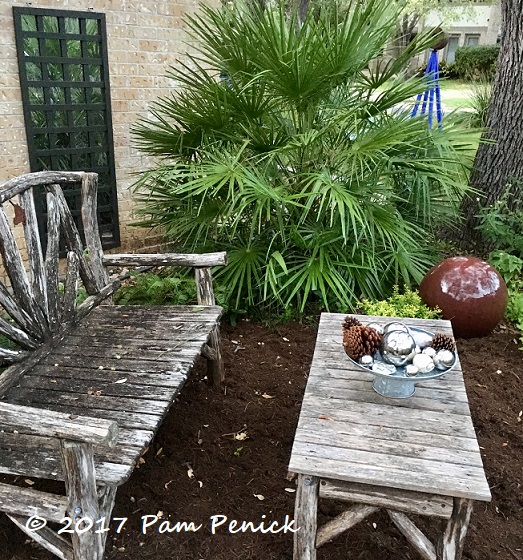 Wow, the Mediterranean fan palm (Chamaerops humilis) has really grown this year. I do nothing with this — ever. So easy!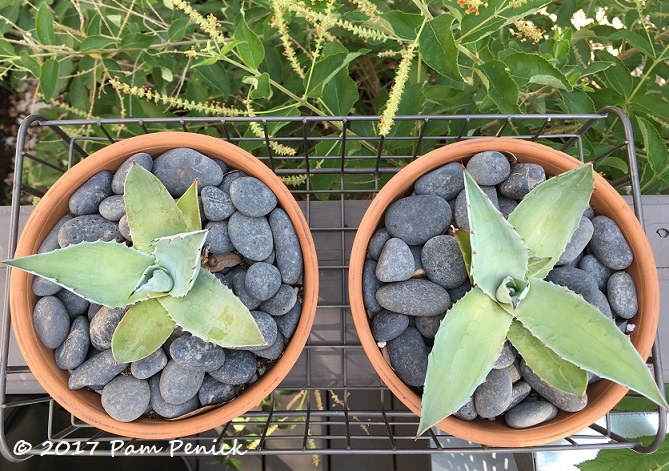 On the back deck, my little Moby Jrs are growing too.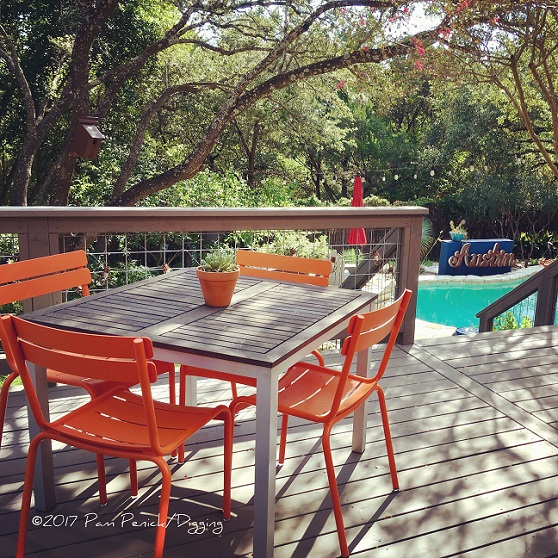 It's so much easier to enjoy the garden in fall — and maybe soon we'll have actual fall temperatures along with the recent welcome rains. Come on, October!
I welcome your comments; please scroll to the end of this post to leave one. If you're reading this in a subscription email, click here to visit Digging and find the comment box at the end of each post.
_______________________
Digging Deeper: News and Upcoming Events
Get ready for fall garden tours in Texas! The Garden Conservancy is sponsoring Open Days tours in Fort Worth on Oct. 8th, San Antonio on Oct. 14th, and Austin on Nov. 4th.
Get on the mailing list for Garden Spark Talks. Inspired by the idea of house concerts, I'm hosting a series of garden talks by talented designers and authors out of my home. Talks are limited-attendance events and generally sell out within just a few days, so join the Garden Spark email list for early notifications. Simply click this link and ask to be added.
All material © 2006-2017 by Pam Penick for Digging. Unauthorized reproduction prohibited.
posted in
2nd garden--2017
,
Agaves
,
Containers
,
Decor
,
Design
,
Dry Streams
,
Dyckias
,
Fall color
,
Fences
,
Garden art
,
Gates
,
Grasses
,
Groundcovers
,
Lawn Gone!
,
Lawns
,
Lighting
,
Native plants
,
Palms/Cycads
,
Paths
,
Patios & decks
,
Porch
,
Rock
,
Seating
,
Shade garden
,
Shrubs
,
Signs
,
Succulents
,
Texas natives
,
Trees
,
Xeric plants