September 25th, 2017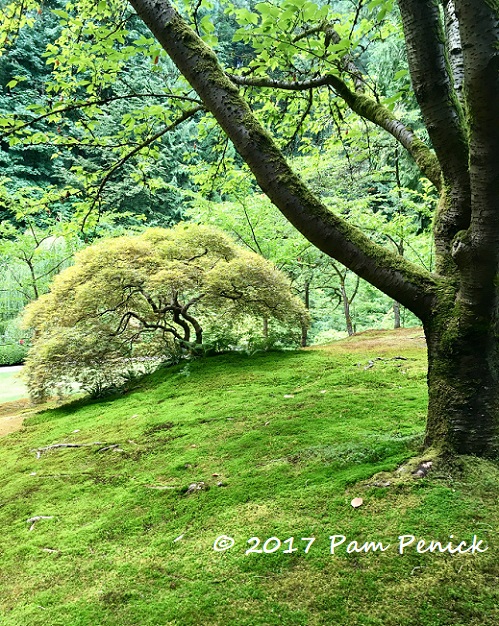 A trip to Portland, Oregon, wouldn't be complete without seeing the city's luminous Japanese garden. During our mid-August visit, we had to try twice because the first time, on a Sunday afternoon, we simply could not find any parking, even after circling for a half hour. Even on Monday at midday we waited in line 25 minutes at the admission booth to get in. This is a popular garden, y'all. (And at $14.95 a ticket, it isn't cheap either, plus no reciprocal admissions.)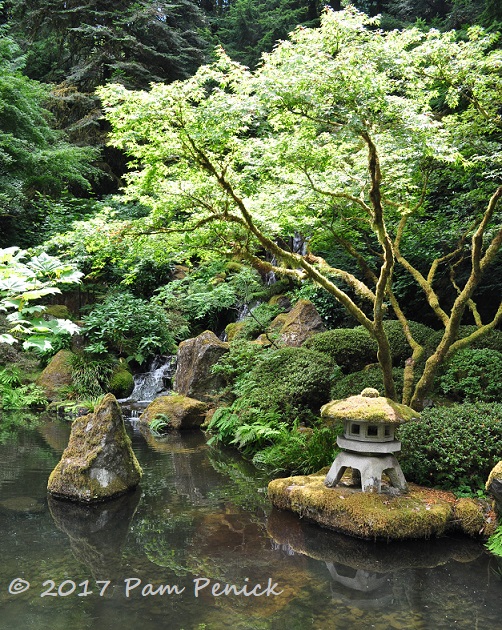 But for all that, Portland Japanese Garden is lovely indeed and well worth a visit.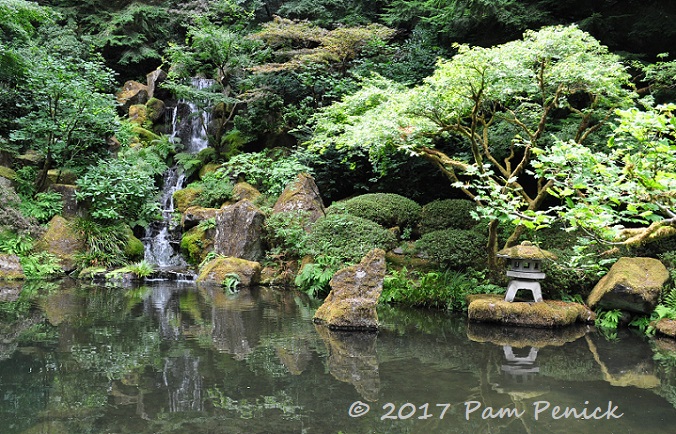 Once you get past the entry hassles, you can relax and enjoy the serenity of the ponds, moss and gravel gardens, and light-filtering leaves overhead.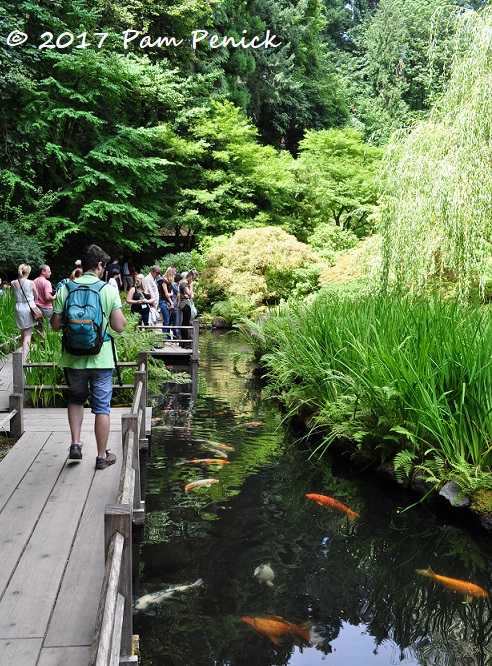 A zigzagging wooden bridge across a koi pond is a popular spot for visitors.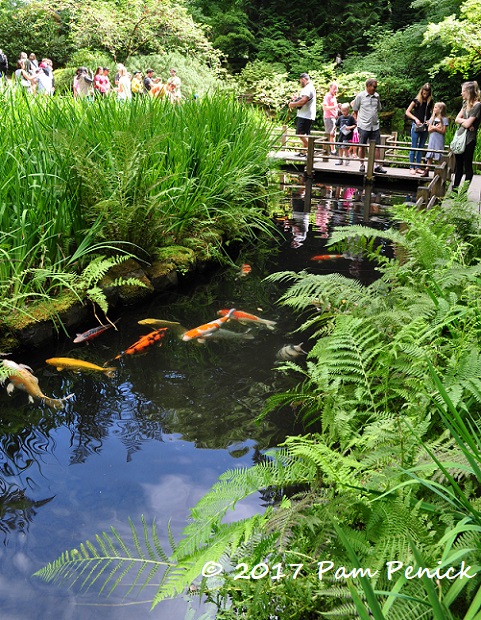 Colorful koi make their own fishy paths alongside the bridge.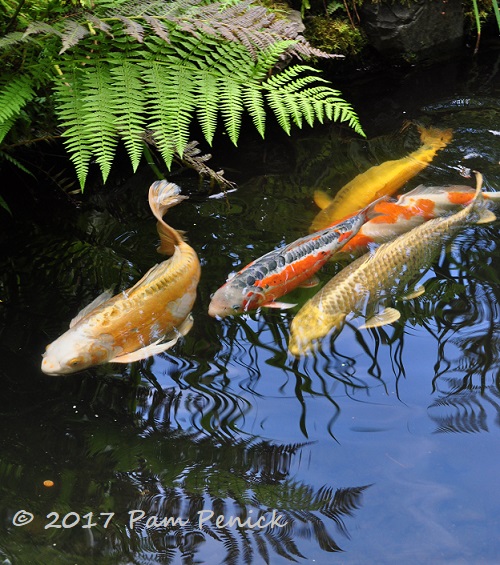 We always make a game of trying to pick our favorite color patterns.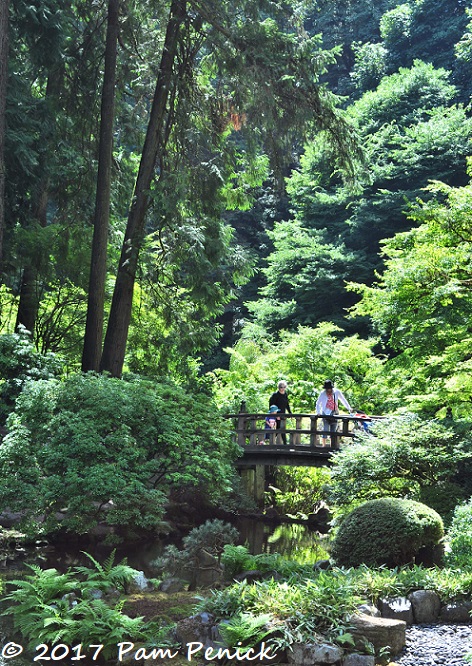 Spanning a larger pond, a gently arching bridge offers pretty views — and becomes one itself.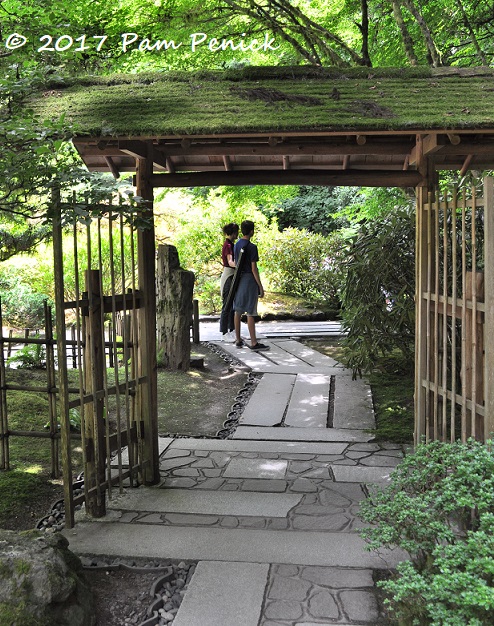 Nearby, a roofed gate leads from the sunny pond area into…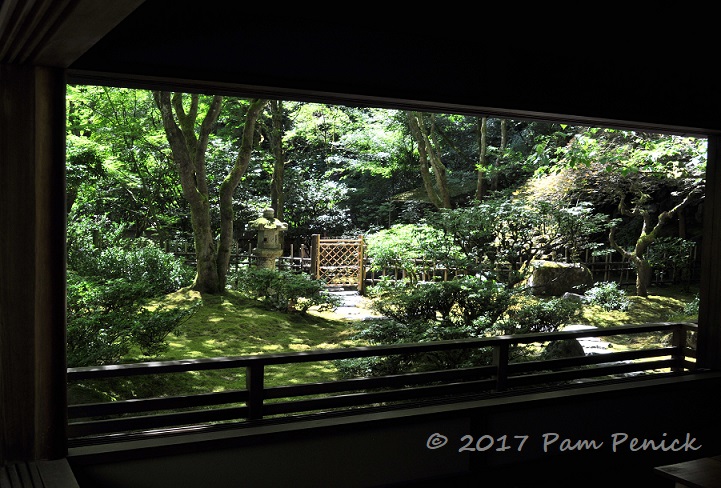 …a shady tea garden, framed here by a window on the tea house terrace.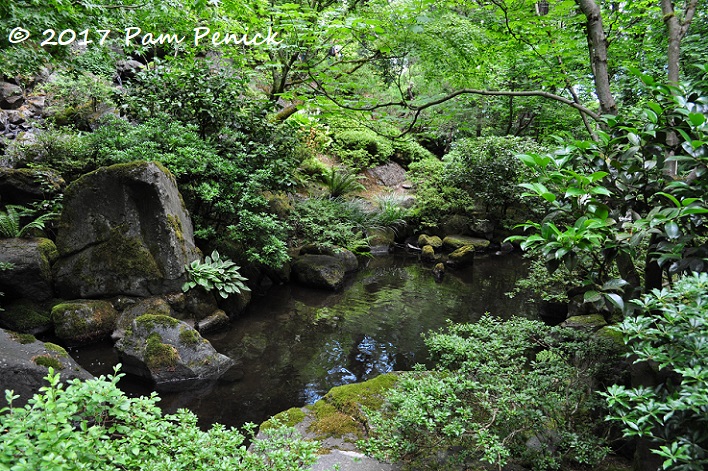 The Natural Garden may be my favorite area. It's tranquil and shady, and narrow winding paths lead you past ponds…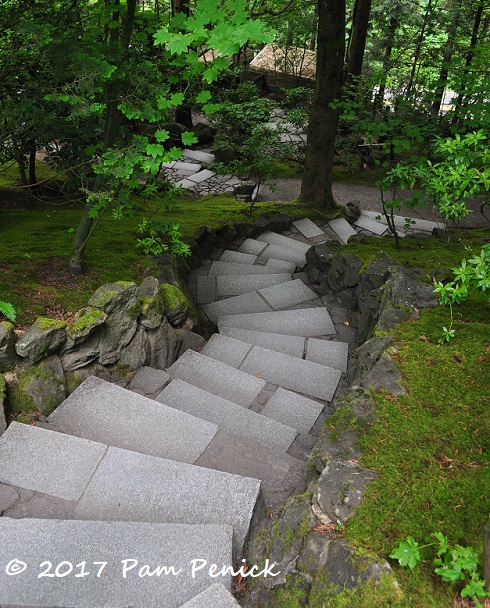 …and down a magical stone stair…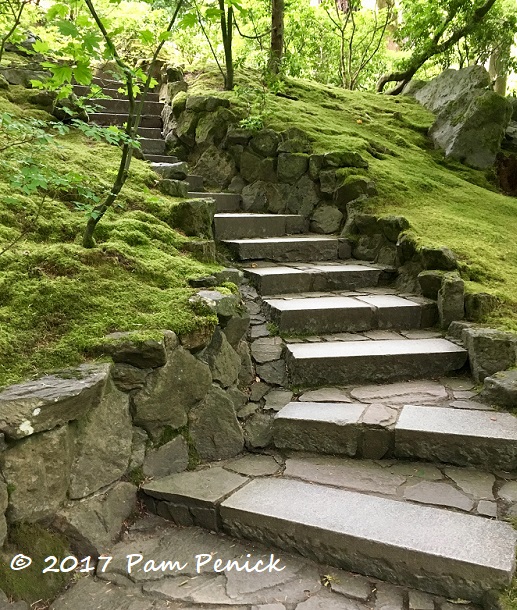 …through a glowing mossy hillside.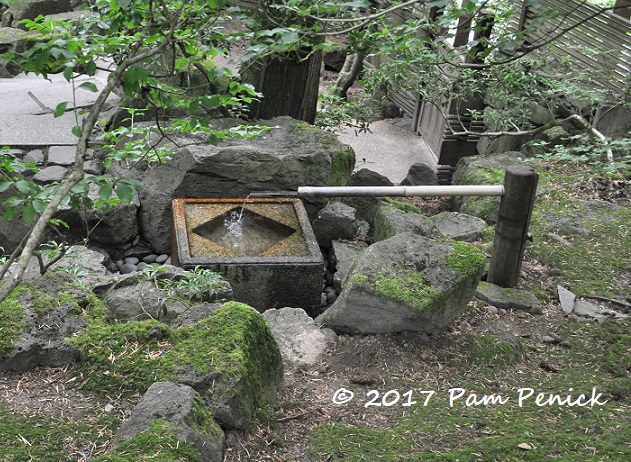 At the base of the stair, a diamond-in-a-square stone basin gracefully accepts a trickle from a bamboo fountain.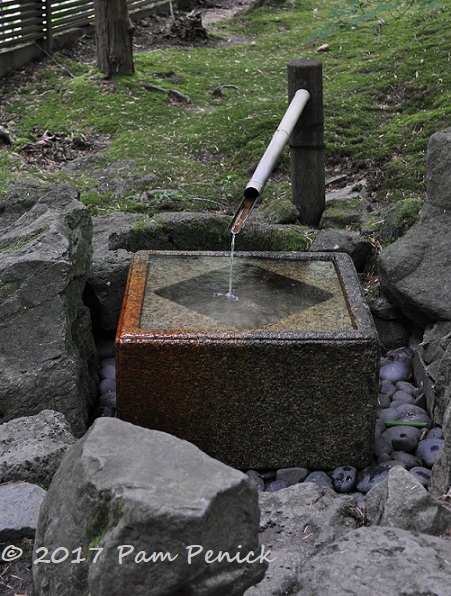 I love this.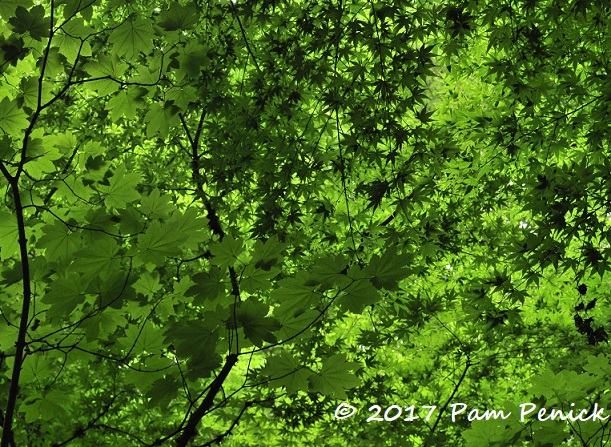 Backlit maple leaves make a green canopy.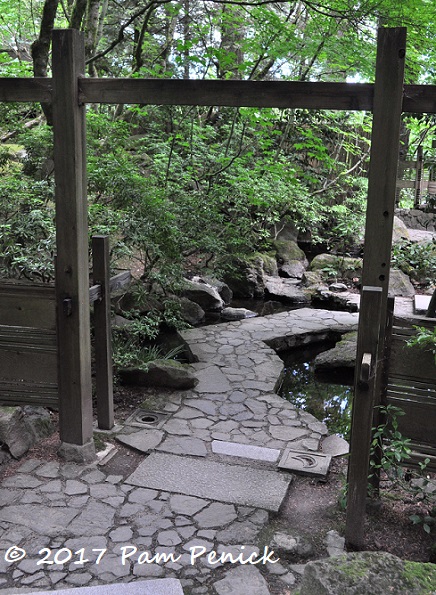 A board-and-slat fence opens under a rectangular arbor to invite you along a streamside stone path.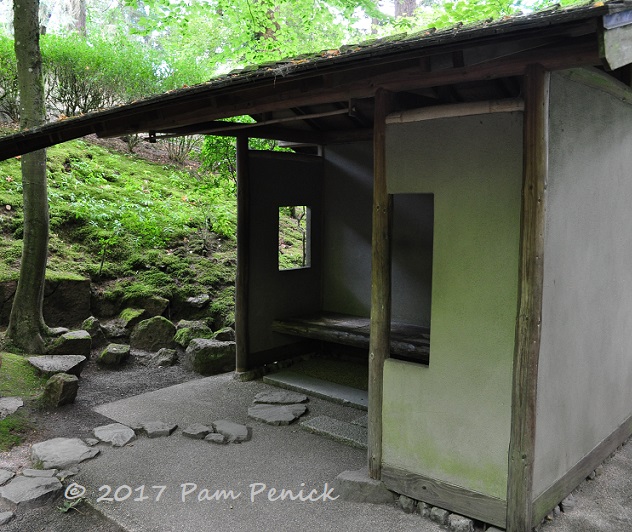 At the garden's lowest point, a sheltered bench beckons…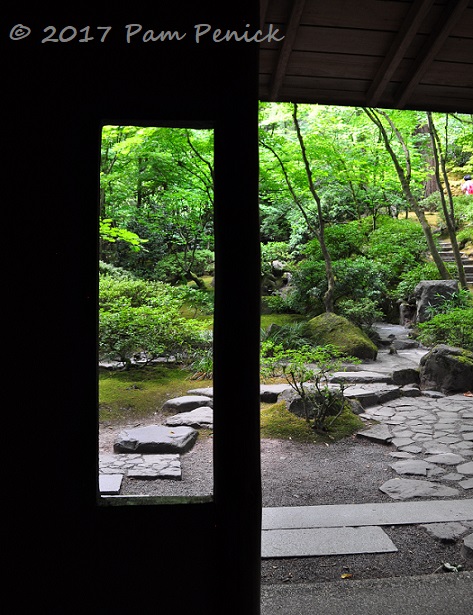 …and frames a view.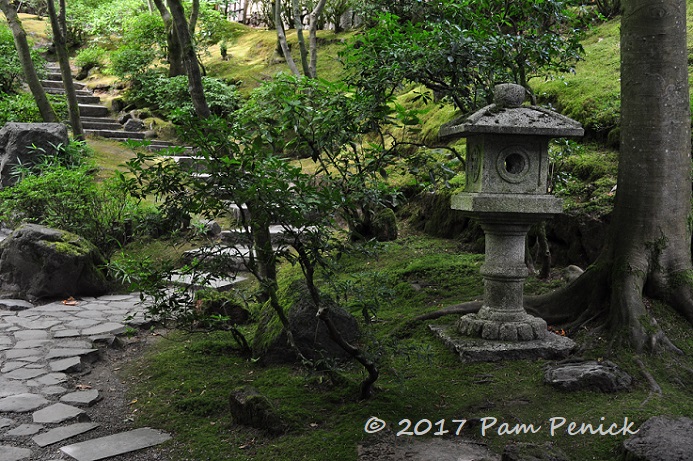 A stone lantern leads the eye toward another stair.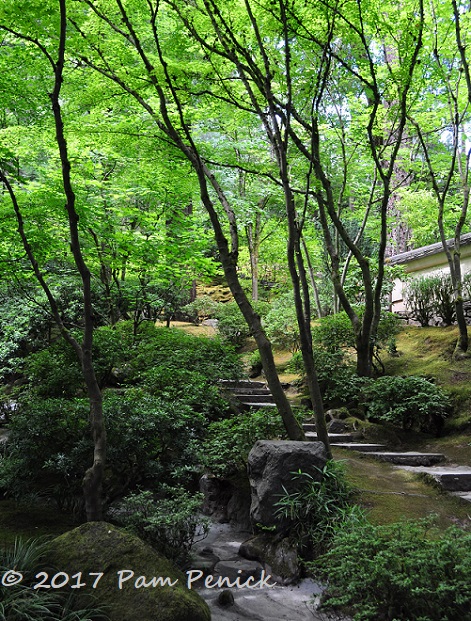 Time to climb back up.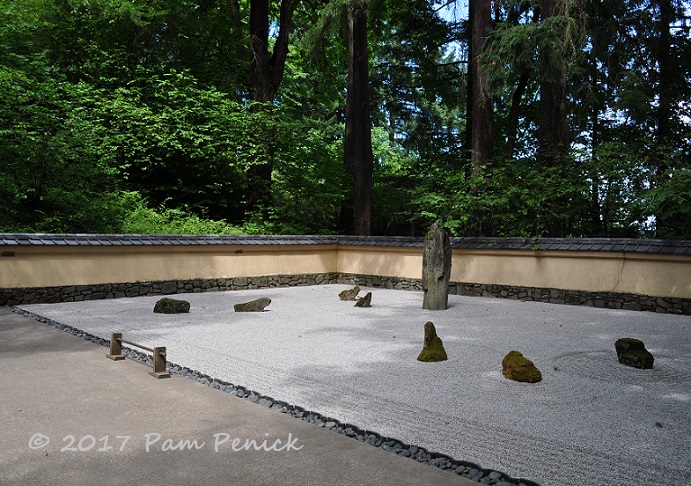 Midway up the hill, a karesansui garden appears, with stones set in rippled gravel that represent the Buddha (the tall stone) and a starving tigress and her cubs, for whom he sacrifices himself in an act of compassion.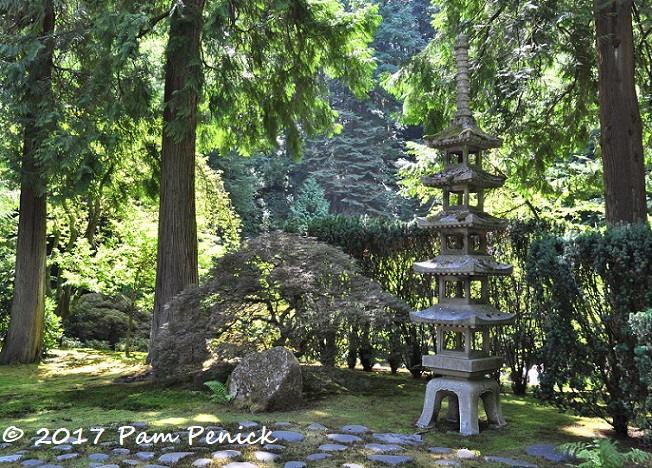 Stone pagoda and luminescent trees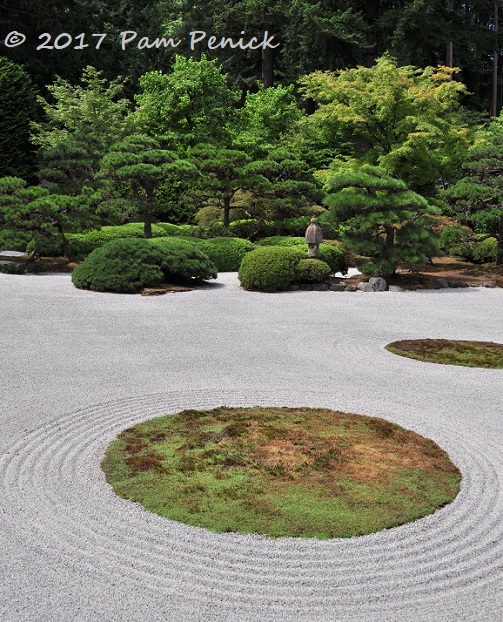 Another gravel garden, called the Flat Garden, extends just off the veranda of a large pavilion. Gravel waves ripple against mossy islands while carefully clipped trees and shrubs across the "sea" represent a distant shoreline.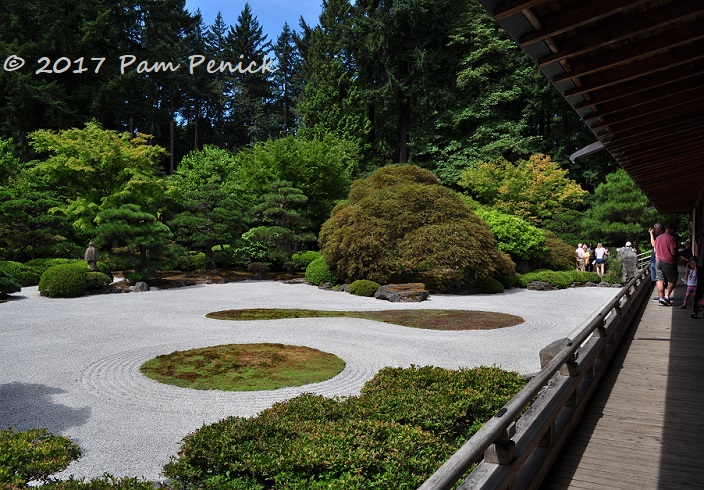 The glare from all that white gravel reminds me that I'd love to see Portland Japanese Garden, and especially this space, in the gentler light of a different season. I've visited three times, always on a bright summer's day. I long to visit on a misty autumn morning — check out Scott's extraordinary photos from October 2013. Travel goals! And, heck, photography goals.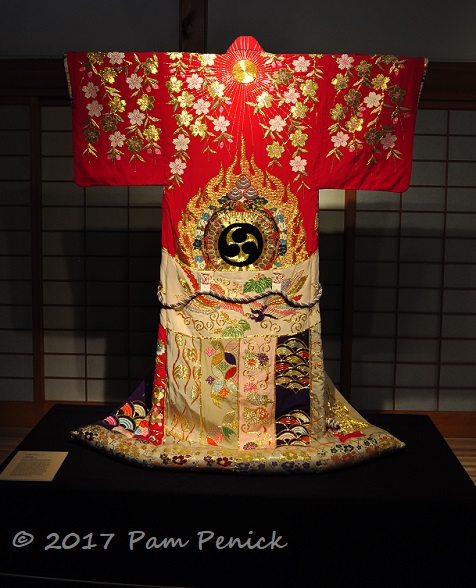 Inside the pavilion, an exhibit of Kabuki costumes was on view. Kabuki is classical Japanese dance-drama with all-male performers who wear elaborate makeup and costumes.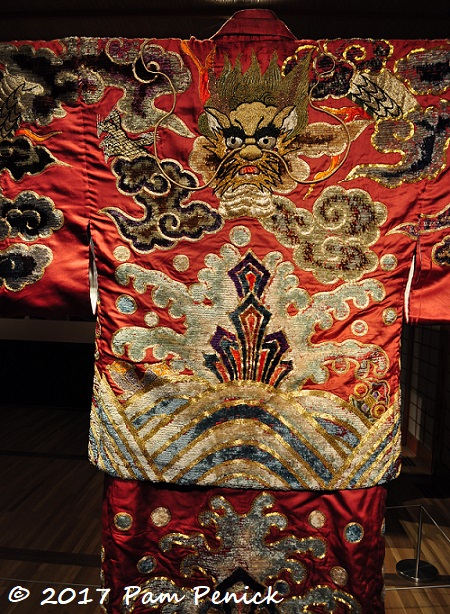 The exhibit, which ended earlier this month, "explore[d] the flamboyant and fanciful traditional performing art of Kabuki through an exhibition of seven authentic costumes on loan from Japan."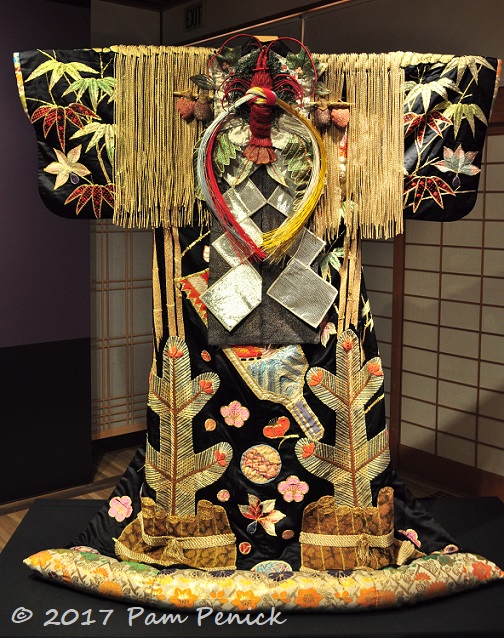 Ironically, although Kabuki was created and popularized by a woman in the early 1600s, the shogunate later banned women from the stage to "protect the public morality," leaving the stage to men — a tradition that continues to this day.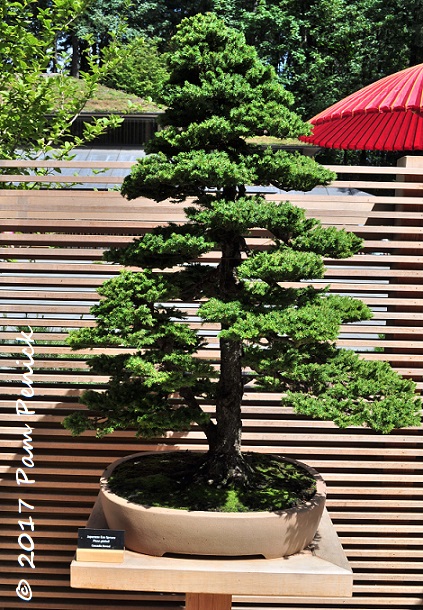 I wish I'd taken pictures of the new Cultural Village buildings near the entry, which opened this spring. But for some reason I didn't, even though we admired the acclaimed contemporary architecture. I did take a couple of photos of the bonsai displayed outside, including this Ezo spruce…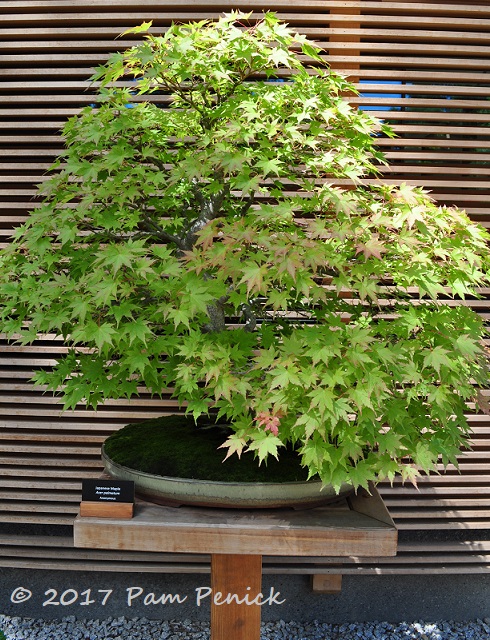 …and Japanese maple. Lovely!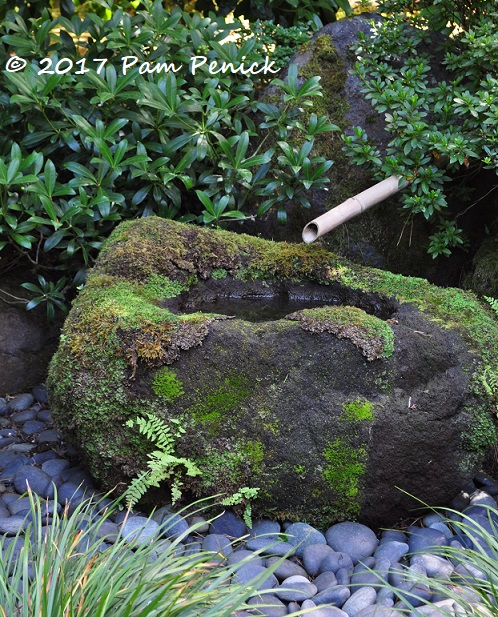 As is the whole garden. One day, though, I'm going to have to see this garden in the fall.
Up next: Sunset over the Pacific at Cannon Beach, my final post from our CA/OR road trip. For a look back at Portland's boutique nursery Thicket, click here.
I welcome your comments; please scroll to the end of this post to leave one. If you're reading this in a subscription email, click here to visit Digging and find the comment box at the end of each post.
_______________________
Digging Deeper: News and Upcoming Events
Get ready for fall garden tours in Texas! The Garden Conservancy is sponsoring Open Days tours in Fort Worth on Oct. 8th, San Antonio on Oct. 14th, and Austin on Nov. 4th.
Get on the mailing list for Garden Spark Talks. Inspired by the idea of house concerts, I'm hosting a series of garden talks by talented designers and authors out of my home. Talks are limited-attendance events and generally sell out within just a few days, so join the Garden Spark email list for early notifications. Simply click this link and ask to be added.
All material © 2006-2017 by Pam Penick for Digging. Unauthorized reproduction prohibited.
posted in
Arbors
,
Bamboo
,
Bonsai
,
Botanic/Public Gardens
,
Bridges
,
Doors
,
Fences
,
Fish
,
Fountains
,
Garden art
,
Garden structures
,
Garden tours 2017
,
Gates
,
Groundcovers
,
Hillside
,
Japanese garden
,
Paths
,
Ponds
,
Porch
,
Rivers & creeks
,
Rock
,
Sculpture
,
Seating
,
Shade garden
,
Shrubs
,
Travel
,
Trees
,
Water features
,
Waterfalls
,
Windows