August 28th, 2017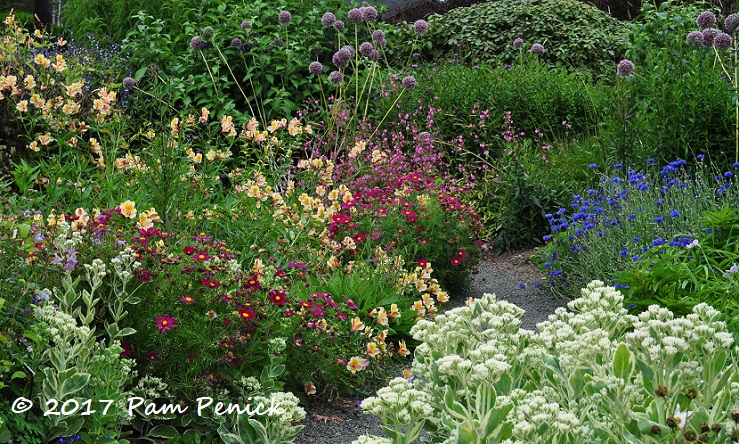 I was not expecting this. None of us were. As we made our way up Highway 1 along the coast of Northern California in early August, naturally I'd planned a few garden stops, including a visit to Mendocino Coast Botanical Gardens in Fort Bragg, expecting little more than an hour or two of pleasant diversion from the road.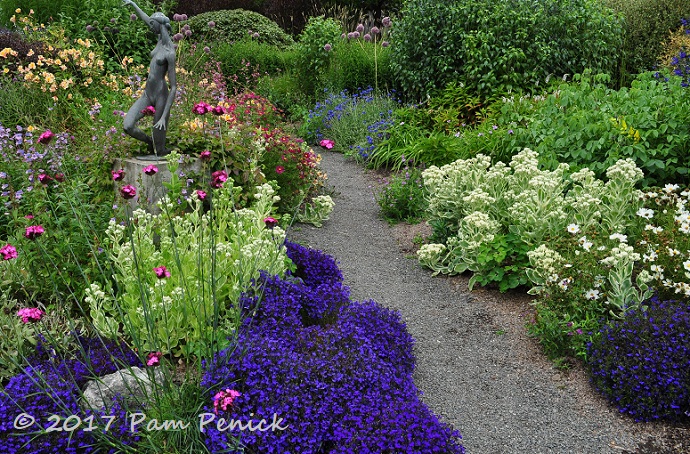 Had I paid better attention to the garden's tagline on its website — "47 acres of botanical bliss fronting the Pacific Ocean" — I would have been better prepared to be blown away by the gorgeous displays.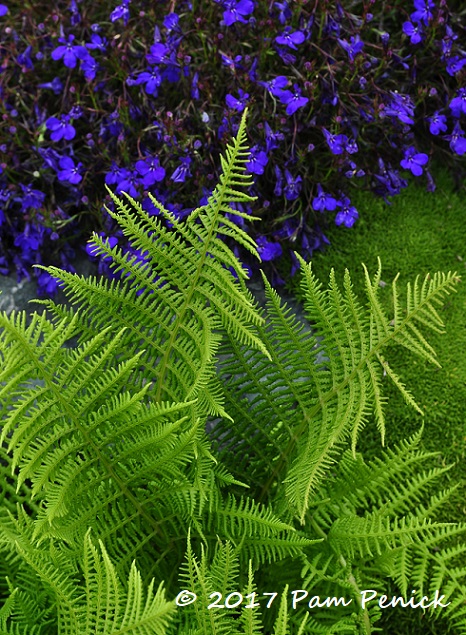 Botanical bliss indeed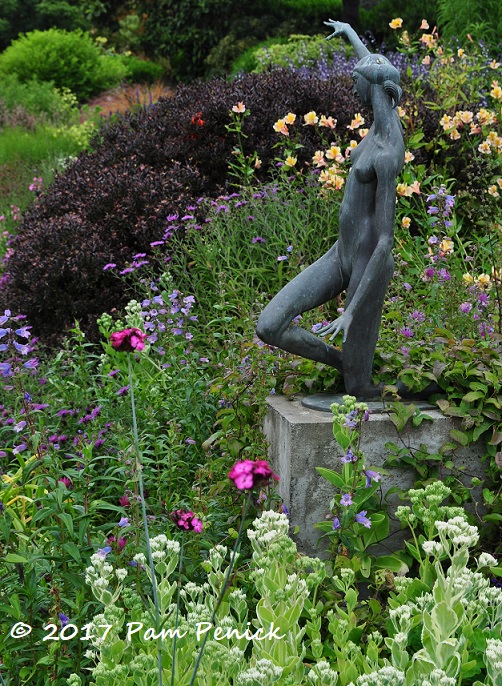 On this summer afternoon, with the usual fog rolling in off the Pacific Ocean just half a mile distant, the light was perfect for photographing the rich hues of the perennial garden, which greets you as you enter.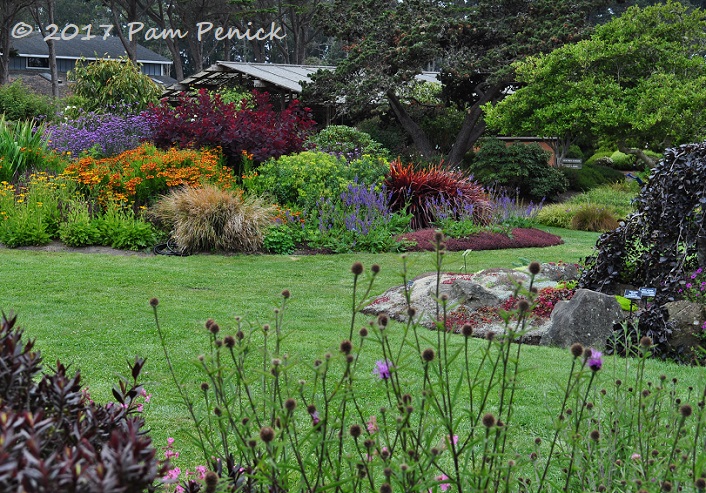 My family membership to the Wildflower Center in Austin got us a big discount on our admission tickets, which was nice. When I asked the staff member what she recommended we see, she urged us to close our eyes and pass quickly through the perennial garden and head straight for the ocean trail. "Most people never get that far," she said. "Why close our eyes?" I asked. "Because otherwise you'll get dazzled," she said.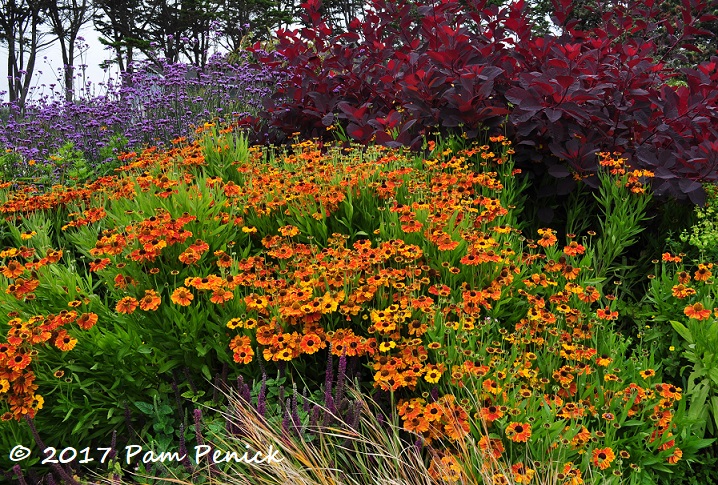 Well, I've never been able to shut my eyes to botanical beauty, and I wasn't about to pass up perfect light for photography, so we wandered through the perennial garden two or three times, all of us dazzled. I especially love this combo of smoke tree, 'Mardi Gras' helenium, and tall verbena.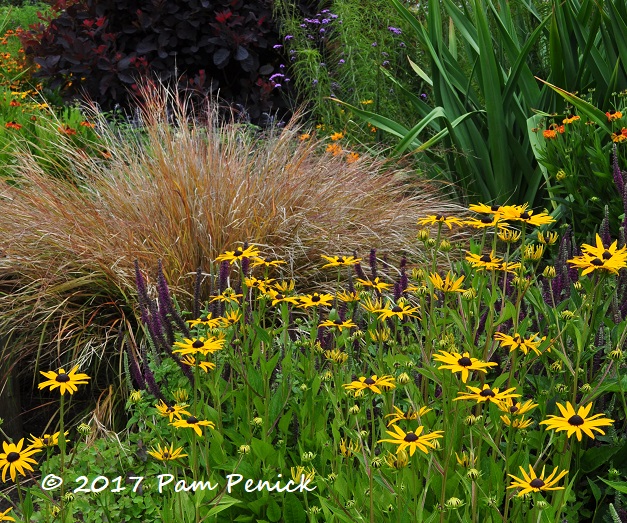 An ornamental grass and black-eyed Susans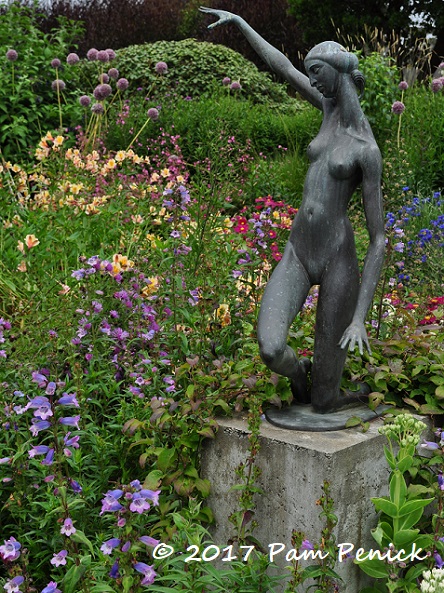 I tried to find the name of this sculpture online but came up empty. What is she doing — dribbling two invisible basketballs?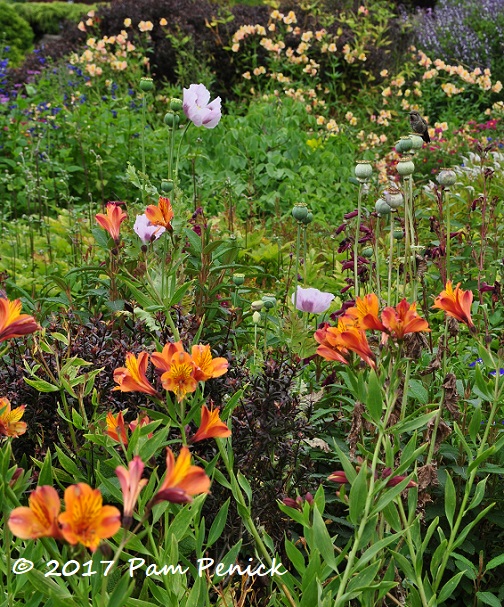 Alstroemeria and poppies

Hypericum androsaemum 'Albury Purple'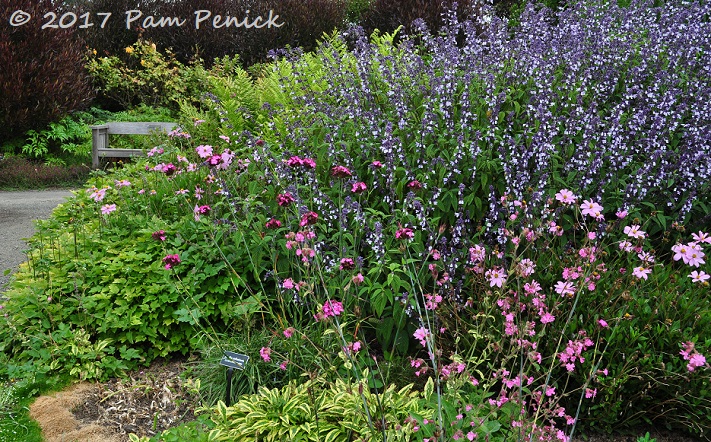 The perennial garden was designed by Gary Ratway, whose own remarkable garden I'd just visited at his and his wife Deborah's Digging Dog Nursery, so I should have realized it would be spectacular.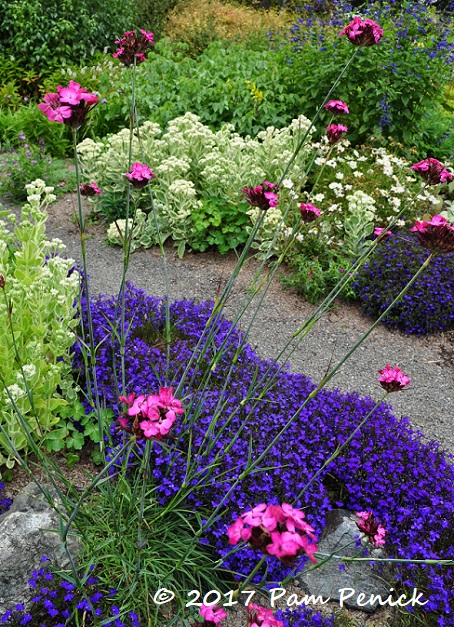 As the garden's website explains, "Our mild coastal climate allows herbaceous plants from all over the world to thrive….Frequent fog acts as a cooling and humidifying blanket, reducing the intensity of the full sun, while trees shield the perennials from strong ocean winds and form an attractive backdrop."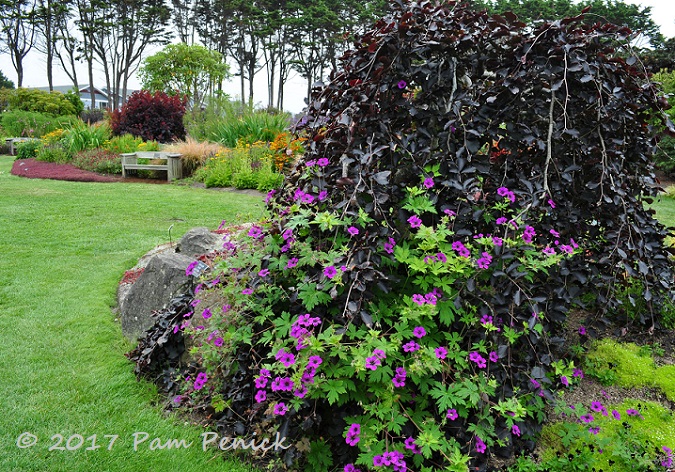 European weeping purple beech (Fagus sylvatica 'Purpurea Pendula') and, I think, a purple geranium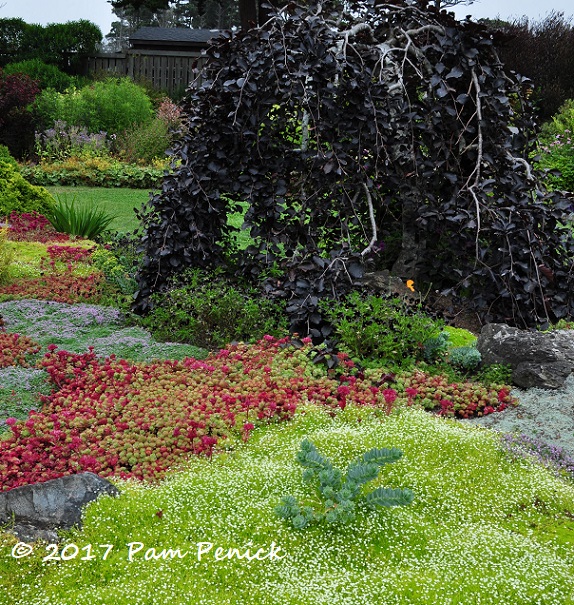 Mounded beds mitigate wet soil from a high water table, ensuring that even dry-loving plants like thyme and sedum thrive.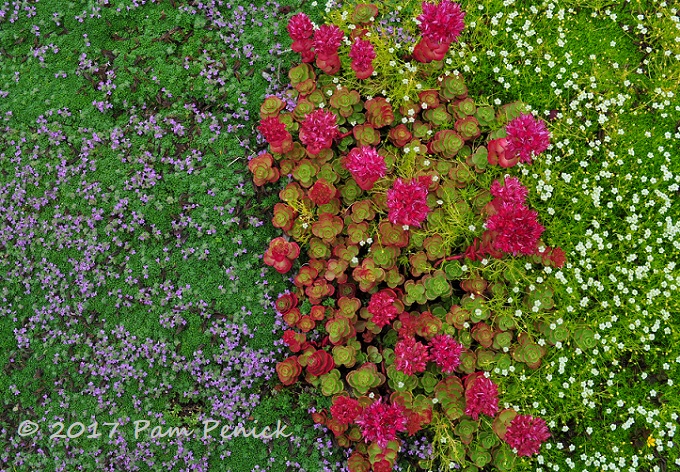 'Elfin' thyme, 'Red Carpet' sedum, and Scleranthus biflorus Scotch moss (Sagina subulata 'Aurea'). (Thanks for the correct ID, Evan and Loree.)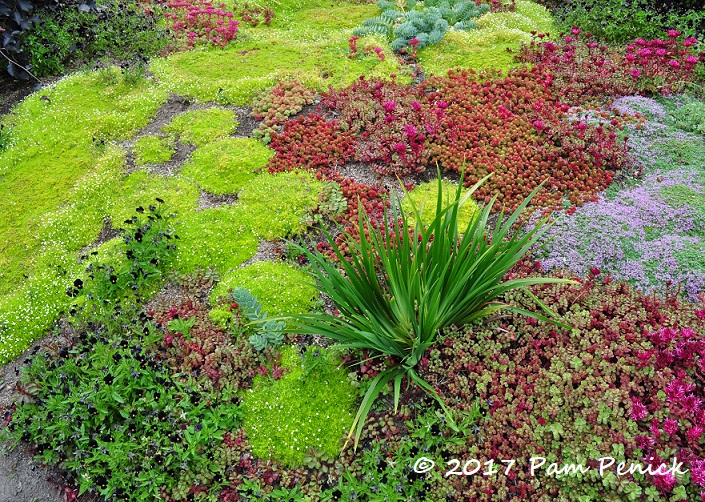 Sedum, Scotch moss, and other low groundcovers make a colorful tapestry.

Weeping beech leaf and Scotch moss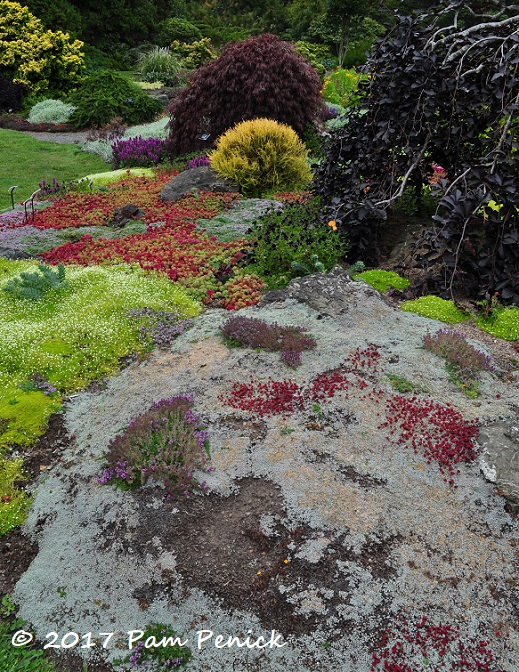 Rich color contrasts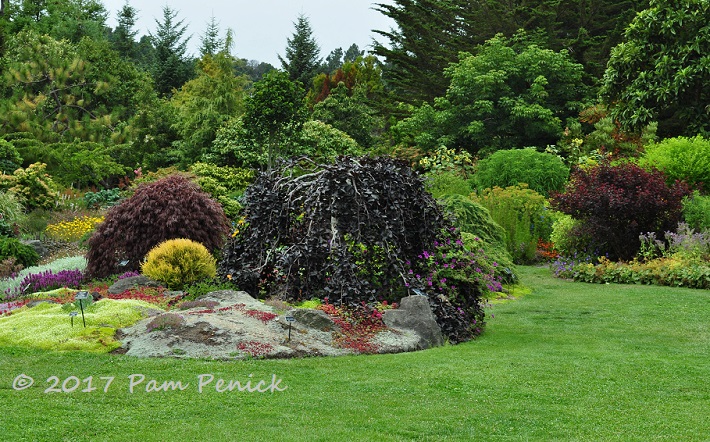 The bigger picture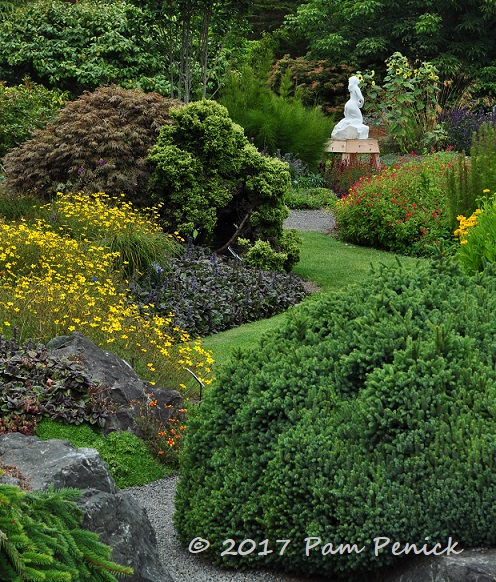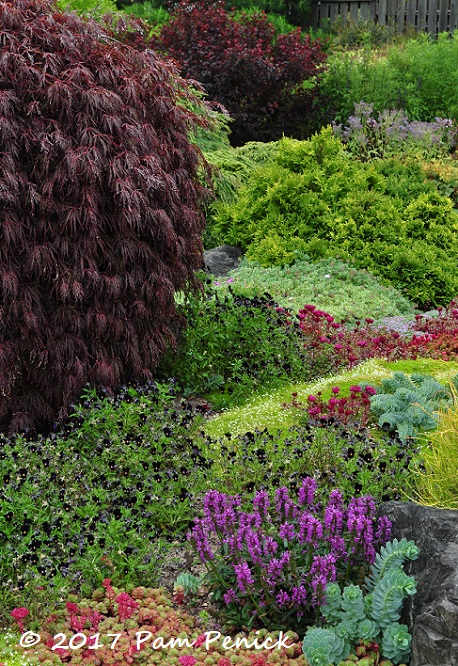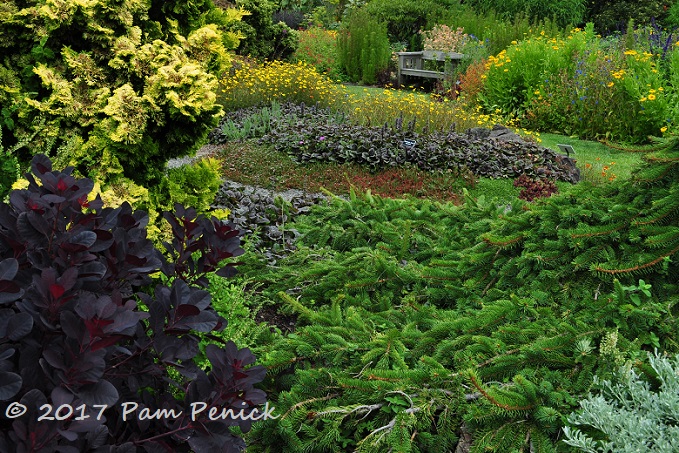 Wonderful foliage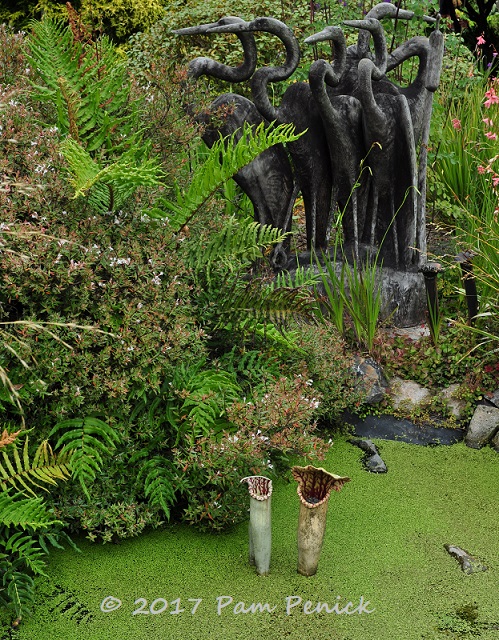 Stone herons fish at a small pond with pitcher plants.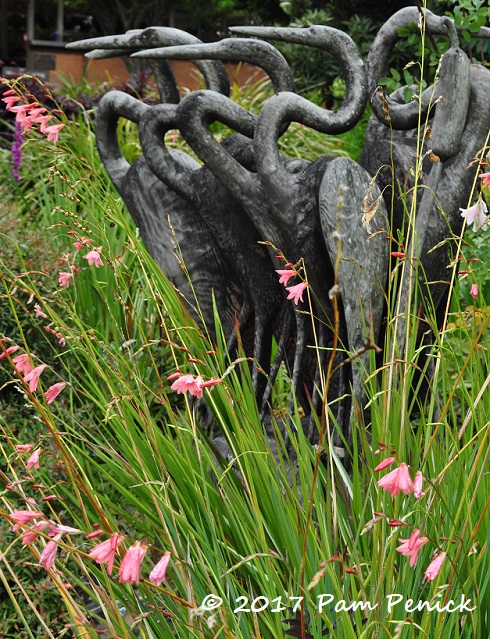 Herons and fairy wand flower (Dierama pulcherrimum)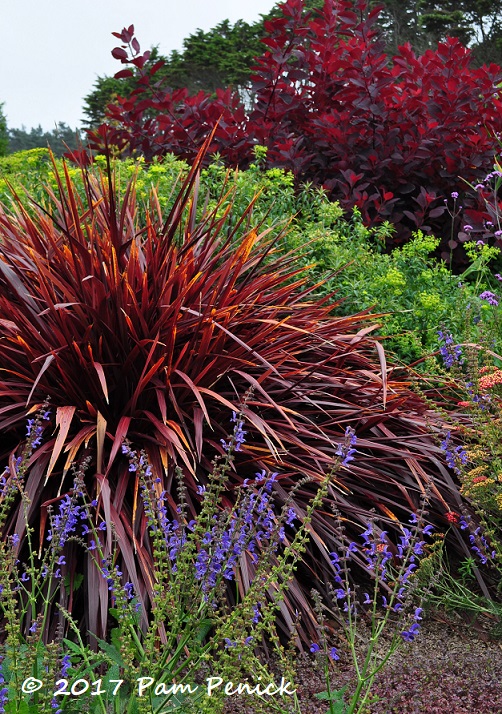 Cordyline 'Jurred' and Salvia transsilvanica, with a smoke tree echoing the cordyline's rich color.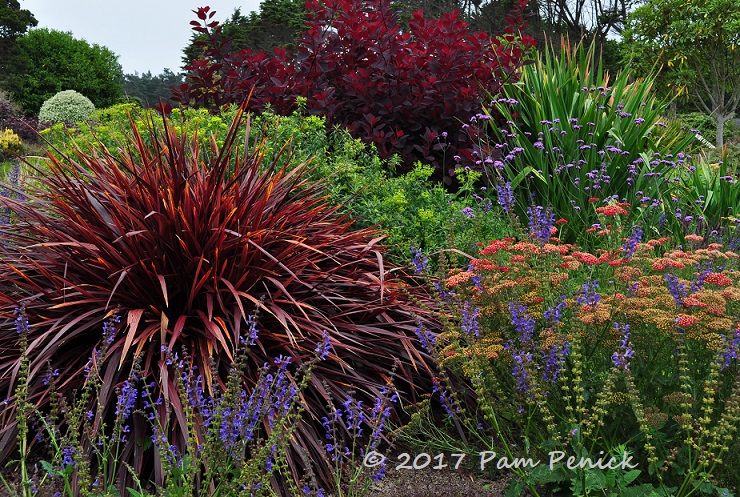 A wider view shows tall verbena and a coppery red yarrow.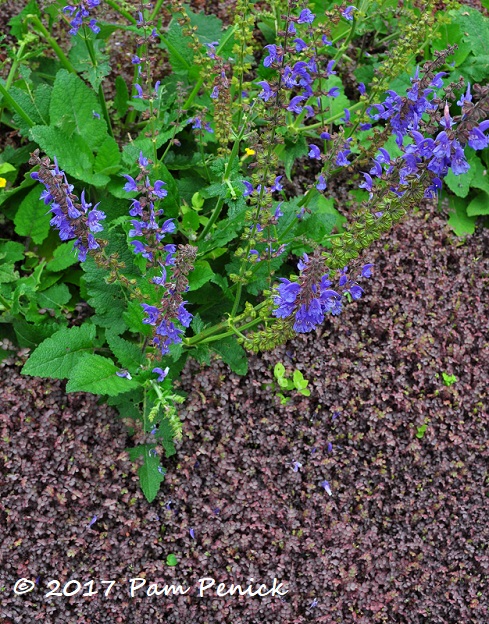 Salvia transsilvanica and New Zealand burr (Acaena inermis 'Purpurea')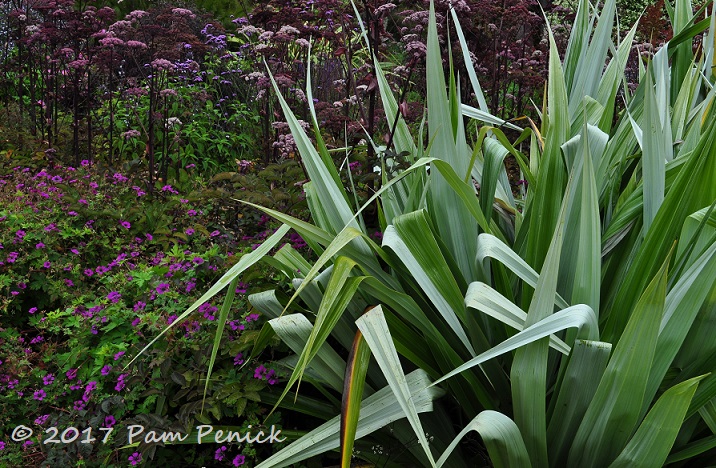 Astelia chathamica 'Silver Spear'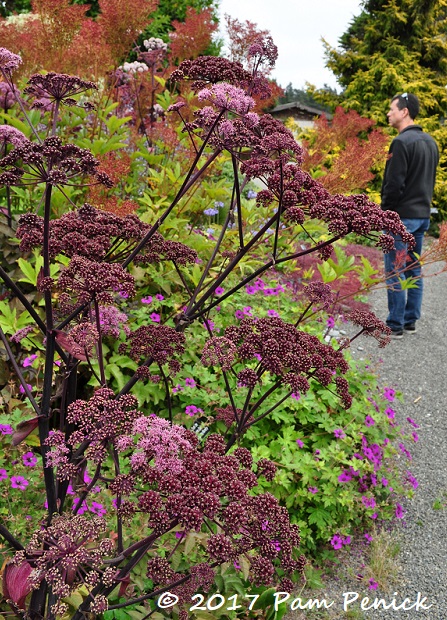 Anyone know this one? Update: It's Angelica stricta 'Purpurea'. (Thanks to everyone who commented on it!)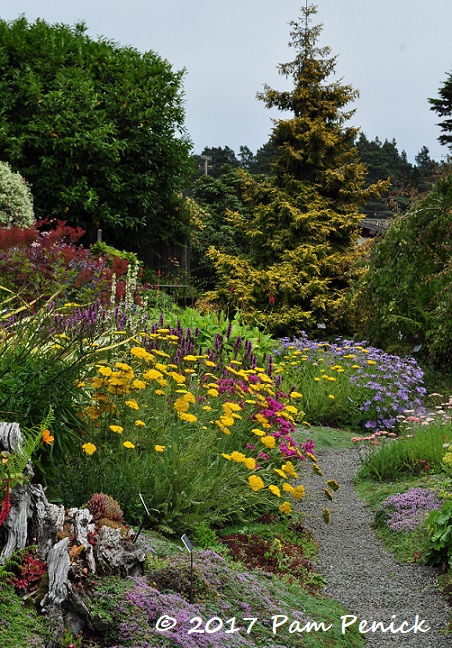 Yarrow echoes a golden conifer in the distance.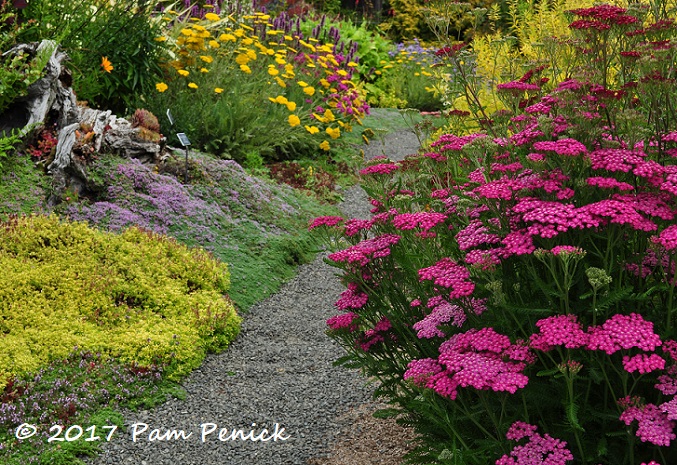 Pink yarrow too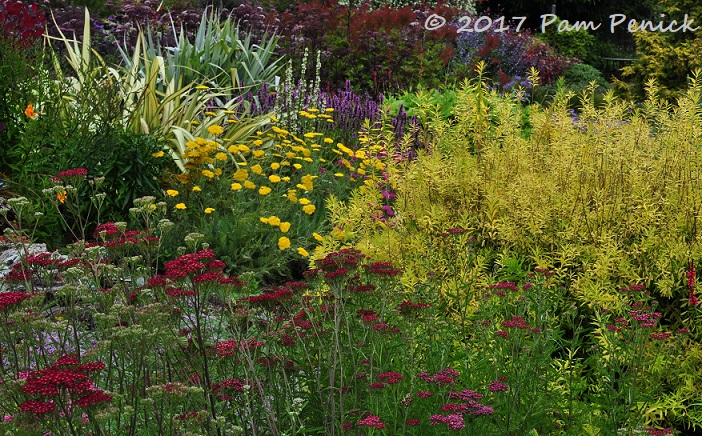 Lovely color echoes and contrasts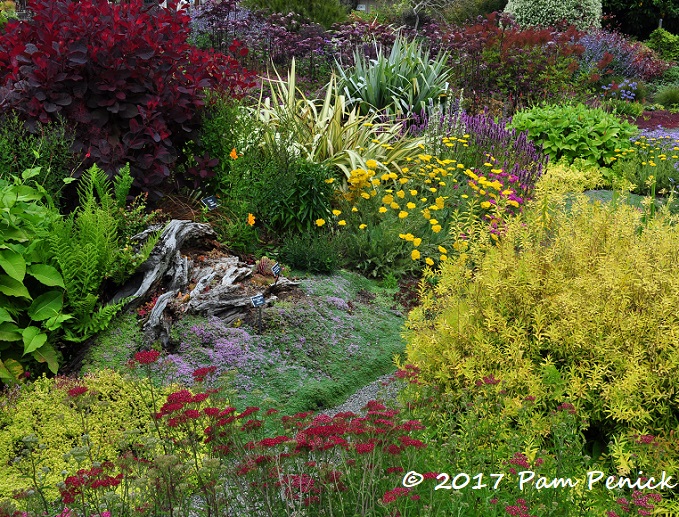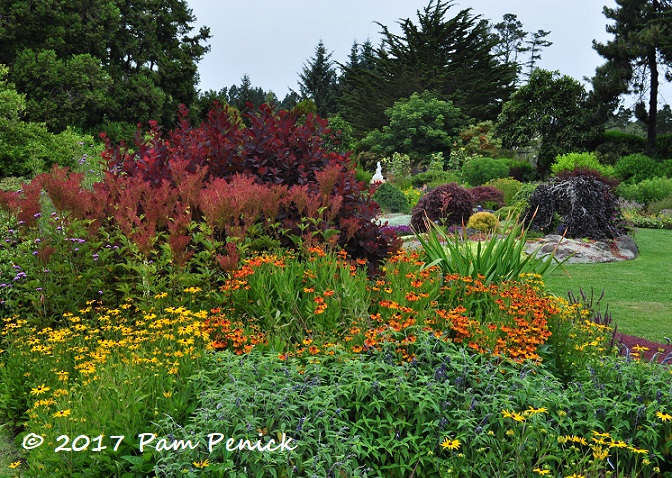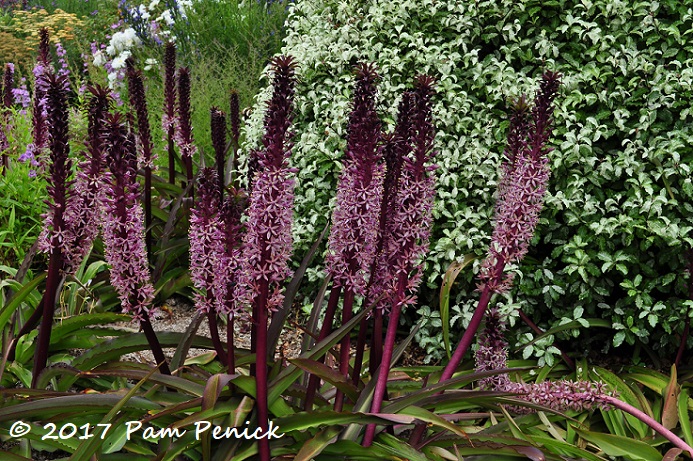 Eucomis comosa 'Sparkling Burgundy' and Pittosporum tenuifolium 'Irene Paterson'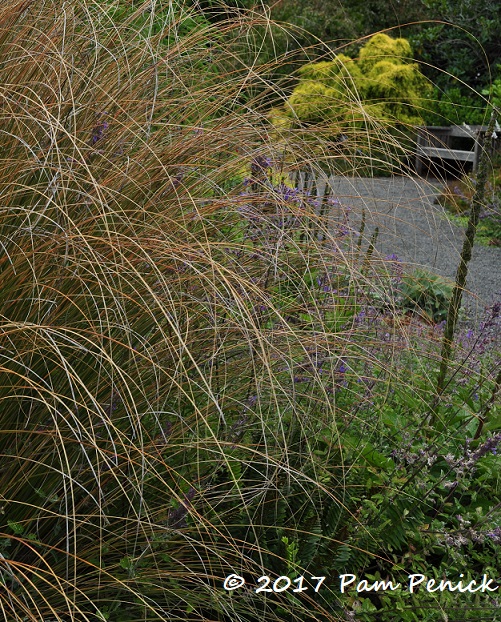 Red tussock grass (Chionochloa rubra)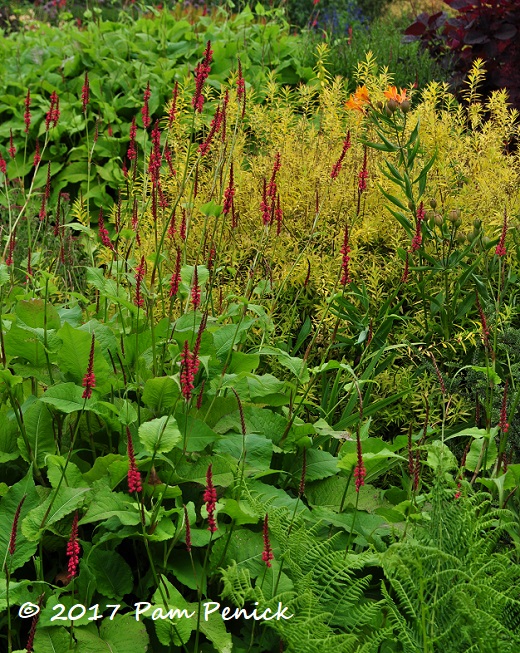 Persicaria and amsonia Spirea thunbergii 'Ogon' (thanks for the ID, Evan and Lynn!)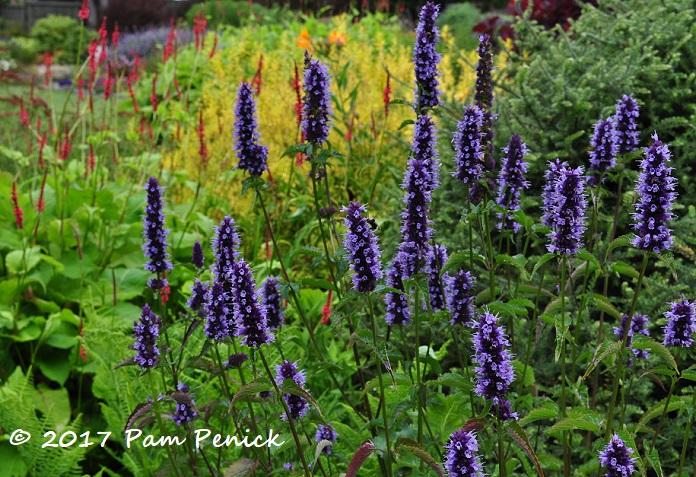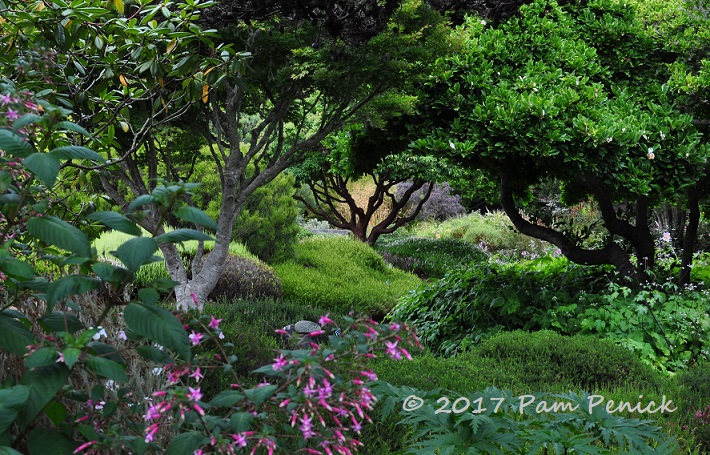 I love this long view of twisted tree trunks and mounds of low foliage.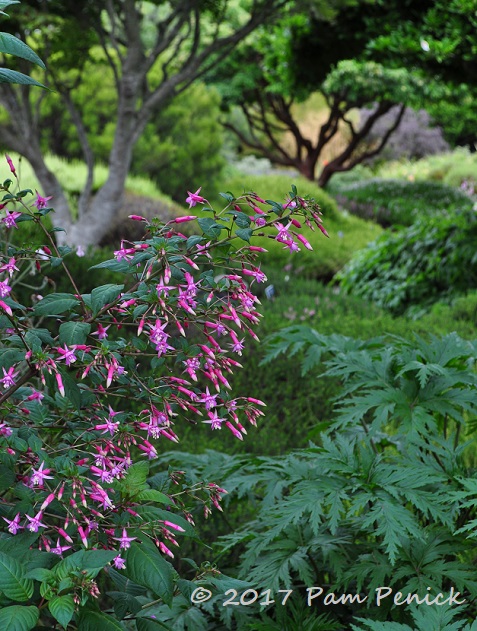 With fuchsia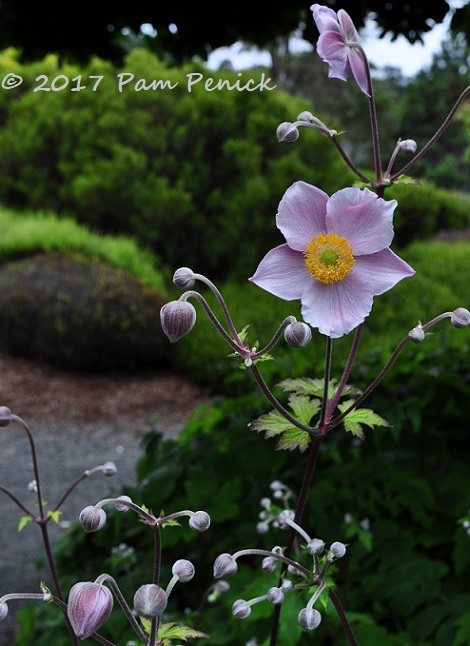 Pink anemone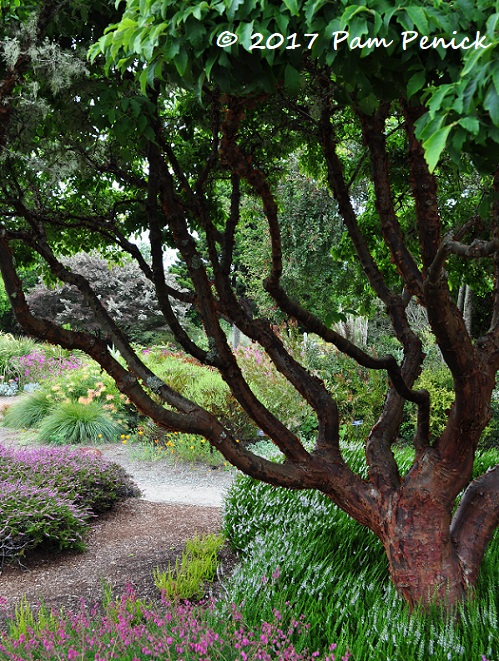 Paperbark maple (Acer griseum)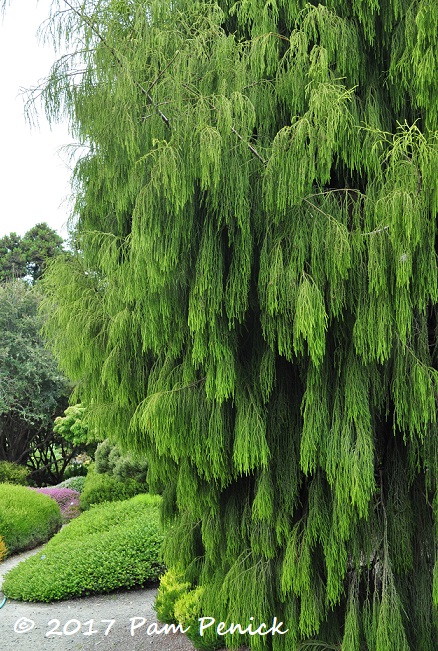 A stunning Dacrydium cupressinum (Rimu) from New Zealand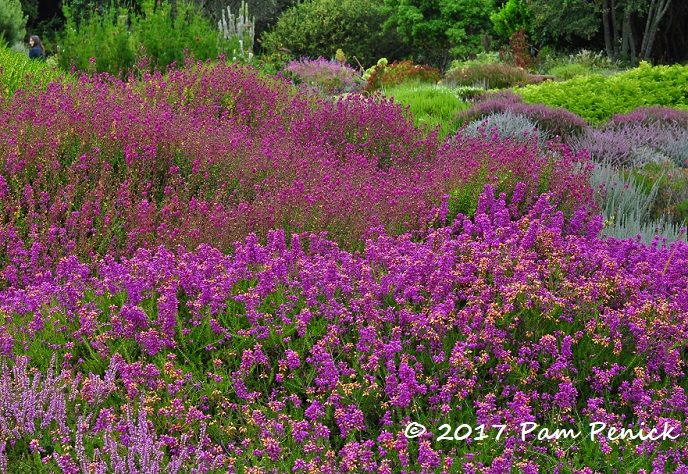 Here is where the garden's acclaimed Heath and Heather Collection begins. "Heaths and heathers are beautiful, undemanding plants that require full sun, and cool soil with perfect drainage. Our mild maritime climate and sandy, acidic soils create an ideal environment for them," the website explains.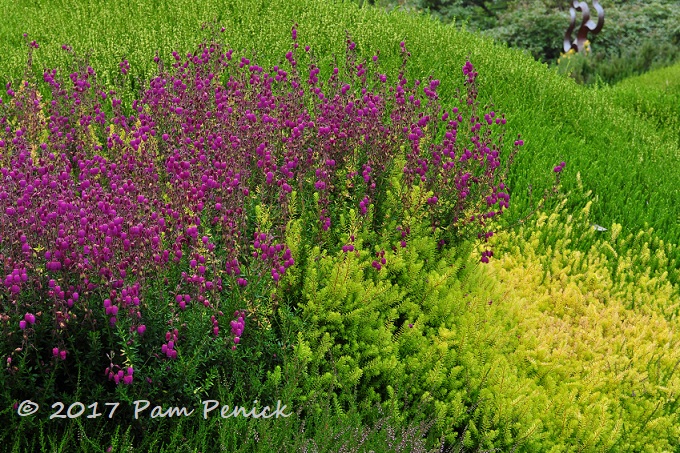 "Heaths (Erica) have needle-like foliage blooming early winter through the summer. Heathers (Calluna) have tighter, overlapping scale-like foliage blooming late summer through the fall."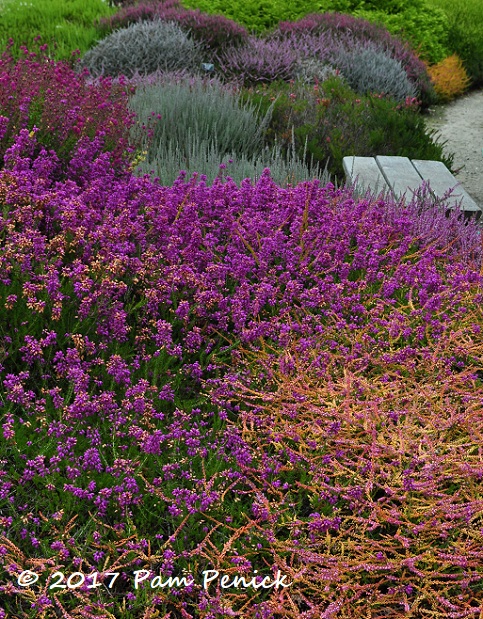 'Pat's Gold' heather (Calluna vulgaris) is on the right.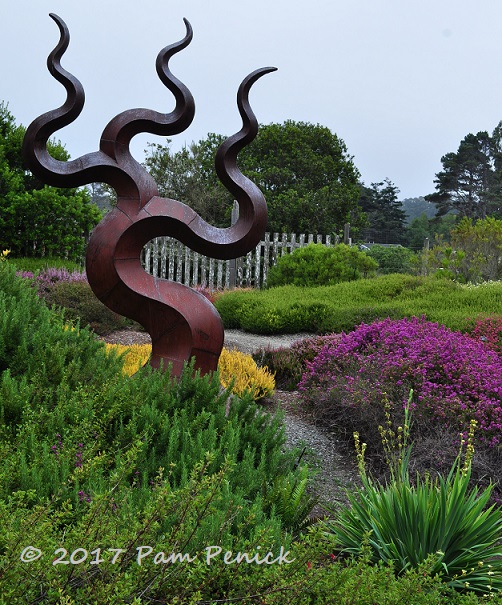 Set amid the mounding plants, Phoenix Tree, a welded-steel tree-like sculpture by Diego Harris, was for sale for $6,000. I saw another of his works on this trip, Time Killer at Sonoma Cornerstone.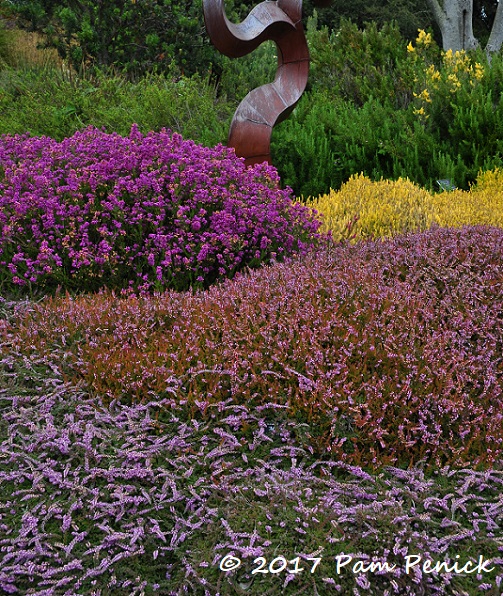 'Sister Anne' heather (Calluna vulgaris) in the foreground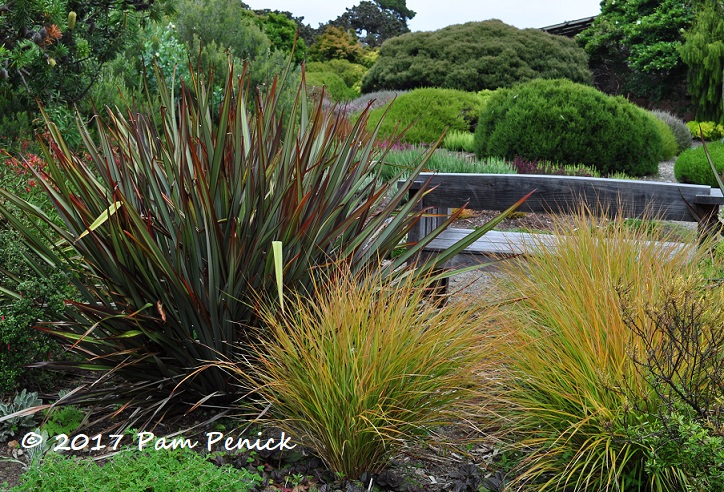 Moving on…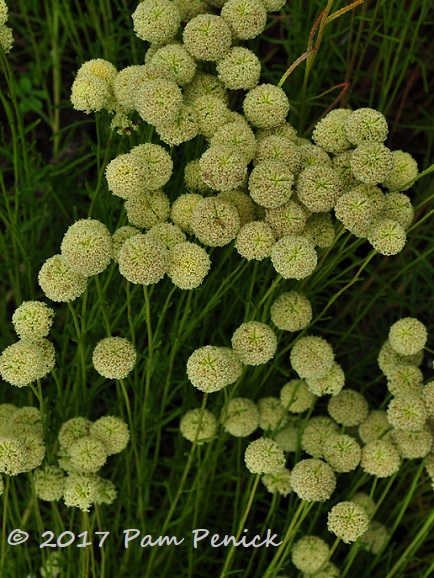 Green santolina (Santolina virens)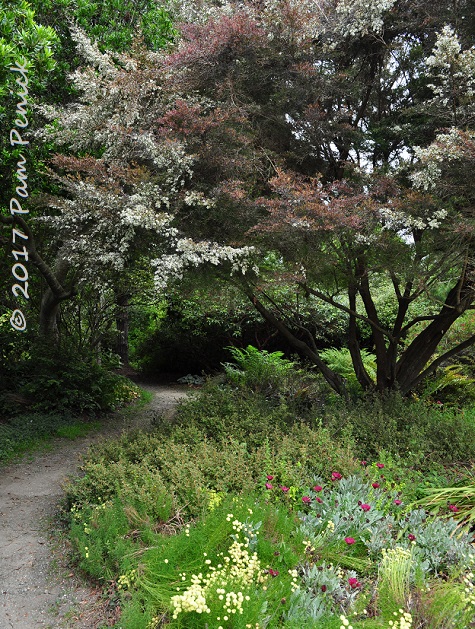 Gray New Zealand tea tree (Leptospermum brevipes)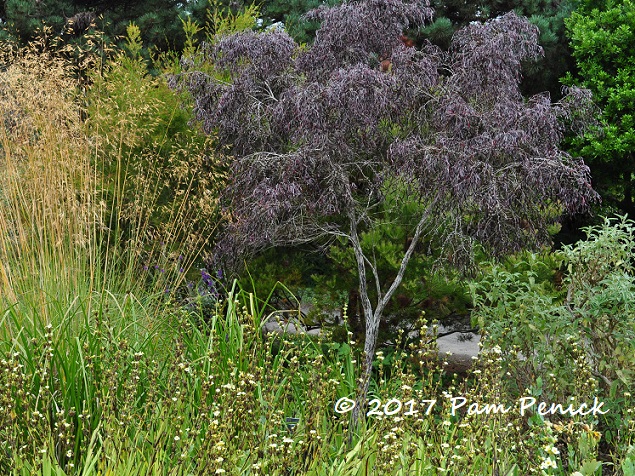 Giant feather grass (Stipa gigantea) and an unknown but beautiful dark-leaved tree — anyone know it?. Update: It's peppermint willow (Agonis flexuosa 'Jervis Bay Afterdark') from Australia. (Thanks for the ID, Evan and Kris!)
Up next: Part 2 of my visit to Mendocino Coast Botanical Gardens, including the stunning Dahlia Garden. For a look back at dramatic coastal views along Highway 1 in Northern California, click here.
I welcome your comments; please scroll to the end of this post to leave one. If you're reading this in a subscription email, click here to visit Digging and find the comment box at the end of each post.
_______________________
Digging Deeper: News and Upcoming Events
The Austin Cactus & Succulent Society hosts its Fall Show and Sale on September 2 & 3, from 10:00 am to 5:00 pm, at Zilker Botanical Garden (2220 Barton Springs Road). Come see rare and beautiful cacti and succulents and shop for plants and handcrafted pottery. Admission is free with paid entry to Zilker Botanical Garden ($2 adults, $1 children and seniors).
Get on the mailing list for Garden Spark Talks. Inspired by the idea of house concerts, I'm hosting a series of garden talks by talented designers and authors out of my home. Talks are limited-attendance events and generally sell out within just a few days, so join the Garden Spark email list for early notifications. Simply click this link and ask to be added.
All material © 2006-2017 by Pam Penick for Digging. Unauthorized reproduction prohibited.
posted in
Berries
,
Birds
,
Botanic/Public Gardens
,
Carnivorous plants
,
Color
,
Flowers
,
Garden art
,
Garden tours 2017
,
Grasses
,
Groundcovers
,
Lawns
,
Paths
,
Ponds
,
Sculpture
,
Seating
,
Shrubs
,
Summer color
,
Travel
,
Trees
,
Water features
,
Water gardening