August 25th, 2017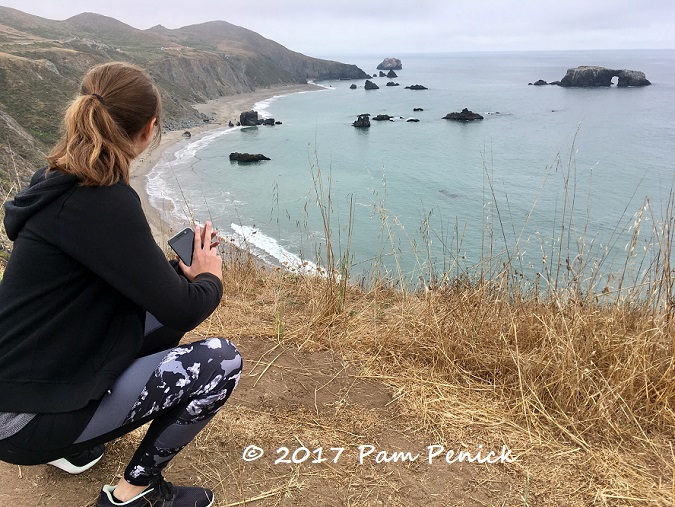 A road trip gives you the freedom to explore along the way, to make detours or just stop at an overlook to enjoy a view. In early August we made a family road trip up the coast of Northern California, a region we'd never seen beyond Stinson Beach just north of San Francisco. Driving up Highway 1, which hugs the dramatic coastline, gave us many opportunities to get out of the car and gaze at the wild Pacific Ocean.
Goat Rock Beach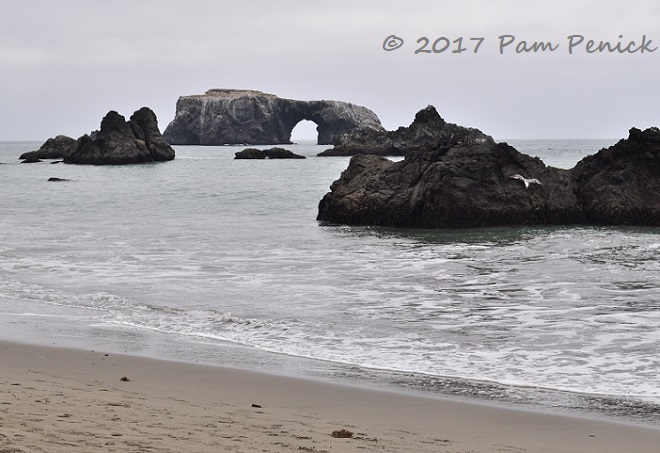 One of our stops along the way was Goat Rock Beach near Jenner. We carried a sack of bread, cheese, and apples to a wave-smoothed log (high up and away from the water), sat in a row, and enjoyed one of the best-tasting meals on the trip. There's just something about eating outdoors amid beautiful scenery. Out past the surf, Arched Rock invited views through its wave-carved peephole into the great beyond.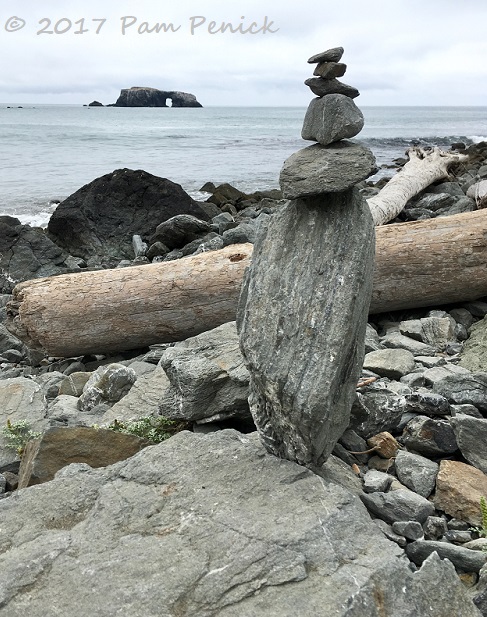 Artfully stacked beach stones defied gravity all along Blind Beach (on the north side of Goat Rock). Someone had been busy! I understand there's controversy over these Zen-like cairns, since it disturbs the natural ecosystem and is a constant reminder of human presence. But we hadn't seen many and were charmed.

Numerous painted rocks were placed for discovery along the beach too, including this face added to a driftwood log.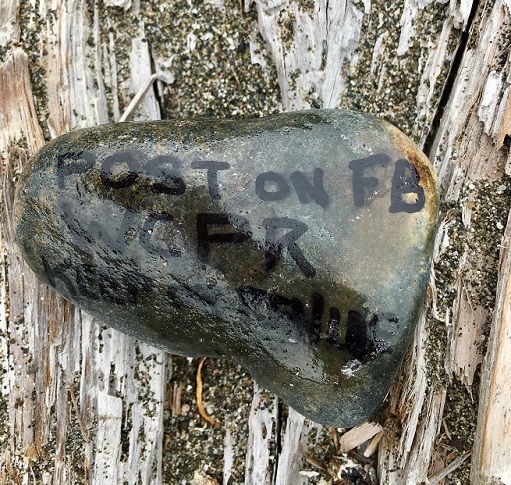 Flipping a stone over, we found a message:
Post on FB
WCPR
Keep or rehide
Searching on Facebook later, I learned there's a group called West Coast Painted Rocks that encourages people to paint rocks and hide them outdoors for people to discover to "promote random acts of kindness." We found a couple of hidden ones and many out in the open, and we debated keeping one but decided to leave them for someone else to discover.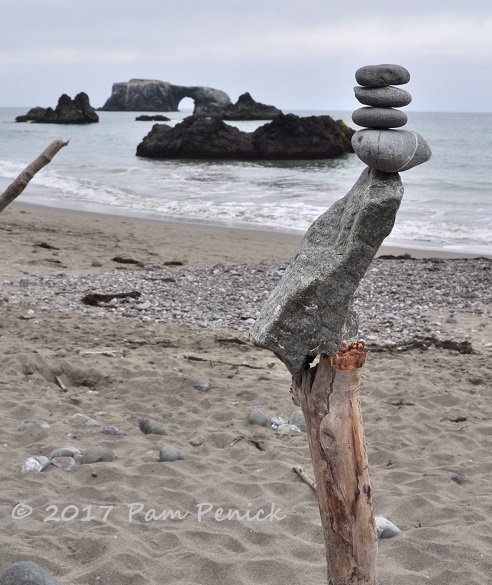 Along Highway 1, somewhere between Goat Rock and Mendocino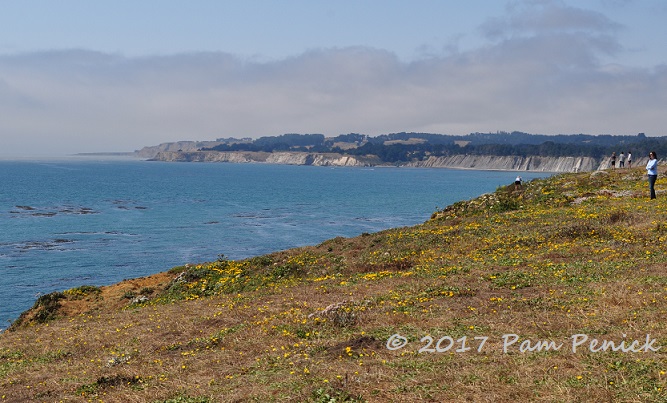 After Goat Rock, we spent the night in charming Healdsburg, then picked up Highway 1 after lunch the next day. A highway overlook tempted us to stop, and we were rewarded with this view.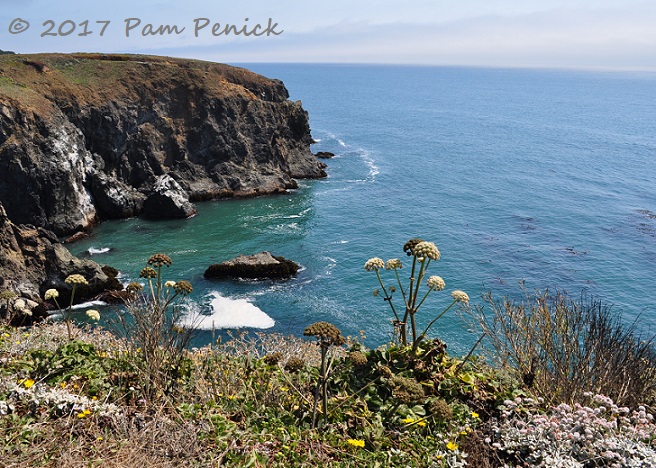 So different from the flat, sugar-sand beaches I grew up visiting in South Carolina.
Mendocino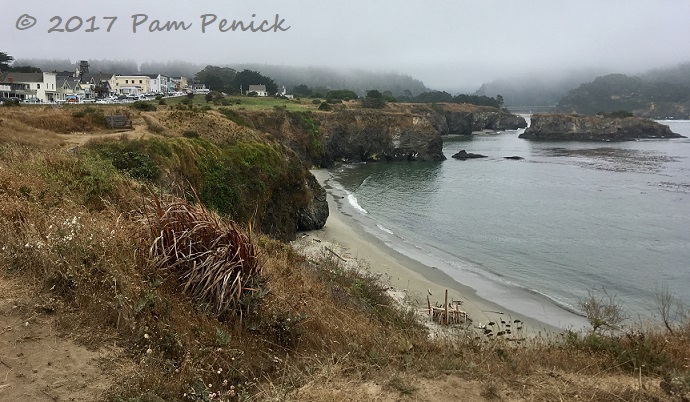 We spent two nights in Mendocino, a tiny town of charming 1800s-era buildings perched atop a headland overlooking the ocean.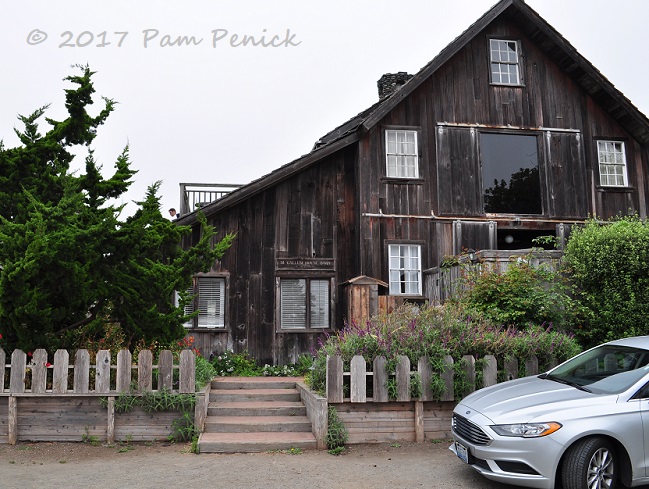 Located 3-1/2 hours north of San Francisco, it may as well be in a different time zone, so different is its slow pace and old-fashioned charm.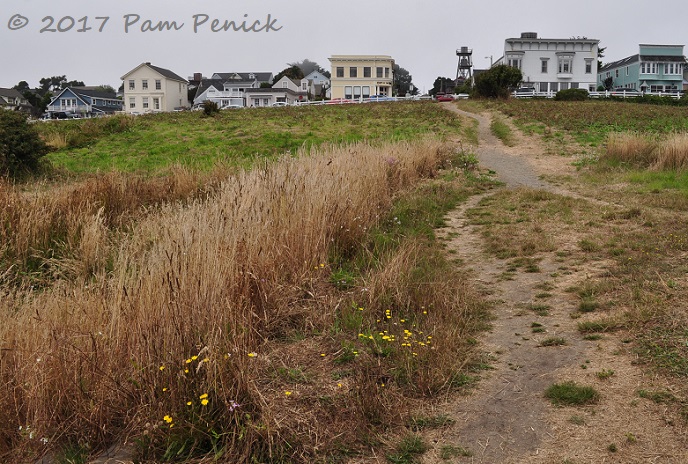 Along the edge of the headland, just across from town, walking trails wind through grasses and coastal scrub…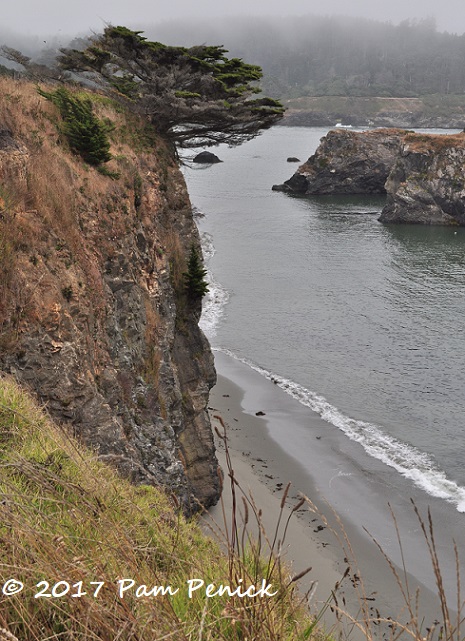 …offering dramatic vistas of sheer, crumbly cliffs and roiling surf.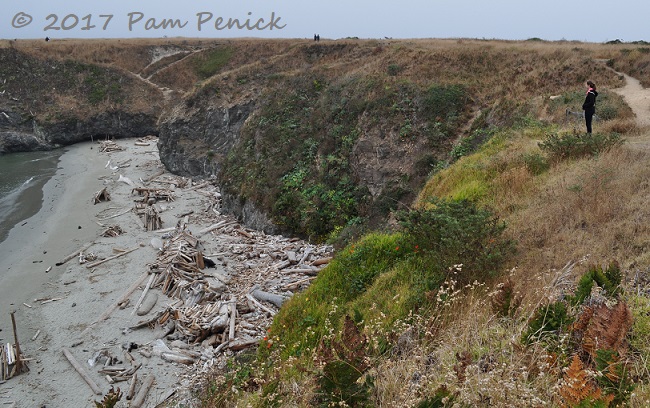 A beach below was littered with water-smoothed, sun-bleached trunks of trees, many of which had been stacked by beach-goers into shelters and low-slung forts. What is it with West Coasters and their stacking mania?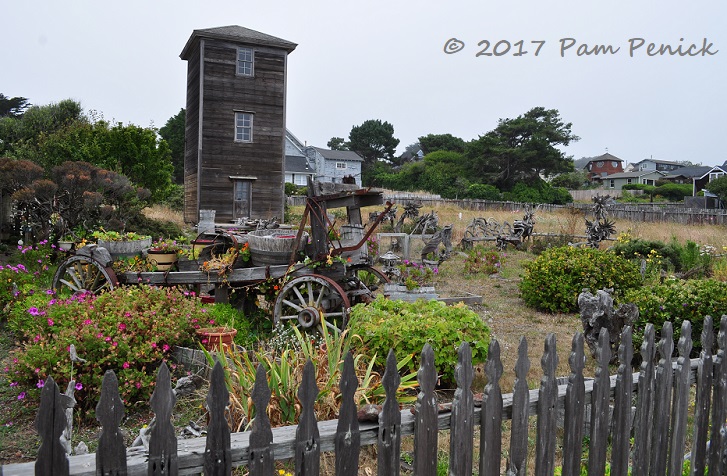 Only 894 people live in Mendocino, and among the houses we saw this colorful, fenced garden. I believe the tall building may be a water tower.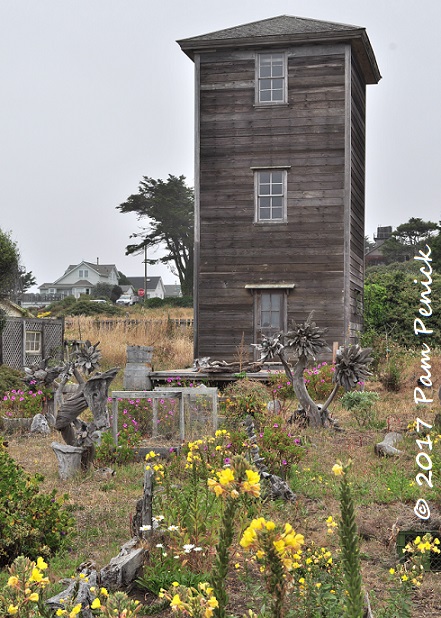 Notice the driftwood flowers? I wonder if the homeowner made them.
Russian Gulch State Park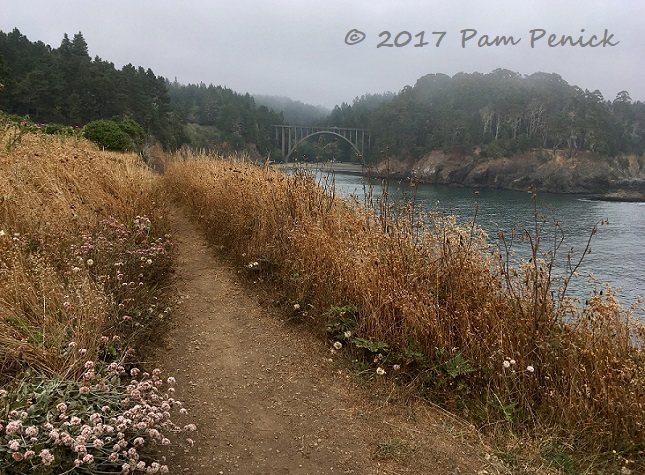 Heading out of town we stopped at nearby Russian Gulch State Park and admired the view of an arched bridge we had just crossed. The fog had rolled in, softening the light and creating a feeling of autumnal melancholy that was emphasized by tawny grasses.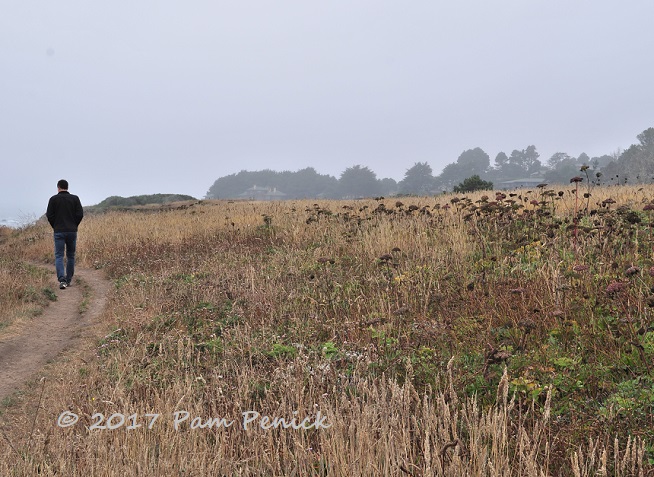 We followed a trail along the cliff's edge…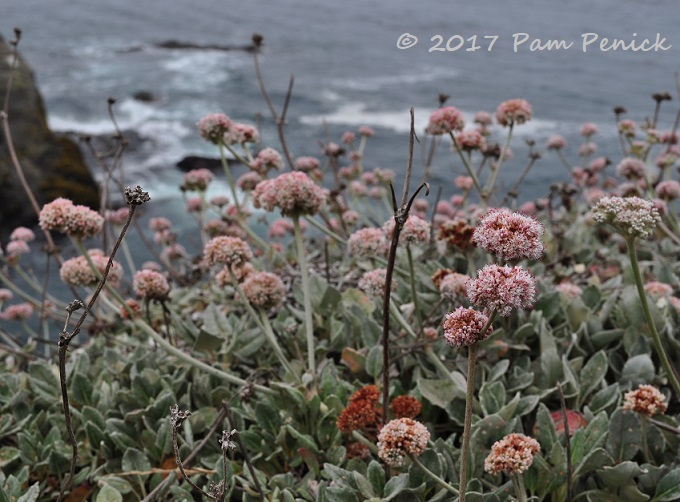 …and I stopped to admire wildflowers (California buckwheat?) clinging to the crumbling soil.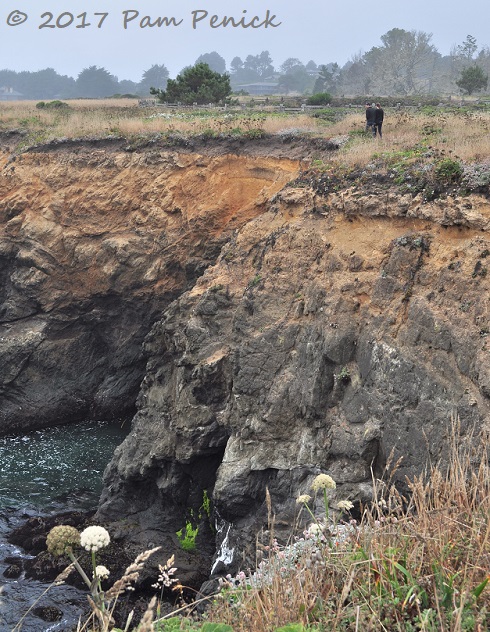 Below the cliff, a sea cave led into the bluff. See the paddock-like fence in the distance?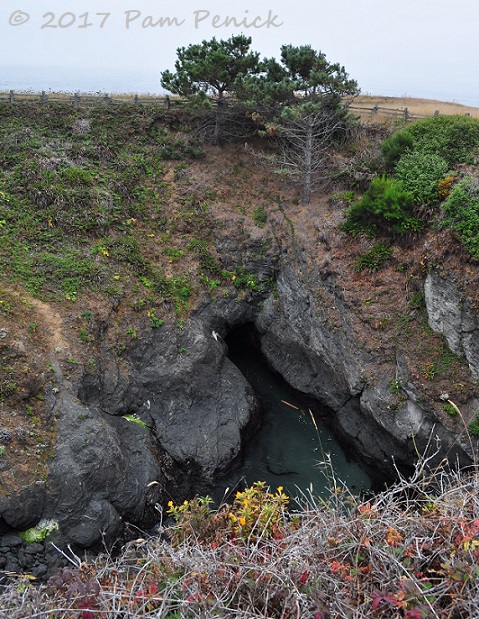 It encircles the Devil's Punchbowl, a blowhole formed when the interior of the sea cave collapsed.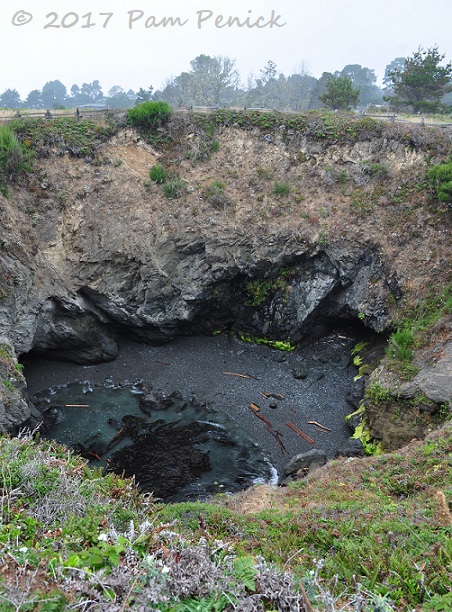 The tide was low, so we didn't get to see much of the frothing and blowing that occurs during high tide, but it was an impressive sight nonetheless.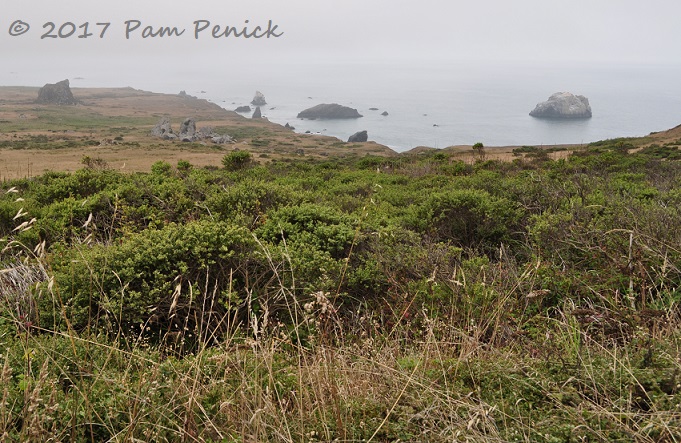 The Pacific Coast has a windswept, lonely beauty to it, and also a sense of danger. Numerous signs near beaches warn about sneaker waves, steep drop-offs, rip currents, hypothermia-inducing water, and tsunamis. These are not swimming beaches (although we saw plenty of people playing in the surf and taking their chances). As you drive Highway 1, you're constantly entering and leaving tsunami danger zones, as indicated by signs at low points along the coast. It was all a strange and beautiful world, an unstable landscape but a majestic one.
Up next: Perennials, heaths, and heathers at Mendocino Coast Botanical Gardens. For a look back at the garden of Gary Ratway and Deborah Whigham, owners of Digging Dog Nursery, click here.
I welcome your comments; please scroll to the end of this post to leave one. If you're reading this in a subscription email, click here to visit Digging and find the comment box at the end of each post.
_______________________
Digging Deeper: News and Upcoming Events
The Austin Cactus & Succulent Society hosts its Fall Show and Sale on September 2 & 3, from 10:00 am to 5:00 pm, at Zilker Botanical Garden (2220 Barton Springs Road). Come see rare and beautiful cacti and succulents and shop for plants and handcrafted pottery. Admission is free with paid entry to Zilker Botanical Garden ($2 adults, $1 children and seniors).
Get on the mailing list for Garden Spark Talks. Inspired by the idea of house concerts, I'm hosting a series of garden talks by talented designers and authors out of my home. Talks are limited-attendance events and generally sell out within just a few days, so join the Garden Spark email list for early notifications. Simply click this link and ask to be added.
All material © 2006-2017 by Pam Penick for Digging. Unauthorized reproduction prohibited.