August 21st, 2017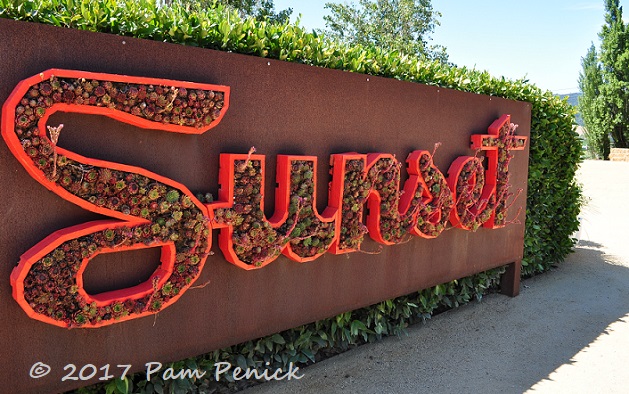 While touring the Cornerstone Sonoma gardens in Sonoma, California, a couple of weeks ago, I enjoyed a two-fer. Sunset's Test Gardens relocated to Cornerstone in 2016, and after a year of growth they're already looking amazing. A glowing vertical garden of sempervivums, planted in the orange Sunset logo, greets you as you enter.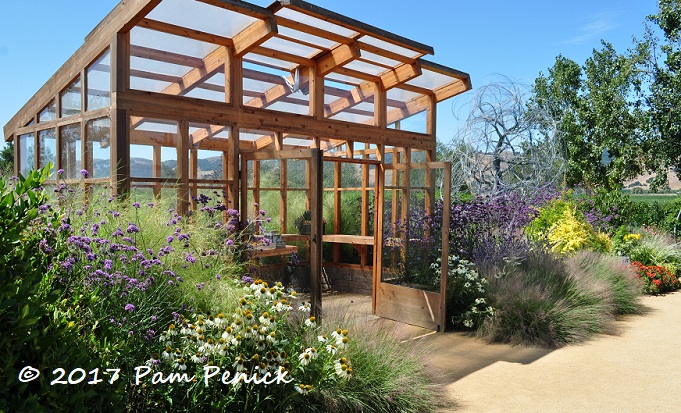 Sunset, publisher of Sunset Magazine, sold its longtime Menlo Park location in 2014, leaving behind its beloved display gardens, which I toured during the San Francisco Garden Bloggers Fling in 2013.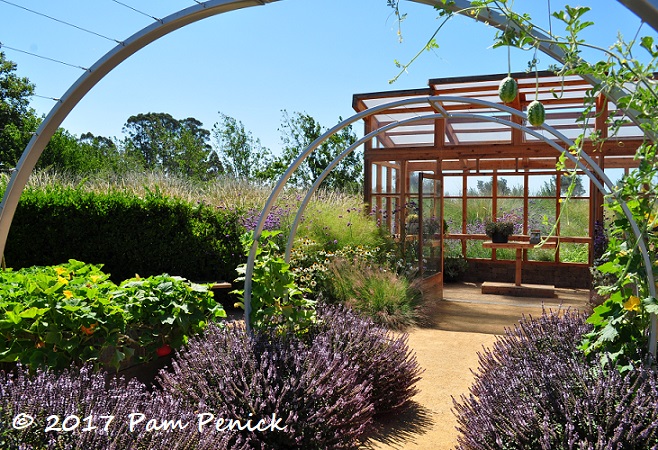 Sunset's new gardens at Cornerstone were designed by Homestead Design Collective, whose co-founder Stefani Bittner is a fellow Ten Speed Press author. She's co-author of The Beautiful Edible Garden, a terrific book about designing edible gardens that not only taste good but look good year-round.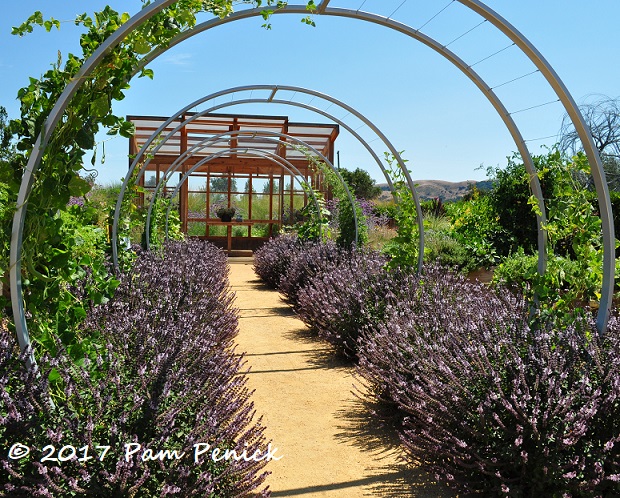 The Sunset gardens consist of 5 distinct spaces: Flower Room, Farm, Cocktail Garden, Gathering Space, and Backyard Orchard. I explored the Farm garden first, drawn in along a basil-lined path through round trellis arbors by TerraTrellis. A wood-framed greenhouse stands at the end of the path, with meadowy plants visible through its glass walls.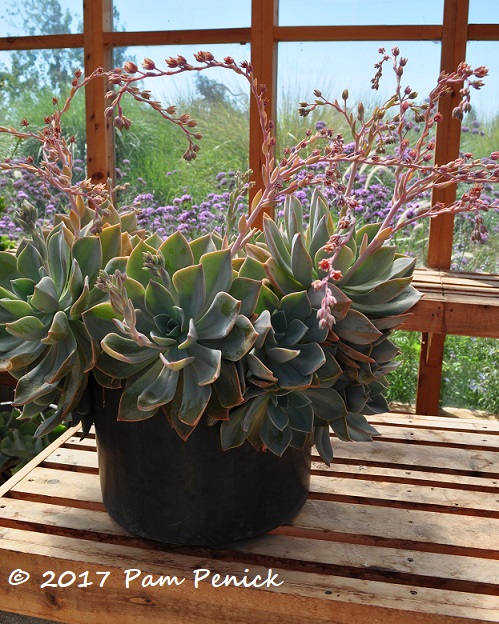 Inside, a few simple pots of succulents adorn the airy space.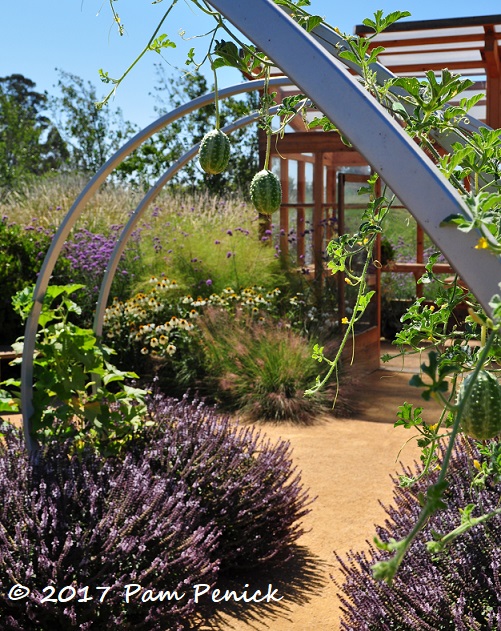 Along the path, sour gherkins dangle enticingly from one trellis.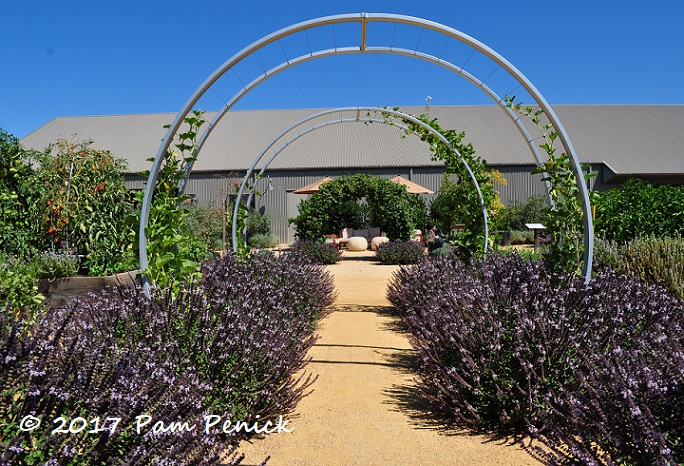 A double axis means that when you look back, you enjoy an enticing view that way as well. This way the path leads to…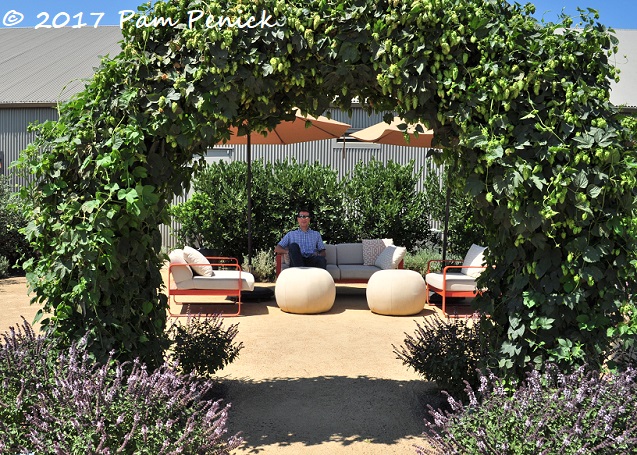 …the ready-for-lounging Cocktail Garden: "In this drinkable garden, everything growing can be mixed, muddled, or blended into tasty libations. Culinary bay, pineapple guava, pomegranates, and lavender make the foundation plantings, and a hop vine (whose dried flowers add the bitter note to beer) makes a beautiful, robust trellis climber. Potted specialty citrus and mints show our readers who are short on space that they can still grow a bounty in containers."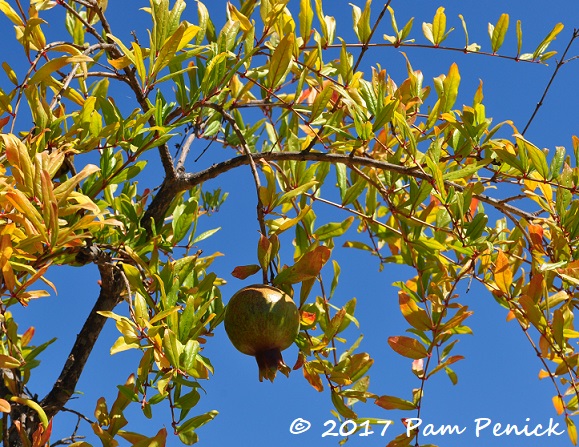 Pomegranate against blue sky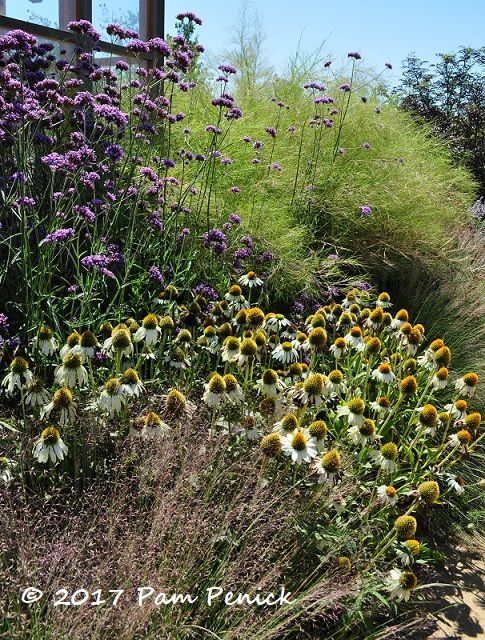 Leaving the edible gardens, I admired prairie-like flowerbeds of grasses and pollinator favorites like Echinacea purpurea (this cultivar is 'White Swan') and Verbena bonariensis.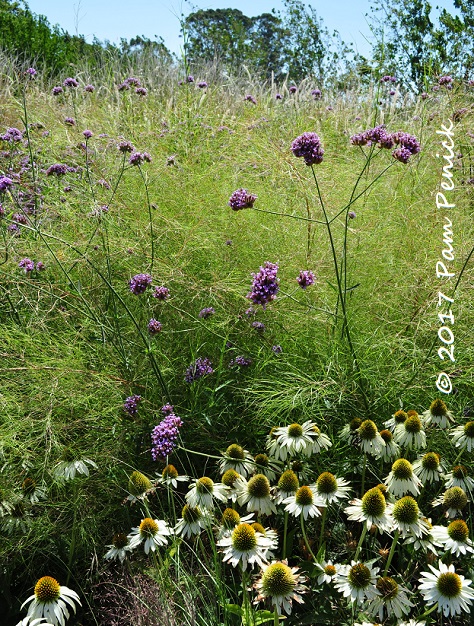 'White Swan' echinacea and tall verbena. The grass looks like bamboo muhly, but I'm not sure.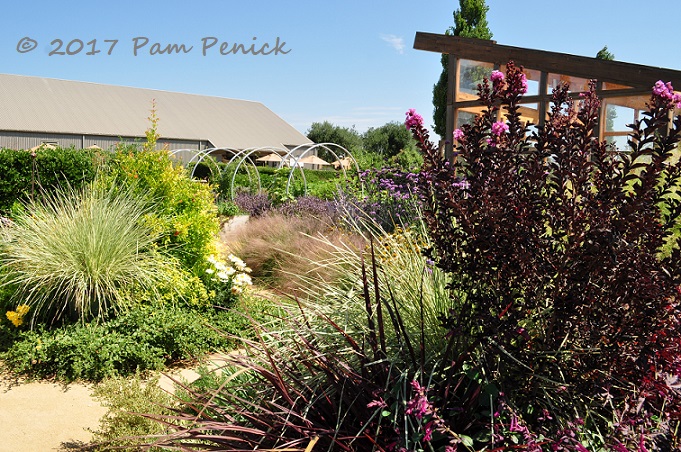 A burgundy-leaved crepe myrtle stands out against bright greens and yellows.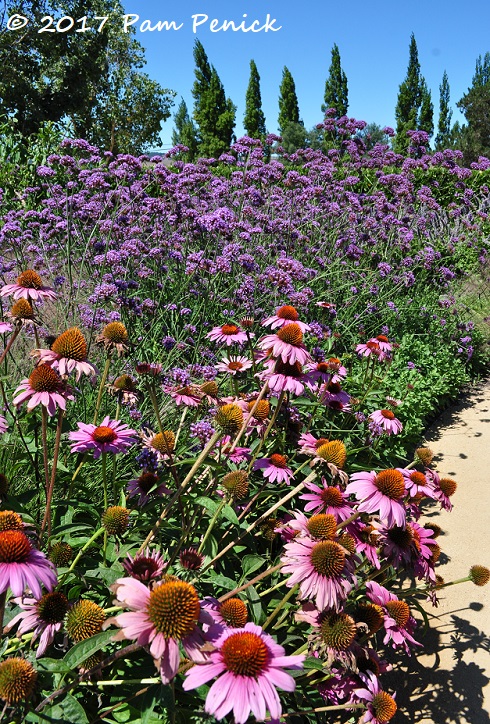 A classic and crowd-pleasing combo of purple coneflower and tall verbena.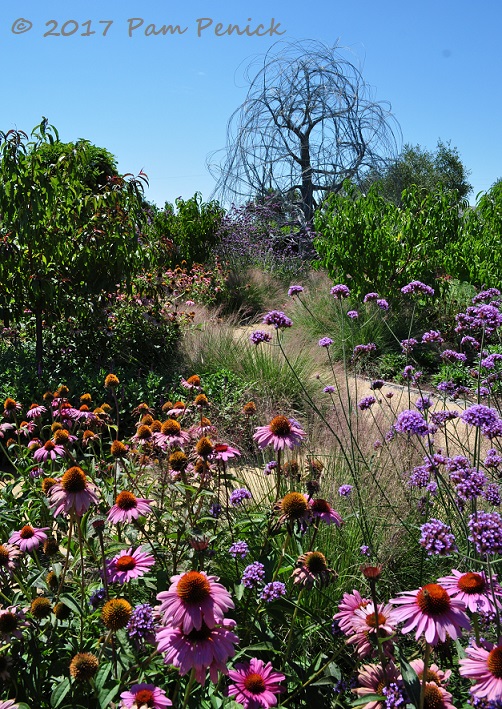 A serpentine decomposed-granite path leads through the flowers and grasses to the Backyard Orchard garden, where a beautiful galvanized-wire sculpture of a tree makes a striking and appropriate focal point.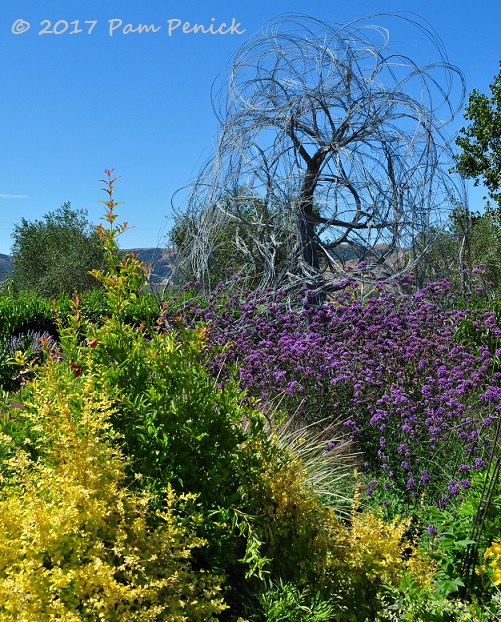 Tree of Life, the creation of New Zealand sculptor Regan Gentry, represents a California chestnut and was originally the centerpiece of a Cornerstone garden called Ecology of Place.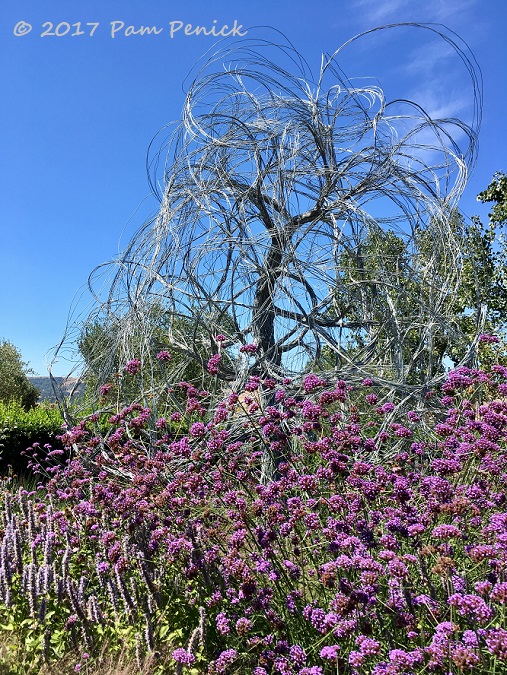 When that garden was removed to make way for the new Sunset gardens, the sculpture was left in place, glinting in the sunlight above verbena and surrounded by the orchard's new fruit trees.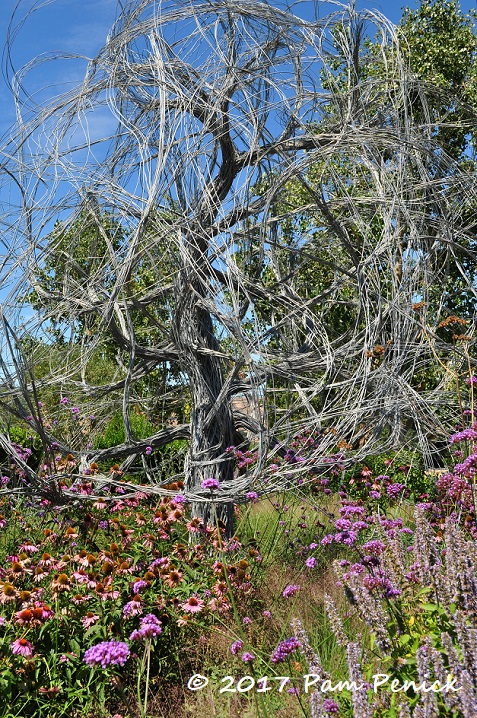 There's a sense of movement in those swirling silver wires.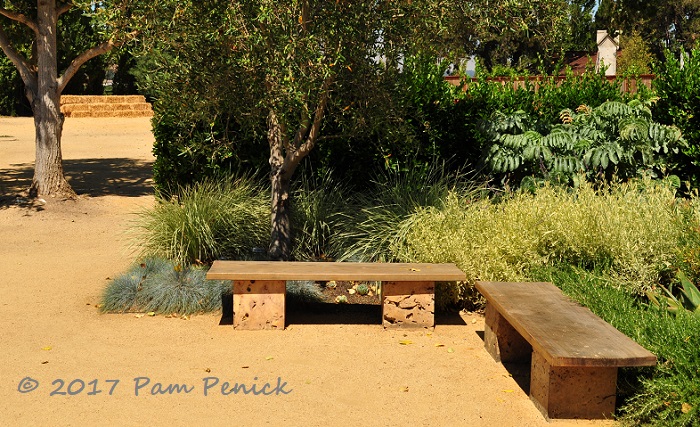 Next is an easy-care foliage garden in Gathering Space, "an updated take on an outdoor living room, inspiring us to move the party outside."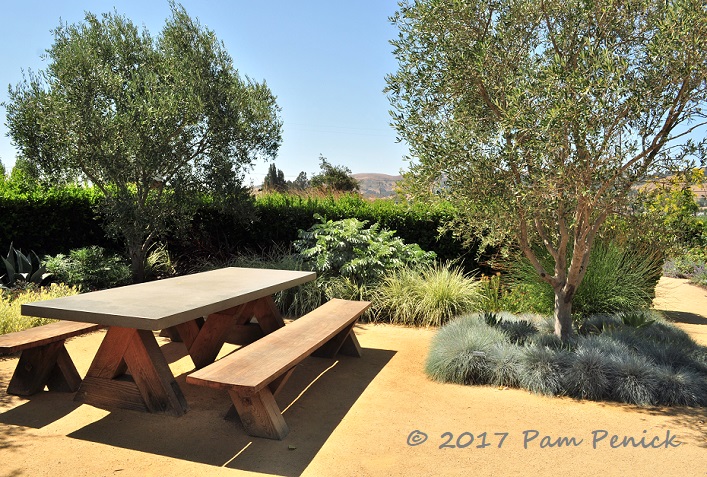 This looks like a distinctively California garden to my eyes: upscale picnic table on a golden decomposed-granite patio, olive trees, and silvery and chartreuse low-water plants. 'Platinum Beauty' lomandra (I'm planning to trial this one soon!) edges the bed behind the picnic table. I think that's 'Beyond Blue' fescue around the olive tree.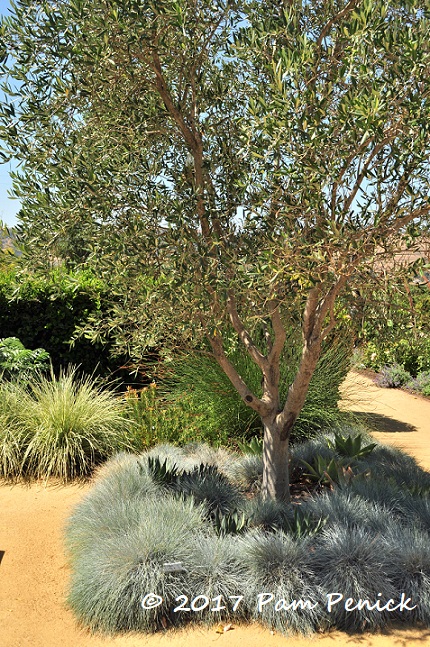 I wonder if this could possibly hold up in our climate. Our unrelenting hothouse summer is often the deal-breaker for those dry-loving and high-country plants I covet.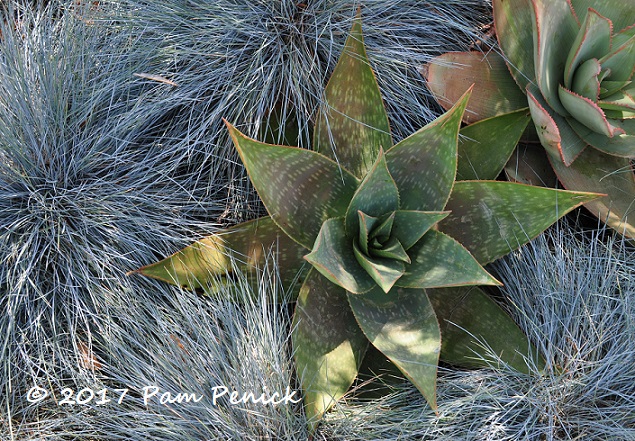 Here's a pretty touch: star-shaped Aloe striata (hybrid) planted amid the blue fescue.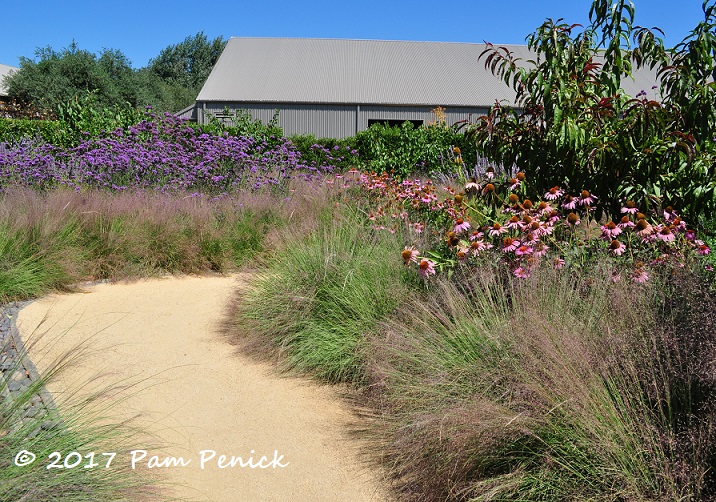 This, however, could be an autumn scene in Austin: Gulf muhly in flower with purple coneflower and tall verbena. Beautiful! We won't see flowering like this in Austin for at least another month, starting in early October, so it was a treat to enjoy it in August.
Up next: Gary and Deborah Ratway's garden and acclaimed nursery Digging Dog in Albion, CA. For a look back at the remarkable conceptual gardens of Cornerstone Sonoma, click here.
I welcome your comments; please scroll to the end of this post to leave one. If you're reading this in a subscription email, click here to visit Digging and find the comment box at the end of each post.
_______________________
Digging Deeper: News and Upcoming Events
Get on the mailing list for Garden Spark Talks. Inspired by the idea of house concerts, I'm hosting a series of garden talks by talented designers and authors out of my home. Talks are limited-attendance events and generally sell out within just a few days, so join the Garden Spark email list for early notifications. Simply click this link and ask to be added.
All material © 2006-2017 by Pam Penick for Digging. Unauthorized reproduction prohibited.
posted in
Aloes
,
Annuals
,
Arbors
,
Botanic/Public Gardens
,
Containers
,
Design
,
Edibles
,
Flowers
,
Garden art
,
Garden tours 2017
,
Grasses
,
Greenhouses
,
Magazines
,
Paths
,
Patios & decks
,
Prairie/Meadow
,
Sculpture
,
Seating
,
Signs
,
Succulents
,
Summer color
,
Travel
,
Trees
,
Trellis
,
Vines
,
Xeric plants