August 8th, 2017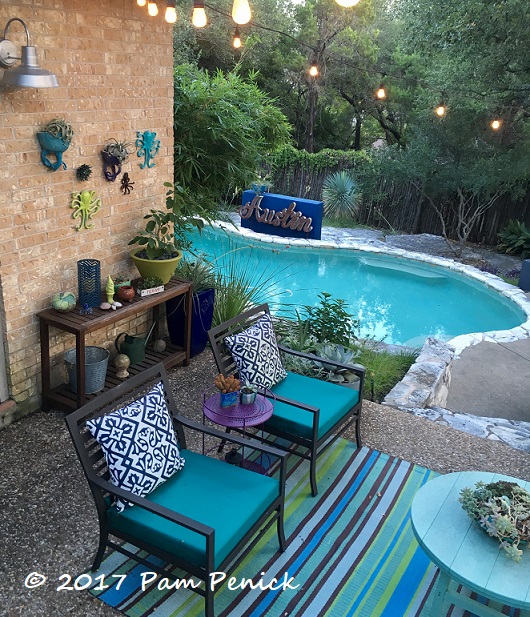 Shaded by a big live oak, our back patio stays relatively cool, even on hot days. That shade also makes it a good spot for a variety of potted plants, especially succulents that prefer bright shade in our blistering climate.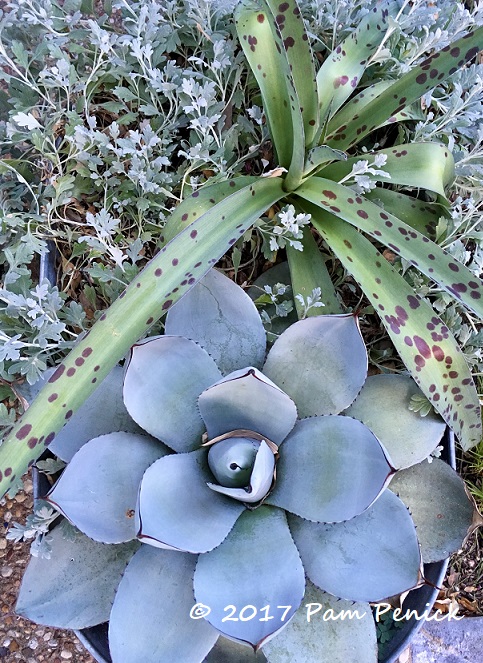 Agave parryi var. truncata is one of my favorite small agaves, with those striking black spines and round blue leaves. It cozies up in a galvanized tub with a Texas tuberose (Manfreda maculosa) and Artemisia stelleriana 'Quicksilver'.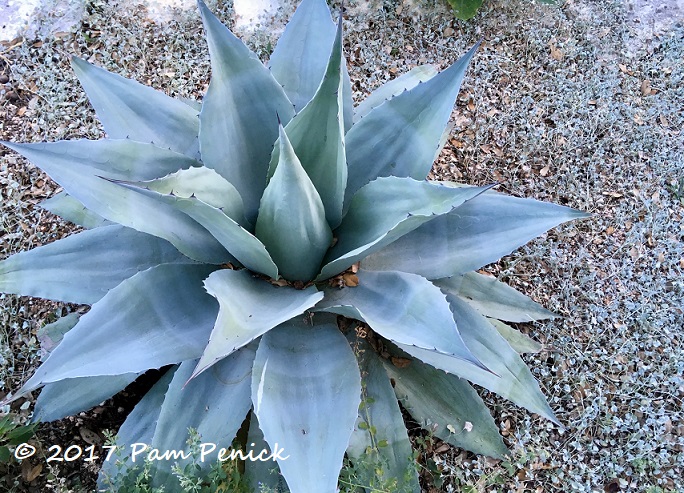 Another blue beauty, but much bigger, is my new whale's tongue agave (A. ovatifolia), which replaced Moby after he bloomed last year. Skirted by silver ponyfoot (Dichondra argentea), it's a cool, silvery vision of agave loveliness.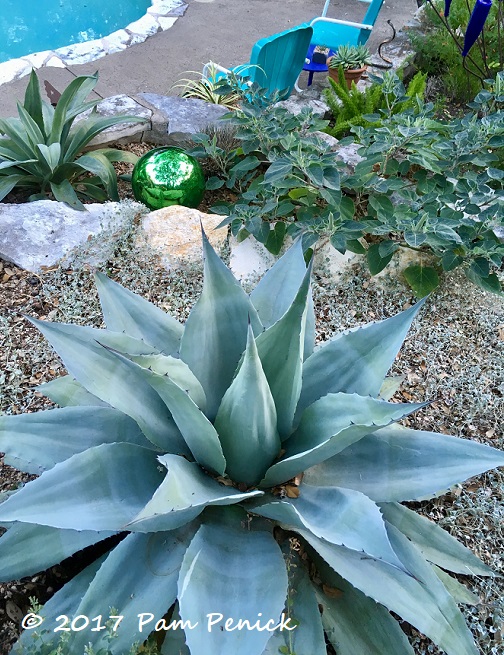 'Macho Mocha' mangave and datura grow in the lower level, adding some green along with a glass gazing ball.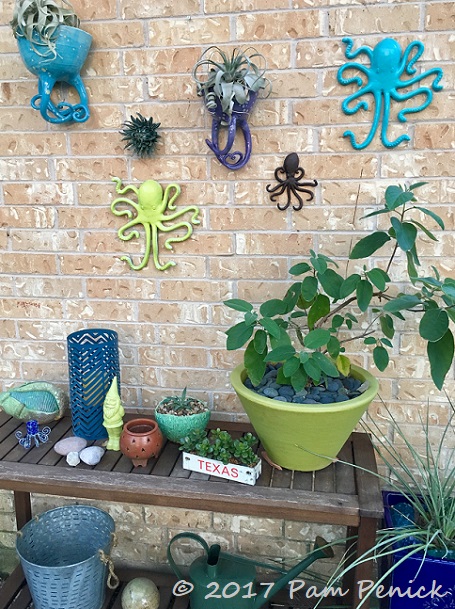 For fun — a Tentacle Wall. Wiggly-legged pots from Tentacle Arts hold wavy-armed Xerographica tillandsias spring through fall; in winter they live indoors. Metal octopuses add a few more tentacles to the mix.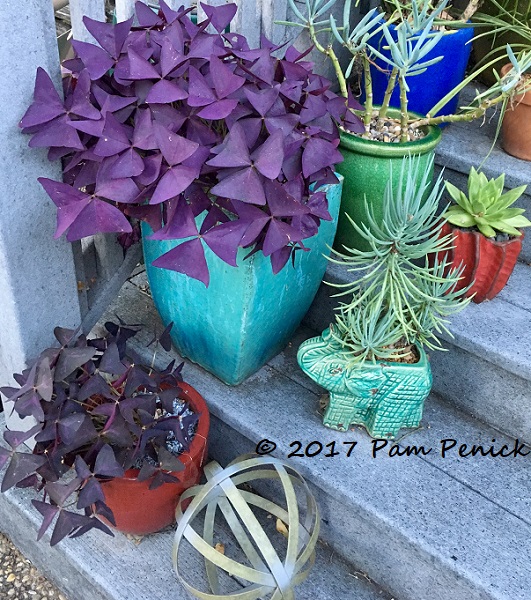 Steps leading up the back door host a colorful array of pots containing purple oxalis along with more succulents.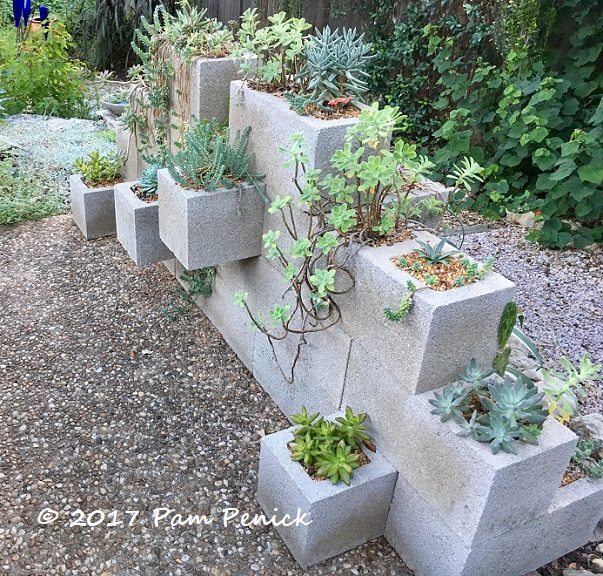 And of course the cinderblock succulent wall is here too. (Here's how I made it, including how I kept the soil from falling out of the holes — everyone asks!)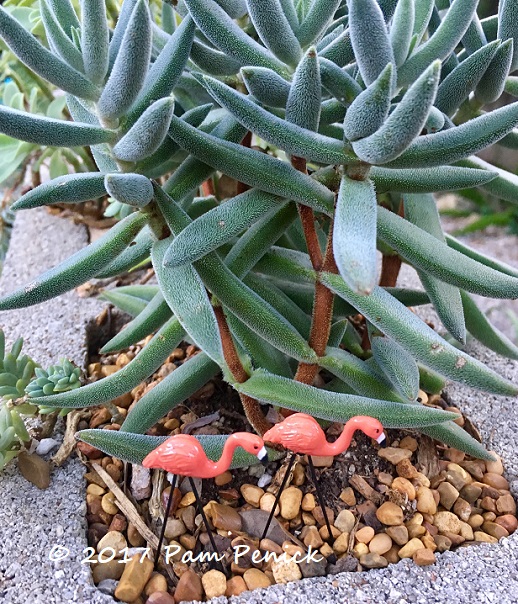 So how about you? Are you into potted plants on your patio?
I welcome your comments; please scroll to the end of this post to leave one. If you're reading this in a subscription email, click here to visit Digging and find the comment box at the end of each post.
_______________________
Digging Deeper: News and Upcoming Events
Get on the mailing list for Garden Spark Talks. Inspired by the idea of house concerts, I'm hosting a series of garden talks by talented designers and authors out of my home. Talks are limited-attendance events and generally sell out within just a few days, so join the Garden Spark email list for early notifications. Simply click this link and ask to be added.
posted in
2nd garden--2017
,
Agaves
,
Birds
,
Containers
,
Decor
,
Garden art
,
Groundcovers
,
Lighting
,
Patios & decks
,
Plant trial
,
Seating
,
Signs
,
Succulents
,
Swimming pools
,
Walls
,
Xeric plants