July 18th, 2017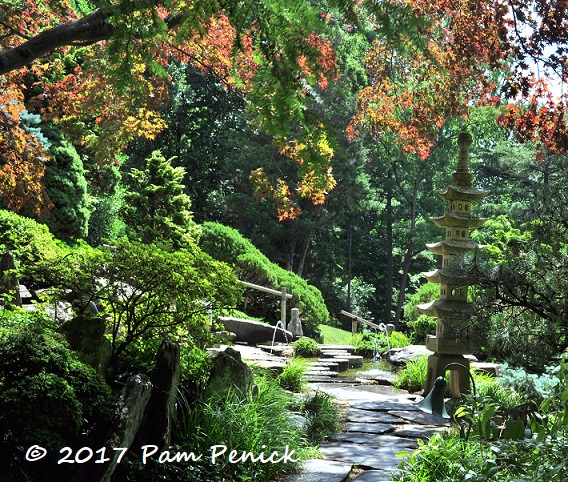 I almost missed the Japanese Garden, my favorite part of Washington, D.C.'s Hillwood Estate. It was hot and muggy on the first full day of touring during last month's Capital Region Garden Bloggers Fling, and after exploring for about 45 minutes I retreated to the gift shop to cool off.
There, a fellow blogger mentioned the Japanese garden as being particularly fine, and I realized I'd missed it altogether. That wouldn't do! Back out I went to find it.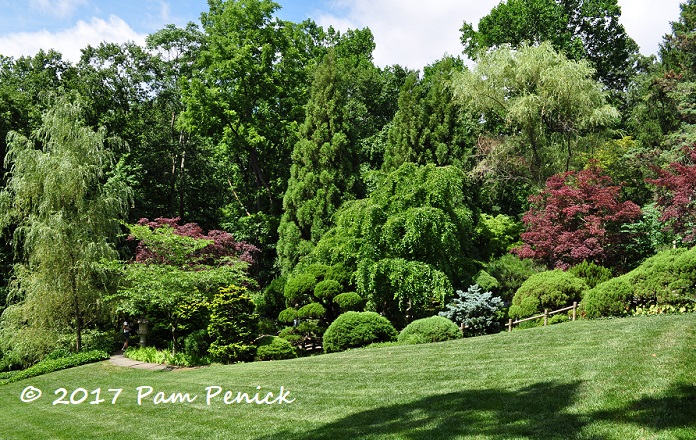 And there it is, hidden in plain sight alongside an open lawn, a leafy screen of clipped shrubs, burgundy Japanese maples, and weeping willows promising both shade and a gorgeous tapestry of foliage.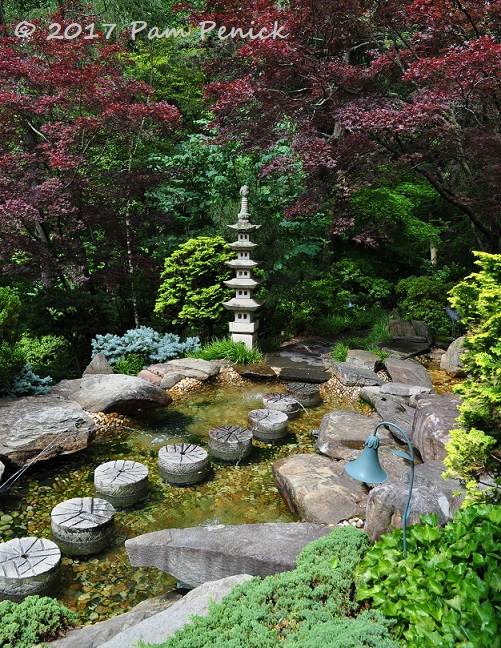 Water is a playful element in this Japanese-style garden, as Hillwood describes it. Spouting arcs of water appear to leap alongside a wiggly "floating" path of carved steppers resembling millstones.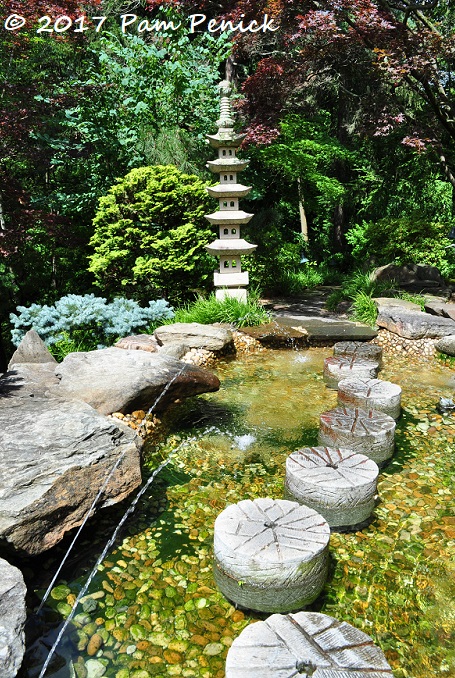 A path like this just begs to be crossed — with a little thrill — and so I did.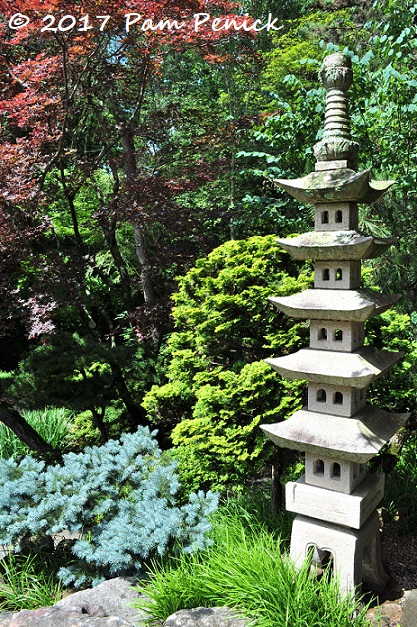 Pagoda sculpture with colorful foliage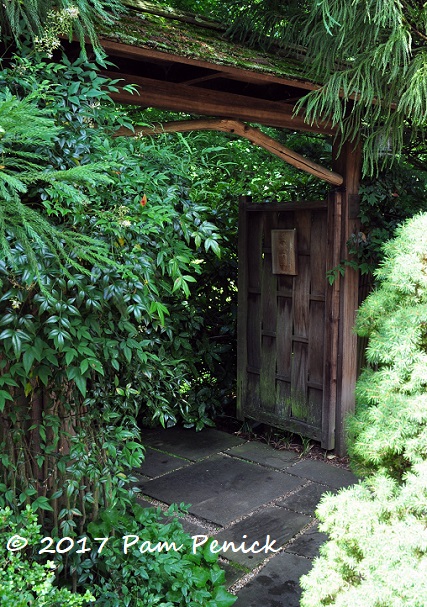 Roofed gate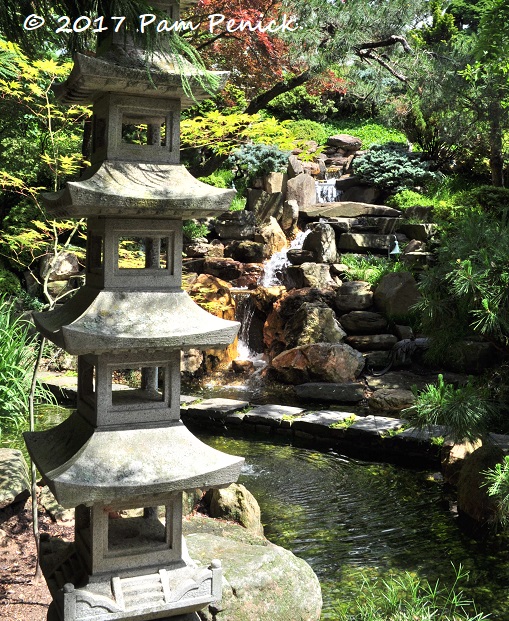 A pretty waterfall tumbles through boulder-strewn ledges from the top of the garden.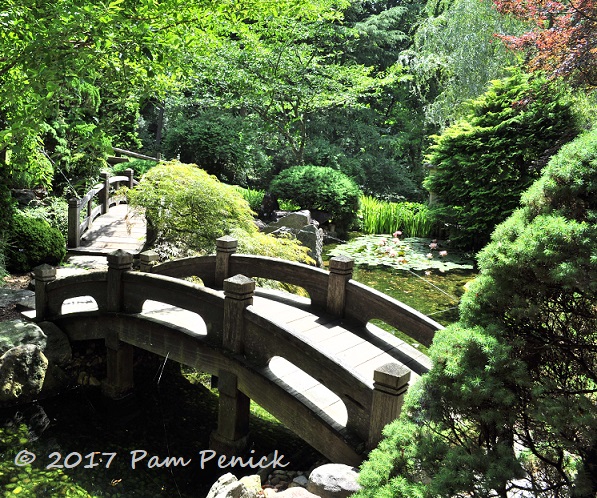 Arching bridges cross a green lily pond…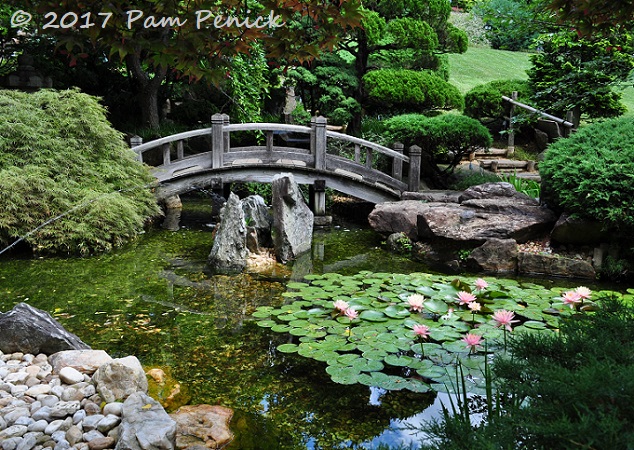 …accompanied by more arcing spouts of water.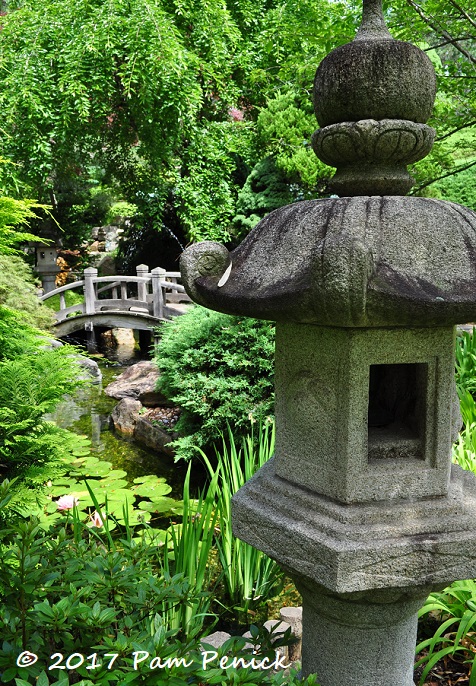 Stone lantern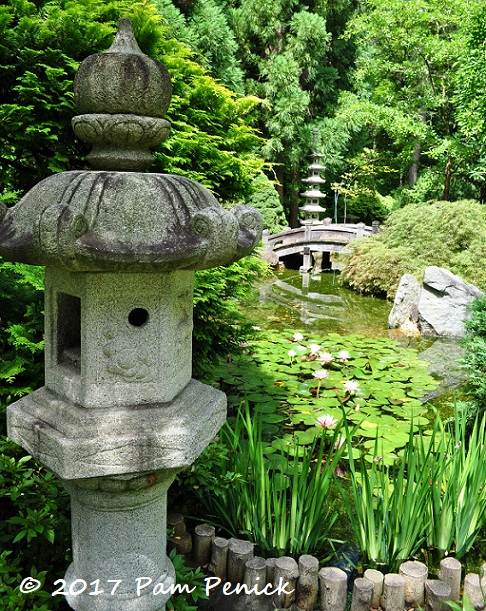 Another view, with the pagoda in the distance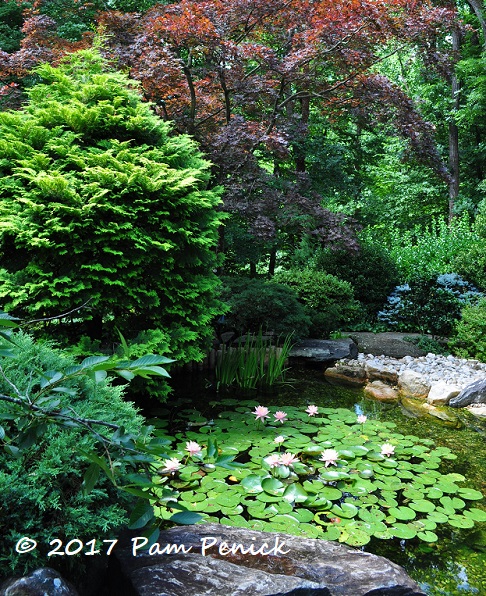 Foliage is the star of this garden, with rich colors and texture. Waterlilies add a dash of floral ornamentation.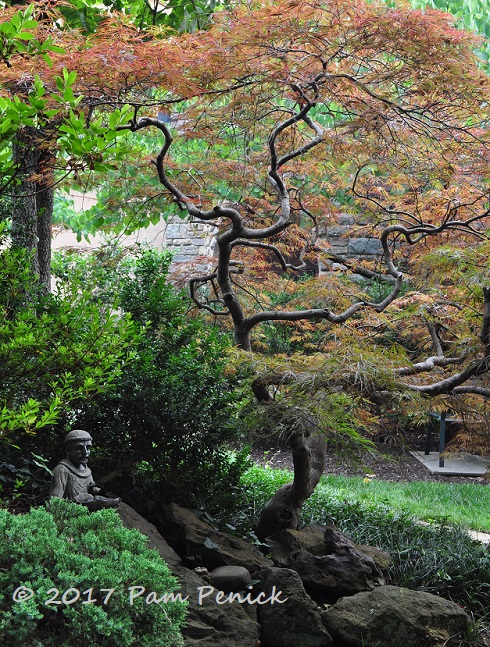 As I exited the garden I stopped to admire a rusty-leaved, artfully contorted Japanese maple with a (surprising because not on-theme) St. Francis statue tucked amid boulders at its feet. Simply lovely.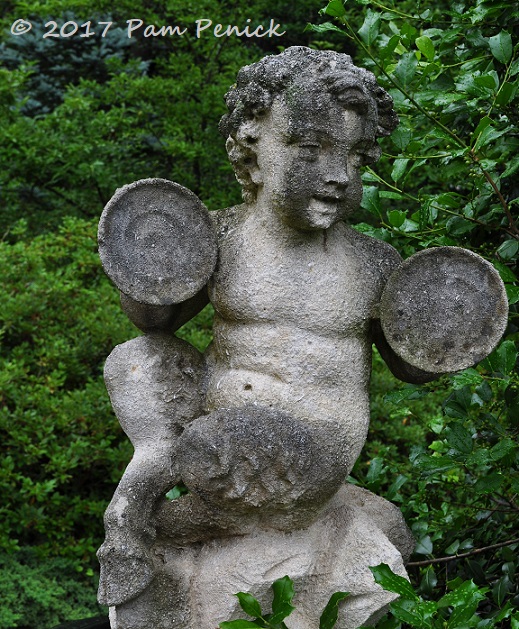 Speaking of sculptural garden ornament, Hillwood's gardens are studded with classical pieces, like this charming faun with cymbals…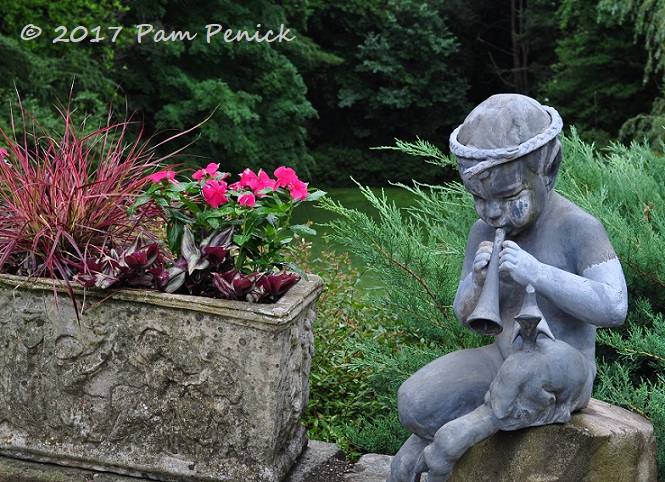 …another faun with a horn…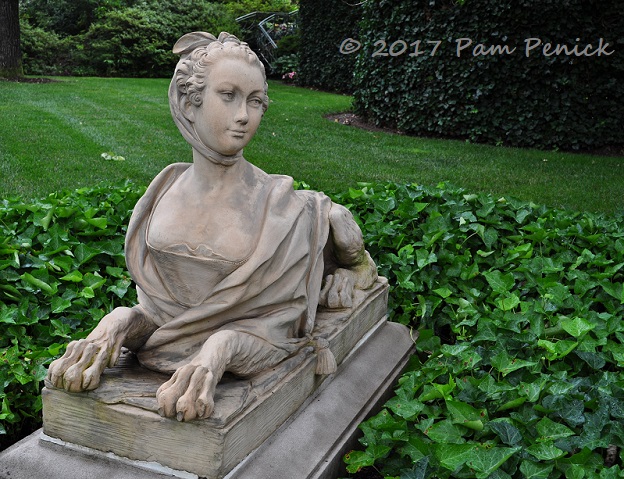 …and even a sphinx whose female half resembles a kerchiefed and corseted 18th-century dame!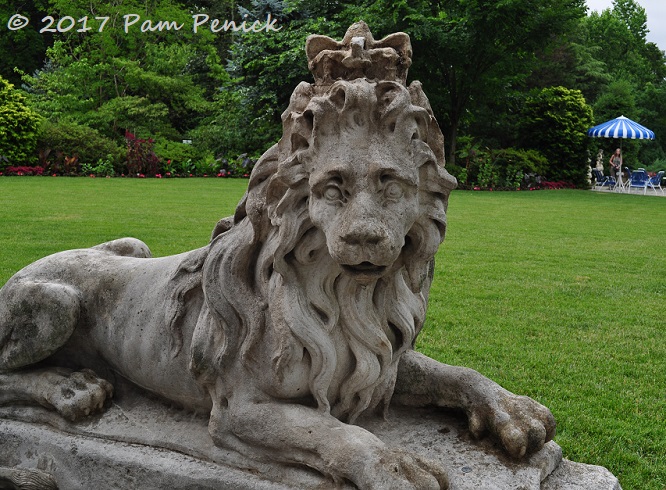 Regally at ease alongside the expansive Lunar Lawn, this stone lion marked the spot where we Flingers were to have our group photo taken.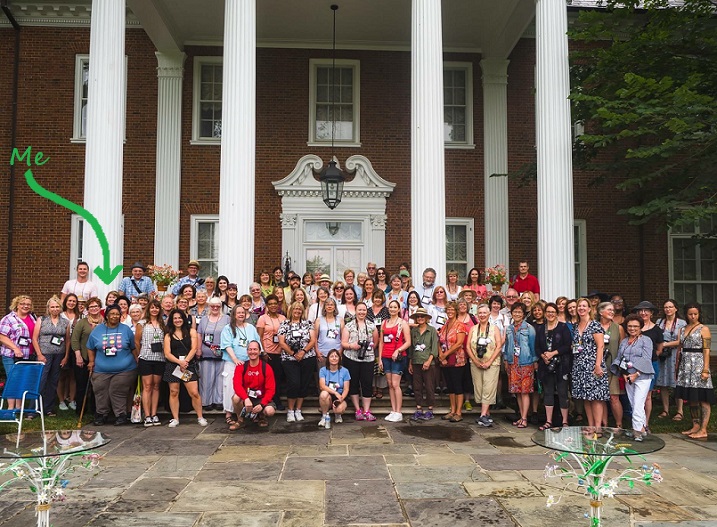 Arraying ourselves on the steps of the Hillwood Mansion, we stood as still as statues for this picture taken by Wendy Niemi Kremer. Want to know who all these bloggers are? Check out the Capital Region Fling attendees page, organized by state — and by country for the handful of international Flingers.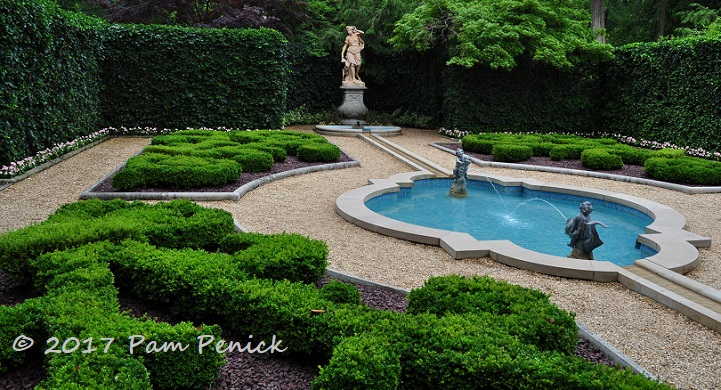 Next I explored the French parterre, a formal garden designed to be enjoyed from an upper-story window of the house. Hidden behind ivy-covered walls, Diana the Huntress with her hound stands as focal point at the end of a limestone rill that connects to a central pool.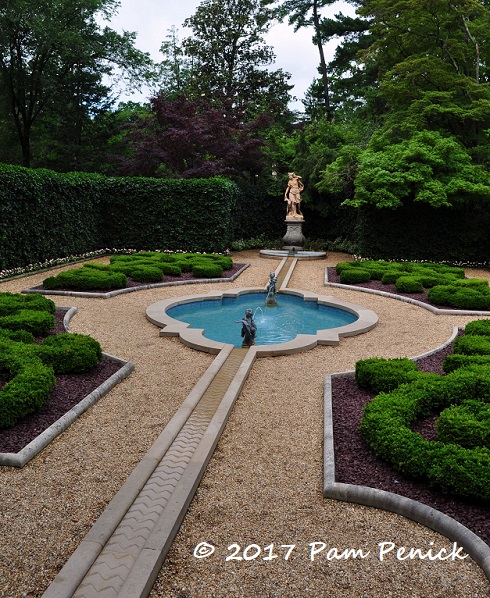 Scroll-like swirls of clipped boxwood grow in four symmetrical beds divided by gravel paths.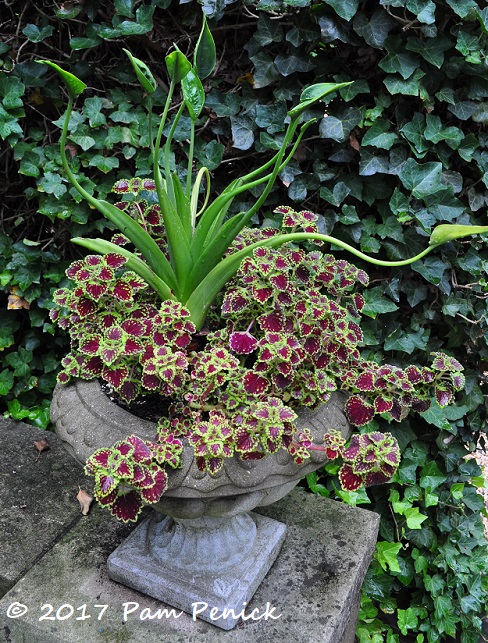 A pretty container combo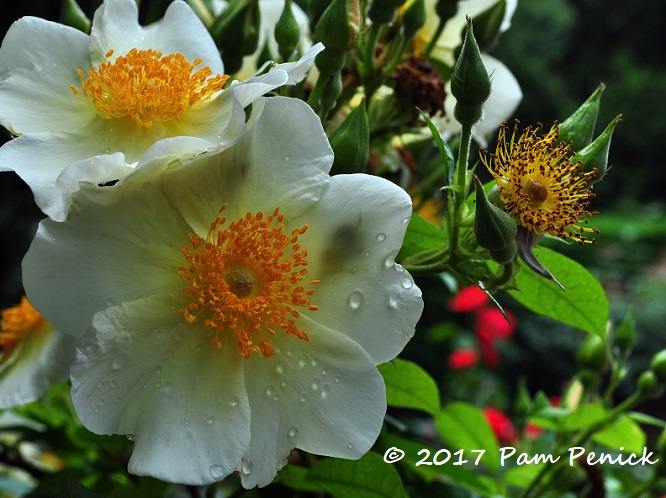 Next I found the rose garden, which is also the final resting place of the estate's founder, art collector and heiress to the Post cereal empire Marjorie Merriweather Post.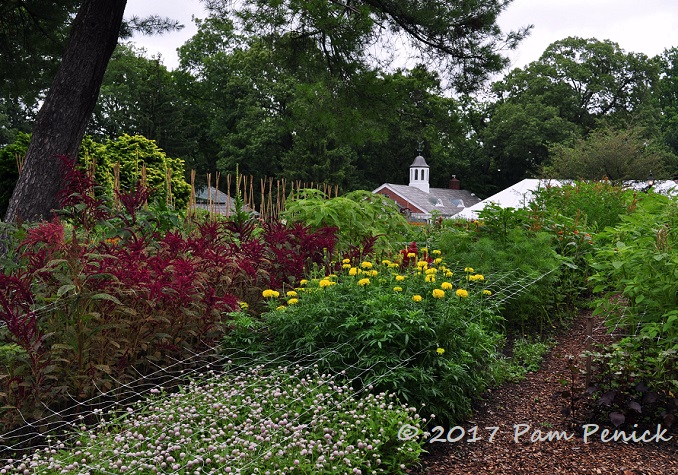 The cutting garden was a favorite of many of the garden bloggers…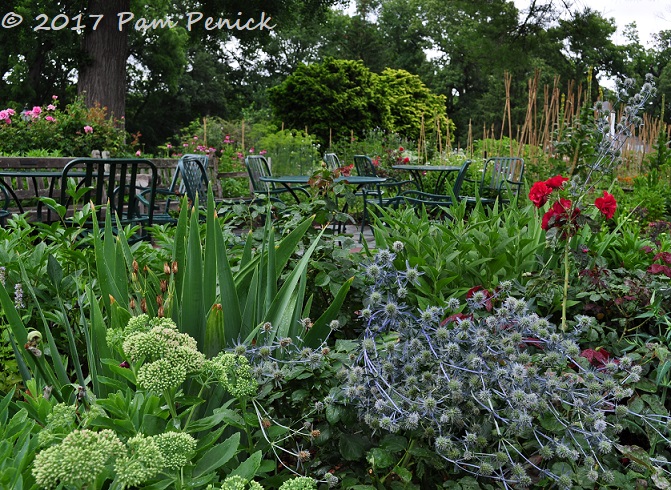 …perhaps because it felt more attainable than the grand formal gardens.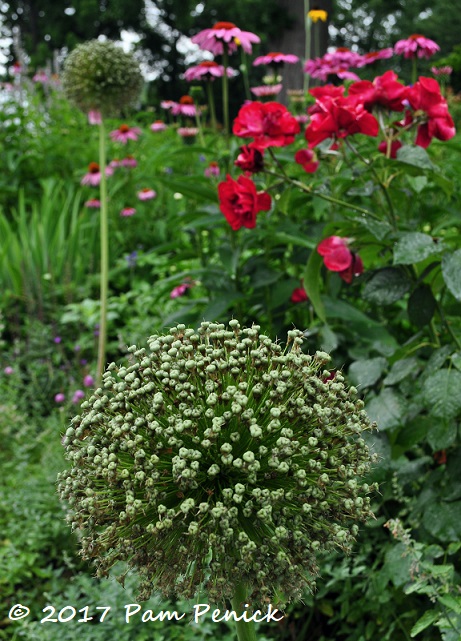 And it was very nice.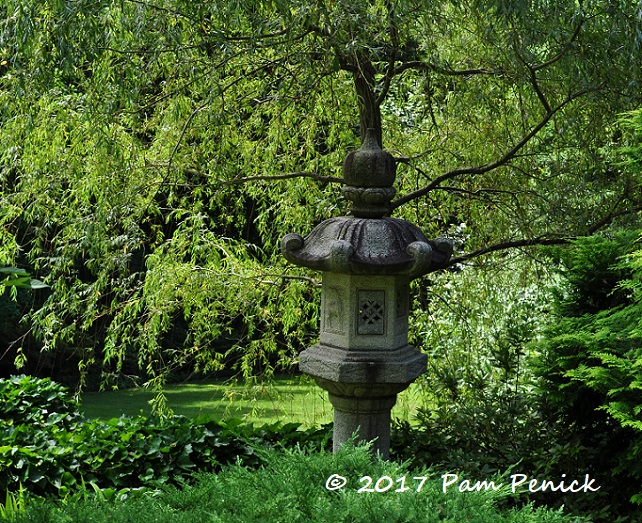 But the Japanese garden remains my favorite.
Up next: My final post about the 2017 Fling featuring Willowsford Farm, plus a sneak peek at next year's Fling. For a look back at Brookside Gardens and a Patrick Dougherty twig sculpture in Reston, click here.
I welcome your comments; please scroll to the end of this post to leave one. If you're reading this in a subscription email, click here to visit Digging and find the comment box at the end of each post.
_______________________
Digging Deeper: News and Upcoming Events
Get on the mailing list for Garden Spark Talks. Inspired by the idea of house concerts, I'm hosting a series of garden talks by talented designers and authors out of my home. Talks are limited-attendance events and generally sell out within just a few days, so join the Garden Spark email list for early notifications. Simply click this link and ask to be added.
All material © 2006-2017 by Pam Penick for Digging. Unauthorized reproduction prohibited.
posted in
Annuals
,
Botanic/Public Gardens
,
Bridges
,
Containers
,
Fling DC/VA
,
Fountains
,
Garden art
,
Garden blogging
,
Garden tours 2017
,
Gates
,
Japanese garden
,
Lawns
,
Paths
,
Ponds
,
Rills
,
Roses
,
Sculpture
,
Shrubs
,
Travel
,
Trees
,
Vines
,
Walls
,
Water features
,
Water gardening
,
Waterfalls