July 11th, 2017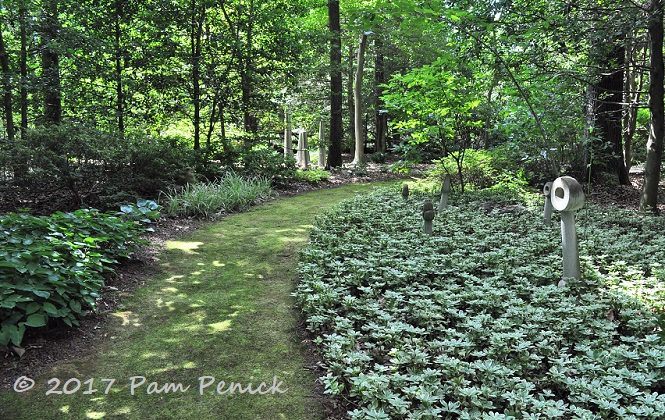 Although the tree-shaded entrance to this Great Falls, Virginia, garden was elegant and restrained, I knew the owner would be a gardener with a sense of humor. How? Because at the driveway's end I spotted, atop a pilaster, a statue wearing actual sunglasses. It was the first sign of a playfulness with garden art on display throughout Ellen Ash's 2-acre garden.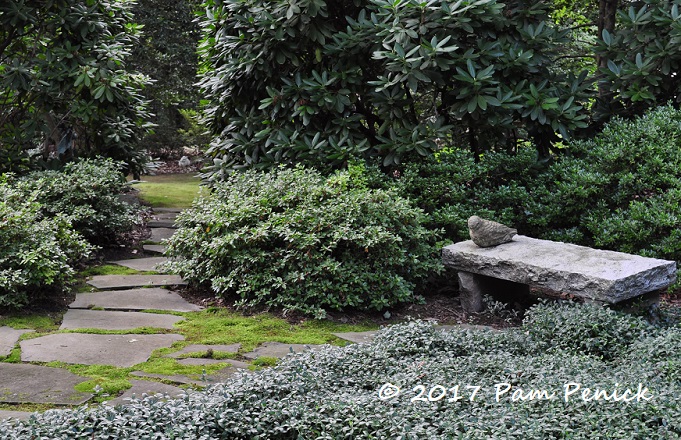 The bus I was on, during last month's Capital Region Garden Bloggers Fling, was running a little late, and other bloggers were already exploring the back garden's extensive paths. I had the serene front garden nearly to myself. It must be a riot of color in spring, when the now-quiet azaleas, rhododendrons, and flowering trees are in bloom. Following this intriguing stone-and-moss path…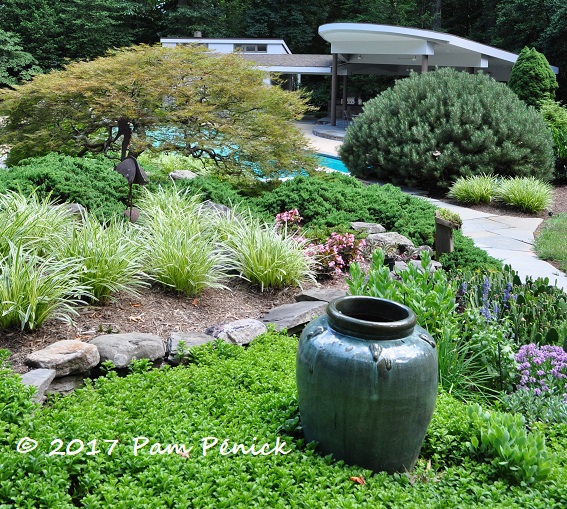 …I entered the enormous back garden, which, near the house, slopes gently down to a swimming pool and a swooping, mod pool house and patio.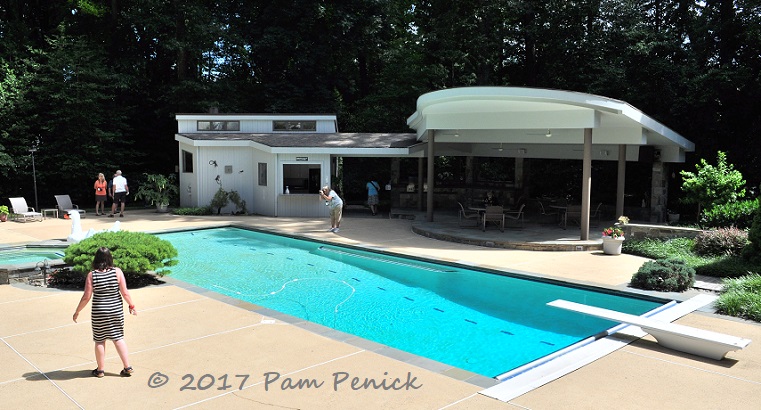 A closer look at that fabulous pool house and large swimming pool. You could throw some big pool parties here!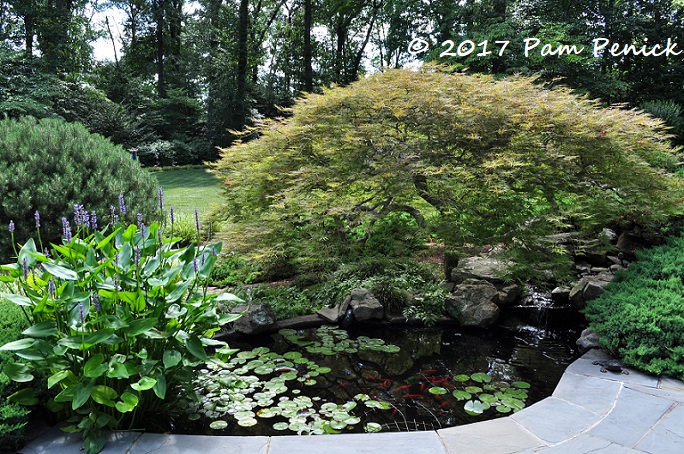 In the garden between the house and pool, a small pond shaded by a parasol-like Japanese maple is home to a school of flashy goldfish…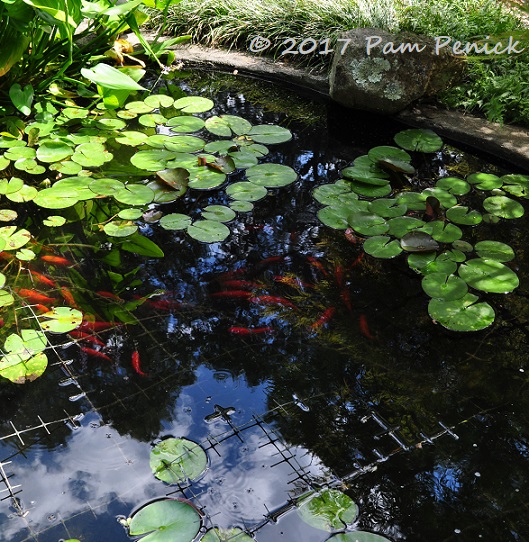 …protected from raccoons and herons, I imagine, by a panel of crisscrossed wire laid on the water's surface.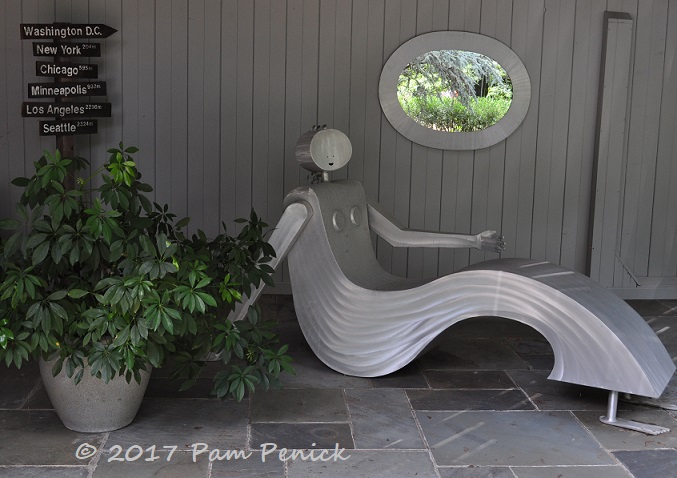 At one corner of the house I spotted this aluminum chaise in the shape of a lounging, space-age woman — a futuristic odalisque? A crossroads-style sign points toward cities that perhaps have special significance to the owner.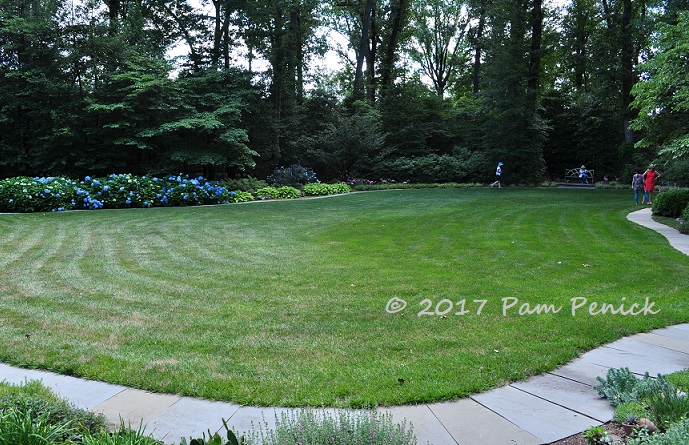 But to my mind, here's where the garden really starts: with a sweeping, curvy lawn bordered by a stone strolling path and wood's-edge garden beds.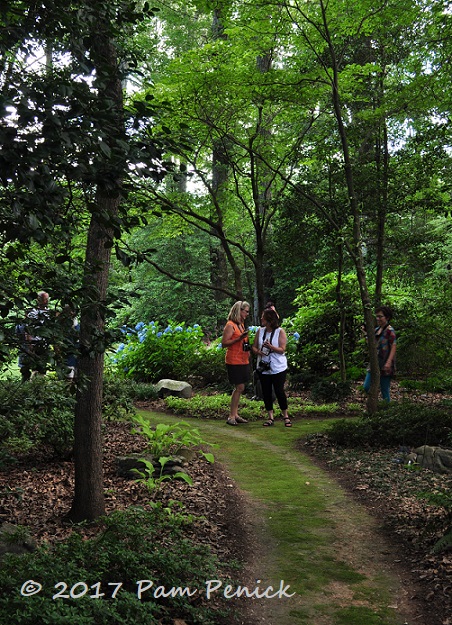 From the lawn path, mossy woodland trails wind under the trees in all directions, offering a boggling number of choices to the visiting blogger with limited time to see everything.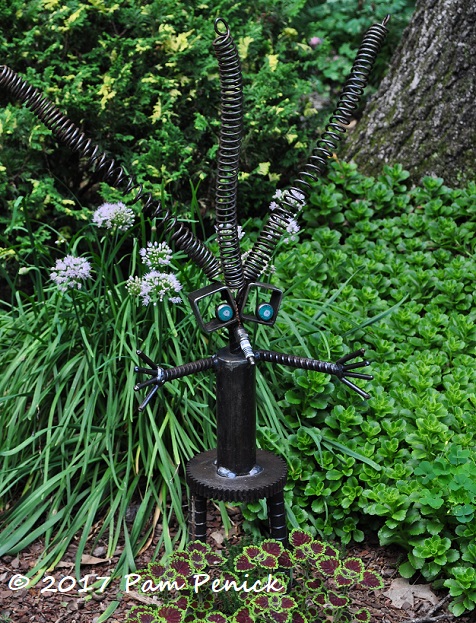 At every turn, Ellen's whimsical garden art coaxes a smile or a laugh.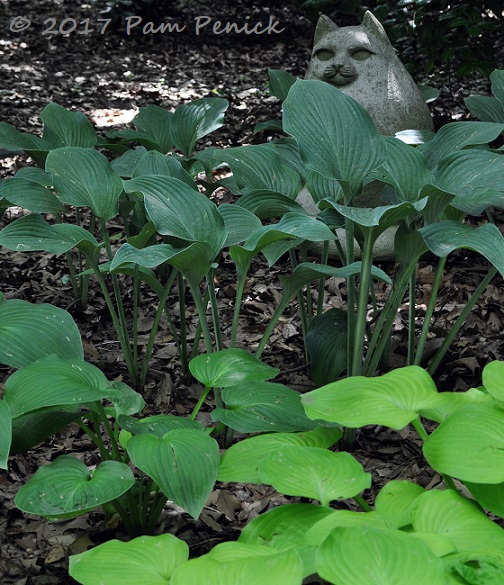 She has a special affinity for cats, which appeared in all guises throughout the garden.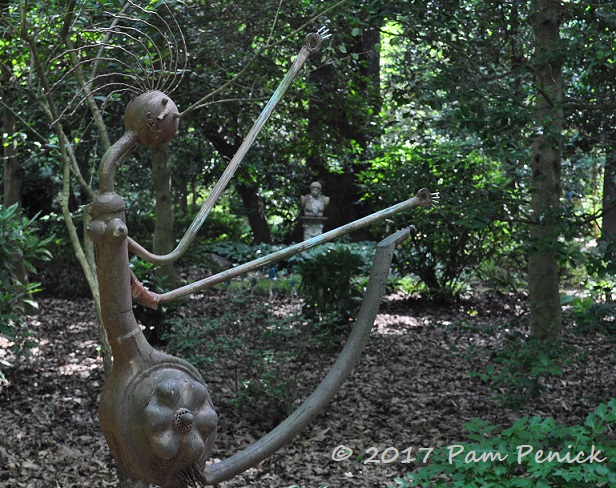 One-of-a-kind found-art pieces…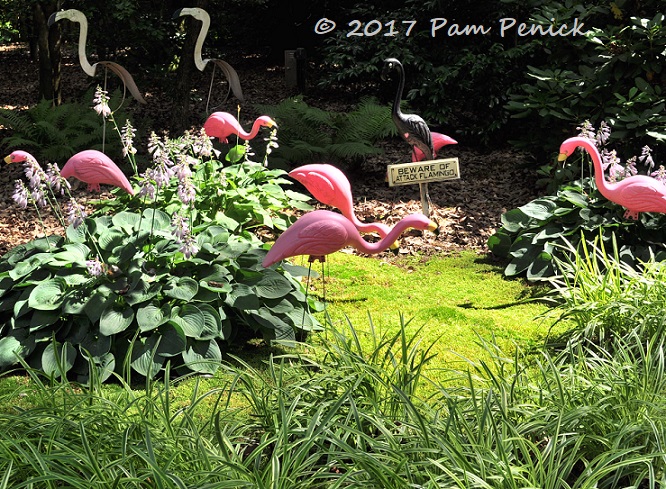 …or kitschy flamingos — Ellen doesn't discriminate with her garden art and clearly is having fun with all of it.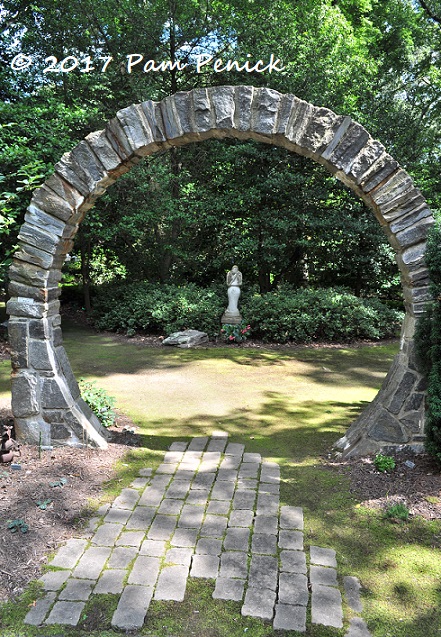 One of the most stunning pieces of art in her garden is this stone moon gate, which welcomes visitors from along a back stretch of the driveway. It perfectly frames a focal-point statue, which draws the eye across a mossy glade as you enter.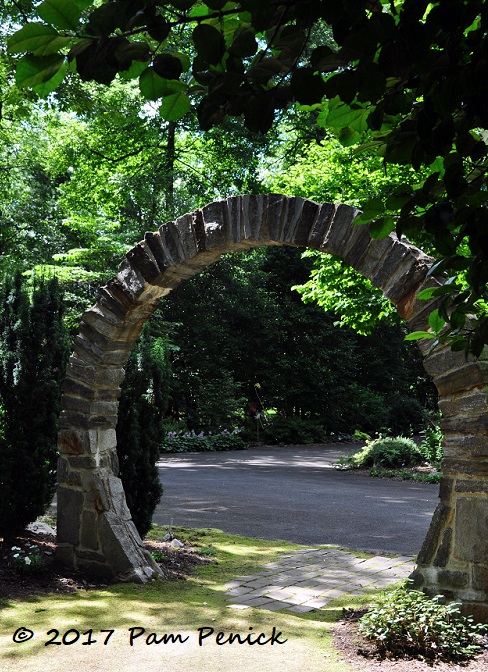 Looking through from the other side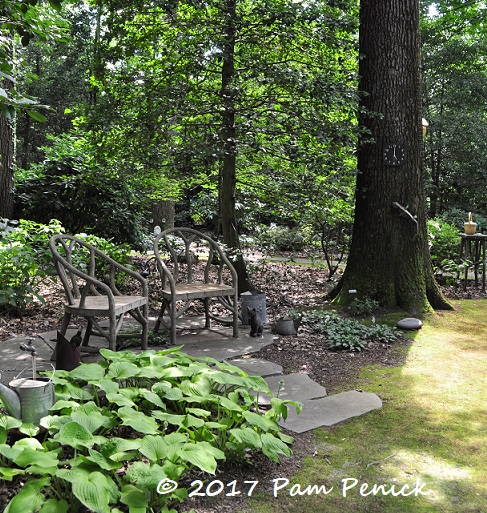 I was fascinated by all the beautiful mossy paths, and wondered about their fragility while walking along them.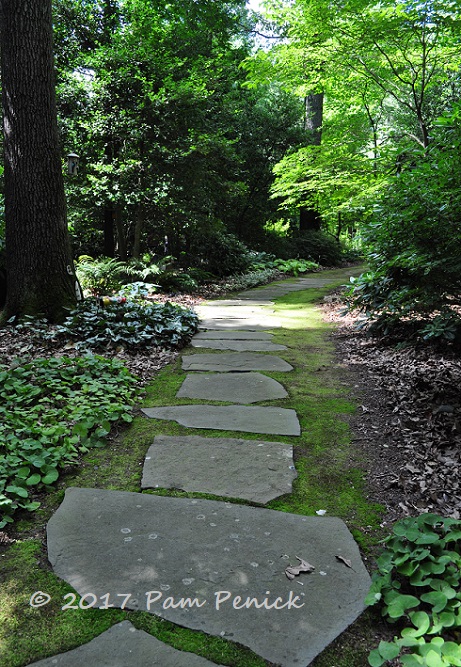 Most, however, were laid with large stepping stones…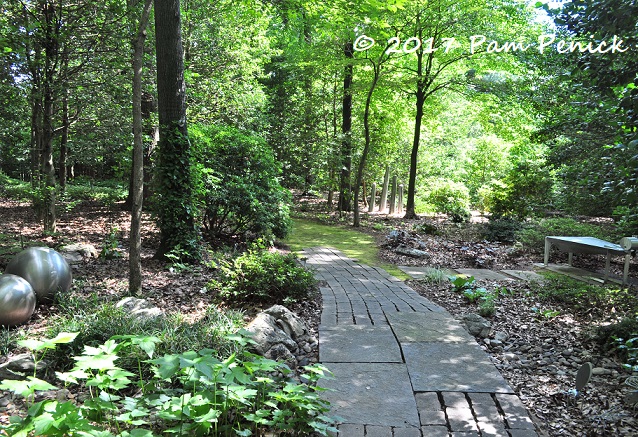 …or a combination of cut stones and brick…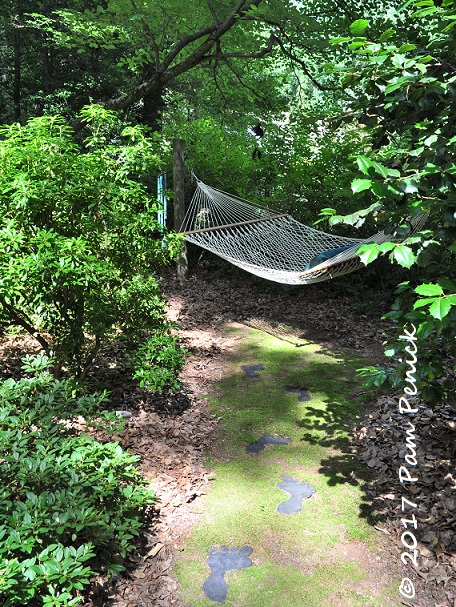 …or even footprint-shaped steppers!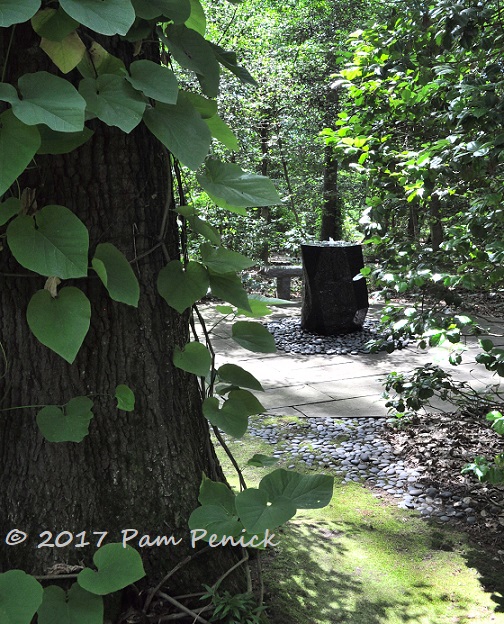 One path led to a stone monolith fountain in a small clearing…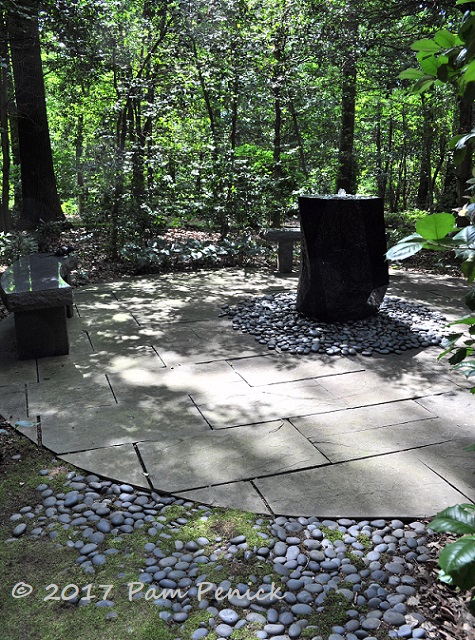 …with benches placed around a circular cut-stone patio around the fountain. Flat, gray beach pebbles neatly skirt the fountain and "flow" along the edge of the patio like seeping water.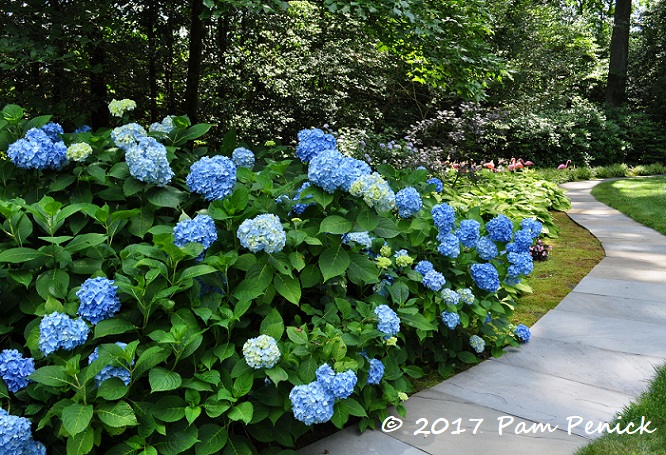 I heard that Ellen does almost all of the gardening herself, which is impressive considering the size of the place. I really enjoyed wandering the paths and discovering the surprises, like this cloud of blue hydrangeas, and fun garden art along the way.
Up next: The harmonious garden retreat of designer Barbara Katz. For a look back at the natural log and twig art of designer Debbie Friedman's garden, click here.
I welcome your comments; please scroll to the end of this post to leave one. If you're reading this in a subscription email, click here to visit Digging and find the comment box at the end of each post.
_______________________
Digging Deeper: News and Upcoming Events
Book Giveaway! I'm giving away a copy of a fun new book, Potted, that'll inspire you to DIY your own uniquely cool garden planters for porch, patio, or deck. Just leave a comment on my giveaway blog post to enter (click the link and comment there), and good luck! The giveaway ends Friday, July 14, 2017.
Get on the mailing list for Garden Spark Talks. Inspired by the idea of house concerts, I'm hosting a series of garden talks by talented designers and authors out of my home. Talks are limited-attendance events and generally sell out within just a few days, so join the Garden Spark email list for early notifications. Simply click this link and ask to be added.
All material © 2006-2017 by Pam Penick for Digging. Unauthorized reproduction prohibited.
posted in
Birds
,
Cats
,
Containers
,
Decor
,
Fish
,
Fling DC/VA
,
Fountains
,
Garden art
,
Garden structures
,
Garden tours 2017
,
Gates
,
Lawns
,
Paths
,
Patios & decks
,
Ponds
,
Sculpture
,
Seating
,
Shade garden
,
Shrubs
,
Signs
,
Swimming pools
,
Travel
,
Trees
,
Water features