July 9th, 2017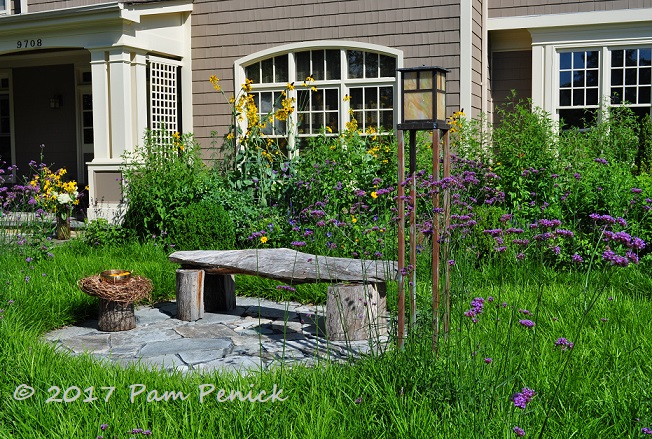 Though she lives and gardens in Maryland, Bethesda designer Debbie Friedman told us that she uses log slices, granite stones, and other natural accents to evoke the spirit of Mount Desert Island, Maine, where she enjoys vacationing. I visited her suburban garden during the recent Capital Region Garden Bloggers Fling, where a scrim of Verbena bonariensis rises from a shaggy carpet of grasses to color a welcoming stone patio accented with a wooden-slab bench and bird's-nest-style side table.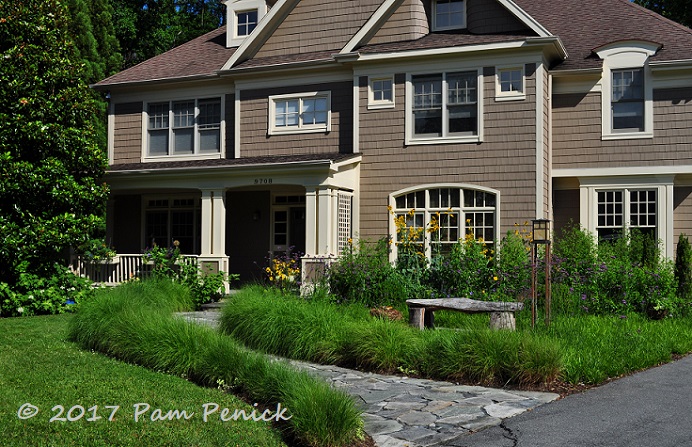 A wider view shows how Debbie lines her front walk with ornamental grasses for a textural, naturalistic approach to her house, with the wooden bench and copper Craftsman lantern as a focal point.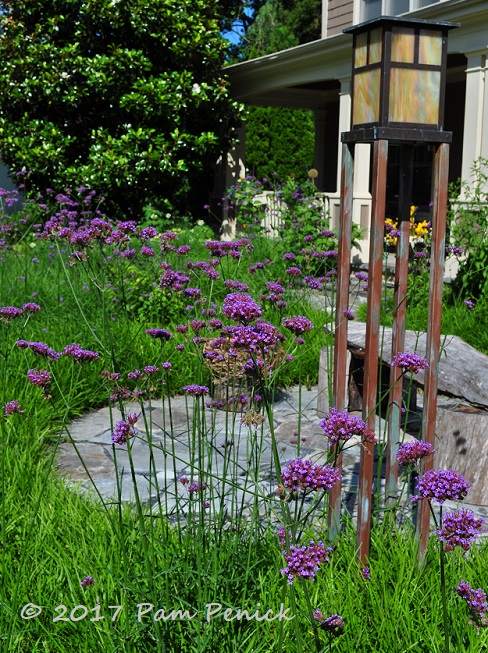 There's nothing fussy or formal about this entry garden, just meadowy charm.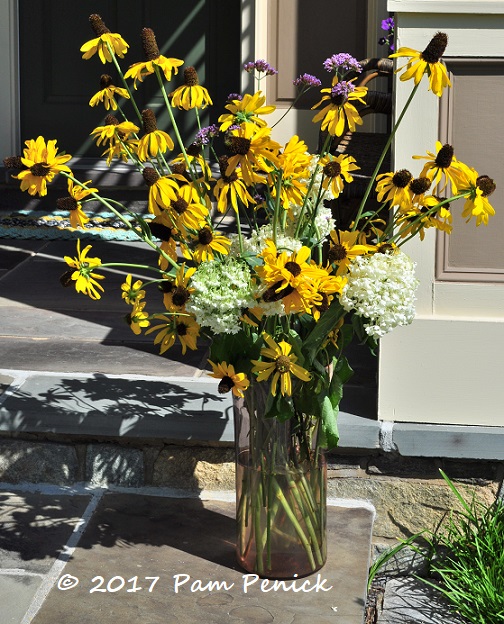 A bouquet of giant black-eyed Susans decorated the porch steps.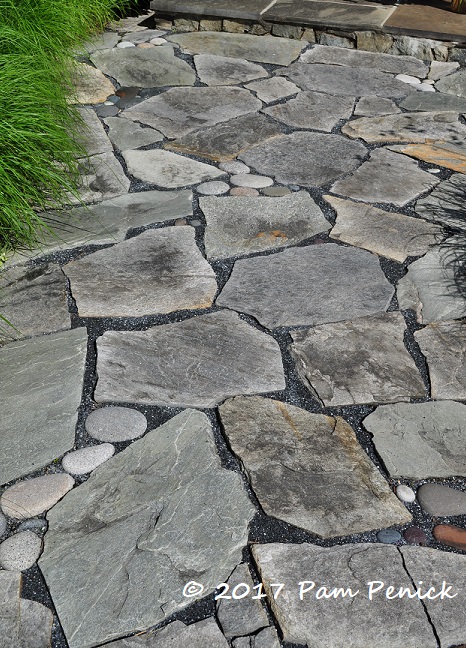 The front walk is paved with flagstone accented with flat, round beach pebbles.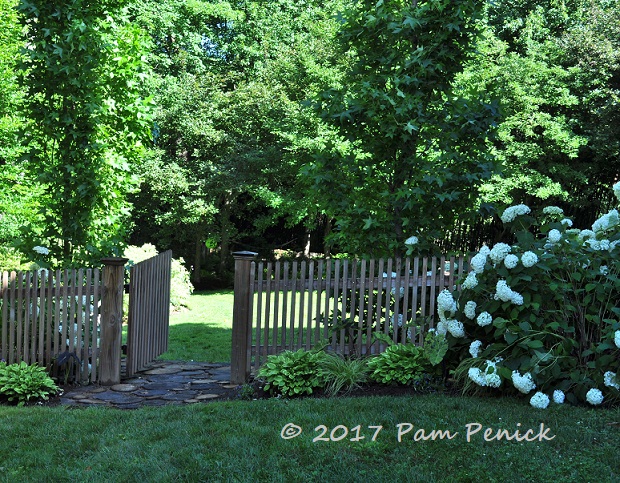 Heading around to the back garden, you pass through an inviting picket fence, with interesting columnar sweetgum trees on either side of the gate…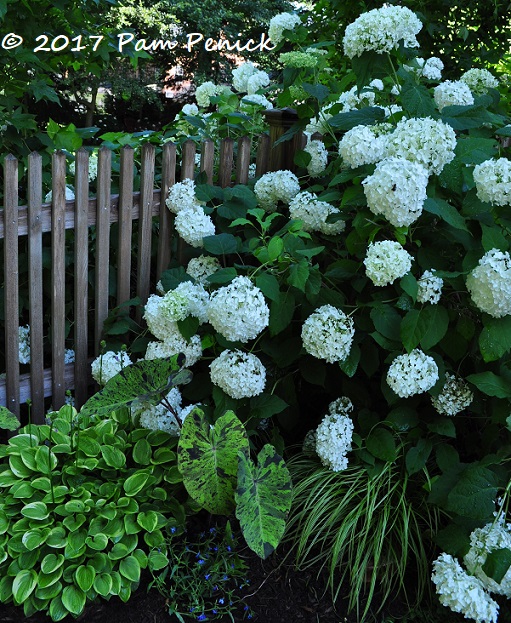 …and a pretty combo of hydrangea, caladium, and other shade lovers.

A paved area at the gate threshold reveals itself to be made of sliced wood rounds — a hint of things to come.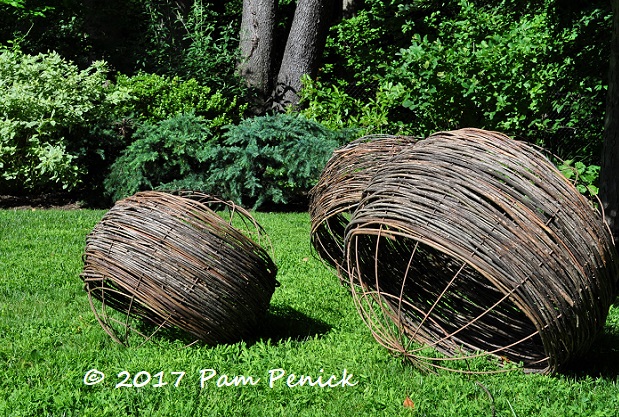 As you enter the back yard, a green lawn framed by deep shrub beds opens before you. Like giant acorns on the lawn, a trio of large twig-and-metal spheres makes a natural sculptural accent. I love these.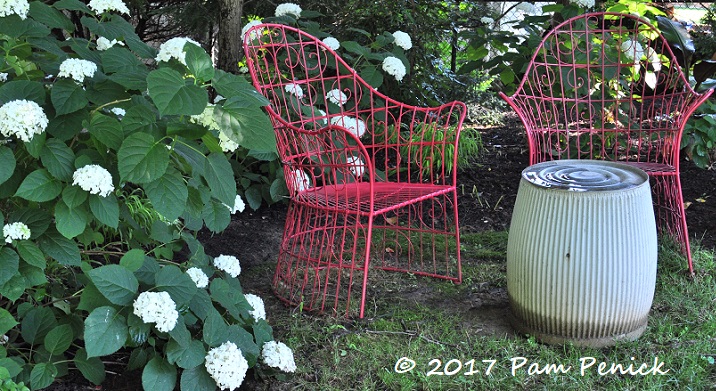 In a shady nook, two airy red chairs nestle among white-flowering hydrangeas.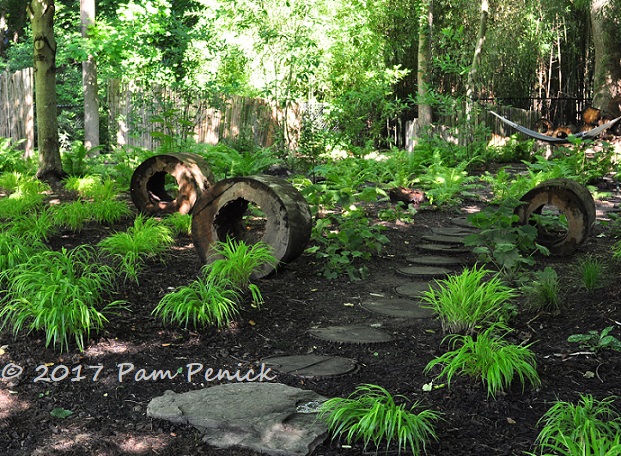 But what stole the scene, for me, was this: a deep-shade area in an expansive back corner, which might easily have been neglected or ignored, but which Debbie has turned into a unique space for exploration and relaxation.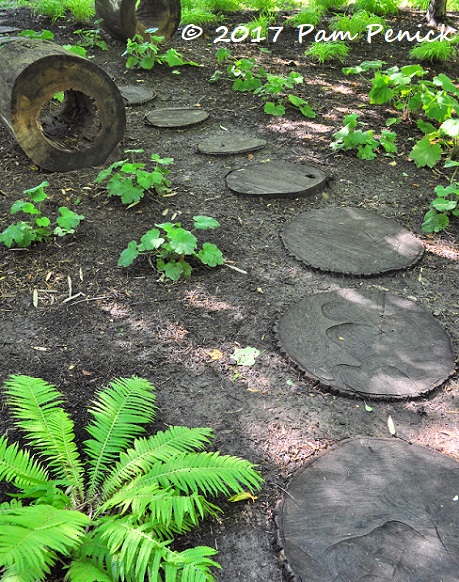 Sliced log rounds make a fun path through block-planted grasses, ferns, and other shade-loving groundcovers.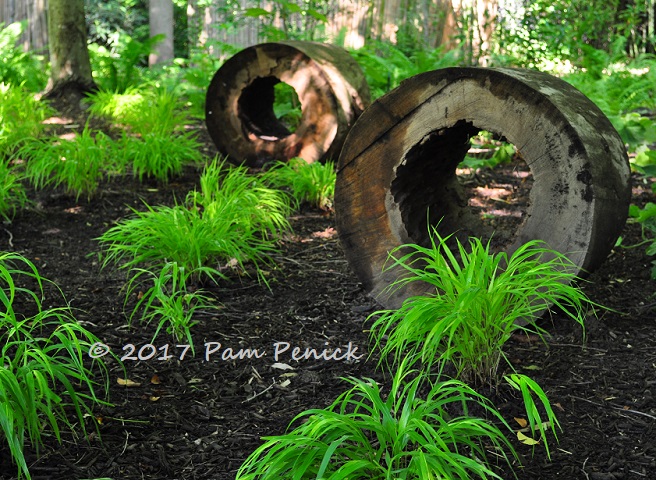 Laid on edge among the plants, hollow log rounds become surprisingly effective garden art.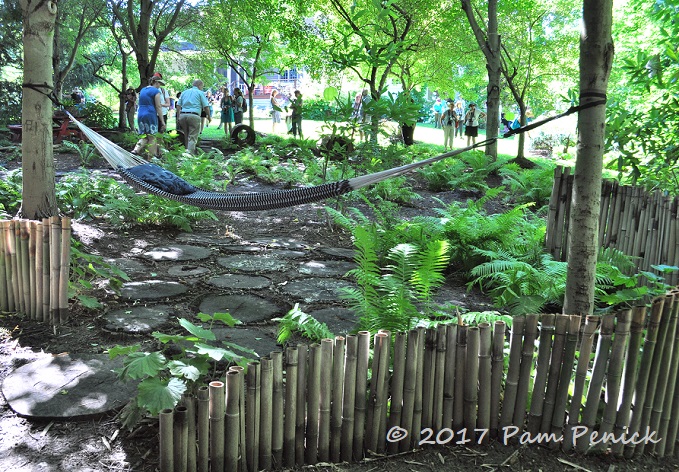 The log-round path curves around to a hammock strung between two trees, with a swooping bamboo-pole "fence" defining the hammock patio, which is paved with more log slices.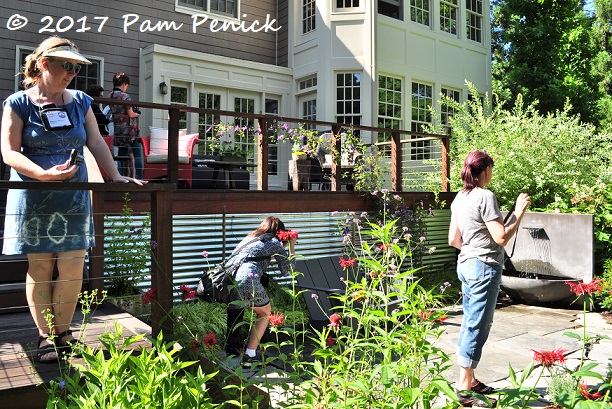 From shade to sun — a sunny deck and stone patio provide garden access and hangout space at the back of the house.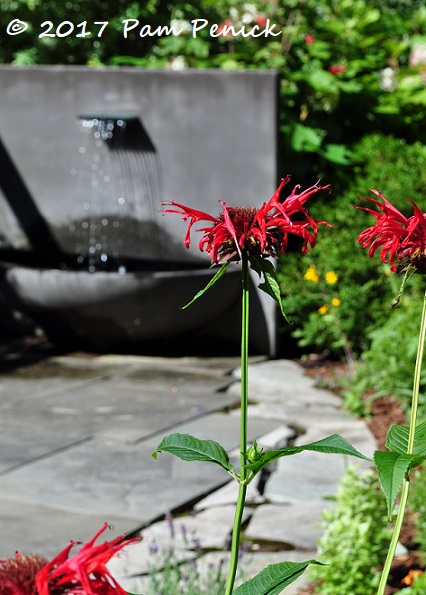 Bedheaded bee balm adds hot color near a contemporary fountain.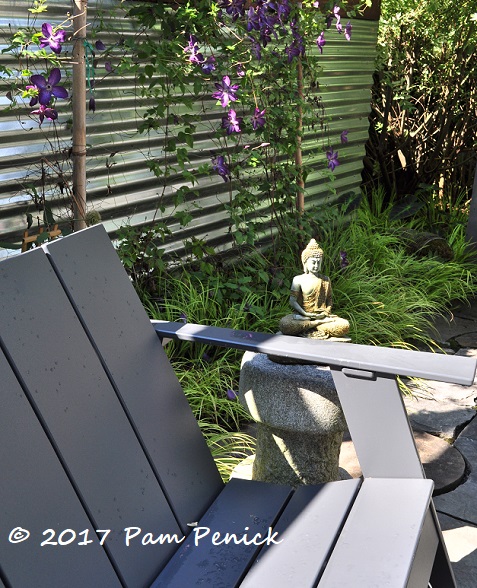 Rustic-modern style is created with a contemporary Adirondack loveseat (Loll maybe?), galvanized deck skirting, and an edging of massed grasses.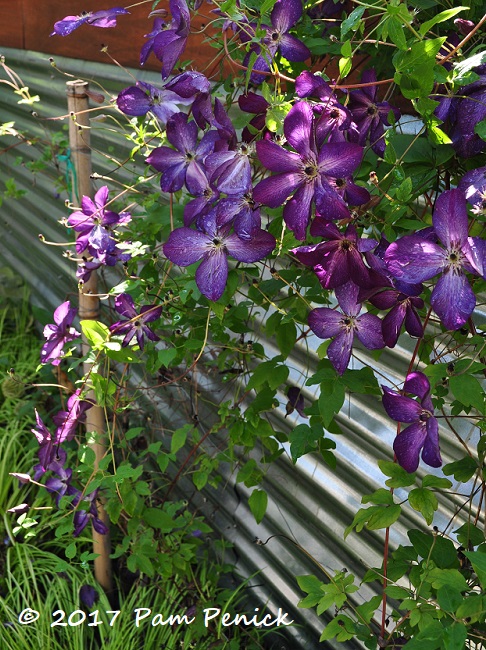 A purple clematis is trained up the galvanized skirting.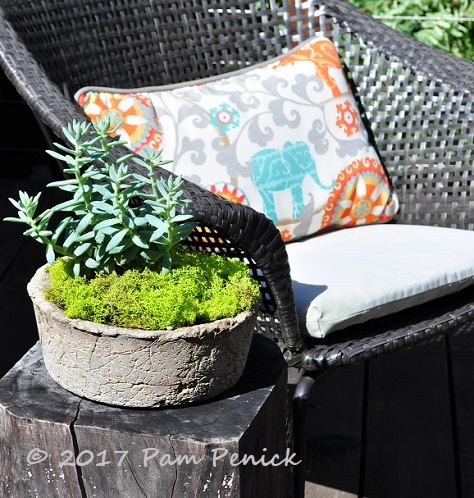 The sun-washed deck features a wood-block side table, pretty succulent dish, and orange-and-turquoise elephant-motif pillow (love).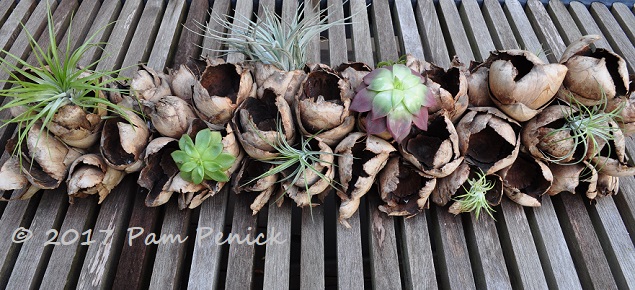 On a dining table, tillandsias and succulents are tucked into what looks like a cluster of seedpods. If any other bloggers learned exactly what this is, I'd like to know. Update: It appears to be sepals from a coconut palm. Thanks for the ID, Helen Battersby!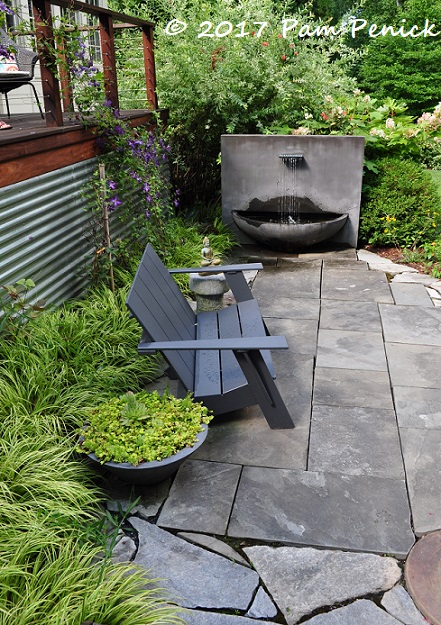 What a charming space from which to enjoy the rest of the garden.
Up next: The whimsical woodland garden of Ellen Ash. For a look back at Jeff Minnich's Southern Gothic-infused garden, click here.
I welcome your comments; please scroll to the end of this post to leave one. If you're reading this in a subscription email, click here to visit Digging and find the comment box at the end of each post.
_______________________
Digging Deeper: News and Upcoming Events
Get on the mailing list for Garden Spark Talks. Inspired by the idea of house concerts, I'm hosting a series of garden talks by talented designers and authors out of my home. Talks are limited-attendance events and generally sell out within just a few days, so join the Garden Spark email list for early notifications. Simply click this link and ask to be added.
All material © 2006-2017 by Pam Penick for Digging. Unauthorized reproduction prohibited.
posted in
Bouquets
,
Containers
,
Decor
,
Fences
,
Fling DC/VA
,
Fountains
,
Garden art
,
Garden tours 2017
,
Gates
,
Grasses
,
Groundcovers
,
Paths
,
Patios & decks
,
Rock
,
Sculpture
,
Seating
,
Shade garden
,
Shrubs
,
Succulents
,
Summer color
,
Tillandsias
,
Travel
,
Trees
,
Vines
,
Water features