July 2nd, 2017

I saw some truly wonderful gardens during the Capital Region Garden Bloggers Fling last week, and one of my favorites was that of landscape designer Linda Hostetler in The Plains, Virginia. From the street you admire a handsome farmhouse-style home at the end of a wide, curving lawn hugged by lush mixed borders accented by burgundy Japanese maples.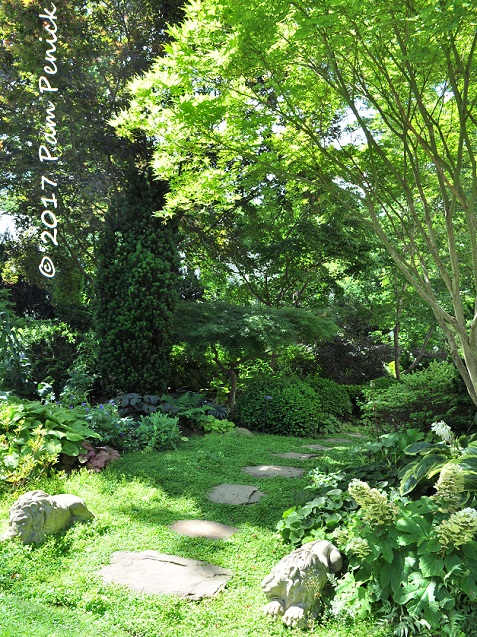 There's much to see here, but like everyone else, I hustled into the side-yard path, eager to see everything before we had to get back on the bus.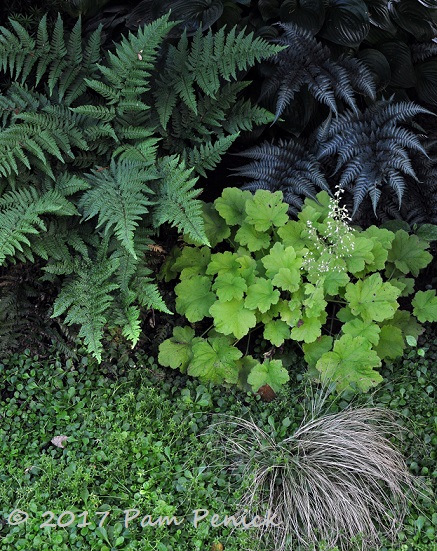 I paused to admire this shade-loving combo of ferns, heuchera, and sedge, framed by a pretty groundcover.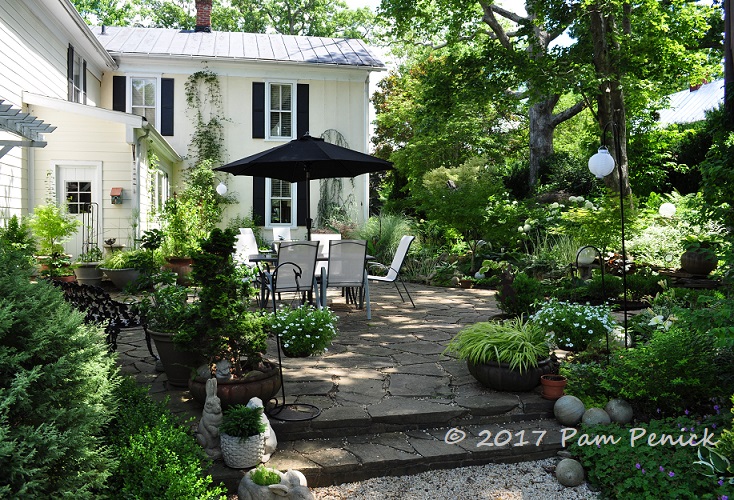 The path leads to a comfortable stone patio in the side yard, which overlooks a froggy pond. White hanging lanterns, concrete ornaments, and variegated and white-flowering plants brighten and set a serene mood in this shady space. Beyond the dining table…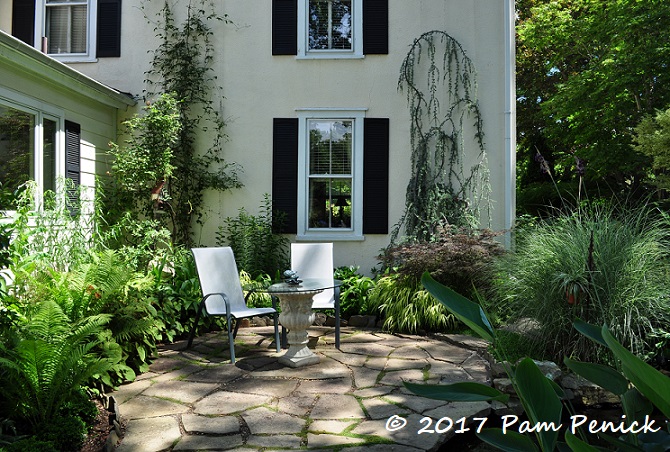 …two chairs offer a spot for quieter conversation.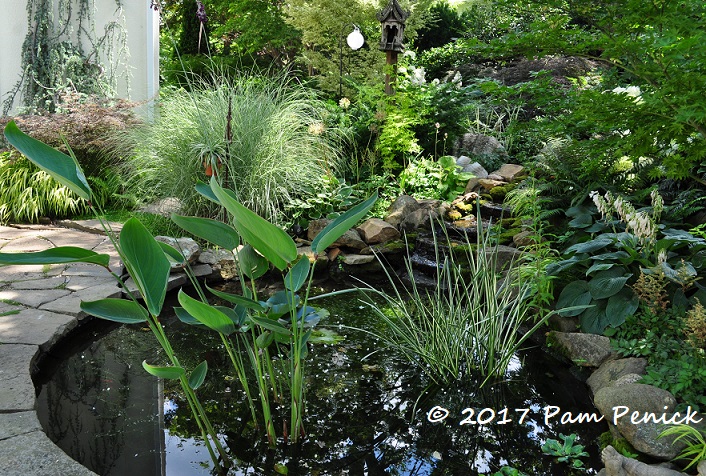 From the patio, you look on a charming pond freshened by a stair-stepping waterfall nestled into a heavily planted slope.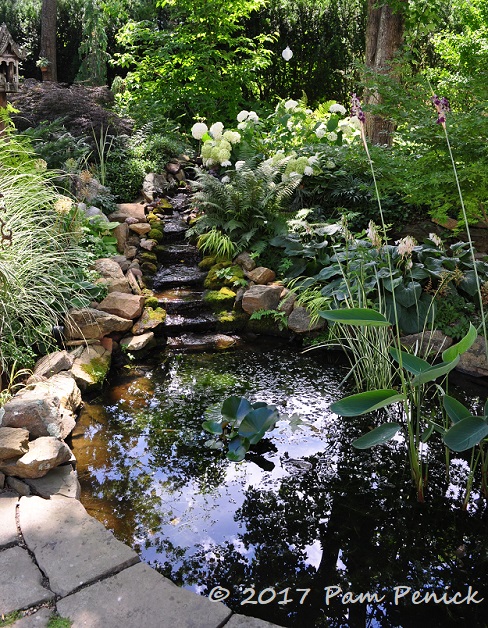 I spotted several frogs floating lazily in the pond…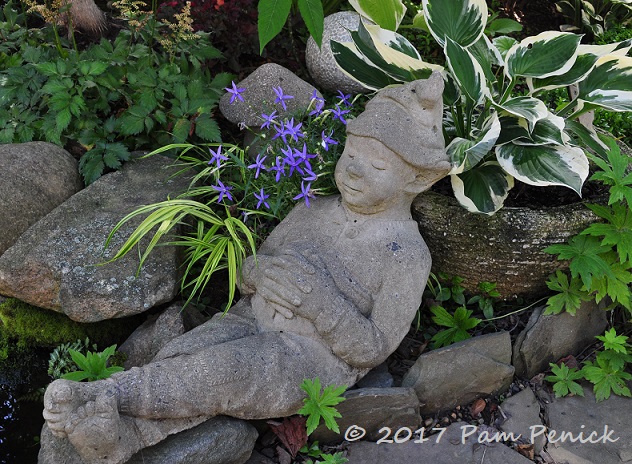 …seemingly as content as this napping sprite.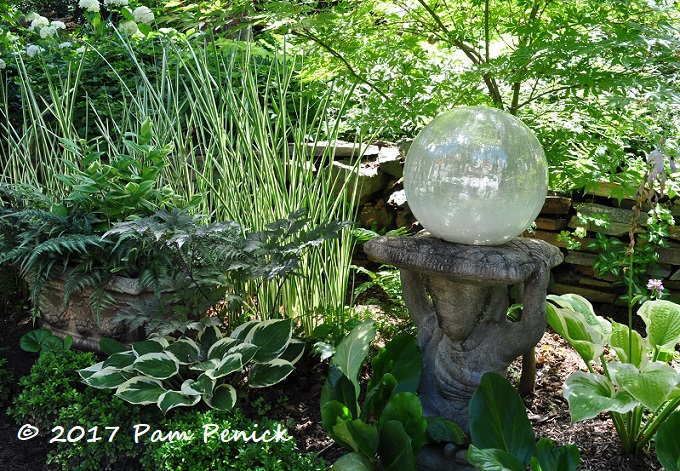 An opaque glass orb pairs with creamy variegated grasses, ferns, and hostas to light up the shade.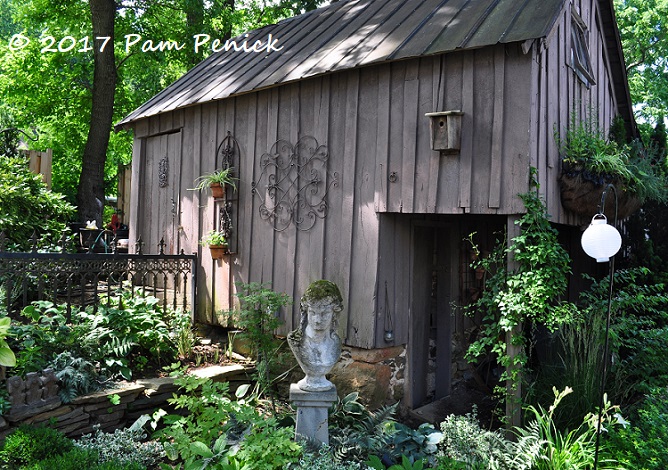 Adding rustic charm at one end of the patio is a barn-like shed adorned with hanging pots, pieces of wrought iron, a birdhouse…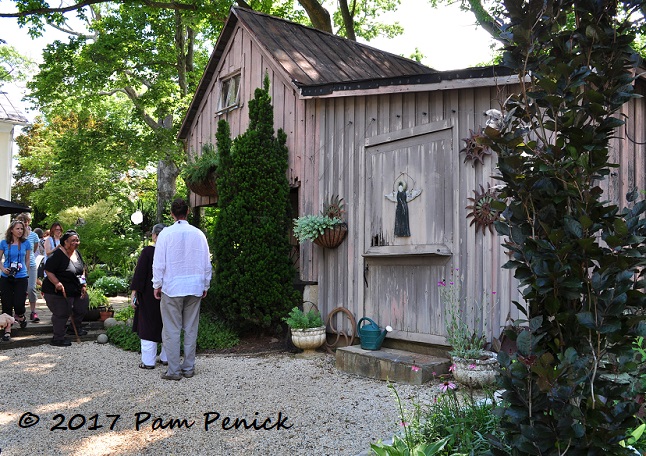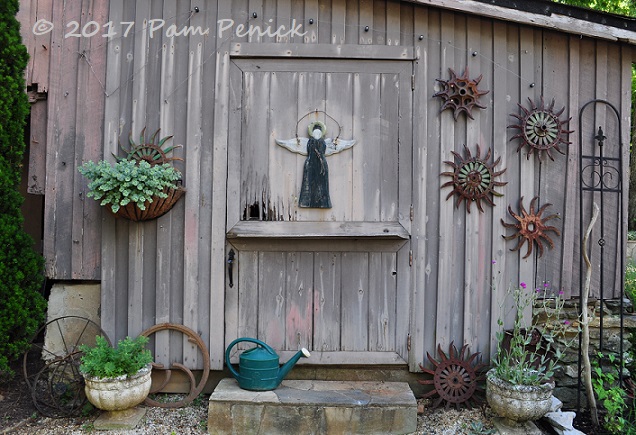 …and old tiller blades resembling flowers or suns.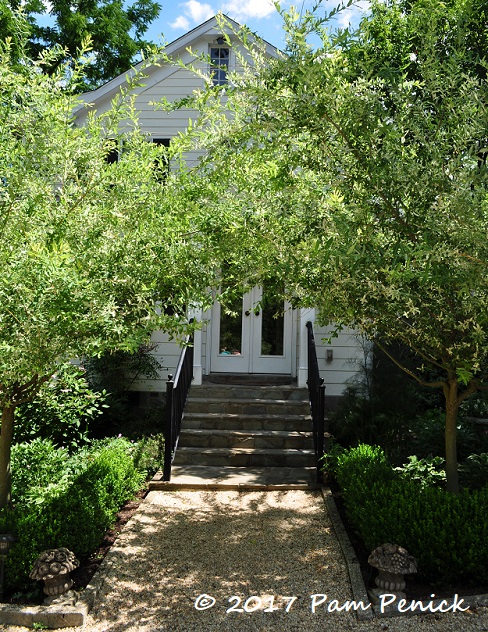 It would have been easy to miss this back door framed by arching tree branches, but I'm glad I didn't. It was a pretty, understated moment.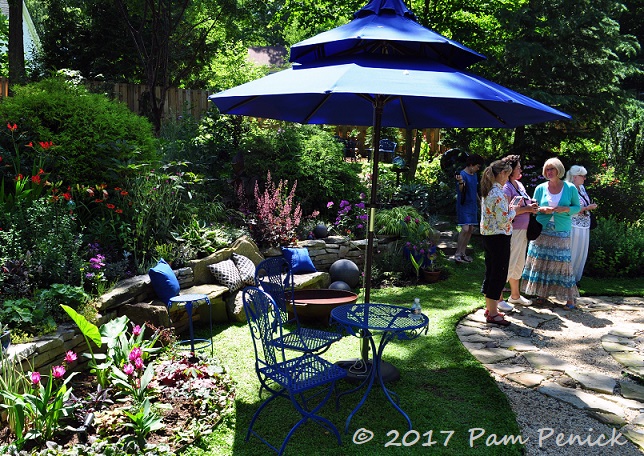 From here, the garden gets louder — in a fun way! You step down into the rear garden, a much more colorful and playful space in which cobalt blue takes center stage.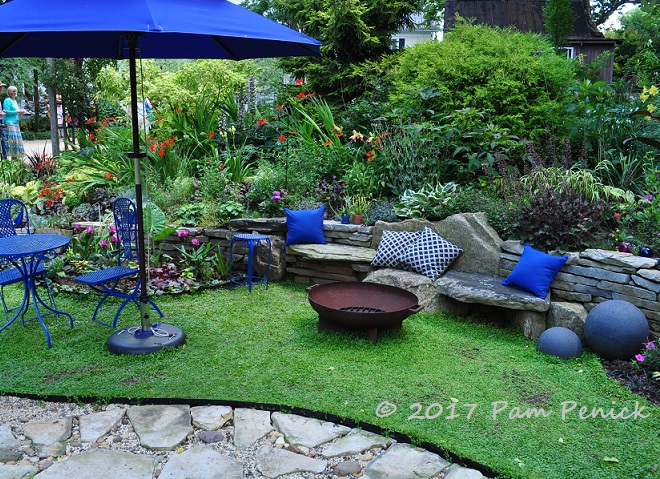 Blue umbrellas scattered here and there shade blue-painted chairs and tables. Blue pillows soften a stone bench cleverly built into a retaining wall.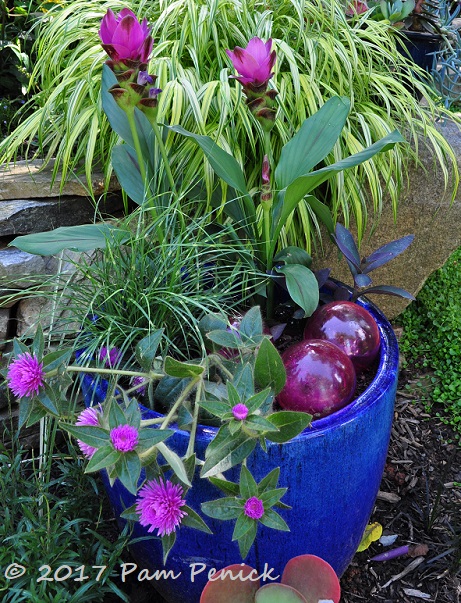 Hot pinks, reds and maroons, and chartreuse yellows add even more joyful jolts of color.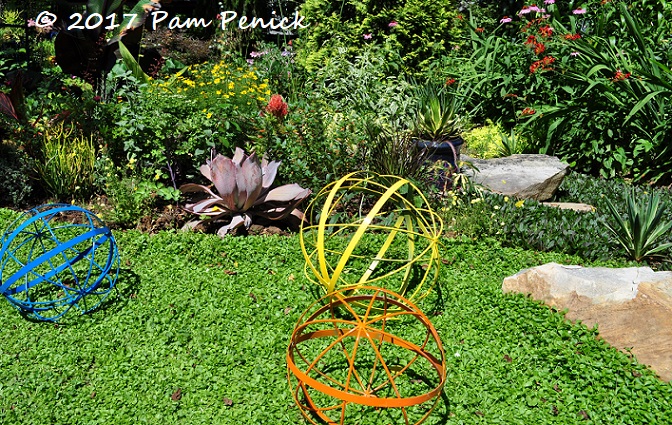 Linda found these steel orbs at HomeGoods and spray-painted them blue, yellow, and orange.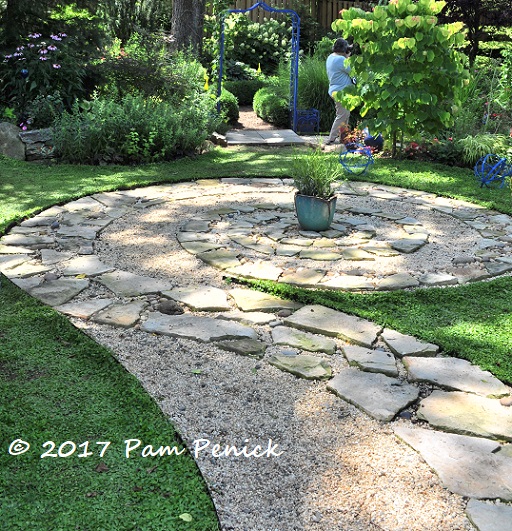 The entry path curls into a yellow-brick-road-style spiral inset in a small lawn. Exploratory paths lead off in various directions, marked by blue arbors.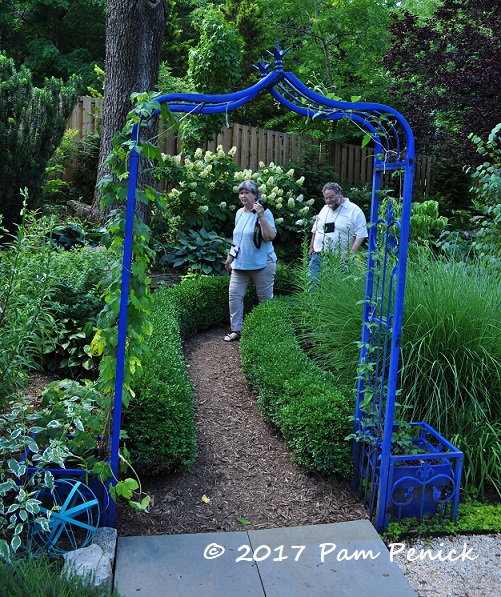 Here are Judy and Jason of Garden in a City. Low boxwood hedges curve along this narrow path, drawing you in.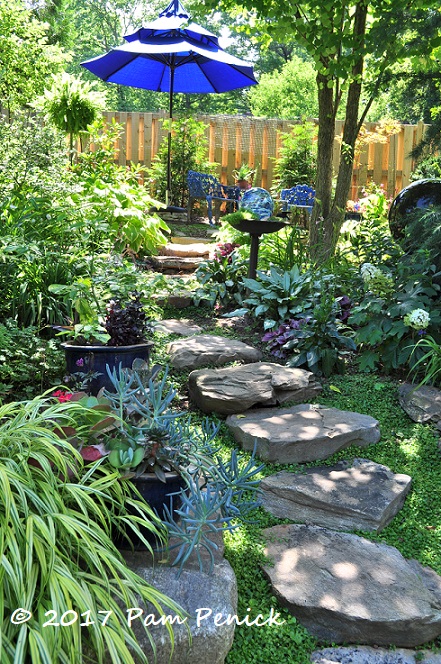 Stone steps lead up to a hidden patio tucked under a blue umbrella.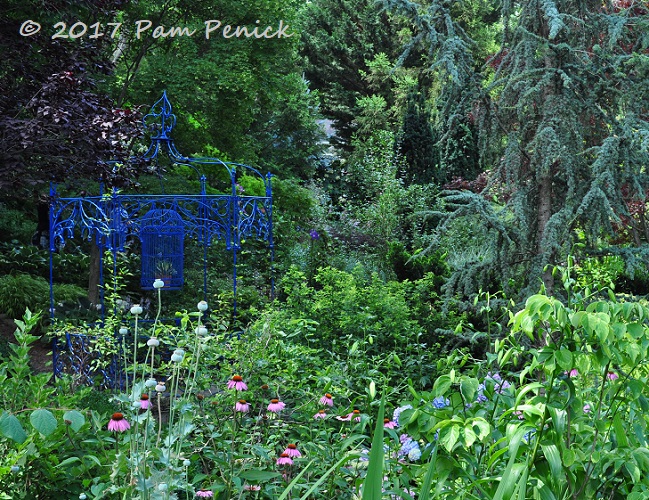 Deeper in the garden, a blue gazebo holds court in a clearing. As you get closer you see a blue birdcage hanging in the center, with something unusual inside.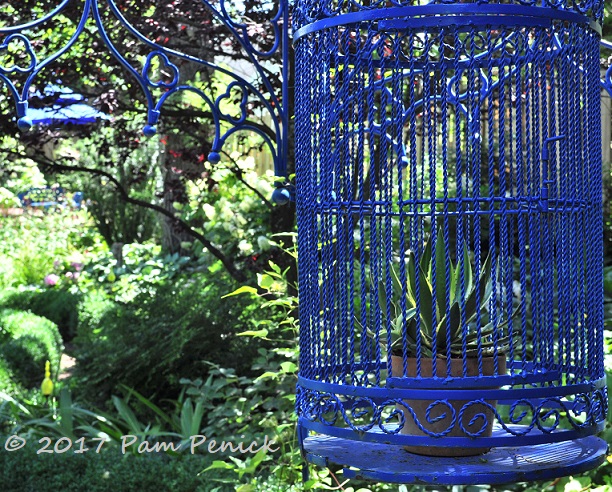 A captive agave!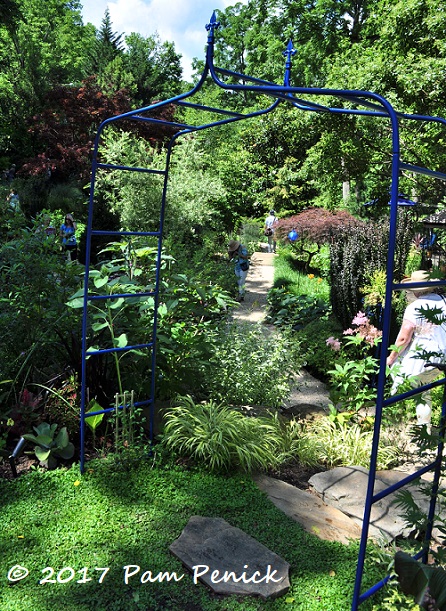 Taking another path through a blue arbor…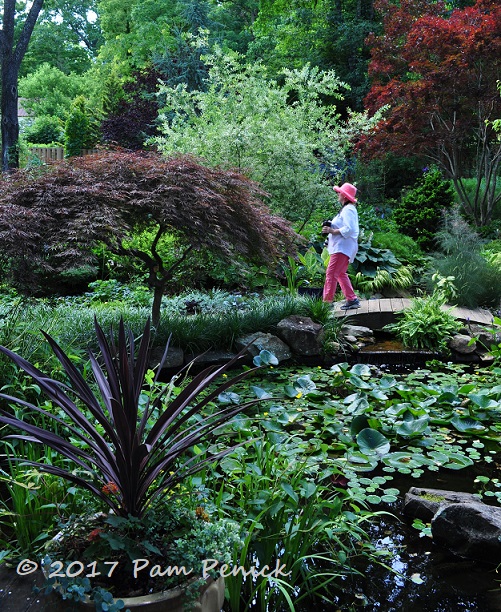 …you discover a sunny pond flush with waterlilies. The pond is fed by a stream that winds its way across the garden, crossed by occasional wooden bridges. In the foreground, a potted cordyline echoes wine-red Japanese maples.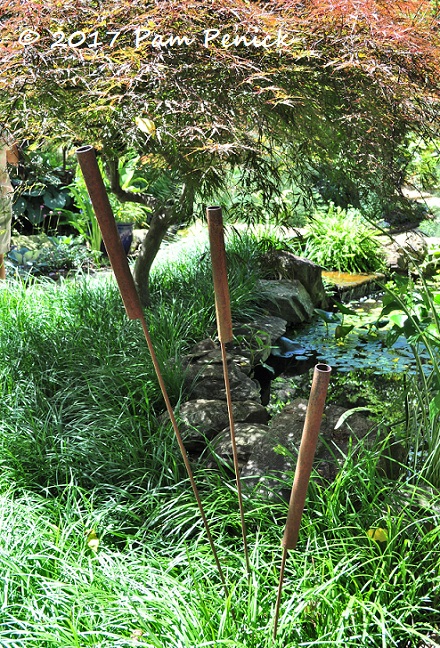 I adore Linda's garden art, including these metal cattails near the pond — simple pieces of steel pipe welded to slender rods.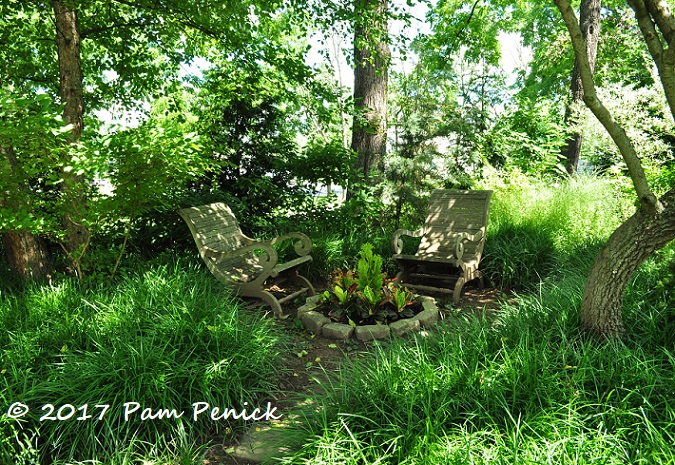 Linda's garden art is also created through plants, like this fire-pit seating area, with flames evoked by the form and color of plants.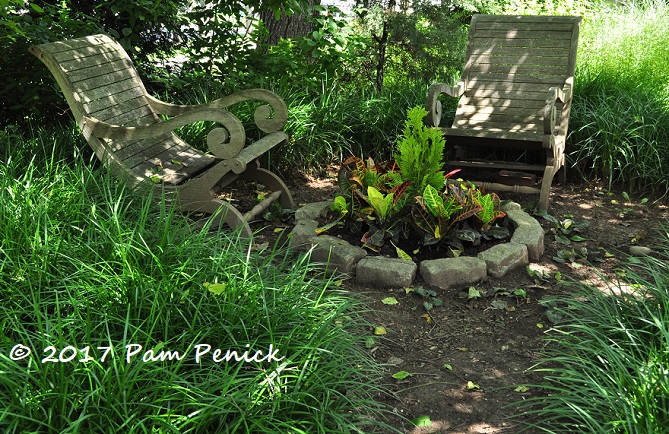 Croton provides tongues of yellow and red flame, and a small cypress (I think) adds a twisty, fire-like shape in the center. So clever!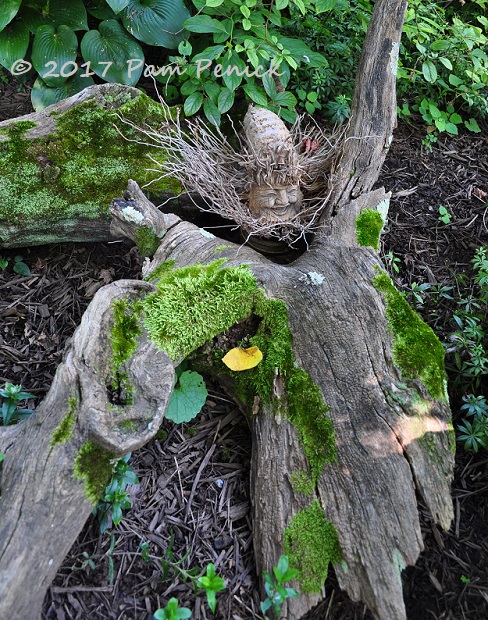 Nearby, a carved elfin face is tucked into a piece of mossy weathered wood.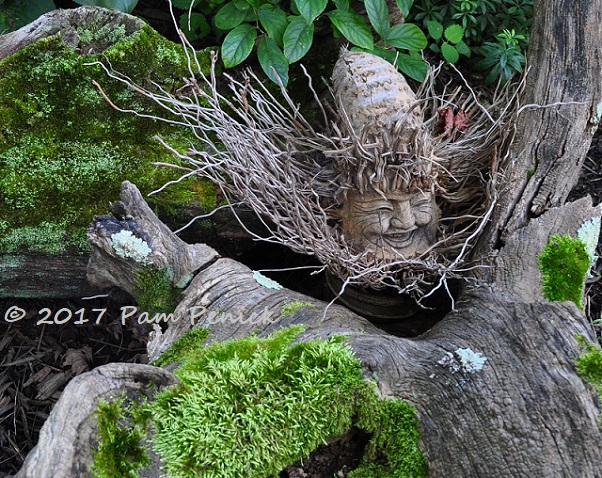 The mossy limbs give this small piece of art, which might easily have been overlooked, greater presence.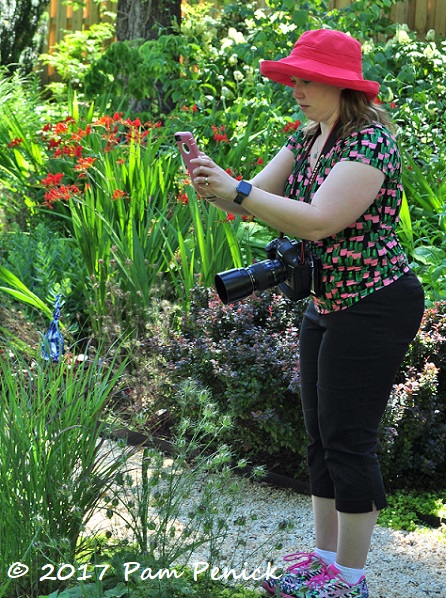 Here's new Flinger Jen McGuinness of Frau Zinnie taking a picture, her hat echoing the crocosmia behind her.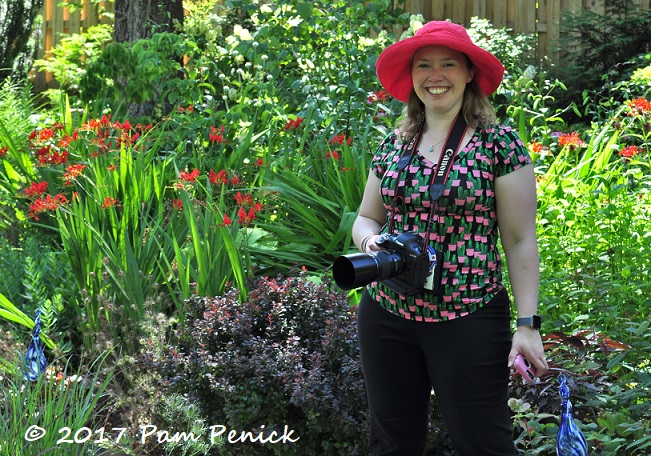 Jen has such a great smile and is just as friendly as she looks. Meeting other bloggers is a big part of why I enjoy going to the Fling each year.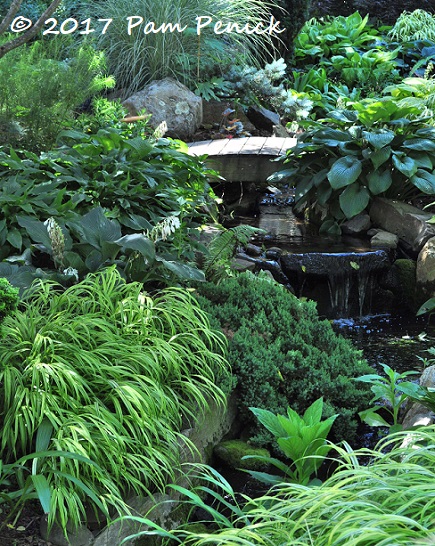 Along the stream, hostas, Japanese forest grass, and other plants create a green tapestry.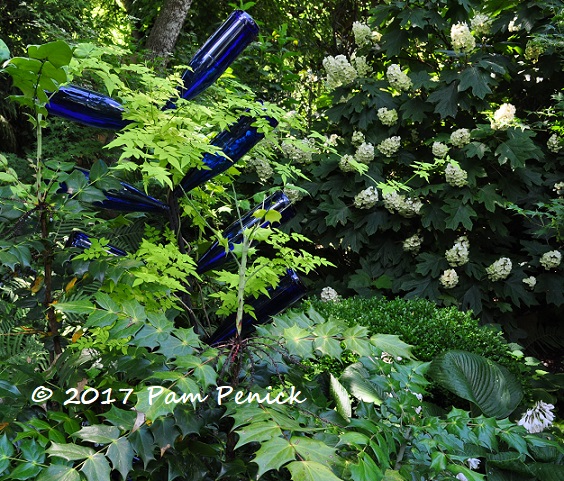 In a back corner, nearly hidden by mahonia and hydrangea, I spied that most Southern form of folk art: a blue bottle tree.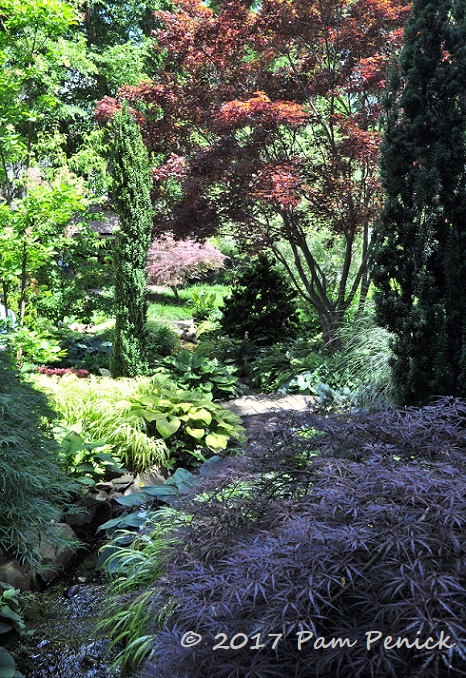 There is not a bad view in the entire garden.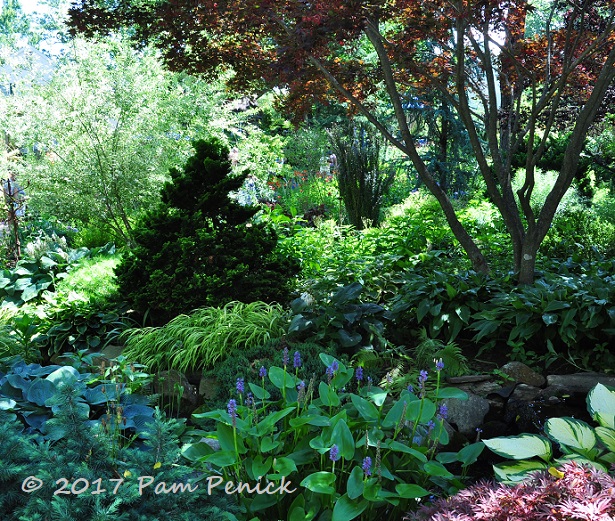 Color echoes and contrasting forms make for satisfying views at every turn.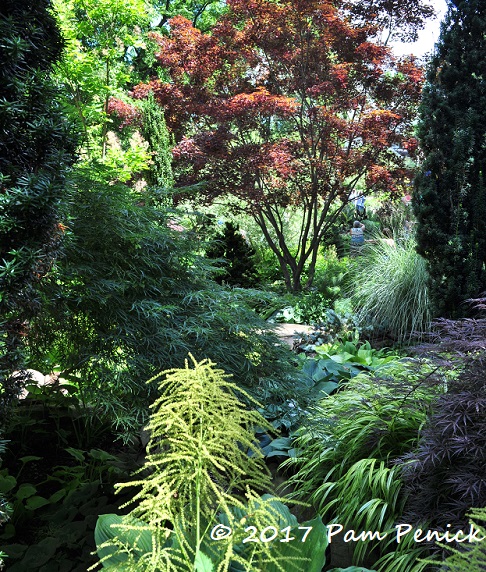 We had nearly an hour to explore, but I could easily have spent another hour or two wandering the paths.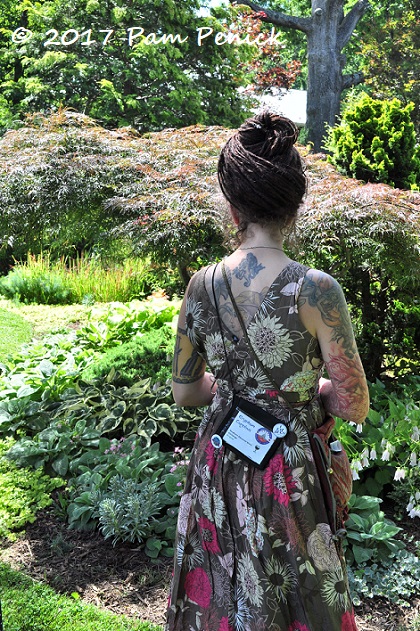 Here's Gryphon Corphus, a regular Flinger from Southern Exposure Seed Exchange, who is always photogenic as she strolls barefoot and floral-dressed through the gardens.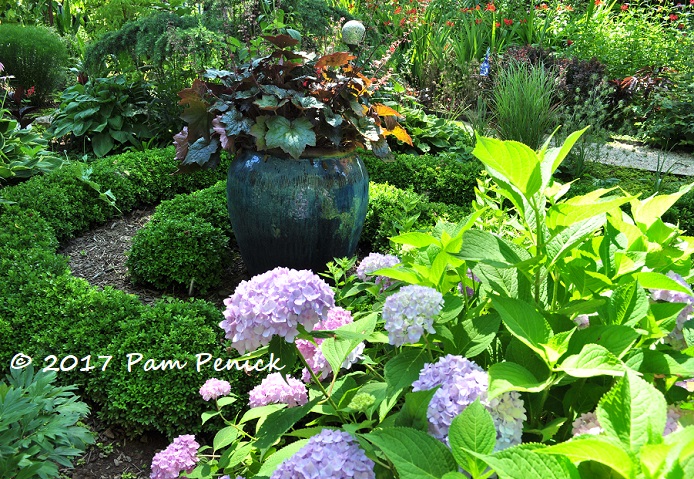 I leave you with one last vignette from Linda's garden: a heuchera perfectly echoing the blue hue of its glazed pot, set in a clipped, evergreen spiral…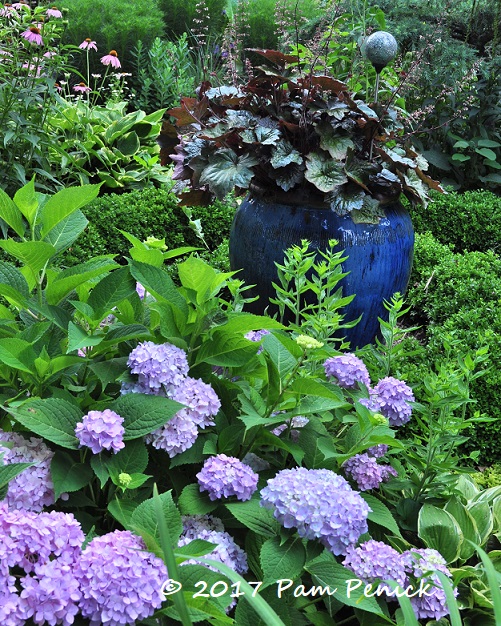 …harmonizing with purple coneflowers and lilac hydrangeas.
Up next: Casa Mariposa, our host Tammy Schmitt's garden, plus a few stops along the way. For a look back at an English-style garden of rural elegance in Middleburg, Virginia, click here.
I welcome your comments; please scroll to the end of this post to leave one. If you're reading this in a subscription email, click here to visit Digging and find the comment box at the end of each post.
_______________________
Digging Deeper: News and Upcoming Events
Get on the mailing list for Garden Spark Talks. Inspired by the idea of house concerts, I'm hosting a series of garden talks by talented designers and authors out of my home. Talks are limited-attendance events and generally sell out within just a few days, so join the Garden Spark email list for early notifications. Simply click this link and ask to be added.
All material © 2006-2017 by Pam Penick for Digging. Unauthorized reproduction prohibited.
posted in
Agaves
,
Arbors
,
Bottle tree
,
Bridges
,
Color
,
Containers
,
Decor
,
Doors
,
Firepits
,
Fling DC/VA
,
Garden art
,
Garden tours 2017
,
Grasses
,
Groundcovers
,
Hillside
,
Lawns
,
Lighting
,
Paths
,
Patios & decks
,
Ponds
,
Rivers & creeks
,
Rock
,
Sculpture
,
Seating
,
Sheds
,
Shrubs
,
Travel
,
Trees
,
Walls
,
Water features
,
Water gardening
,
Waterfalls