February 11th, 2008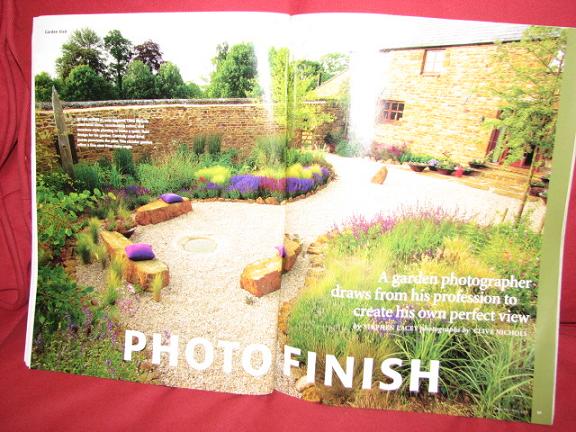 Flipping open to the middle of my first issue of Horticulture—a gift from my mother (thanks, Mom!)—I sucked in a deep breath in pure admiration of the garden featured in the article "Photo Finish" (Dec/Jan 08). Saturated in deep purple, chartreuse, and red, and anchored by all hues of green; bordered by tall stone walls and floored in gravel; planted in sweeps of color and grasses a la Piet Oudolf—I love, love, love it!
Turns out this is the garden of renowned British garden photographer Clive Nichols, who absorbed his design know-how through years of shooting other people's gardens. His own photographs illustrate the article, and I had to just sit and stare for a while before I read it.
One excerpt particularly interested me. When author Stephen Lacey wondered "what makes a good garden photograph and how this affects the way [Nichols] designs and plants," the photographer answered, "The key is to have a good structure….Big ideas and effects, and a bold scale, even in a small garden."
The lovely bones. A garden's bones—the underlying framework consisting of hardscaping like paths, walls, arbors, and other structural elements like evergreen hedges—are always more visible in winter, when the distraction of flowers and lush foliage is diminished. That's when the lack of good bones becomes visible too. Nichols's garden, while beautifully composed of gorgeous plants, owes much of its charm to its structure: stone walls, arched gates, a vertical spear of driftwood, and horizontal slab benches of stone.
It's a good lesson for those tempted to forgo hardscaping in favor of plants or who neglect to devote the same attention to each. Not to get on a soapbox, but in my view plants and hardscape should be equal partners, though the hardscape should be the strong, silent type and allow his partner, Miss Fancy Plants, to shine.
It's also a good lesson for us amateur garden photographers who'd like to improve on difficult long shots. I notice that non-plant elements serve as the focal point in every photo featured in this article. The lesson? Shoot toward a structural focal point, with those gorgeous plants you're really after in the foreground.
Back to Horticulture, I am absorbed by this magazine, which somehow I'd never read before. In the Dec/Jan 08 issue, there's also an article about agaves by Yucca Do owner Carol Schoenfeld and one on aloes by plantsman Dan Hinkley.
I'm already impatient for the next issue.
All material © 2006-2008 by Pam Penick for Digging. Unauthorized reproduction prohibited.