May 31st, 2017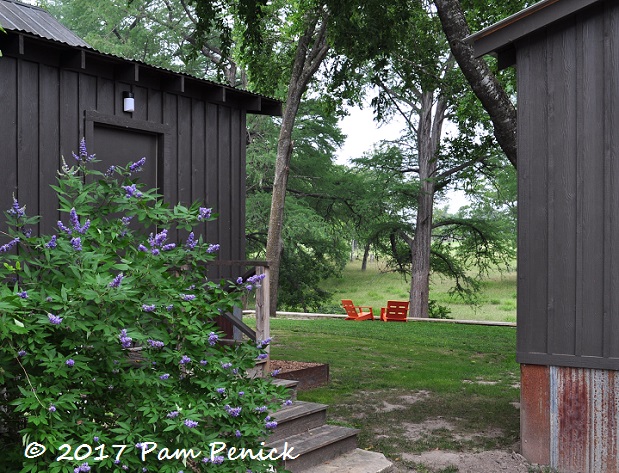 For our 27th wedding anniversary last weekend, my husband and I enjoyed a weekend away in Comfort, Texas, a tiny Hill Country town two hours southwest of Austin. After reading about the stylishly rustic charms of Camp Comfort in seemingly every regional magazine (Tribeza, Southern Living, Texas Monthly), I'd booked us a room for two nights over Memorial Day weekend.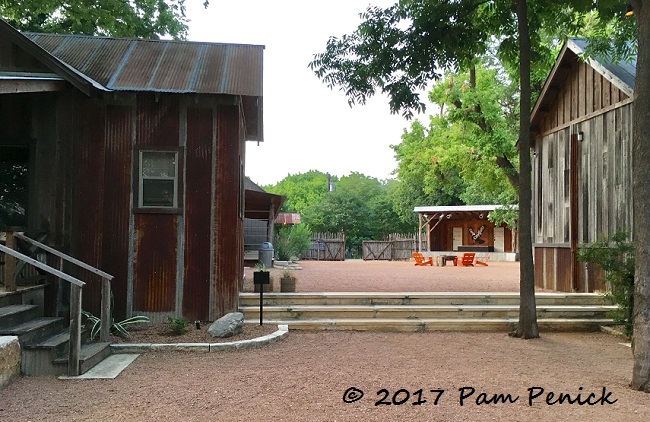 Camp Comfort is an utterly charming B&B, built motel-style in what was formerly a 2-lane bowling alley and social hall dating to 1860, plus several freestanding cabins.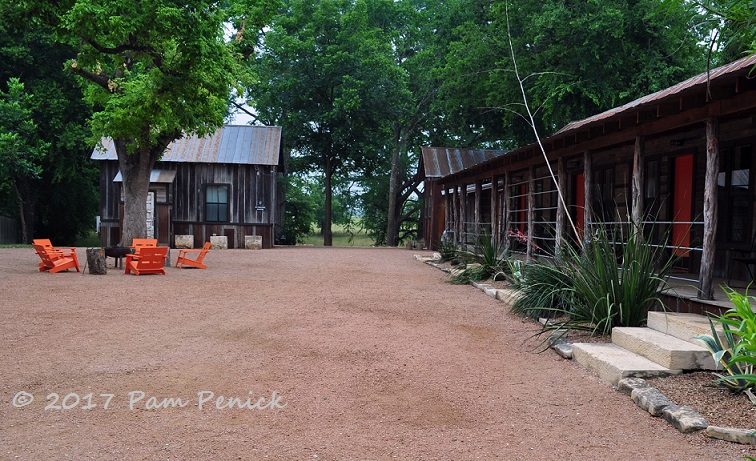 A row of 4 rooms occupies what used to be the bowling alley, and the cabins cluster at the far end…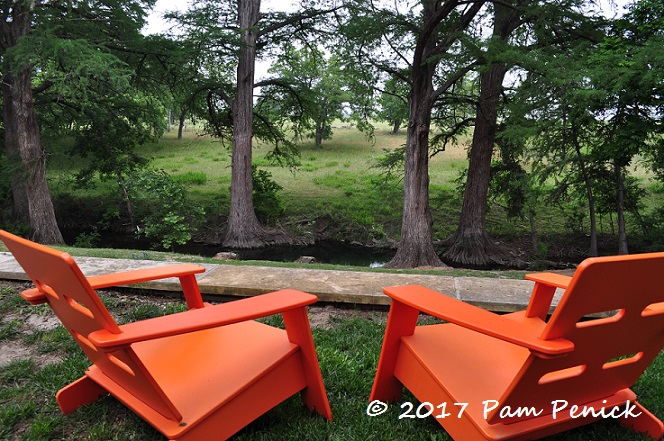 …overlooking a scenic view of Cypress Creek.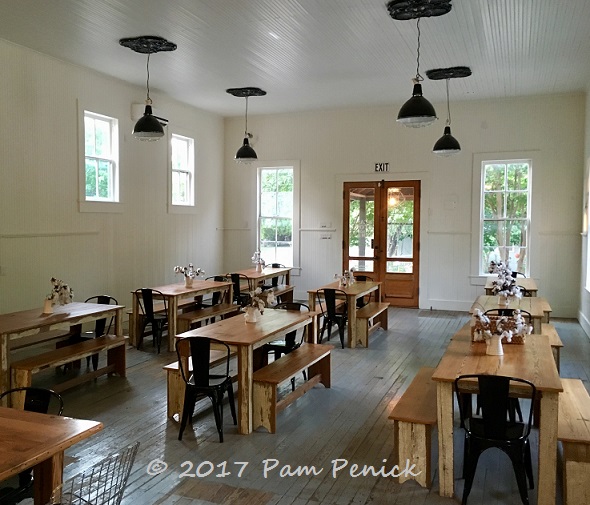 The restored social hall contains a servery for help-yourself breakfast, free cookies all day, and plentiful seating…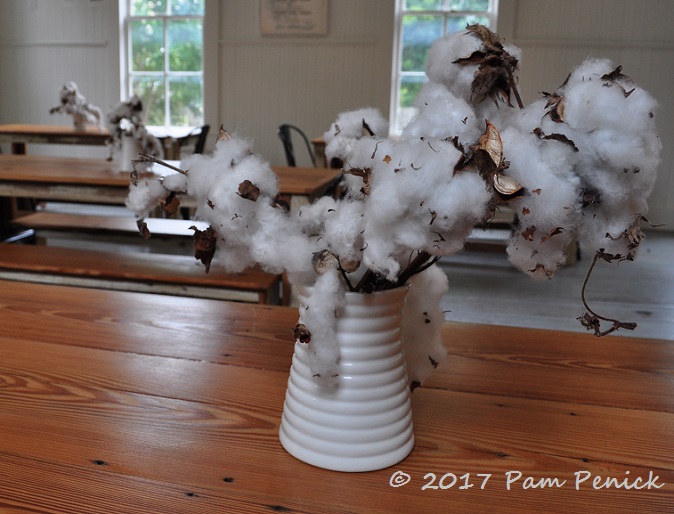 …each table adorned with a bouquet of fluffy cotton stems.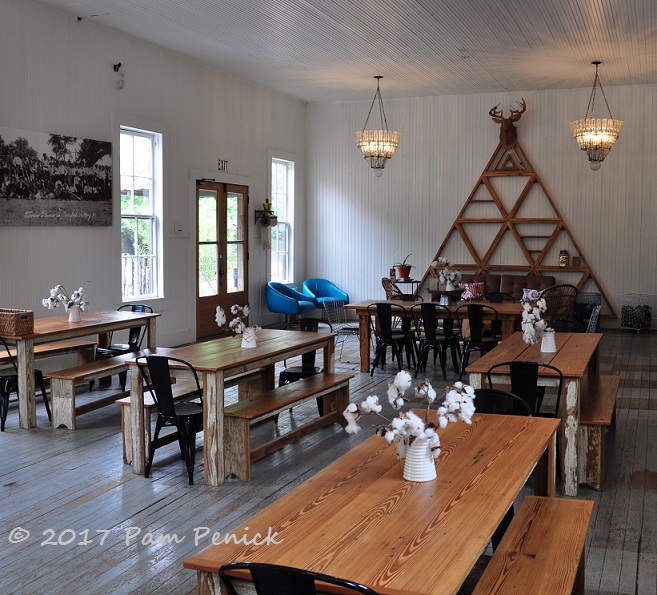 A couch and chairs at one end is flanked by a triangular shelf stacked with board games for old-school entertainment.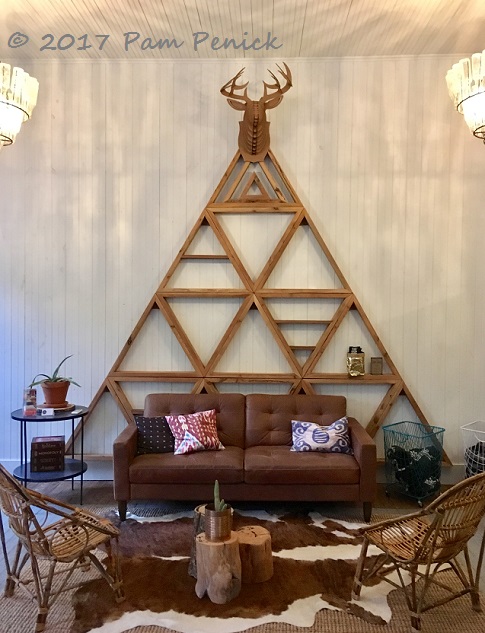 The owners constructed the shelves, and for that matter the guest rooms' floors, walls, and doors, from wood salvaged from the bowling alley.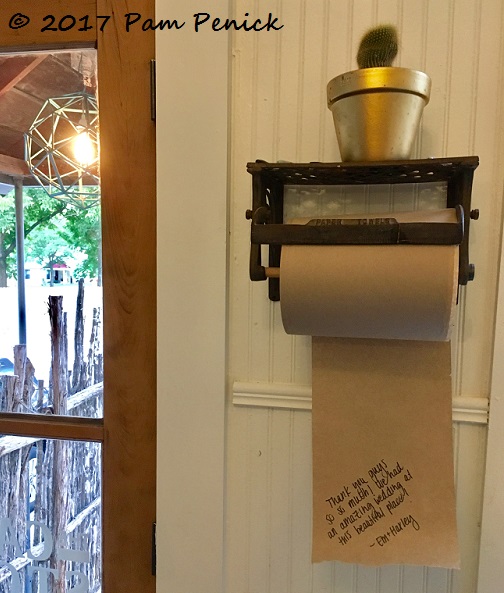 The place seems tailor-made to be rented out in full by wedding parties, and one such newlywed couple had written their thanks to the owners on a roll of paper towels by the door.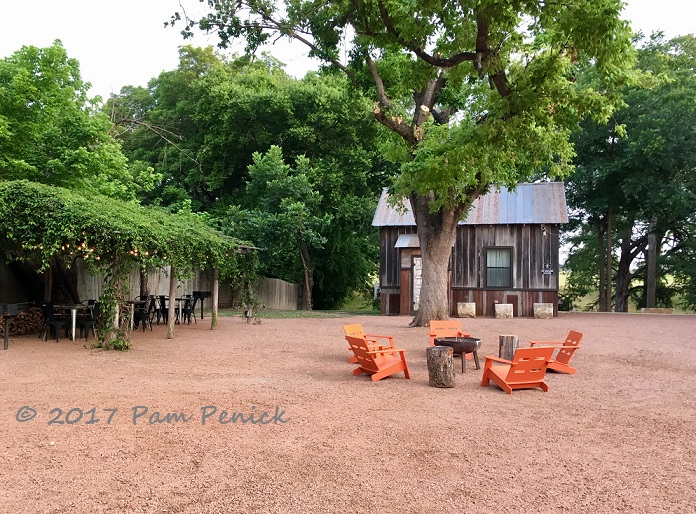 The rooms and cabins surround a spacious gravel courtyard outfitted for lounging and parties with a fire pit, orange Loll chairs, a grilling and dining area under a vine-shaded arbor…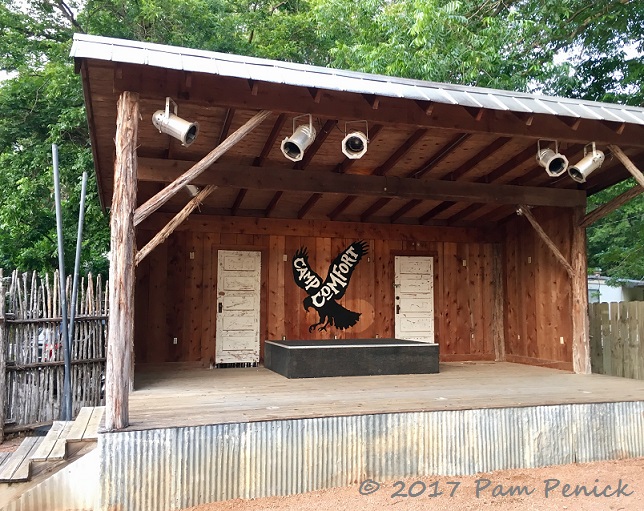 …and a band stage.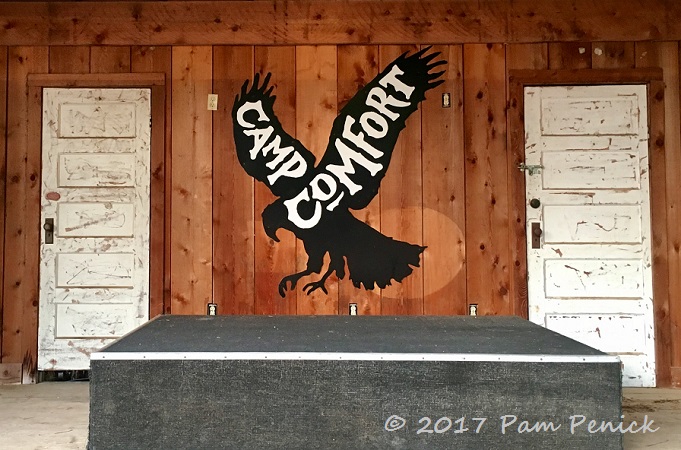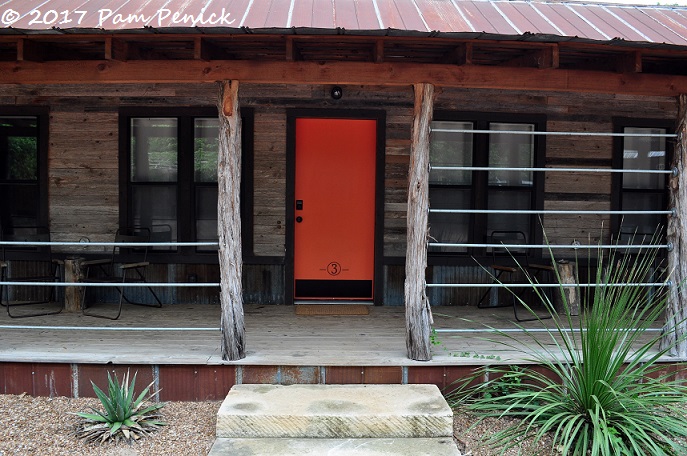 We stayed in room #3.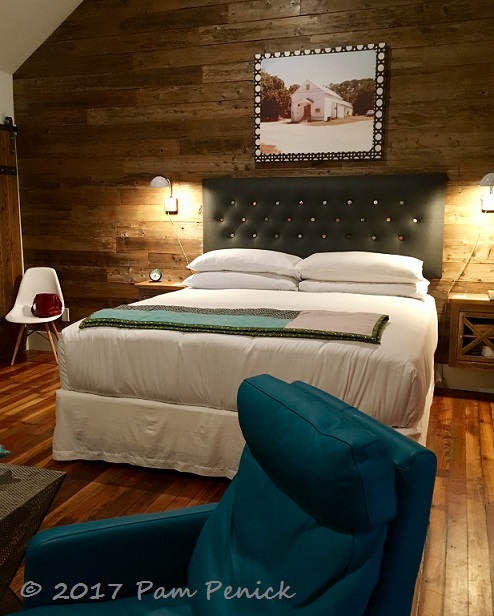 Inside, a photo of the social hall pre-transformation hung over the bed. Cushy, teal swivel chairs in front of a TV, a small kitchen, a desk, and a spacious bathroom with a soaker tub made up the lovely retreat.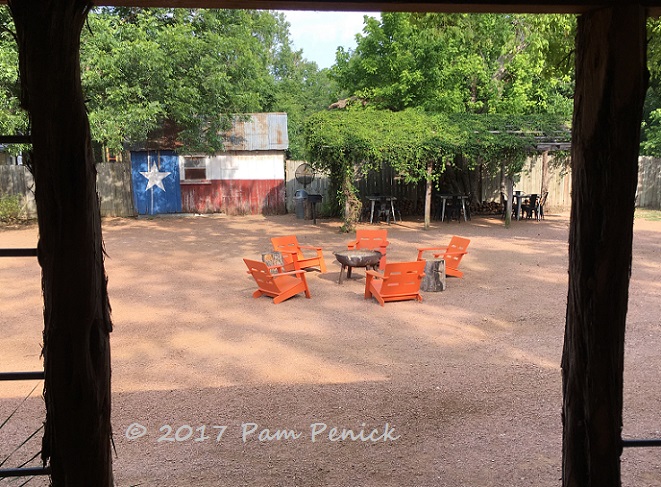 The view from our room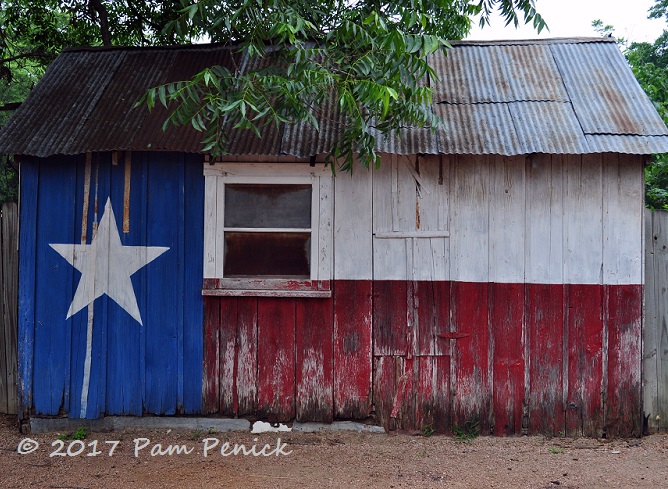 The Texas flag painted on the back of a neighbor's shed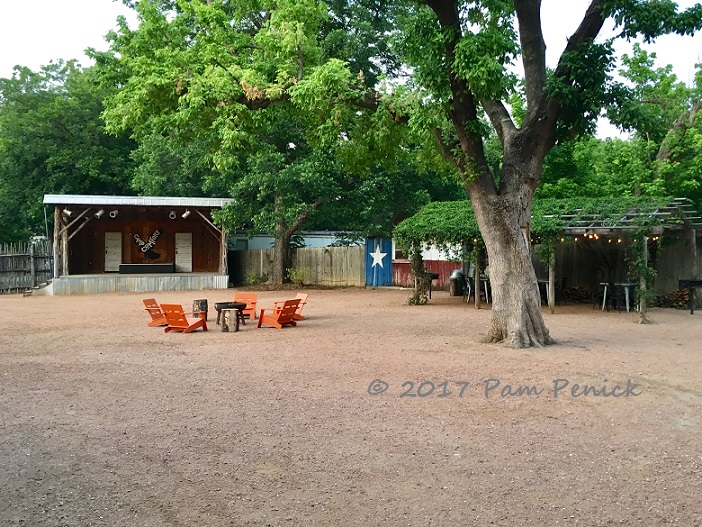 We spent a lovely evening around the fire our first night, sipping champagne and talking with another couple from San Antonio who were celebrating a birthday.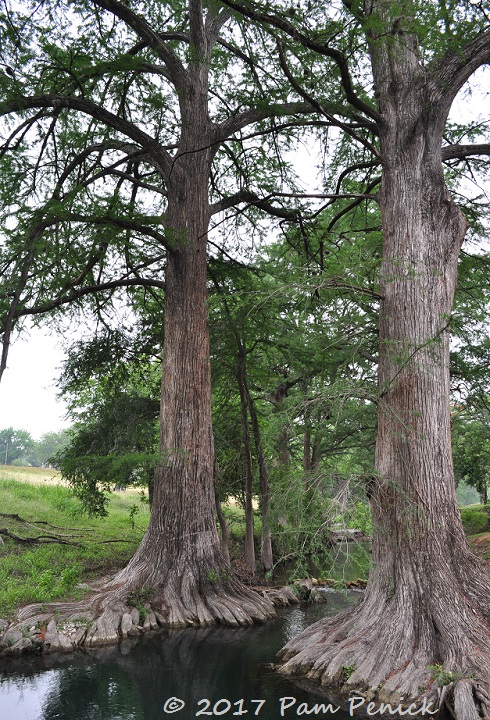 We met Phil, who owns the place with his wife, and who did all the restoration and construction work himself, with his wife as the designer. He encouraged us to go for a swim in the creek behind the camp, and on the second day we did.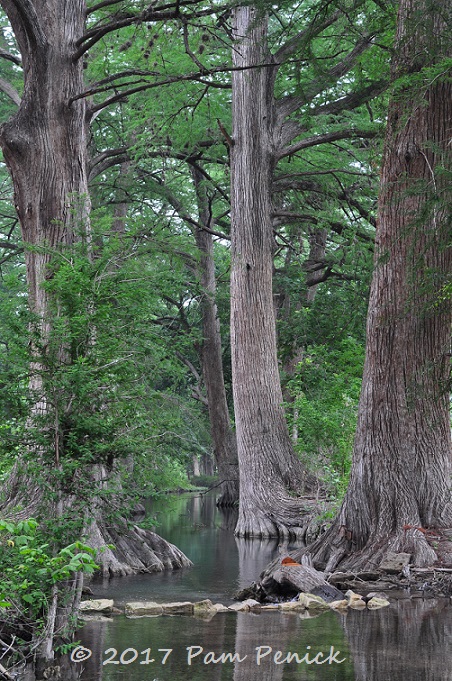 Cypress Creek is beautiful.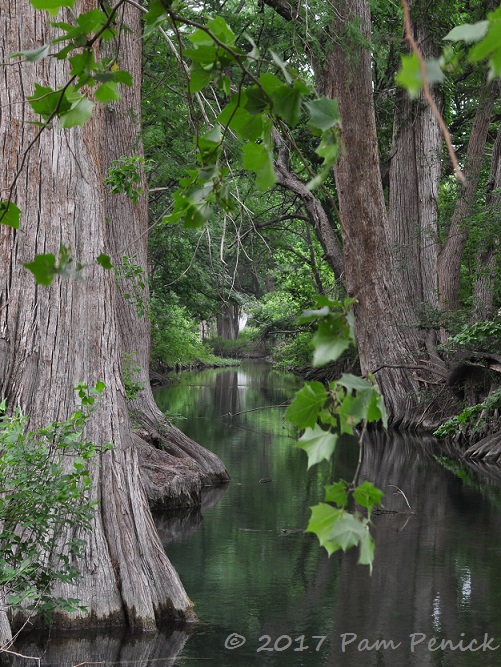 Towering bald cypresses line the creek like columns in a cathedral made by Mother Nature.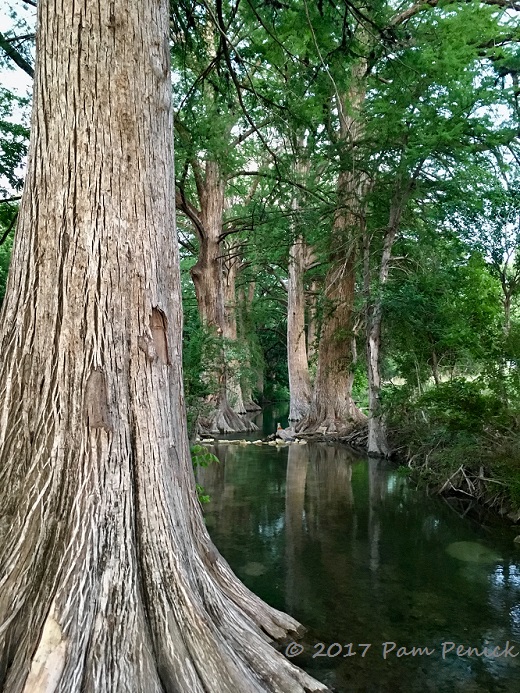 In the clear, green water we could see fish guarding their nests, cleared-out circles on the creekbed.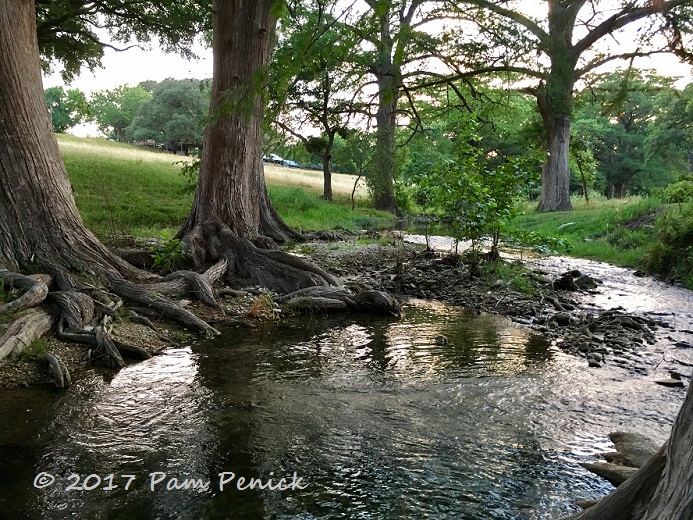 Aside from the fish, we had it all to ourselves, no one else around.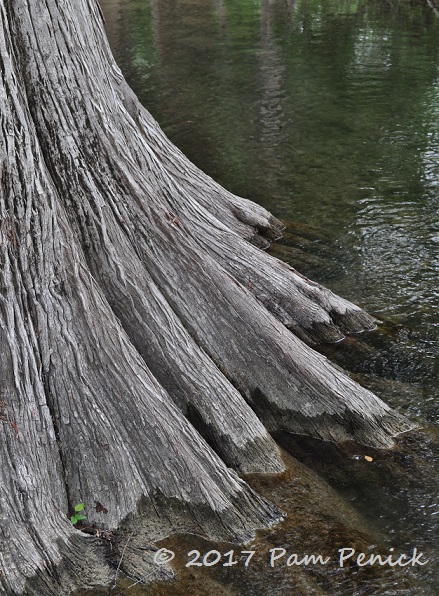 We waded into the chilly water alongside cypress toes, careful not to disturb the fish nests…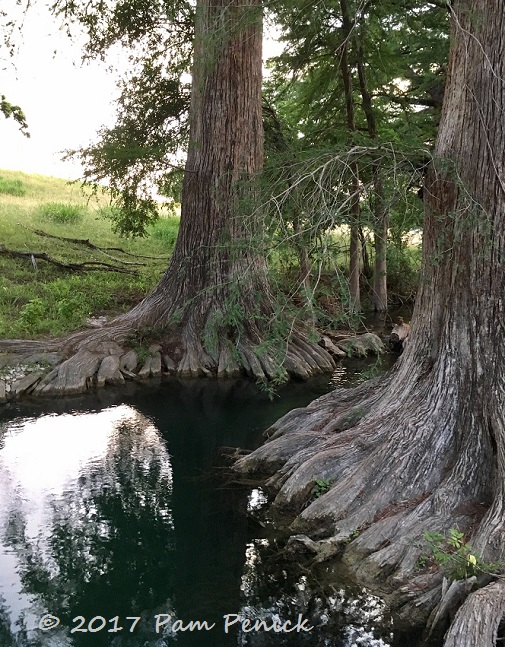 …and paddled among the trees to the swimming hole, which Phil had told us was 10 feet deep. It was magical.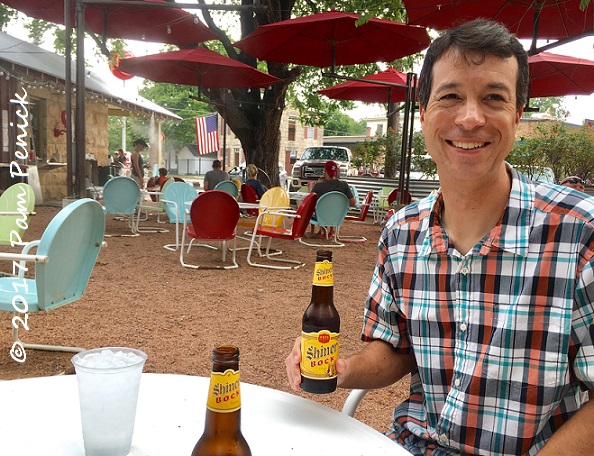 The first night we enjoyed an excellent pizza at Comfort Pizza, where you have to call in advance to reserve your pizza dough. They only make so much each day, and if they run out you're out of luck. One pizza is plenty for two, especially with a Greek side salad, which was also tasty. We washed it all down with Shiner Bock, a local beer. (I also highly recommend High's Cafe for lunch, particularly the Veggie-licious with hummus instead of cream cheese, and 814 A Texas Bistro for dinner; be sure to make reservations.)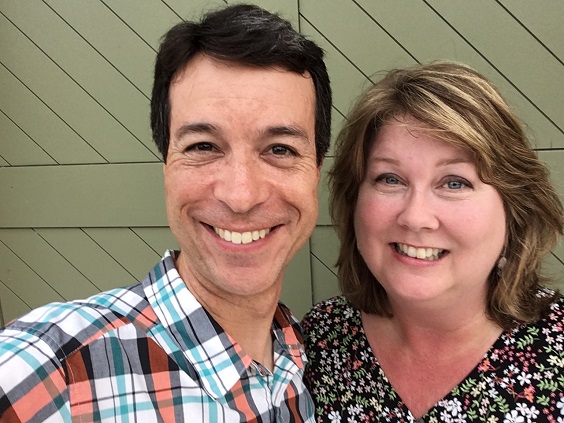 After dinner we strolled along High Street, Comfort's quiet main street lined with well-preserved historic buildings occupied by a boutique hotel, antique stores, an art gallery, a yarn shop, and a refreshingly different elephant shop. Not a single T-shirt/postcard/fudge shop did I see.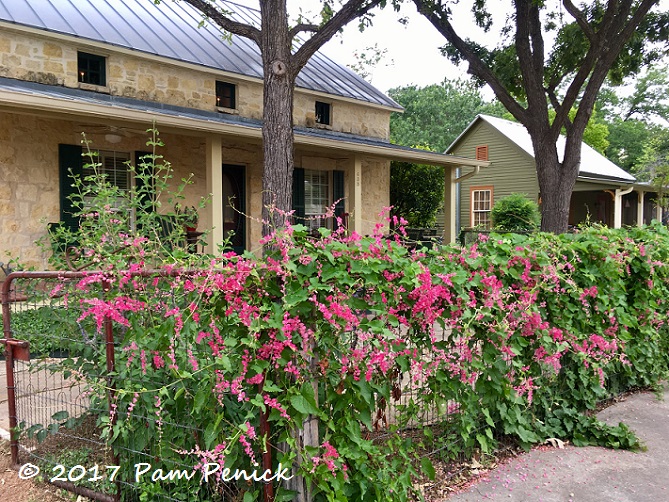 Charming old homes and guest houses line the street as well, including one whose front fence was awash with garlands of hot-pink queen's wreath vine, also known as coral vine (Antigonon leptopus).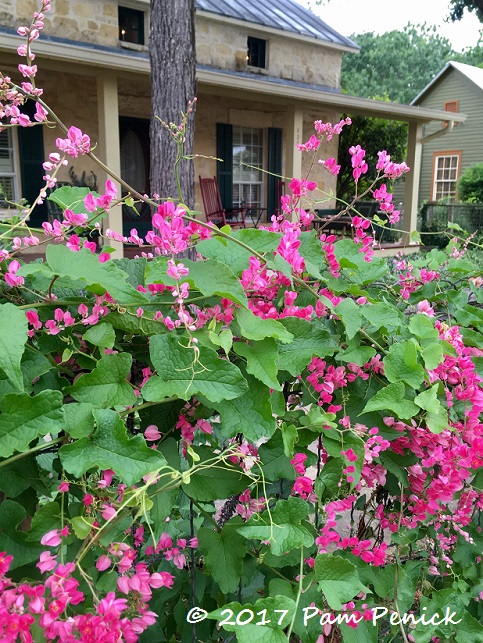 I'd thought queen's wreath bloomed only in late summer/early fall, so I was surprised to see it in full bloom in early summer.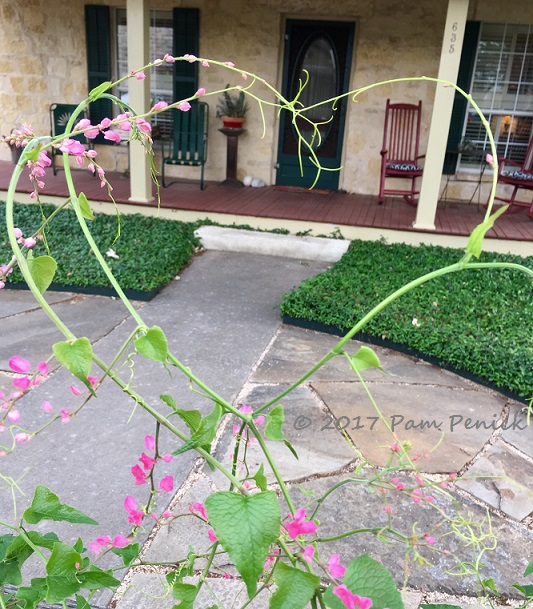 A few tendrils had entwined into a green heart at the front gate, and we pretended it was just for our anniversary.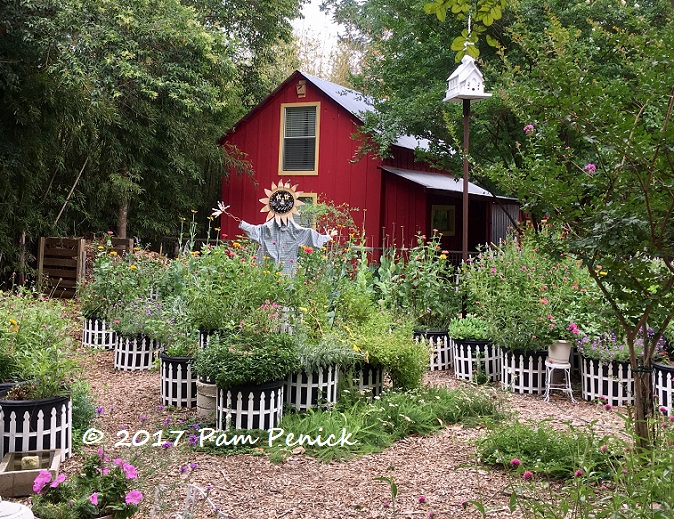 At Miss Giddy's gift shop and nursery across the street from the pizza place, a garden of container-planted, colorful zinnias…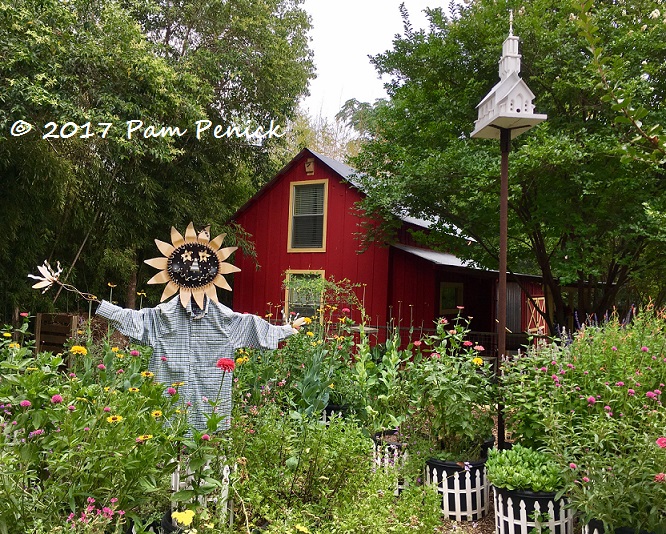 …was guarded by a friendly, sunflower-faced scarecrow.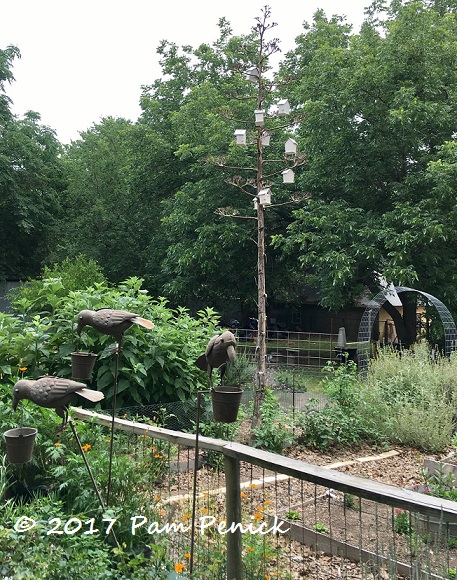 A towering, dried agave bloom stalk stood in another part of the garden, its branches holding a collection of white birdhouses.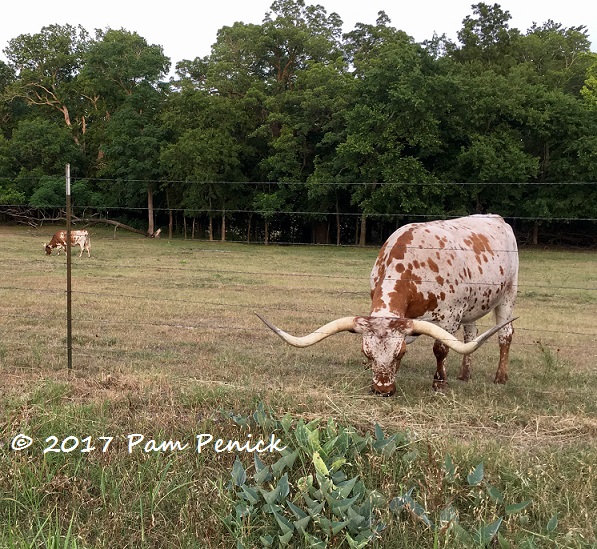 The road back to Camp Comfort took us by a pasture with grazing longhorns.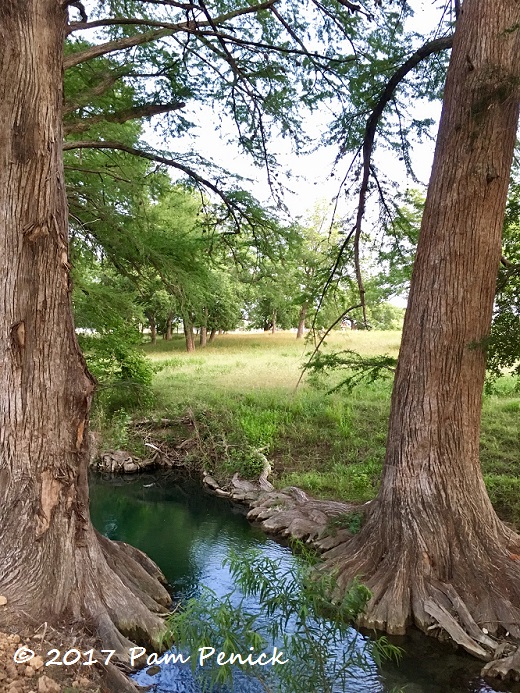 Back at our B&B, we enjoyed one more sunset along Cypress Creek.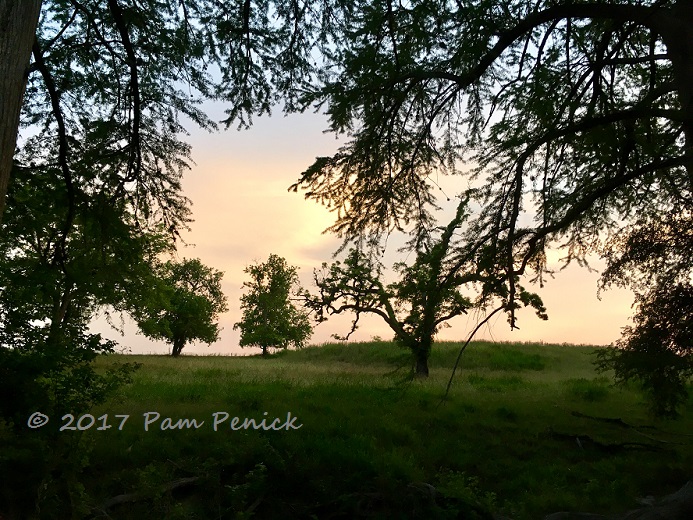 What a beautiful place!
I welcome your comments; please scroll to the end of this post to leave one. If you're reading this in a subscription email, click here to visit Digging and find the comment box at the end of each post.
_______________________
Digging Deeper: News and Upcoming Events
Calling all pond lovers! The Austin Pond & Garden Tour is coming up June 3rd (North Austin ponds and night pond) and 4th (South Austin ponds). Tickets, which are $20, can be purchased online and include entry to all 20 ponds.
Get on the mailing list for Garden Spark Talks. Inspired by the idea of house concerts, I'm hosting a series of garden talks by talented designers and authors out of my home. Talks are limited-attendance events and generally sell out within just a few days, so join the Garden Spark email list for early notifications. Simply click this link and ask to be added.
All material © 2006-2017 by Pam Penick for Digging. Unauthorized reproduction prohibited.
posted in
Agaves
,
Annuals
,
Arbors
,
Birds
,
Bouquets
,
Cactus
,
Containers
,
Decor
,
Doors
,
Fences
,
Firepits
,
Flowers
,
Garden art
,
Lighting
,
Nurseries & Shops
,
Patios & decks
,
Porch
,
Ranches
,
Restaurants
,
Rivers & creeks
,
Seating
,
Sheds
,
Signs
,
Travel
,
Trees
,
Trellis
,
Views
,
Vines
,
Windows
,
Xeric plants