May 25th, 2017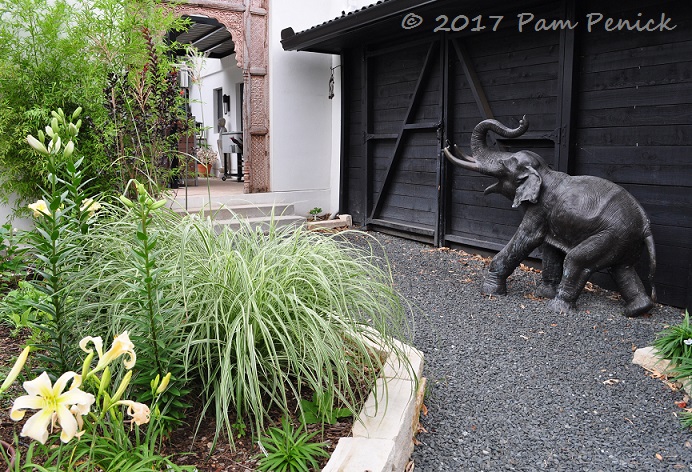 As we roll toward summer here in Austin, this gardener begins to fantasize about decamping for cooler climes, like the Pacific Northwest, a gardener's paradise. So it was surprising and enlightening to hear Skottie O'Mahony and Jeff Breitenstein, longtime Seattle residents who are now cultivating an exotic, ambitious garden in North Austin, explain why they moved to Central Texas six years ago:
"We needed to move to a warmer and less rainy climate," they said, and Austin's long, hot summer (combined with regular watering) jump-starts their tropical-esque garden each spring, encouraging early, lush growth. The couple also hybridizes daylilies — they're currently growing more than 1,000 cultivars — and they can establish new plants from seed much faster here than in Seattle. So there you go — sometimes the Death Star can be your friend!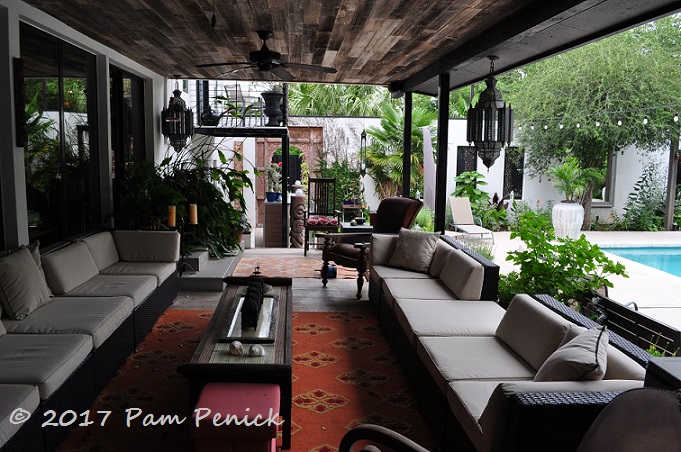 When I visited Tanglewild Gardens last weekend with a couple of friends, Skottie and Jeff hospitably invited us into their home, a 1971 split-level that they've transformed inside and out with Moroccan-influenced furnishings and decor, and out through the back door onto an expansive, comfortably furnished porch.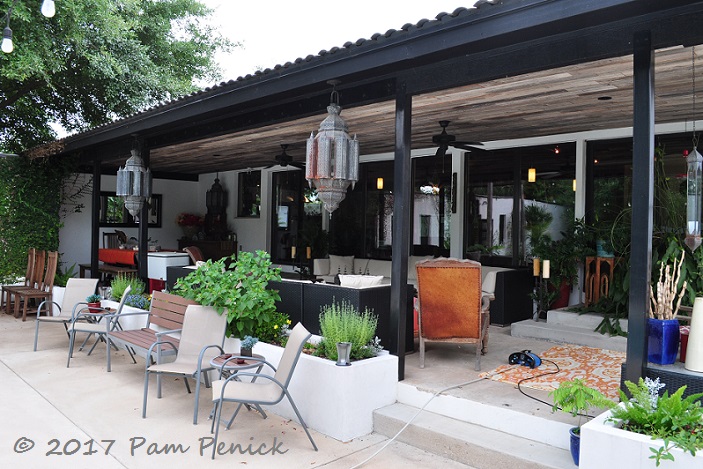 White stucco walls and black trim, a tiled roof, and oversized Moroccan lanterns create an exotic mood, even under cloudy skies threatening rain. The porch roof is clad in old cedar boards that Jeff and Skottie repurposed when they tore out an existing fence to build their garden walls. They used the fence boards on their living room ceiling as well, to wonderful effect — and as Skottie pointed out, less waste went into the landfill.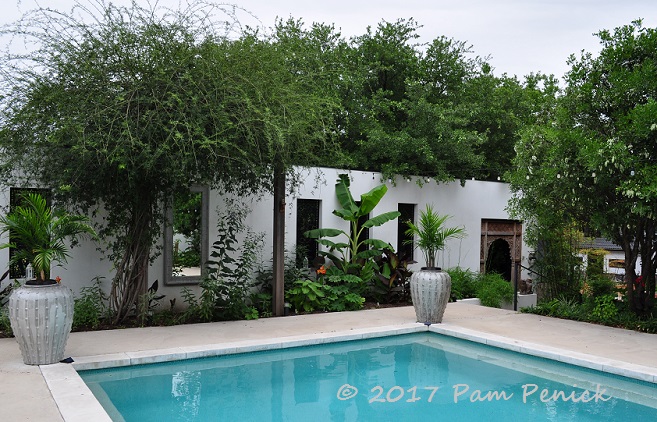 The swimming pool and back porch came with the house, but the white stuccoed walls are their addition, for Moroccan-style enclosure and privacy and to create distinct garden rooms.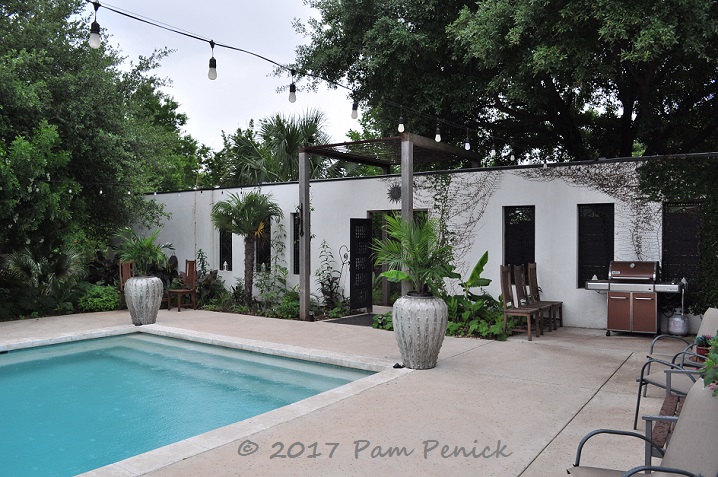 String lights traverse the courtyard for evening enjoyment of the garden. Windows in the walls that extend outward from the house are inset with Moroccan-inspired, laser-cut metal panels, allowing air flow and a hint of the gardens beyond.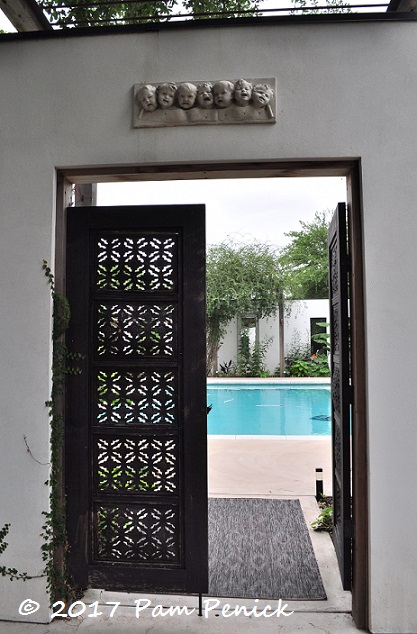 Antique doors in the walls create beautiful focal points and invite you to explore the rest of the garden. A mirror at the far end of the pool cleverly creates the illusion of another doorway.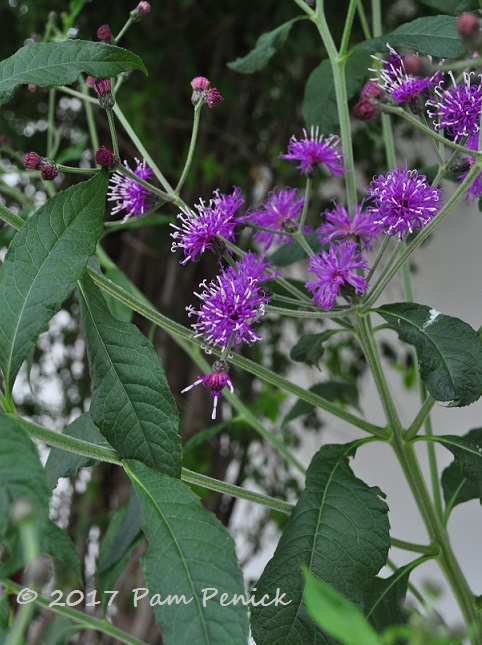 Vernonia flower. Skottie says that in Seattle, when you drop something on the ground it grows, but in Texas you're lucky if half of what you plant survives. Gardening here has been a learning curve, he admits.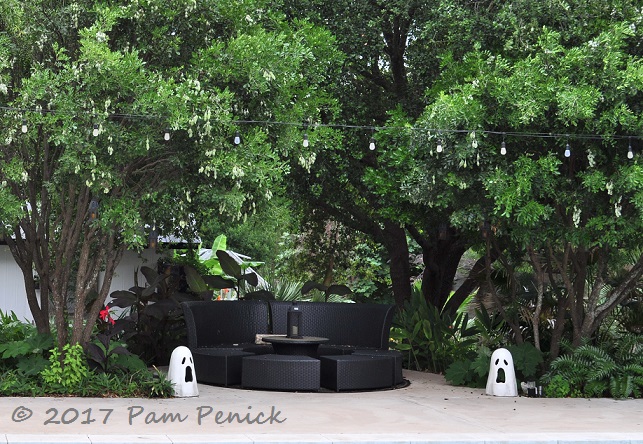 Two enormous Texas mountain laurels (Sophora secundiflora), native trees with wisteria-like flowers in spring, were here when they bought the house. Not realizing what they were, they almost cut them down until an arborist convinced them otherwise. The ghost lanterns are Halloween decorations that Jeff liked so much he decided to leave them out year-round.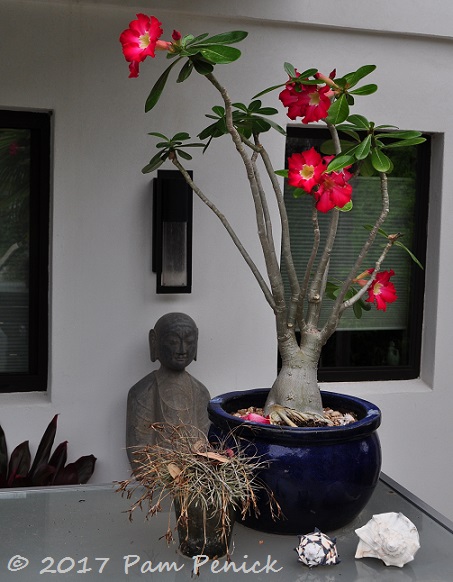 A tiki bar in the pool courtyard is adorned with a flowering desert rose (Adenium obesum) and, in the smaller pot, a Texas touch — ball moss, our native tillandsia.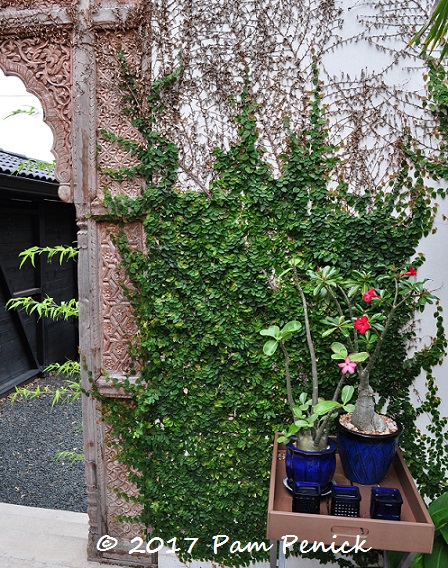 More desert roses adorn a tray table next to an intricately carved teak doorway.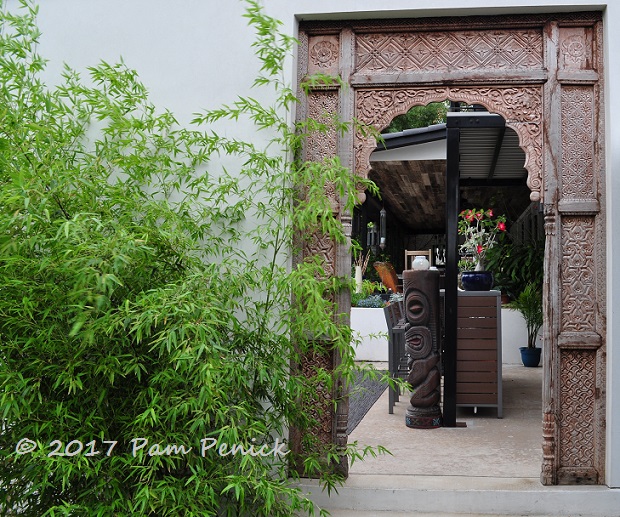 Let's step through…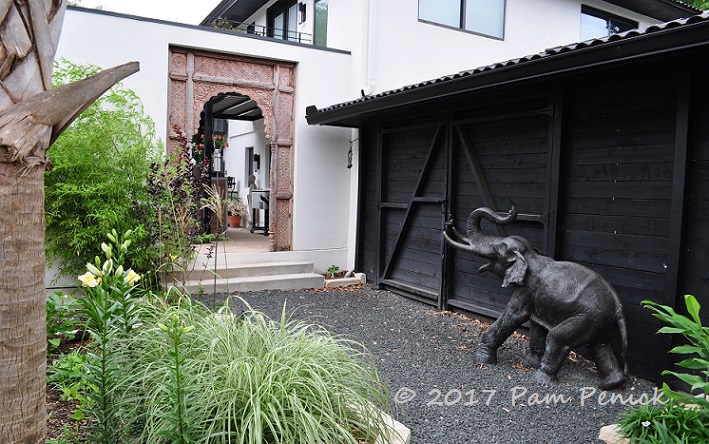 …into the Moon Garden, which is filled with pale-leaved and fragrant, white-flowering plants for evening enjoyment.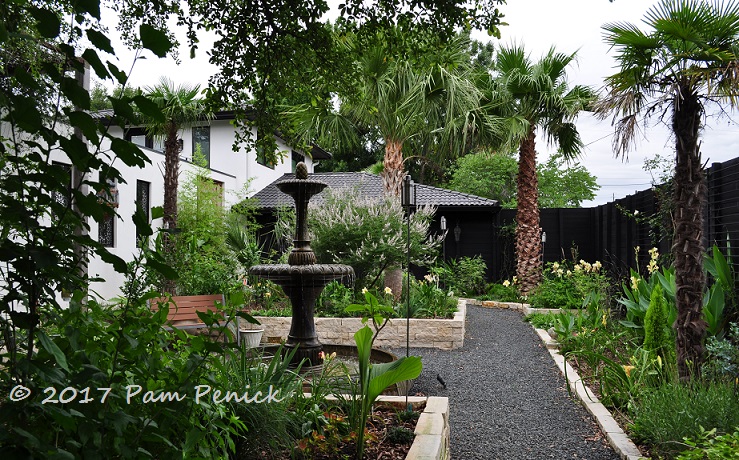 A tall, black-painted fence lets the pale plants shine. Tall, shaggy-trunked palms add height and structure, and a tiered fountain anchors a sitting area with benches.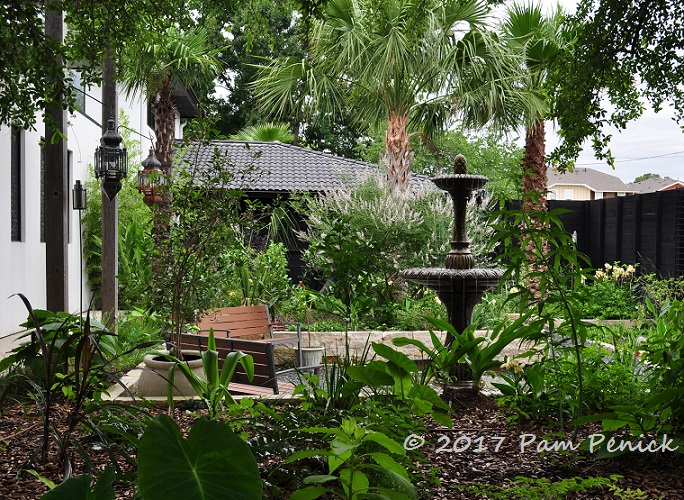 A white-flowering vitex and moonshine-yellow cannas glow in low light.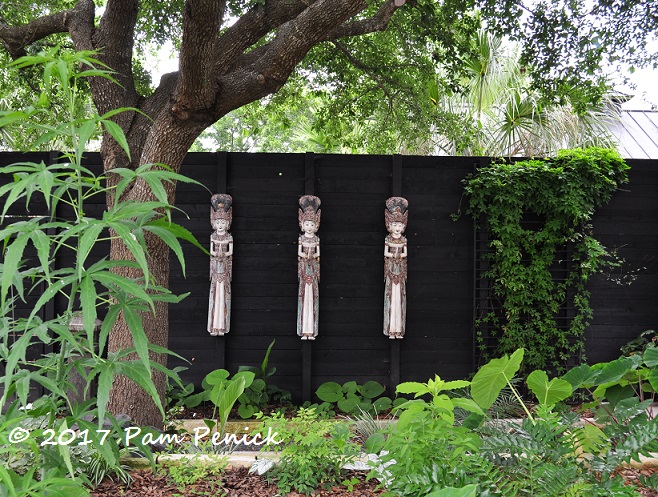 Three carved figures — Thai rice goddesses — adorn the rear fence.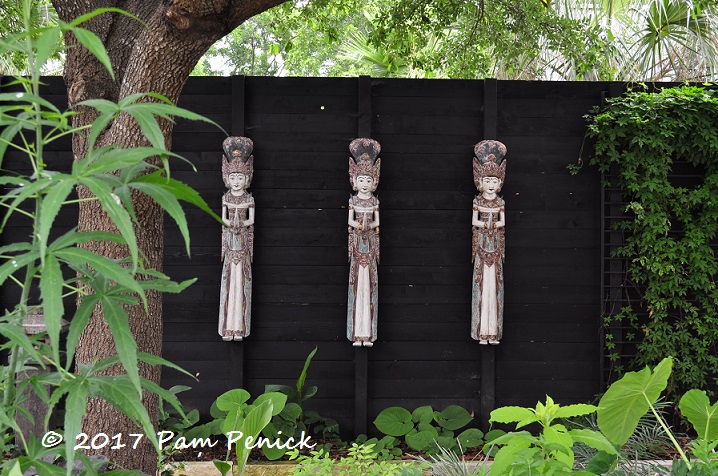 Beautiful artwork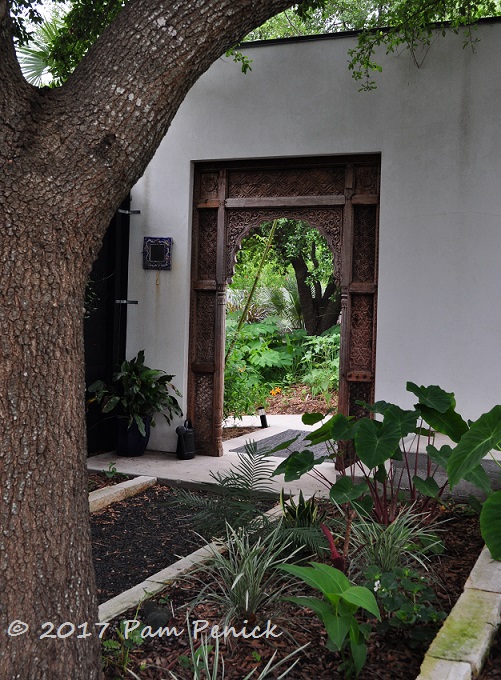 Another Moroccan doorway beckons here. They had the walls constructed to fit the wooden doorways they'd collected from antique dealers.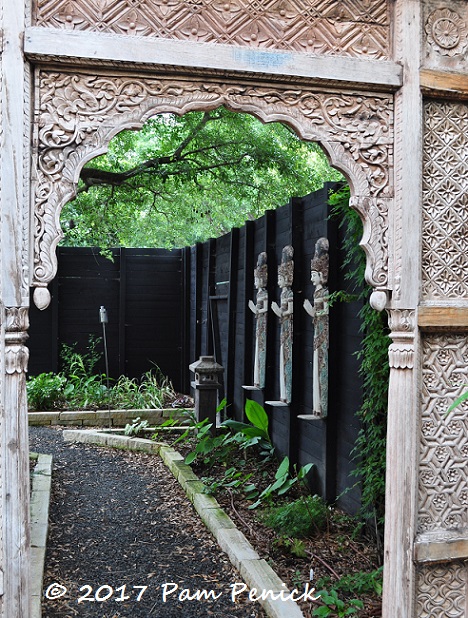 Looking back toward the rice goddess figures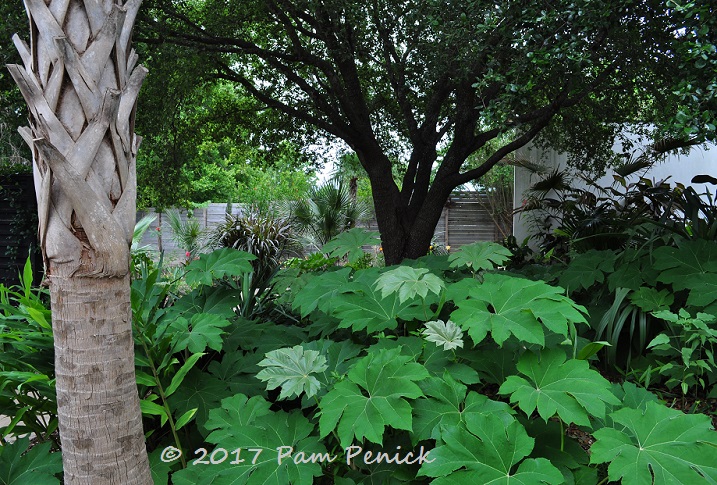 Moving on, this part of the garden, just below the pool courtyard, is densely shaded by live oaks, and tropical-looking rice paper plant (Tetrapanax papyrifer) grows abundantly.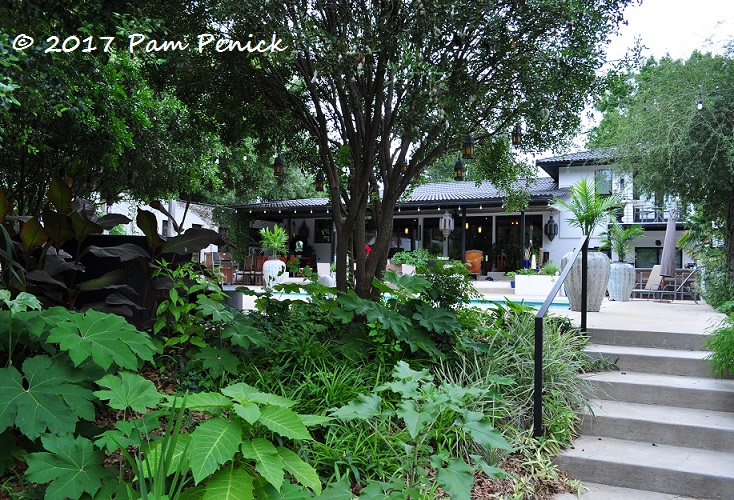 Looking back up toward the pool courtyard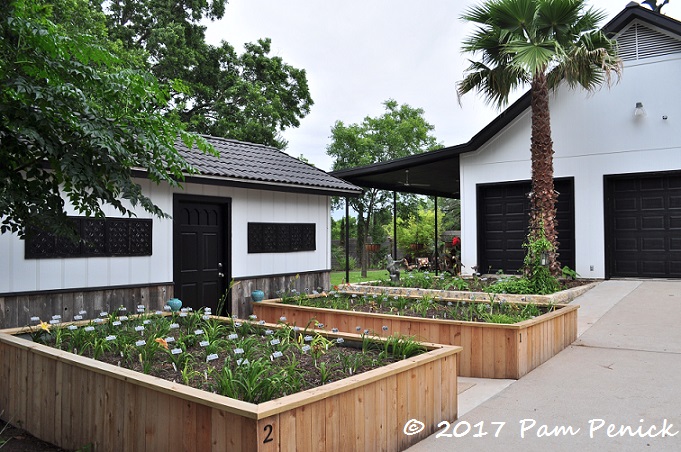 Heading away from the house, you come to their daylily breeding beds, all carefully labeled in raised wooden planters. A garage and shed, which the couple transformed with Thai-style accents like carved wooden panels, tiled roofs, and cedar-board skirting, enclose the space.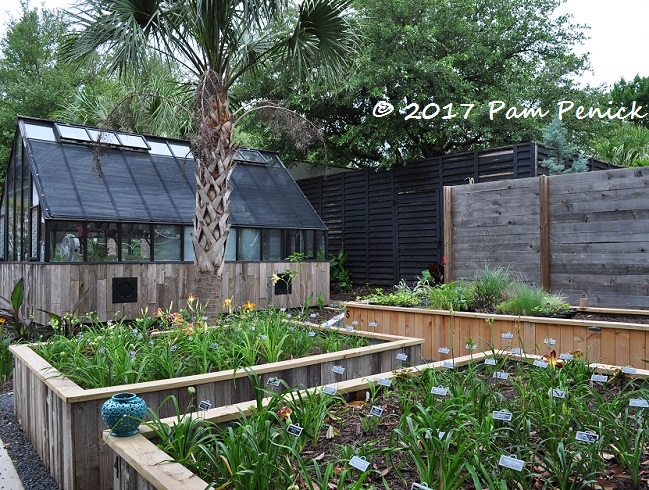 More daylily beds plus a cedar-skirted greenhouse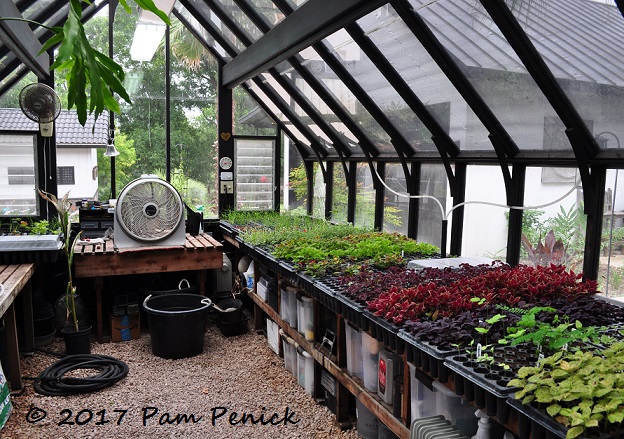 Inside the greenhouse grow flats of coleus cuttings, which they plan to plant once the daylilies are done, to fill the gaps with foliage color.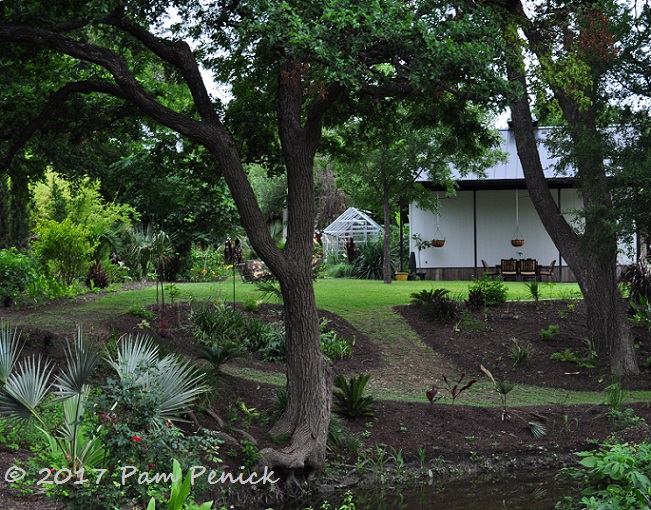 Walking to the back of their lot, an area they planted just last year, you get the feeling that the garden is even larger than its 1.7 acres. Water is abundant. They have a well, a spring, and a stretch of Tar Branch Creek (visible at lower-right), which sold them on the property. Eager for more gardening space, they left behind a tiny garden in Seattle, a plot the size of their current swimming pool area.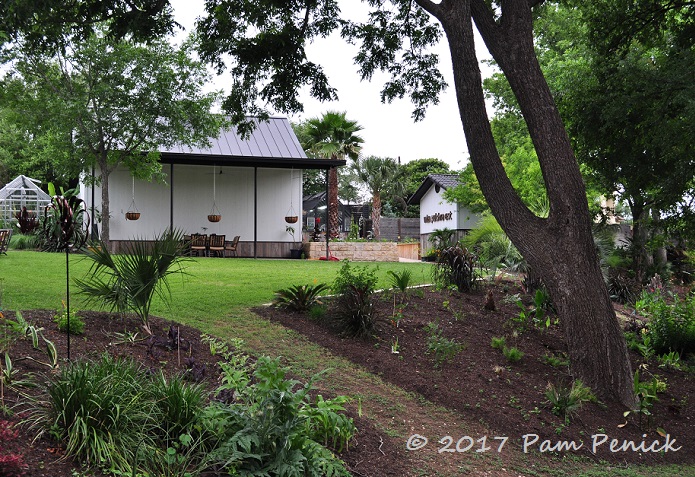 Another porch is visible off the back of the garage.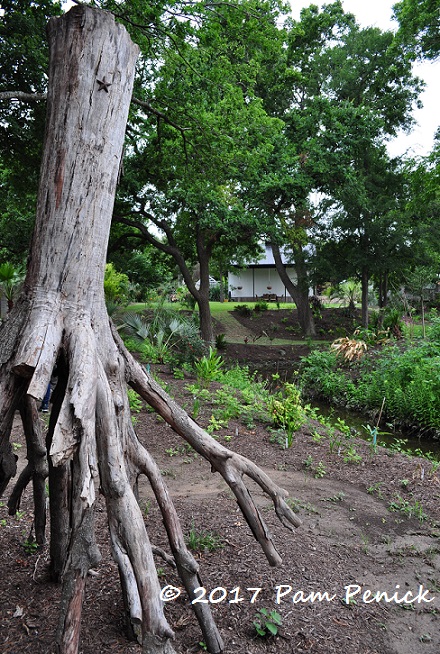 An upside-down tree, seeming to scuttle like Thing in the Addams Family, makes a sculptural focal point for the far end of the garden. Jeff explained that the tiny iron star affixed to it denotes a special tree in their garden and is one of five they've given a badge of honor. When I pointed out that they've adopted the Texas state symbol like natives, he laughingly said they were glad to have Texas stars now, to keep up with their Vancouver friends who adorn their gardens with Canadian maple leaves.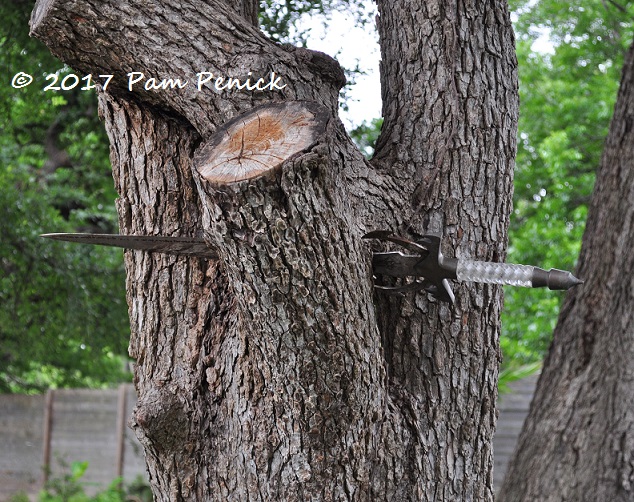 Here's a surprising sight in their garden, one that they inherited with the property: a sword poking right through an old tree! Texcalibur, they've dubbed it. It looks as if it was placed years ago in a crotch of the tree or hacked into its trunk, and the tree grew around it, sealing it inside its widening trunk. Or is it a trick, I wondered, with two halves of a sword stuck on either side of a limb to look like it goes through?
Curious to know more, I searched online later to see if anyone had written about a sword in a tree in North Austin and found an article by Mike Cox, complete with a legend about Spanish explorers and hidden gold. In the 2011 article, an unidentified Austinite in his 70s is quoted as saying he saw what looked like an old Spanish sword in a tree near Walnut Creek in the late 1940s, when he was in the 7th or 8th grade. There's also a Reddit thread that mentions rumors of a sword in a tree, although no one seemed to know exactly where it was.
And now Skottie and Jeff have lucked onto it. Putting aside the improbability that it's actually a Spanish sword from the 1700s, it's still got to be pretty old if it was already embedded in the tree back in the 1940s. When I shared the legend with Skottie, he said, "That is wild about the sword tale. Don't I wish there was gold back there. Mostly what we find while digging is burnt foil and glass. I think the sword points to the former owner's garbage burning area." So much for legends, but still, what an interesting thing to find on your property. And imagine the tall tales you could spin yourself!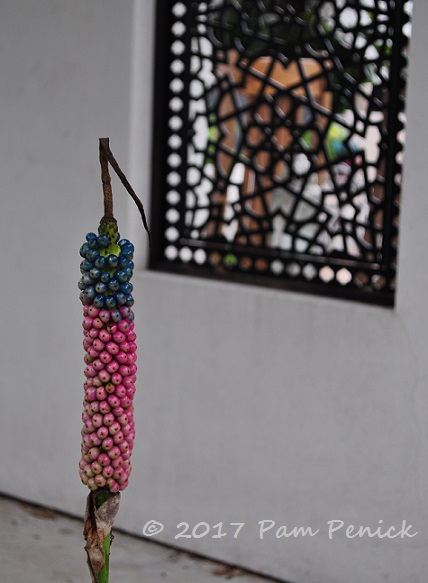 The real treasure to be found here, of course, is the garden that Jeff and Skottie are making, an exotic eden that evokes Morocco and Thailand with a Texas twist.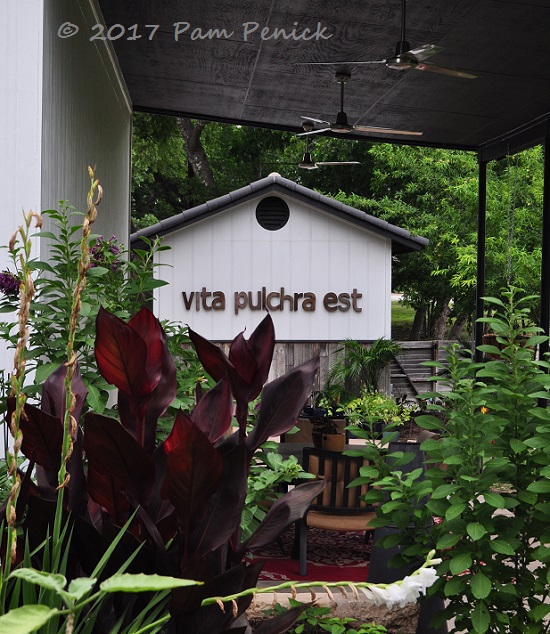 Vita pulchra est, Latin for Life is beautiful, is spelled out on their garden shed, and indeed it is. Thanks for the tour, Skottie and Jeff!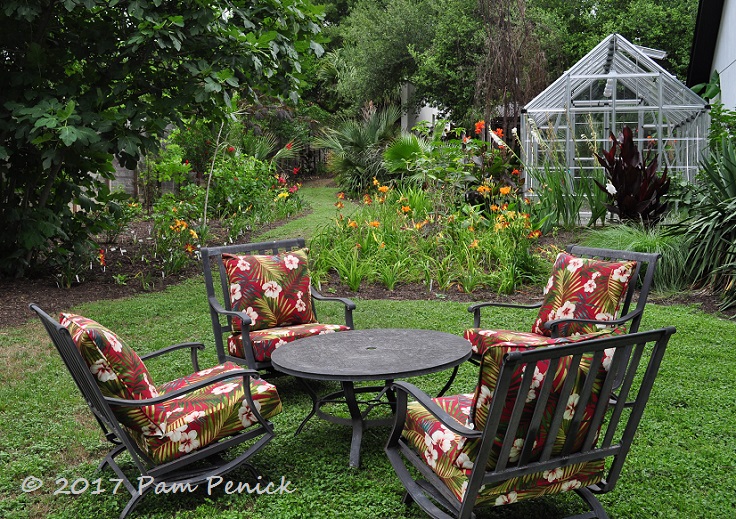 Local readers, if you'd like to see their garden yourself, you can this weekend. Tanglewild Gardens is one of four gardens on the Austin Daylily Society's free tour this Sunday, May 28, from 10 am to 2 pm. You might also like to follow the Facebook page for Tanglewild Gardens.
I welcome your comments; please scroll to the end of this post to leave one. If you're reading this in a subscription email, click here to visit Digging and find the comment box at the end of each post.
_______________________
Digging Deeper: News and Upcoming Events
The Austin Daylily Society will host a free garden tour on Sunday, May 28, from 10 am to 2 pm. Four private gardens featuring lots of daylilies will be open to the public, including Tanglewild Gardens and Tom Ellison's lovely Tarrytown garden.
Calling all pond lovers! The Austin Pond & Garden Tour is coming up June 3rd (North Austin ponds and night pond) and 4th (South Austin ponds). Tickets, which are $20, can be purchased online and include entry to all 20 ponds.
Get on the mailing list for Garden Spark Talks. Inspired by the idea of house concerts, I'm hosting a series of garden talks by talented designers and authors out of my home. Talks are limited-attendance events and generally sell out within just a few days, so join the Garden Spark email list for early notifications. Simply click this link and ask to be added.
All material © 2006-2017 by Pam Penick for Digging. Unauthorized reproduction prohibited.
posted in
Arbors
,
Bamboo
,
Containers
,
Daylily
,
Decor
,
Doors
,
Fences
,
Firepits
,
Fountains
,
Garden art
,
Garden structures
,
Garden tours 2017
,
Grasses
,
Greenhouses
,
Lighting
,
Palms/Cycads
,
Paths
,
Patios & decks
,
Porch
,
Rivers & creeks
,
Sculpture
,
Seating
,
Sheds
,
Signs
,
Swimming pools
,
Trees
,
Tropicals
,
Walls
,
Water features
,
Windows