May 17th, 2017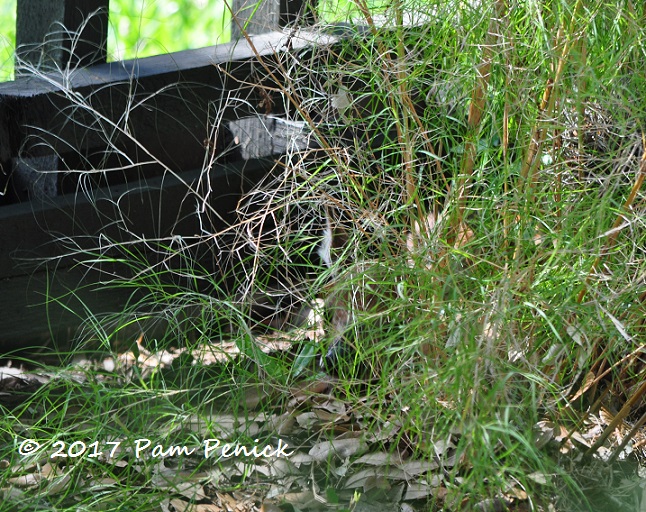 While I was turning off a hose Monday, water dribbled into a thick stand of inland sea oats, and something moved among the grasses. I saw a small head and thought, cat. Having endured a year of a neighbor's cat using my gravel path as a toilet, I'm not kindly disposed to cats in my garden, so I squirted it again, trying to shoo it out.
A fawn, surely no more than a day old, emerged on wobbly legs, its spotted coat dripping. Dismay washed over me, and I froze and anxiously watched to see what it would do. It walked a few steps across a path and wedged itself between the lattice fence and a bamboo muhly grass, lying on a bed of live oak leaves that camouflaged it well.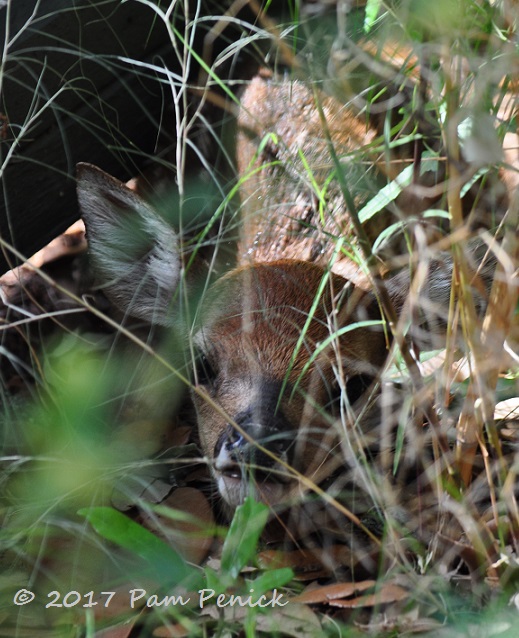 I backed away quietly and left the area to give it time to settle down again. A little while later I walked cautiously back around to see if it was still there. It was doing what fawns do: lying completely still in the hope that I couldn't see it.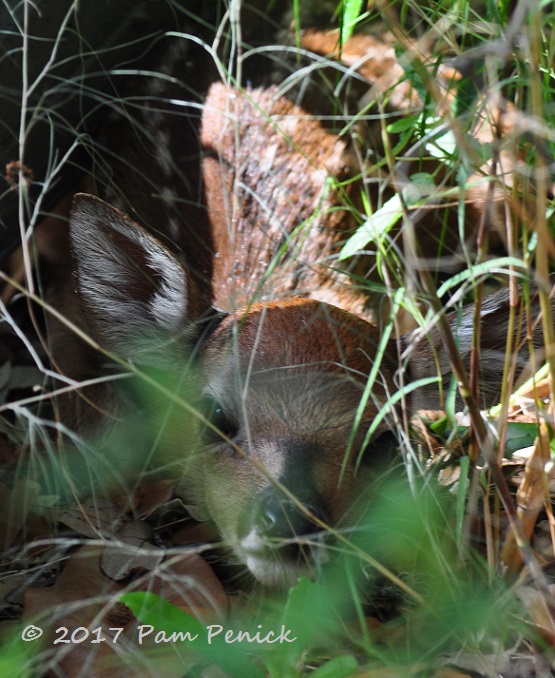 I shot a few pics with my telephoto lens, giving him plenty of space. What a sweet face. He stayed put, waiting for mama to return, until late that afternoon.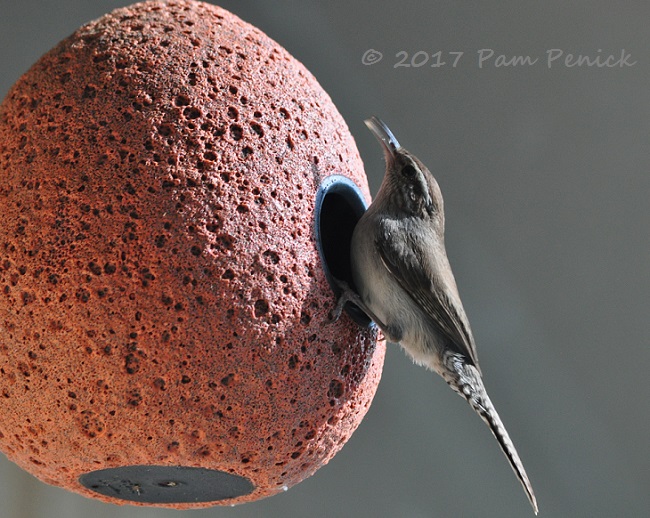 Other newborns are making their presence known too. Wren chicks are peeping for regular meals in this birdhouse that hangs outside my office window.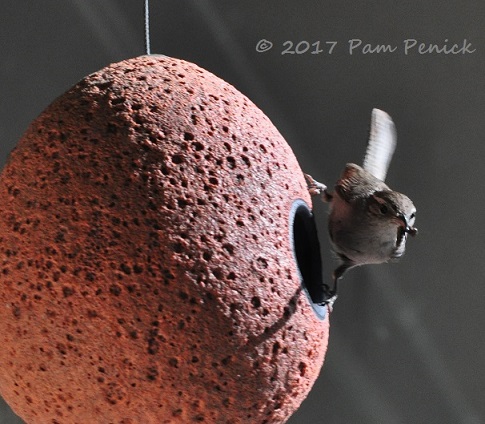 Over the past week, Mama and Papa Wren have been darting in with a steady supply of insects and larvae for their hungry chicks.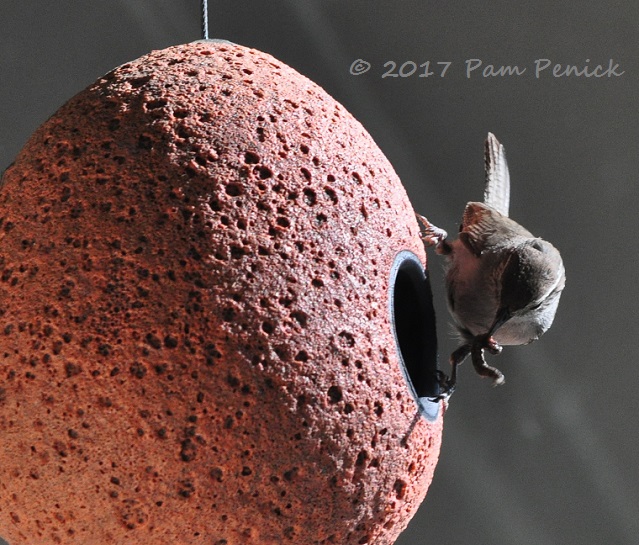 Yummy!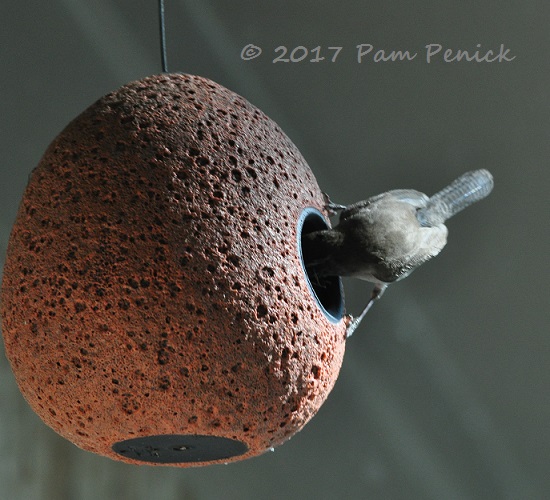 Who's first?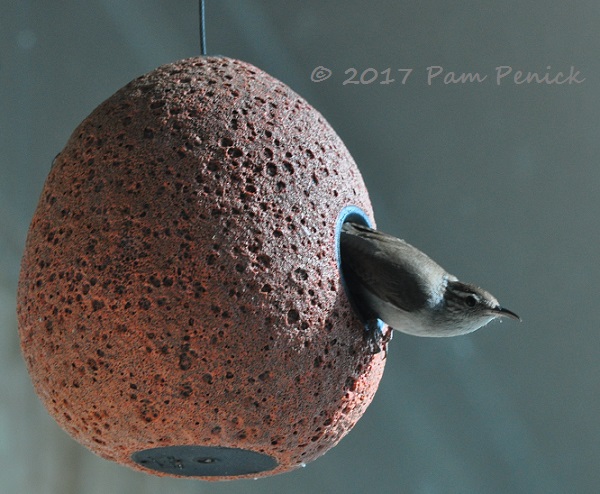 Time for another grocery run.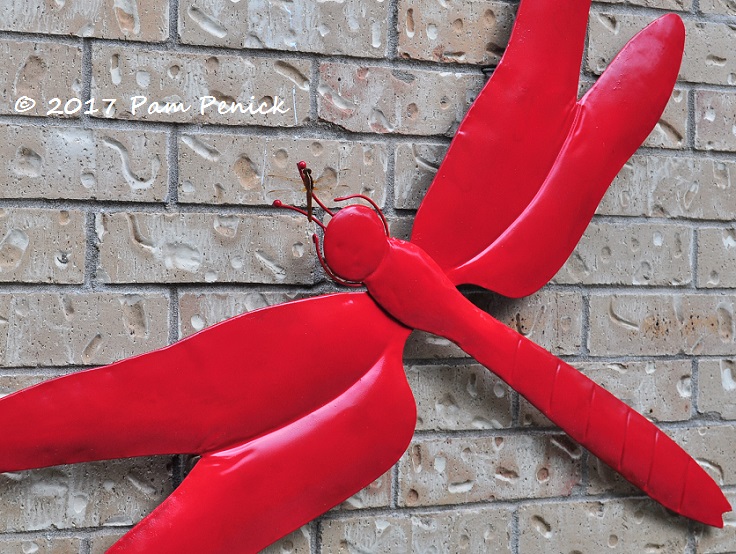 Finally, I got a kick out of this sight a few days ago: a dragonfly resting on my metal dragonfly.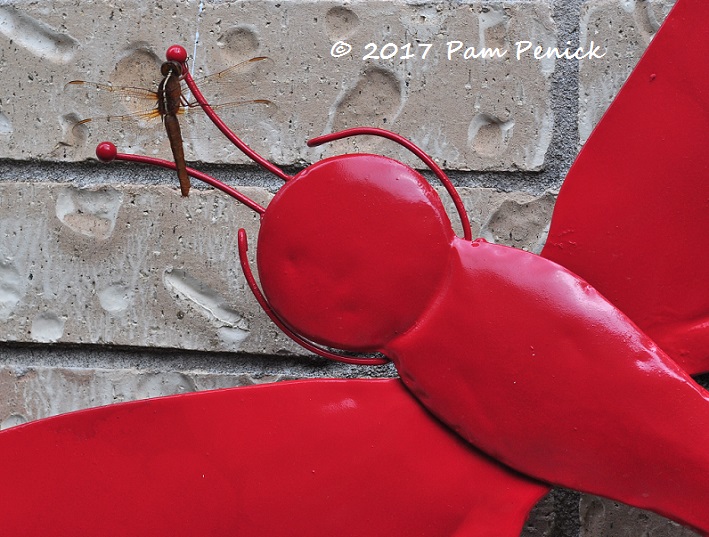 Life imitating art! (Except a dragonfly doesn't actually have long antennae like a butterfly.)
Are you watching any wildlife activity in your garden this spring?
I welcome your comments; please scroll to the end of this post to leave one. If you're reading this in a subscription email, click here to visit Digging and find the comment box at the end of each post.
_______________________
Digging Deeper: News and Upcoming Events
The Austin Daylily Society will host a free garden tour on Sunday, May 28, from 10 am to 2 pm. Four private gardens featuring lots of daylilies will be open to the public, including Tom Ellison's lovely Tarrytown garden.
Get on the mailing list for Garden Spark Talks. Inspired by the idea of house concerts — performances in private homes, which support musicians and give a small audience an up-close and personal musical experience — I'm hosting a series of garden talks by design speakers out of my home. Talks are limited-attendance events and generally sell out within just a few days, so join the Garden Spark email list for early notifications. Simply click this link and ask to be added.
All material © 2006-2017 by Pam Penick for Digging. Unauthorized reproduction prohibited.