May 8th, 2017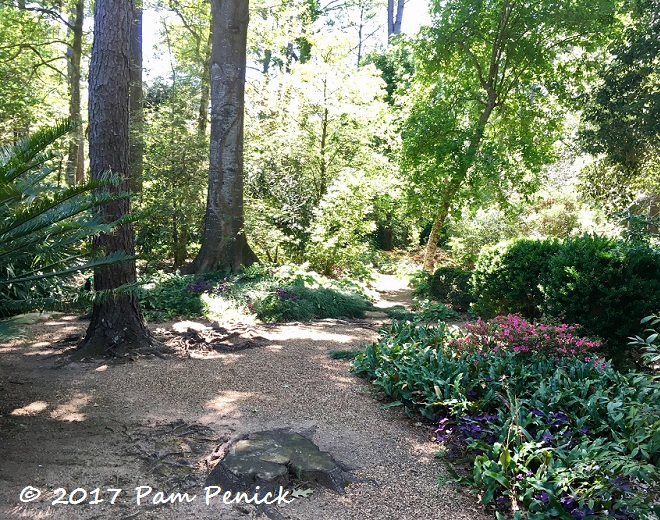 Heading east through pine country toward Hempstead, Texas, I arrived after a couple of hours on the road at Peckerwood Garden last Saturday. The draw, aside from a chance to see this beautiful 45-year-old garden again, was to hear its creator, John Fairey, talk about it in conversation with Houston landscape architect Keiji Asakura.
Part of The Cultural Landscape Foundation's Garden Dialogues series, this was my second Garden Dialogues (and third CLF event), and I find them valuable for a chance to hear about design directly from garden creators including landscape architects, designers, artists, and self-taught master gardeners like John Fairey.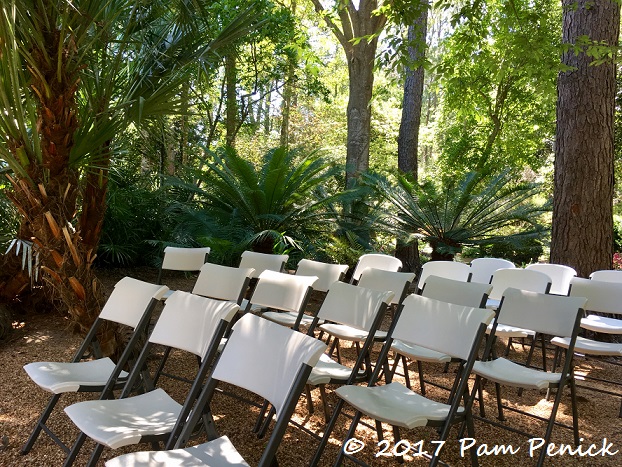 As I took my seat (wow, what a stunning location for a garden talk, right?) and read the brochure for the event, I was startled and pleased to see that I was quoted in it — anonymously, but still! The quote came from my 2012 article about John Fairey for Garden Design magazine:
"John has expanded the palette of plants for gardeners in the South, Southeast, and Texas," says [Bill Noble, director of The Garden Conservancy]. "His garden has a lot to teach." After a lifetime of teaching, Fairey remains himself an eager learner, continually experimenting with plants and treating his garden as an artist's canvas on which he paints with light, foliage, and even the wind.
How about that!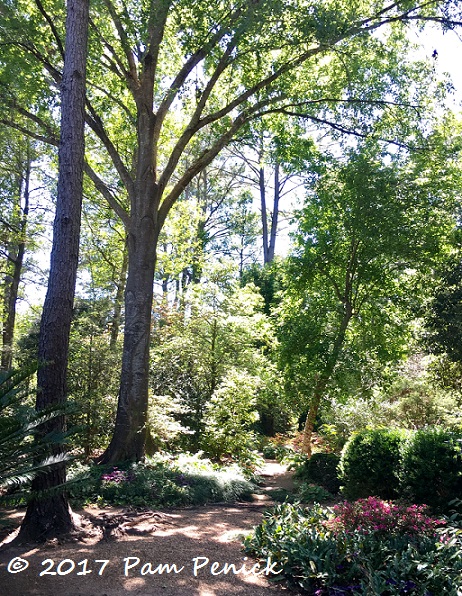 The garden that afternoon was indeed painted with light.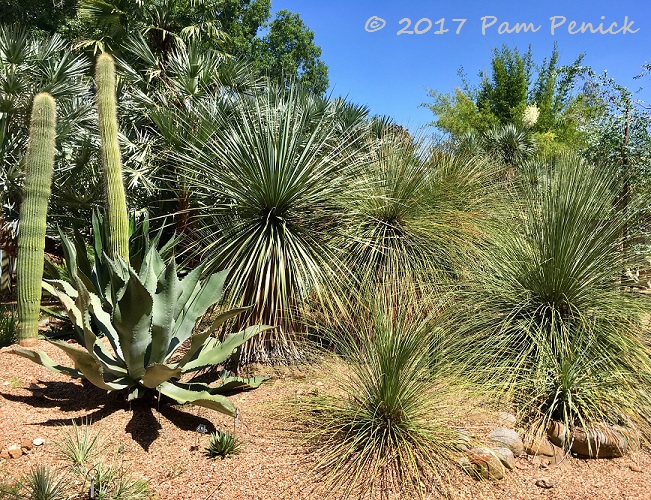 And although there wasn't much wind, a congregation of filament-foliaged Mexican grass trees (Dasylirion longissimum) gently shimmied as air currents caressed them.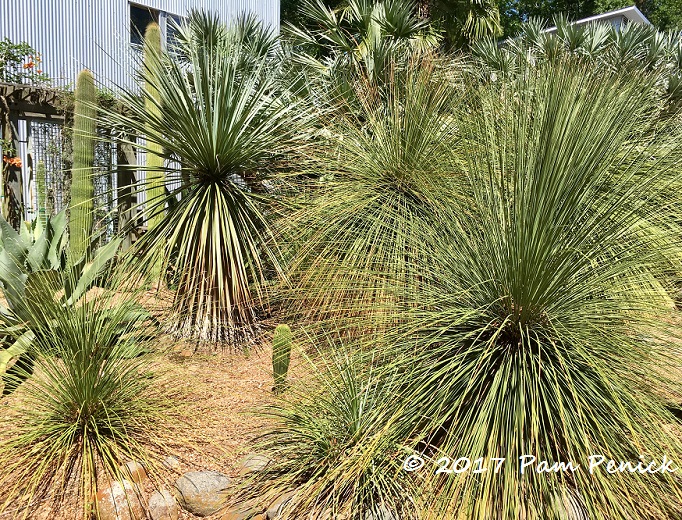 Painting with wind and foliage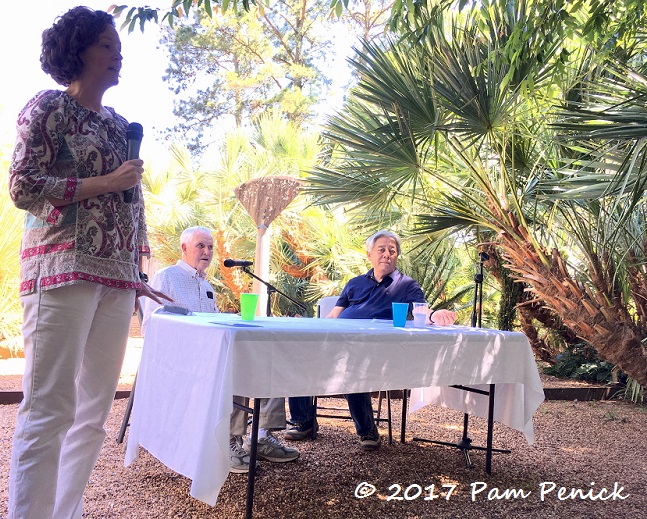 Sarah Newbery, Peckerwood's foundation board president, introduced Mr. Fairey and his interviewer, Mr. Asakura.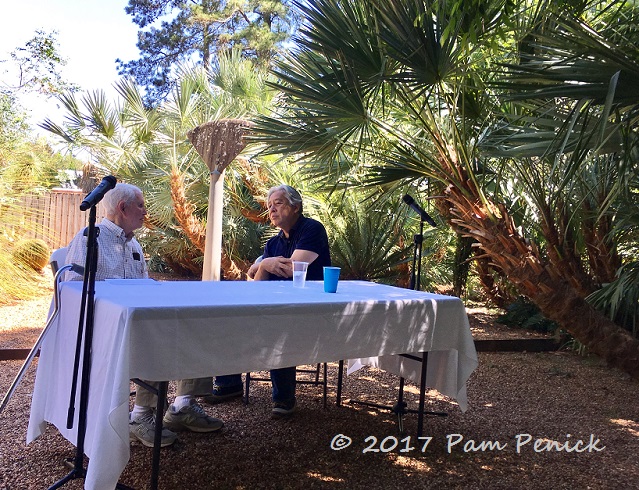 For the next hour or so, they conversed about how the garden came to be, the plant collections, lessons learned, and Mr. Fairey's plant-hunting expeditions. I'd heard some of the stories before, but others were new, and it was wonderful to be part of an intimate group of keenly interested garden lovers from Houston, Dallas/Fort Worth, Austin, and other cities who'd come to listen and learn and pay homage to a man who's done so much to advance our knowledge about rare plants and gardening in Texas.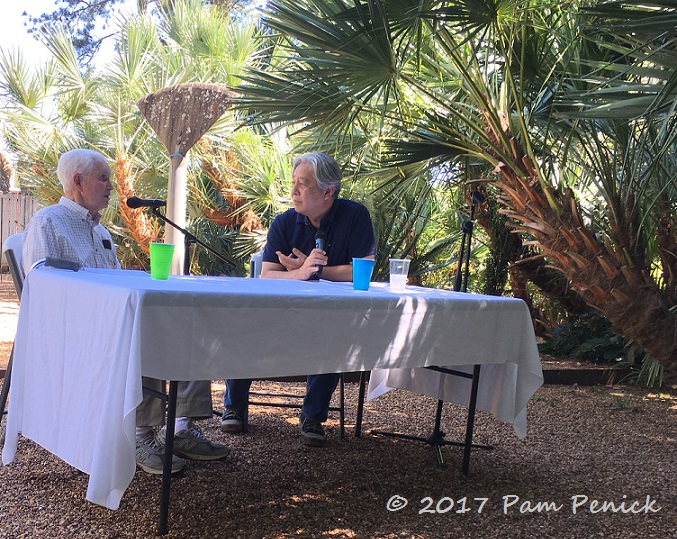 I took a few notes on my phone:
Mahonia is Mr. Fairey's favorite plant collection. He'd like a better collection of cycads.
The light, mystery, magic of the garden — that's what he wants visitors to appreciate.
His number-one design advice: start with your inside views and design outward from that. Number two: consider positive and negative space when planting trees and shrubs in order to create rooms and define spaces within the garden.
Visit Edward James's garden Las Pozas in Xilitla, Mexico. It's all about space. Also, go visit the ethnobotanical garden in Oaxaca, Jardín Etnobotánico de Oaxaca — "one of the great gardens of the world."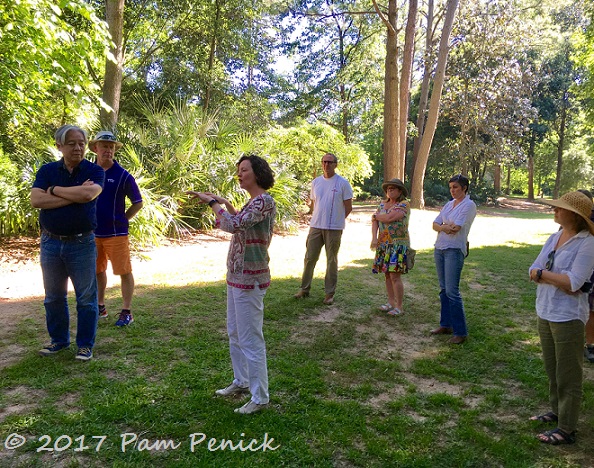 After the conversation and questions from the audience, we were invited to walk through the garden. Sarah Newbery pointed out plants and features and gave us more of the history of the garden.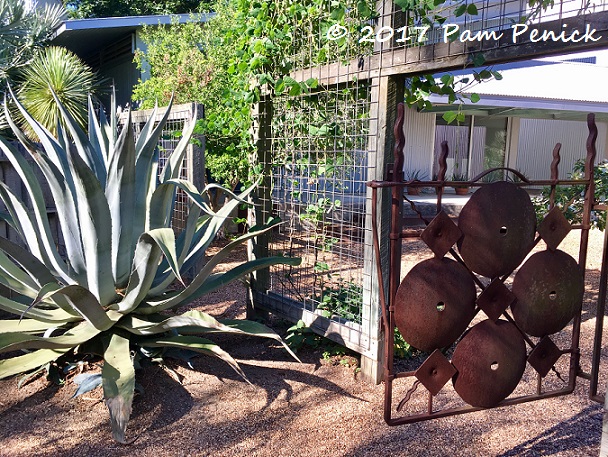 As I strolled along I struck up conversations with other attendees and met such interesting people as Carolyn Kelley, one of the landscape architects who designed the plaza and gardens at Austin City Hall (for my post about the City Hall gardens, click and scroll halfway down). I also met designer Richard Hartman of The Plant People in Fort Worth and Adam Black, Peckerwood's lion-maned director of horticulture.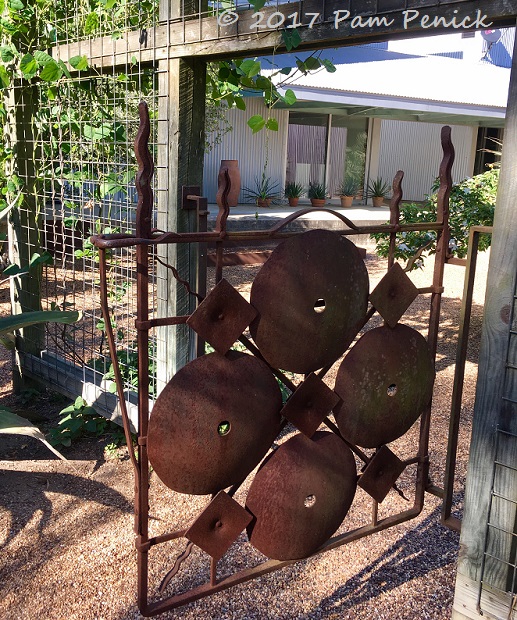 A gate constructed out of plow discs, with a wood-and-wire trellis fence and arbor screening John Fairey's private residence from the larger garden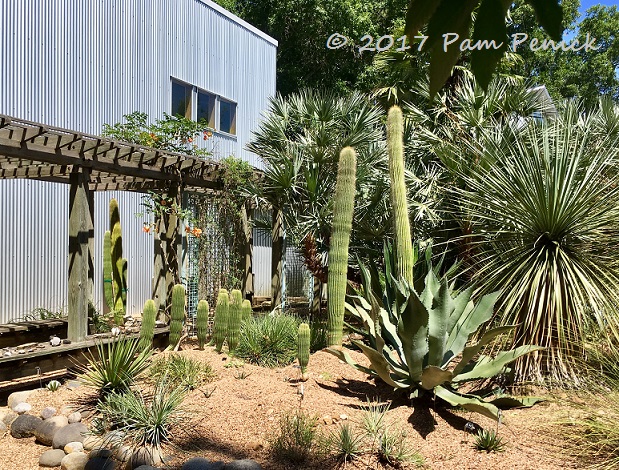 The dry garden near Mr. Fairey's house is one of my favorite areas, with a kaleidoscope of bold form and texture. The vertical pleats of the tall cacti (and who knew these would grow in southeast Texas?!) echo the vertical lines of the home's steel siding.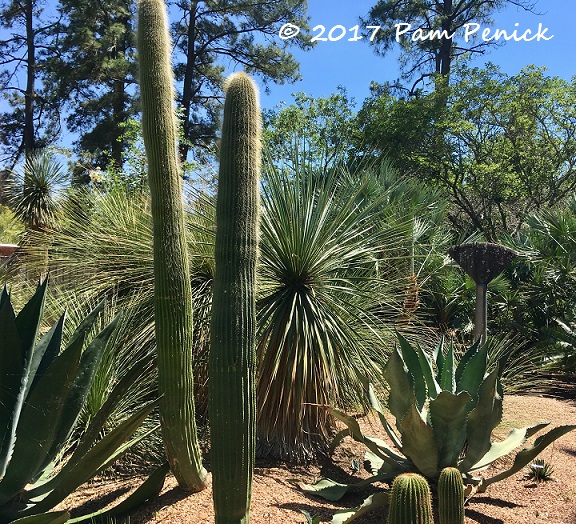 Abstract sculptures reside in the garden too, like this wedge-shaped vertical piece holding its own amid bold-leaved palms and agaves.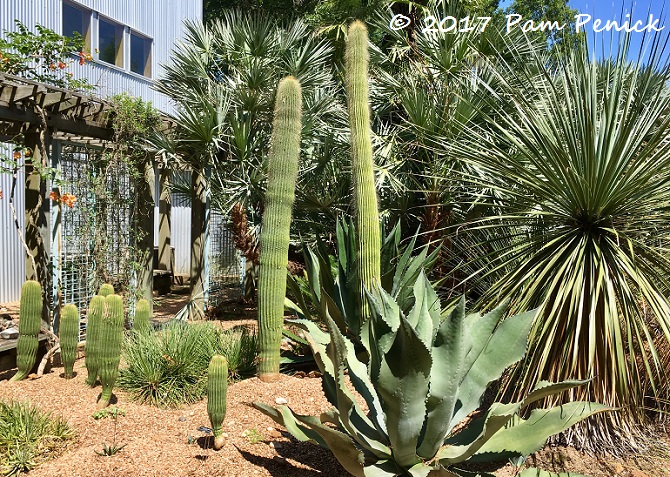 One more look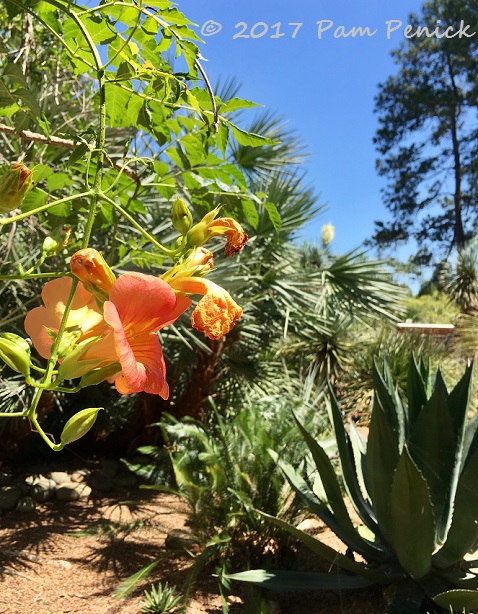 Thanks for another great visit, Peckerwood, and for another interesting garden discussion from The Cultural Landscape Foundation.
I welcome your comments; please scroll to the end of this post to leave one. If you're reading this in a subscription email, click here to visit Digging and find the comment box at the end of each post.
_______________________
Digging Deeper: News and Upcoming Events
The Austin Daylily Society is organizing a free garden tour on Sunday, May 28, from 10 am to 2 pm. Four private gardens featuring lots of daylilies will be open to the public, including Tom Ellison's lovely Tarrytown garden.
Get on the mailing list for Garden Spark Talks. Inspired by the idea of house concerts — performances in private homes, which support musicians and give a small audience an up-close and personal musical experience — I'm hosting a series of garden talks by design speakers out of my home. Talks are limited-attendance events and generally sell out within just a few days, so join the Garden Spark email list for early notifications. Simply click this link and ask to be added.
posted in
Agaves
,
Arbors
,
Botanic/Public Gardens
,
Cactus
,
Design
,
Fences
,
Garden art
,
Garden tours 2017
,
Gates
,
Palms/Cycads
,
Paths
,
People
,
Sculpture
,
Seating
,
Speaking events
,
Travel
,
Trees
,
Trellis
,
Vines
,
Xeric plants
,
Yuccas