May 3rd, 2017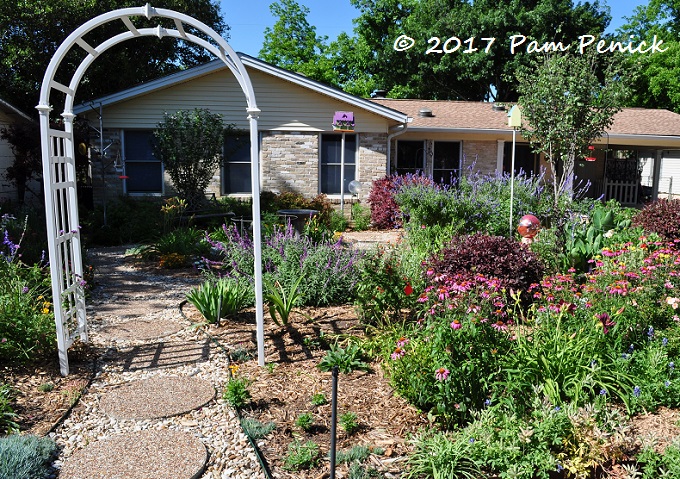 Ever get the hankering to have two different styles of gardens at once? Daphne Jeffers — whose east Austin garden will be on the Inside Austin Gardens Tour this Saturday, May 6 — made it happen, with a flowery cottage garden out front and, in a surprising change of pace, a Zen garden out back.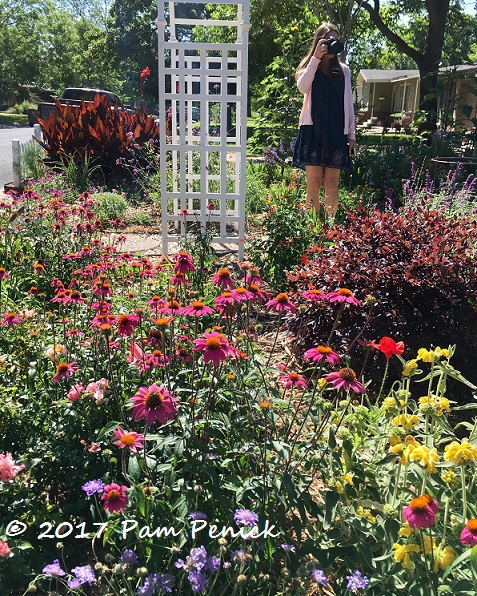 Along the street, her riotously colorful garden is a gift to the neighbors and to pollinators.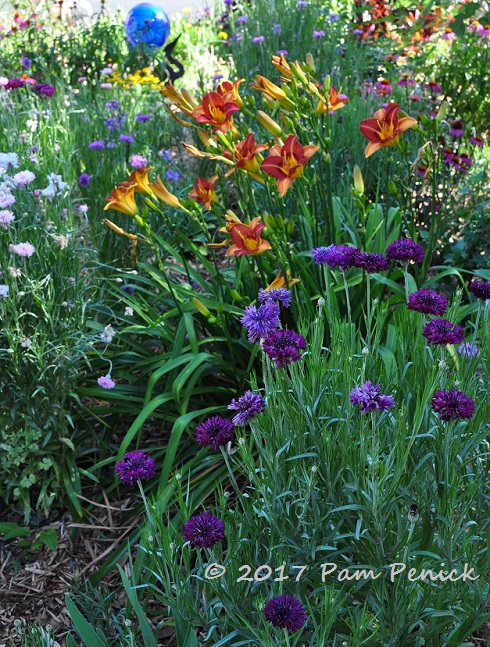 Daylilies add rich color amid purple- and pink-flowering perennials.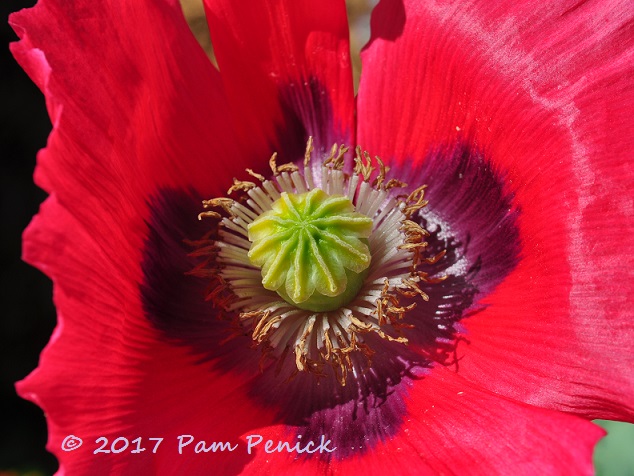 A few poppies were still blooming.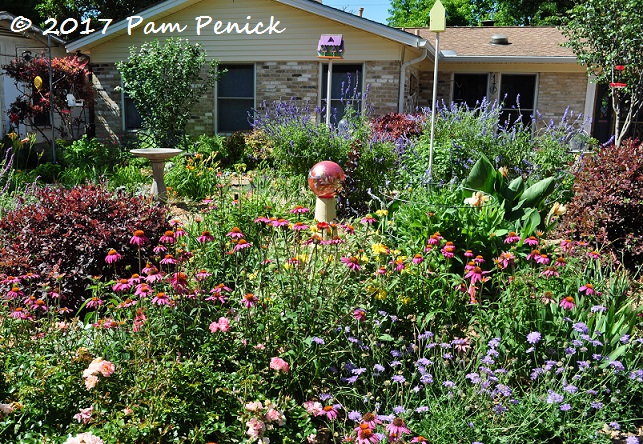 I bet there are excellent butterfly- and hummingbird-watching opportunities here.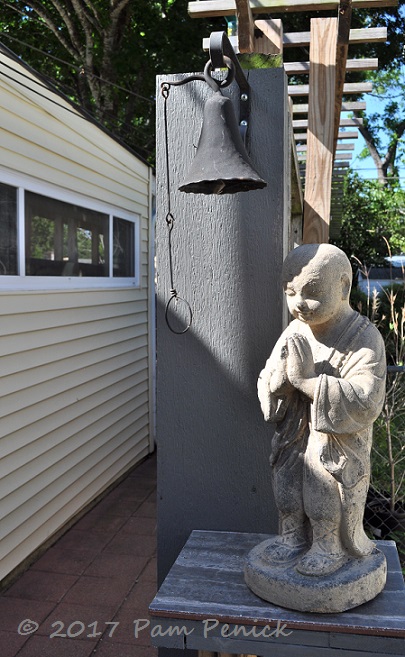 Head around back via a side-yard gate, and the colors become calmer and a contemplative mood prevails.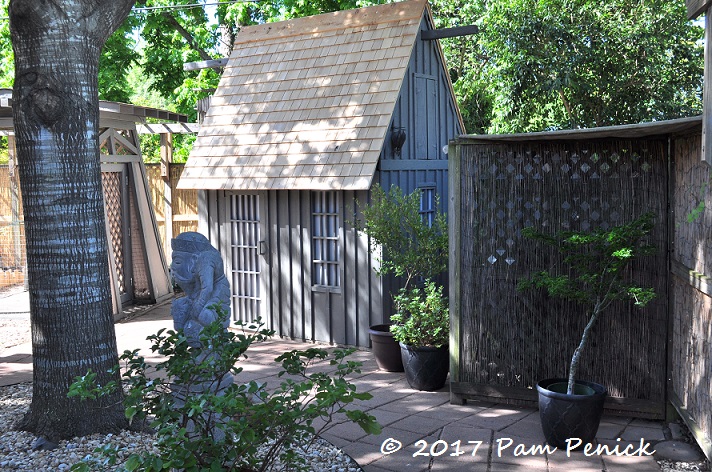 What a surprise! Bamboo fencing, an Asian-style shed, and clipped greenery introduce a meditative Japanese-style garden.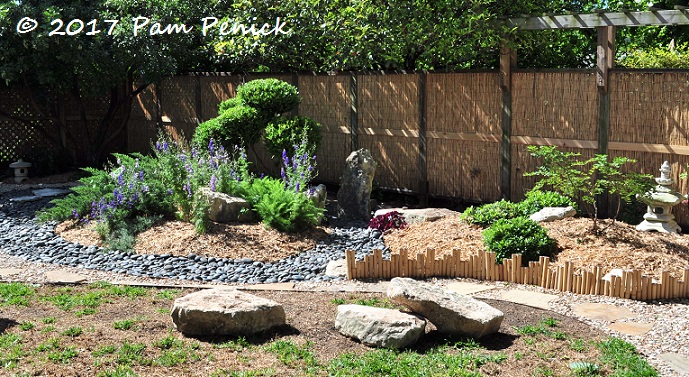 A gravel path leads around a small lawn to bermed planting beds with junipers, stones, and dry stream of Mexican beach pebbles.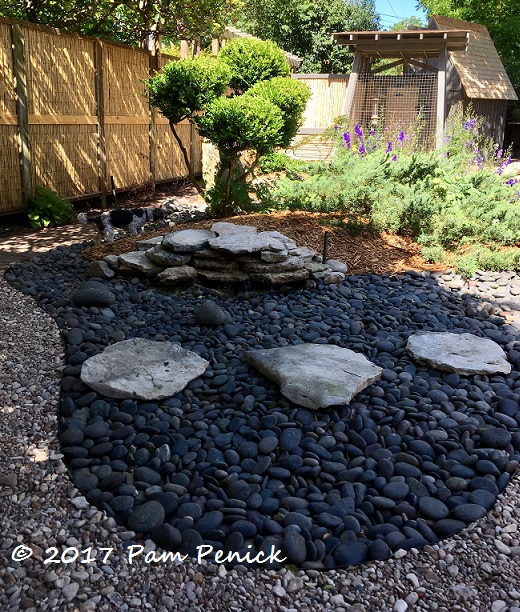 From a bench tucked in a back corner, you enjoy a small waterfall trickling over limestone rocks into the pebble "pool."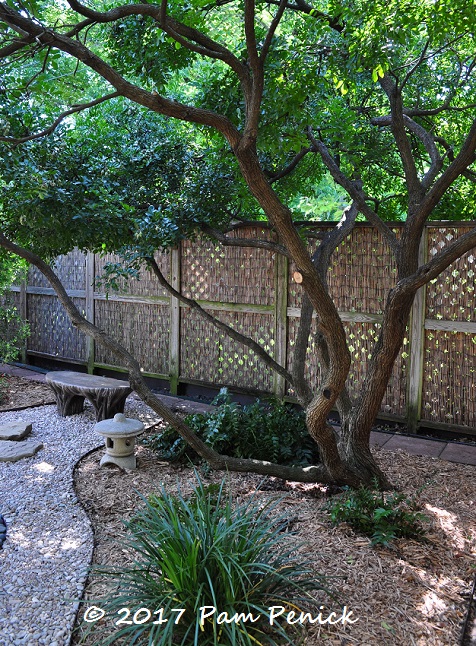 Native Texas mountain laurel has been carefully pruned for sculptural effect.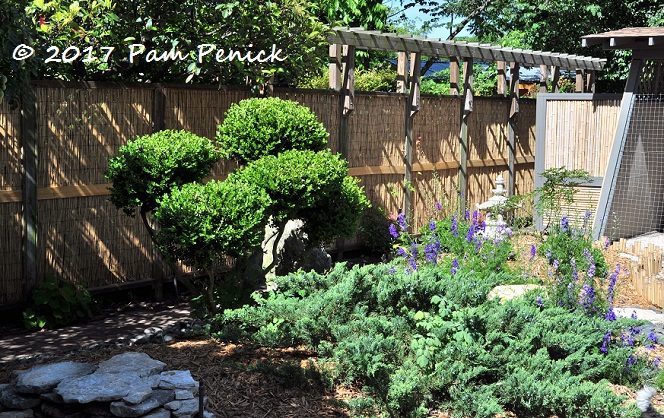 I especially admired the effect of the bamboo fencing in enhancing the Zen garden mood.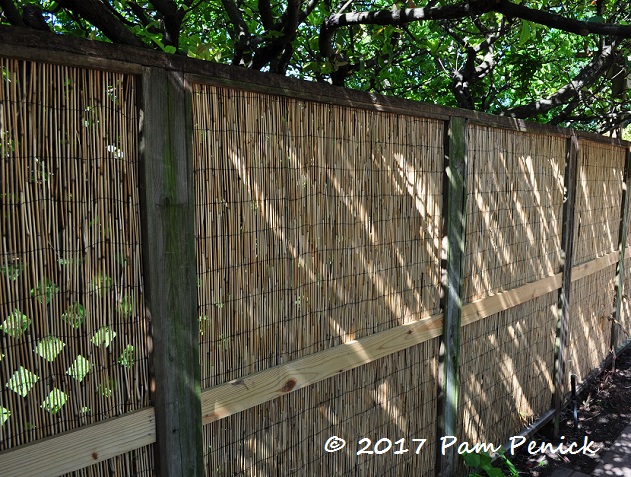 It appears to be made of rolled bamboo screening laid against a frame of lattice attached to an existing chain-link fence. Wooden framing supports it and gives a finished look.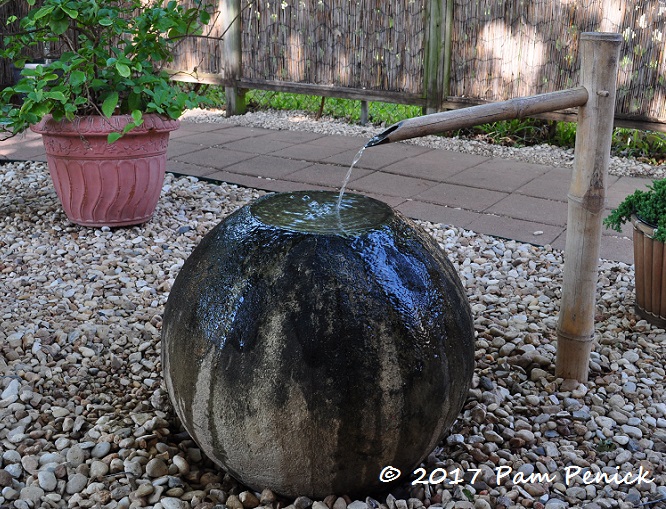 Near the back porch, a spherical stone basin accepts a trickle of water from a bamboo fountain.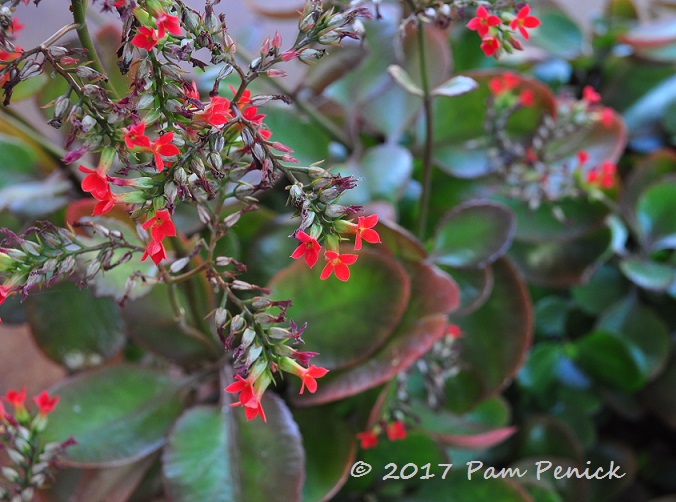 Daphne's shady back porch, accented with potted succulents…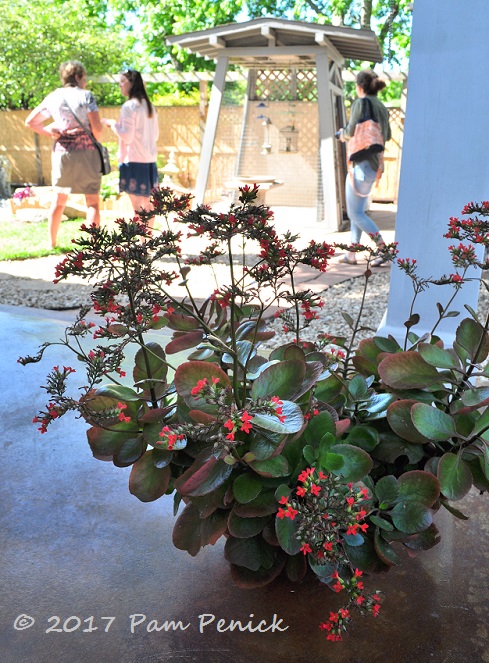 …is the perfect spot to enjoy the scene, which includes an Asian-style screened structure protecting a collection of bird feeders from squirrels and pigeons. Smaller birds can fit through the screen holes in order to feed.
Up next: Scenes from three more gardens on the tour, ranging from suburban to country farm. For a look back at Shari Bauer's whimsical found-art garden, click here.
I welcome your comments; please scroll to the end of this post to leave one. If you're reading this in a subscription email, click here to visit Digging and find the comment box at the end of each post.
_______________________
Digging Deeper: News and Upcoming Events
Mark your calendar for the Inside Austin Gardens Tour on May 6, sponsored by Travis County Master Gardeners. This fun garden tour occurs every 18 months and features a mix of homegrown gardens "for gardeners, by gardeners," as their tagline says.
Get on the mailing list for Garden Spark Talks. Inspired by the idea of house concerts — performances in private homes, which support musicians and give a small audience an up-close and personal musical experience — I'm hosting a series of garden talks by design speakers out of my home. Talks are limited-attendance events and generally sell out within just a few days, so join the Garden Spark email list for early notifications. Simply click this link and ask to be added.
posted in
Arbors
,
Bamboo
,
Containers
,
Daylily
,
Decor
,
Fences
,
Flowers
,
Fountains
,
Garden art
,
Garden tours 2017
,
Paths
,
Pruning
,
Sheds
,
Shrubs
,
Trees
,
Water features