April 30th, 2017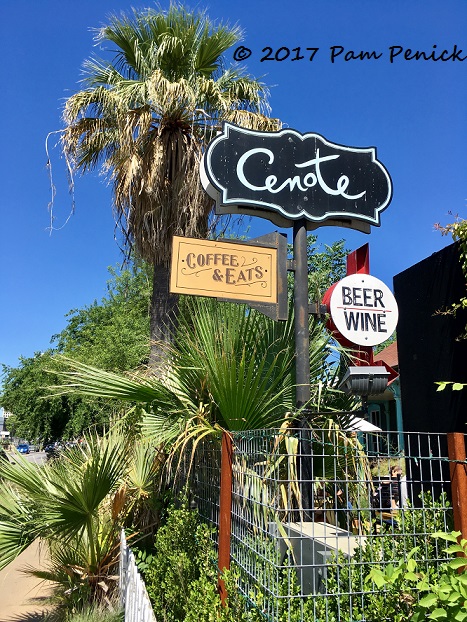 I'd like to be under the sea, in an octopus's garden in the shade. And so we were, one recent Sunday morning, on the lovely patio of Cenote cafe in east Austin.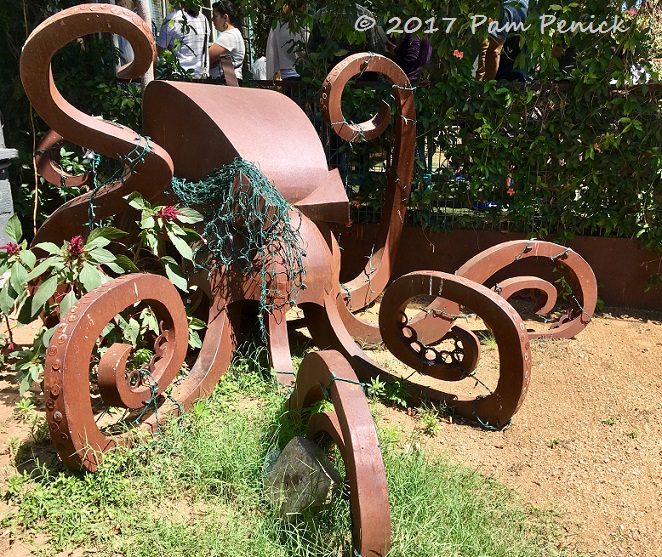 A fierce metal octopus by 20 Digit Design holds court near the door, tangled in a net-like strand of twinkle lights.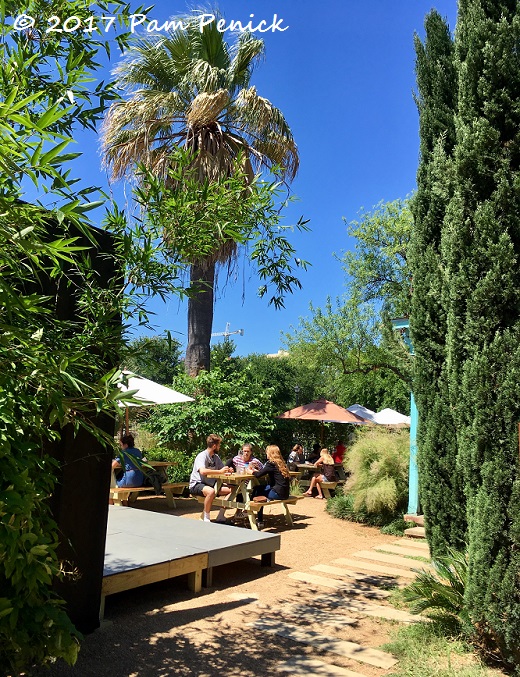 Picnic tables on an expansive decomposed-granite patio offer plenty of outdoor seating, but it's really the lush screening of palm, bamboo, Italian cypress, bamboo muhly, and star jasmine that makes this space so appealing.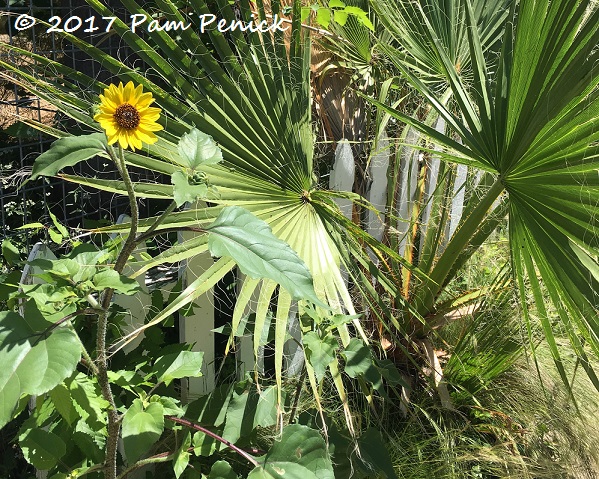 Along the sidewalk, planted along a beachy picket fence, palmettos, sunflowers, and grasses entice you in.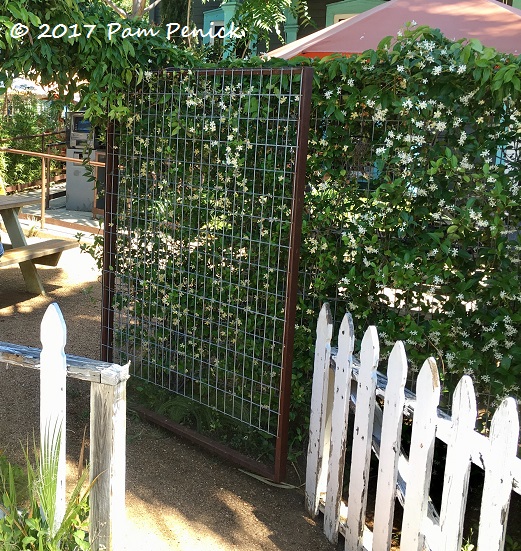 A steel-and-wire arbor smothered in fragrant star jasmine welcomes you and screens diners from the busy street just outside. What a great place to enjoy a beautiful spring day.
He'd let us in, knows where we've been, in his octopus's garden in the shade. –The Beatles (of course)
I welcome your comments; please scroll to the end of this post to leave one. If you're reading this in a subscription email, click here to visit Digging and find the comment box at the end of each post.
_______________________
Digging Deeper: News and Upcoming Events
Mark your calendar for the Inside Austin Gardens Tour on May 6, sponsored by Travis County Master Gardeners. This fun garden tour occurs every 18 months and features a mix of homegrown gardens "for gardeners, by gardeners," as their tagline says.
Get on the mailing list for Garden Spark Talks. Inspired by the idea of house concerts — performances in private homes, which support musicians and give a small audience an up-close and personal musical experience — I'm hosting a series of garden talks by design speakers out of my home. Talks are limited-attendance events and generally sell out within just a few days, so join the Garden Spark email list for early notifications. Simply click this link and ask to be added.
posted in
Fences
,
Garden art
,
Gates
,
Grasses
,
Keep Austin Weird
,
Palms/Cycads
,
Patios & decks
,
Restaurants
,
Sculpture
,
Seating
,
Signs
,
Trees
,
Trellis
,
Vines