April 8th, 2017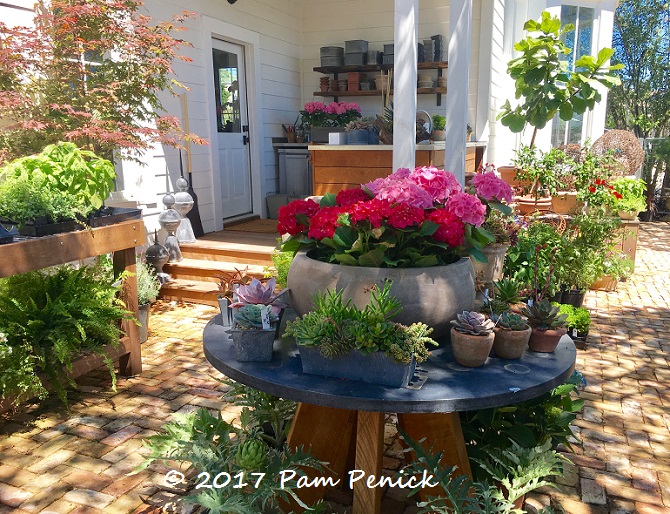 Seven years after the shuttering of Gardens, a boutique nursery and home-and-garden shop on W. 35th Street, Central Austin has a new contender for the high-end gardening market: Thompson+Hanson, an Austin branch of the longtime T+H in Houston's River Oaks.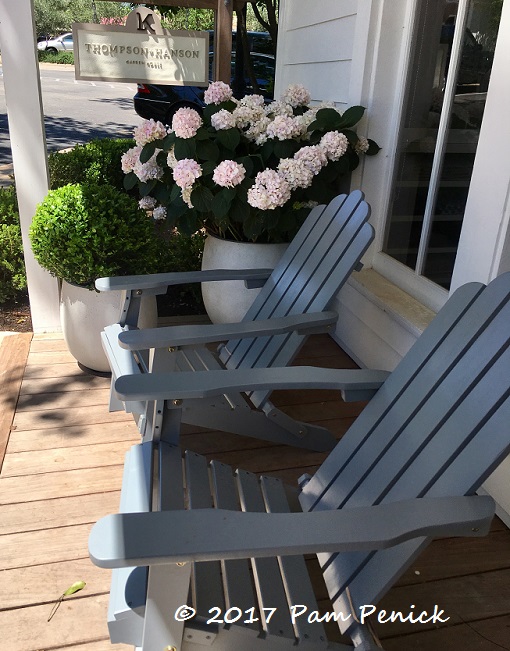 Austin's Thompson+Hanson is located just off W. 35th Street in the newly remodeled Kerbey Lane Village, a collection of charmingly modernized, white-painted bungalows.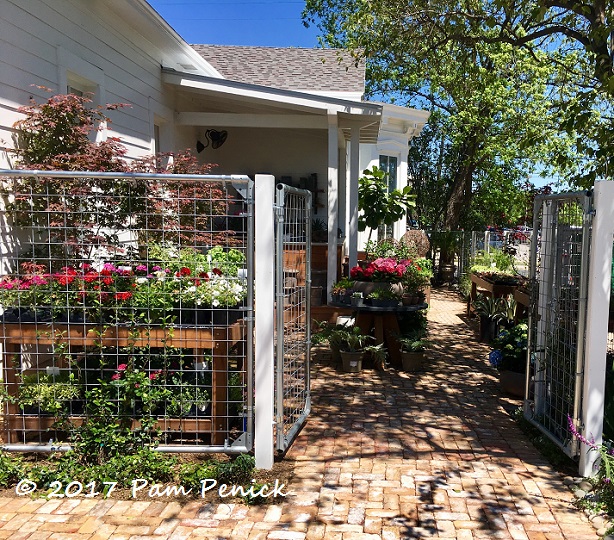 Of course I had to visit the nursery area first. It's very compact, just a handful of tables filled with plants and some potted arrangements.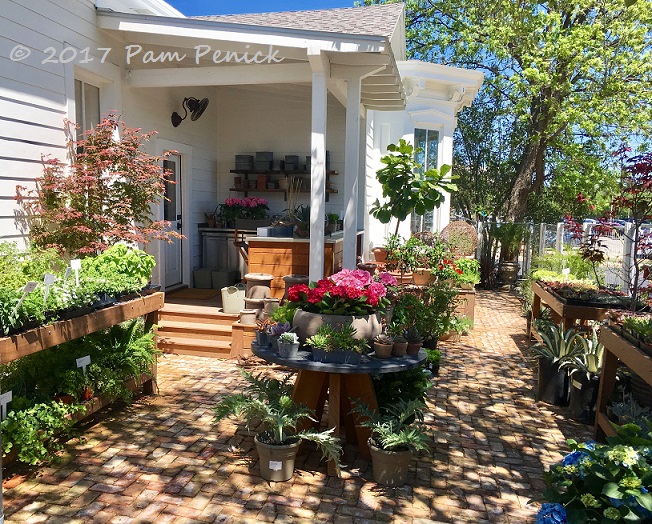 But after all, this is an urban area and space is tight. They're stocked with annual color, some lovely succulents, and a handful of pretty plants suitable for potting up, like ferns, ivies, and hydrangeas.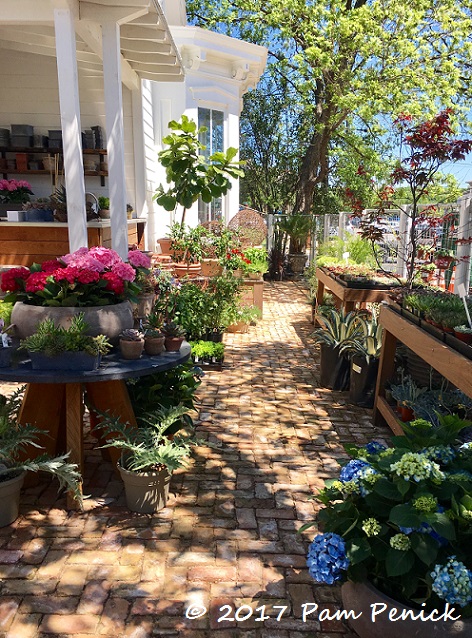 There are also a few surprises for such a small nursery, like artichoke (or cardoon — I never can tell them apart).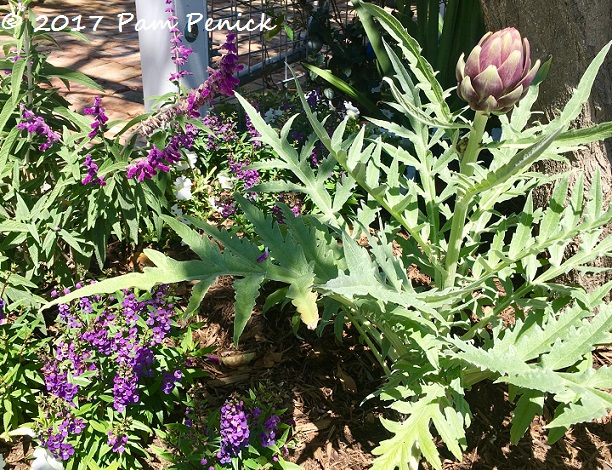 Artichoke is even growing in a tiny garden bed just off the parking lot.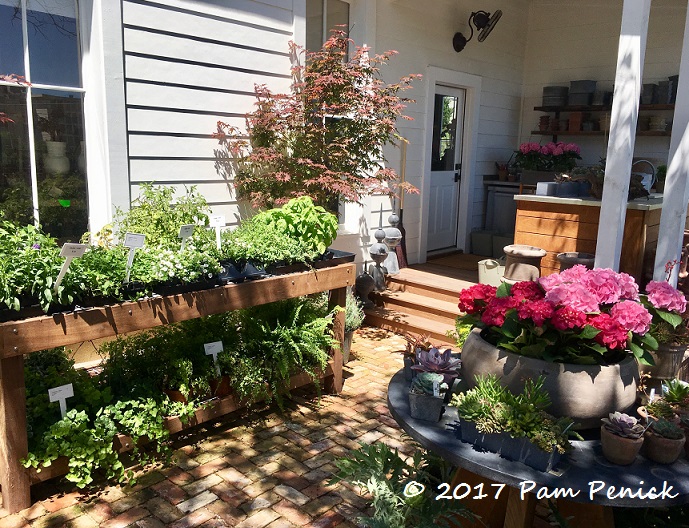 A small side porch has been outfitted with a potting bar.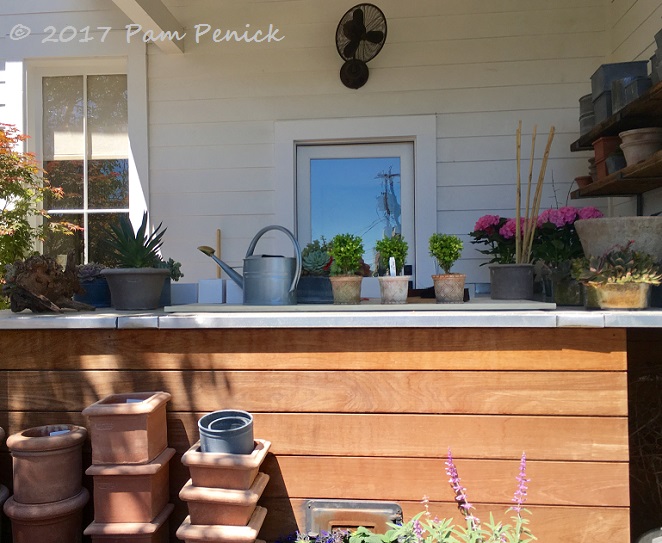 I wonder if they plan to do demonstrations here?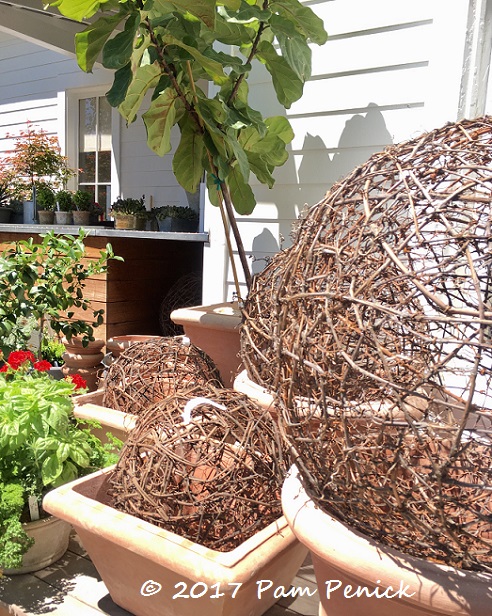 Garden orbs made of chicken wire and grapevines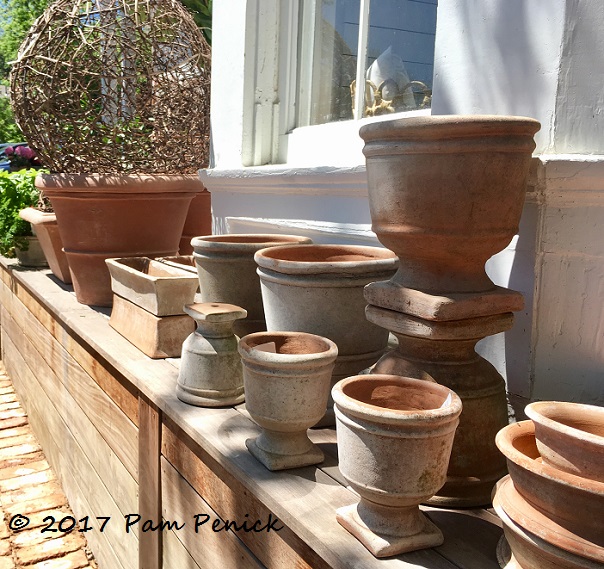 And lovely garden pots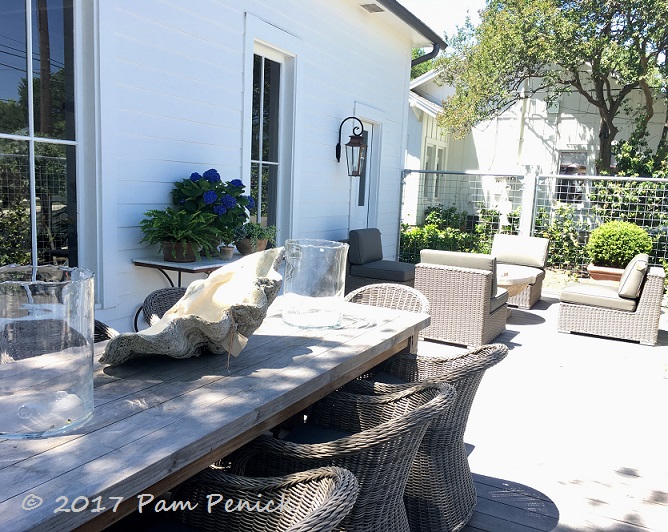 Walking around back, you find a long deck with faux wicker seating — all for sale, I believe.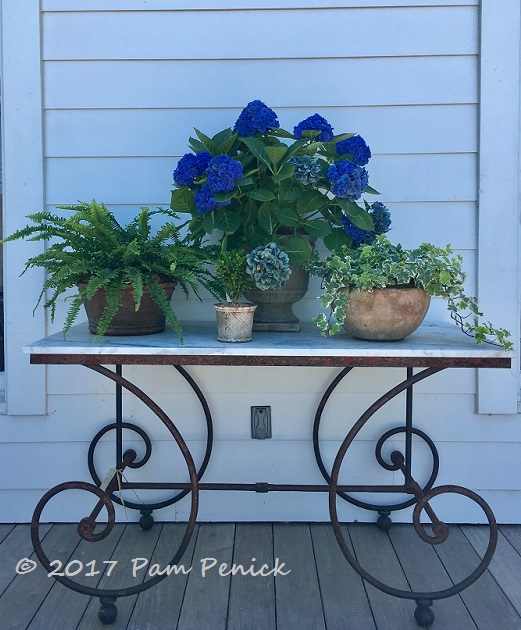 Classic garden decor: a marble-topped table, a blue hydrangea, fern, and ivy.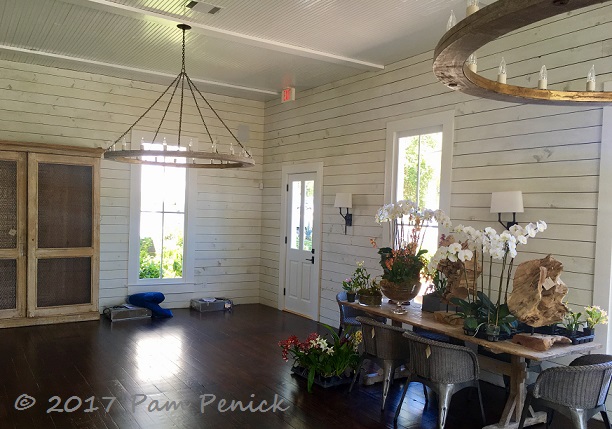 Stepping inside, I found myself in a long, shiplap-walled room with lovely round chandeliers. Will this contain more retail space, I wonder? I should have asked.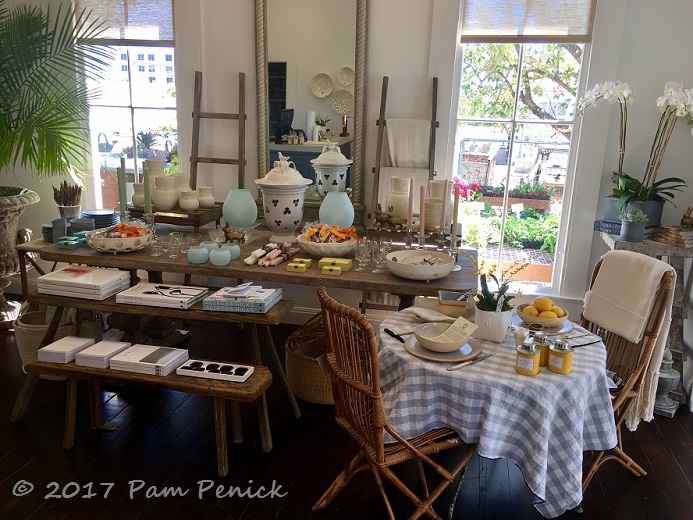 For now, anyway, the home goods are for sale in the front rooms of the shop.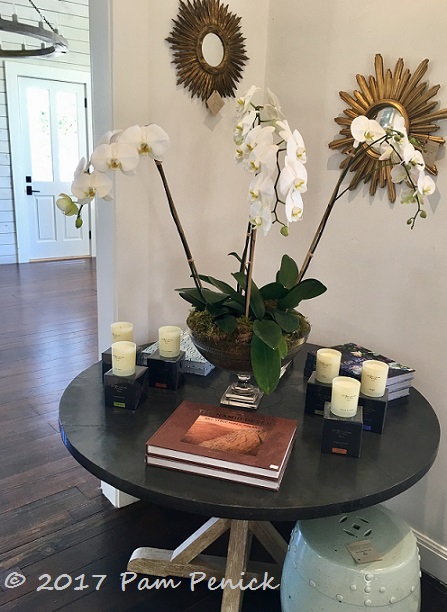 Everything is beautifully displayed.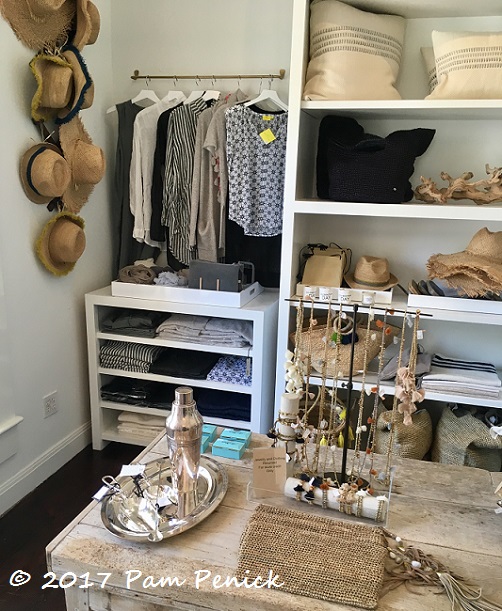 One room showcases natural-fiber clothing, jewelry, and straw hats. I couldn't resist the hats and ended up buying one.

A beautiful orchid brightens a corner.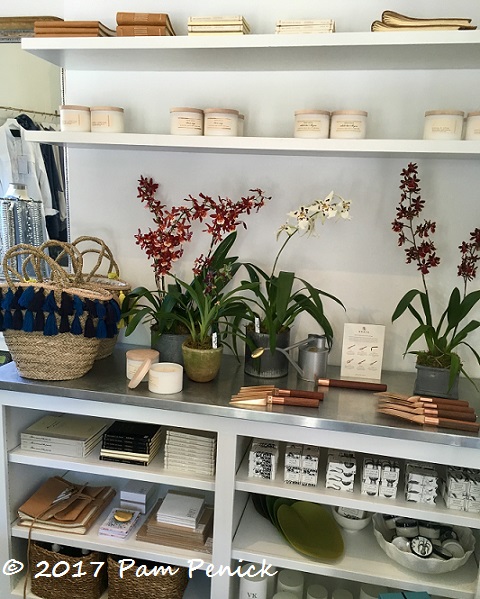 Another pretty display includes more orchids, candles, and straw tote bags adorned with indigo tassels.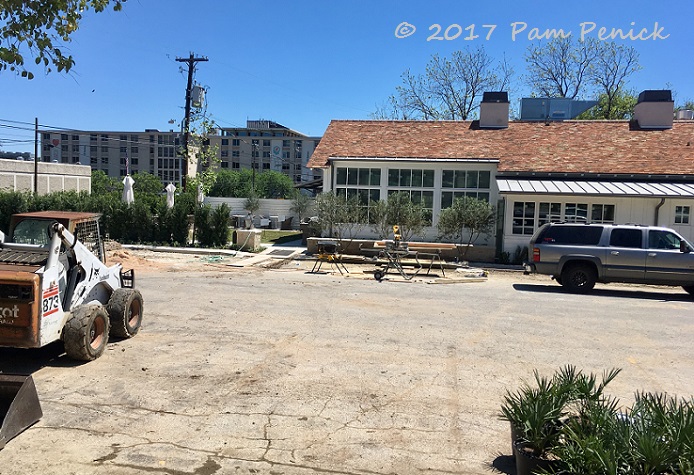 Across the parking lot, a Tiny Boxwoods cafe is going into the old, lemon-yellow (now white) Hill-Bert's building. Tiny Boxwoods at the Houston Thompson+Hanson is hugely popular, especially for weekend brunch, and I'm sure it will prove to be the same here.
I'm delighted to see a new boutique nursery and gift shop arrive in Austin and hope Thompson+Hanson finds Austin to its liking. We're much more casual than Houston, especially compared to the River Oaks area. But the old Austin neighborhoods just south and west of W. 35th Street are full of updated bungalows and traditional homes that seem well suited to the classic garden style of T+H. Plus, we Austinites love to eat out! Now when will they start serving those famous cookies?
I welcome your comments; please scroll to the end of this post to leave one. If you're reading this in a subscription email, click here to visit Digging and find the comment box at the end of each post.
_______________________
Digging Deeper: News and Upcoming Events
Mark your calendar for the Inside Austin Gardens Tour on May 6, sponsored by Travis County Master Gardeners. This fun garden tour occurs every 18 months and features a mix of homegrown gardens "for gardeners, by gardeners," as their tagline says.
Get on the mailing list for Garden Spark Talks. Inspired by the idea of house concerts — performances in private homes, which support musicians and give a small audience an up-close and personal musical experience — I'm hosting a series of garden talks by design speakers out of my home. Talks are limited-attendance events and generally sell out within just a few days, so join the Garden Spark email list for early notifications. Simply click this link and ask to be added.
All material © 2006-2017 by Pam Penick for Digging. Unauthorized reproduction prohibited.
posted in
Annuals
,
Containers
,
Decor
,
Edibles
,
Flowers
,
Garden art
,
Nurseries & Shops
,
Paths
,
Patios & decks
,
Porch
,
Restaurants
,
Seating
,
Shrubs