April 13th, 2017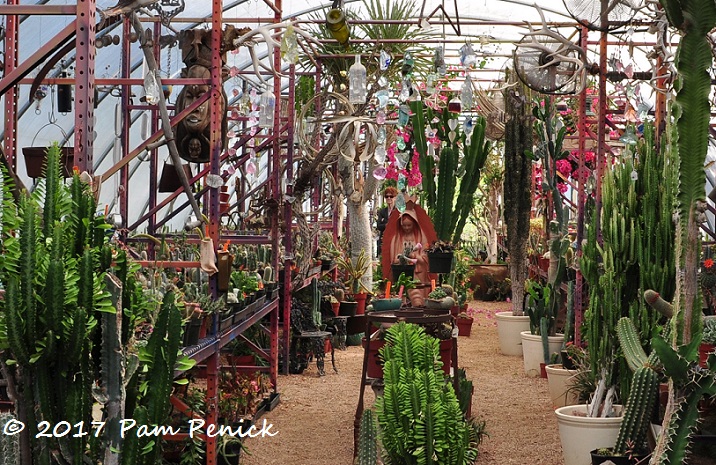 The weird and wonderful, from plants to garden art, can be found at Living Desert Ranch in Spicewood, Texas, about 30 miles northwest of Austin. Part cactus and succulent nursery and part art gallery, Living Desert is the creation of Darrell Dunten, who ran the business for 30 years out of a shop in Bee Caves (see my 2009 post about it). About five years ago, as development in Bee Caves exploded, Darrell moved his plants and art out to rural Spicewood, where his tin ornaments spin in the breeze under tree limbs and chunks of colorful slag glass (not as easy to get as it used to be, he says) sparkle in the parking lot.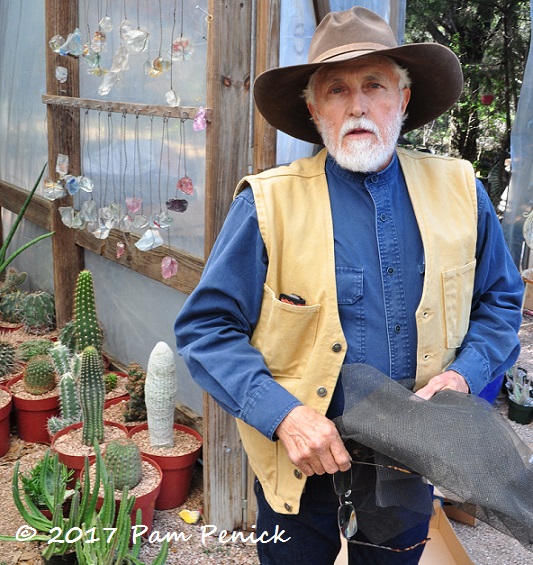 Darrell has expanded the business since moving to Spicewood. He and his wife DeAnna also run a B&B and offer brunch (an entirely plant-based menu) every Thursday through Sunday.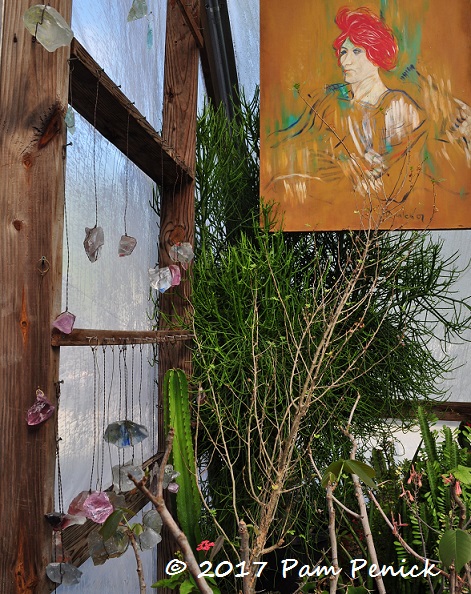 The slag-glass art is what I remember best about the original Living Desert, and lots of Darrell's pieces are displayed in his greenhouse, alongside his plants.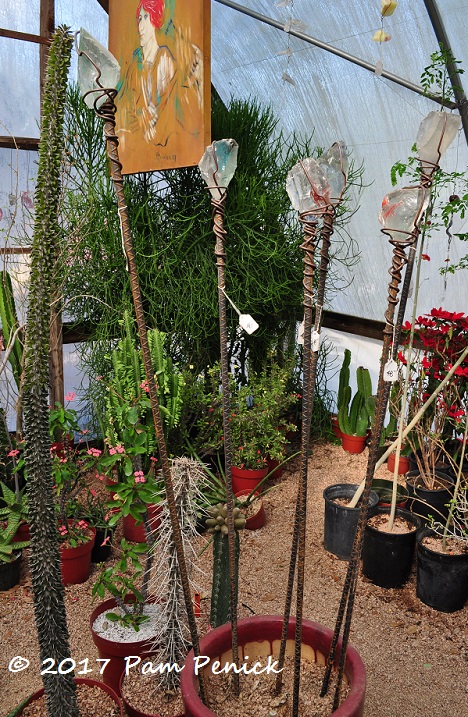 These garden stakes topped with glass chunks look like wizard staffs.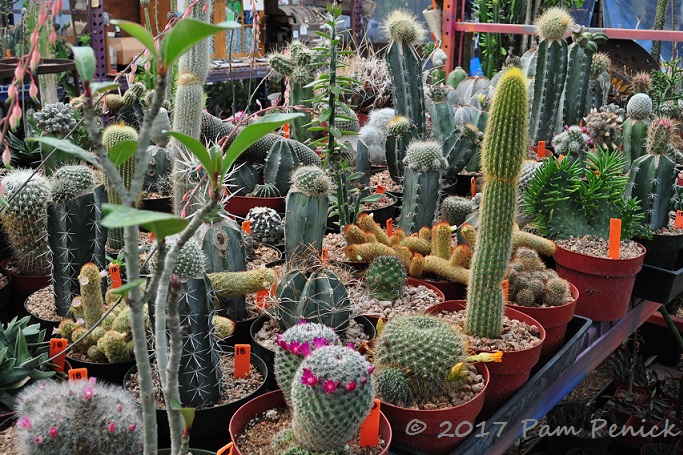 Beautiful cacti are neatly arrayed on nursery tables.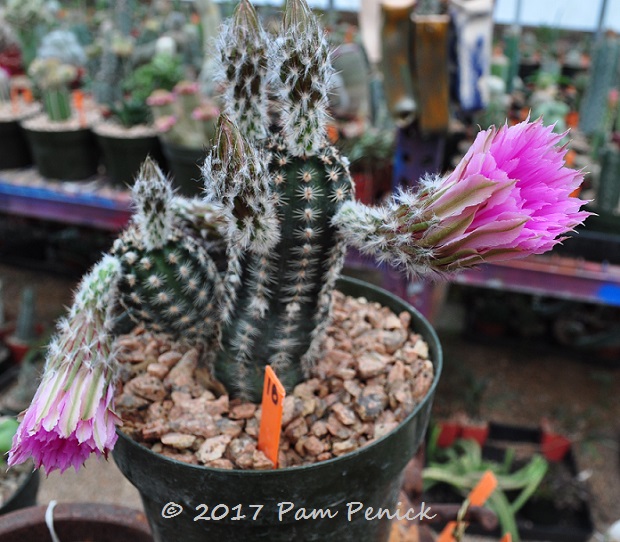 Many were in bloom during my visit a couple of weeks ago, when I stopped on the way to my Hill Country wildflower photo safari.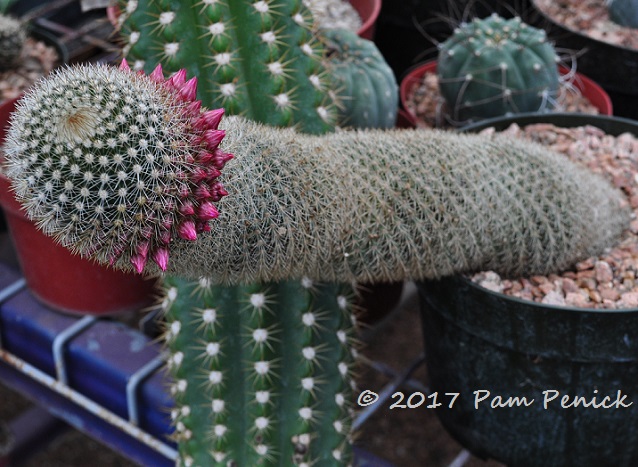 Hello there!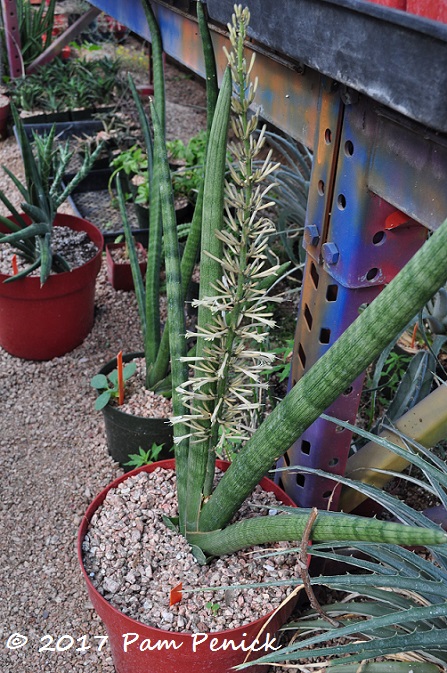 Even cylindrical snake plant (Sansevieria cylindrica) was blooming, which I'd never seen.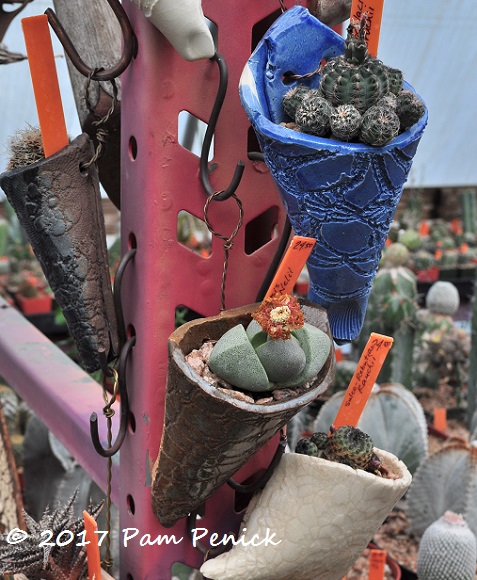 Glazed ceramic cones stamped with floral patterns make pretty wall planters for cactus and succulents.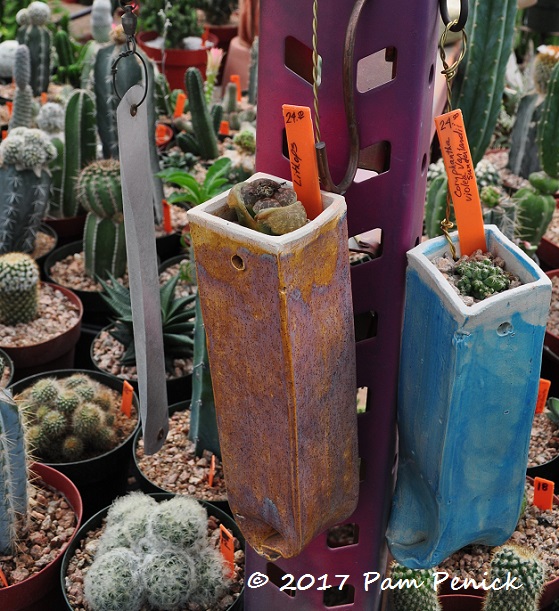 There were rectangular hanging pots too.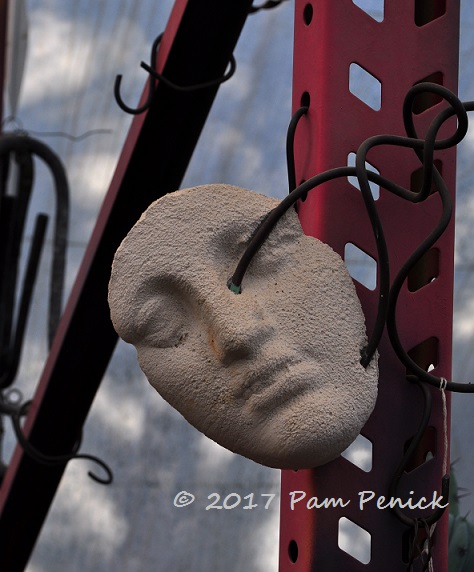 Molded faces dangle eerily here and there.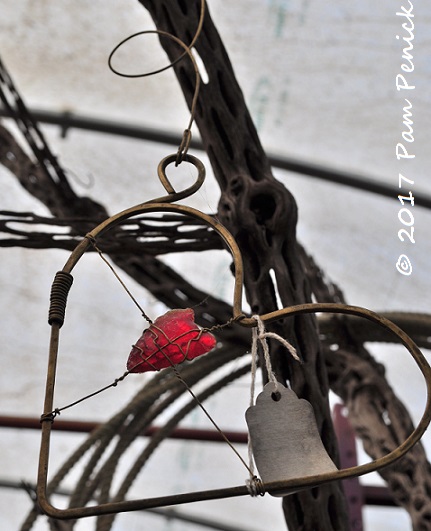 I liked this metal heart with a glass heart glowing inside it.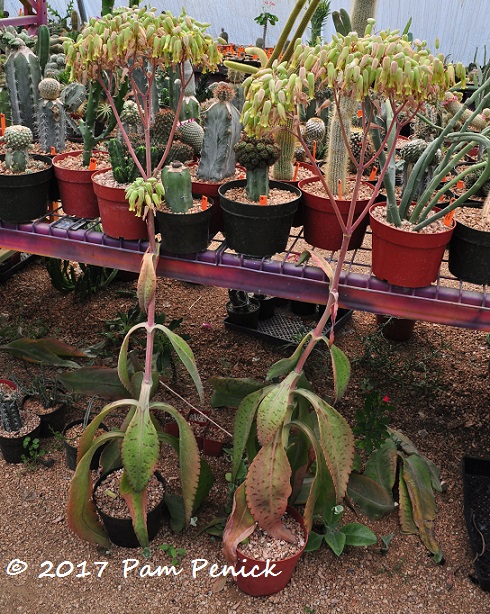 Donkey ears kalanchoe (I think) in towering bloom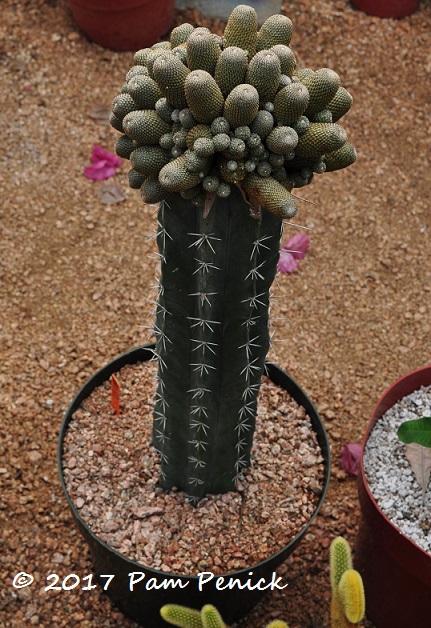 Frankenstein's monster? This is a grafted creation, with two different species turned into one plant.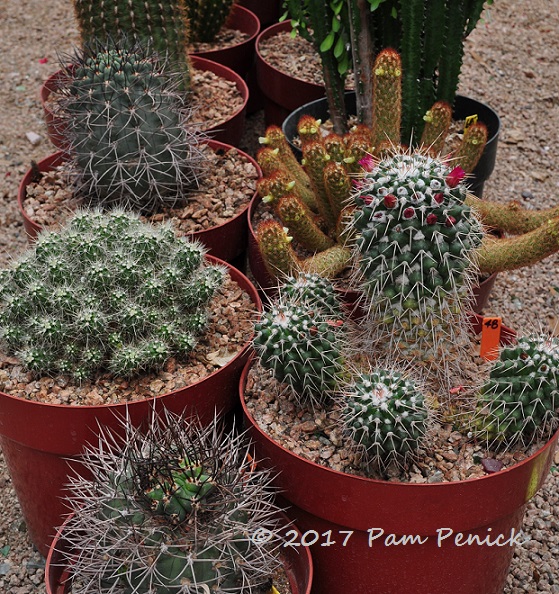 Personally, I prefer them the way they naturally grow.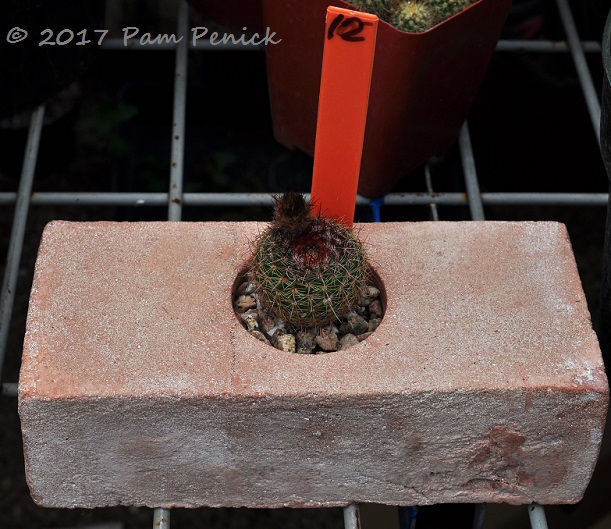 In Darrell's hands, anything makes a good planter.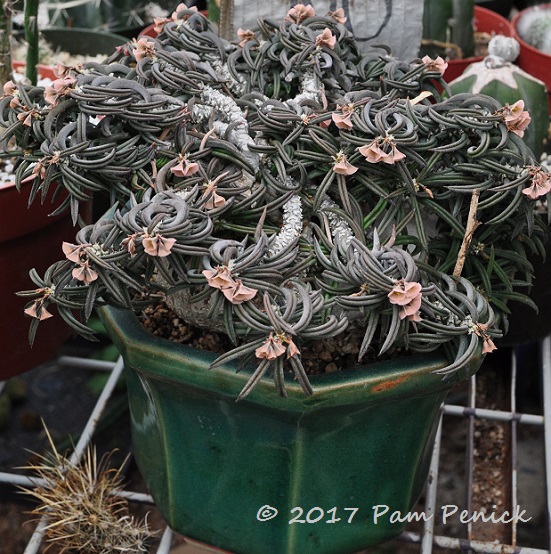 But some of his treasures are not for sale, like this beauty. I've no idea what it is, but wow, isn't it gorgeous?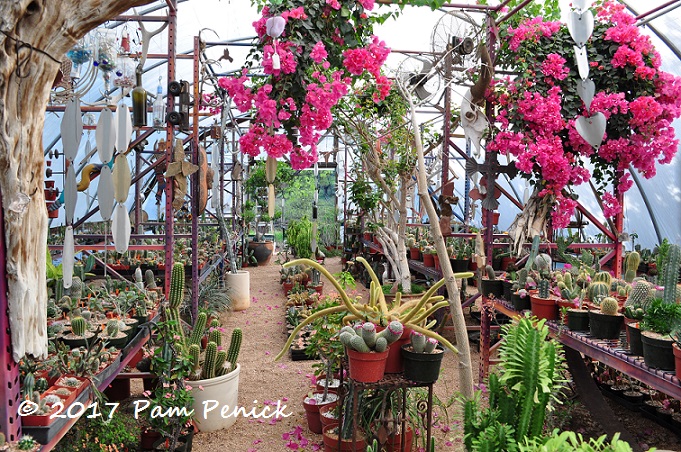 Living Desert Ranch is definitely worth a visit if you enjoy cactus and succulents and unique yard art. And unique Texas characters too.
Note: Living Desert Ranch is closed on Mondays and Tuesdays. And according to its website, it will be closed every day next week until Easter brunch.
I welcome your comments; please scroll to the end of this post to leave one. If you're reading this in a subscription email, click here to visit Digging and find the comment box at the end of each post.
_______________________
Digging Deeper: News and Upcoming Events
Mark your calendar for the Inside Austin Gardens Tour on May 6, sponsored by Travis County Master Gardeners. This fun garden tour occurs every 18 months and features a mix of homegrown gardens "for gardeners, by gardeners," as their tagline says.
Get on the mailing list for Garden Spark Talks. Inspired by the idea of house concerts — performances in private homes, which support musicians and give a small audience an up-close and personal musical experience — I'm hosting a series of garden talks by design speakers out of my home. Talks are limited-attendance events and generally sell out within just a few days, so join the Garden Spark email list for early notifications. Simply click this link and ask to be added.