March 27th, 2017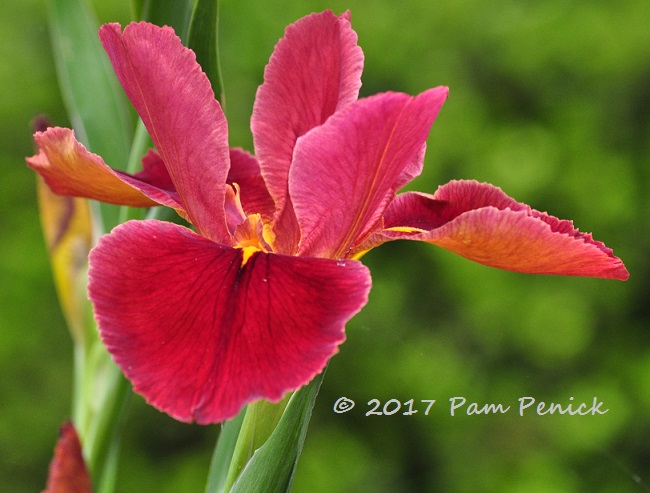 As buds began to swell last week, I've been eagerly awaiting the flowering of my pond iris. And this morning, three burgundy, yellow-throated flowers unfurled.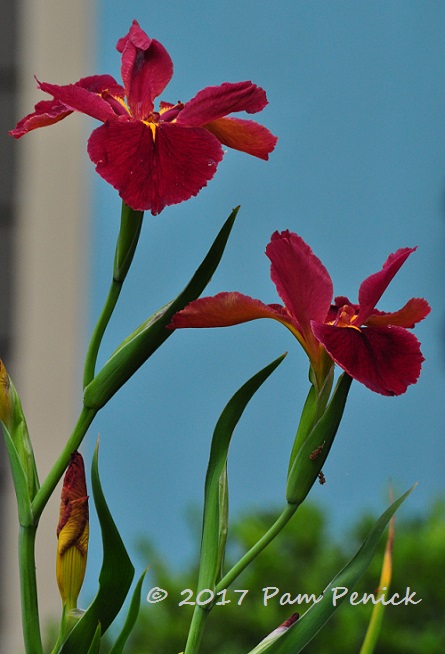 They look especially picturesque as viewed against the turquoise shed doors.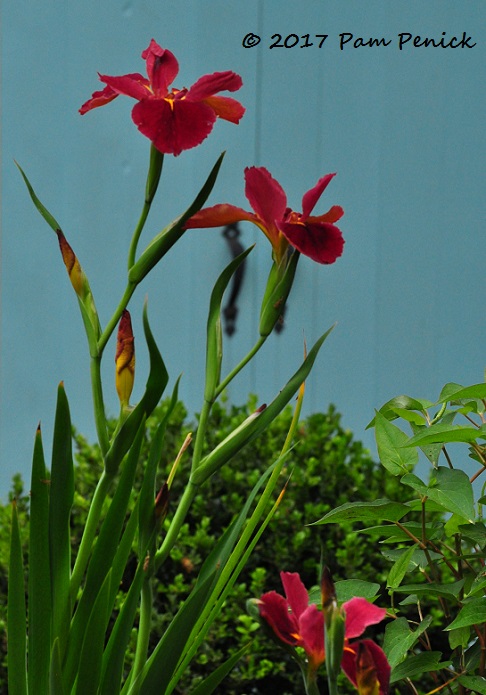 Several more buds mean more flowers to come.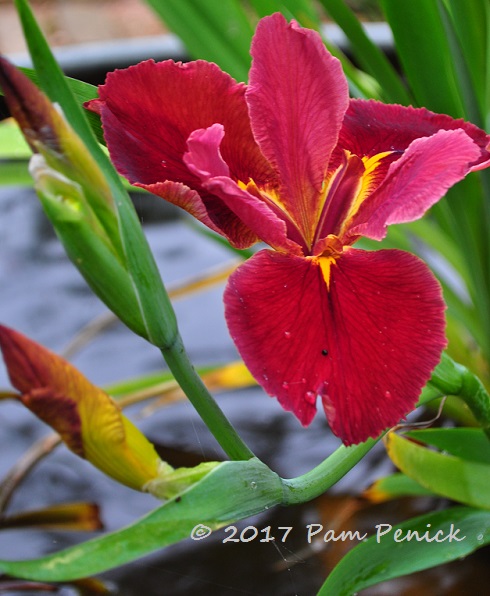 Jenny/Rock Rose gave me a division of this lovely iris in 2015. It bloomed for me that year, but last year…nothing.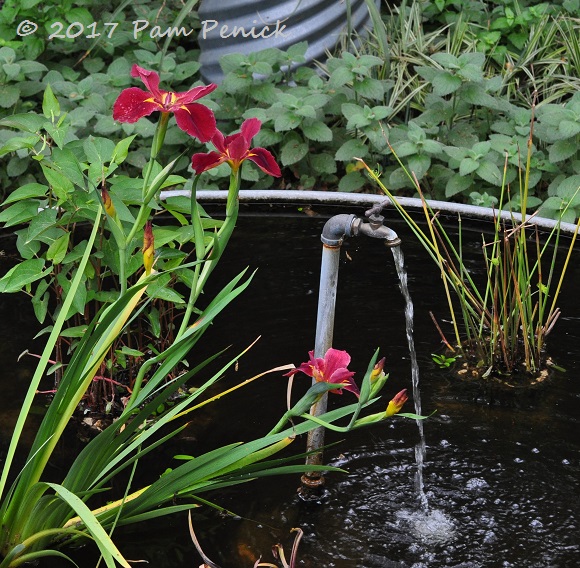 So you can see why I'm excited about it now.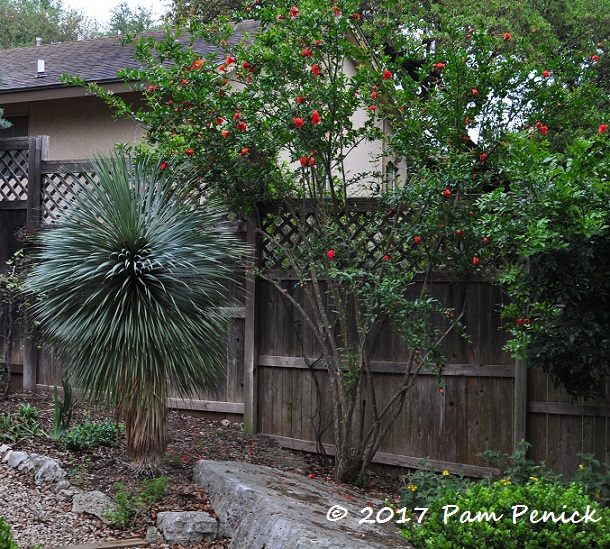 Other plants are in full bloom as well, including the pomegranate tree next to the beaked yucca.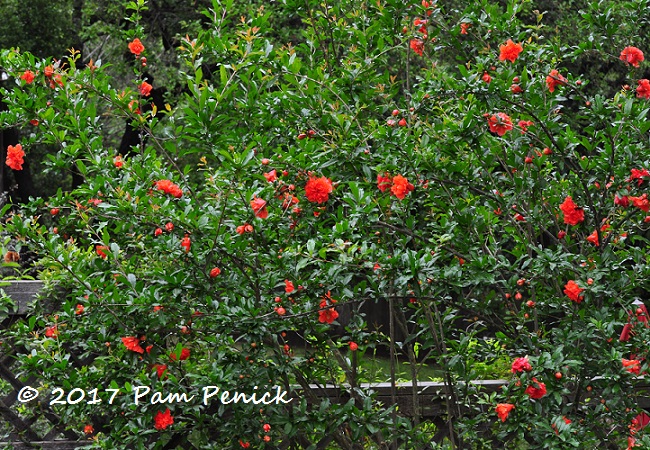 Dozens of frilly, orange flowers resemble juju hats…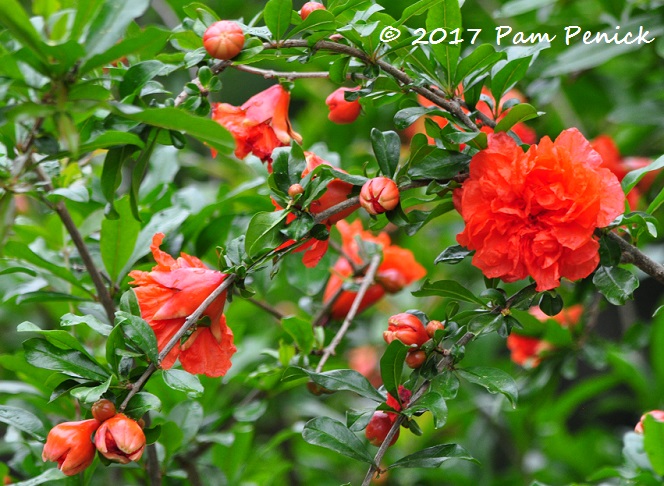 …or, when seen closer, ruffly crepe-paper flowers.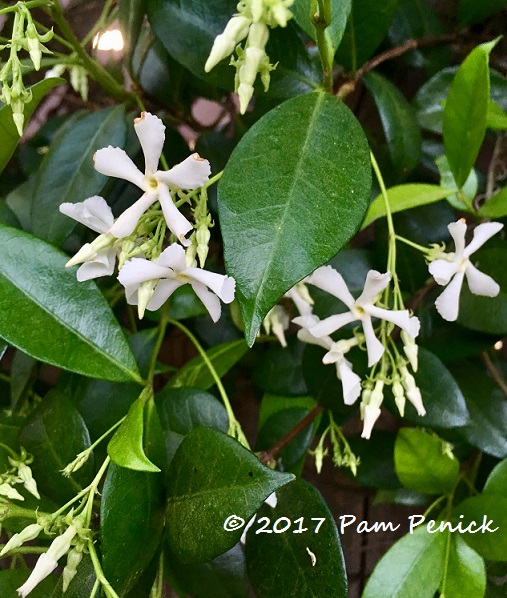 On the other side of the garden, star jasmine (Trachelospermum jasminoides) perfumes the upper patio.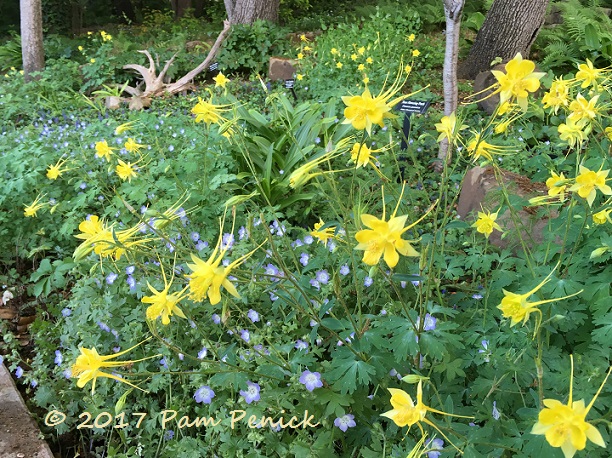 And although it's not my garden, I have to share a sweet spring image of golden columbines, like shooting stars, at Zilker Botanical Garden last Saturday.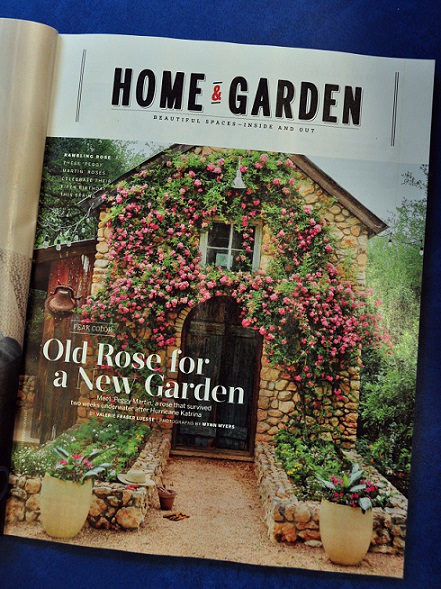 Oh, and congrats to Austin gardener Ruthie Burrus, whose charming stone garden haus smothered in 'Peggy Martin' roses appears in the current issue of Southern Living (April 2017)! I had the pleasure of visiting Ruthie's garden a couple of years ago; click for the full tour.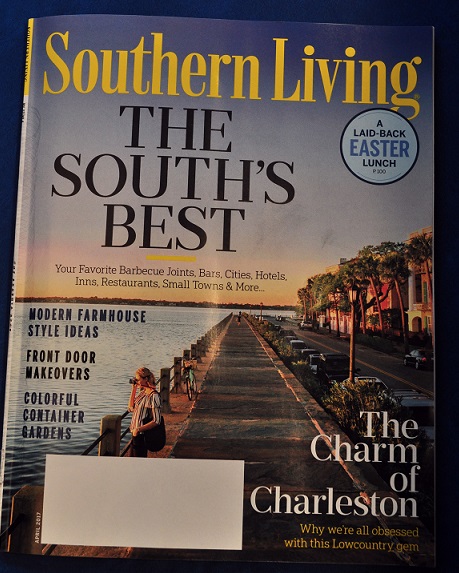 And here's the magazine cover if you want to pick up a copy to read all about her garden haus and roses.
I welcome your comments; please scroll to the end of this post to leave one. If you're reading this in a subscription email, click here to visit Digging and find the comment box at the end of each post.
_______________________
Digging Deeper: News and Upcoming Events
Get on the mailing list for Garden Spark Talks. Inspired by the idea of house concerts — performances in private homes, which support musicians and give a small audience an up-close and personal musical experience — I'm hosting a series of garden talks by design speakers out of my home. Talks are limited-attendance events and generally sell out within just a few days, so join the Garden Spark email list for early notifications. Simply click this link and ask to be added.
All material © 2006-2017 by Pam Penick for Digging. Unauthorized reproduction prohibited.
posted in
2nd garden--2017
,
Flowers
,
Fountains
,
Magazines
,
Ponds
,
Rock
,
Roses
,
Sheds
,
Spring color
,
Trees
,
Vines
,
Water features
,
Water gardening
,
Yuccas