March 19th, 2017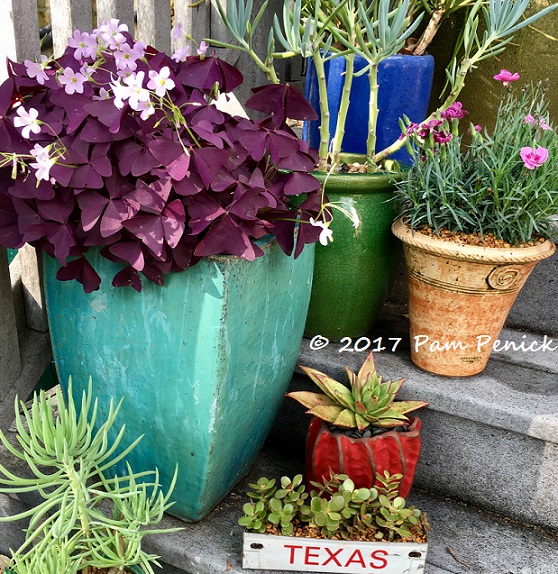 Happy Sunday morning! After a week of family illness at Chez Penick, I finally got in some gardening time this weekend. Here are my refreshed containers on the back porch steps. The purple oxalis (Oxalis triangularis) in the turquoise pot gets all the oohs, and no wonder. It's a beauty. It goes partially dormant in winter but always comes roaring back in spring.
I repotted the Texas license plate planter (purchased from Potted a couple of years ago) with cuttings of the succulent I had in there before. It had gotten leggy and rootbound, and it was time for a refresh. So easy — you just cut off the tops of the succulents, set them somewhere shady and warm for a couple of days to let the cuts harden off, and then replant in cactus mix and top with fine gravel.
I impulsively purchased two dianthus (EverLast series 'Lavender Lace' and 'Light Pink + Eye') at Shoal Creek Nursery recently, and after dithering about where to plant them, I stuck them both in an empty pot. I'm enjoying the clove-scented bouquet, but I've moved them to a sunnier spot so they'll keep blooming for a while.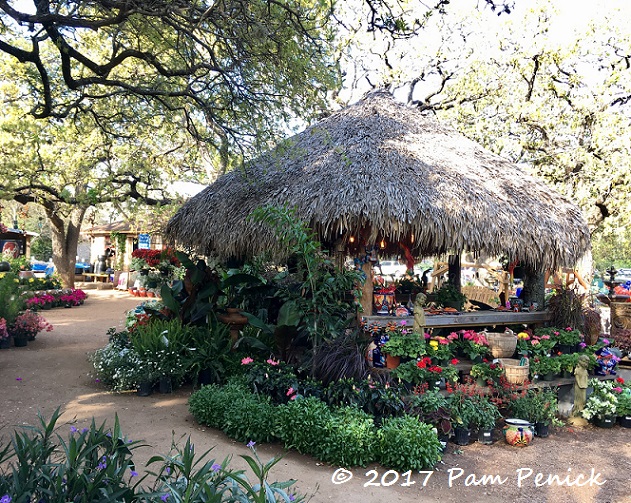 If you're wondering about the tiki hut mentioned in the title, no, it's not mine. While shopping at Hill Country Water Gardens & Nursery, I couldn't help admiring their plant-bedecked palapa. How fun! Wouldn't this be great to lounge under, next to a swimming pool?
That's all for now. I hope you're enjoying some garden time this weekend too!
I welcome your comments; please scroll to the end of this post to leave one. If you're reading this in a subscription email, click here to visit Digging and find the comment box at the end of each post.
_______________________
Digging Deeper: News and Upcoming Events
Get on the mailing list for Garden Spark Talks. Inspired by the idea of house concerts — performances in private homes, which support musicians and give a small audience an up-close and personal musical experience — I'm hosting a series of garden talks by design speakers out of my home. The upcoming talk with James deGrey David has sold out, but join the Garden Spark email list for speaker announcements delivered to your inbox; simply click this link and ask to be added. Subscribers get advance notification when tickets go on sale for these limited-attendance events.
All material © 2006-2017 by Pam Penick for Digging. Unauthorized reproduction prohibited.