February 27th, 2017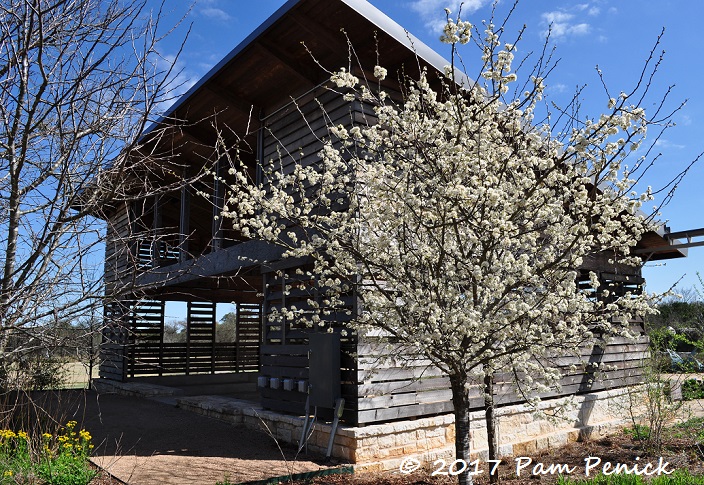 After speaking at the Native Plant Society of Texas Spring Symposium, held at the Lady Bird Johnson Wildflower Center last Saturday (and a big thank-you to the organizers and wonderful audience members!), I strolled the gardens with my dad, who was visiting from North Carolina. The early spring show is underway, with Mexican plums and Texas redbuds playing a starring role this week.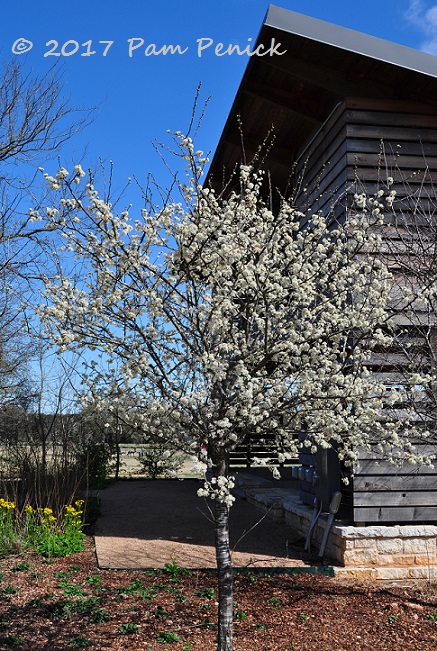 You always know when a Mexican plum (Prunus mexicana) is blooming because it scents the air with a spicy fragrance, attracting bees and other pollinators.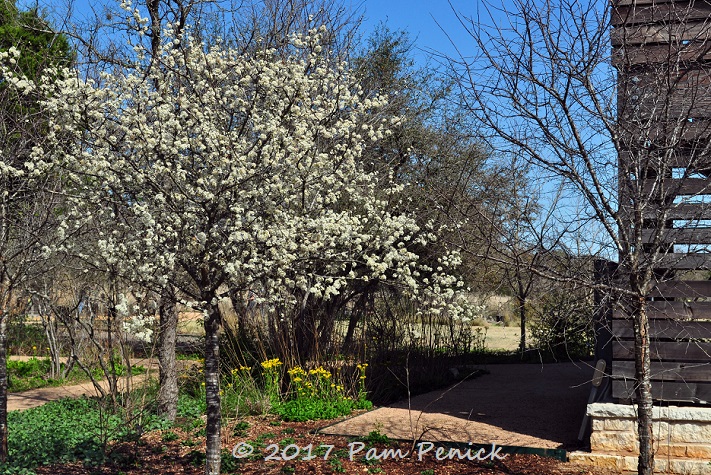 I miss this cotton-flowered native tree, which I used to grow in my old garden. I like the underplanting of charming golden groundsel too.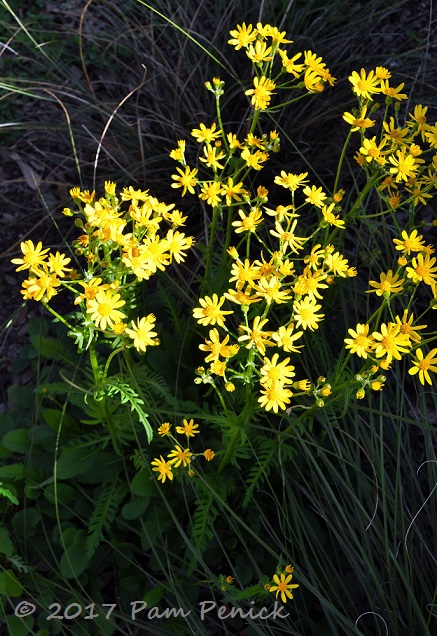 A closer look at the golden groundsel (Packera obovata) — like drops of sunshine.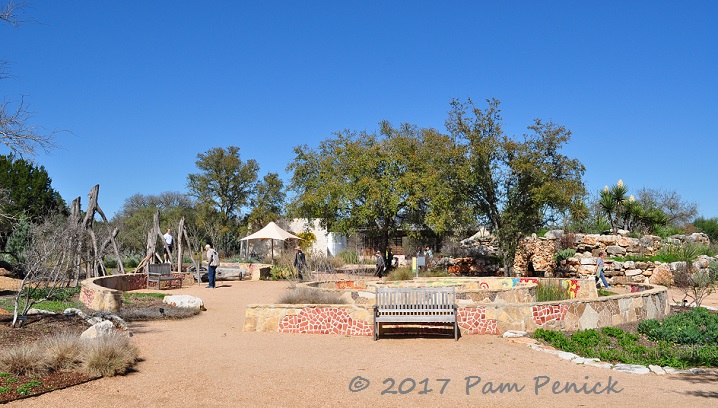 Nearby, the Family Garden was pretty quiet, although a few adults were exploring the play features…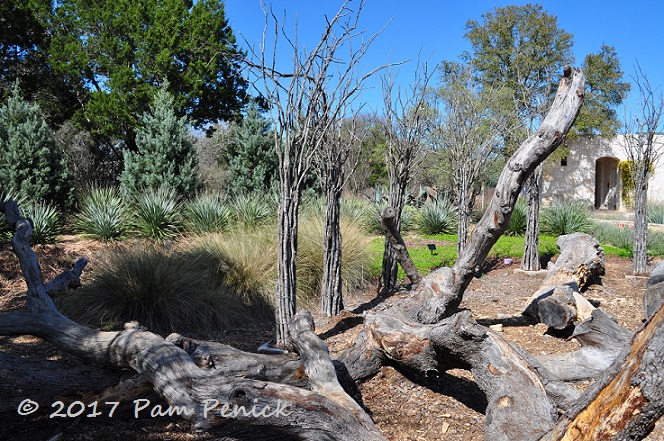 …like the stumpery, where big tree trunks offer balance-beam fun. Bundled branches stand like a chorus line of winter-bare trees.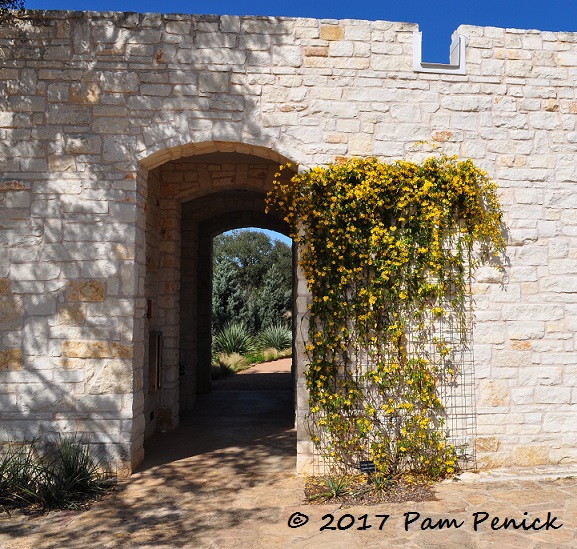 Sweet-scented Carolina jessamine (Gelsemium sempervirens) climbs a trellis on a limestone wall.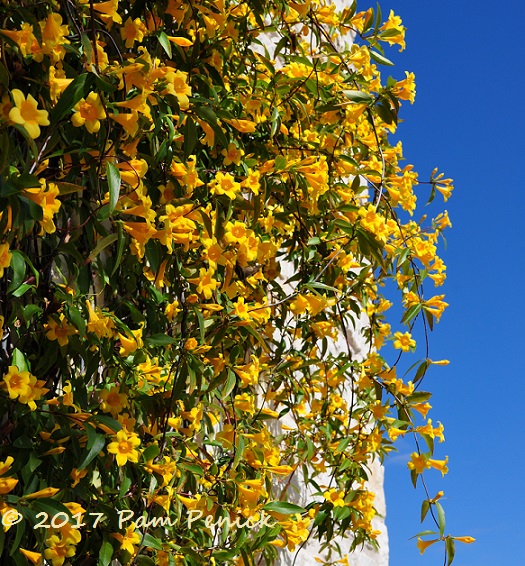 Its golden trumpets glow against a blue sky.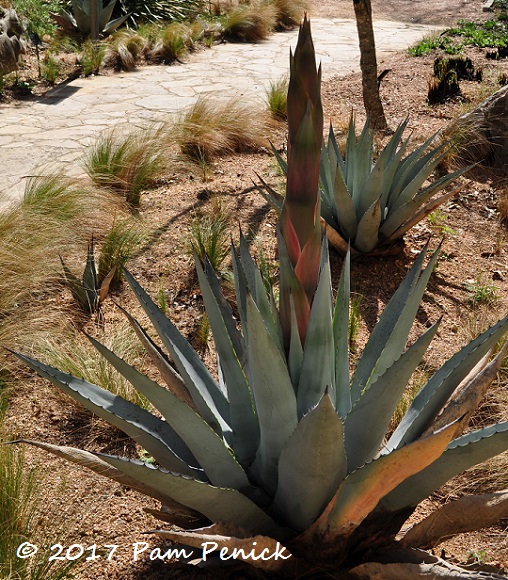 Heading toward the observation tower, I spotted a sword-leaved Harvard agave (Agave havardiana) sending up a bloom spike resembling an oversized asparagus spear.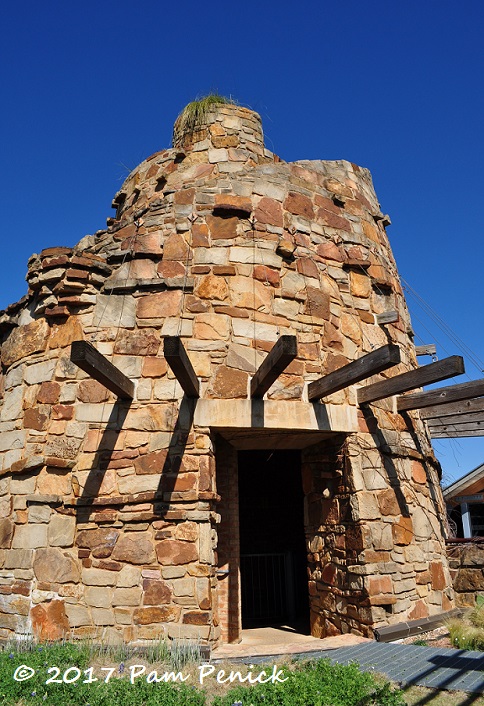 Dad and I climbed the tower and admired its spiraling stone top from Robb's Roost, a small rooftop garden halfway up.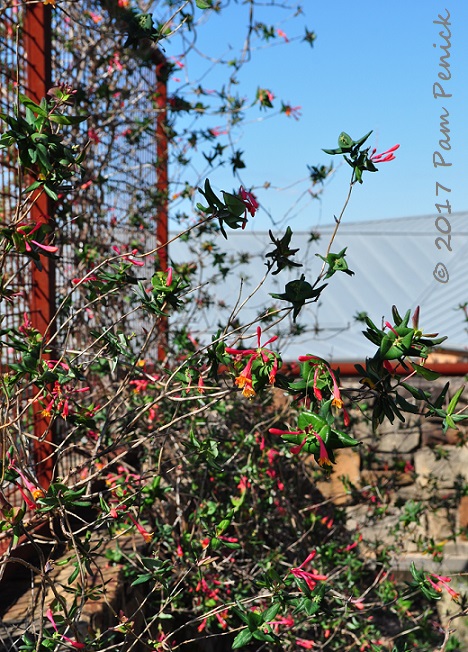 We were rewarded with a lovely view of native coral honeysuckle (Lonicera sempervirens) in bloom.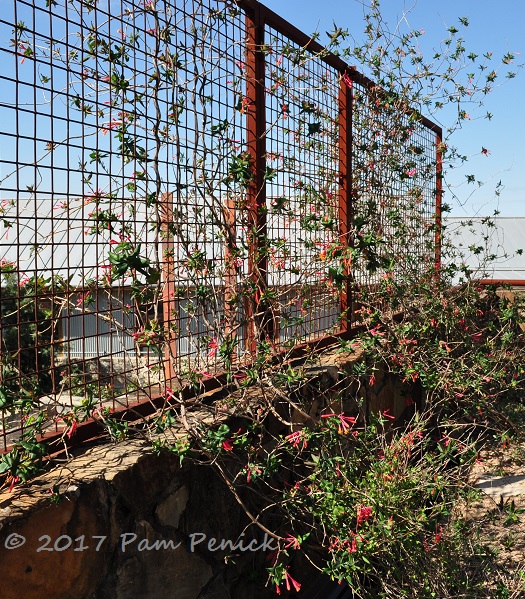 A wider view reveals the handsome, rusty-steel trellis it's growing on.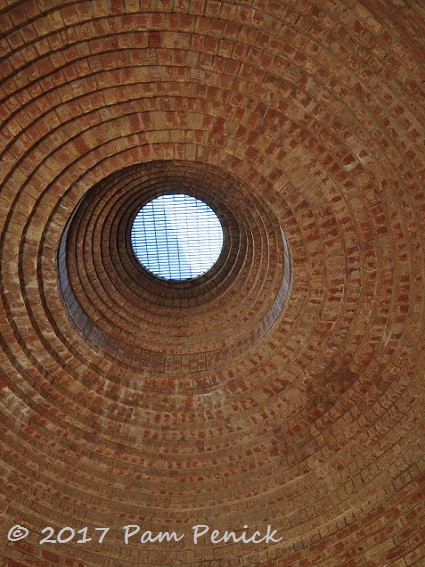 Heading back into the tower, here's a peek at the domed brick roof.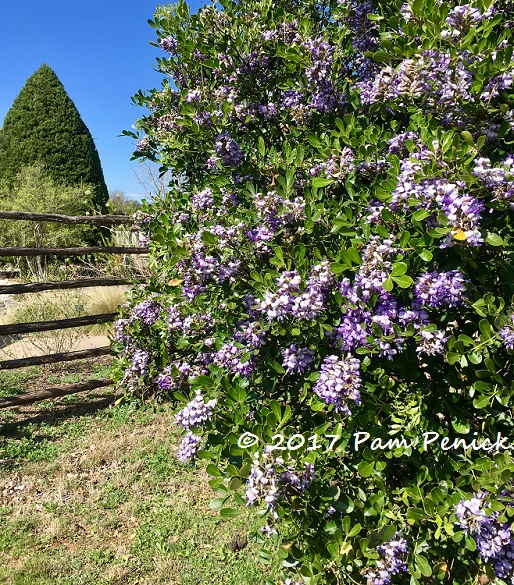 Throughout the garden, Texas mountain laurel (Sophora secundiflora), our state's most stunning, spring-blooming tree, is still in glorious bloom, but our unseasonable heat is quickly fading the flowers. Go enjoy some deep whiffs of grape Kool-Aid fragrance now, while you can.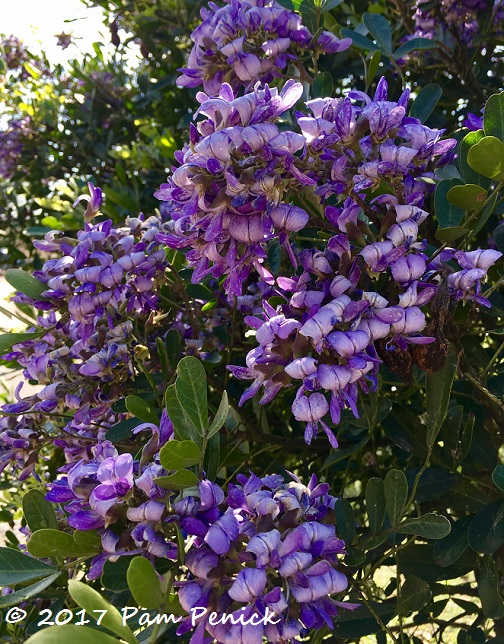 I did!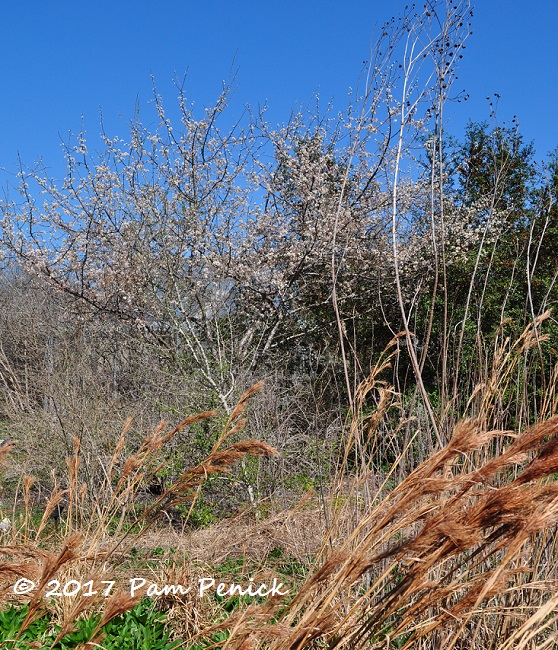 Last year's faded foliage, like cinnamon-colored bushy bluestem grasses (Andropogon glomeratus), still stand. But spring blossoms of Mexican plum and other plants are bringing spring freshness back to the garden.
I welcome your comments; please scroll to the end of this post to leave one. If you're reading this in a subscription email, click here to visit Digging and find the comment box at the end of each post.
_______________________
Digging Deeper: News and Upcoming Events
Get on the mailing list for Garden Spark Talks. Inspired by the idea of house concerts — performances in private homes, which support musicians and give a small audience an up-close and personal musical experience — I'm hosting a series of garden talks by design speakers out of my home. The upcoming talk with James deGrey David has sold out, but join the Garden Spark email list for speaker announcements delivered to your inbox; simply click this link and ask to be added. Subscribers get advance notification when tickets go on sale for these limited-attendance events.
All material © 2006-2017 by Pam Penick for Digging. Unauthorized reproduction prohibited.