January 31st, 2008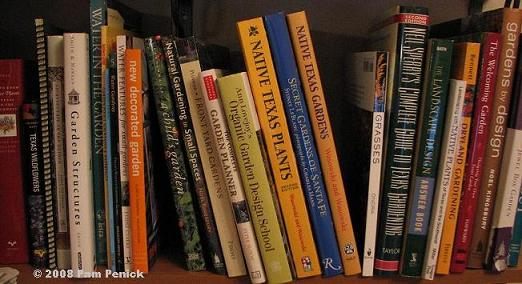 My garden bookshelf suffers from a high school–mentality clique problem. It's the teenage cold war: cheerleaders and jocks versus honor students and geeks. In this case, inspirational eye-candy books with no practical smarts grudgingly share space with intelligent how-to guides dressed down with useful but non-glamorous illustrations.
Although it may brand me as shallow, I'll admit that the eye-candy books tempt me more than the plain-Jane how-tos. How can I resist a book awash in beautiful photos of gardens and the hardscaping that gives them good bones, which I too can surely attain…if only there were a practical guide to tell me how. Oh yeah, that's in the other book.
Sunset Books' newly revised series on hardscaping in the garden tries to set up the prom queen with the geeky kid in shop class — and largely succeeds. The Spring 2008 Outdoor Living Collection — Sheds & Garages; Trellises & Arbors; Walks, Walls & Patio Floors; Backyards for Kids; and Pools and Spas — marries inspirational garden photos with down-and-dirty instructions on how to do it yourself.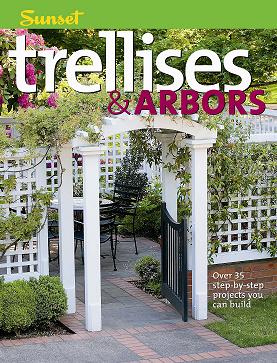 Lovely photos of well designed, yet attainable gardens kept me turning the pages at the start of each title. Once you are sufficiently inspired and ready to dart out the door and start digging up sod or laying stone, the how-to portion of each book pulls you back to earth with concise but effective tutorials, generously illustrated with photos of work in progress. Geared to novices or handy amateurs, the informational sections provide basic construction techniques for building sheds, pouring foundations, laying bricks, dry-stacking stone walls, constructing an arch or pergola, building a treehouse — the list goes on. These are useful references that I will be keeping on hand. Experienced carpenters and landscapers won't learn anything they don't already know but may still find inspiration for a new project in the garden photos.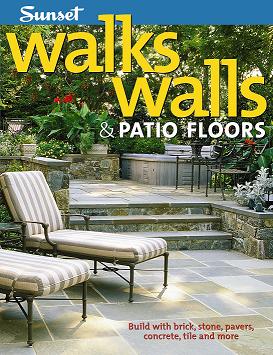 Paging through the trellis and arbor book and the one on garden walks, I thought of the Garden Bloggers' Design Workshop hosted by Gardening Gone Wild. Walks and arbors are so important in the formation of our gardens that they recently inspired a series of posts (click here for arbors and here for walks). The homeowner who's looking for ideas for sprucing up the yard, or the gardener who wants beautiful hardscaping to accentuate her garden, will be most interested in these two titles. Those with more specific interests will be drawn to the books on sheds, pools, and kids' gardens.
One thing I particularly like about this series is its emphasis on "green" garden practices. Don't just throw away that dug-up turf or broken concrete patio, it urges; recycle these materials elsewhere in your garden — to patch your lawn, say, or to edge a path with rock-like concrete chunks. A landfill, the authors advise, should be your last resort. In another section, rain gardens are promoted as a way to contain run-off and put it to use.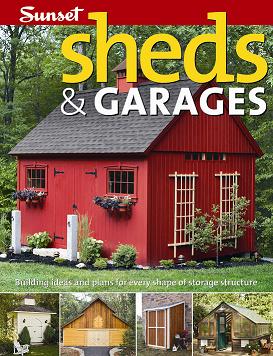 The book on sheds particularly resonated with me, as I recently finished remodeling my own. I'm happy with my Green Hall design. Otherwise the photos of so many charming structures would be very tempting. But no, that project is done! However, this book reminded me that lighting and the design of the interior are important considerations too. Ah, projects for next year.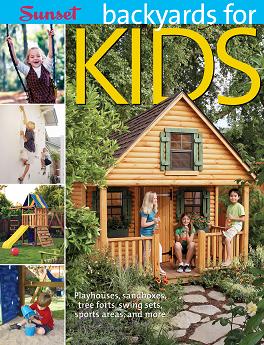 Backyards for Kids will appeal mainly to parents of young children looking for guidance on creating the "perfect" play space. I remember this phase well. It's when you spend a boatload of money on redwood playsets, climbing walls, zip lines, etc., that end up rarely being used. I digress, but listen to the voice of experience, people: all your kids will ever really use is a sandbox (preferably with a hose nearby, to create moats), a couple of swings (nothing fancy), a basketball hoop, and a lawn with a soccer net. And, if you can manage it, a couple of good-sized boulders to climb on and jump off of. The fancy play houses and custom swing sets featured here, while beautiful, are for the parents more than the kids.
That said, I do really like this book's emphasis on letting your kids design and build structures like small forts and tree houses themselves. It goes without saying that these kid-built structures won't be beautiful, but as with gardening it's the journey, not the destination, that really matters.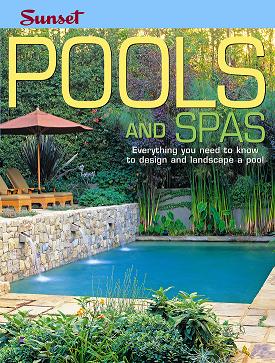 I haven't read Pools and Spas yet, but I hope to muster the courage soon. Why the need for courage? You see, I've wanted a pool for several years to help me survive summers in Austin. Last summer I finally came to terms with the smallness and inaccessibility of our back yard and the expense of a new pool and ruled it out, breathing a sigh of relief, really, once I put that pricey desire behind me. I'm afraid that this book will lead to another attack of pool fever. But I'm willing to risk it.
OK, check me into Pool-Anon now.
All material © 2006-2008 by Pam Penick for Digging. Unauthorized reproduction prohibited.