February 12th, 2017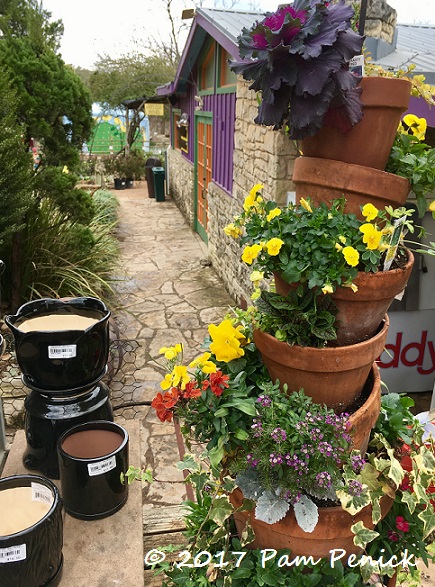 Stacked pots of pansies, ornamental cabbage, and other annuals at The Natural Gardener
Even though the weather's been terrific for gardening, I've been under the weather for about a week, keeping me from my annual late-winter cut-back of the garden. I really need to get that done because spring is arriving early in Austin this year. New growth is budding and unfurling on perennials, ornamental grasses, and trees, and I need to get the freeze-dried foliage out of the way.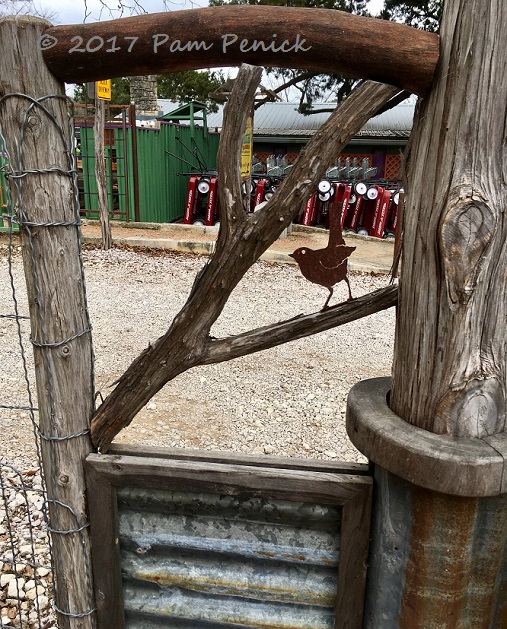 Mockingbird ornament on a cedar branch fence at The Natural Gardener

Feeling a little run-down may have kept me from doing any physical labor, but it hasn't kept me from cruising the local nurseries — just looking, for the most part. Barton Springs Nursery, Vivero Growers, The Natural Gardener, East Austin Succulents, Hill Country Water Gardens & Nursery — they're all getting new shipments of plants in daily, and I notice every place is hiring, so you can tell the big spring rush is nearly upon us.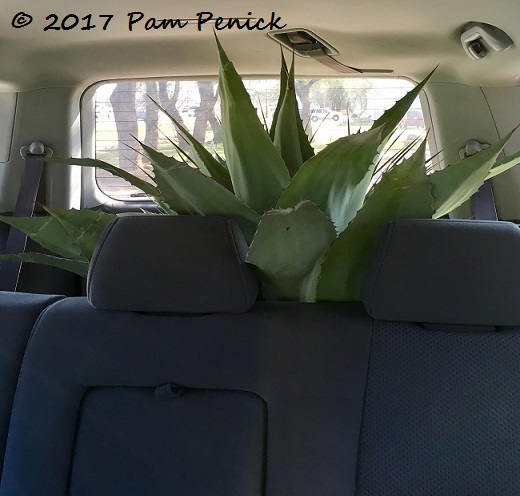 I did, of course, buy a few plants here and there: 'Scott's Turf' sedge at BSN a couple of weeks ago, and a big whale's tongue agave at Hill Country Water Gardens & Nursery today. What?? you may be wondering. What are you doing buying another whale's tongue agave when you potted up hundreds of bulbils from Moby after he bloomed?
Well, let me tell you. I needed it. Moby left an awfully big hole when he went to the great big ocean in the sky. I tried a 5-gallon 'Vanzie' whale's tongue in his place, but it was just too small, so I moved it elsewhere. While I'm normally patient about buying smaller plants and giving them time to grow, I have in the back of my mind at all times now that the Garden Bloggers Fling will be coming to Austin in 2018, and there are likely to be a lot of bloggers in my garden looking for Moby's legacy.
So today I picked up this big (15-gallon), beautiful new whale's tongue agave from HCWG (well, I didn't pick it up; two strong guys wearing protective goggles loaded it up for me), and my entire family — all of us wearing safety goggles — helped me unload it when I got home. It probably weighs 150 pounds and is bristling with spines along all its leaves, not to mention 2-inch, needle-like spikes at the end of each leaf.
My husband came up with a genius idea for getting it out of the trunk of our SUV: he wedged a ladder lengthwise between the trunk and a sturdy rolling cart, which one of us held in place. He and my son wrestled the agave onto the ladder and slid it carefully down to the cart. Then my daughter steadied the agave while I rolled the cart into the backyard. Did Moby2 draw blood? Yes, all four of us were bleeding afterward — just a little! But it was worth it.
At least I think so.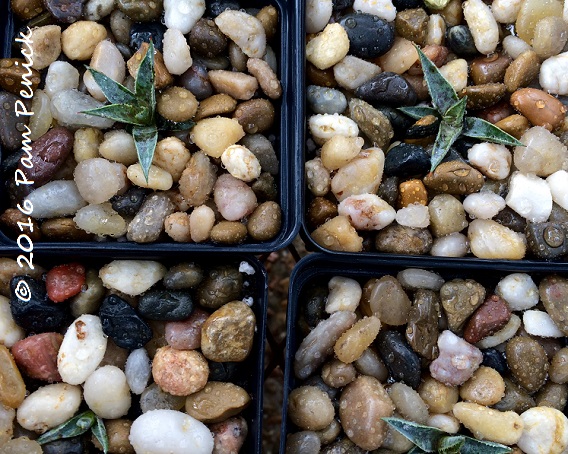 While we're talking new plants, let's check in on my baby 'Bloodspot' mangaves, shall we? I'm growing these from scratch — or rather, harvested from a bloom spike on a mature 'Bloodspot' mangave that died after blooming last fall. Here were the mangave pups in November, freshly potted up.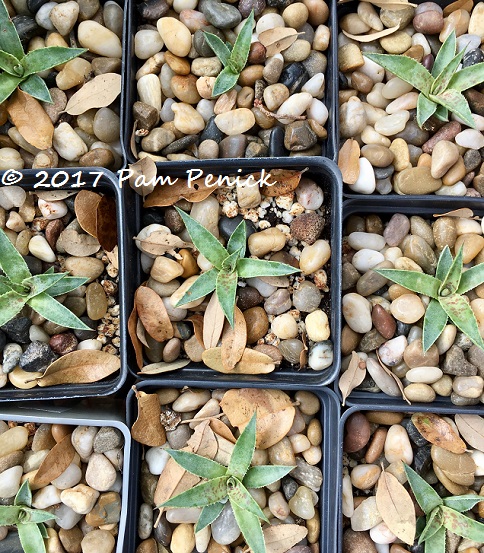 And here they are today. Look how much they've grown! I'm liking this business of potting up baby plants, which I never used to bother with. I can't wait until these get big enough to set out in the garden.
How about you? Are you doing any gardening yet, preparing for spring, or still enjoying winter downtime?
I welcome your comments; please scroll to the end of this post to leave one. If you're reading this in a subscription email, click here to visit Digging and find the comment box at the end of each post.
_______________________
Digging Deeper: News and Upcoming Events
2/25/17: Come to my talk at the Wildflower Center. I'll be speaking at the day-long Native Plant Society of Texas Spring Symposium at the Lady Bird Johnson Wildflower Center in Austin. My talk is called "Local Heroes: Designing with Native Plants for Water-Saving Gardens," and it's about creating water-wise home gardens that don't sacrifice beauty. The symposium is open to the public. Click here for registration. I'll be offering signed copies of my books, The Water-Saving Garden and Lawn Gone!, after my talk ($20 each; tax is included). I hope to see you there!
Get on the mailing list for Garden Spark Talks. Inspired by the idea of house concerts — performances in private homes, which support musicians and give a small audience an up-close and personal musical experience — I'm hosting a series of garden talks by design speakers out of my home. The upcoming talk with James deGrey David has sold out, but join the Garden Spark email list for speaker announcements delivered to your inbox; simply click this link and ask to be added. Subscribers get advance notification when tickets go on sale for these limited-attendance events.
All material © 2006-2017 by Pam Penick for Digging. Unauthorized reproduction prohibited.