May 15th, 2017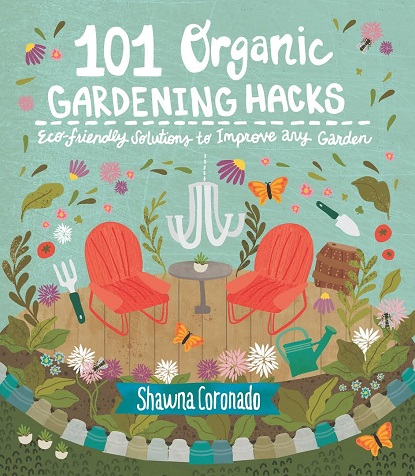 A raft of gardening books has piled up on my desk this spring. I'm tempted to lash the whole stack into a raft and paddle to a deserted island, where I'll have time to read them all (if only that wouldn't make them soggily unreadable). If you're looking for some good gardening books to kick back with this summer, here are three I've recently enjoyed and recommend.
101 Organic Gardening Hacks: Eco-friendly Solutions to Improve Any Garden, by Shawna Coronado, Cool Springs Press (January 1, 2017)
Shawna Coronado, a Chicago-based speaker and blogger on gardening and wellness, applies the trendy idea of "hacking" — creatively using something in a way it wasn't necessarily intended — to gardening and outdoor decorating in this appealing, well-illustrated book. From organizing seed packets in a photo album to building a garden tower out of leftover plastic pots to making your own seed-starter soil, Coronado offers up a variety of clever gardening practices that DIYers, thrifters, and eco- and cost-conscious gardeners will especially enjoy. On a visit to Austin, she even spotted a hack in my collection of steel-pipe and tractor-rim planters in my entry garden and included it on page 115.
Many of the featured hacks are classic gardening solutions from a time when people were thriftier and more inclined to reuse household scraps — i.e., grandmotherly garden practices like using old pantyhose as plant ties. But that's not to say they aren't still clever and thrifty gardening solutions for today. In our age of buy-new, buy-specialized, it's refreshing to remind ourselves, as this charming book does, that gardening need not be a rarefied, costly endeavor, and that gardening — an inherently creative act — lends itself to creative solutions.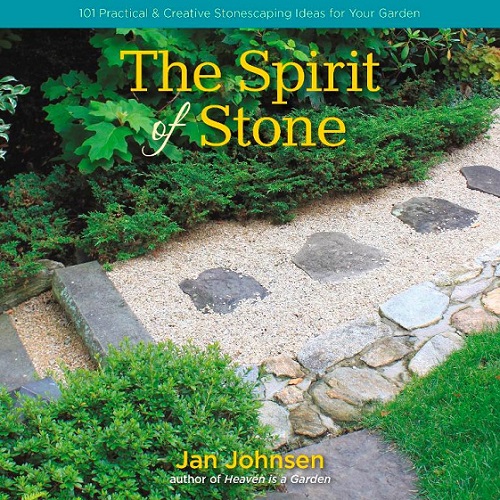 The Spirit of Stone: 101 Practical & Creative Stonescaping Ideas for Your Garden
by Jan Johnson, St. Lynn's Press (February 15, 2017)
Jan Johnsen, a New York-based designer, instructor at New York Botanical Garden, and blogger at Serenity in the Garden, "has a soft spot for hard rock." In The Spirit of Stone, her fourth book, she indulges her love for stone with poetic musings about its ageless presence in a garden, its practicality and grace as a building material, and even the cultural lore that has been ascribed to certain kinds of rock, like standing stones, Chinese scholars' stones, and Native American split rocks. Stone's "unique appeal," she writes, "lies in its ability to be many things, from a solitary garden feature to an artful wall or a quiet gravel 'sea.'"
As Johnsen points out, stone forms the bones of most gardens, from paths and patios to steps and walls, and she shares design and construction tips for using it. Artistic stonework — rock gardens, crevice gardens, Zen gravel gardens, dry streams, pebble mosaics, and stone "waterfalls" — is also described with how-to instruction. Lastly, plants that play especially well with stone by growing in crevices, cascading over walls, or brightening shady rock gardens are suggested with useful design advice. If you weren't already sold on incorporating stone into your garden, this book's inspiring images and eloquent descriptions will convince you.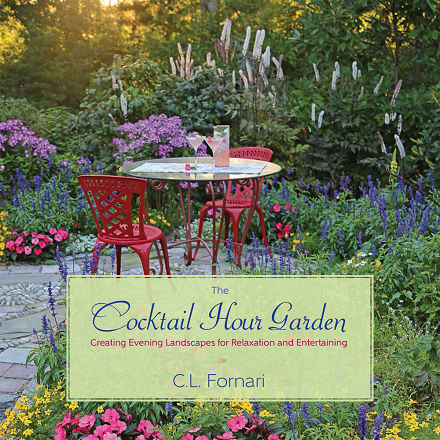 The Cocktail Hour Garden: Creating Evening Landscapes for Relaxation and Entertaining
by C.L. Fornari, St. Lynn's Press (March 1, 2016)
Radio-show host, speaker, and author C.L. Fornari wants you to put down your cell phone and laptop and go sit outside as the sun sets on the workday. Preferably with a cocktail in hand. Reclaiming the phrase "the green hour" from 19th-century France, an era of absinthe happy hours, Fornari playfully uses it to denote a cocktail hour spent amid natural greenery — our gardens — and makes the case for a return to the quieter pleasures of watching sunsets, inhaling the fragrance of night-blooming flowers, and watching sphinx moths and fireflies.
It's funny-sad that we need such a reminder to put aside our electronic diversions for a brief hour out-of-doors. But the fact is, we do. A Nielsen Company audience report last summer revealed that Americans spend 10-1/2 hours per day staring at screens. Subtract from a 24-hour day one's working hours (which may involve a screen), commute time, a few errands, and a decent night's sleep, and, well, there's not much left over.
In urging us to set aside at least one green hour per day, Fornari is, of course, preaching to the choir for those most likely to buy her book — we who already enjoy gardening (and cocktails!). But she does so with lighthearted humor and a sense of fun, evoking party imagery while dispensing design advice — What does a particular plant bring to the party? she asks — not to mention a sprinkling of cocktail recipes throughout the book. She walks the reader through the creation of a garden best enjoyed at the end of the day, with flowers that glow at dusk, sweet scents to enjoy at twilight, soft garden lighting, and other sensual aspects of the garden that might be overlooked by those focusing only on daytime visual enjoyment.
If you're looking for an excuse to slow down and reconnect with nature — whether meditatively solo or socially with friends and family — you'll find plenty of ideas to incorporate into your garden and your lifestyle. For me, the book served best as a reminder that gardens are meant to be enjoyed, not just worked in, and I resolved to spend more time sitting in mine, and inviting friends to join me in that noble endeavor more often. Cocktails are being shaken. Chair cushions are being fluffed. Here's to the green hour!
Disclosure: All three books were sent to me for review by their publishers, and I know Shawna Coronado and C.L. Fornari professionally. I reviewed each book at my own discretion and without any compensation. This post, as with everything at Digging, is my own personal opinion.
I welcome your comments; please scroll to the end of this post to leave one. If you're reading this in a subscription email, click here to visit Digging and find the comment box at the end of each post.
_______________________
Digging Deeper: News and Upcoming Events
The Austin Daylily Society will host a free garden tour on Sunday, May 28, from 10 am to 2 pm. Four private gardens featuring lots of daylilies will be open to the public, including Tom Ellison's lovely Tarrytown garden.
Get on the mailing list for Garden Spark Talks. Inspired by the idea of house concerts — performances in private homes, which support musicians and give a small audience an up-close and personal musical experience — I'm hosting a series of garden talks by design speakers out of my home. Talks are limited-attendance events and generally sell out within just a few days, so join the Garden Spark email list for early notifications. Simply click this link and ask to be added.
All material © 2006-2017 by Pam Penick for Digging. Unauthorized reproduction prohibited.