January 30th, 2017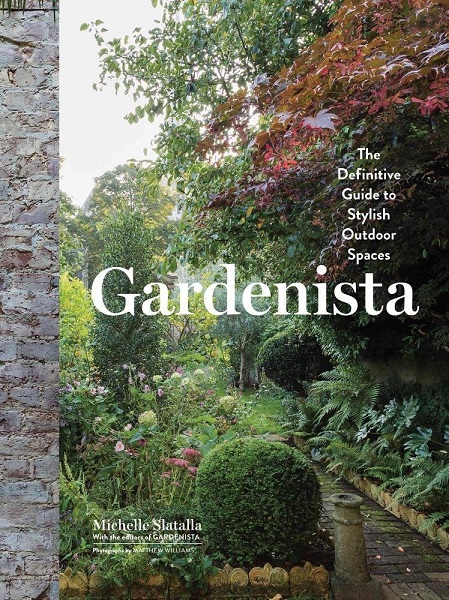 I got behind with my self-declared Book Review Week last week, but I'm back on track today with my review of Gardenista: The Definitive Guide to Stylish Outdoor Spaces (2016, Artisan) by Michelle Slatalla. Since it was a fall release, I'd hoped I might find it under the Christmas tree, but I ended up buying my own copy after the holidays and have been savoring it for weeks.
Lushly illustrated with photos of beautiful patios and outdoor living spaces — in which plants play a significant, if not starring, role — the book provides plenty of eye candy. My favorite part of the book, "Thirteen Gardens We Love," showcases a variety of well-designed gardens with a decidedly verdant and romantic ambience — mostly urban patio gardens, with a few larger properties thrown in — in detailed, 10- to 16-page spreads. The glowing, Instagram-worthy images are punctuated with a short intro about each garden and captions explaining key design elements, followed by a 2-page spread called "Steal This Look," which calls out aspects of the design that create a certain style, like Moroccan Modern and Rustic Glamour, to name two.
All of the gardens featured in this section are in New England, mostly New York and Massachusetts (6); London, England (3); and California (3); with one exception — a welcome surprise! — from Austin, Texas (Christy Ten Eyck's garden, which I've photographed myself several times). I would have preferred more variety in locations, but I enjoyed each garden anyway and lingered over the images.
That's half the book. The next two chapters feature, respectively, the use of color in the garden and 8 "creative ways to get more from your garden," and there's plenty to admire here too. The following chapter, Design Ideas, I found least useful, even simplistically silly, in showing how to create a few outdoor projects. For example, a "simple outdoor sink" is suggested as a project for a DIY garden workspace, but what's shown is a galvanized bucket placed under an existing faucet — or a faucet that you've had a plumber install (i.e., not very DIY). On page 301, the author suggests using a propped-up pitchfork as an impromptu hose-sprayer support for irrigation. Um, no. And Christy Ten Eyck's rustic-elegant outdoor shower constructed of wire mesh (page 304) is described as a DIY-friendly "Simplest Shower." I've asked Christy about that exact wire mesh and learned you'd need to be a skilled welder or hire one to recreate her McNichols mesh outdoor shower enclosure.
Aside from those stumbles of oversimplification, there's plenty to interest those who like to style outdoor spaces with a similar attention to detail as the interior, as well as anyone who enjoys paging through pictures of lovely gardens, learning about the gardeners who created them, and getting inspiration for their own gardens. And if the book whets your appetite for more garden gorgeousness, you can always pop online and surf Gardenista's website, a sister site to the hugely popular Remodelista.
I welcome your comments; please scroll to the end of this post to leave one. If you're reading this in a subscription email, click here to visit Digging and find the comment box at the end of each post.
_______________________
Digging Deeper: News and Upcoming Events
2/25/17: Come to my talk at the Wildflower Center. I'll be speaking at the day-long Native Plant Society of Texas Spring Symposium at the Lady Bird Johnson Wildflower Center in Austin. My talk is called "Local Heroes: Designing with Native Plants for Water-Saving Gardens," and it's about creating water-wise home gardens that don't sacrifice beauty. The symposium is open to the public. Click here for registration. I'll be offering signed copies of my books, The Water-Saving Garden and Lawn Gone!, after my talk ($20 each; tax is included). I hope to see you there!
Get on the mailing list for Garden Spark Talks. Inspired by the idea of house concerts — performances in private homes, which support musicians and give a small audience an up-close and personal musical experience — I'm hosting a series of garden talks by design speakers out of my home. The first talk with Scott Ogden has sold out, but join the Garden Spark email list for speaker announcements delivered to your inbox; simply click this link and ask to be added. Subscribers get 24-hour advance notification when tickets go on sale for these limited-attendance events.
All material © 2006-2017 by Pam Penick for Digging. Unauthorized reproduction prohibited.