January 24th, 2008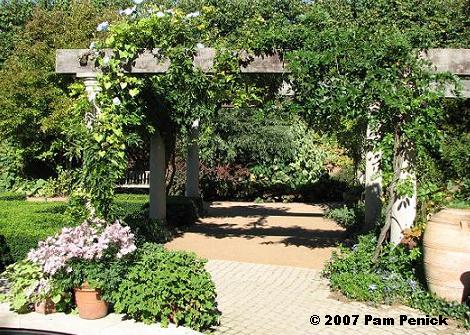 Don't you just love this wisteria-and-morning glory cloaked pergola in my garden?
NOT! I wish. I have no arbors or pergolas in my garden, and this month I'm sorely feeling the lack. The folks over at Gardening Gone Wild have designated January's design workshop topic "Arbors and Pergolas," and garden bloggers all over are showing off their beautiful handiwork.
Ah well. I'll have to content myself with showing you eye candy—from grand to homey—from gardens I've visited over the past couple of years.
Confession: The massive pergola pictured at top is located in the English Walled Garden in the Chicago Botanic Garden. I admire the combination of classical columns and rustic, heavy timbers.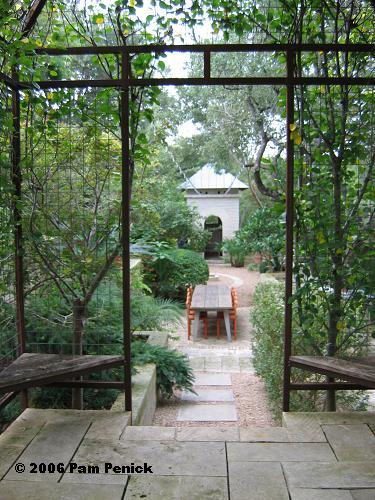 To contrast, how about this elegant, spare arbor in James David's garden (which the Spring Flingers will tour in April)? Vertical ironwork shelters a couple of corner seats and a beautifully pieced, cut-limestone floor, and frames a view of the dining terrace and limestone dovecote. Gorgeous.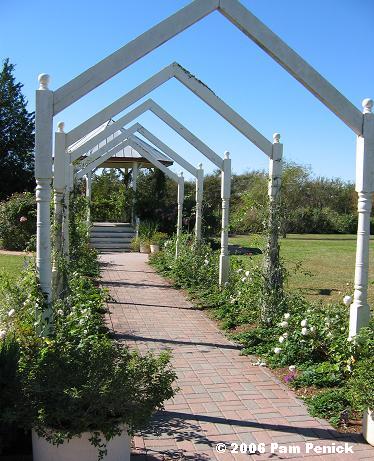 A series of white, triangular arbors leads visitors to a gazebo on the grounds of the Antique Rose Emporium in Independence, Texas.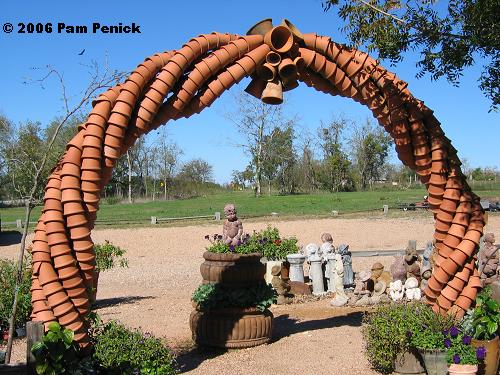 Here's a fun twist on the classic entry arbor. The Antique Rose Emporium frames its entrances with clay-pot arbors. How many pots went into the construction, I wonder.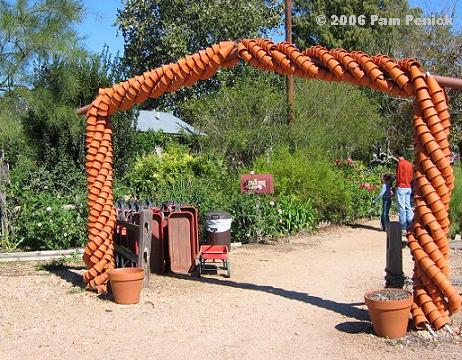 Here's the other one.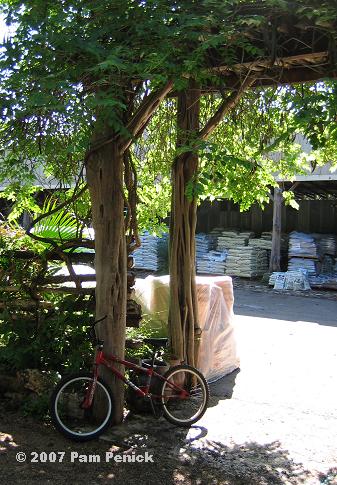 A sinewy cedar arbor offers a shady welcome to customers at Barton Springs Nursery—and provides a handy bike rack.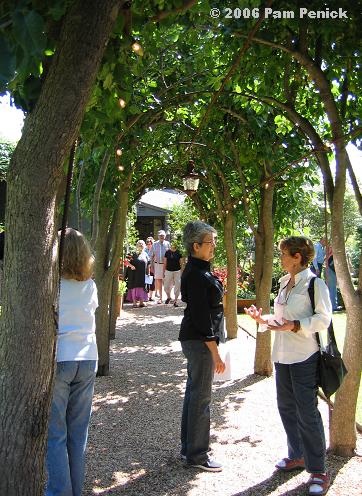 An arching allee of espaliered Bradford pears in Deborah Hornickel's garden functions like a series of arbors: it frames a view and pulls visitors along a path. It would also be a delightful spot for an alfresco dinner party.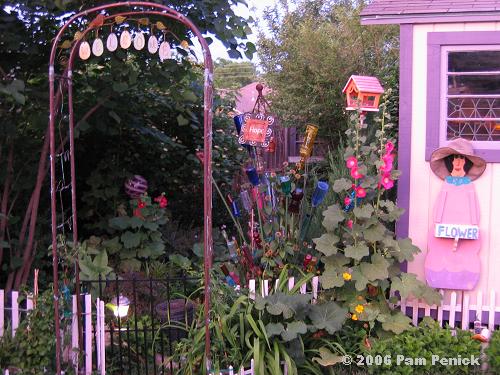 No favoritism here, I promise! But I delight in my mother's cheerful, hollyhock-festooned garden, which includes this humble, copper arbor made of welded tubing. The dangling, pastel ovals spell out Welcome. Indeed!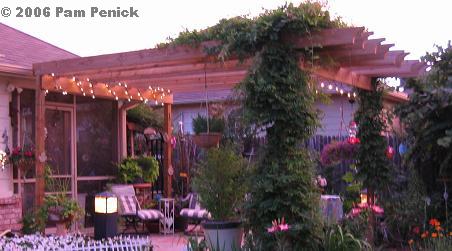 Mom loves wisteria too and had this large, cedar pergola constructed to shade an open patio. As you can see, it's very cozy on a summer evening with the twinkle lights glowing.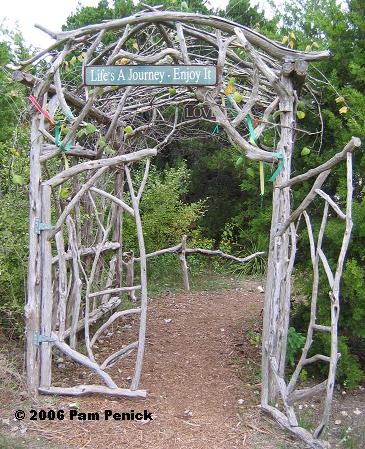 Life's a Journey—Enjoy It, a rustic, twig arbor reminds us at the Natural Gardener nursery, another stop on the upcoming Spring Fling tour.
I hope you've enjoyed this journey down memory lane with me. If I can't squeeze an arbor or pergola into my own garden (and I may yet—who knows?), at least I can enjoy them in others'.
All material © 2006-2008 by Pam Penick for Digging. Unauthorized reproduction prohibited.