January 20th, 2017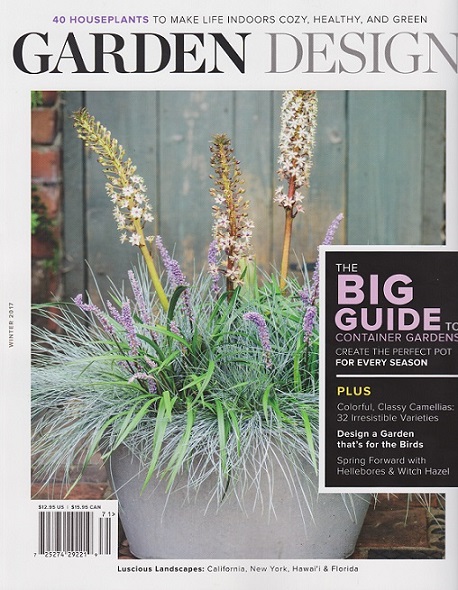 Bold, contemporary design or lush, jungly Old Florida style? Key West landscape architect Craig Reynolds shared his insights and design tips about both garden styles with me for a profile in the current issue of Garden Design magazine (Winter 2017, pgs 118-129).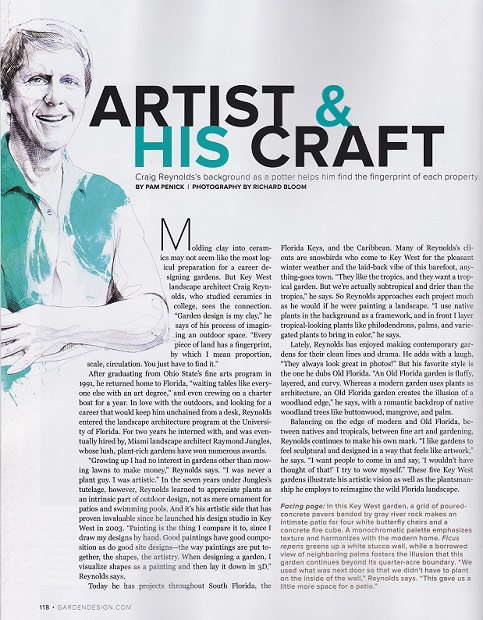 I hope you'll look for the issue on newsstands — or even better, subscribe to this terrific magazine, which is completely ad free and subscriber based — and let me know what you think!
Also, be sure to visit Digging all next week for Book Review Week! I'll be sharing my recommendations for garden-design books (and one photography book) to get you through the winter.
I welcome your comments; please scroll to the end of this post to leave one. If you're reading this in a subscription email, click here to visit Digging and find the comment box at the end of each post.
_______________________
Digging Deeper: News and Upcoming Events
Book Review Week is coming to Digging all next week. Do you have an Amazon gift card from the holidays burning a hole in your pocket? Need a good gardening book to get you through winter? Come here first for my recommendations. Starting Monday, January 23rd.
2/25/17: Come to my talk at the Wildflower Center. I'll be speaking at the day-long Native Plant Society of Texas Spring Symposium at the Lady Bird Johnson Wildflower Center in Austin. My talk is called "Local Heroes: Designing with Native Plants for Water-Saving Gardens," and it's about creating water-wise home gardens that don't sacrifice beauty. The symposium is open to the public. Click here for registration. I'll be offering signed copies of my books, The Water-Saving Garden and Lawn Gone!, after my talk ($20 each; tax is included). I hope to see you there!
Get on the mailing list for Garden Spark Talks. Inspired by the idea of house concerts — performances in private homes, which support musicians and give a small audience an up-close and personal musical experience — I'm hosting a series of garden talks by design speakers out of my home. The first talk with Scott Ogden has sold out, but join the Garden Spark email list for speaker announcements delivered to your inbox; simply click this link and ask to be added.
All material © 2006-2017 by Pam Penick for Digging. Unauthorized reproduction prohibited.