January 13th, 2017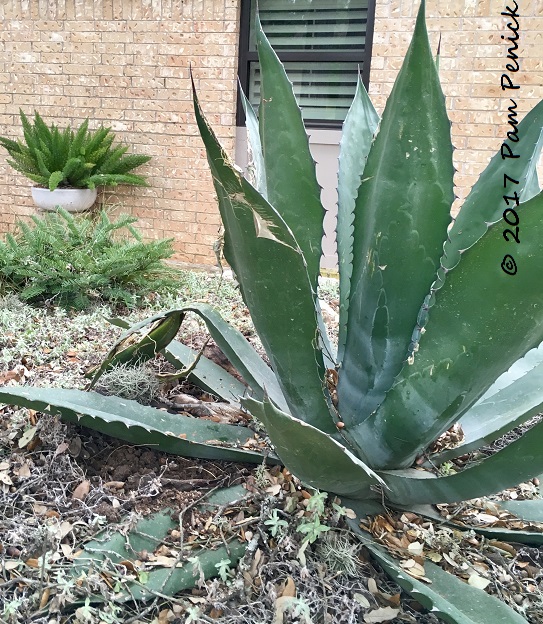 The bucks have been at it again this winter, rubbing their antlers on agaves, yuccas, hesperaloes, and small trees throughout my neighborhood. I always cage my small possumhaw holly in early fall through early spring, but I was hoping I could get away with less structural deterrents (sprays and wireless deer fencing) for the woody lilies, like this 'Green Goblet' agave. Alas, no. Truly, the buck stops here.
So we pulled the rolled wire out of the attic, and I've belatedly wrapped this agave and a mangled giant hesperaloe. Note to self: do NOT wait until October next year!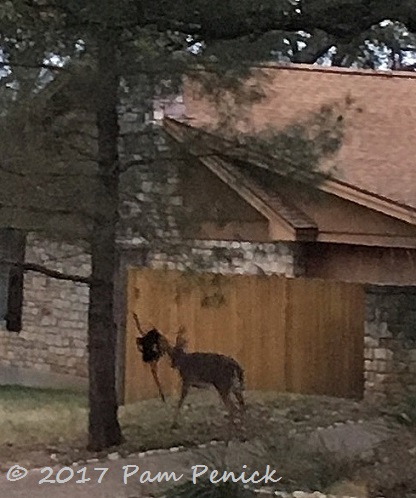 The deer are pests, but still, I do feel sorry for this guy. I've been reading about him since early December on our neighborhood Facebook page, and last week we spotted him moseying down our street, with a net and a pole tangled in his left antler. How in the world he managed to do this to himself, no one knows. But according to the FB comments from concerned neighbors, the game warden and local wildlife groups say nothing can be done unless he drops from exhaustion, which doesn't seem likely considering he's still active and looks healthy after more than a month. Bucks drop their antlers in late winter or spring, so hopefully he'll be free soon.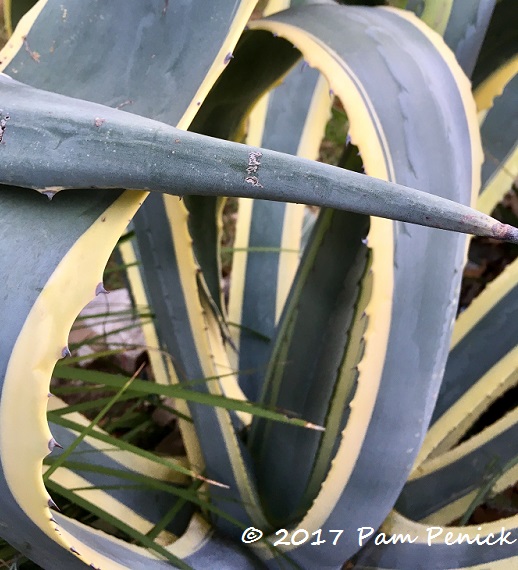 In my walks around the neighborhood, I've marveled that certain agaves, like this variegated one in a hell strip one street over, seem to escape deer damage every year. Maybe it's just not on the usual deer paths.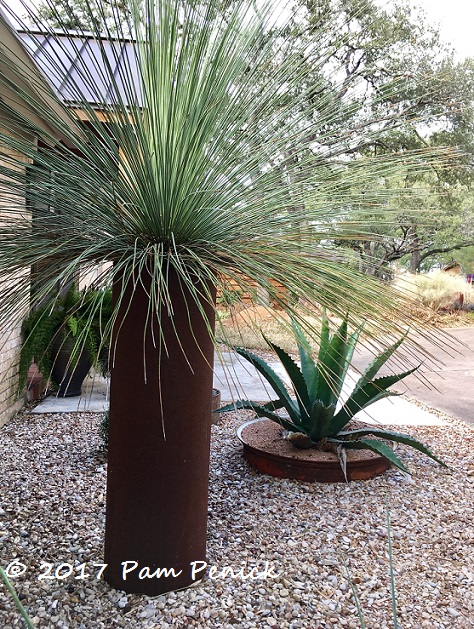 The 'Jaws' agave by my front door has so far escaped antlering damage, perhaps because of proximity to the house or because I spray it with deer repellent from time to time. And the toothless sotol in the tall pipe is safe because of its height, and maybe would be anyway because its leaves are so pliable — i.e., less tempting to deer.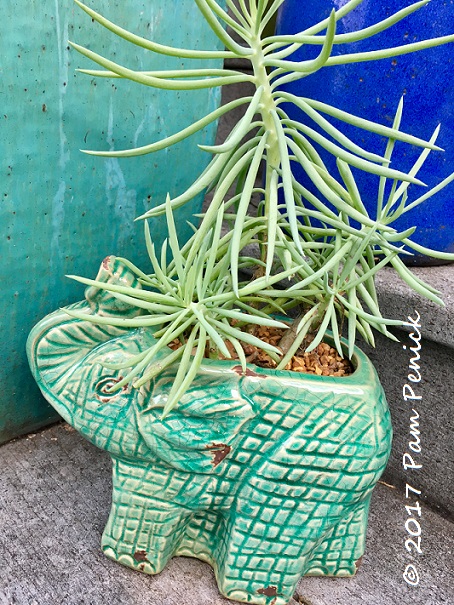 The deer are a pain. But thank heavens I don't have elephants wandering around the garden.
I welcome your comments; please scroll to the end of this post to leave one. If you're reading this in a subscription email, click here to visit Digging and find the comment box at the end of each post.
_______________________
Digging Deeper: News and Upcoming Events
2/25/17: Come to my talk at the Wildflower Center. I'll be speaking at the day-long Native Plant Society of Texas Spring Symposium at the Lady Bird Johnson Wildflower Center in Austin. My talk is called "Local Heroes: Designing with Native Plants for Water-Saving Gardens," and it's about creating water-wise home gardens that don't sacrifice beauty. The symposium is open to the public. Click here for registration. I'll be offering signed copies of my books, The Water-Saving Garden and Lawn Gone!, after my talk ($20 each; tax is included). I hope to see you there!
Get on the mailing list for Garden Spark Talks. Inspired by the idea of house concerts — performances in private homes, which support musicians and give a small audience an up-close and personal musical experience — I'm hosting a series of garden talks by design speakers out of my home. The first talk with Scott Ogden has sold out, but join the Garden Spark email list for speaker announcements delivered to your inbox; simply click this link and ask to be added.
All material © 2006-2017 by Pam Penick for Digging. Unauthorized reproduction prohibited.