January 5th, 2017

Inspired by the idea of house concerts — performances in private homes, which support musicians and give a small audience an up-close and personal musical experience — I've decided to host a series of garden talks by well-known design speakers out of my home, and I'm calling it Garden Spark!
Garden Spark talks are for anyone with an interest in gardening, garden design, and learning from design experts. You won't find anything else like this in Austin! I know because I'm always looking for garden presentations geared to avid and experienced gardeners, by nationally known designers and authors, and they just don't come around that often.
Hosting at home will help me keep down expenses and create a fun, intimate experience for a small number of guests (30). To attract excellent speakers I'm paying them a fair speaker fee, raised through ticket sales. If you're not in the speaking biz, you might not know that speakers are often asked to present for free or for a nominal honorarium. Even if a speaker is hoping to promote a business or a book, it can be hard to justify the enormous amount of prep time for a good talk, which for garden speakers involves not just the talk itself but putting together a slide show of gorgeous photos that required a lot of time and maybe travel money to get. Since many organizations that might want to host great speakers are nonprofits, volunteer-run, or otherwise strapped for funds, bigger-name talks just don't happen.
I'm hoping to change that with today's launch of Garden Spark. For the cost of a dinner out or a movie, two drinks, and a popcorn, you can enjoy seeing a great garden speaker in a cozy, personal setting. Just SEND ME AN EMAIL requesting an invitation, and I'll send you more info and a link to the event page, where you can register and pay conveniently by credit card. Keep in mind, there are only 30 seats — that's how many I can fit in my living room — so secure your seat early! And please do share the event with your garden-loving friends and any garden clubs or master gardener groups you belong to!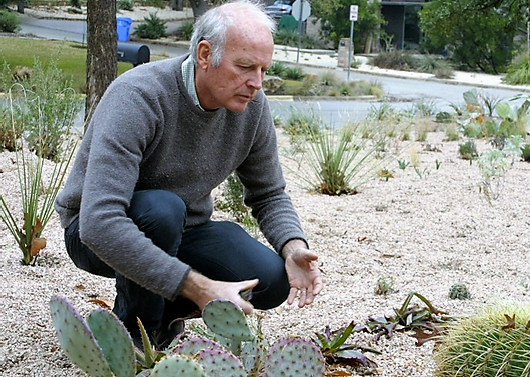 I'm excited to announce that our very first speaker, on February 2nd, will be Austin designer and author Scott Ogden, who'll present "The Moonlit Garden":
Update 1/6: ***THIS EVENT IS NOW SOLD OUT. If you'd like to hear about future Garden Spark talks, please get on the mailing list. Send me an email and let me know you'd like to be added to the email list.***
In Austin's hot climate, outdoor activity picks up during evening hours as temperatures cool, and this is true for nature as well as people. Many plants and flowers bloom in the evening, and for this reason romantic gardens for nighttime enjoyment have long been part of landscape traditions around the world, as in ancient Persia, with its jasmine-shrouded, enclosed formal plantings centered on rills of water; classical China, with reflecting pools, moon gates, and naturalistic limestone rockwork; and the English white garden composed of plants with silvery foliage and pale, sweet-scented flowers.

Scott Ogden's visual presentation, "The Moonlit Garden," explores how plants with features that shine during evening hours – silvery foliage, pale bark, or white or yellow flowers that can be enjoyed in dim light; glistening, silky textures; dramatic forms; and highly reflective foliage – combine artfully with dark-leaved plants for contrast and with pale native limestone, subtle lighting, and gentle sounds from dripping water to create sensual gardens beautiful day and night.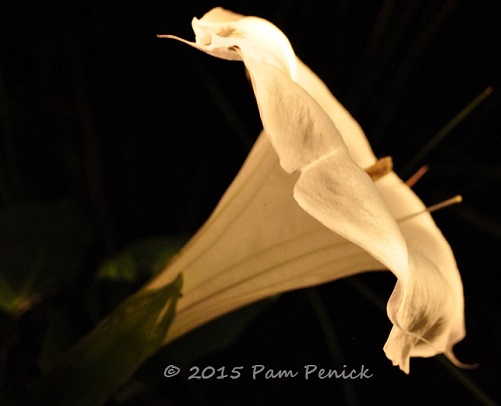 Scott is a nationally known speaker and designer of public and private gardens around the country, including the award-winning Tropical Mosaic Garden in Naples, Florida, and the refurbished Sibley Horticulture Center at Calloway Gardens in Georgia. Here in Austin, in addition to many beautiful private gardens, his design work includes the innovative xeriscape garden at Rollingwood City Hall. Scott is the author of The Moonlit Garden, Garden Bulbs for the South, and Gardening Success With Difficult Soils and co-author, with his wife, Lauren Springer Ogden, of Plant-Driven Design and Waterwise Plants for Sustainable Gardens.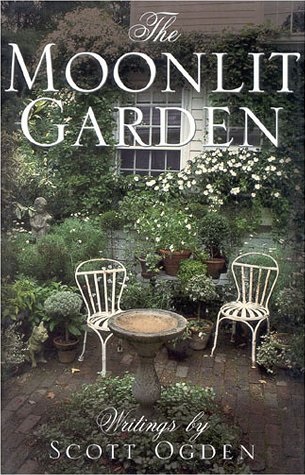 After the talk, Scott will be selling his books, and I'll have light refreshments to enjoy while you meet Scott.
What: Garden talk by designer/author Scott Ogden on creating a "moonlit garden"
When: Thursday, February 2nd, 7:30-8:30 pm, with a book-signing until 9 pm
Where: Private home in northwest Austin (zip 78759) — my house, in fact
How to attend: Send me an email for an invitation and a link to the event page
Garden Spark is a speaker series on garden design, open by invitation and hosted in my home. Admission compensates our excellent speakers and helps make these talks possible. I'm hosting because I want to hear great garden speakers in Austin and share that with fellow avid gardeners.
Please note: Ticket sales are final. If the event doesn't fill or is cancelled due to any unforeseen reason, full refunds will be given.
I welcome your comments; please scroll to the end of this post to leave one. If you're reading this in a subscription email, click here to visit Digging and find the comment box at the end of each post.
All material © 2006-2017 by Pam Penick for Digging. Unauthorized reproduction prohibited.