December 18th, 2016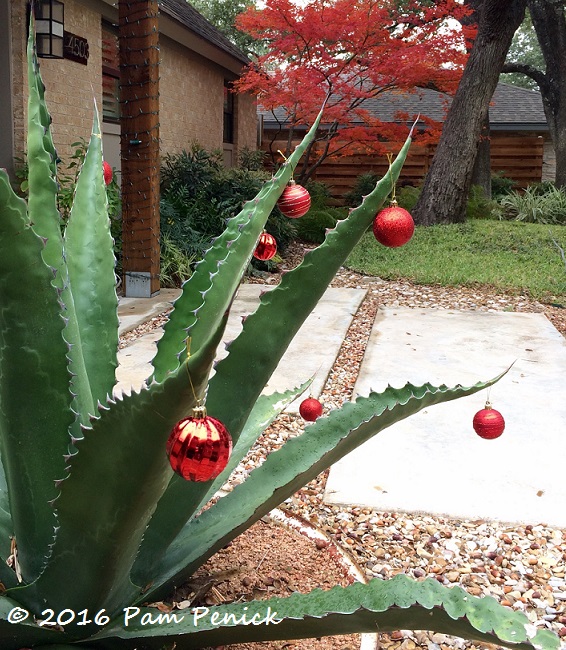 Austin plummeted from a high of 80 F (26.6 C) yesterday afternoon to 26 F (-3.3 C) this morning, and today the Japanese maple is clinging shiveringly to far fewer leaves than yesterday, when I took this photo. That's Texas winter weather for you.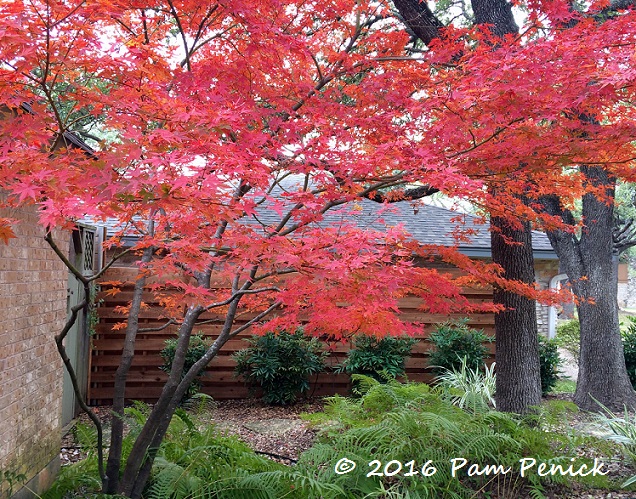 In preparation for the coming Arctic blast, I sweated yesterday for an hour in short sleeves moving tender succulents into the garage and covering with sheets any that are too big to move.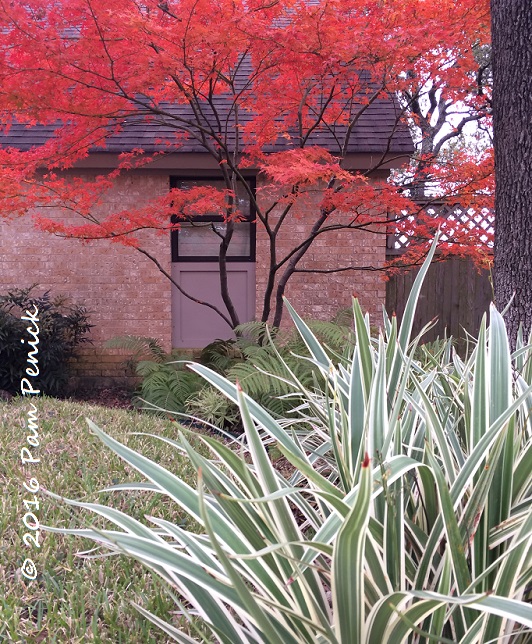 A blue norther (a strong cold front blowing in from the north) swirled into Austin around 8 pm last night, in the midst of holiday party hopping. The wind lasted through the night, and I fear it blew off some of the plant-protecting sheets, but it's cold enough that the sheets might not have helped anyway. I hope the variegated flax lily (in the foreground) will be OK. I never cover it — I have too much — but it doesn't like sustained subfreezing weather.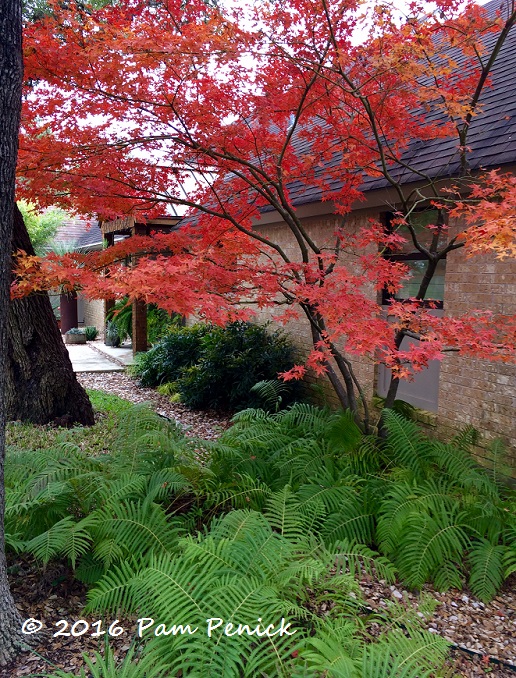 Of course the native and adapted plants, like river fern and Japanese maple (and most of my plants), will be perfectly fine and don't need any special protection. The native ferns will die back to the ground and the maple will drop its leaves until spring returns in a couple of months.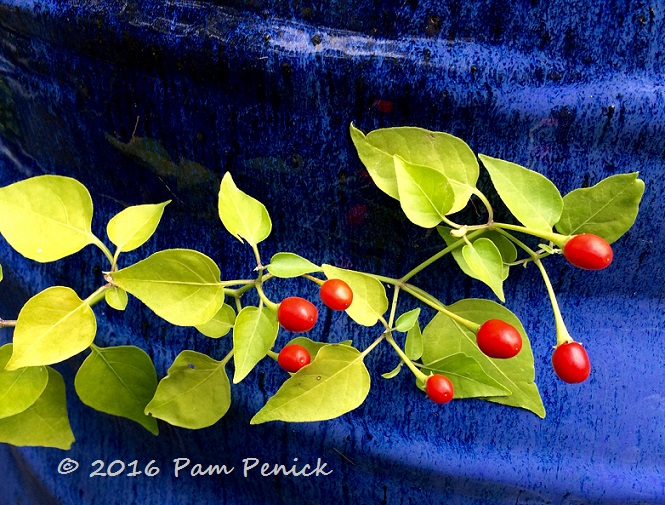 Other fall-colorful plants, like chile pequin, will shrivel and go dormant too.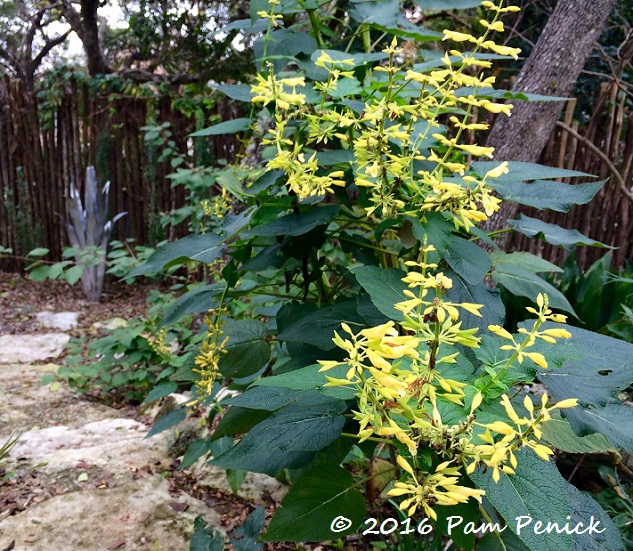 Moonlight-yellow flower spikes on the forsythia sage (Salvia madrensis) yesterday — farewell!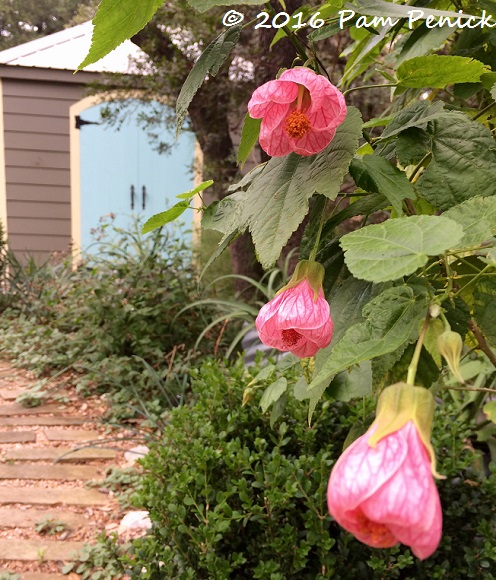 Pink abutilon blooming yesterday. It likes cool weather, but a few hard freezes may shrivel it too.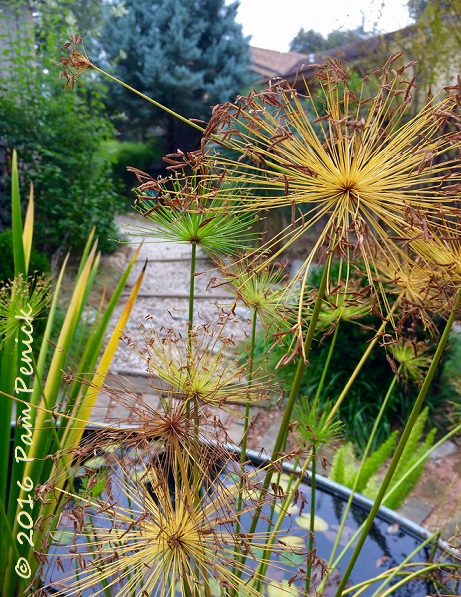 In the pond, dwarf papyrus has surprisingly wonderful fall color. I photographed it yesterday before dropping the pot to the bottom of my raised container pond to give it some protection from the cold.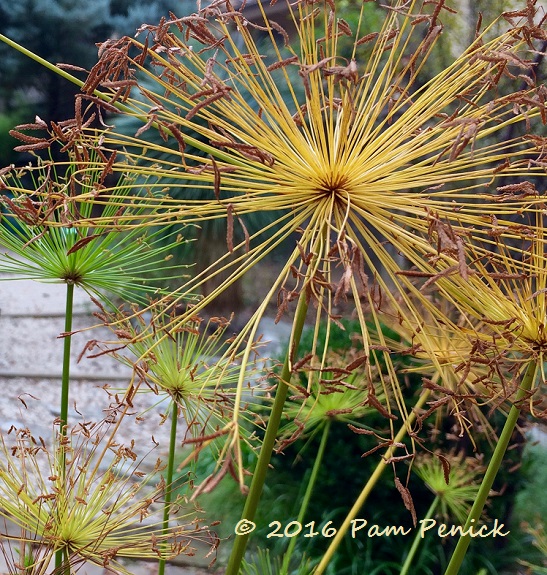 I'll pull it back up to the surface on Wednesday, when temps return to normal — i.e., comfortably above freezing at night — but the beautiful flowerheads will be limp and brown. No worries! They'll be back next year.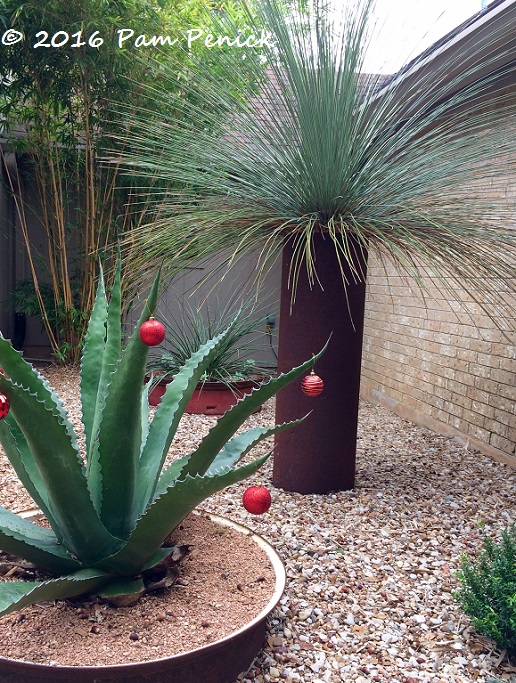 Here's hoping the hard freeze zaps a lot of mosquitoes and other pests. We didn't get a hard freeze last winter, and our summer gardens were jungly and the bugs were fierce. We needed this.
I welcome your comments; please scroll to the end of this post to leave one. If you're reading this in a subscription email, click here to visit Digging and find the comment box at the end of each post.
_______________________
Digging Deeper: News and Upcoming Events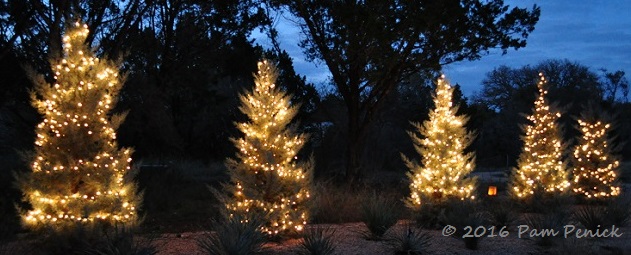 Need a holiday gift for the gardener, new homeowner, or environmentalist on your list?
Please consider giving one (or both!) of my books. They're packed with plenty of how-to info for newbies as well as lots of inspirational photos and design ideas for more experienced gardeners! Order today from Amazon (Water-Saving Garden / Lawn Gone!) or other online booksellers (Water-Saving Garden / Lawn Gone!), or find them anywhere books are sold.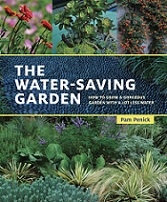 "In an era of drought and unpredictable weather patterns, The Water-Saving Garden could not come at a better time. With striking photographs and a designer's eye, Penick shows us just how gorgeous a water-wise garden can be. This is the must-have garden book of the year!"
— Amy Stewart, author of The Drunken Botanist and Wicked Plants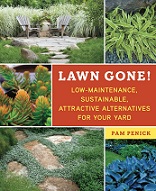 "This thoughtful, inviting, and thoroughly useful book should be required for every new homeowner at closing. It has the power to transform residential landscapes from coast to coast and change the world we all share."
— Lauren Springer Ogden, author of The Undaunted Garden and coauthor of Waterwise Plants for Sustainable Gardens
All material © 2006-2016 by Pam Penick for Digging. Unauthorized reproduction prohibited.
posted in
2nd garden--2016
,
Agaves
,
Bamboo
,
Berries
,
Containers
,
Decor
,
Fall color
,
Fences
,
Garden art
,
Ponds
,
Sheds
,
Shrubs
,
Trees
,
Water gardening
,
Weather
,
Winter color