December 16th, 2016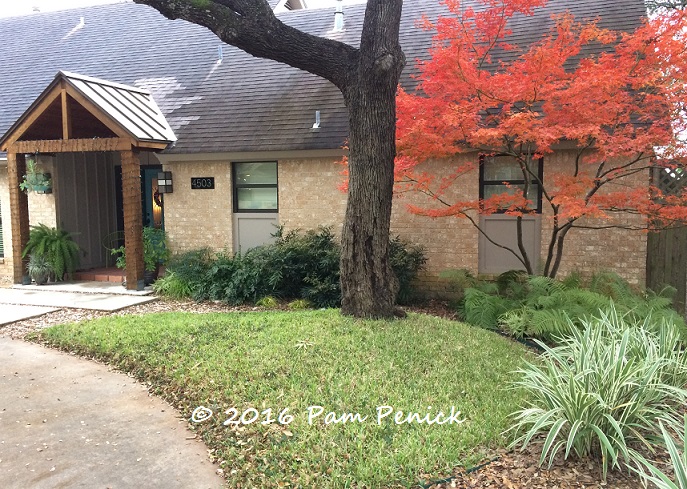 I've been celebrating a belated fall here at Digging and on Instagram this week, as our Japanese maple flamed into orange and then red. Although it's a little odd to see brilliant fall color at Christmastime, we deprived Texas gardeners happily take it whenever we can get it.
My garden hasn't gotten a freeze yet, which is why the river ferns under the maple still look fresh and green. They'll turn brown and shrivel this Saturday, when we're expecting a hard freeze. Other good foliage plants here include variegated flax lily (Dianella tasmanica 'Variegata'), Chinese mahonia (Mahonia fortunei), holly fern (Cyrtomium falcatum), 'Soft Caress' mahonia (Mahonia eurybracteata 'Soft Caress'), and 'Everillo' sedge (Carex oshimensis 'Everillo').
Of course lawn is a foliage plant too, and this one semicircular patch of St. Augustine is all that remains of the large lawn we inherited with the house. It's both decorative and functional, as we have tons of live oak sprouts that come up in this spot, and it's easier to mow them than to weed them out of a garden bed.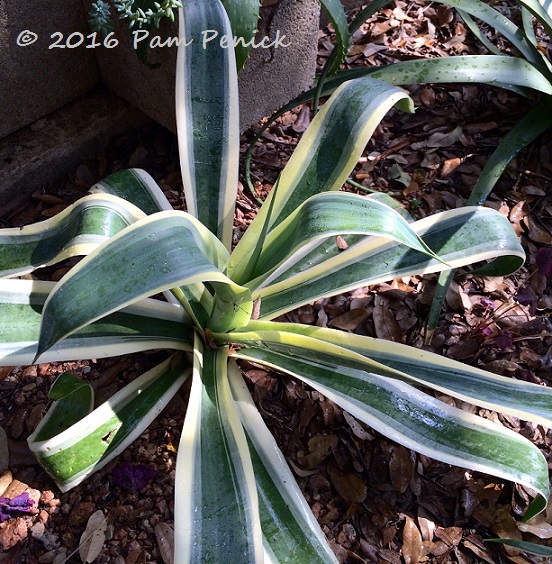 Here's one of my rarer plants, 'Espresso' mangave, a white-edged version of well-known 'Macho Mocha' mangave. Austin designer and author Scott Ogden gave me a pup a few years ago, and it's grown very slowly and produced a few sparing pups of its own, one of which I returned to Scott after agave snout-nosed weevils got his original plant.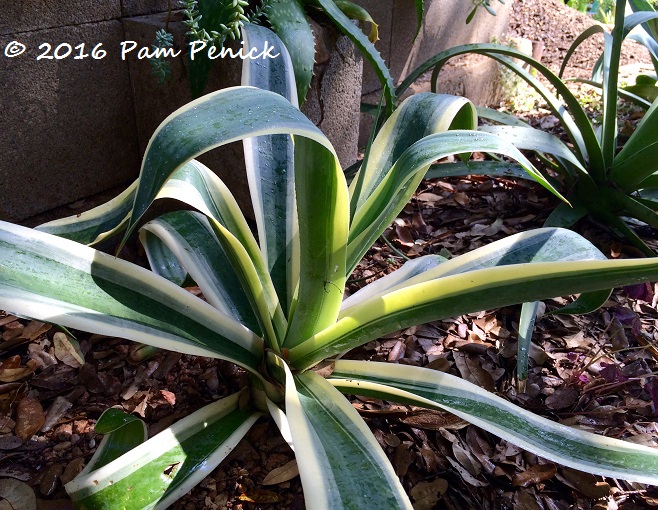 This is my December post for Foliage Follow-Up. Fellow bloggers, what leafy loveliness is happening in your garden this month? Please join me in giving foliage its due on the day after Bloom Day. Leave a link to your post in a comment below. I'd appreciate it if you'll also link to my post in your own — sharing link love! If you can't post so soon after Bloom Day, no worries. Just leave your link when you get to it. I look forward to seeing your foliage faves.
I welcome your comments; please scroll to the end of this post to leave one. If you're reading this in a subscription email, click here to visit Digging and find the comment box at the end of each post.
_______________________
Digging Deeper: News and Upcoming Events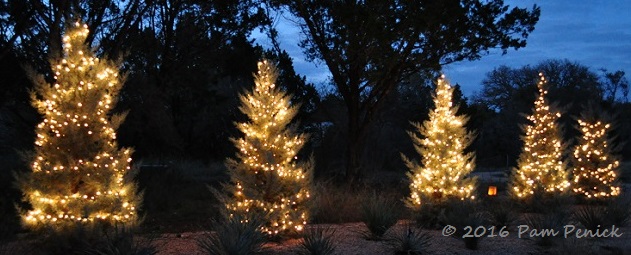 Need a holiday gift for the gardener, new homeowner, or environmentalist on your list?
Please consider giving one (or both!) of my books. They're packed with plenty of how-to info for newbies as well as lots of inspirational photos and design ideas for more experienced gardeners! Order today from Amazon (Water-Saving Garden / Lawn Gone!) or other online booksellers (Water-Saving Garden / Lawn Gone!), or find them anywhere books are sold.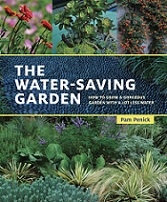 "In an era of drought and unpredictable weather patterns, The Water-Saving Garden could not come at a better time. With striking photographs and a designer's eye, Penick shows us just how gorgeous a water-wise garden can be. This is the must-have garden book of the year!"
— Amy Stewart, author of The Drunken Botanist and Wicked Plants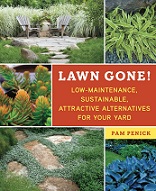 "This thoughtful, inviting, and thoroughly useful book should be required for every new homeowner at closing. It has the power to transform residential landscapes from coast to coast and change the world we all share."
— Lauren Springer Ogden, author of The Undaunted Garden and coauthor of Waterwise Plants for Sustainable Gardens
All material © 2006-2016 by Pam Penick for Digging. Unauthorized reproduction prohibited.