January 21st, 2008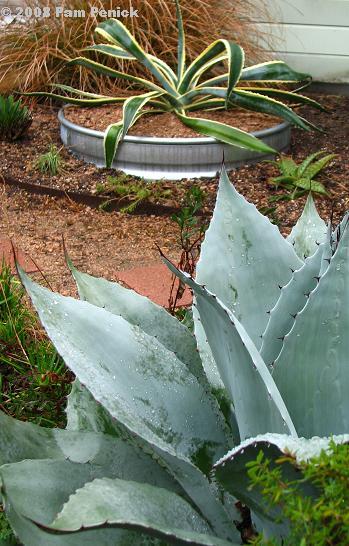 'Whale's tongue' agave (foreground) and Agave americana 'Marginata' in sunken stock tank (background)
I've already sung the praises of stock tanks and cattle troughs as striking yet easy vessels for container ponds and planters. Sold at feed-supply stores like Callahan's in Austin, these galvanized metal tanks come in any number of sizes…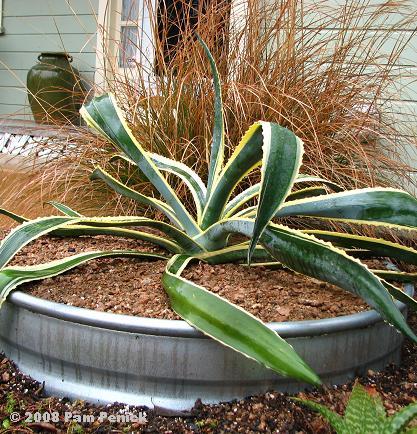 …from short and round, like the one I just planted my variegated agave in…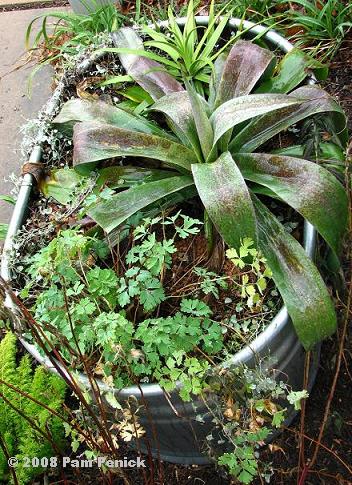 …to tall and oval, like the one I chose for a new planter…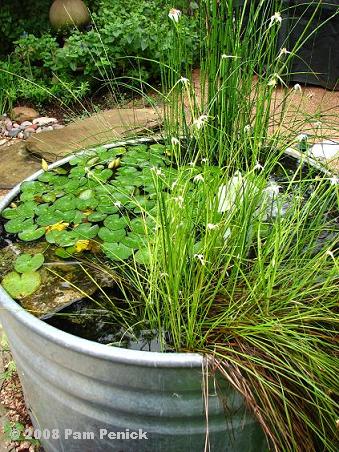 …to tall and round, like the 100-gallon tank I use for an easy, above-ground container pond.
Without going overboard on these marvelous silver catch-alls (I hope), I'm in the process of adding another one to the back garden near Green Hall, to replace a rotting wine-barrel planter.
Not only do these tanks look great in the Texas garden, they work as minimalist vessels in clean-lined contemporary or more-exuberant, plant-centered gardens anywhere. If you don't believe me, check out photos of Buell Steelman and Rebecca Sams's garden of Mosaic Gardens in Oregon.
After posting about the new agave planter in my foundation bed, several readers wondered why I used the stock tank. To contain the agave? To separate its gravel mulch from the hardwood mulch in the rest of the bed? To make it easier to plant this spiky monster by raising it up a bit?
Good guesses, but no. I simply used the stock tank to elevate the agave and give it prominence. To set it off as the star of the foundation bed.
Agaves require good drainage, so the stock tank had to be well-drilled with drainage holes. I used a metal bit to drill numerous holes in the bottom, and I also made sure the tank's drain hole was left unplugged. The 3-foot diameter tank is only 12 inches tall, so my helpful daughter and I dug a circular pit about 8 inches deep, leveled the pit with a 2-inch layer of gravel, and placed the tank in the pit, using a board and a level to make sure it was flat. I spread a 2-inch layer of gravel in the bottom of the tank for additional drainage, and then we shoveled in a mixture of fast-draining soil and decomposed granite. After planting the agave, I mulched it with a layer of decomposed granite.
I haven't decided how to mulch the bed that surrounds the variegated agave. I usually mulch with native hardwood mulch, which keeps weeds at bay and knits together nicely so that it doesn't wash away in Austin's heavy thunderstorms. But I may use decomposed granite for this bed since I planted a number of dry-climate plants around the circle tank. Gravel mulch is so susceptible to weeds, however, that I haven't made up my mind.
A light but steady drizzle has fallen since early this morning, and more is predicted for this week. We sure do need the rain, and I'm happy to know it's helping the transplants settle into their new homes.
All material © 2006-2008 by Pam Penick for Digging. Unauthorized reproduction prohibited.