November 30th, 2016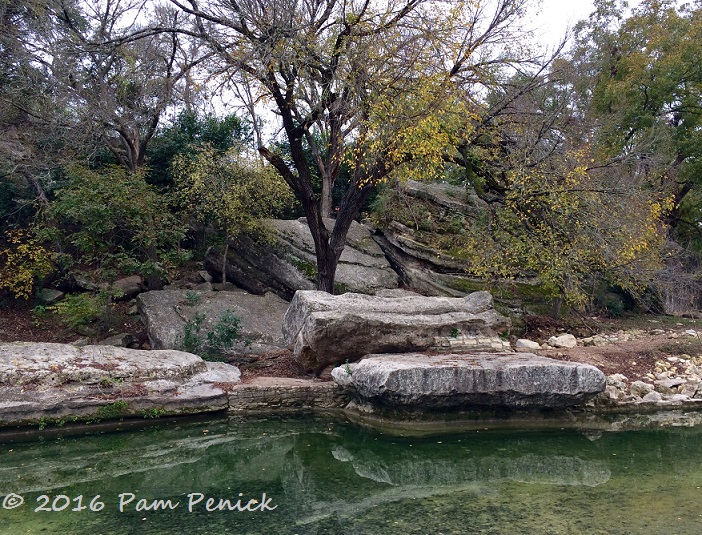 Bull Creek winds through one of the most scenic areas of Austin, under vertical limestone cliffs softened with maidenhair fern and dripping with water from numerous springs. In spring and summer, Austinites love to swim in the creek's deep-water holes (although high levels of bacteria, often from dog poo washing into the creek, have in recent years made swimming less appealing). But autumn and winter are my favorite seasons for exploring the creek and hiking the trails that crisscross its length.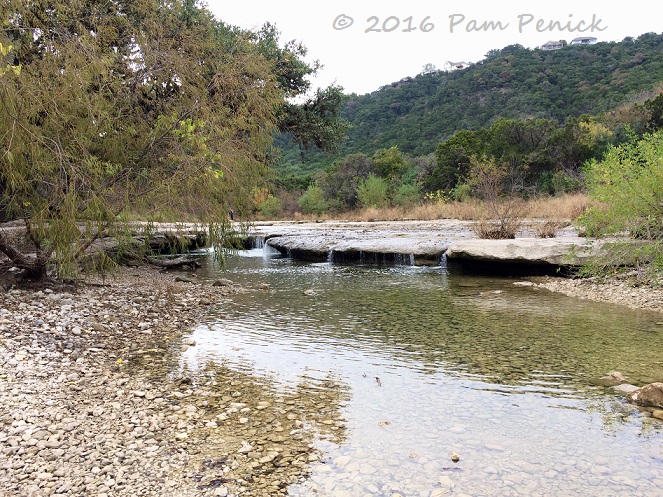 We can access Bull Creek just a mile from our house, at Spicewood Springs Road and Capital of Texas Highway, so that's where we usually go. But last Sunday, David and I explored a different stretch, entering Bull Creek District Park at 6701 Lakewood Drive.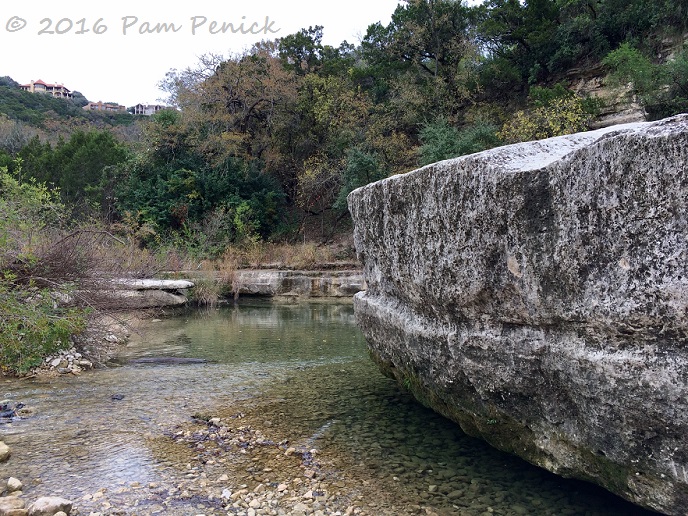 It's a lovely stretch, with steep cliffs and enormous slabs of rock, long ago eroded from the cliff walls, creating picnic-worthy islands.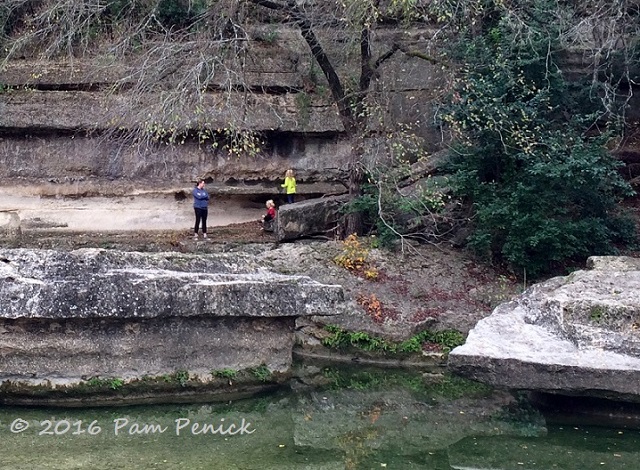 Kids scrambled on the rocks, and we saw a bouldering group setting up fall mats nearby.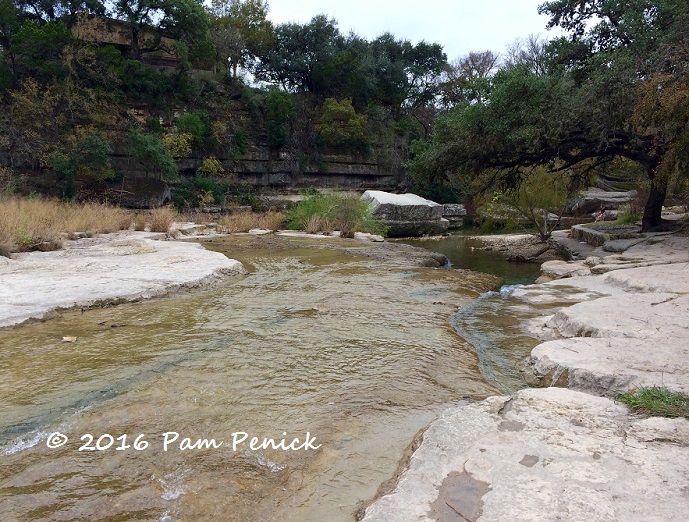 Although it's been dry lately, the creek was running nicely.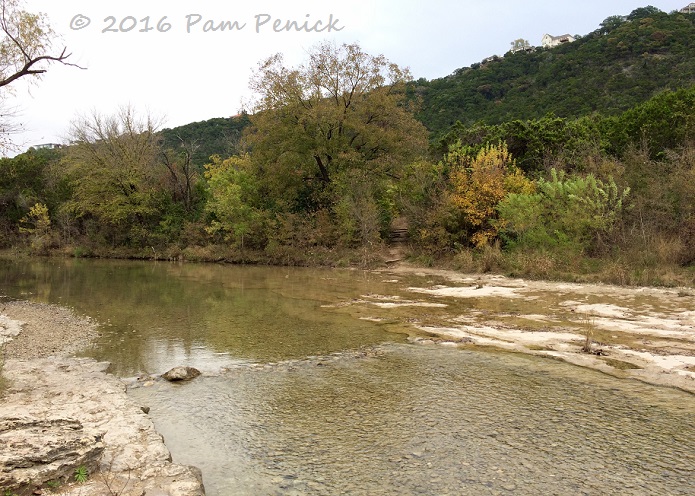 This shallow section was popular with people who brought their dogs.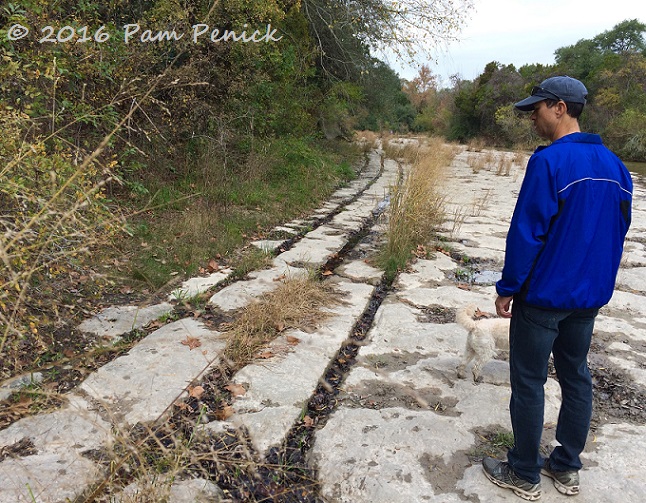 We'd read on a park kiosk about wagon tracks from the 1800s in the limestone bed of the creek here, and we found them just upstream from the park entrance.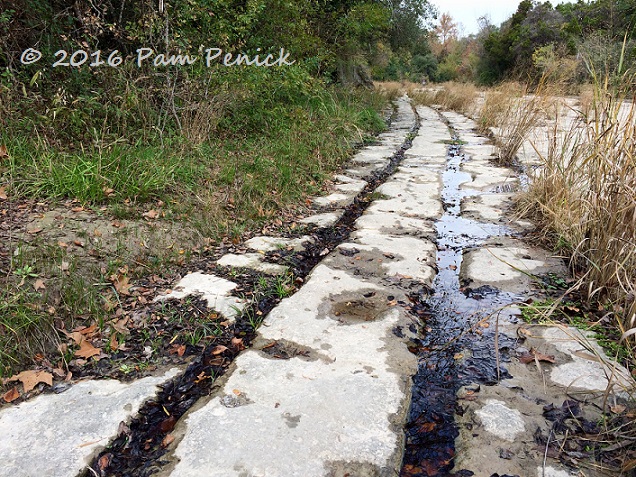 I can't find more details online, but we speculated that farmers bringing goods to town traveled the edge of the creek to bypass the cliffs, and over the years their metal-rimmed wheels carved channels into the soft limestone.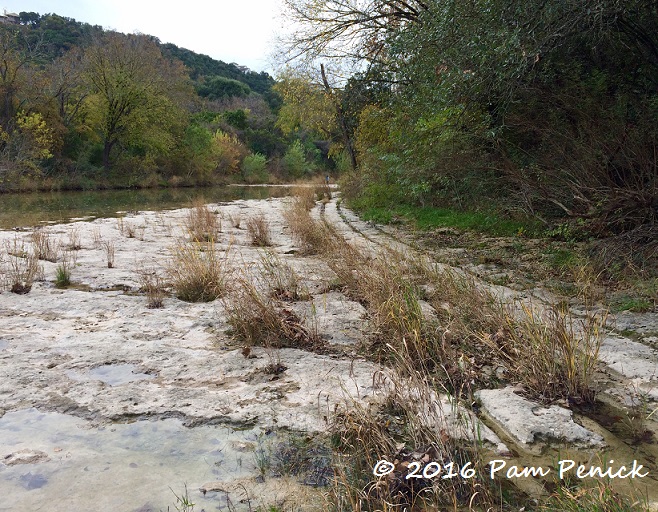 We were amused to see small fish swimming in the channels where wagons once rolled.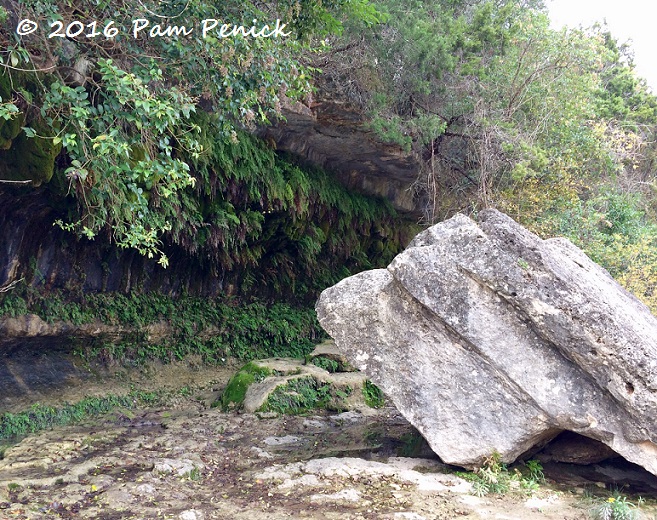 There's also a lovely grotto here, with maidenhair fern and bright-green moss wallpapering the underside of a rocky overhang.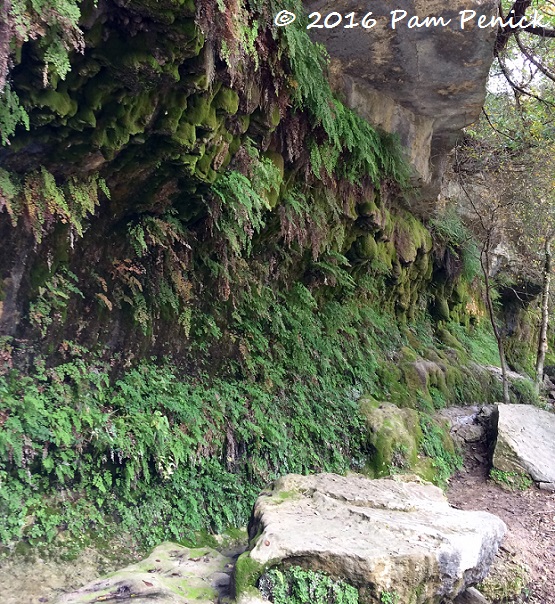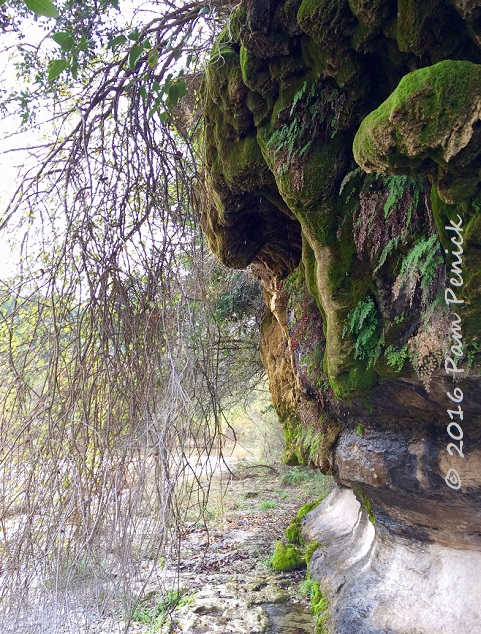 Water drip, drip, drips from the mossy walls like a gentle rainshower…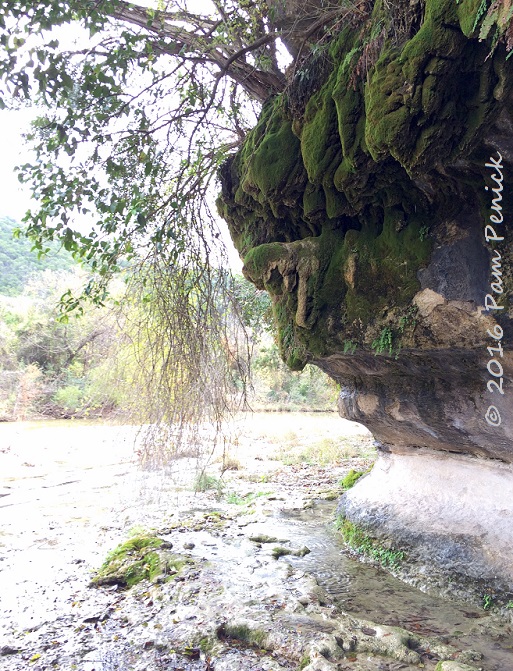 …filling a small pool of clear water below.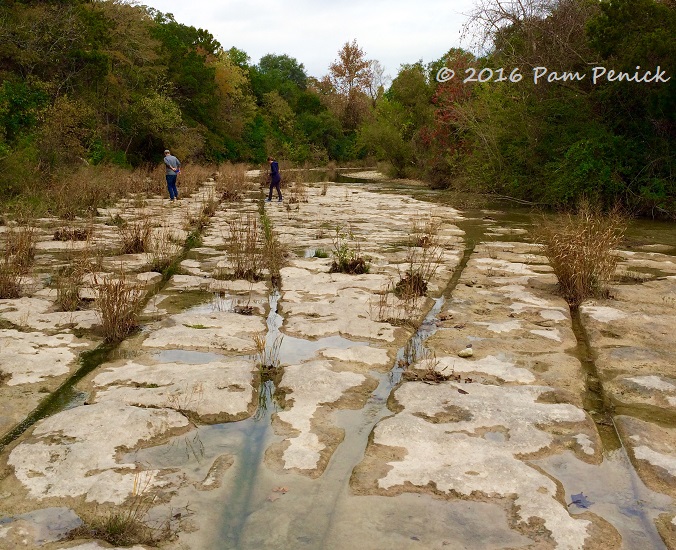 Just beyond the grotto, the wagon tracks diverge into two paths and then fade away where, I'm guessing, the wagons would climb back up the creek bank to continue on. It really brings history to life to see these old tracks.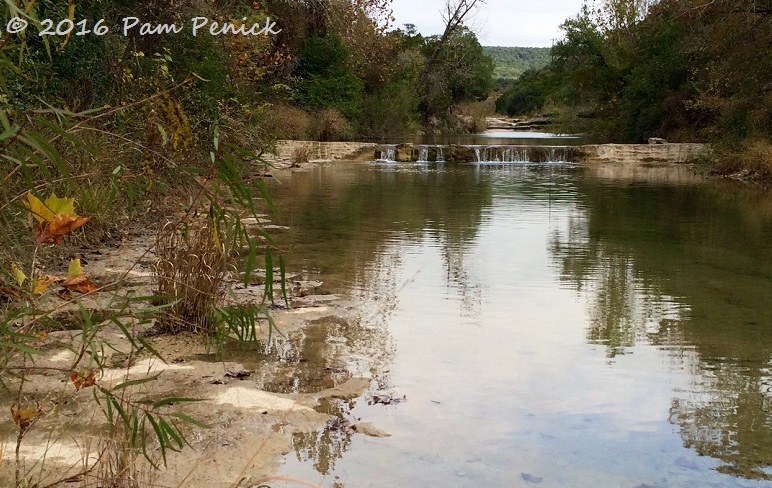 Beyond that, a weir creates a low waterfall. We turned around here and headed back downstream…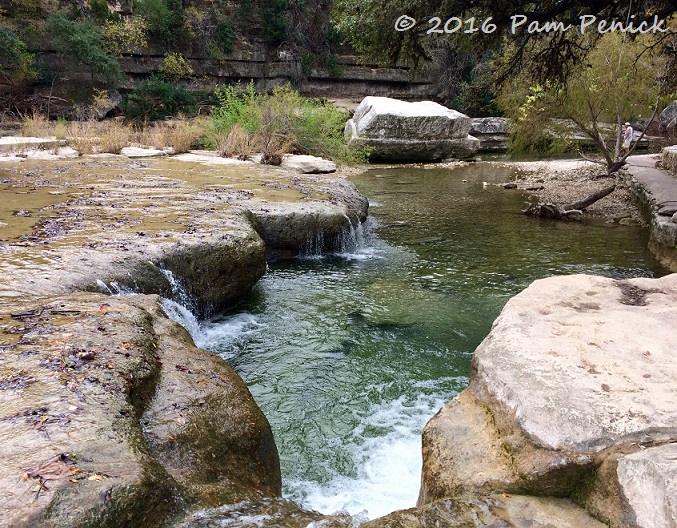 …passing a deep swimming hole under a natural waterfall.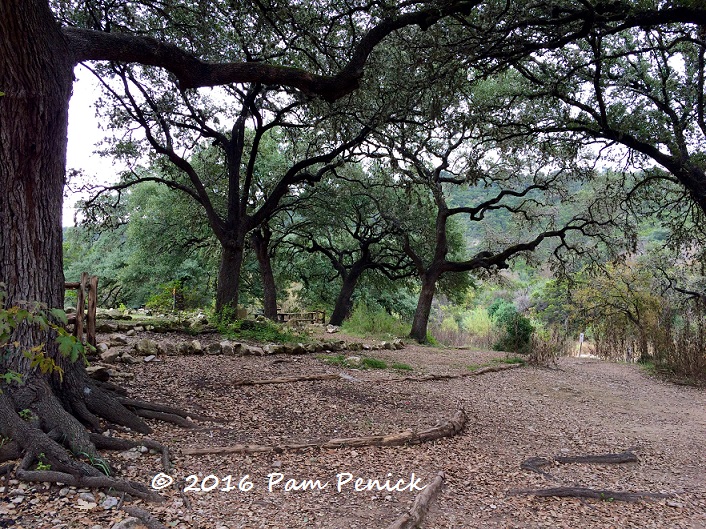 The black, writhing trunks and limbs of live oaks evoke calligraphy, don't they?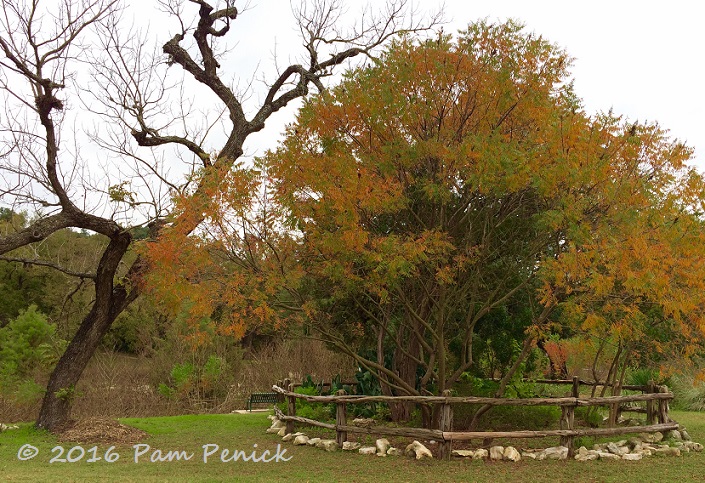 Flameleaf sumac (I think) starting to turn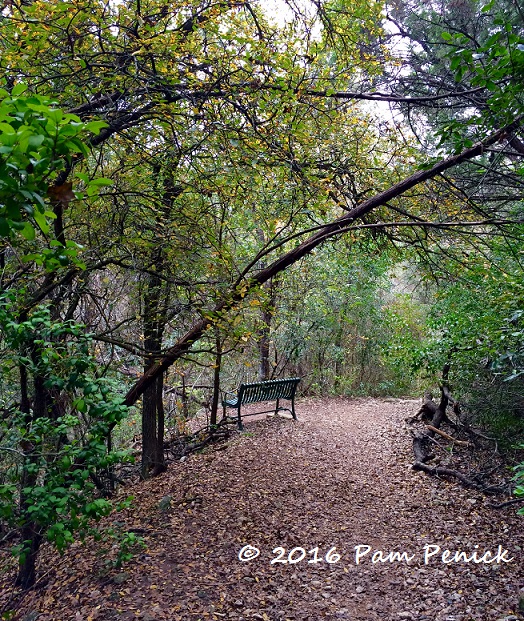 We also drove to the section of the creek nearest to our house and walked Inga's Trail. The wooded trail following the creek was much less crowded than the Lakewood area.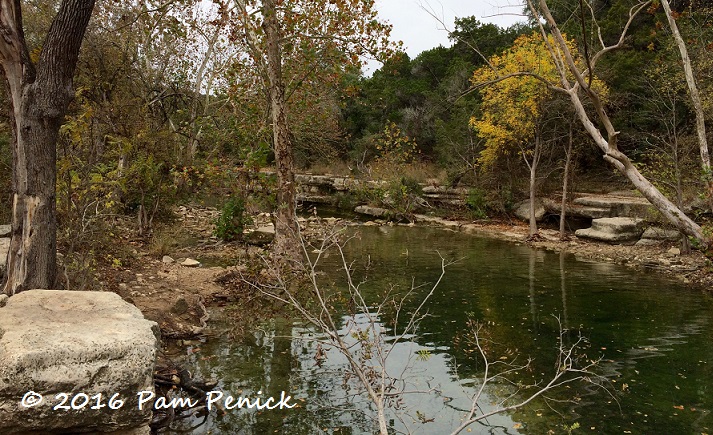 There are lovely, deep holes along the creek here too.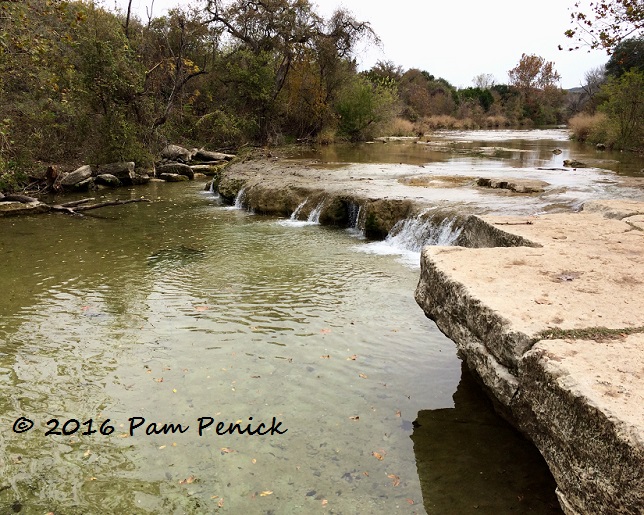 Wild places in our city, like Bull Creek, are a treasure we must preserve for all of us. But right now a developer is proposing to build an 11-story hotel right along Bull Creek at Old Spicewood Springs Road and Yaupon Drive, on a particularly fragile piece of land that's also one of the most scenic drives in Austin. I'm not anti-growth, and I believe in urban infill projects that can help reduce sprawl, but an 11-story hotel along the creek, along with requisite parking and traffic, will certainly negatively impact water quality and the scenic beauty of the area.
I don't know whether we can stop it, but we need to try. Please sign this petition against the project, which asks the City of Austin to annex the property so it will be subject to city development oversight, and asks the county not to approve the plan. Let's be smart about Austin's growth and save what makes Austin so special to residents and visitors alike!
I welcome your comments; please scroll to the end of this post to leave one. If you're reading this in a subscription email, click here to visit Digging and find the comment box at the end of each post.
_______________________
Digging Deeper: News and Upcoming Events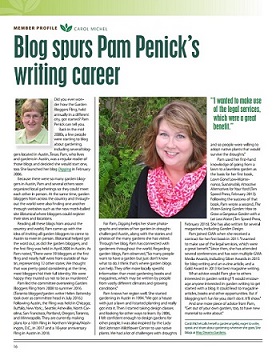 Want to know how I got started as a garden writer? Read page 16 of On the QT, the newsletter for GWA: The Association for Garden Communicators. I'm honored to be featured in an article by Carol Michel of May Dreams Gardens!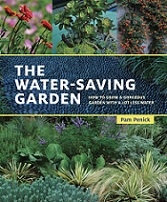 Do you review? Have you read my new book, The Water-Saving Garden? If you found it helpful or inspirational, please consider leaving a review — even just a sentence or two — on Amazon, Goodreads, or other sites. Online reviews are crucial in getting a book noticed. I really appreciate your help!
What's hot in garden design — or about to be? I interviewed designers and retailers across the U.S. to find out! Natural dye gardens, hyperlocalism, dwarf shrubs, haute houseplants, sustainability tech, color blocking, and more — check out my 2017 Trends article for Garden Design and see if anything surprises you.
All material © 2006-2016 by Pam Penick for Digging. Unauthorized reproduction prohibited.