November 8th, 2016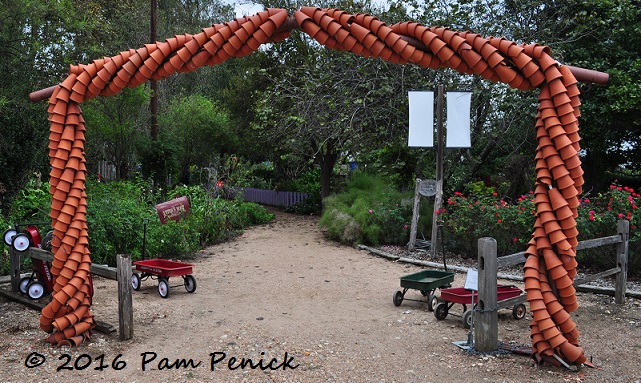 On Saturday my mom and I drove out to Brenham, Texas, for the Antique Rose Emporium's Fall Festival of Roses, where I was one of the day's speakers. A gray sky spit rain on us during the 2-hour drive, but it held off as we strolled around the nursery before my talk.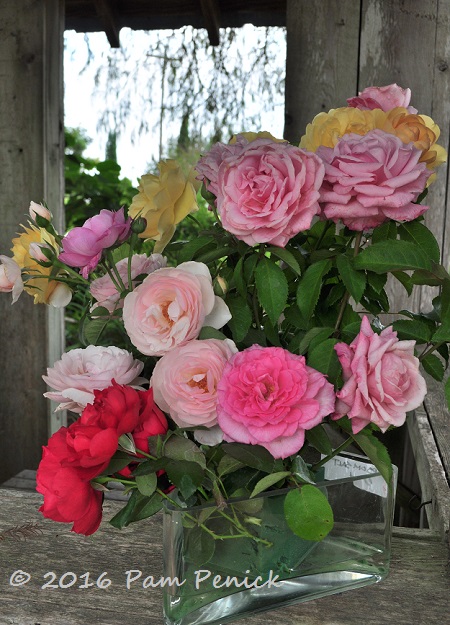 ARE's 11-acre display gardens bloom with abandon in autumn, Texas's second spring.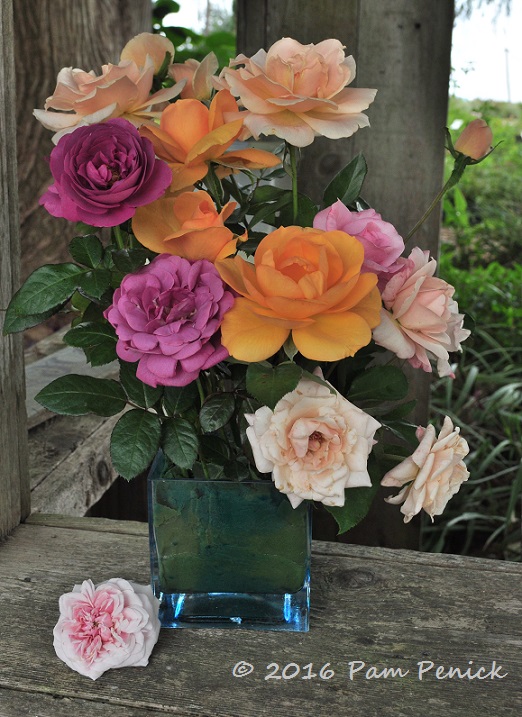 Lush bouquets of roses picked from the gardens adorned the nursery's help desk.

First-time visitors may be surprised to see the gardens are not just beds of roses.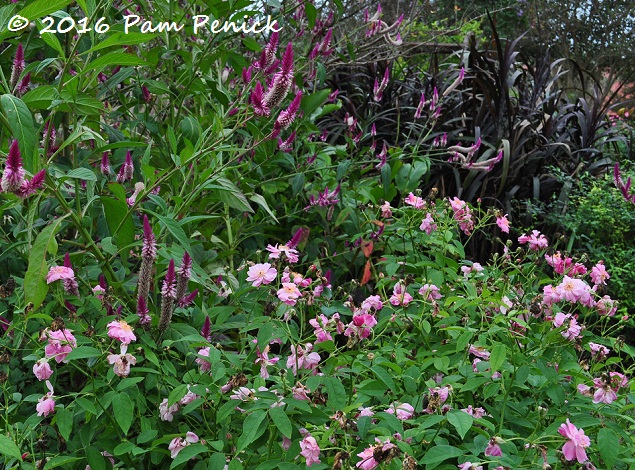 I love the gardens precisely because they're not just roses, although of course the roses are lovely. I dislike the apartheid of traditional rose gardens, in which roses are grown separately from other plants. Mingling roses with other flowering plants and grasses creates a sense of fullness and an opportunity for pleasing color echoes, and bare, thorny stems are more easily disguised.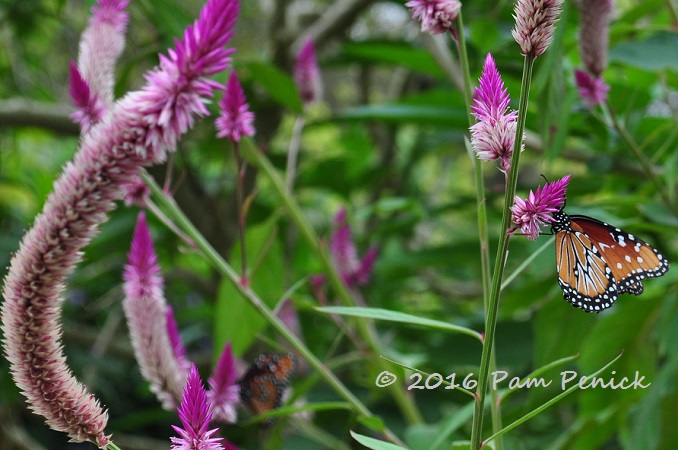 The gardens were alive with butterflies, especially queens.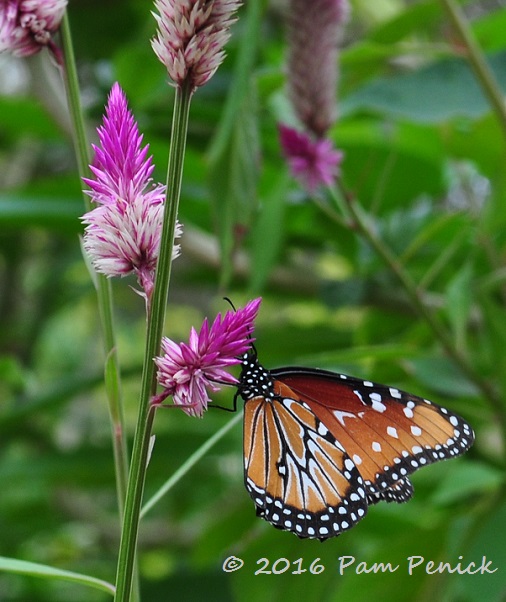 They were particularly attracted to flowering amaranth celosia (Celosia spicata).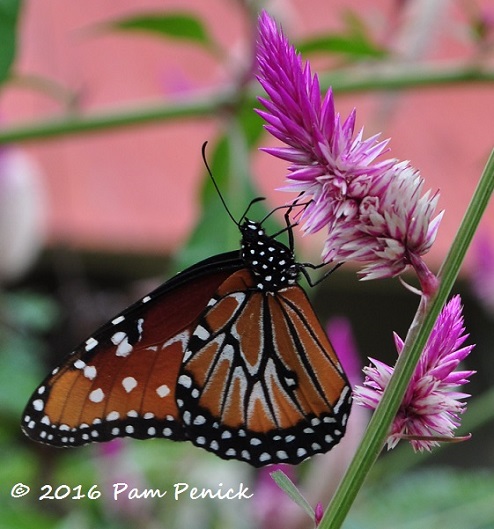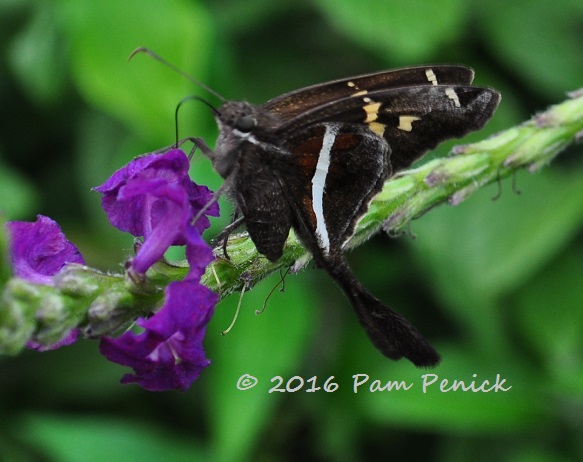 I also spotted a white-striped longtail…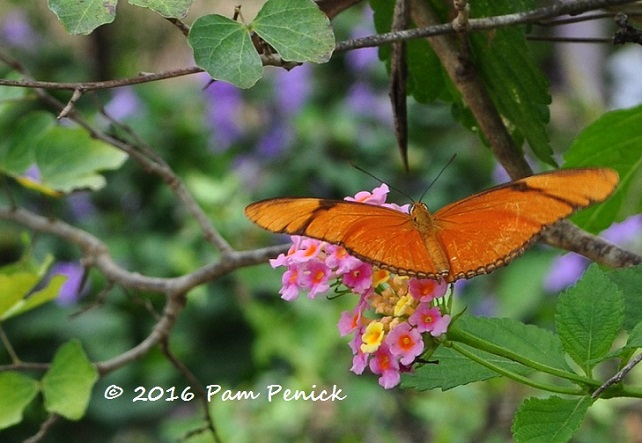 …and a beautiful Julia butterfly enjoying lantana.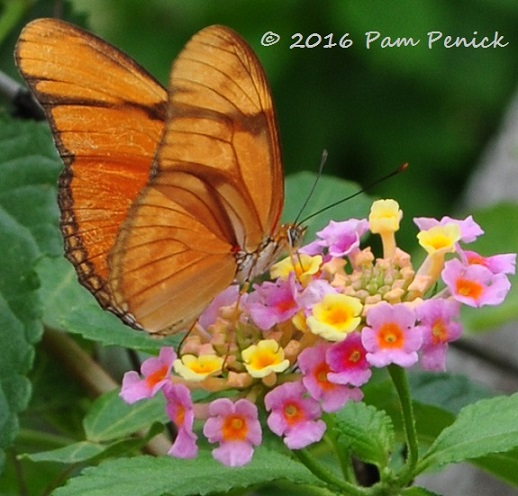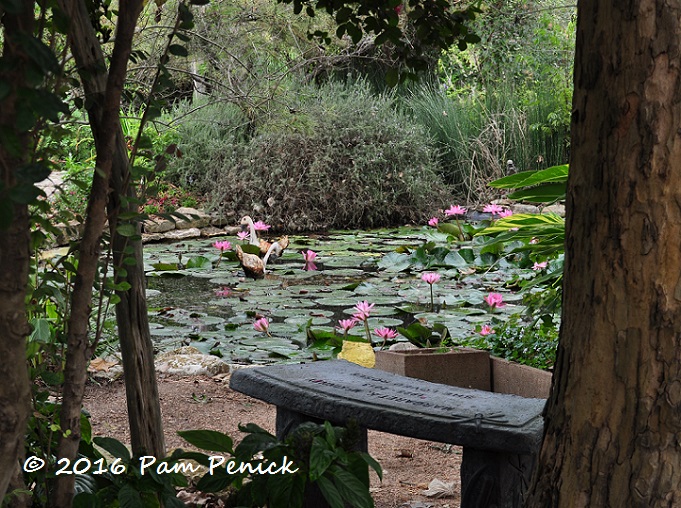 A lily pond, glimpsed through trees…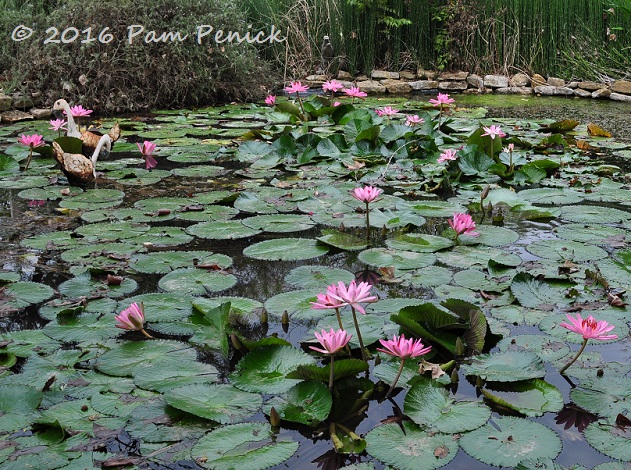 …was in full bloom too, despite the cooler temps of autumn.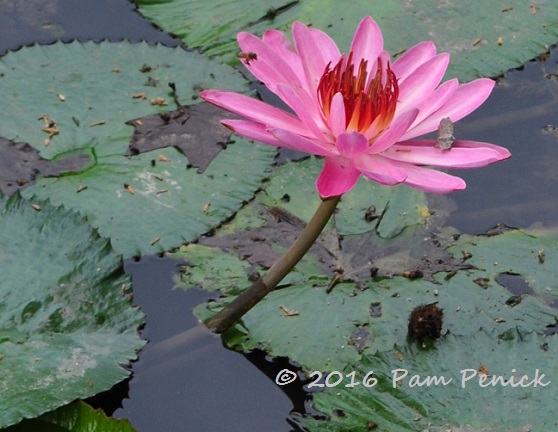 I think this is a tropical waterlily, as the flowers stand tall above the pond's surface and the leaves have toothy edges.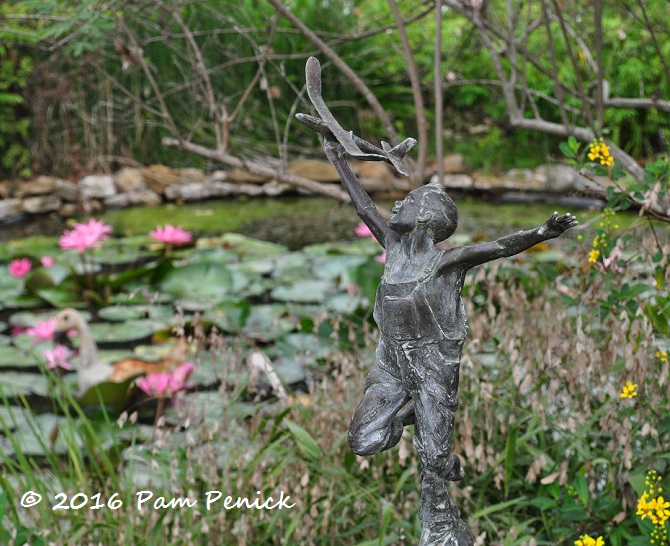 A charming sculpture of a boy flying a toy airplane stands nearby.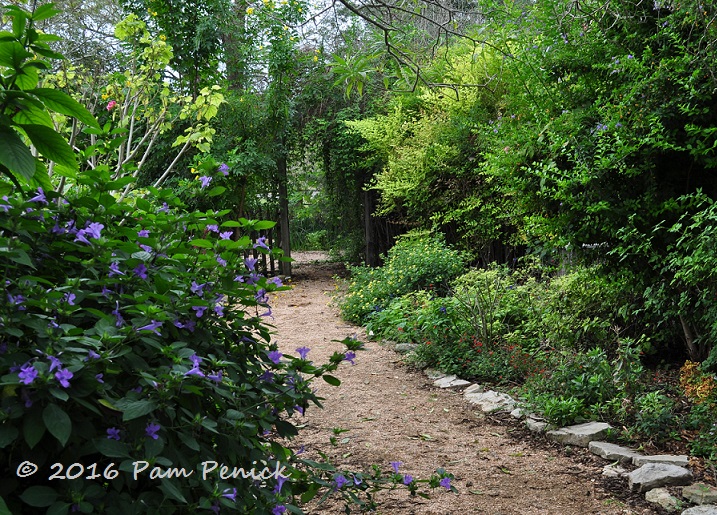 Wandering on, along a pathway edged with Philippine violet (Barleria cristata)…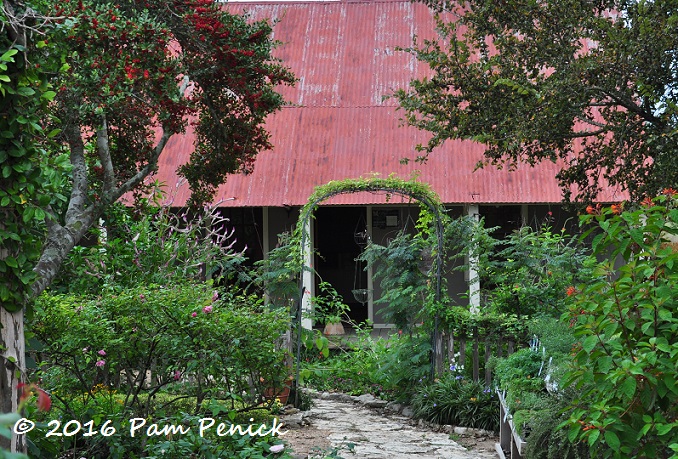 …to one of several homestead-style buildings in the gardens. This building and others used to be filled with garden gift items, but on this visit they were mostly empty. The Antique Rose Emporium property — display gardens and event spaces — have been for sale for more than a year (and I'm already mourning its loss unless someone buys it to keep operating it as a nursery), and perhaps that has something to do with the scaling back.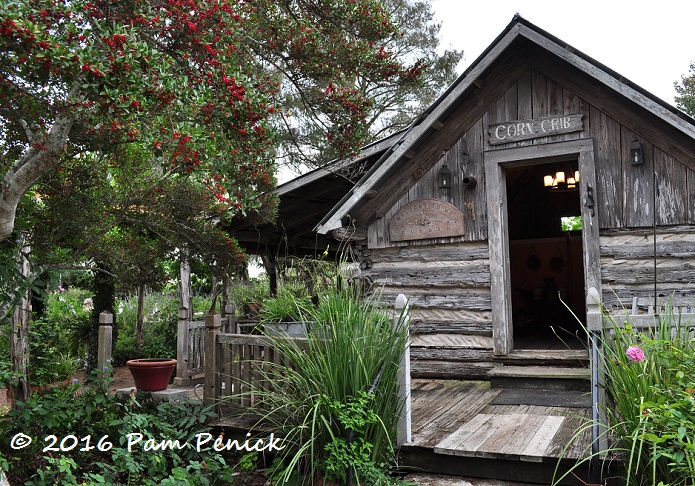 An old log structure — the Corn Crib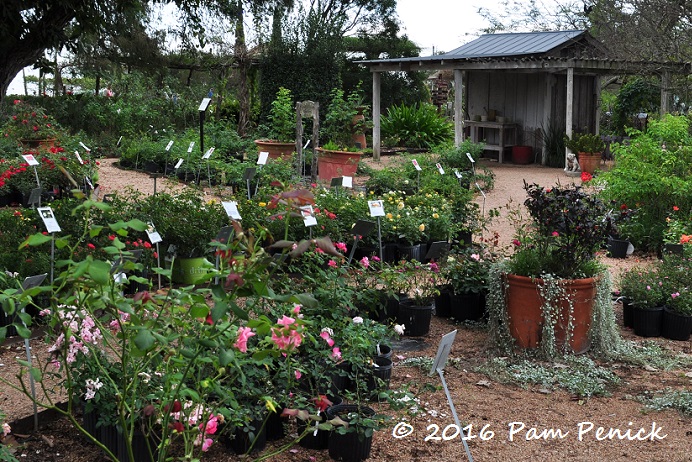 Some of the many roses for sale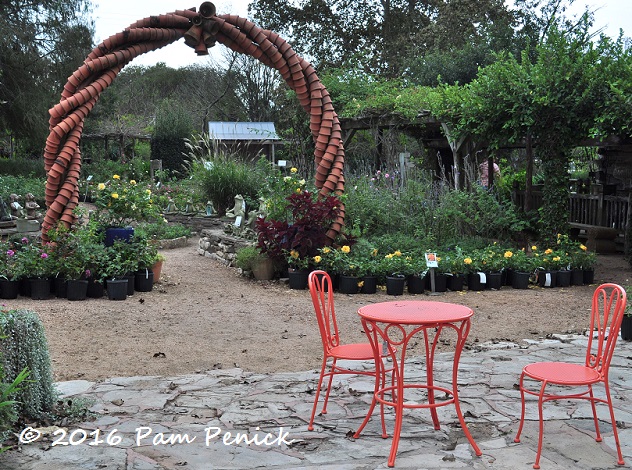 For wow power, check out this awesome braided-pot arbor. There are two such arbors at ARE, one at each parking lot entrance. (The other is pictured at the top of this post.)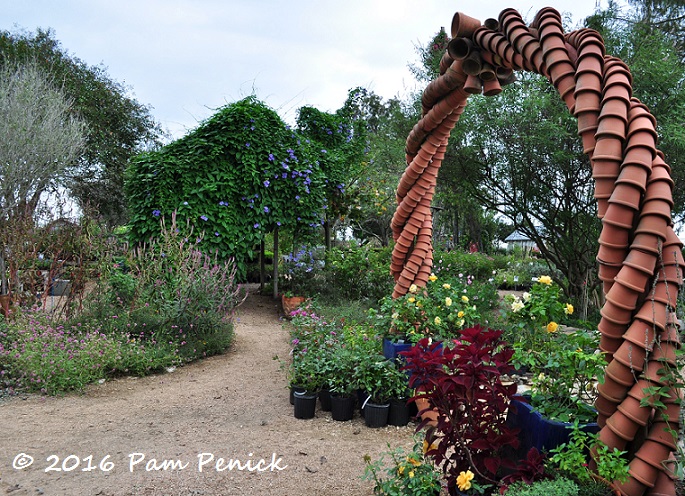 How many pots went into the making of this, do you think? The sky vine-draped arbor in the background is striking too.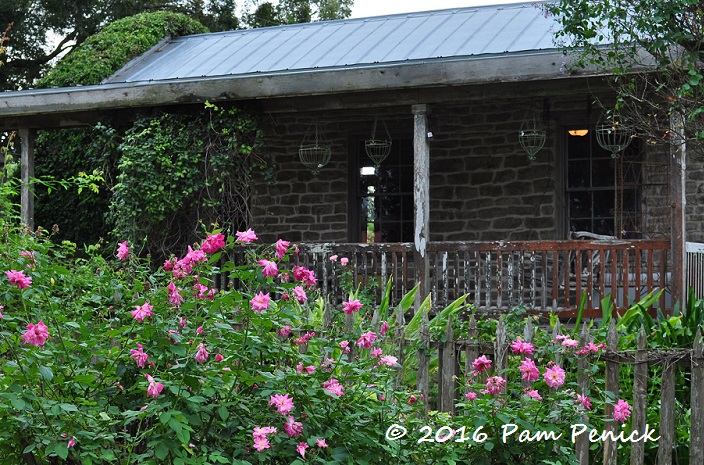 Pink roses fronting a picturesque stone house, another former gift shop now mostly empty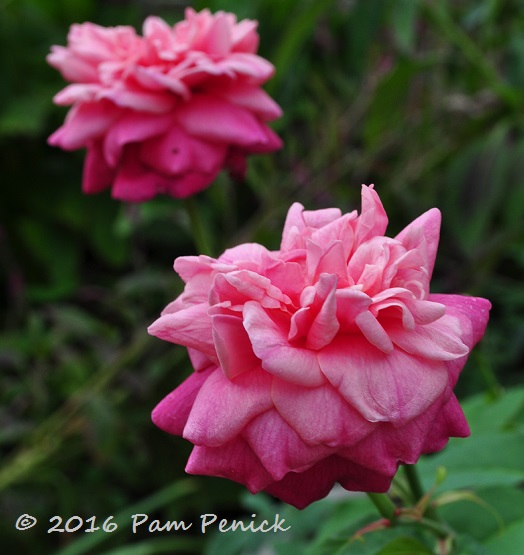 Leaning in for a sniff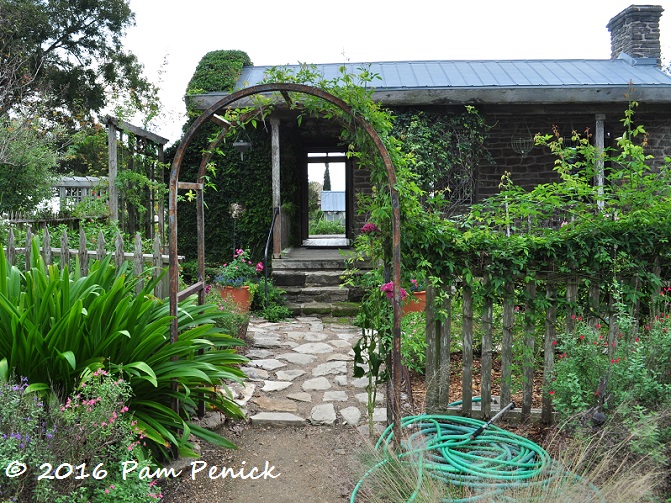 Such nice framing of views through doorways and arbors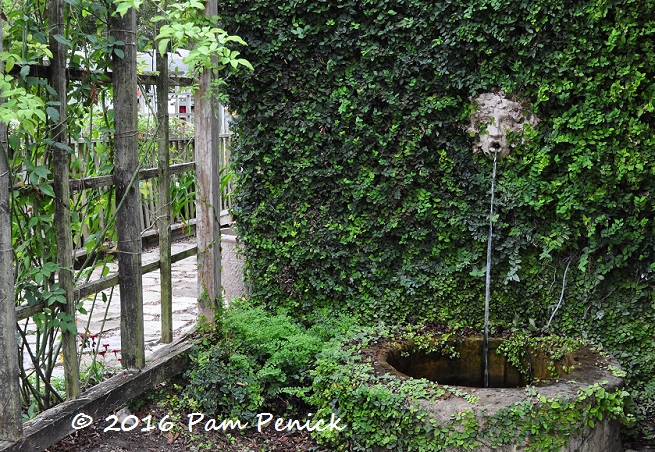 Along one wall, a face fountain partially obscured by fig ivy (Ficus pumila) spouts water into a small pool.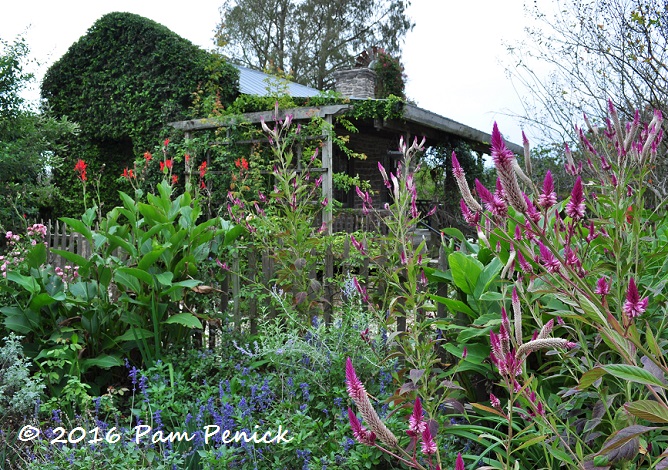 Flowery border of canna, Celosia spicata, and salvia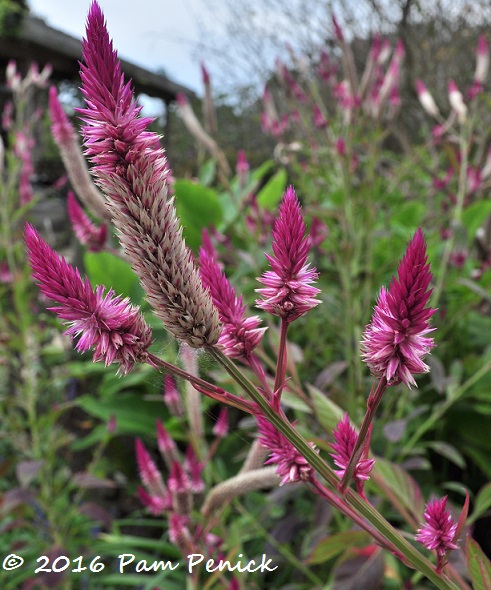 More annual amaranth celosia (Celosia spicata), beloved by butterflies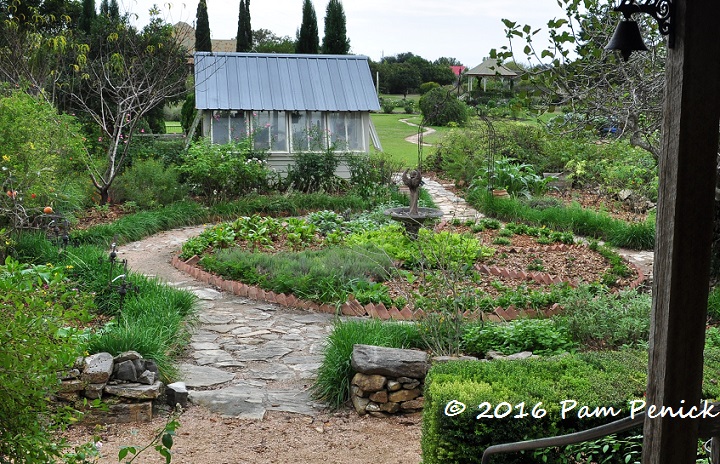 Looking out the back door of the little stone house at an herb circle and greenhouse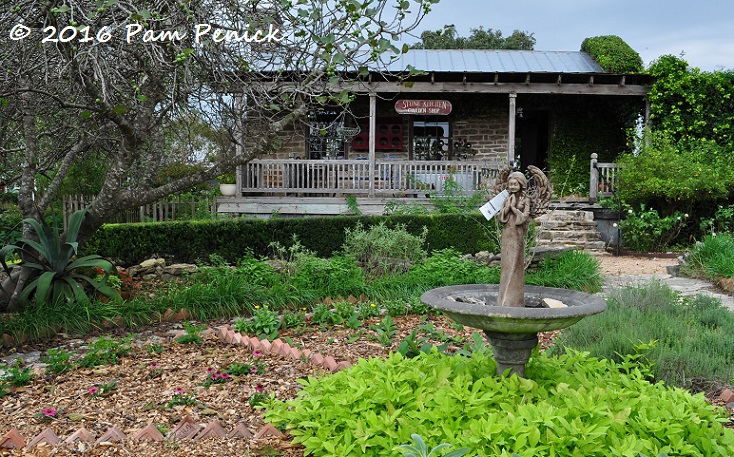 And at the herb circle, looking back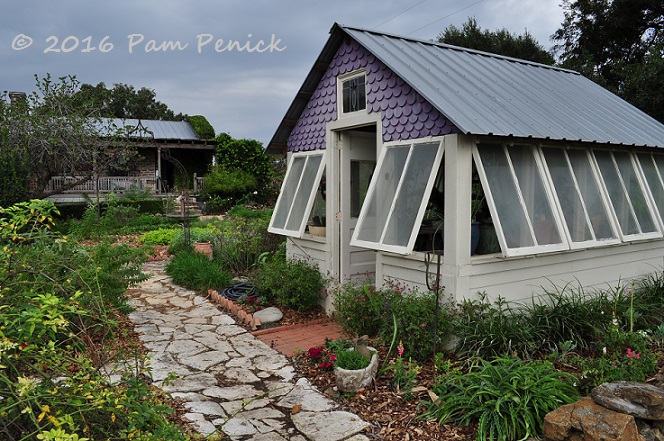 A purple greenhouse with fish-scale shingles adds cottage charm.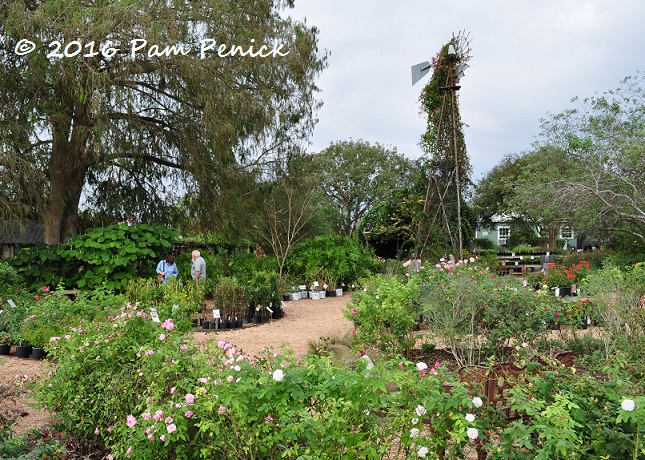 More roses for sale, with ARE's iconic vine-smothered windmill standing tall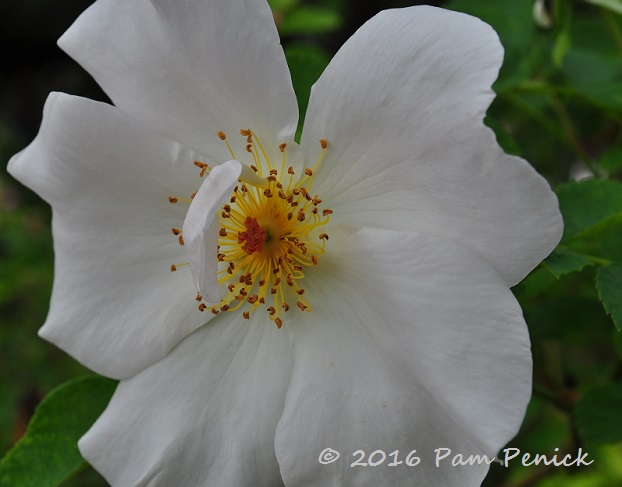 White rose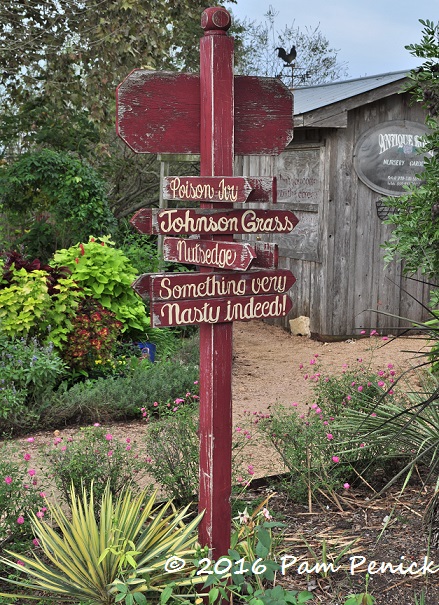 The central area of the display gardens has sassy signage…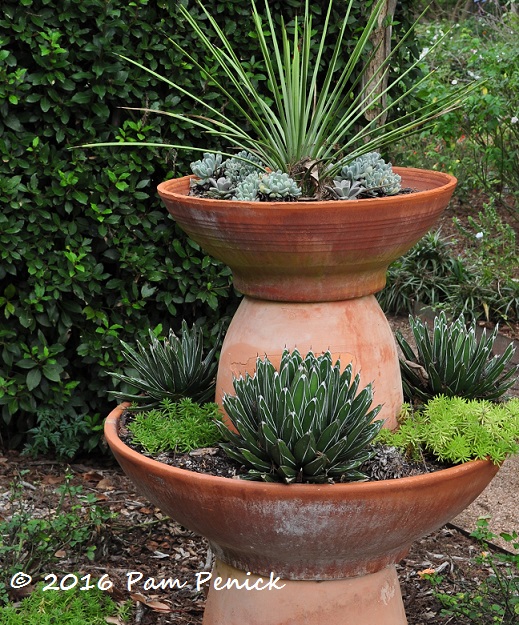 …and dry-loving agaves, yuccas, and other succulents in interesting displays, like this tiered potted arrangement.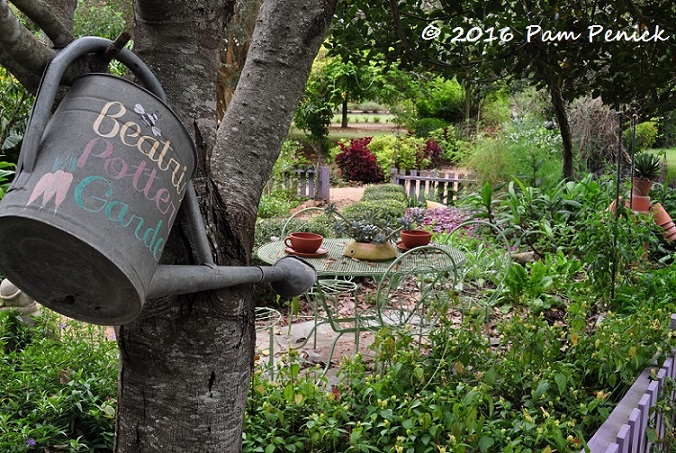 Children and children-at-heart enjoy the Beatrix Potter Garden, a playful space framed by a low, purple picket fence…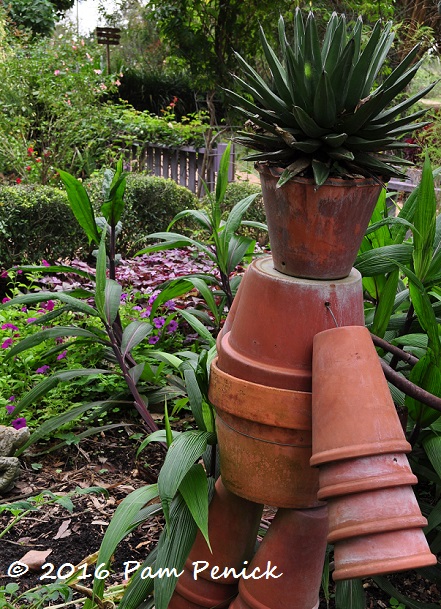 …populated by pot people with spiky agave hairdos…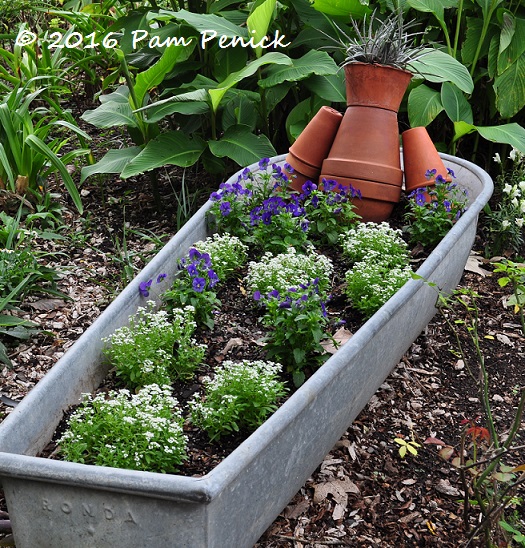 …taking baths in galvanized tubs.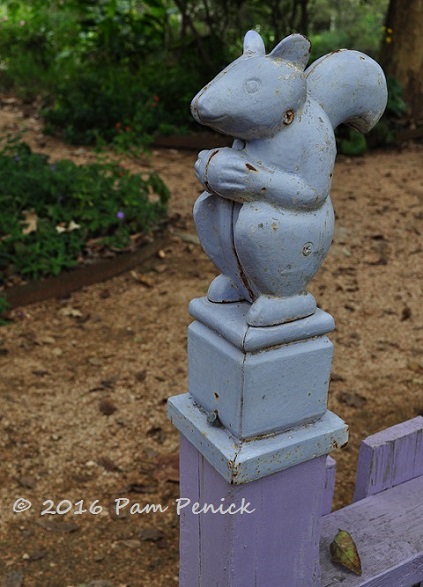 A squirrel finial on the fence offers a friendly welcome.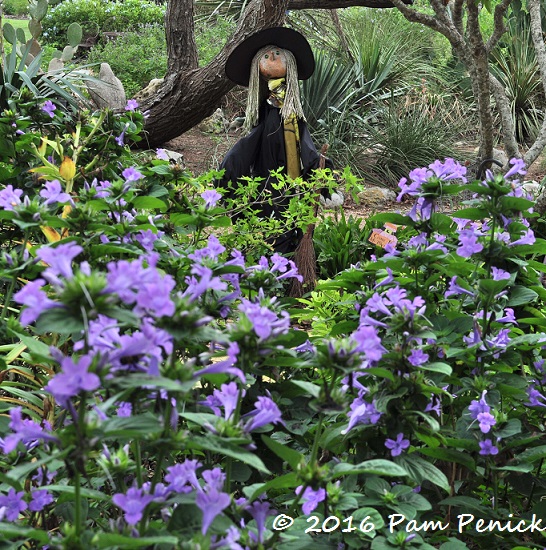 There's a bit of Wizard of Oz mixed in here too. I remember seeing Toto last time I was here. This time I noticed a witch just past a stand of Philippine violet — or maybe she's leftover from Halloween?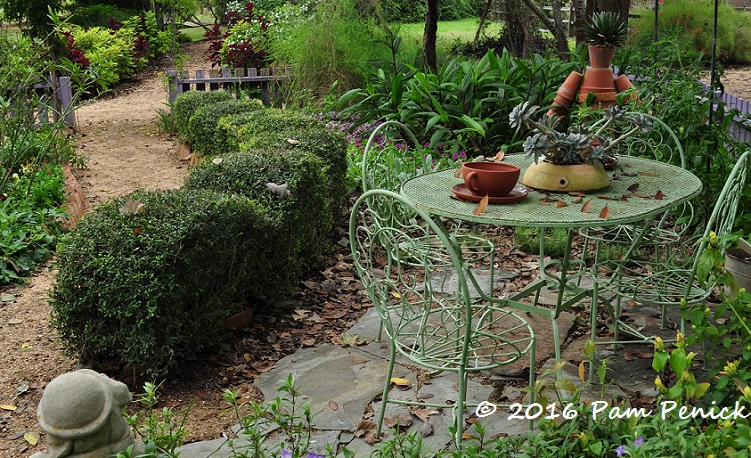 A wavy-pruned hedge and mint-green table and chairs create an inviting scene.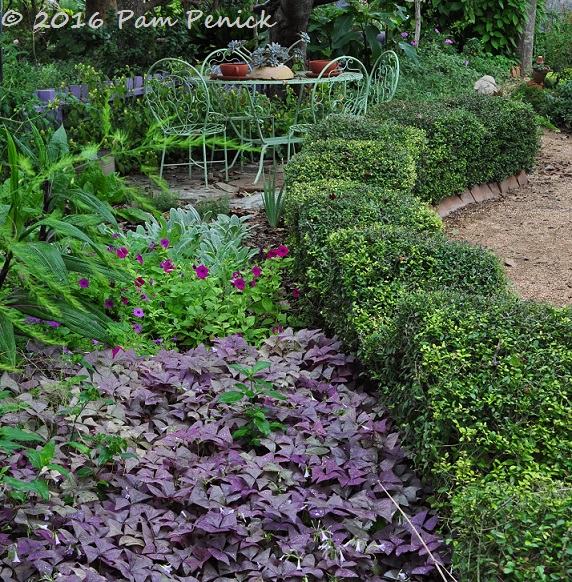 Another view, with shade-loving purple oxalis (Oxalis triangularis) in the foreground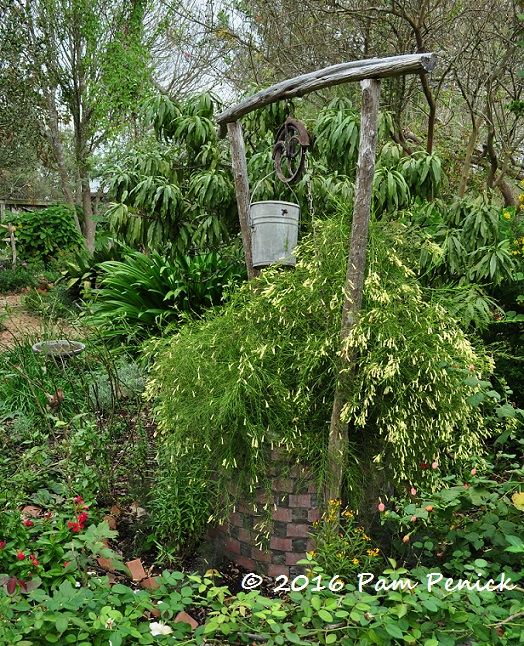 Yellow firecracker fern (Russelia equisetiformis 'Lutea') cascades from an old well.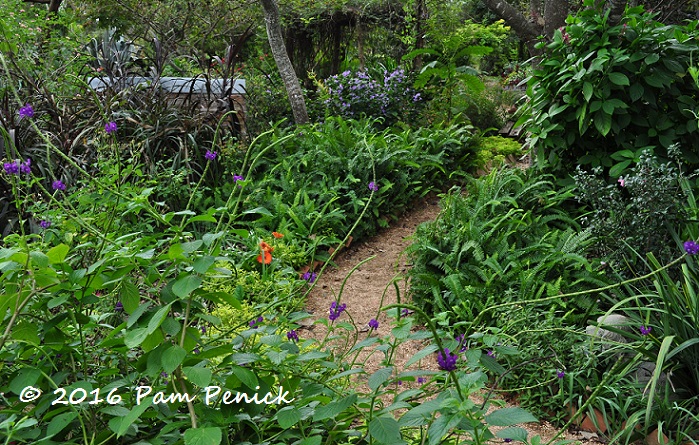 Purple path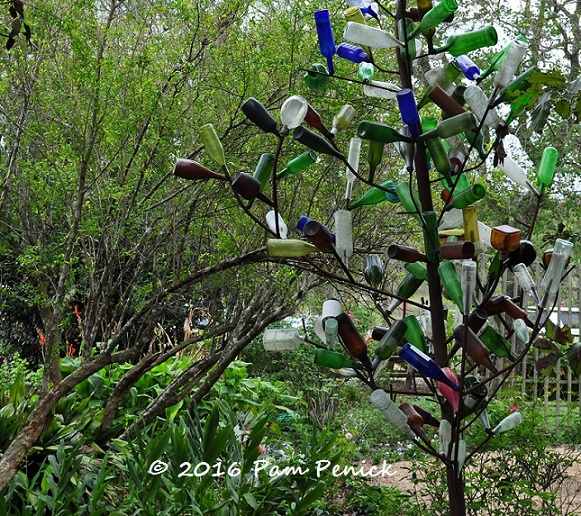 No Southern garden is complete without a bottle tree.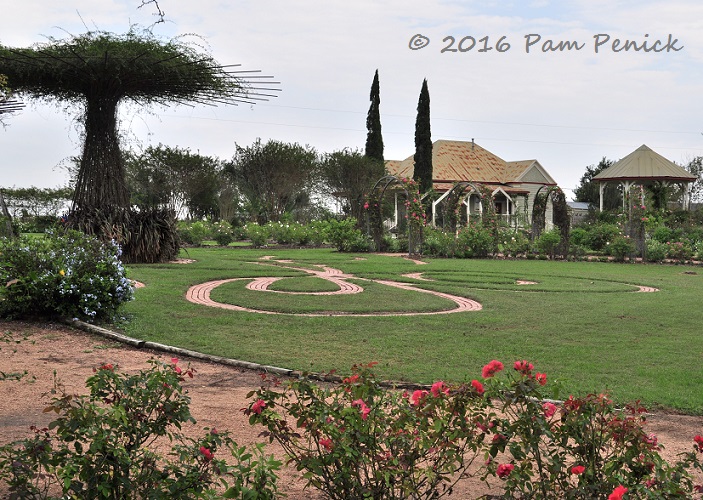 Moving toward an open lawn you see some of ARE's event spaces — rose arbors, a gazebo, and a tin-roofed house — rentable for weddings and other events.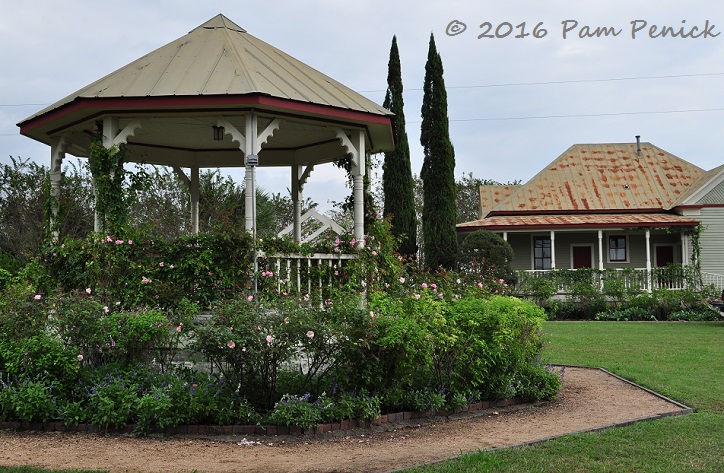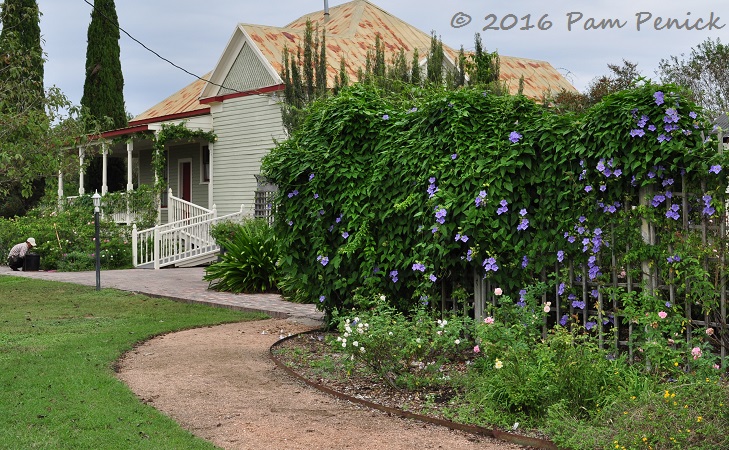 Another sky vine (Thunbergia grandiflora) in full bloom clambers along a trellis near the house.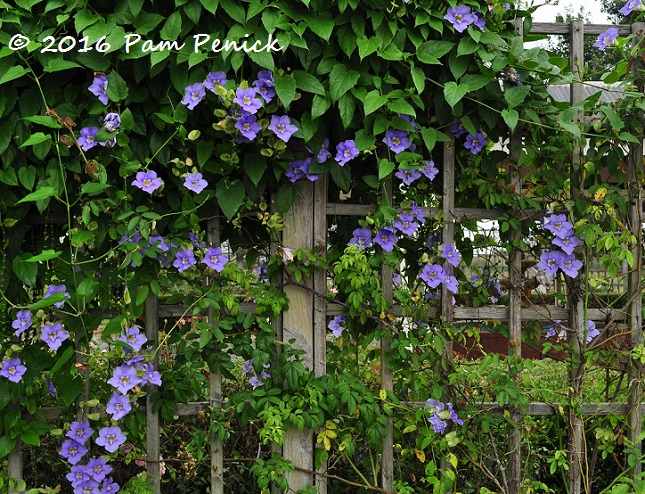 This tropical-looking Asian vine is a showstopper in the fall.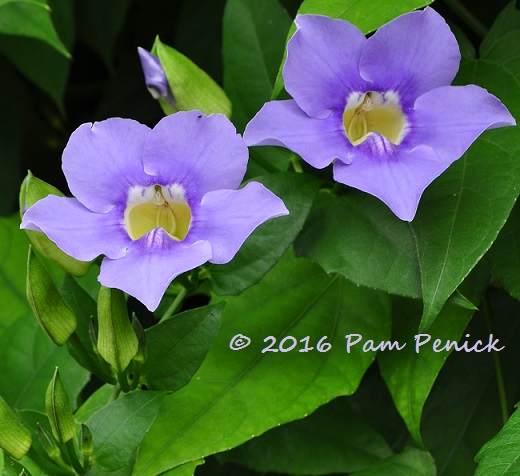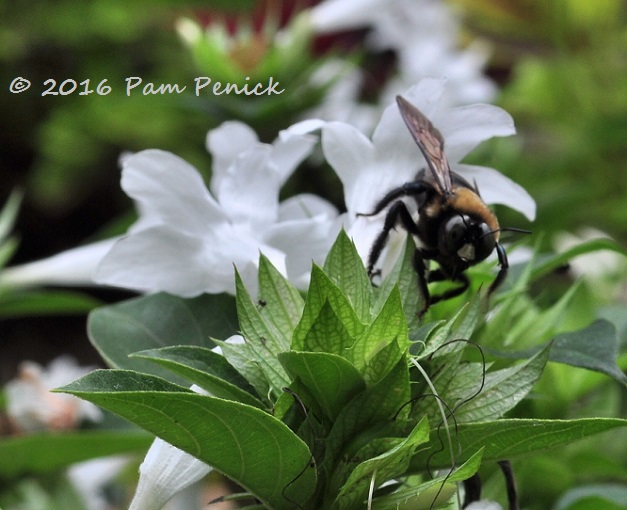 Stopping to admire what I think is a white-flowering variety of Philippine violet (can anyone confirm?), I spotted a fuzzy bee hard at work.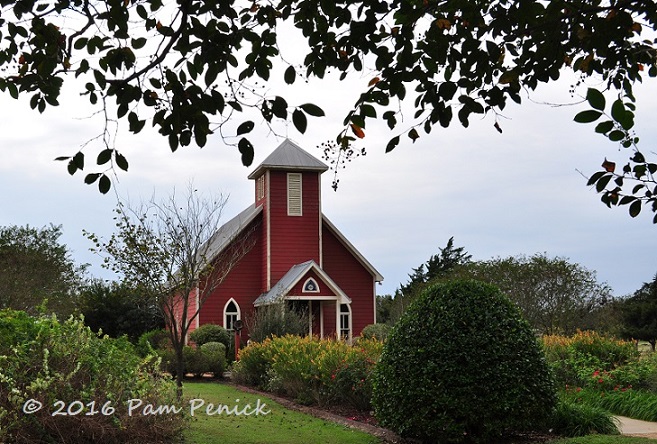 Across the lawn, a picturesque red chapel adds its own fall hue to an autumnal border of cigar plant (Cuphea 'David Verity'), ornamental grasses, white mistflower (Ageratina havanensis), and red roses.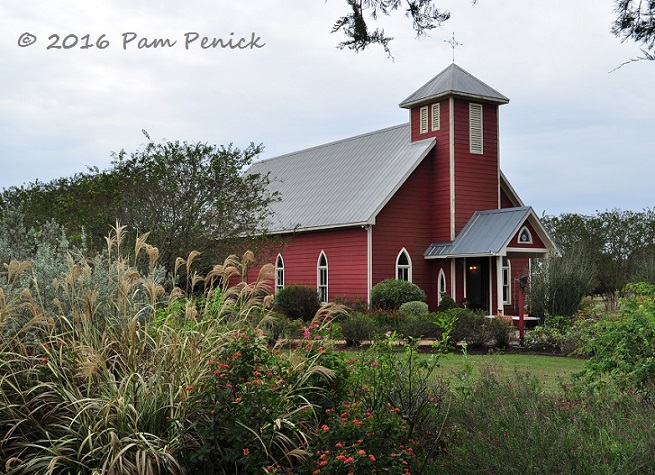 This is where the speaking events are held.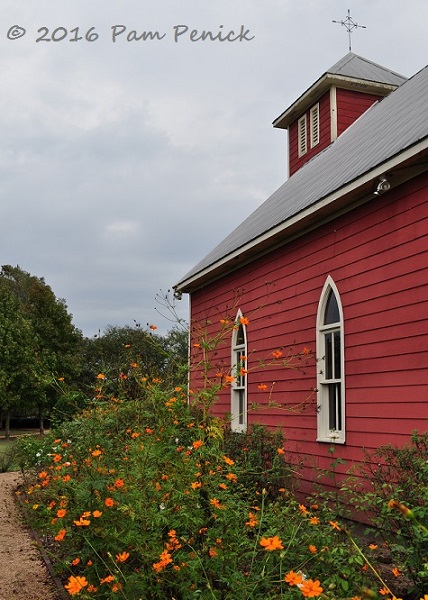 Blazing orange cosmos adds more color around back.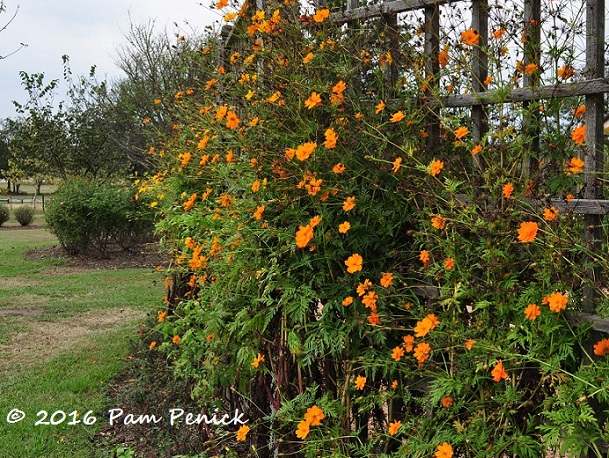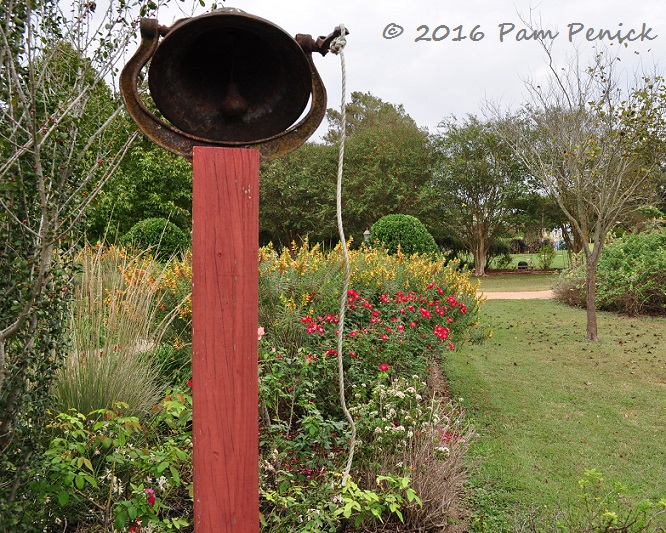 Ask not for whom the bell tolls.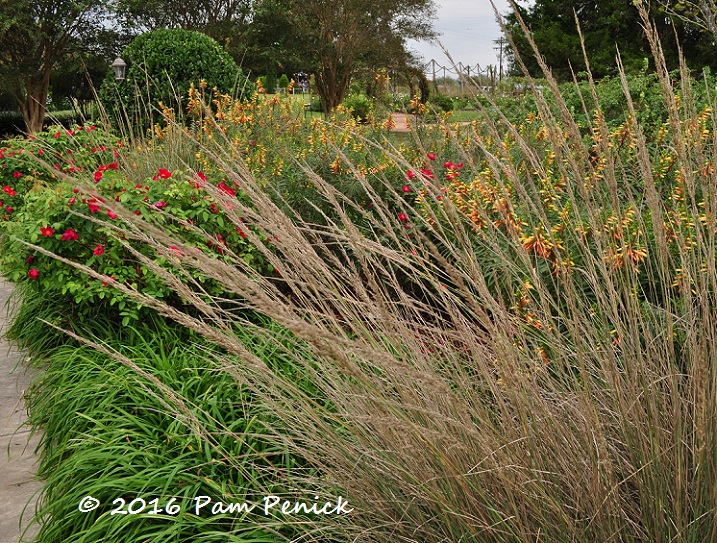 More fall loveliness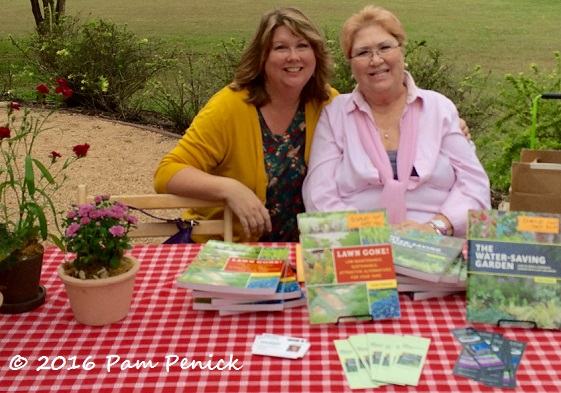 Here's my mom helping me out at the book-selling table. It was so nice to meet everyone who stopped by to chat or buy a book. If you were there, thanks so much for coming!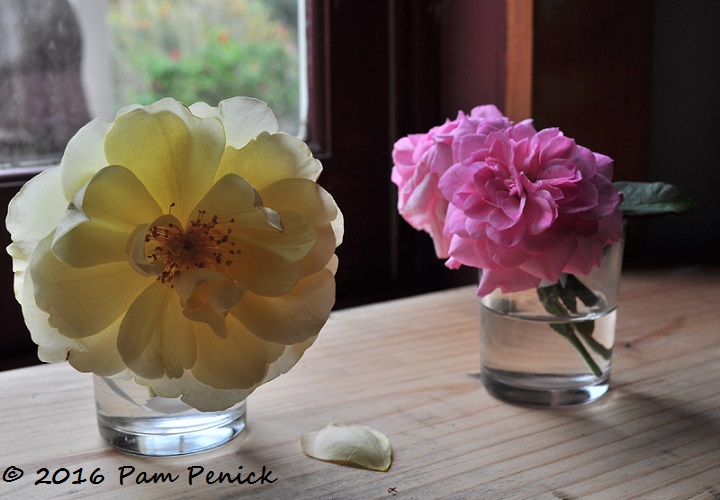 And thanks also to Mike Shoup of the Antique Rose Emporium for having me back out to speak! If you'd like to get a signed copy of The Water-Saving Garden, I left a few with Mike to sell in the gift shop, so stop by soon.
And if you'd like to read more about ARE's gardens — with lots more photos! — click here for my post (the first of 3) from the Fall Festival in 2013.
I welcome your comments; please scroll to the end of this post to leave one. If you're reading this in a subscription email, click here to visit Digging and find the comment box at the end of each post.
_______________________
Digging Deeper: News and Upcoming Events
What's hot in garden design — or about to be? I interviewed designers and retailers across the U.S. to find out! Natural dye gardens, hyperlocalism, dwarf shrubs, haute houseplants, sustainability tech, color blocking, and more — check out my 2017 Trends article for Garden Design and see if anything surprises you.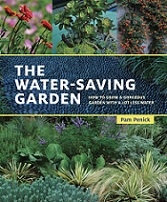 Do you review? Have you read my new book, The Water-Saving Garden? If you found it helpful or inspirational, please consider leaving a review — even just a sentence or two — on Amazon, Goodreads, or other sites. Online reviews are crucial in getting a book noticed. I really appreciate your help!
All material © 2006-2016 by Pam Penick for Digging. Unauthorized reproduction prohibited.
posted in
Agaves
,
Annuals
,
Arbors
,
Bees
,
Berries
,
Books
,
Bottle tree
,
Bouquets
,
Butterflies/Moths
,
Children's gardens
,
Containers
,
Decor
,
Doors
,
Edibles
,
Fences
,
Flowers
,
Garden art
,
Garden structures
,
Garden tours 2016
,
Grasses
,
Greenhouses
,
Lawns
,
Nurseries & Shops
,
Paths
,
Ponds
,
Porch
,
Roses
,
Sculpture
,
Seating
,
Sheds
,
Signs
,
Speaking events
,
Succulents
,
Travel
,
Trees
,
Trellis
,
Vines
,
Water features
,
Water gardening
,
Water-Saving Garden
,
Windows
,
Yuccas