January 8th, 2008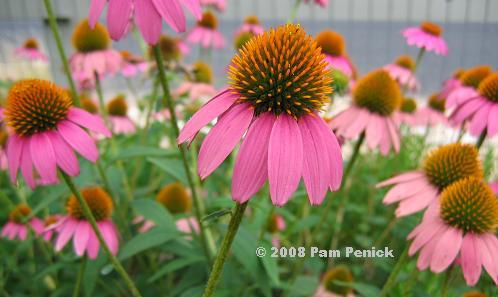 We've rolled out the welcome mat here in Austin, and I'm thrilled to report that garden bloggers across the country are making their travel plans. Yesterday I announced the garden-bloggers' event of 2008 (I hope!)—Garden Bloggers Spring Fling on April 5—and the guest list has already become quite impressive, if I do say so. I'm not talking about just one or two people, but rather the number and breadth of experience of the whole group.
Let's take a look at who's coming, as of this writing:
Carol from May Dreams Gardens, 2007 Mouse & Trowel winner for Garden Blogger You'd Most Like to Have as a Neighbor. We can't all live next door to Carol, but fellow garden bloggers can tour Austin with her in April.
Elizabeth Licata AND Susan Harris of Garden Rant, three-time 2007 Mousie winner for Best Writing, Most Innovation in Garden Blogging, and Garden Blog of the Year. Elizabeth helps run the hugely successful GardenWalk Buffalo each year, and Susan not only garden coaches in the DC-area but has her hand in seemingly every civic-oriented gardening organization in town. When they come to rant about Austin, who wouldn't want to join the fun?
Kathy Purdy of Cold Climate Gardening, one of the pioneering garden blogs and indispensable reading for gardeners everywhere, but particularly in the northern U.S. Not only does Kathy know plants, she knows about blogging and makes its technical aspects less intimidating to newcomers at her site Blogging Art & Practice.
Ivette Soler, aka The Germinatrix, from Los Angeles. Her blog of the same name at dominomag dot com is full of sass and color, and her comments (she replies to every one) are endearingly enthusiastic. I can't wait to meet her.
Bill of Prairie Point. I've been reading Bill's blog for years and enjoying his meditative posts on the north-Texas woods and lake he calls home. Though he resides in Texas, it's still a four-hour drive, so this will be the Austin bloggers' first meet-up with Bill.
Tom Spencer of Soul of the Garden, 2007 Mousie winner for Gardening Website of the Year. His Daily Muse posts and the incredible photos from his garden and vacations to Mexico, Japan, and sites around Texas have inspired me for years. Tom will be our lunch speaker during the Spring Fling, and he expects to join us afterward for the remainder of the day.
Melissa of Zanthan Gardens, the garden blog I've been following the longest. Melissa's example helped inspire me to start blogging, and she's one of the first bloggers I met in person. I'd like to give her a big hand for designing the Spring Fling website in record time over the Christmas holidays. Thanks, Melissa!
Annie in Austin (known as Annie/Kathy among the Austin bloggers) at the Transplantable Rose. Like Carol at May Dreams, I think everyone knows Annie, whose insightful comments are generously gifted all around the blogosphere.
Bonnie of Kiss of Sun, whom I met just recently and connected with over kid stories. She blogs in west Austin.
Diana of Sharing Nature's Garden in southwest Austin. She met some of the Austin bloggers for the first time last September when we lunched with Kathy Purdy. I look forward to seeing her at the Fling.
Dawn of Suburban Wildlife Garden in northwest Austin. Dawn is relatively new to Austin via Florida and is fun to hang out with.
Julie of Human Flower Project, which isn't technically a garden blog but an ambitious series of essays that explore the cultural significance of flowers around the world. Julie is the soft-spoken, generous person behind the incisive writing.
Libby of Aurora Primavera, a new blog. Like me, she gardens in central Austin (the midtown area), and she's going for a cool Key West-meets-Texas look. We haven't yet met in person, but it won't be long.
Rachel of In Bloom in Austin, who is also a newbie garden blogger. I look forward to meeting her for the first time at the Spring Fling.
With that lineup of attendees, you just know we're going to have a good time, even if all we did was gaze at a yard full of crabgrass. Add in some beautiful Austin gardens, and a garden blogger would be crazy to miss the Spring Fling, don't you think?
On the technical side of things, I apologize if you had trouble pasting our badge onto your sidebar or blogroll. The code as shown on the invitation from Blotanical got garbled between here and Australia, and Stuart has very kindly been trying to figure it out for me. Anyway, the correct code is shown at the bottom of the Spring Fling site, and we'd love for you to show support for the Fling, whether or not you are able to attend. Thanks!
All material © 2006-2008 by Pam Penick for Digging. Unauthorized reproduction prohibited.