October 27th, 2016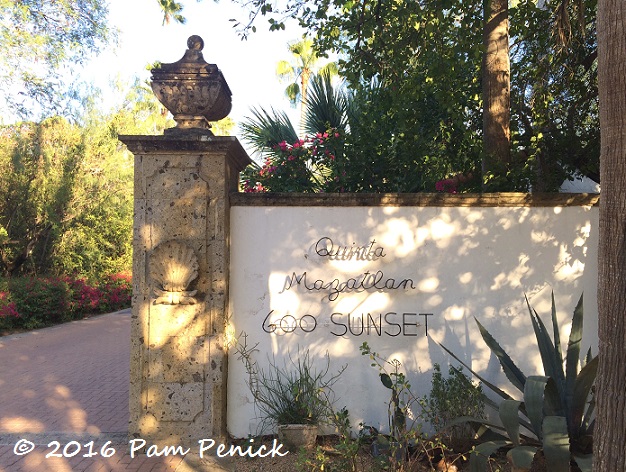 Texas is a big state, and living in the center of it means that whichever direction you travel, it's a long drive to the state line. Last weekend, that meant a 5-hour drive to the Rio Grande Valley, where Texas shares a border with Mexico. My destination? Quinta Mazatlan, a city-owned nature and birding center on the grounds of a 1930s Spanish Revival-style estate, where I'd been invited to give the keynote presentation at the 2nd annual Planta Nativa Festival on October 22.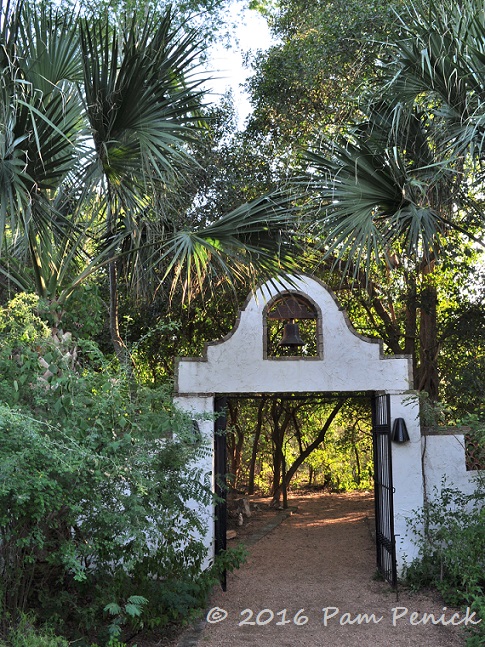 My husband and I drove down on Friday and arrived in time for an early-evening stroll around the grounds. I'd never been to the Valley before (which is not actually a valley but a flat river delta), and I imagined a lusher, rainier climate than Austin's, with citrus orchards as far as the eye could see. However, while temps are nearly tropical (zone 9b), McAllen is surprisingly dry, with 22 inches of annual rainfall — 11 fewer inches than Austin receives.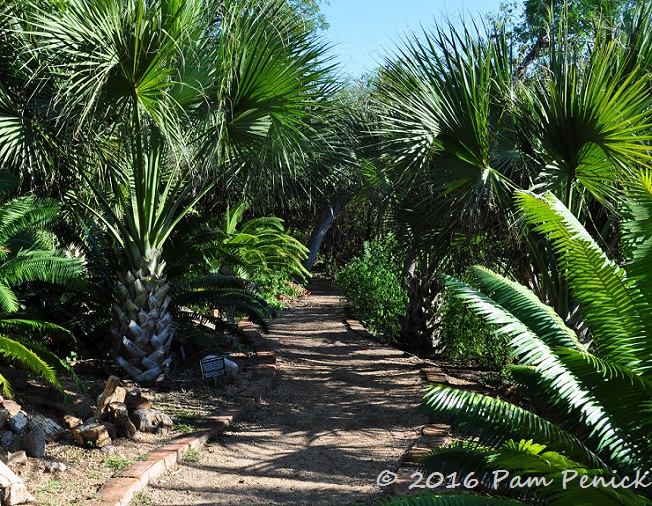 The gardens at Quinta bristle with rustling palm leaves, including native Texas palmetto (Sabal mexicana) and imported L.A.-style Mexican fan palms (Washington robusta).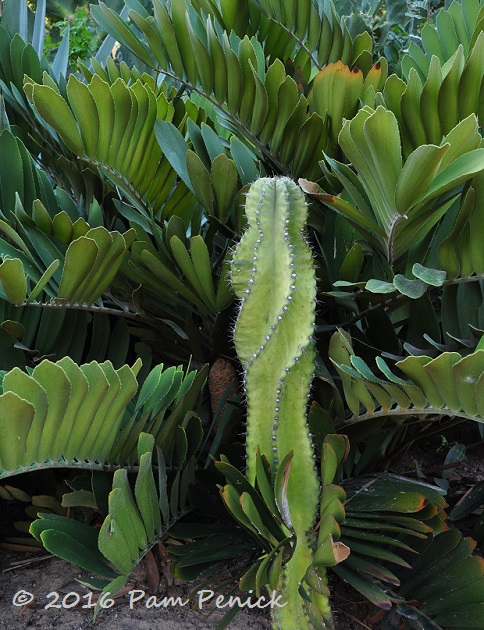 Cacti mingle easily with the palms and other xeric plants.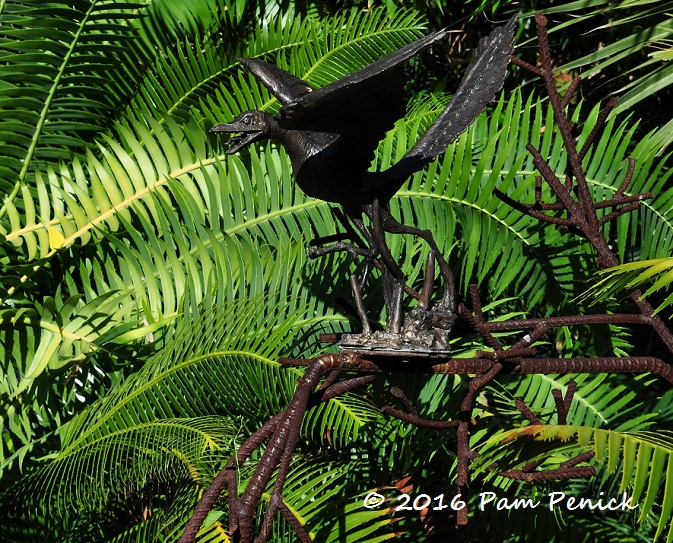 A dozen or so bronze animal sculptures appear throughout the gardens, including this bird-osaurus sort of creature on a twiggy rebar stand.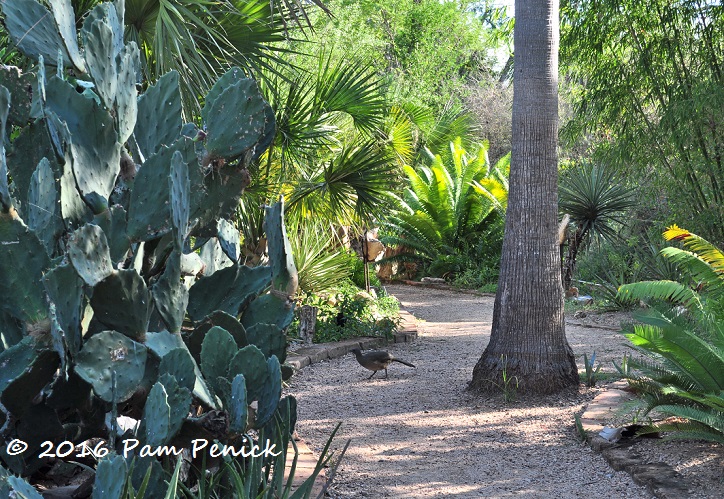 The actual birds we encountered were exotic to our eyes, with exotic-sounding names as well, like the chachalaca, a chicken-sized bird that darted around at ground level like a roadrunner, occasionally fluttering into low trees.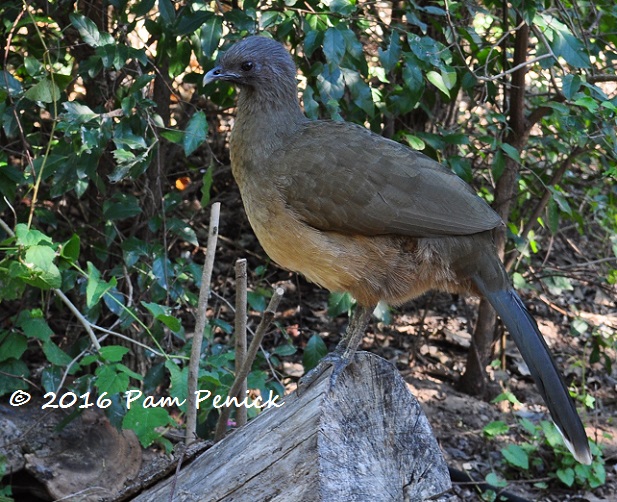 Tame and seemingly ready for a handout, the chachalaca may be the center's mascot.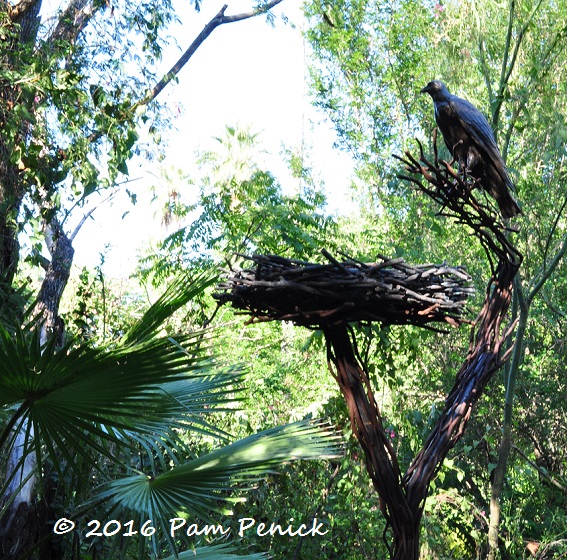 In an hour's stroll, we saw many other species as well, including a beautiful yellow-bellied bird called the great kiskadee and circling flocks of whistling ducks, whose whistle-like cries could be heard overhead.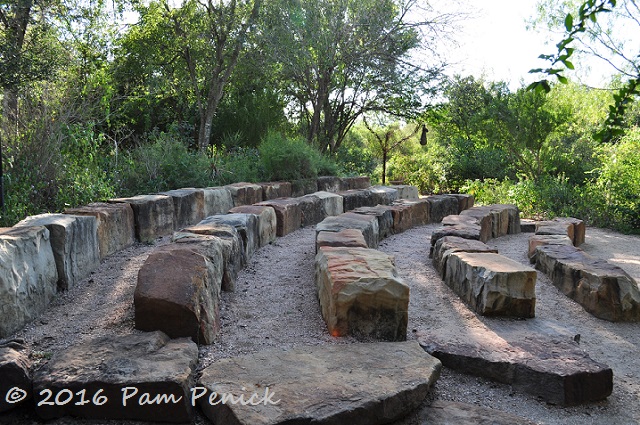 We sat for a while in this boulder-seat amphitheater facing a shallow pond, where birds came to drink as the sun went down.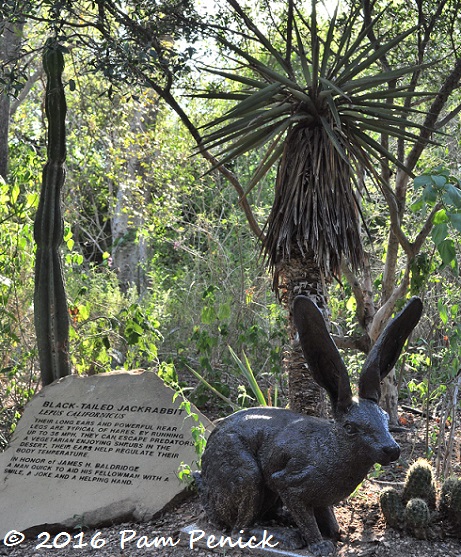 We didn't see any of these critters during our stroll, but we kept an eye out, just in case.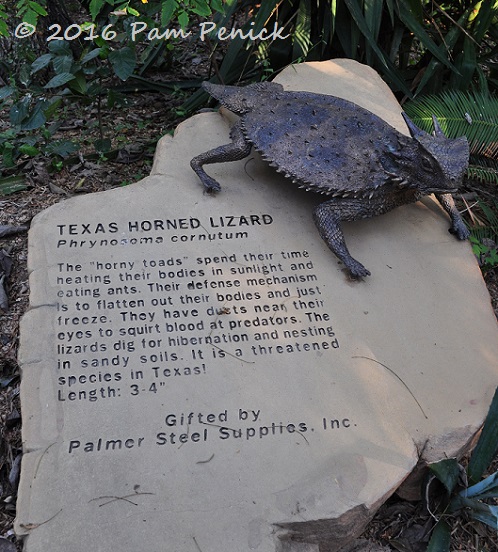 I'd love to see a horny toad one day, the state reptile of Texas.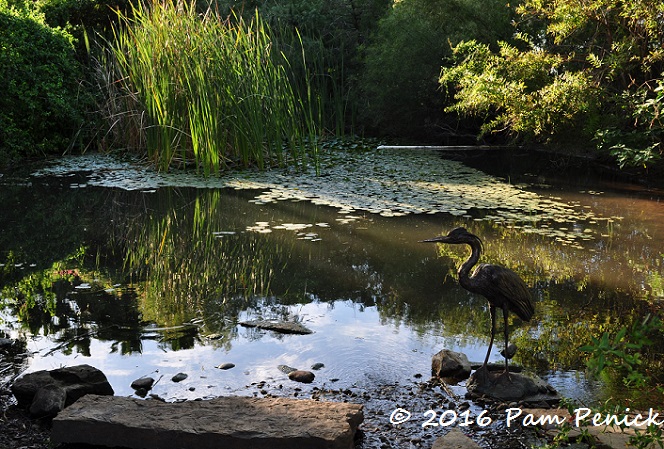 Heron sculpture at a pond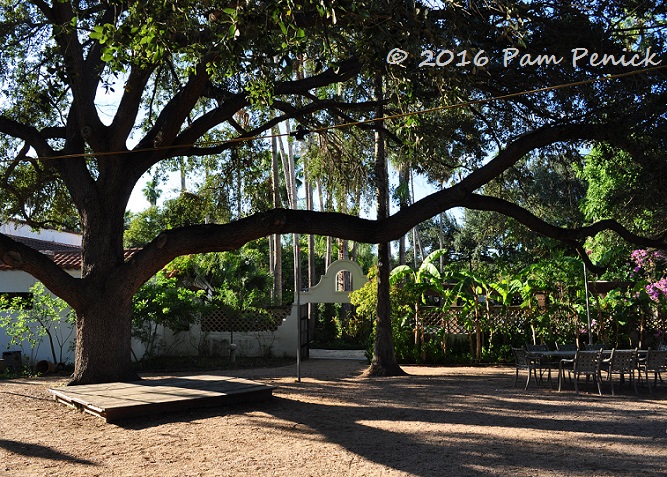 Around back of the main house, we found a charming dance space under the outstretched limbs of a large tree. A wooden stage stands ready for the band, with string lights overhead to illuminate the sandy dance floor.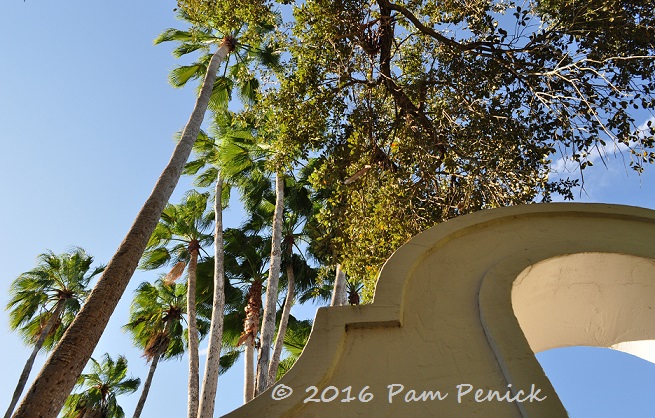 Entering a gated arch, with tall palms adding Hollywood glamor overhead…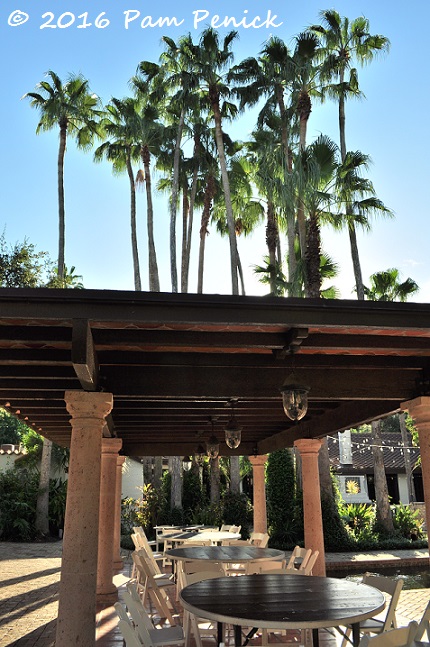 …we found ourselves in a walled courtyard with pergola-shaded seating.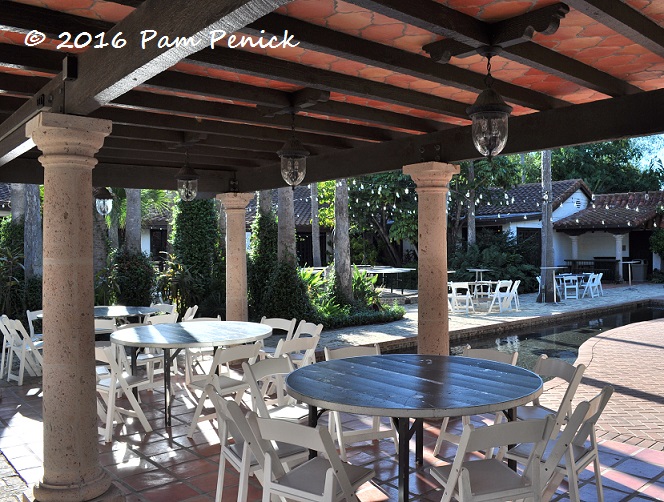 Cantera stone columns support a tile-and-beam ceiling. An in-ground water feature bisects part of the courtyard. This space would be filled with festival guests the following evening.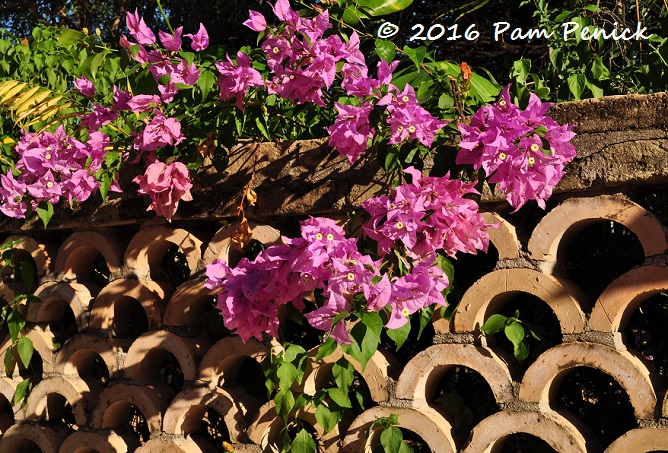 Bougainvillea clambering along a wall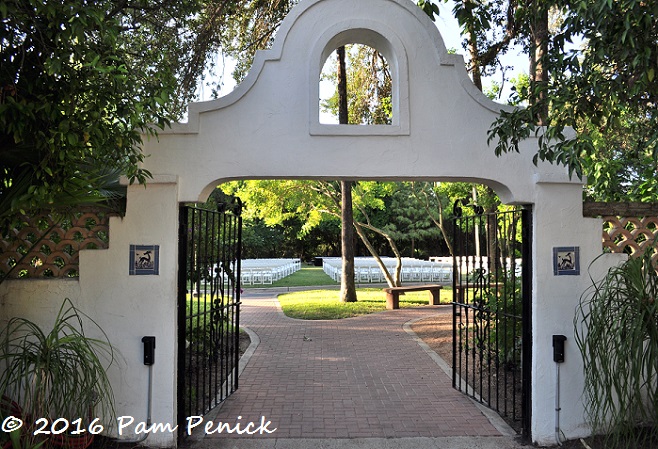 Another gated arch led to a lawn set up with chairs for my talk. The next day, a big LED screen and stage were set up.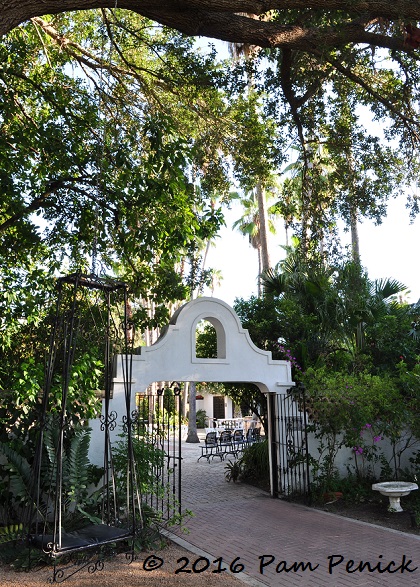 These Spanish-style gates are so inviting.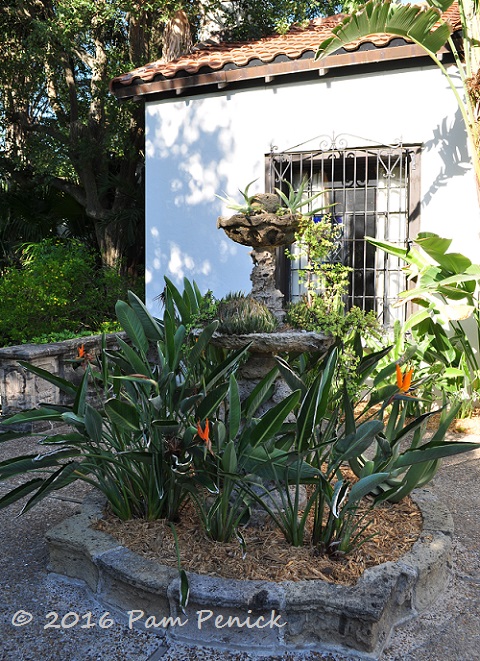 At the front of the house, an old stone fountain has been converted into a planter filled with succulents and bird of paradise, the latter appropriate for a center that's a magnet for bird watchers during the big spring and fall migrations.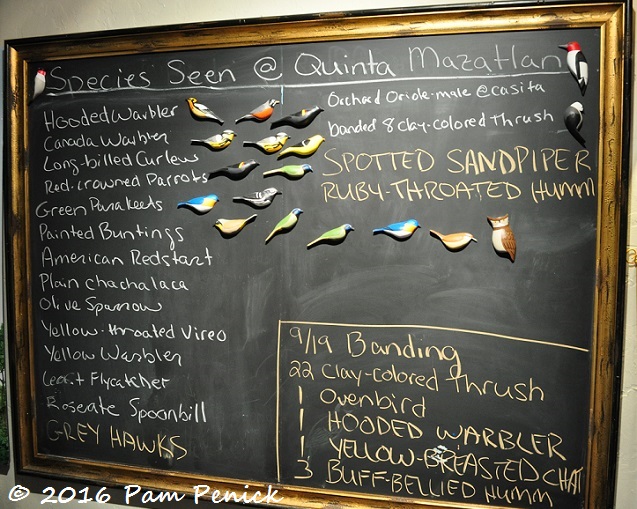 The Valley is on the migratory flight path for many species, making it a birder's paradise at certain times of the year. Inside, a board shows what species are currently visiting the grounds.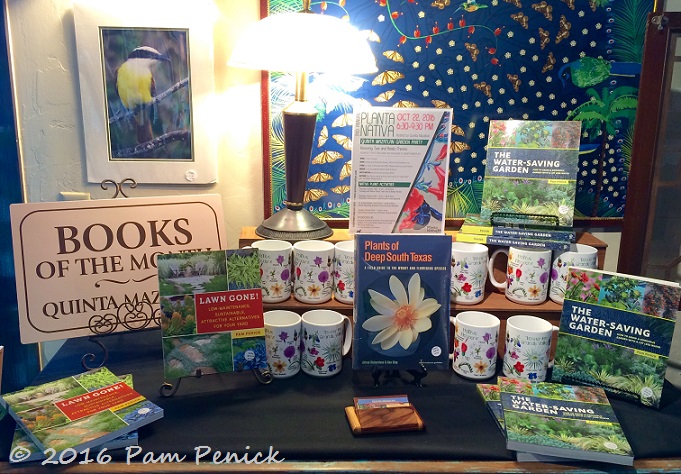 I was also delighted to see several lovely displays of my books set up in the gift shop!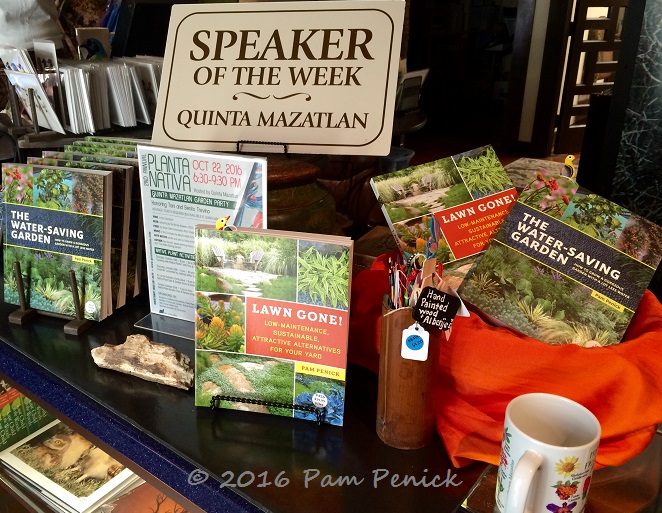 How nice!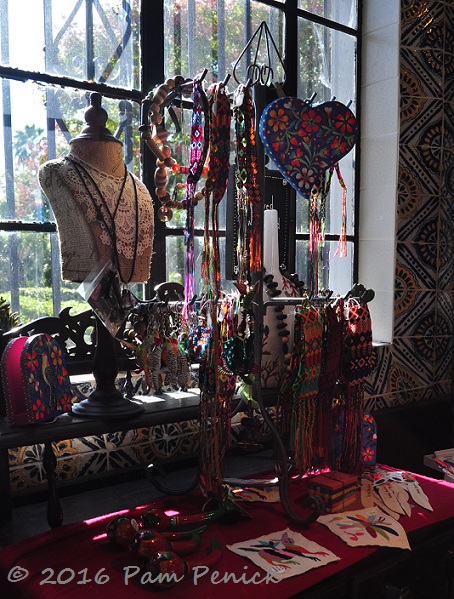 Lots of wonderful gift items were displayed throughout the shop, and we didn't leave empty handed.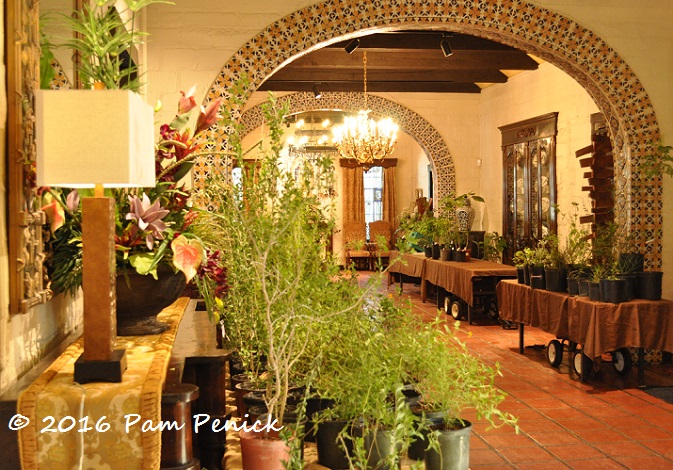 Exploring the mansion, we found South Texas native plants lining the main hall, ready for the next day's plant sale.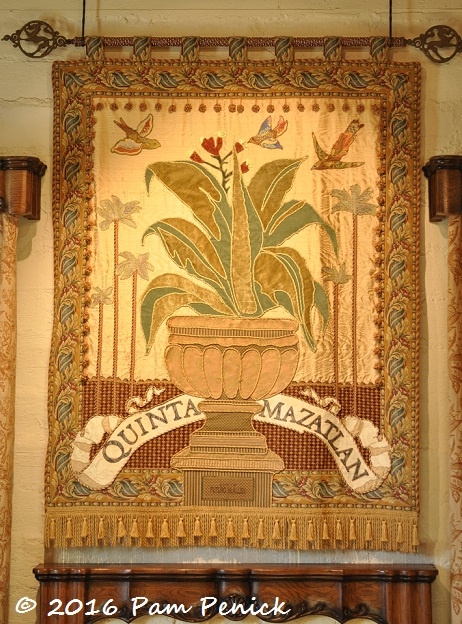 An agave tapestry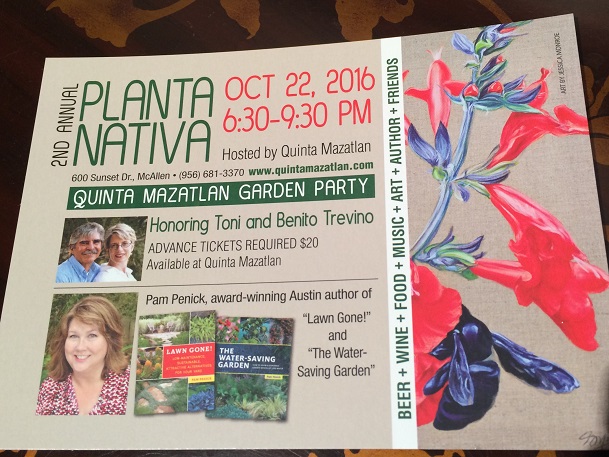 The next evening, I headed back to Quinta Mazatlan for a pre-talk book signing while festival attendees shopped for plants, bid on art…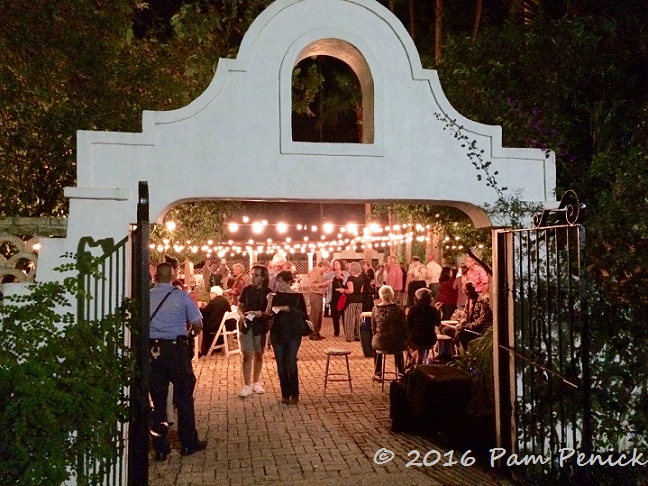 …and enjoyed food and drinks under softly glowing string lights in the courtyard.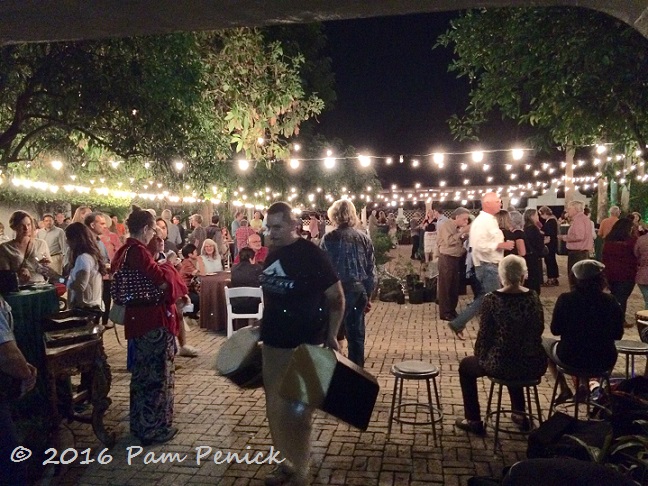 Just before 8 pm, drummers moved out to the stage and began tapping a booty-moving rhythm.

It worked like a charm. People followed the music and took their seats. Some couldn't resist the beat and were soon dancing in front of the stage.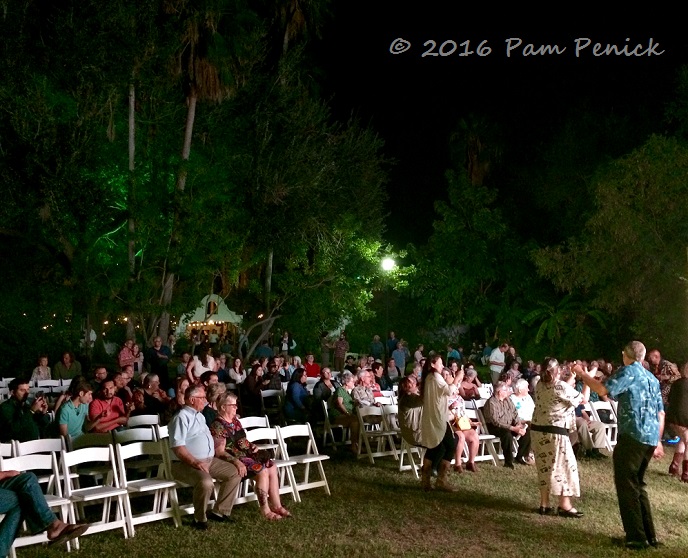 It was the most festive group I'd ever spoken to, with a velvety sky overhead, an occasional bat swooping silently on the hunt, and a happy crowd interested in new ideas for gardening with less water, more native plants, more wildlife, and more beauty!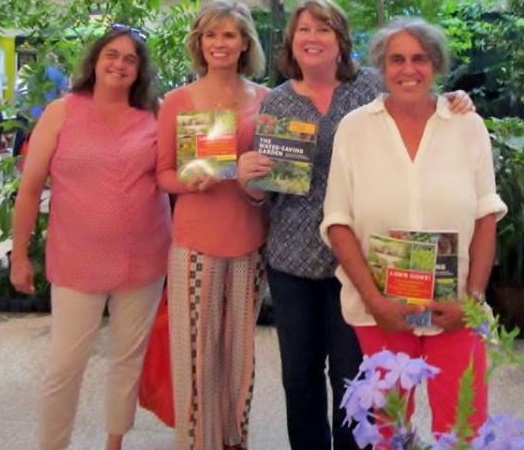 I met many interesting people passionate about the native ecology of South Texas while I was there, not least these women who organized Planta Nativa: Carol Goolsby, Environment Education Supervisor at Quinta; Colleen Hook, manager of Quinta Mazatlan; and Betty Perez, owner of Perez Ranch Nursery. (I neglected to get a photo during the festival, but I have this one from a speaking event in San Antonio last spring, which they attended.) Huge thanks to them and other members of the board for hosting me.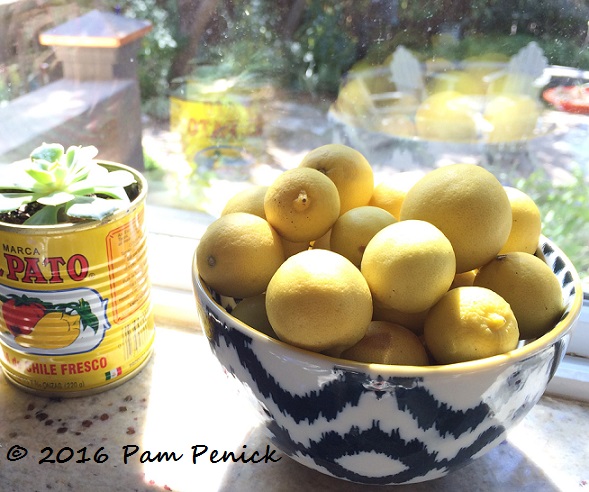 I came home with memories of a new and interesting place, new connections made, and even some beautiful homegrown limes — evidence of those citrus orchards I expected! — given to me by a lovely woman named Chris. Thanks to all who came!
Up next: Sightseeing along the Rio Grande, where a hand-pulled ferry still operates today.
I welcome your comments; please scroll to the end of this post to leave one. If you're reading this in a subscription email, click here to visit Digging and find the comment box at the end of each post.
_______________________
Digging Deeper: News and Upcoming Events
I'll be speaking at the Antique Rose Emporium Fall Festival 2016 in Brenham, Texas, on Saturday, November 5th, 1:30-2:30 pm. Come on out to the Antique Rose Emporium's beautiful gardens for a day of speakers and fun! My talk, with plenty of eye-candy photos, is called "Hold the Hose! How to Design a Water-Saving Garden that Wows." Meet me afterward at the book-signing table!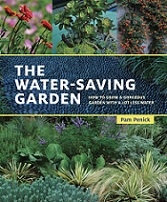 Do you review? Have you read my new book, The Water-Saving Garden? If you found it helpful or inspirational, please consider leaving a review — even just a sentence or two — on Amazon, Goodreads, or other sites. Online reviews are crucial in getting a book noticed. I really appreciate your help!
All material © 2006-2016 by Pam Penick for Digging. Unauthorized reproduction prohibited.
posted in
Agaves
,
Amphitheater
,
Arbors
,
Birds
,
Books
,
Botanic/Public Gardens
,
Cactus
,
Containers
,
Decor
,
Doors
,
Festivals
,
Fountains
,
Garden art
,
Garden structures
,
Garden tours 2016
,
Gates
,
Lighting
,
Native plants
,
Palms/Cycads
,
Paths
,
Patios & decks
,
Ponds
,
Rock
,
Sculpture
,
Seating
,
Speaking events
,
Texas natives
,
Travel
,
Trees
,
Tropicals
,
Vines
,
Walls
,
Wildlife
,
Xeric plants