October 23rd, 2016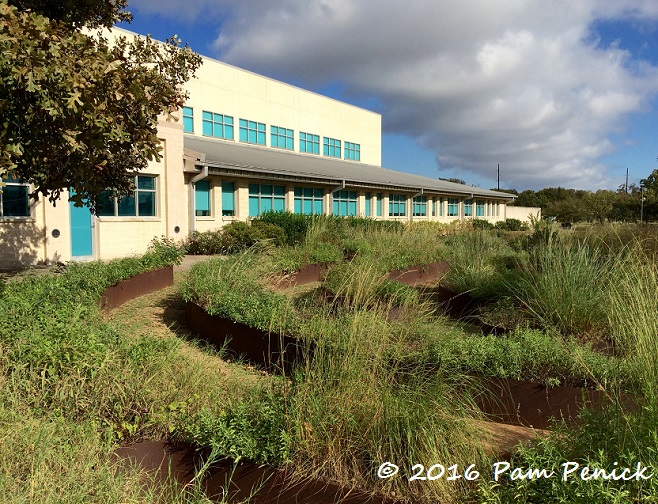 How many police stations have landscaping like this? I spotted this raised meadow while driving through East Austin recently and slammed on the brakes to get a better look.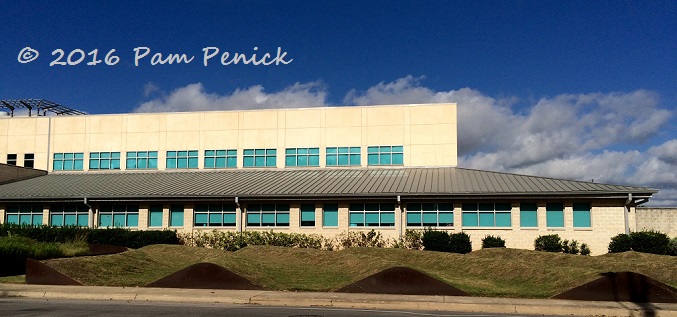 From the street — 812 Springdale Road, in the Govalle neighborhood — you see this along one side of the property: rolling berms with a rusty steel edge resembling rounded waves.

To the left of the berms is the raised meadow, laid out in a contemporary pattern that radiates outward in concentric arcs.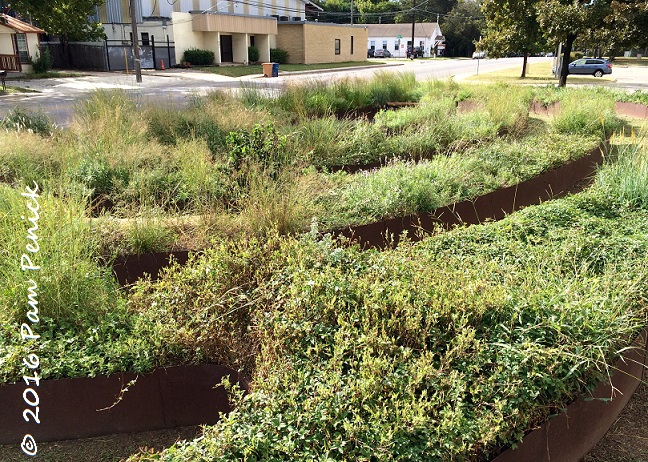 When you walk into the space, it becomes more maze-like, with paths that turn back on themselves as you search for the center.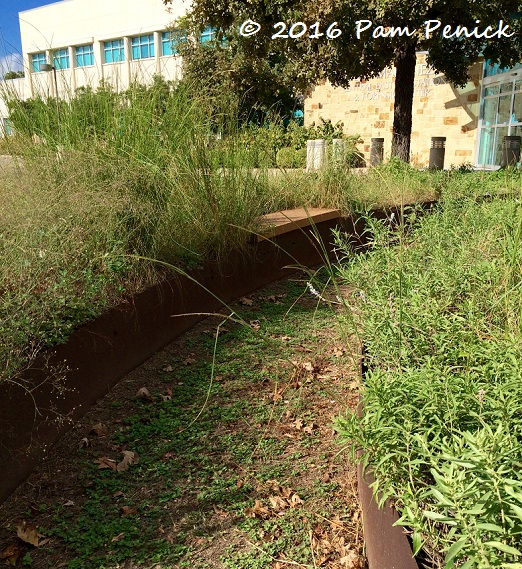 You have to work your way there…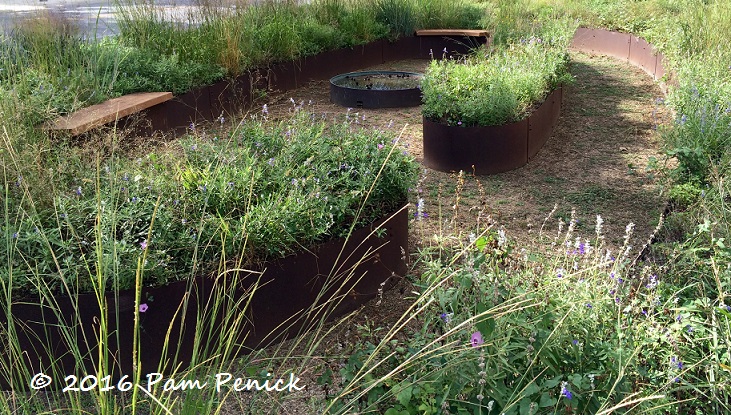 …where you find built-in benches…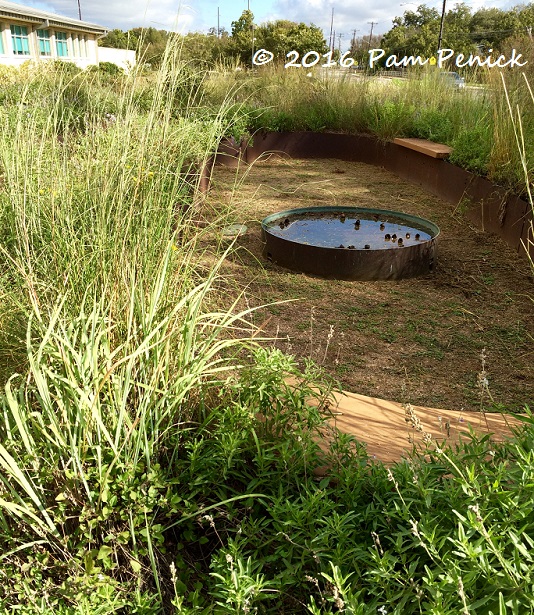 …overlooking what must once have been an intentional water feature but is now just a stagnant, icky pool that's probably breeding mosquitoes. Maintenance is always crucial to a garden's survival, and this one seems to be getting just a mow-and-blow treatment these days.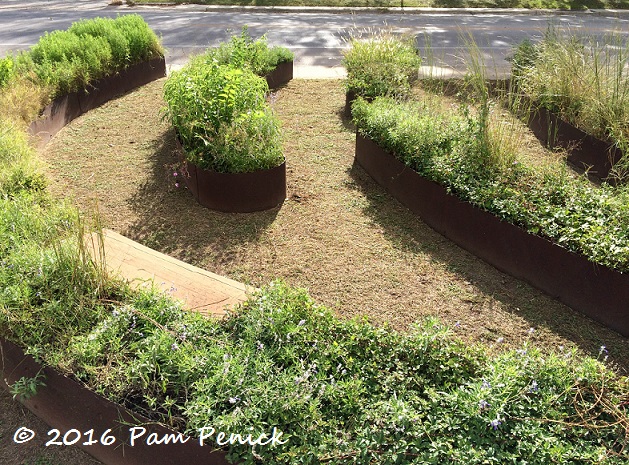 But still, it's a cool design. I was intrigued!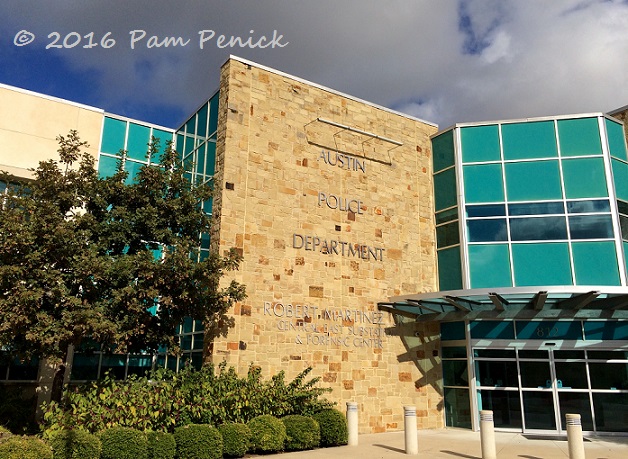 What's this unique landscaping doing outside a police substation and forensics center? I went online to find out and learned that the facility was constructed in 2004 with a friendly face for the surrounding neighborhood (you'd never know there was a blood-spatter analysis room and a firing range inside), replacing an older police station surrounded by a blight of security fencing.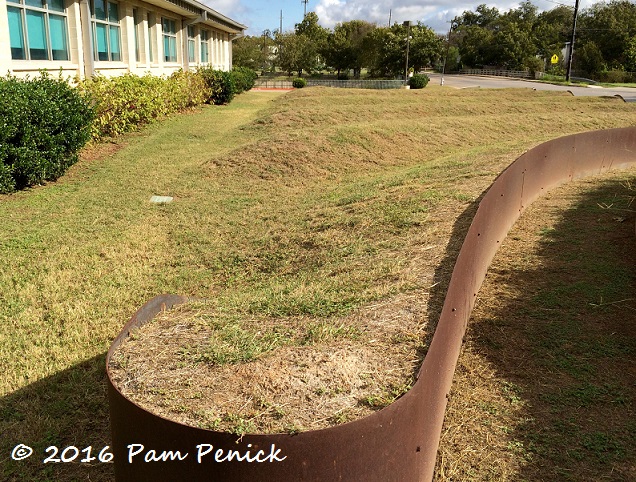 Instead of ugly fencing, security from vehicular attack (car bombs? ramming?) is now achieved through defensive landscaping — the rolling berms and elevated, steel-edged meadow.
As TAG International, the design team, explains:
"Security was a major design priority, with the goal of achieving a high level of threat resistance without projecting an unwelcoming image. Many passive security strategies were utilized to deliver heightened security without diminishing the center's friendly presence in the neighborhood….Landscape features were also designed to protect the facility through the utilization of berms as further vehicle impediments."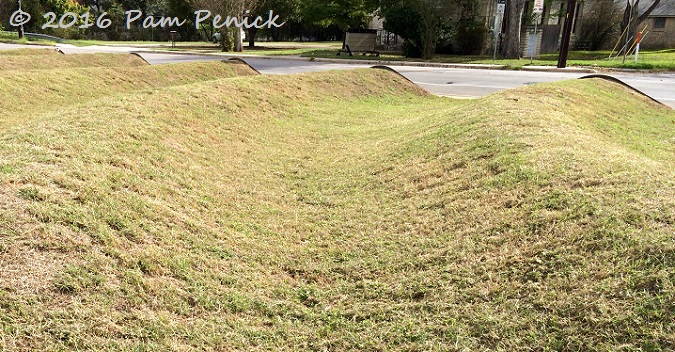 As it happens, this is more than just an updated version of a moated castle.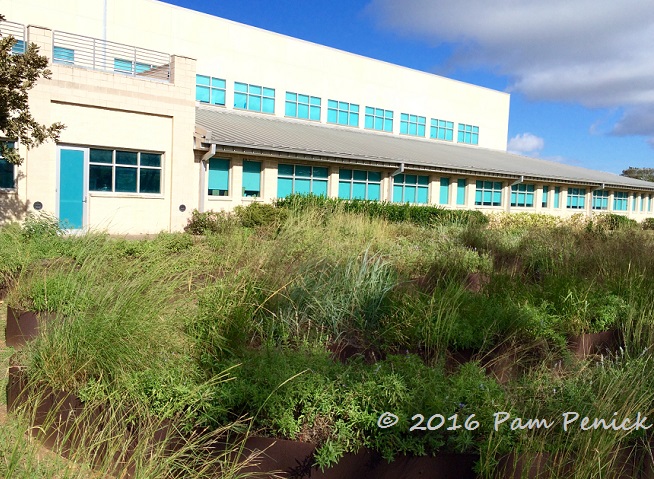 The landscaping is also a public arts project — and the elevated meadow of native plants is arranged in a fingerprint design as a tribute to the investigative work performed at the police station and forensics center. Cool, huh?
According to the public art directory at NowPlayingAustin, the project is titled "Elevated Prairie":
"To complement the function of the facility, this earthwork consists of a simple labyrinth in the shape of a fingerprint, composed of low, steel-walled planters landscaped with native Texas grasses. At the center of the 'fingerprint' is a small fountain, surrounded by a seating area. Beyond the central planters is an area of low, rolling berms, which echo the fingerprint pattern and radiate across the remaining common lawn areas of the site. Medium: Steel planters, fountain, earth berms, and native landscaping"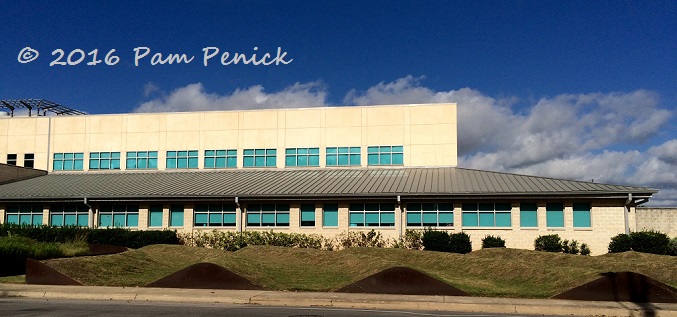 Here's another look at the street view — definitely eye-catching!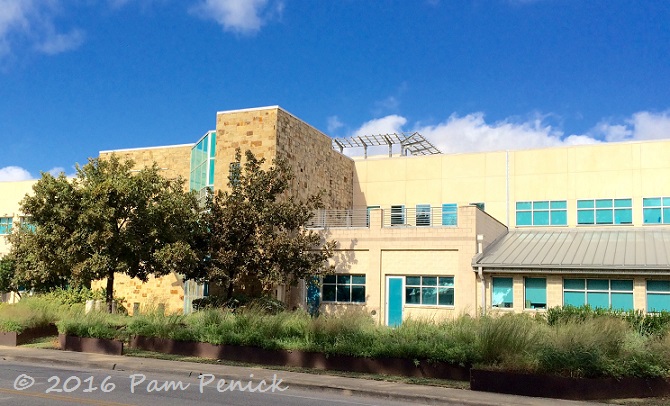 The native-plant meadow, while degraded through lack of real gardening attention, is still attractive thanks to the strong bones of the design and regular mowing. Although the planters are overrun with weeds, some of the original native plants are still blooming, like mealy blue sage, attracting butterflies and bees.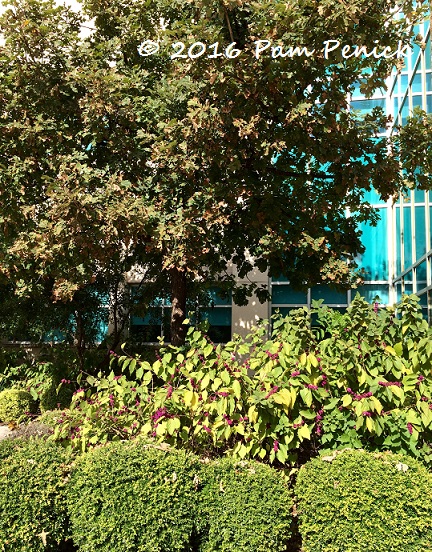 Native plants also make up the more traditionally designed foundation plantings around the facility, including bur oak, American beautyberry, and dwarf yaupon. While a bit overclipped, these are holding up well, proving that native shrubs and trees — just like non-native shrubs and trees — are easier to maintain than more gardener-needy perennials, annuals, and ornamental grasses, wonderful as those are.
Do you know of any other defensive landscaping efforts in your city? I'm intrigued by this, and it's so much more attractive than concrete bollards, a row of boulders, and other typical security landscaping measures.
I welcome your comments; please scroll to the end of this post to leave one. If you're reading this in a subscription email, click here to visit Digging and find the comment box at the end of each post.
_______________________
Digging Deeper: News and Upcoming Events
I'll be speaking at the Antique Rose Emporium Fall Festival 2016 in Brenham, Texas, on Saturday, November 5th, 1:30-2:30 pm. Come on out to the Antique Rose Emporium's beautiful gardens for a day of speakers and fun! My talk, with plenty of eye-candy photos, is called "Hold the Hose! How to Design a Water-Saving Garden that Wows." Meet me afterward at the book-signing table!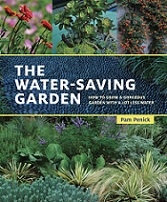 Do you review? Have you read my new book, The Water-Saving Garden? If you found it helpful or inspirational, please consider leaving a review — even just a sentence or two — on Amazon, Goodreads, or other sites. Online reviews are crucial in getting a book noticed. I really appreciate your help!
All material © 2006-2016 by Pam Penick for Digging. Unauthorized reproduction prohibited.