October 10th, 2016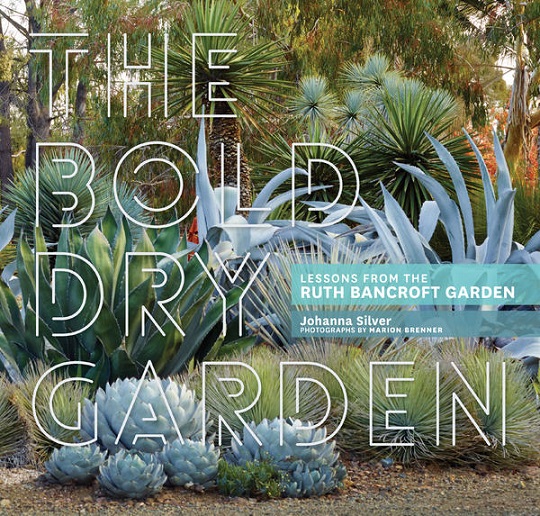 Our gardens tell our stories. The plants we choose, the features we create, the very layout is an autobiography of our passions, fancies, and personality. That's why the most inspiring gardens spring from impassioned and artistic minds. The Ruth Bancroft Garden near San Francisco is a perfect example and the focus of a new book, The Bold Dry Garden: Lessons from The Ruth Bancroft Garden by Johanna Silver, garden editor at Sunset Magazine.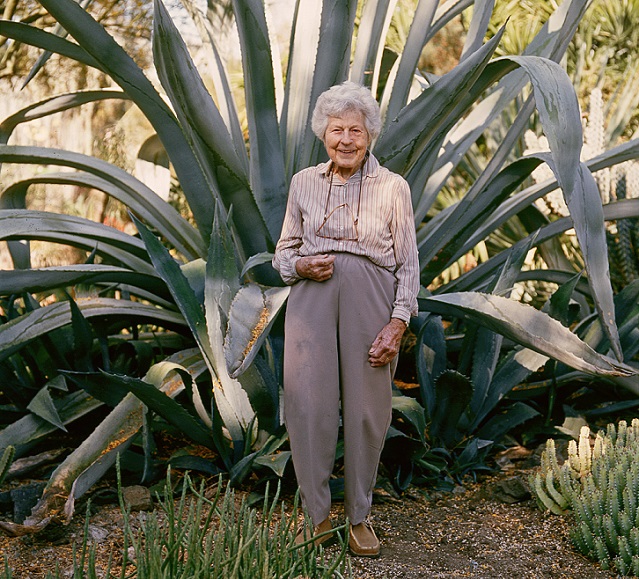 Photo of Ruth Bancroft by Marion Brenner
Ruth Bancroft, a would-be architect (her studies foiled by the stock-market crash that set off the Great Depression), farm wife, and mother of three, has always been, according to Silver, deeply curious about the world around her. In her younger years — today she's a remarkable 108 years old and no longer able to actively garden, although she did participate in the recent book launch event at the garden — she collected many things but truly obsessed over, studied, and cataloged seashells and plants, specifically succulents and cactus, which she admired for their strangely beautiful forms, including vicious spines and thorns. "For Ruth," writes Silver, "to collect is to know — to study, record, and preserve….[S]he built one of the most impressive collections of dry-adapted plants on the planet, all for the sake of knowing and marveling at the natural world."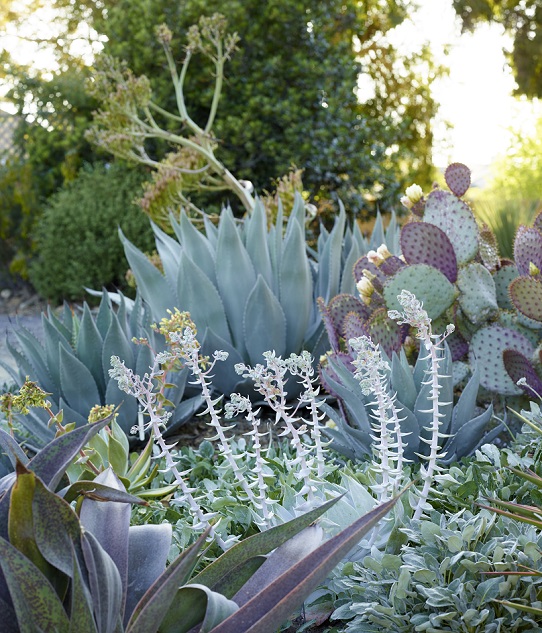 Photo by Marion Brenner
The Bold Dry Garden is simultaneously a tribute to that collection, with plant-caressing photographs by Marion Brenner; a lesson in how to grow a less water-dependent garden, at least in mild-winter California; and a biography of the garden's creator. Silver tells the story of how Ruth started her now world-famous garden at age 63, planting a greenhouse-overflowing collection of succulents on three acres of overworked farmland that her husband offered to her on condition that they dig no new wells or tap into city water to keep her new garden watered. A rare freeze carried off most of the plants that first winter, which Ruth dispassionately cataloged. And then she started over, replanting with greenhouse cuttings and plants sourced from vendors and fellow collectors within driving distance, it being well before the days of internet searches and online ordering, and before succulents were anything more than a rare novelty in most nurseries.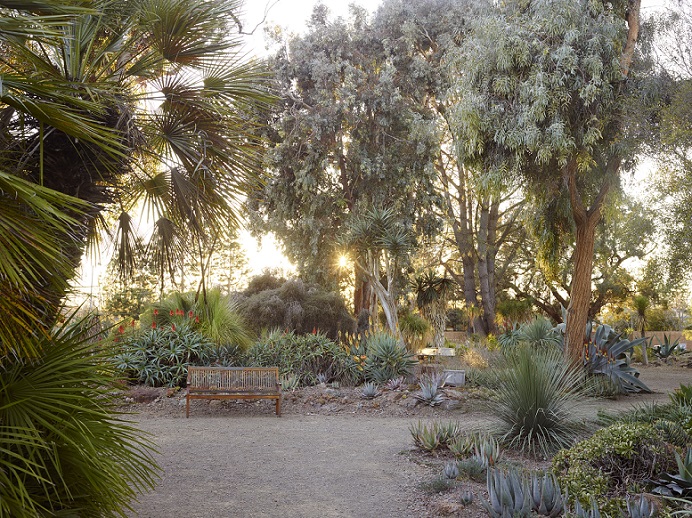 Photo by Marion Brenner
While Ruth's primary interest was not in design but in collecting — she liked to plant multiple varieties of particular species together for comparison purposes, Silver writes — her fascination with plants with bold forms gave rise to a garden that was eye-catching as well as a collector's showcase. Agave, yucca, nolina, palm, prickly pear and other cactus — these spiky beauties combined with California natives in a rich tapestry of dry-garden drama, and eventually attracted the notice of fellow collectors, horticulturists, and landscape architects in the region, who came to learn from the garden.
One such visitor was Frank Cabot from New York, who, after visiting Ruth's garden and wondering what would become of it after she could no longer care for it, established The Garden Conservancy in 1989 and made Ruth's garden its first preservation project. In 1992 the garden was opened to the public for tours.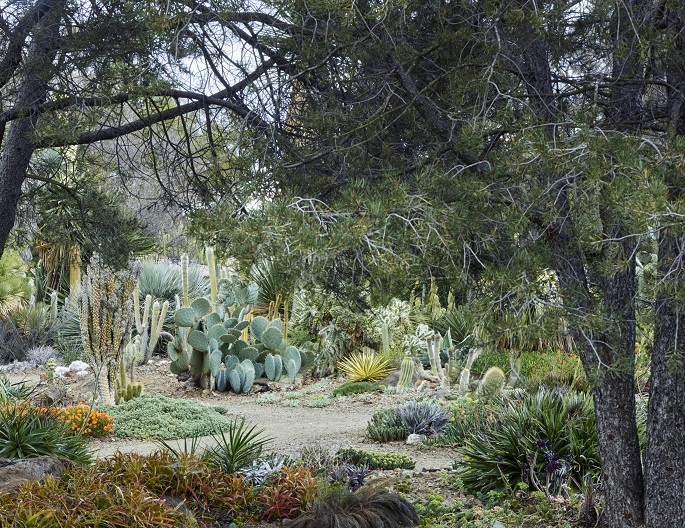 Photo by Marion Brenner
I visited The Ruth Bancroft Garden on a 100-degree day in 2013, during the San Francisco Garden Bloggers Fling. Despite the oppressive heat, the garden was a wonderland of spiky columns, starburst agaves and yuccas, spiny spheres, and Mickey Mouse-eared paddles. If you love dry-loving plants, you must make a pilgrimage to see it. If you think you don't like cactus and succulent gardens (too empty and rocky?), its lushly planted aesthetic may well change your mind.
Whether you're already a fan of Ruth's garden or simply interested in dry-garden plants or intrigued by other people's obsessions, you'll enjoy The Bold Dry Garden. Perhaps it'll kick off your own obsession with waterwise plants. At the very least, Ruth's example will make you realize it's never too late to dive deep into whatever inspires you and see where it takes you.
Photographs taken from The Bold Dry Garden © Copyright 2016 by Johanna Silver and The Ruth Bancroft Garden. All rights reserved. Published by Timber Press, Portland, OR. Used by permission of the publisher. Disclosure: Timber Press sent me a copy of The Bold Dry Garden for review. I reviewed it at my own discretion and without any compensation. This post, as with everything at Digging, is my own personal opinion.
I welcome your comments; please scroll to the end of this post to leave one. If you're reading this in a subscription email, click here to visit Digging and find the comment box at the end of each post.
_______________________
Digging Deeper: News and Upcoming Events
Austinites and native-plant shoppers, I'll be at the member's day Fall Plant Sale at the Lady Bird Johnson Wildflower Center on Friday, October 14. I'll be signing books from 1 to 3 pm in the Wild Ideas gift shop. Even if you're not a member, of course you can still come on out and see the gardens and stop in at Wild Ideas. I hope to see you there!

South Texans, come see me at the 2nd annual Planta Nativa festival in McAllen, Texas, on Saturday, October 22. I'll be delivering the keynote talk, "Local Heroes: Designing with Native Plants for Water-Saving Gardens," that evening. Tickets are on sale at Quinta Mazatlan. I hope to see you there!
I'll be speaking at the Antique Rose Emporium Fall Festival 2016 in Brenham, Texas, on Saturday, November 5th, 1:30-2:30 pm. Come on out to the Antique Rose Emporium's beautiful gardens for a day of speakers and fun! My talk, with plenty of eye-candy photos, is called "Hold the Hose! How to Design a Water-Saving Garden that Wows." Meet me afterward at the book-signing table!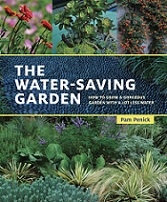 Do you review? Have you read my new book, The Water-Saving Garden? If you found it helpful or inspirational, please consider leaving a review — even just a sentence or two — on Amazon, Goodreads, or other sites. Online reviews are crucial in getting a book noticed. I really appreciate your help!
All material © 2006-2016 by Pam Penick for Digging. Unauthorized reproduction prohibited.