September 17th, 2016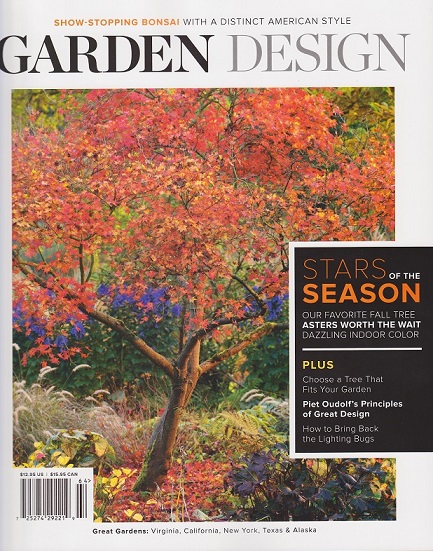 Have you gotten the new issue of Garden Design magazine (Autumn 2016)? I'm pleased to say I have an article in it: a profile of Ted Flato of the visionary architectural firm Lake Flato and a 16-page spread of their gorgeous residential projects, each of which is designed not just to "bring the outdoors in," as the saying goes, but get people outside into the garden landscape.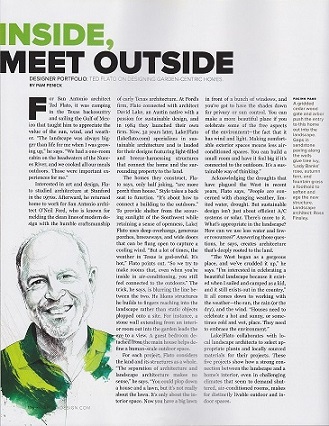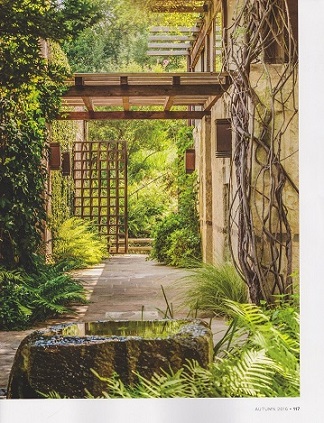 Five featured projects from Texas to Arizona to California include Ted's insights on what makes each design work. Fellow hot-climate readers will appreciate the way these residences transcend the challenges of climate to make indoor spaces that feel like part of the landscape and outdoor spaces that are comfortable and inviting. As Ted says, "Making comfortable exterior spaces means less air-conditioned spaces. You can build a small room and have it feel big if it's connected to the outdoors. It's a sustainable way of thinking."
I hope you enjoy it! You can pick up Garden Design at Barnes & Noble and other bookstores and at certain garden centers, or you can subscribe and enjoy 4 ad-free, book-like issues each year with gorgeous photos and in-depth articles about fine gardens from all over the country. I'm deep into the current issue right now and poring over each page.
I welcome your comments; please scroll to the end of this post to leave one. If you're reading this in a subscription email, click here to visit Digging and find the comment box at the end of each post.
_______________________
Digging Deeper: News and Upcoming Events
South Texans, come see me at the 2nd annual Planta Nativa festival in McAllen, Texas, on Saturday, October 22. I'll be delivering the keynote talk, "Local Heroes: Designing with Native Plants for Water-Saving Gardens," that evening. Tickets are on sale at Quinta Mazatlan. I hope to see you there!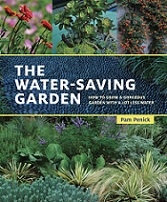 Do you review? Have you read my new book, The Water-Saving Garden? If you found it helpful or inspirational, please consider leaving a review — even just a sentence or two — on Amazon, Goodreads, or other sites. Online reviews are crucial in getting a book noticed. I really appreciate your help!
All material © 2006-2016 by Pam Penick for Digging. Unauthorized reproduction prohibited.