December 21st, 2007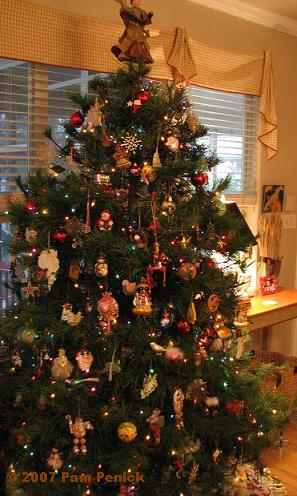 It's beginning to look a lot like Christmas here in garden-blog land, with numerous posts about holiday ornaments. Last night Layanee's question, "What does your Christmas tree say about you?" made me pause to consider our tannenbaum.
As you can see in the photo above, we hang a lot of ornaments on our tree. This 7-foot Virginia pine cut at Elgin Christmas Tree Farm (a family tradition we all enjoy) is decked out with ornaments my mother collected for me for years until I had my own tree, many more I bought for myself, dozens acquired by my children as gifts since they were babies, and a number made by the kids themselves. It's a sentimental jumble of color and style, and each ornament has meaning. The kids are still young enough to enjoy decorating the tree with me, and they tell each other the stories of where their ornaments came from as they hang them, exclaiming over each one, "This is my favorite!"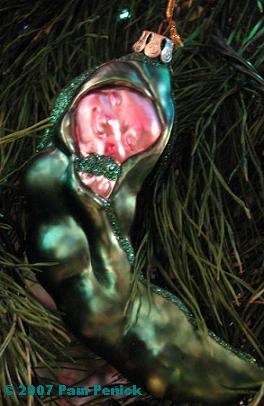 This baby-pea-in-a-pod represents my second child, whom we called Baby P (for Penick) before she was born. My mother gave us this ornament for Christmas that year, addressing it to "Baby P, who isn't here yet." Now that she's here, she claims this glass ornament as her own.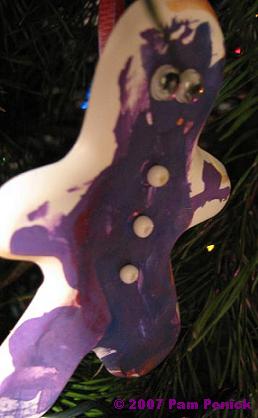 An ornament only a mother could love. My son made this purple gingerbread boy many years ago, and he still hangs prominently.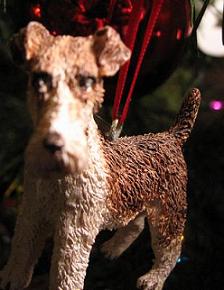 This is our Madison ornament, a tribute to the wire fox terrier we loved for 15 years.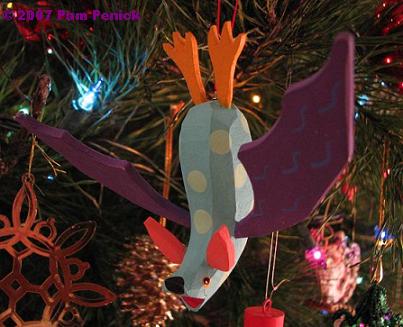 Austin is famous for its bat colony, so what more appropriate ornament to represent Austin? Ironically, I got this bat when we lived in Raleigh.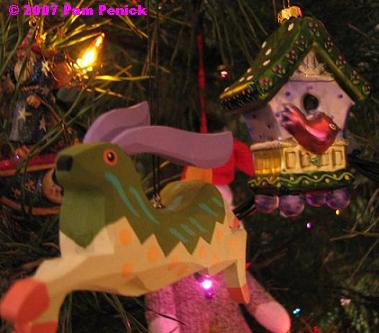 The jackrabbit was made by the same craftsperson. He bounds past a glass birdhouse ornament, one of a set of gardening ornaments I was given last year.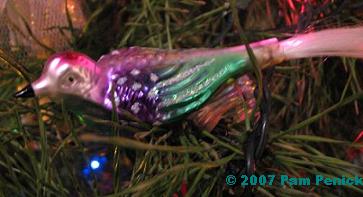 As you may recall, I've collected a flock of birds outside on the porch and in the garden. A number have come to roost in the Christmas tree too. This rainbow-colored glass bird is one of my favorites.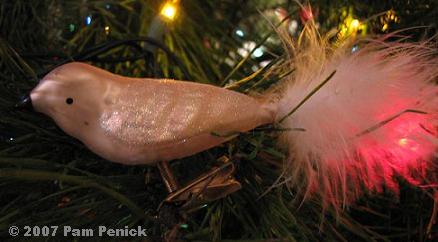 Here's a white version.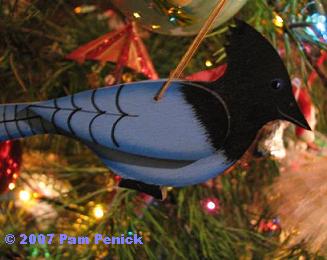 This jay represents my son—noisy, raucous, hungry, and fun to watch.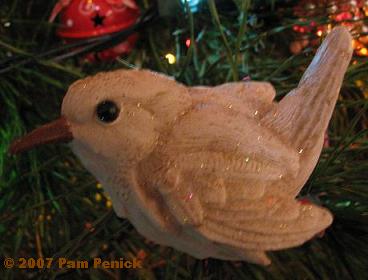 The wren is my daughter—always singing, making nests for her stuffed animals, poking around the garden with me.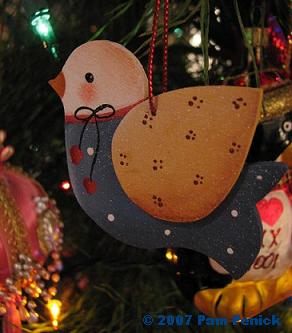 A painted, wooden bird adds country charm.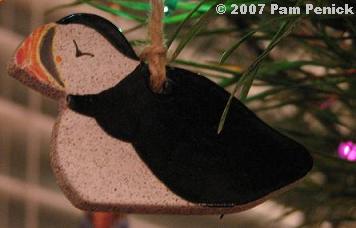 Many of our ornaments remind us of our travels. We used to visit Maine in the summers with my husband's family. One year, after going on a puffin-watching cruise with them, we received this puffin ornament as a souvenir.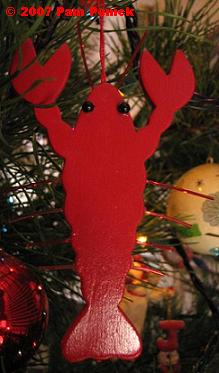 This Maine lobster arrived the same way.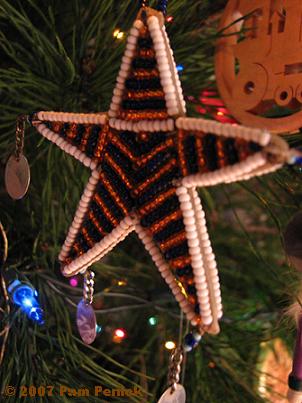 While in Tanzania last summer, I bought this beaded star in a Masai village. Its peculiar odor of wood smoke and other camp smells was strong at first, but it has dissipated over the months.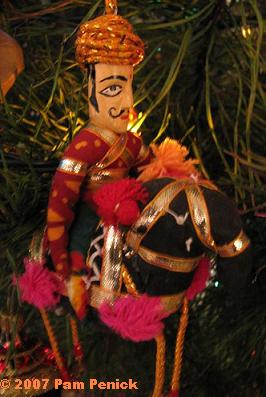 When I lived in Houston, I bought this ornament for myself. Made of fabric and wood, the wise man in a turban rides a beribboned elephant.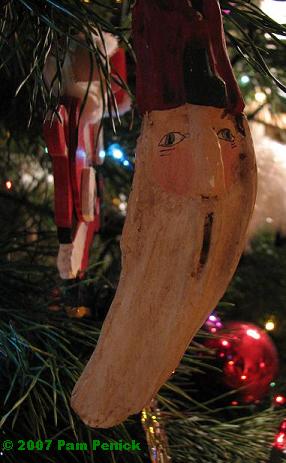 This Santa made of painted driftwood was a gift from my sister.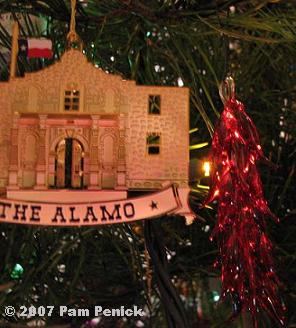 A number of Texas themed ornaments hang on our tree. Remember the Alamo! This is one of a set of annual ornaments sold at the state Capitol, for those who enjoy a little Texas history in their Xmas decor. Hey, why not? Beside it hangs a blown-glass chile ristra, a reminder of a Thanksgiving trip to Santa Fe with my dad.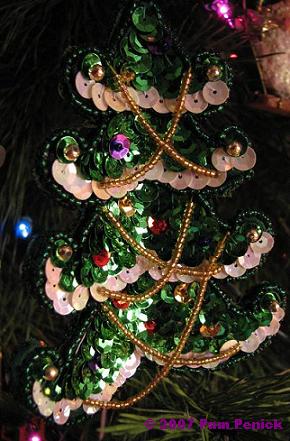 Meta-tree. This sequined tree represents the tree it hangs on.


While I'm feeling sentimental, I'll show you an embroidered wall hanging of the "Twelve Days of Christmas." My mother sewed this years ago, and as a child I used to stand in the hall where it hung during the holidays to sing through the song while looking at the felt-and-sequin depictions. I was thrilled to have it when she gave it to me a few years ago.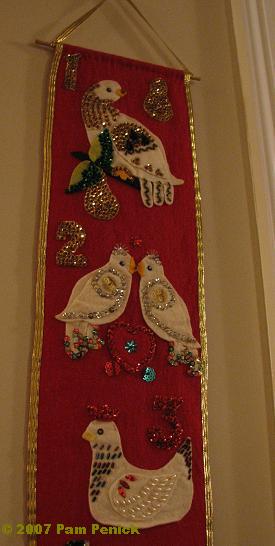 Here's a detail representing the three French hens, two turtle doves, and a partridge in a pear tree.
So, that's what my Christmas tree (and other decor) says about me. When every ornament tells a story or recalls places you've been, you find that the tree says quite a lot. What does yours say about you?
All material © 2006-2007 by Pam Penick for Digging. Unauthorized reproduction prohibited.