September 16th, 2016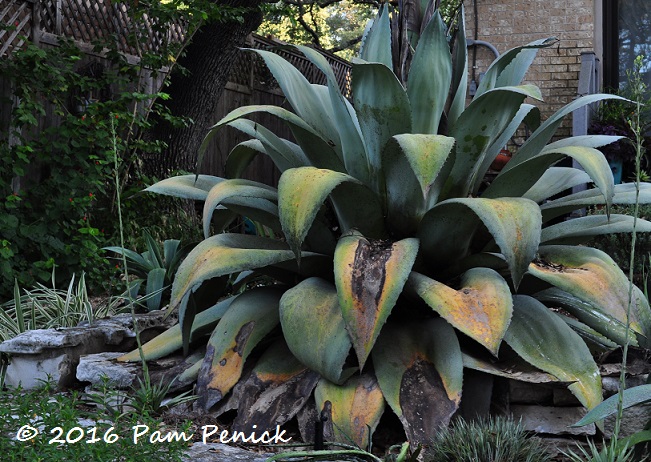 It was time. Moby, my 11-year-old whale's tongue agave (Agave ovatifolia), valiantly hung on for months after flowering, eventually making bulbils at the top of the bloom stalk. I'd been anticipating the leaf collapse that has occurred with every other agave I've ever seen in bloom, and yet Moby continued to remain upright. Still, after that spree of reproductive energy, he was now looking distinctly unhealthy, with yellowing, rotting leaves on the sunny side, although on the shadier side he still looked fine.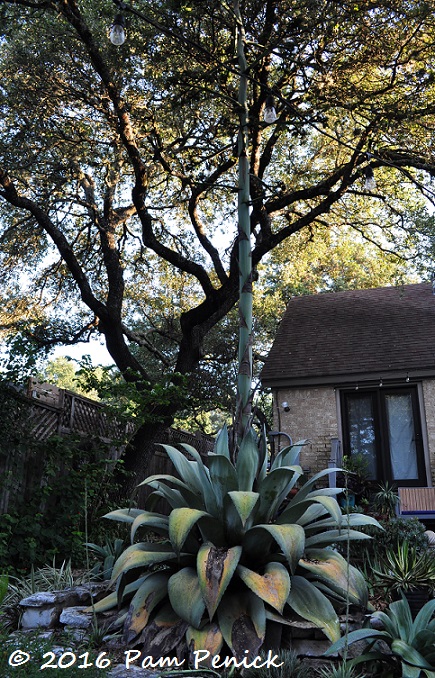 I took these two pictures on Sunday as a final farewell, as I'd scheduled a landscaping crew to come remove him on Monday morning. And then one of our cars wouldn't start (bad alternator), and we had to have it towed to the repair shop, and Moby got a last-minute stay of execution — or should I say euthanasia?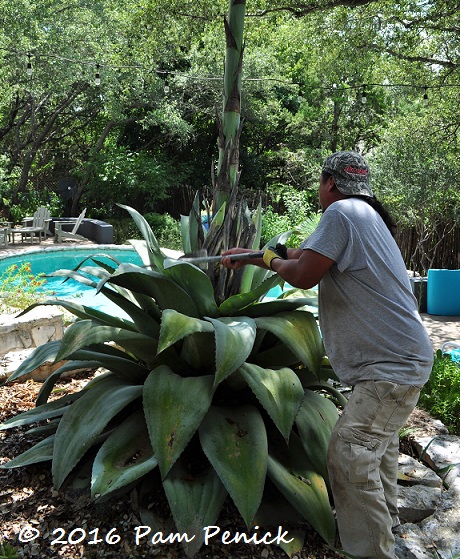 Yesterday, though, the ax finally fell.

These two hard-working guys came over after lunch and worked on the removal for several hours in 93-degree heat. They were surprised when I said I wanted to keep the stalk intact, which made cutting it down a bit trickier. First they cut out Moby's upper leaves. Then they began sawing through the stalk.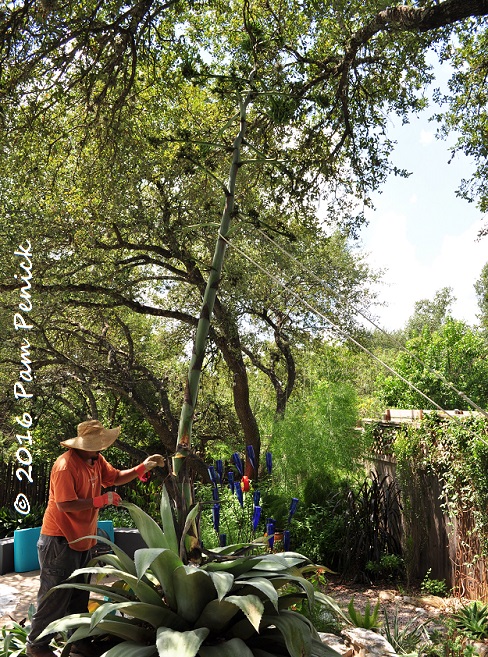 That stalk is huge — and heavy! Worried it would fall onto our string lights or the bottle tree, my husband and I rustled up a rope so they could pull high on the stalk and sort of control the fall. One last cut with the saw, and the stalk fell with a tremendous thud onto the gravel path along the fence, crushing nothing except a few of Moby's precious bulbils.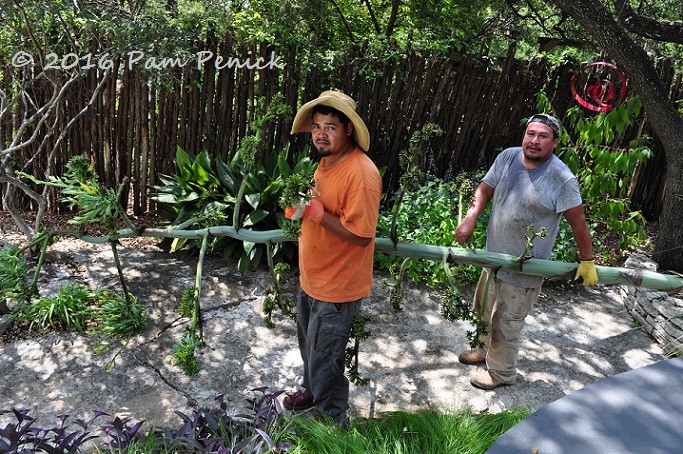 These guys were such good sports, posing for the crazy lady who kept taking pictures of the decimated agave and fussing over the bulbils. They placed the severed stalk in the lower garden, and I'm planning to harvest the bulbils tomorrow and see how many viable ones I've got.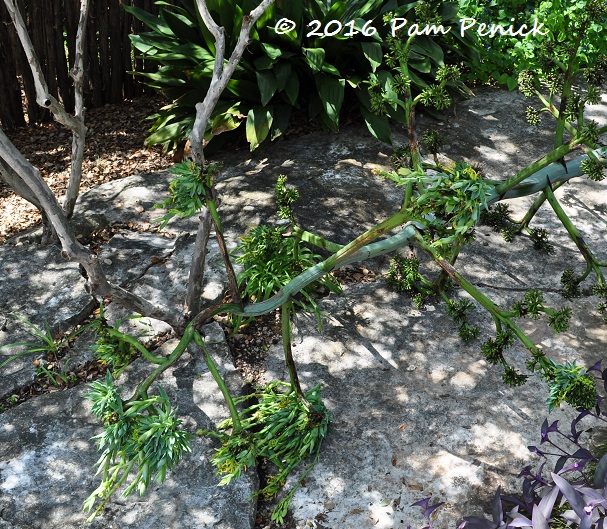 Not quite as many as I'd hoped (much of what you see here is flower stems on bulbils that are blooming — how weird is that?), but enough to keep some and share with friends.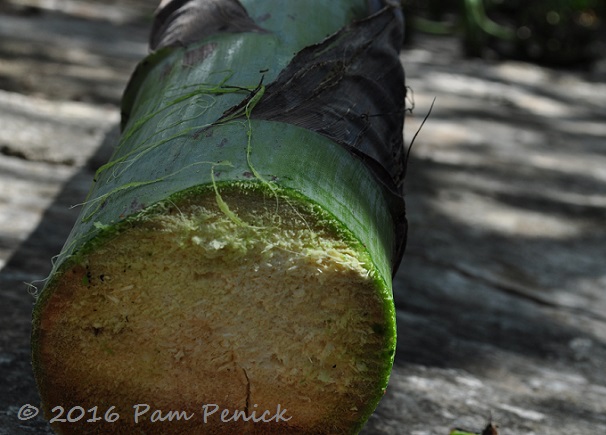 A cross-section of the massive bloom stalk. The base has a diameter of 5 or 6 inches.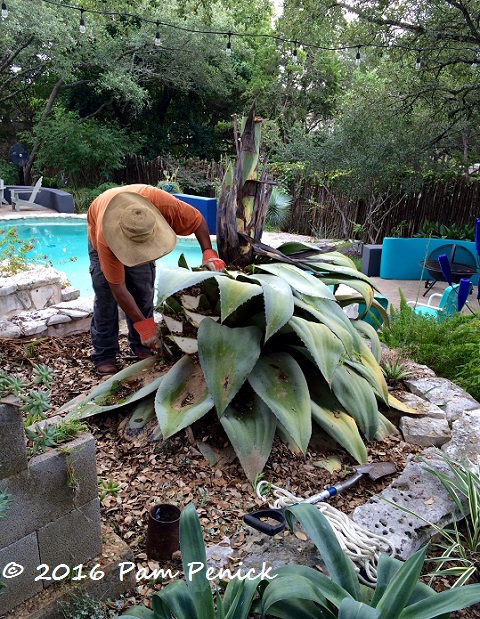 The guys went back to work on the agave, using a machete to chop off the fibrous leaves.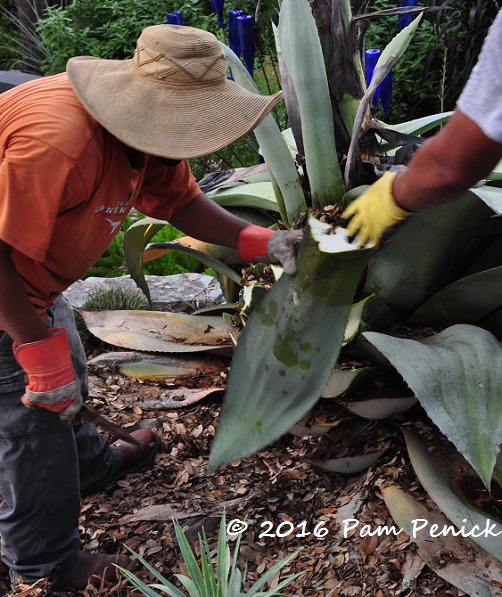 They wore gloves, which was smart, but they forgot or didn't know to wear long sleeves to keep the agave sap off their arms. Soon their forearms were red and blistering from the toxic sap, and I ran inside to get soap and wet towels so they could scrub it off. Thank goodness they didn't get it on their faces. That has happened to me.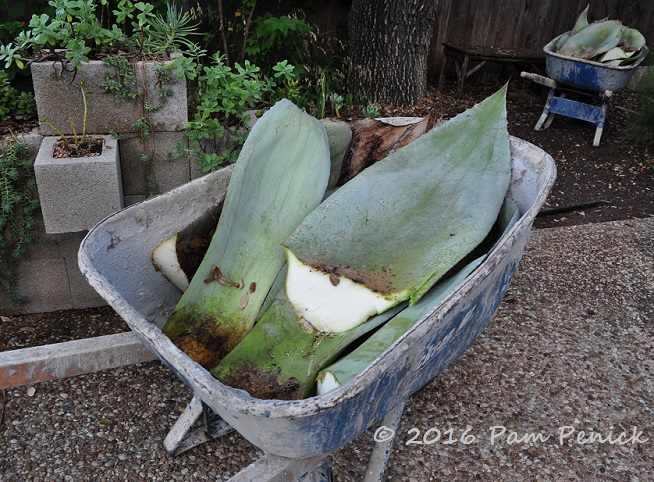 This is why Agave ovatifolia is called whale's tongue. Just look at the size of those wide, cupped leaves.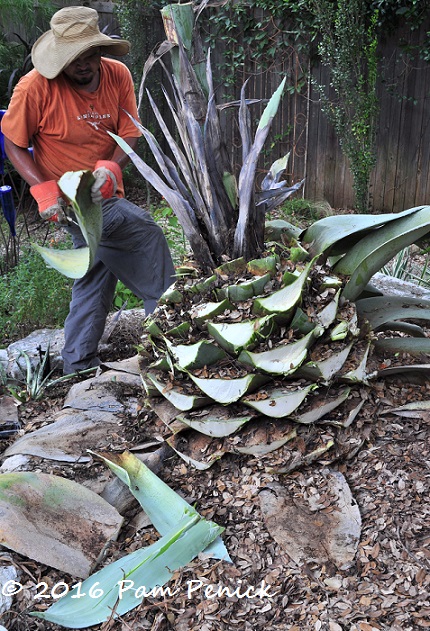 At last Moby was "pineappled"…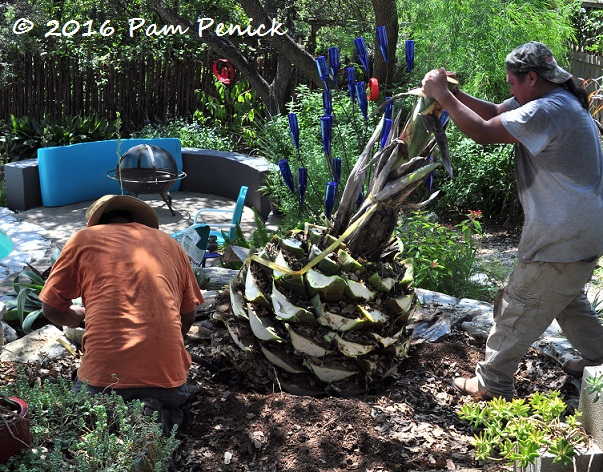 …and they started digging and sawing underneath to sever Moby's tenacious roots.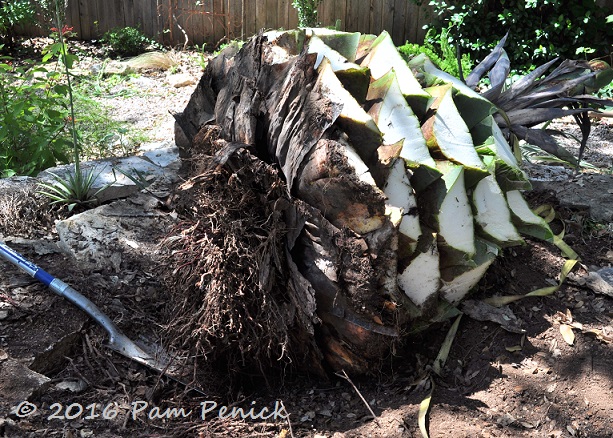 Finally free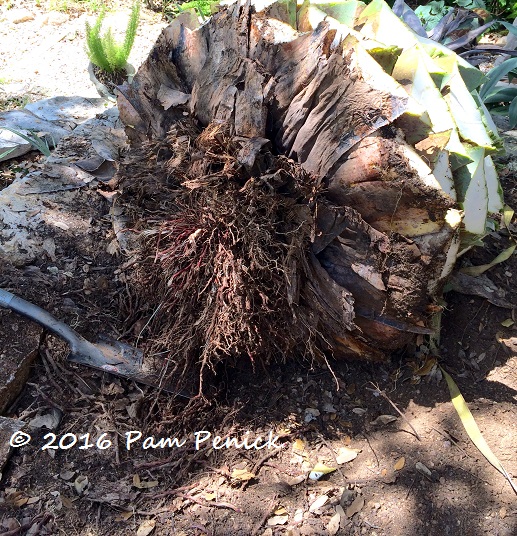 At this point several big cockroaches scurried into the open, like rats off a sinking sink, sensing, I guess, that their home under those spiny leaves was no longer safe. Gross.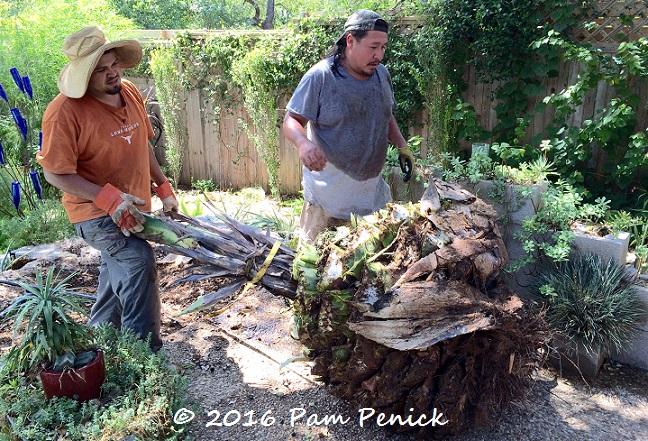 After several tries, straining with effort, the guys were finally able to roll Moby out of the garden bed and up onto the patio. I bet that agave heart weighed 350 pounds, maybe even 400.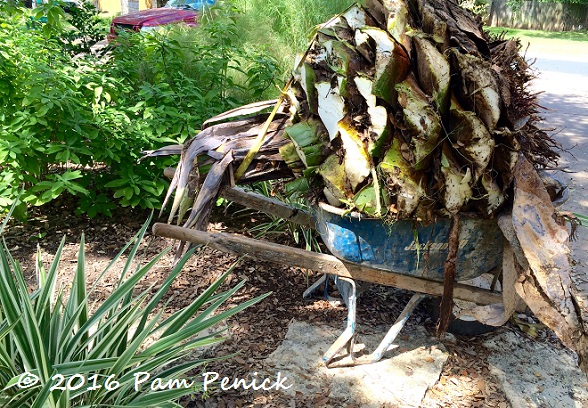 Somehow they got it up into the wheelbarrow and rolled it out to their trailer.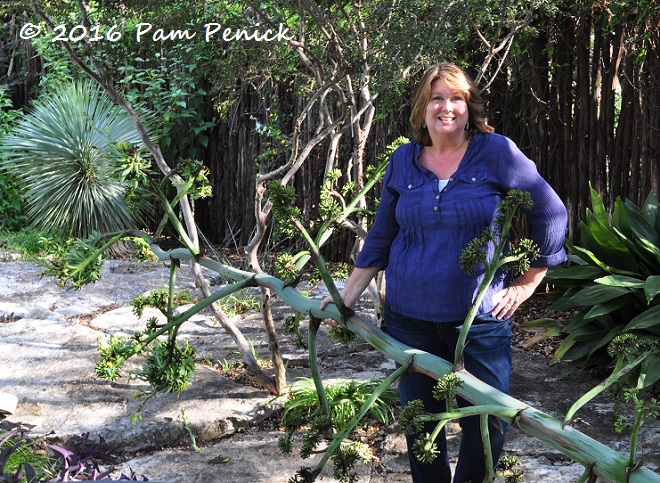 Goodbye, Moby! You will be missed. But hello Moby Jrs! Stay tuned to find out how many clones Moby made.
This is my September post for Foliage Follow-Up. Fellow bloggers, what leafy loveliness or changes are happening in your garden this month? Please join me in giving foliage its due on the day after Bloom Day. Leave a link to your post in a comment below. I'd appreciate it if you'll also link to my post in your own — sharing link love! If you can't post so soon after Bloom Day, no worries. Just leave your link when you get to it. I look forward to seeing your foliage faves.
I welcome your comments; please scroll to the end of this post to leave one. If you're reading this in a subscription email, click here to visit Digging and find the comment box at the end of each post.
_______________________
Digging Deeper: News and Upcoming Events
South Texans, come see me at the 2nd annual Planta Nativa festival in McAllen, Texas, on Saturday, October 22. I'll be delivering the keynote talk, "Local Heroes: Designing with Native Plants for Water-Saving Gardens," that evening. Tickets go on sale soon at Quinta Mazatlan. I hope to see you there!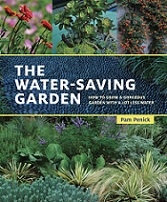 Do you review? Have you read my new book, The Water-Saving Garden? If you found it helpful or inspirational, please consider leaving a review — even just a sentence or two — on Amazon, Goodreads, or other sites. Online reviews are crucial in getting a book noticed. I really appreciate your help!
All material © 2006-2016 by Pam Penick for Digging. Unauthorized reproduction prohibited.