September 5th, 2016
Want to watch my super-professional video of Moby flowering? Of course you do! And here it is, only 28 seconds long.
My beloved whale's tongue agave (Agave ovatifolia) bloomed this year, as regular readers know. I long ago dubbed it Moby, and I've watched it grow in two of my gardens for 11 years. I even threw Moby a 10th birthday party last year, complete with tequila cocktails, which I admit had a hint of cannibalism, at least from Moby's point of view.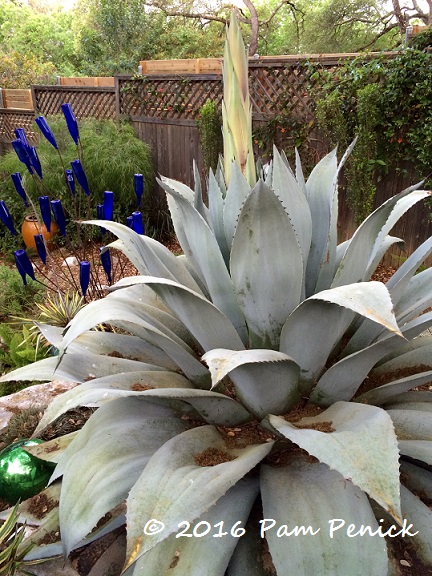 Ten years is a pretty long life for an agave in a pampered garden setting, so I wasn't surprised to see a phallic bloom stalk erupt from the center of the plant in early April.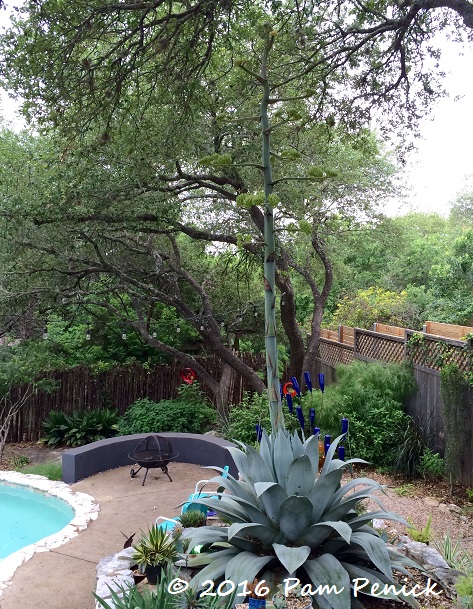 It branched into a candelabra as it nestled into the live oak canopy above. By early May, flower buds were swelling at the ends of the branched stems.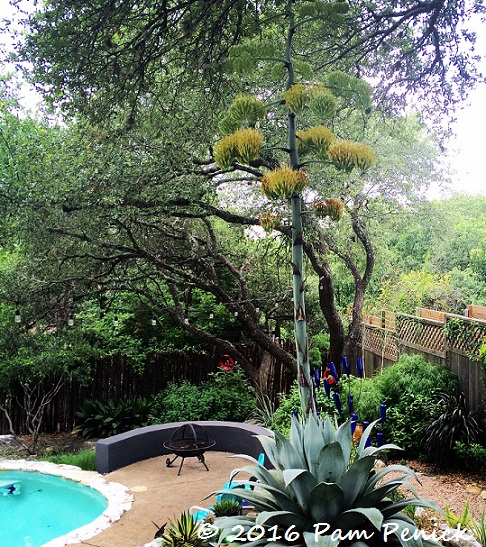 By late May, heavy clusters of golden flowers opened, to the excitement of neighborhood pollinators.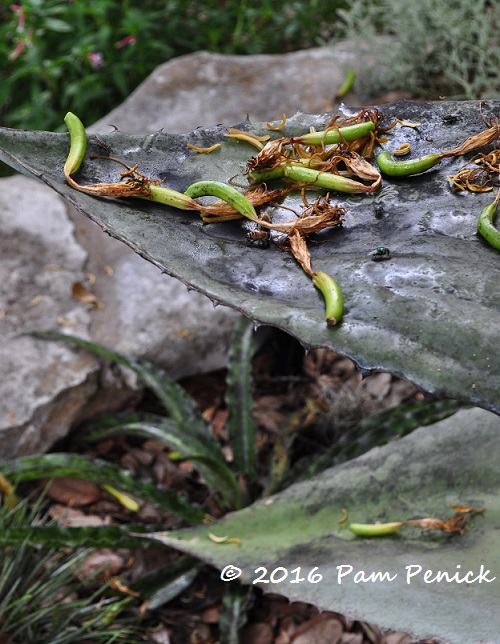 By late June, the flowers were spent, and hundreds of messy seedpods carpeted the ground around the agave and littered its broad, cupped leaves.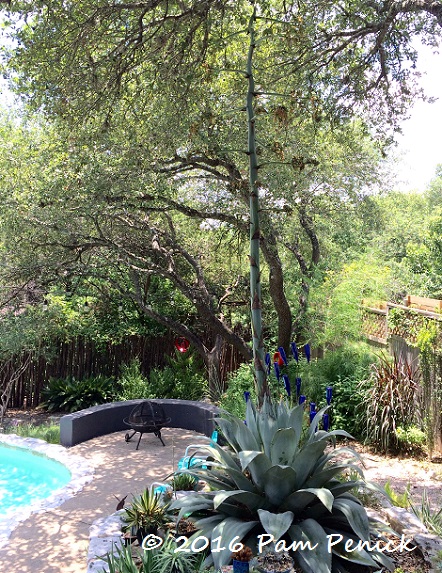 And then, long after I expected Moby to collapse in a heap of wilted leaves (agaves bloom only once and then die), Moby did something surprising: he refused to die. To my surprise, he still looked pretty good — for months after flowering. What was he waiting for, I wondered.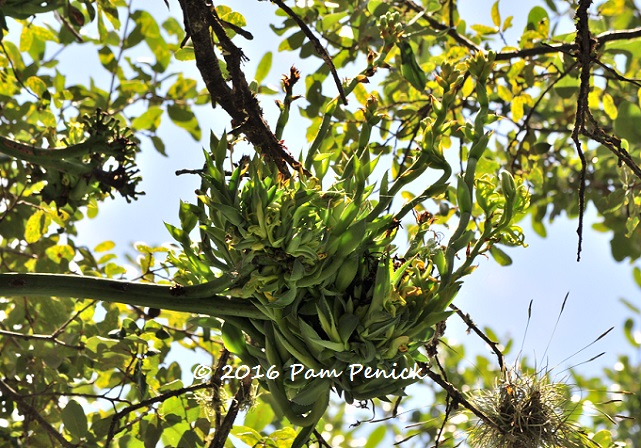 But suddenly I'm seeing something new: bulbils — i.e., tiny clones of the mother plant!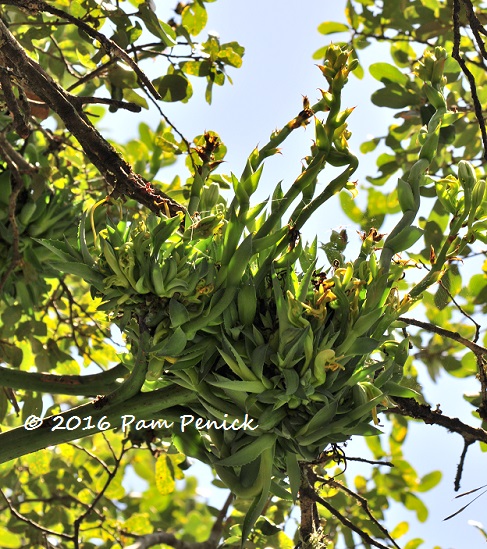 Clustered in tight balls at the ends of the upper tiers of the bloom stalk, the bulbils even seem to be blooming. How strange! I'm excited to see Moby reproducing in this way, especially as I didn't find any seeds in the half-dozen fallen seedpods I opened.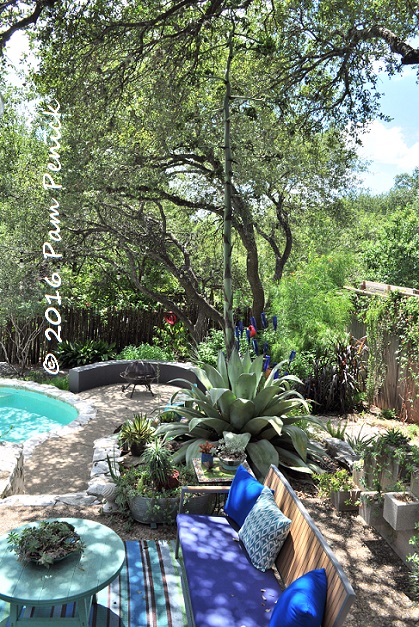 In nature, the bloom spike would eventually topple over, and some of the bulbils would take root and grow, replacing the dead mother plant. Considering the size of the stalk — at least 15 feet — I'm hoping to forestall any toppling and will cut it down pretty soon. But I want to give those bulbils a little more time to mature.
I've never watched a whale's tongue agave bloom, and it's been a fascinating process.
I welcome your comments; please scroll to the end of this post to leave one. If you're reading this in a subscription email, click here to visit Digging and find the comment box at the end of each post.
_______________________
Digging Deeper: News and Upcoming Events
South Texans, come see me at the 2nd annual Planta Nativa festival in McAllen, Texas, on Saturday, October 22. I'll be delivering the keynote talk, "Local Heroes: Designing with Native Plants for Water-Saving Gardens," that evening. Tickets go on sale soon at Quinta Mazatlan. I hope to see you there!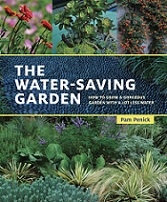 Do you review? Have you read my new book, The Water-Saving Garden? If you found it helpful or inspirational, please consider leaving a review — even just a sentence or two — on Amazon, Goodreads, or other sites. Online reviews are crucial in getting a book noticed. I really appreciate your help!
All material © 2006-2016 by Pam Penick for Digging. Unauthorized reproduction prohibited.